Penn State Nittany Lions:

Levi Brown
August, 27, 2013
8/27/13
9:00
AM ET
As part of an ongoing series, NittanyNation will preview a different position leading up to the season opener against Syracuse on Saturday. Up today: Offensive linemen.
Projected starters:
Adam Gress
(6-foot-6, 320 pounds),
John Urschel
(6-3, 301),
Ty Howle
(6-0, 293),
Miles Dieffenbach
(6-3, 295) and
Donovan Smith
(6-5, 322)
Key losses:
RT Mike Farrell and C Matt Stankiewitch
Next in line:
The Nittany Lions will use a rotation again this season, with
Angelo Mangiro
as the next man up when it comes to the interior. At tackle,
Eric Shrive
and
Garry Gilliam
will compete for time. (Shrive is also versatile enough to play inside.)
Those three should see the most time besides the starters. Others who could contribute include
Anthony Alosi
,
Wendy Laurent
and true freshman
Andrew Nelson
.
What to expect:
With another season under OL coach Mac McWhorter and strength coach Craig Fitzgerald, this line should take another step forward. Sure, the loss of Stankiewitch and Farrell hurt -- but Howle isn't that much of a downgrade and Smith is healthy for a change.
If the right tackle (Gress or Gilliam) can get off to a good start, this line will be better than last season. Smith could be the next great lineman at Penn State, and the interior is very strong. As a result,
Zach Zwinak
should see plenty of holes inside and the running game should improve.
This group isn't entirely bigger weight-wise -- Gress, Howle and Dieffenbach lost weight from last season -- but don't let that fool you. This group is stronger, literally, from last season and should push around opposing defensive linemen a bit more.
Recruiting trail:
In-state product
Noah Beh
(Scranton, Pa./Scranton Prep) is the lone offensive lineman of the 2014 class right now, and he won't make an instant impact at Penn State. He's no more than 260 pounds, so he'll need some time to fill out.
On the plus side, he can also play on the defensive line. And he has a lot of upside. Next season, however, could be the "Year of the Offensive Lineman" for Penn State.
PSU could take about three prospects there, and it's already extended offers to more than a half-dozen players -- including the likes of ESPN Junior 300 prospects
Sterling Jenkins
(Pittsburgh, Pa./Baldwin),
Tristen Hoge
(Pocatello, Idaho/Highland),
Ryan Bates
(Warminster, Pa./Archbishop Wood) and
Richie Petitbon
(Washington, D.C./Gonzaga).
Best-case scenario:
At least three linemen earn All-Big Ten honors, as Smith breaks out and earns a reputation as
Levi Brown
's heir apparent. The line takes great strides, further increasing the legend of the crazy-in-a-good-way strength coach. (He wears shorts in 20-degree temperatures, does the worm before some games and once licked the gym floor to fire up his players.) Fans can breathe easy in future years knowing the linemen are in the hands of Fitzgerald and McWhorter.
Worst-case scenario:
The right tackle is a big letdown and creates havoc along the line, while Smith shows himself to be injury prone. The interior is still good, but the tackles struggle without Smith and don't give the quarterback much time to throw.
Top position question: How does Donovan Smith compare to Levi Brown?
Well, the last staff sure thought they were similar -- because that was one of the Nittany Lions' big recruiting pitches.
Former PSU coach Bill Kenney playfully pulled aside Smith's seat during a recruiting trip in 2010, telling him it was Brown's seat. The two were both initially recruited to play the defensive line, and Kenney showed Smith some clips of the 2007 first-round NFL draft pick.
Brown, 29, is currently listed at 6-6 and 324 pounds. Smith is 6-5, 322. And Urschel previously hinted that Smith held more potential than second-round pick Stefen Wisniewski. So Smith certainly has the potential to follow in Brown's footsteps.
July, 10, 2013
7/10/13
1:00
PM ET
So, what teams had the best and worst
all-time PSU fantasy drafts
on Tuesday?
There's a lot of opinion out there, but NittanyNation tried to find two knowledgable judges to offer their takes on each team's draft. Both Steve Jones and Mike Poorman agreed to grade each team and include a brief analysis.
Jones is the play-by-play voice of Penn State football and hosts a daily radio show that can be heard on ESPN 1450 in State College. Poorman is a columnist and senior lecturer at Penn State who taught the class, "Joe Paterno, Communications & The Media." Both are PSU graduates.
Here's what they had to say:
Team Lou Prato
(Top five picks: RB Lenny Moore, LB Jack Ham, DT Mike Reid, DE Courtney Brown, C Glenn Ressler)
Jones says:
A. Outstanding defense, especially at linebacker, and a solid kicking game. Offensively, Moore could do it all, and people forget Chuck Fusina was a Heisman trophy runner-up who actually had more first-place votes than Billy Sims.
Poorman says:
A. I graded the No. 1 pick at each position, and Lou was tops with eight such selections. His LB combo of Jack Ham and Shane Conlan, PSU's best two ever, and secondary pair of Harry Wilson and Michael Zordich exemplified a depth of knowledge -- and, hence, roster -- that was unmatched, top to bottom. Memo to Bob McClellan: 25 years after you had him in class, Lou is still cantankerous.
Team Bob McClellan
(Top five picks: CB Brian Miller, RB Curt Warner, OT Keith Dorney, OG Mike Munchak, DE Michael Haynes)
Jones says:
A-. Great running game and offensive line, along with the best rushers. This group has underrated receivers and an underrated quarterback who was Big Ten player of the year.
Poorman says:
A-. Seven of Bob's picks were best at their position. His OL spanned four decades and was the strongest group by far. All-time pick leader Neal Smith and punter Ralph Giacamarro showed McClellan's surprising and seasoned savvy against a field of Penn Staters. Flex selection Lydell Mitchell was inspired.
Team Stephon Morris
(Top five picks: LB Sean Lee, LB LaVar Arrington, WR Bobby Engram, DT Matt Millen, RB John Cappelletti)
Jones says:
A-. He mixes the school's only Heisman winner in Cappy with the quarterback who won the first national title. Defensively, the athletes at linebacker are impressive, and Millen is outstanding up front
Poorman says:
Pass. No way I could fail Stephon. A likeable and gutsy player, he was a media favorite with his candor. With his draft picks, he displayed confidence -- he picked Stephon Morris at CB -- and smarts, by snagging four of the giants of Penn State football: John Cappelletti, LaVar Arrington, Matt Millen and Todd Blackledge. But his O-line was of the "oh, my goodness" variety, and his biggest downfall.
Team Josh Moyer
(Top five picks: QB Kerry Collins, S Mark Robinson, OT Levi Brown, OG Sean Farrell, TE Ted Kwalick)
Jones says:
A-. Get ready for the ball to fly. Great quarterback and receivers. Everyone has quality tight ends, but Kwalick was special. Strong secondary behind that defensive line.
Poorman says:
B+. Josh has the best pitch-and-catch triad of Kerry Collins, Kenny Jackson and Ted Kwalick, with Stefen Wisniewski snapping the ball. That's four of his five position-best picks. He showed a healthy respect for -- and use of -- the past (W.T. Dunn, Joe Bedenk) that gets high marks, but his pair of kickers and one corner selection ranked a Z.
Team O.J. McDuffie
(Top five picks: RB Ki-Jana Carter, RB Larry Johnson, OG Steve Wisniewski, OG Jeff Hartings, S Darren Perry)
Jones says:
B+. Great running game along with speed at wide receiver. The defense is solid across the board.
Poorman says:
C. O.J. was in trouble as soon as did not pick O.J. McDuffie. His one old-school pick, Matt Bahr, was the best kicker selected. But O.J. relied almost totally on Nittany Lions from the past three decades and regrettably didn't include one player from the first 88 years of Penn State football. Not OK, O.J.
March, 14, 2013
3/14/13
11:00
AM ET
STATE COLLEGE, Pa. -- With just four days until spring practice starts, NittanyNation decided to look into its crystal ball to find out what could await Penn State this season.

Who'll be the opening-day starter at quarterback? And what run-on could end up starting? Here's what we think:


December, 21, 2012
12/21/12
9:00
AM ET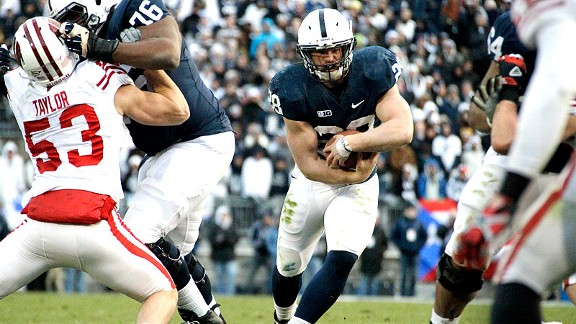 AP Photo/Gene J. PuskarPenn State offensive tackle Donovan Smith (76) blocks Wisconsin linebacker Mike Taylor (53) and opens up a big hole for running back Zach Zwinak (28).
Over this past week, NittanyNation has counted down the five Penn State players who weren't named to the All-Big Ten teams and are poised for breakout seasons in 2013.
The No. 1 breakout player:
LT
Donovan Smith
, rising redshirt sophomore
When Smith was first recruited by Penn State, the staff playfully pulled out the chair he was about sit on. "That was
Levi Brown
's chair," former assistant Bill Kenney told him.
Kenney and the staff explained how Brown was picked fifth overall in the 2007 draft, and they emphasized just how much Smith's playing style reminded them of the Arizona Cardinal.
Kenney may no longer be with the team, but it's still pretty evident this staff still thinks highly of Smith -- and that he has a bright future ahead of him. At 6-foot-5, 316 pounds, Smith is already close to the prototypical size for an NFL tackle. And, even though he's been on campus for just two years, he's already dripping with NFL potential.
The Maryland product was limited in 2012 because of a combination of injuries. He missed a lot of preseason practice with a lingering hamstring injury, missed two games and also saw limited time when he broke his hand and was forced to wear a cast.
Smith wasn't 100 percent for nearly his entire redshirt freshman campaign. If he stays healthy, with another offseason of training under Mac McWhorter and Craig Fitzgerald, he could be the next big -- pardon the pun -- thing in State College.
He's flexible, athletic, powerful and has put in the work. He's added about 51 pounds since high school, and it's a distinct possibility he could be the best player on the line next season. He's likely to leave Penn State with a few All-Big Ten selections -- and next year could only be the beginning.
Quotables
: "He's an excellent young player. He's a left tackle that's athletic and big and tough, and you know he's had some bumps and bruises over the last couple games." -- Bill O'Brien
August, 22, 2012
8/22/12
1:00
PM ET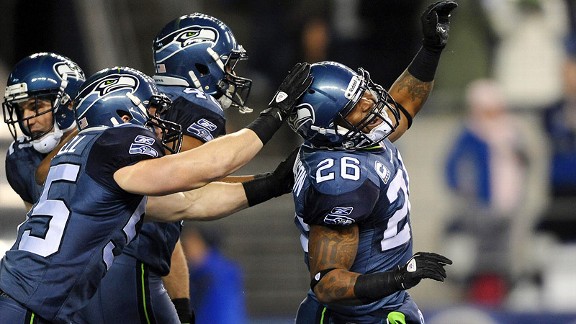 Steven Bisig/US PresswireMichael Robinson (right) has become one of the better fullbacks in the NFL after playing quarterback at Penn State, making the Pro Bowl this past season.
NittanyNation takes a look at every Penn State player currently playing in the NFL -- where they are, what their role is and what their careers have looked like.
NittanyNation will look at offensive NFC players this afternoon after glancing at offensive AFC players this morning:
Stephfon Green
, RB,
Detroit Lions
Height/weight/age:
5-10/193/23
Role:
Battling for a roster spot as the No. 4 RB
PSU career:
Green burst onto the scene as a redshirt freshman in 2008 -- but that turned out to be his best season. He had 578 rushing yards and found himself in Joe Paterno's doghouse by his senior season. He finished his career with 1,351 yards and 14 scores.
NFL career:
Went undrafted. Green has six carries this preseason for 92 yards -- including a 76-yard scamper for a score against the
Baltimore Ravens
.
PSU's 46-Hour Dance Marathon Raises $13 Million
BIG TEN SCOREBOARD
Thursday, 9/3
Friday, 9/4
Saturday, 9/5
Sunday, 9/6
Monday, 9/7