Penn State Nittany Lions:

LeShun Daniels
October, 31, 2013
10/31/13
8:00
AM ET
STATE COLLEGE, Pa. -- There's been a lot of talk about forgetting Saturday's 63-14 loss to Ohio State. About maybe pretending like the worst defeat in 114 years never happened, that the embarrassment should be shrugged off and discarded like an empty Gatorade bottle.
"You've got to get back to work and forget about the past," offensive guard
Miles Dieffenbach
offered.
But Dieffenbach altered that statement when pressed.
Can you really forget about something like that? Isn't there a difference between forgetting and moving on?
"You can't forget," Dieffenbach admitted, nodding.
[+] Enlarge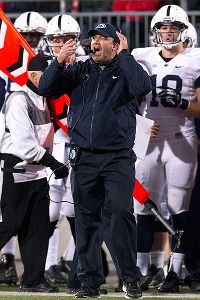 Greg Bartram/USA TODAY SportsBill O'Brien tried to provide his players with some perspective after the loss to Ohio State.
"It's always going to be in the back of your mind. But we know what type of guys we have on the team, and we know what type of coaches we have. And we're not going to let that affect our outcome on the rest of the season."
Those words were remarkably similar to those by players on the 1994 Ohio State team, which lost to Penn State by that same score -- 63-14 -- on the road. Nineteen years later, and those Buckeyes still remember. Former defensive end Matt Finkes won't even wear black socks anymore because he still recalls wearing the color during the October game that's "etched in my memory."
There's no remedy to forgetting a 63-14 game. There's no way to erase it from the record books or pretend like it was never played. But there is a way to move past it -- while still remembering, of course.
"You get another win under your belt," former Ohio State DT Matt Bonhaus said, "and that feeling, that loss, goes away."
Added PSU safety
Jesse Della Valle
: "That's our goal, obviously, just to rebound and get back on track."
Penn State will get its chance at noon on Saturday against an Illinois team that started off hot and has cooled almost as fast the Lions' defense. The Illini boast a middle-of-the-road offense now, ranking No. 73 in total offense (400.7 ypg) and No. 58 in scoring offense (30.7 ppg).
But those numbers and rankings mean little this week -- and they'll mean even less if John Butler's defense repeats its performance from Saturday. Few questions this week revolved around the ability of Illinois quarterback
Nathan Scheelhaase
or the style of Illinois' offense. Many, many more revolved around the mindset of Penn State.
Dwell on the last game, and lose the next game. Play like the last game, and lose the next game. Bill O'Brien crossed arms in a gray sweatshirt Tuesday and explained that his staff would simplify the defense this week, maybe make fewer checks at the line, and "just let them go play."
The reigning coach of the year gathered the Nits around 2:45 p.m. Monday and preached focus, about the 63-14 loss not being the worst thing that will happen in their lifetimes. He again emphasized taking it one game at a time -- which sounded a lot like advice from the Ohio State staff back in 1994, long before replays of painful losses were repeatedly streamed online and fans vented on message boards 24/7.
Said Finkes: "The coaching staff just sat us down and said we still have a lot of goals to accomplish -- and let's not lose this whole season just because of one game."
The only way for PSU to move past that game isn't forgetting. Della Valle had it right on Tuesday; it's about focus.
"We have a lot more to play for this season," he said. "So we're going to move on and focus on what we need to do."
Said '94 OSU guard
LeShun Daniels
: "It's a new week. You need to focus on a new team. You need to get back to what you're doing. You need to move on."
Ohio State rebounded against Wisconsin in 1994, and its defense limited the Badgers to a field goal a week after surrendering nine touchdowns. Penn State is planning for success against Illinois on Saturday, a game in which it's still favored by double digits, by simplifying and focusing.
A win over Illinois digs the Lions out of the past and reinforces that focus on the future. Another big loss?
Then there'll really be no forgetting.
October, 29, 2013
10/29/13
2:00
PM ET
Former Ohio State OG LeShun Daniels reclined on his oversized couch, next to two of his sons, while they sipped lemonade Saturday night and stared at the Penn State-Ohio State game on the big-screen TV.
[+] Enlarge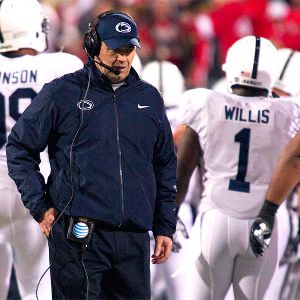 Trevor Ruszkowksi/USA TODAY SportsBill O'Brien and Penn State will need their leadership to help them get over the lopsided loss to Ohio State.
They'd laugh and joke during the game, and Daniels would flip on other channels to peek at the Oregon and Missouri contests when -- and only when -- a commercial break interrupted the action. His youngest, 5 years old, conked out around halftime when the score glued on the bottom of the screen read, "PENN ST 7 OHIO ST 42."
But Daniels, who started for the Buckeyes from 1994 to 1996, couldn't take his eyes off the TV. These were his Buckeyes after all, a team still close to his native Ohioan heart. And he smiled to himself before midnight when that final score stuck. It was all too familiar.
Ohio State won, 63-14, Saturday night -- the identical score from Oct. 29, 1994, when he played Penn State. But, this time, the numbers were reversed. Daniels had stood on the Beaver Stadium grass -- and still remembers listening to the Lion roar over the loudspeaker -- when his beloved Buckeyes dropped a 63-14 contest to PSU. Now, the Buckeyes were celebrating at The Shoe as the 63-14 victors.
"It just clicked, watching the game the other night," Daniels said with a laugh. "The Bucks did play a good game, so it was good to see that. But also seeing that score, even 19 years later, that was really good to see. I remember hearing about that game like 1,000 times while we were playing Penn State. So it was good."
Four former Ohio State players from that game still remember it vividly, nearly 20 years later. A loss like that never really leaves you, they said. For most of the roster, it was the worst beatdown they received from Pee Wees to the pros. Nothing felt -- or ever would feel -- quite like that.
"It sticks with you, kind of even today," former defensive end Matt Finkes said. "People will still bring that up; even before this week there were people talking about that loss. They'll be like, 'Oh it was 56-7.' And I'll be like, 'No, it's 63-14.' It's etched in my memory. That's something you don't forget."
Bill O'Brien's squad of 61 scholarship players probably hopes to forget about the scarlet and gray this week -- but they could learn a lesson from those 1994 Buckeyes and that 63-14 landslide. After suffering its worst loss in nearly a half-century, the 1994 Ohio State squad rebounded with three straight wins, including a 24-3 victory over a good Wisconsin team the very next weekend.
Former OSU linebacker Lorenzo Styles remembers the Penn State game all too well. He can still remember watching one completion after another from Kerry Collins -- who went 19-of-23 for 265 yards and two TDs -- and chasing down a speedy Ki-Jana Carter (19 carries, 137 yards, four TDs). But, more than anything, he remembers the frustration his defense felt lining against PSU's mammoth offensive line.
The Buckeyes were young and inexperienced that year -- not unlike PSU this season -- and what would usually end up as stops in the backfield routinely turned into at least 2- and 3-yard gains. Finkes moped on the sideline late in the third quarter and just wanted the game to be over; a sense of relief washed over the team once the refs finally blew the whistle.
"You don't forget about it, but you understand you have to come out ready with what you're supposed to do the next week," Styles said. "We knew we had the rest of the season left."
Added Finkes: "The coaching staff just sat us down and said we still have a lot of goals to accomplish -- and let's not lose this whole season just because of one game. And then that's the year we beat Michigan."
Intensity at practices turned up a few notches the week after the '94 team's 63-14 loss. Those three interviewed Buckeyes -- along with DT Matt Bonhaus -- all used the term "embarrassed." They were upset and beside themselves -- but they were also angry. And they were out to prove that historical loss wasn't the norm; it was just a bad footnote to a good season.
They had played terribly and lost to the far-superior team, one that finished the season undefeated and boasted five offensive All-Americans. They wouldn't see another team like that one and, they vowed, they wouldn't perform like that again either. They won that next week -- and beat PSU the very next season.
"You get another win under your belt," Bonhaus said, "and that feeling, that loss, goes away."
The Nittany Lions are a 10-point favorite against Illinois on Saturday. Whether they insist they've moved on or not, that loss to Ohio State will still be on their minds. It was on the 1994 Ohio State team's.
But the OSU quartet's advice for PSU was simple: Focus on the new opponent, don't lower expectations and don't dwell. Be resilient, and put more time in the film room to correct mistakes.
"They're resilient," Styles said of Penn State, explaining how the team stuck together through the sanctions. "The leadership on this team is like the leadership we had; they'll move forward."
But they won't forget. The Buckeyes rolled into that 1994 game with black socks, a secret move engineered by tailback Eddie George in which the coaches were unaware. (Finkes recalls one assistant yelling expletives because of the move.) The Buckeyes never before entered a game with black socks. Afterward, some players never touched black socks again. Even a decade later.
To this day, Bonhaus owns no black socks outside of some dress pairs. Finkes takes it even one step further -- he intentionally has no pairs of blacks. He'll wear gray dress socks if the occasion calls for it.
"I'm happy we went out and played that good game Saturday night," Finkes said. "But nothing's going to make that 1994 game go away -- even if we would've beaten them 100-7. No matter what, it was still me losing 63-14 back in 1994."
February, 6, 2013
2/06/13
7:00
AM ET
ESPN RecruitingNation has signing day covered. Follow ESPNU's coverage, chat with analysts and get breaking news on our Signing Day Live page beginning at 7:30 a.m. ET through 7 p.m. ET. For more on what to expect on signing day, check out the Big Ten conference breakdown

.
Bold prediction: Penn State will hang on to a top-25 class, even if just by the slimmest of margins. Bill O'Brien and his staff deserve all the credit in the world for having to originally put together a class after the scandal and then reshaping it after NCAA sanctions were levied in July.
Illinois

Biggest need: The Illini's offense was arguably the worst in the Big Ten in 2012, and Illinois needs help just about everywhere on offense, especially at the skill positions.

Biggest recruit: Four-star athlete Aaron Bailey is the future at quarterback for Illinois, and the coaches will expect him to be ready to take the reins once Nathan Scheelhaase moves on.
Indiana

Biggest need: To just put up a fence around Indianapolis and the state of Indiana. Kevin Wilson did that, assuaging defensive line concerns in the process by adding Indianapolis linemen David Kenney III and Darius Latham.

Biggest recruit: The Hoosiers are not accustomed to landing ESPN 150 prospects, but not only did they get Rashard Fant, but they got him all the way out of Georgia.
Iowa

Biggest need: After having several productive running backs over the past decade, the Hawkeyes are hurting in the backfield due to injuries and off-the-field issues.

Biggest recruit: The Hawkeyes were after Berkley Edwards for a while, but once that fell through they put the screws to former Boston College running back commit LeShun Daniels. He flipped shortly after an official visit to Iowa.
Michigan

Biggest need: Brady Hoke is transitioning to a pro-style offense, and he needed a pocket passer and a running back who makes his living in between the tackles.

Biggest recruit: ESPN 150 quarterback Shane Morris is that pro-style quarterback, but he is also the unquestioned leader of Team 134 and helped put together one of the nation's top classes.
Michigan State

Biggest need: The Spartans will lose their top two rushers from 2012, including Big Ten rushing leader Le'Veon Bell, so running back is a priority. They are bringing in two.

Biggest recruit: ESPN 300 dual-threat quarterback Damion Terry is a capable thrower and runner, and he led his high school to a state title as a senior. Andrew Maxwell did not exactly lock down the starting quarterback job with his performance last season.
Minnesota

Biggest need: Donnell Kirkwood is a promising player at running back, but he struggled against some of the league's better defenses and wore down late in the season. A complement is sorely needed.

Biggest recruit: Three-star running back Berkley Edwards is the younger brother of former Michigan receiver Braylon Edwards. Berkley is one of the Gophers' highest-rated commitments, and running back is a position that lends itself to an easy transition.
Nebraska

Biggest need: Nebraska needs to return to its days of the Blackshirts, as the Huskers' defense was gashed on the ground all season. The Huskers need help along the defensive line.

Biggest recruit: Elite 11 finalist Johnny Stanton is a dual-threat quarterback, but he's a much more polished passer than Taylor Martinez, who has taken his share of lumps since his flashy start in Lincoln.
Northwestern

Biggest need: Now that the Wildcats are a legitimate threat in the Big Ten under Pat Fitzgerald, the next step is to get better athletes to compete with Michigan and Ohio State. Fitzgerald is doing that with Ifeadi Odenigbo in 2012 and Godwin Igwebuike in 2013.

Biggest recruit: ESPN 300 dual-threat quarterback Matt Alviti had offers from some big programs including Notre Dame, but he chose nearby Northwestern. The Wildcats have an unsettled situation at quarterback, and as a local product Alviti could be called for by the fans if the quarterback play does not improve.
Ohio State

Biggest need: Linebacker was the biggest need for the Buckeyes, and after a shaky start Urban Meyer wrapped up a nice haul at the position with ESPN 150 products Trey Johnson and Mike Mitchell.

Biggest recruit: It's a tie between Jalin Marshall and Dontre Wilson, who are separated by just a few spots in the ESPN 150. Both have game-breaking ability as a receiver or out of the backfield.
Penn State

Biggest need: Despite significantly improved play from Matt McGloin in 2012, the Nittany Lions have not been blessed with quarterbacks the past decade, with the exception of a few good seasons from Michael Robinson and Daryll Clark.

Biggest recruit: While the class did field its share of decommitments, the damage would have been irreparable if No. 1 QB Christian Hackenberg bolted. By staying on, he instilled confidence in several other recruits to stay or join him in State College.
Purdue

Biggest need: The quarterback situation at Purdue has been unsettled the past few seasons, which is not good when it comes to the most important position on the field.

Biggest recruit: An Elite 11 finalist, Danny Etling stuck with the Boilermakers through the coaching change. He will be looked at as the future of the program.
Wisconsin

Biggest need: While the Badgers always have a strong stable of backs, losing Montee Ball is going to hurt, especially in the red zone. Wisconsin addressed it with top commitment Corey Clement.

Biggest recruit: The loss of Russell Wilson left a major void at quarterback, but the Badgers landed quarterback Tanner McEvoy on Monday. McEvoy is ranked No. 44 among juco prospects nationally and the expectation is he will contend for a starting job immediately.
November, 25, 2012
11/25/12
8:06
PM ET
Three-star running back
LeShun Daniels
(Warren, Ohio/Warren G. Harding) knew there was a possibility Boston College coach Frank Spaziani would be fired at the end of the season, so he has been bracing himself.
The news came down Sunday as Boston College fired Spaziani. Daniels is committed to the Eagles.
"I knew that there was a possibility, and that's part of being a coach," he said. "It happens and you can't worry or think about it."
November, 5, 2012
11/05/12
11:00
AM ET
Tailback
LeShun Daniels
(Warren, Ohio/Warren G. Harding) said he remains committed to Boston College -- for now -- but it seems as if the Penn State target is open to other options.
He holds no offer yet from the Nittany Lions, but he was on the sideline last week for the Ohio State game. And Penn State's staff is showing serious interest.
"I just wanted to take a visit up there just to see how it is, because you never know what could happen in the future, because everything's not finalized yet," the three-star prospect said. "I'm still going through the recruiting process."
To continue reading this article you must be an Insider
PSU's 46-Hour Dance Marathon Raises $13 Million
BIG TEN SCOREBOARD
Thursday, 9/3
Friday, 9/4
Saturday, 9/5
Sunday, 9/6
Monday, 9/7