Penn State Nittany Lions:

Larry Johnson
November, 9, 2013
Nov 9
7:00
AM ET
While Penn State is trying to finish the season strong, Minnesota is seeking its fourth consecutive Big Ten win for the first time since 1973.


The Governor's Victory Bell is on the line, and here are five things to keep an eye on:
1. Allen Robinson nearing another school record.
The Penn State receiver is just 42 yards shy of breaking the single-season school record for receiving yards (1,084), a mark set in 1995 by Bobby Engram. Robinson is averaging 10 catches and 149 yards in each Big Ten contest, so it seems almost certain that he will break the record against Minnesota. Of course, there's also an outside shot he'll break another record in the afternoon -- the single-season receptions record. Robinson is at 66 catches right now, and he needs 12 more to break his record from last season. He has twice grabbed a dozen receptions in Big Ten games this season.
2. Stopping quarterbacks on the run.
In the last three games, quarterbacks have run for 247 yards (82.3 per game) against Penn State. Minnesota quarterbacks
Philip Nelson
and
Mitch Leidner
are both dual-threats -- Leidner tends to run the most -- and have averaged a combined 75 rushing yards a game. The Nittany Lions have been mostly good against the run, outside of the Ohio State game, but they haven't fared well against running quarterbacks. Penn State's ability to limit both quarterbacks on the run will be paramount to stopping Minnesota.
3. Can Bill Belton continue playing at this level?
The junior tailback rushed for 201 yards last week, the first time a Penn State running back gained 200 yards in a game since Larry Johnson in 2002. Belton has been the most improved player on the offense, and he's solidified his status as the starter. But, after carrying 36 times last week, can he keep carrying such a heavy load? This game, against the No. 39 run defense, would go a long way in helping cement him as a top player. Big Ten Blog readers already voted him as
the most surprising tailback in the conference
.
4. More aggressive Minnesota passing offense.
In the first six games of the season, the Golden Gophers averaged just 116.8 passing yards a game and amassed a total of just nine completions of 20 yards or longer. In the last three games? It's
been completely different
. Nelson has helped guide Minnesota to an average of 202.3 yards per game and the Gophers have accounted for 13 big passing plays. Offensive coordinator Matt Limegrover has opened up the playbook, and it will be a challenge for Penn State's secondary.
5. PSU defense vs. Minnesota offense in the red zone.
The Gophers aren't the highest-scoring team in the Big Ten. But when they get inside the red zone, they're almost automatic. Minnesota ranks third in the nation by recording scores on 29 of 30 red-zone trips, with 22 touchdowns and seven field goals. Penn State is a middle-of-the-road team when it comes to bending and not breaking. The defense was able to come up with big plays when it needed against Illinois, but it will have to be even better against Minnesota. The Gophers have a penchant from running it in within five yards; 11 rushing touchdowns have been from 1 yard out.
November, 4, 2013
Nov 4
1:00
PM ET
STATE COLLEGE, Pa. --
Bill Belton
didn't smile on Saturday as the media surrounded him with bright lights and tape recorders.
[+] Enlarge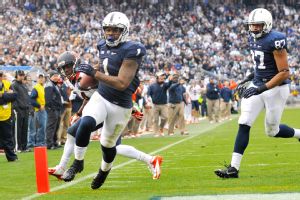 Randy Litzinger/Icon SMIBill Belton rushed for a career-high 201 yards in the overtime win over Illinois.
He became the first Penn State player to rush for 200 yards in a game since 2002, back when Larry Johnson crossed the 2,000-yard plateau and made a push for Heisman consideration. Belton celebrated his ninth birthday the last time the milestone was reached.
But Belton, as even-tempered as they come, spoke Saturday as if he rushed for 21 yards instead of 201. There was no sense of achievement in his voice, even after the emotional overtime win against Illinois. He barely grinned and spoke in a monotone voice, as if he were delivering a history report to a handful of disinterested students.
"Like I said before, the offensive line did a great job out there," he said. "All the credit goes to them."
You can take some credit, though. Can't you?

"A little bit. But I just want to, like, give it all to the linemen because they did a great job."
The junior tailback, who was relegated to backup just a month ago, let his play do most of the talking against Illinois -- and it was plenty loud. He had a career-high 36 carries and a career-high 201 rushing yards. He was never tackled in the backfield, accounted for nine first downs and 123 of his yards (5.85 ypc) came on first down alone.
He outgained Illinois' two backs by nearly a 4-to-1 margin and, with quite a few cut-backs and jukes, he made sure at least a few Illini defenders would be nursing sore ankles the next day.
"When he has a game like that it's not really surprising because you see it all year long," offensive guard
Miles Dieffenbach
said. "You're just waiting for him to have a breakout game like that."
During part of the locker room celebration, a video of which
was posted online
, the team erupted -- "All right, Billy!" -- in applause and cheers when Bill O'Brien mentioned Belton's 201-yard performance. Defensive backs
Adrian Amos
and
Ryan Keiser
smiled, waving their arms and recreating the game-ending interception. Belton, speaking with a large grass stain on his left shoulder pad, spoke in a whisper and deflected praise elsewhere.
The mild-mannered tailback, who prefers talking about his linemen instead of his career bests, has come a long way since last season, when he switched from wideout and struggled. O'Brien expected him to carry the ball about 25 times a game; he finished the season with 60 carries.
He looked lost at times. In the preseason, he admitted he just wasn't ready last year; he just wasn't a running back. But, this season, when fumbles forced
Zach Zwinak
to the bench against Michigan, Belton took over -- and looked just like the back O'Brien had envisioned. He rushed for 85, 98 and 201 yards in the past three games, and his 98 yards against Ohio State remains the most the Buckeyes have given up all season.
Belton glanced down Saturday afternoon and politely declined to address last season's "issues," of unfulfilled expectations and academic problems. But he didn't hesitate when asked just where this improvement came from.
"All of it is coaching," he said. "Instincts got me where I was last year; coaching got me where I am today."
Belton walked off the field Saturday and surveyed the chanting crowd. He swore he wasn't tired -- although he was probably just fine with a single overtime this time around -- and appeared to just take the entire experience in.
The closest he came to praising himself was retweeting a few congratulations over social media. It was a career-day for him, but he acted as if he'd been there before -- and, at this pace -- it sure looks like he'll be there again.
September, 13, 2013
Sep 13
9:00
AM ET
Penn State defensive coordinator John Butler is so competitive and intense that a childhood friend wonders half-jokingly if a demon lives inside him.
Wisconsin defensive coordinator Dave Aranda, meanwhile, is California cool, an admittedly cerebral coach directing a scheme built on aggression.
[+] Enlarge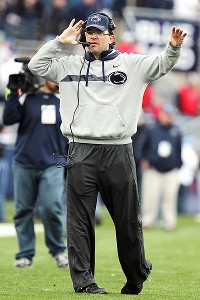 Matthew O'Haren/USA TODAY SportsPenn State's John Butler is emotional, animated, competitive and his players feed off that.
Butler can't be missed on the Penn State sideline, a ball of energy whose animated style makes players feel like he's one of them. Aranda is more Zen-like, bringing a teacher's approach that connects with bright Badger defenders as he conveys messages without veins bulging from his neck.
Butler and his boss, Bill O'Brien, are near replicas, fiery Irishmen from hardboiled Eastern cities who share a relentless drive to succeed. Aranda and his boss, Gary Andersen, first met in Maui of all places. They both have backgrounds in defense but are, as Andersen puts it, "polar opposites."
The obvious differences between Butler and Aranda shouldn't overshadow the fact that both first-year Big Ten defensive coordinators are rising stars, rocketing up the coaching ladder. They're highly respected among their peers and viewed as likely future head coaches.
Both men also will be put to the test this week, as they lead defenses against two strong opponents -- No. 20 Wisconsin visits Arizona State and Penn State hosts UCF -- led by standout quarterbacks (ASU's
Taylor Kelly
, UCF's
Blake Bortles
).
"This is why you do it, man," Butler told ESPN.com. "As a competitor, when the competition improves, you better improve your game or you're going to get embarrassed."
Butler and Keith Conlin rarely were embarrassed as young athletes growing up just outside Philadelphia. In fact, they rarely lost at anything. Conlin and Butler met in first grade and played together on every team and in every sport.
They won titles in everything, thanks to Conlin, a self-described "mutant athlete" who went on to be an All-Big Ten offensive lineman at Penn State, and Butler, who eventually played football and basketball at Division III Catholic University. But they didn't win every game.
"Imagine the kid who would sulk and cry after games when you lose, but during the game was going to do whatever it took to win," Conlin said of Butler. "He wasn't the crybaby who lost and [said], 'I'm going to take my ball and go home.' He was literally mad because we lost. Losing is probably the worst thing he could possibly have in his world.
"It's almost like a demon he has, his drive and competitiveness."
It's also an asset that helped Butler rise from modest coaching origins -- Midwestern State, Texas State and Harvard -- to the Big Ten (Minnesota) in 2007, to the SEC (South Carolina) in 2011 and back to the Big Ten last year as Penn State's secondary coach and special teams coordinator. When defensive coordinator Ted Roof left for Georgia Tech in January,
O'Brien immediately promoted Butler
, who vaulted veteran Lions assistants Larry Johnson (defensive line) and Ron Vanderlinden (linebackers) for the role.
O'Brien's rationale: "He's just a coordinator, that's what he is. ... I knew if the coordinator job ever opened up, he would be the guy."
The transition was quick. Minutes after Roof informed the staff of his move, O'Brien walked into Butler's office.
"Billy said, 'This is the move I want to make,'" Butler recalled. "I told him, 'That's great. Let's move on.' I've prepared myself for this for a long time."
[+] Enlarge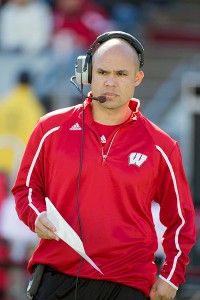 AP Photo/David StlukaWisconsin's Dave Aranda is driven to learn everything he can about defenses and isn't shy about visiting other programs and talking with other coaches.
Preparation is at the core of Aranda's approach. He has his principles -- multiple fronts, varied blitzes, a focus on takeaways -- but constantly keeps his ears open.
If there's a new approach, Aranda, 37, wants to learn it, even if he never employs it in a practice or a game.
"Professional development for him is very important," Andersen said. "He's a great researcher, very detailed. He's always out there looking for new things. He's much better at that than I was as a coordinator. I probably got a little set in my ways.
"If he's in a city where there's a football program, it doesn't matter if it's NFL, Division I or Division II, he's going to see if he can learn something from somebody."
This summer, Aranda dropped in on the Green Bay Packers, Atlanta Falcons and Jacksonville Jaguars, in addition to college teams like Ohio and Eastern Michigan.
"Outside of my family, about the only other people I talk to are other defensive coaches," Aranda said. "You try to get as many questions answered prior to having to answer them in games."
Andersen and Aranda first met at a high school camp in Maui. They both embraced what Andersen calls "the aggressive side of defense" -- capitalizing on blitz opportunities and gearing a scheme toward forcing turnovers. Aranda, like Butler, worked his way through the lower ranks (California Lutheran, Delta State, Southern Utah) before getting his big break at Hawaii.
Andersen watched Aranda's first coordinator stint -- Hawaii led the nation in takeaways in 2010 and finished 15th nationally in sacks the following year -- and
in 2012 brought him to Utah State
, essentially to replace himself as the defensive play-caller. Since Andersen made no other changes, Aranda took over a defensive staff as the only newcomer.
"There's no pretense," Aranda said. "I've always thought that it's not whose ideas that matter; it's just that it works."
After coordinating a Utah State defense that last season finished in the top 15 in points allowed, sacks, rushing yards allowed, pass efficiency and total yards allowed, Aranda received offers from two major-conference schools -- reportedly Cal and Texas Tech – but he chose to stay at Utah State. But that was before Andersen landed the Wisconsin job.
"A lot of people would say it was kind of crazy," Andersen said, "but he said no because he felt like that was where he needed to be. I respected that, so when we had the opportunity to come here, [bringing Aranda] was a slam dunk."
O'Brien and Butler didn't know each other well before O'Brien landed the Penn State job, but they had a mutual connection in strength coach Craig Fitzgerald, who had met O'Brien at Maryland and had attended high school with Butler and Conlin. O'Brien brought both Fitzgerald and Butler in from South Carolina.
After meeting O'Brien, Conlin wondered how Butler would mesh with his new boss.
"How [O'Brien] was emotionally so driven in everything he does, I was like, 'Man, they're either going to be best friends or the most hated enemies of all time,'" Conlin said.
It turned out to be the former. Both men are in their early forties. O'Brien grew up north of Boston in Andover, Mass. Butler lived in Boston while working at Harvard and said the city's energy reminds him of Philly.
"He's a quick-minded guy, a hardworking guy," O'Brien said. "We believe in the same things football-wise."
Added Butler: "It ended up being an excellent match."
Butler's style clicked with Penn State's players, whose competitive spirit carried them through a summer of sanctions and a season with no bowl or championship possibilities. The Lions won eight of their final 10 games last fall and the secondary, labeled as the defense's weak link, held its own.
"He's pumped up, just like all of us," defensive tackle
DaQuan Jones
said. "He's just out there, all loud and running around. I love it."
Butler hasn't pumped the brakes on his approach, despite his increased responsibilities. Competitiveness is non-negotiable for his players, although he has learned over time that it takes on different forms.
"Whether you're overtly competitive, which maybe I am, as opposed to internally competitive, which a lot of other people are, that spirit shows through in all of our guys," he said.
Butler, 40, oversees two of the nation's most accomplished assistants in Johnson and Vanderlinden, the only two holdovers from Joe Paterno's staff. Despite the experience gap, the transition "came natural," Butler said, and Penn State has surrendered only 24 points, 22 first downs and 132 rush yards in its first two games.
Conlin, who has seen Butler's evolution and maturation firsthand, has no doubt his friend will eventually lead a program.
"I don't know when, I don't know where," Conlin said, "but I wouldn't want to be playing against him. There's going to be 11 guys out there who will cut your heart out to win that game."
Andersen also sees Aranda as a future head coach, but hopes to keep him for "a while." Like Butler, Aranda has had early success, as the Badgers have yet to allow a point in two games.
And like Butler, Aranda will be challenged Saturday. Arizona State ranked 14th nationally in scoring last season and put up 55 in its opener. Aranda faced the same Todd Graham offense in the 2010 Hawaii Bowl, when Graham's Tulsa team put up 62 points against Hawaii.
"I think about that a lot," he said. "So it's exciting for me to get back in it and give it a go. It's a challenge, the stuff as a coach you look forward to."
Maybe Aranda and Butler aren't so different after all.
July, 10, 2013
Jul 10
1:00
PM ET
So, what teams had the best and worst
all-time PSU fantasy drafts
on Tuesday?
There's a lot of opinion out there, but NittanyNation tried to find two knowledgable judges to offer their takes on each team's draft. Both Steve Jones and Mike Poorman agreed to grade each team and include a brief analysis.
Jones is the play-by-play voice of Penn State football and hosts a daily radio show that can be heard on ESPN 1450 in State College. Poorman is a columnist and senior lecturer at Penn State who taught the class, "Joe Paterno, Communications & The Media." Both are PSU graduates.
Here's what they had to say:
Team Lou Prato
(Top five picks: RB Lenny Moore, LB Jack Ham, DT Mike Reid, DE Courtney Brown, C Glenn Ressler)
Jones says:
A. Outstanding defense, especially at linebacker, and a solid kicking game. Offensively, Moore could do it all, and people forget Chuck Fusina was a Heisman trophy runner-up who actually had more first-place votes than Billy Sims.
Poorman says:
A. I graded the No. 1 pick at each position, and Lou was tops with eight such selections. His LB combo of Jack Ham and Shane Conlan, PSU's best two ever, and secondary pair of Harry Wilson and Michael Zordich exemplified a depth of knowledge -- and, hence, roster -- that was unmatched, top to bottom. Memo to Bob McClellan: 25 years after you had him in class, Lou is still cantankerous.
Team Bob McClellan
(Top five picks: CB Brian Miller, RB Curt Warner, OT Keith Dorney, OG Mike Munchak, DE Michael Haynes)
Jones says:
A-. Great running game and offensive line, along with the best rushers. This group has underrated receivers and an underrated quarterback who was Big Ten player of the year.
Poorman says:
A-. Seven of Bob's picks were best at their position. His OL spanned four decades and was the strongest group by far. All-time pick leader Neal Smith and punter Ralph Giacamarro showed McClellan's surprising and seasoned savvy against a field of Penn Staters. Flex selection Lydell Mitchell was inspired.
Team Stephon Morris
(Top five picks: LB Sean Lee, LB LaVar Arrington, WR Bobby Engram, DT Matt Millen, RB John Cappelletti)
Jones says:
A-. He mixes the school's only Heisman winner in Cappy with the quarterback who won the first national title. Defensively, the athletes at linebacker are impressive, and Millen is outstanding up front
Poorman says:
Pass. No way I could fail Stephon. A likeable and gutsy player, he was a media favorite with his candor. With his draft picks, he displayed confidence -- he picked Stephon Morris at CB -- and smarts, by snagging four of the giants of Penn State football: John Cappelletti, LaVar Arrington, Matt Millen and Todd Blackledge. But his O-line was of the "oh, my goodness" variety, and his biggest downfall.
Team Josh Moyer
(Top five picks: QB Kerry Collins, S Mark Robinson, OT Levi Brown, OG Sean Farrell, TE Ted Kwalick)
Jones says:
A-. Get ready for the ball to fly. Great quarterback and receivers. Everyone has quality tight ends, but Kwalick was special. Strong secondary behind that defensive line.
Poorman says:
B+. Josh has the best pitch-and-catch triad of Kerry Collins, Kenny Jackson and Ted Kwalick, with Stefen Wisniewski snapping the ball. That's four of his five position-best picks. He showed a healthy respect for -- and use of -- the past (W.T. Dunn, Joe Bedenk) that gets high marks, but his pair of kickers and one corner selection ranked a Z.
Team O.J. McDuffie
(Top five picks: RB Ki-Jana Carter, RB Larry Johnson, OG Steve Wisniewski, OG Jeff Hartings, S Darren Perry)
Jones says:
B+. Great running game along with speed at wide receiver. The defense is solid across the board.
Poorman says:
C. O.J. was in trouble as soon as did not pick O.J. McDuffie. His one old-school pick, Matt Bahr, was the best kicker selected. But O.J. relied almost totally on Nittany Lions from the past three decades and regrettably didn't include one player from the first 88 years of Penn State football. Not OK, O.J.
July, 10, 2013
Jul 10
11:00
AM ET
STATE COLLEGE, Pa. -- The
all-time Penn State fantasy draft
might be over, but the controversy has only just begun.
NittanyNation thought it'd take an extra day to reflect on the process, offer some analysis, give some opinions and then move on from a memorable three-hour, 24-round draft.
Steve Jones and Mike Poorman will grade each team later today, but NittanyNation wanted to give its own rundown of the draft and offer a behind-the-scenes look at a few picks.
The best PSU player?
In a casual Twitter poll Monday night, linebacker Jack Ham received the most mentions for best overall Penn State player. Team Prato took him in the second round, with everyone except the softspoken McDuffie playfully calling Lou Prato a jerk. (Everyone wanted Ham.)
It was an interesting, nonscientific poll because it took about a dozen votes for a single name to be repeated. LaVar Arrington and John Cappelletti also received multiple mentions.
Prato voted for Lenny Moore by drafting him with his No. 1 overall pick.
[+] Enlarge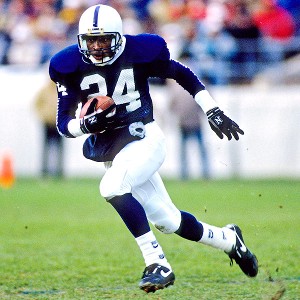 USA TODAY SportsO.J. McDuffie wasn't happy when Team Moyer drafted him -- immediately before McDuffie planned to draft himself.
Most memorable part of the draft:
Definitely the end of the seventh round. Only one receiver had been drafted until that point (Bobby Engram), and Team Moyer needed a wideout.
So, right before Team McDuffie had back-to-back picks, Team Moyer selected O.J. McDuffie for his own fantasy team.
Team Moyer: "Sorry to do this to you, OJ, but I got to. I'm taking O.J. McDuffie. Need Collins to throw to someone."
Team McDuffie: "Damn, Josh. I was just about take myself."
That's when four receivers -- McDuffie, Bryant Johnson, Deon Butler, Kenny Jackson -- were taken consecutively and caused headaches for the other three participants. That was a key part to the draft. And, five days later, O.J. still wasn't happy about the move.
"I still can't believe you did that," McDuffie said, laughing. "Right before me."
Biggest head-scratchers:
Cornerback Brian Miller as the No. 2 overall pick? C'mon, Team McClellan. Cornerback was the slimmest position in the draft, so corners had added value -- that was McClellan's reasoning for taking him so high -- but one could've held off on Miller until at least the fourth or fifth round.
Team McClellan passed up Ki-Jana Carter and Kerry Collins for Miller. Team Morris also received some ribbing for making Sean Lee the No. 1 LB, but Stephon Morris wanted to draft someone in the first round with whom he had played. So that was understandable.
But when Morris took kicker Chris Bahr in the 10th round? Definite head-scratcher -- although he did
explain that move here
. McDuffie also surprised just about everyone when he drafted Larry Johnson over the likes of Curt Warner and Cappelletti.
Best undrafted players:
Where to even begin? There were plenty; you could make up a great team on just left-overs from the draft.
QB Tony Sacca, FB Franco Harris, RB Blair Thomas, WR Derek Moye, OT Chris Conlin, and C Matt Stankiewitch are among the best remaining picks on offense. As far as the defense: DT Jimmy Kennedy, DE Bruce Bannon, LB Michael Mauti, CB Derek Bochna and S Harry Hamilton were also undrafted.
Best sleepers (or best-value picks):
OK, we'll throw Team McClellan a bone here. Grabbing two-time All-American and College Football Hall-of-Famer Dennis Onkotz in the 16th round was probably the steal of the draft.
That greatly boosted Team McClellan's LB corps. And he grabbed another great-value pick with Lydell Mitchell in the 20th round. Team Morris definitely got great value in QB Todd Blackledge in the 19th round, and Team Moyer's best-value picks appeared to be LB Greg Buttle in the 18th round and Kenny Jackson in the eighth.
Morris means business:
A lot of participants hit the books before the draft, but Morris' preparation was a little different. As a player, he had a bit of a leg up, because he didn't just stop at reading up on all the players -- he went straight to the source.
Morris called up several former players -- including Lee, Chafie Fields, NaVorro Bowman, Derrick Williams and Arrington -- to talk about whom they thought deserved to be drafted.
"Once you told me about it, I had contacts with guys who I played with and guys like Chafie Fields, who I was thinking about signing with, so I just did my research," Morris said Tuesday night. "I asked them about some guys, who I should choose and pretty much went from there."
Morris' research seemed to pay off. Prato was pleasantly surprised at Morris' Penn State knowledge, and his defense is among the best.
Can we get a mulligan?
When you're picking players without a fancy draft board and you're racing against the clock, sometimes panic and confusion set in -- and it basically happened to all of us.
Prato regretted not taking Gregg Garrity; Morris likely would've taken Brandon Noble over Devon Still if he had another chance; McDuffie would've drafted himself sooner. And Team Moyer? Why, oh why, couldn't Lydell Mitchell hold out for one more round? Michael Mauti also likely would've replaced Ed O'Neil upon closer inspection.
Looking back on the draft:
The most difficult part wasn't necessarily creating your own "cheat sheet" and ranking the best players at each position. It was trying to weigh whether someone like Michael Robinson had more value than someone like Engram.
There was no blueprint to this, since it had never really been done before. We all knew what players we wanted -- but we weren't so sure just who we could wait for and who we needed to grab right away.
Morris agreed that you kind of had to adopt a reactive strategy with the draft. With no mock drafts, it was definitely unique. But, looking ahead, at least future drafters will have some idea of what to expect.
It was definitely a lot of fun. The NittanyNation staff will probably continue trash-talking about this throughout the season. And McDuffie, Morris and Prato were all great sports.
"If I'd know the level of participation McDuffie and Morris would have I'd have picked them 1 and 2," McClellan said. "Great guys and tremendously patient during the whole process, too."
February, 7, 2013
Feb 7
9:00
AM ET
STATE COLLEGE, Pa. -- He rarely addresses the media. He doesn't opine for the spotlight. Heck, Bill O'Brien didn't mention his name once during Wednesday's 33-minute national signing day press conference.
But don't be fooled here. Defensive line coach Larry Johnson Sr. has played one of the most important roles in piecing together this 2013 recruiting class.
To continue reading this article you must be an Insider
January, 28, 2013
Jan 28
1:00
PM ET
On Friday, RecruitingNation took you behind the scenes on recruiting trips and
polled various prospects
about their favorite memories on the recruiting trail.
NittanyNation asked two Penn State commits about their favorite-everythings. So, we decided to list offensive tackle
Andrew Nelson
's answers for every category right here. We'll have the second player tomorrow.
To continue reading this article you must be an Insider
October, 21, 2012
10/21/12
8:17
PM ET


IOWA CITY, Iowa -- It's time to stop talking about Penn State as a nice little story.
The narrative about first-year coach Bill O'Brien getting the most out of his presumably talent-starved, transfer-wrecked roster sounds old, boring and, quite frankly, a bit condescending. Because even in praising O'Brien and his Nittany Lions, there's a subtle hint that things inevitably will fall apart. There's a suggestion that at some point, the letdown will happen -- at some point, Penn State will collapse under the weight of all that has happened to its program in the past 11 months.
Keep waiting.
Maybe it's time to be honest about Penn State. This is a merciless football team playing with tremendous confidence and urgency on both sides of the ball. O'Brien and his staff are one step -- or, in games such as Saturday night's -- three steps ahead of the competition, and they have more than enough talent to keep on winning.
Right now, the Big Ten has no hotter team than the Lions. A week from now, we could be proclaiming Penn State the Big Ten's best team.
[+] Enlarge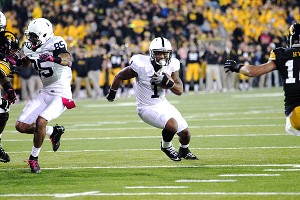 Reese Strickland/US PresswireA healthy Bill Belton ran for 103 yards and three touchdowns in Penn State's romp.
Nice little stories don't come into Kinnick Stadium and destroy Iowa the way Penn State did Saturday night in a
38-14 win
before 70,585 stunned souls who had striped the stands in black and gold. Nice little stories don't outgain the host Hawkeyes 504-209, record twice as many first downs (28-14), hold the ball for 38:08 and convert eight of 17 third downs. Nice little stories don't silence a raucous crowd in less than 13 minutes, continuing a trend of first-quarter dominance (Penn State has outscored foes 66-0).
"The sky's the limit for us now," senior defensive tackle Jordan Hill said. "Today just speaks a little about how well we can play."
O'Brien talked in July about the season being Penn State's chance to punch back. On Saturday night, the Lions scored a first-round knockout in a place where they hadn't won since 1999. It marked their fifth win in a row after an 0-2 start.
"Every day, we're running out of time," senior linebacker Michael Mauti said. "We don't believe in a lull or anything like that. You only have so many games to suit up in a Penn State uniform. That's something really special that we take a lot of pride in.
"There's so much emotion we bring."
Perhaps Penn State's strongest weapon isn't O'Brien's scheme, which has transformed one of the nation's worst offenses and one of the Big Ten's weakest quarterbacks (Matt McGloin). It isn't a stout defensive front seven or a group of surprisingly dynamic young receivers and tight ends.
It's urgency. The Lions have it, and it shows in their play.
"They know at the end of the day, there's only five games left," O'Brien said. "There's only five games left. So what are you going to do? OK, we're going to be flat today, and then the last four, we'll get up? I believe that these guys will come ready to play and be energized. Whether we win or not, who knows, but they'll be energized."
Open weeks haven't exactly been favorable to Big Ten teams in recent years. Many return to the field sluggish.
Penn State returned in fifth gear, shifting into its up-tempo offense -- O'Brien calls it NASCAR tempo -- on the game's second series and marching 84 yards in nine plays for a touchdown. The Lions kept the pedal down and scored on four of their next six possessions, as McGloin (26-for-38 passing, 289 yards, 2 touchdowns) spread the ball to several targets, namely freshman tight end Kyle Carter (6 catches, 85 yards), and received a big boost from a healthy Bill Belton (16 carries, 103 rush yards, 3 touchdowns) at running back.
"I didn't think we could come in here and huddle, and break the huddle, and run a normal pace," O'Brien said.
The result? "They couldn't keep up with it," McGloin said.
Penn State racked up 10 first downs and 187 yards in the first quarter, and finished the first half with 304 yards. Four players had multiple receptions, and Belton, finally near full strength after dealing with an ankle injury since the season opener, averaged 8.5 yards per carry.
A Lions offense that eclipsed 25 points just once in Big Ten play last season has put up totals of 35, 39 and 38 points in its first three league contests this season.
"Coach O'Brien's a great coach, and what he does is very unique and very effective," center Matt Stankiewitch said. "We're just proving it. Do we have an advantage? Coach O'Brien's the guy we have an advantage with because he's the coach."
Penn State's offensive renaissance under O'Brien has somewhat overshadowed a defense that keeps getting better each week. The Lions kept Iowa's offense out of the end zone for nearly 56 minutes -- the Hawkeyes scored on a kickoff return early in the fourth quarter -- and surrendered just 20 rush yards on 23 carries. Iowa star Mark Weisman played despite an ankle sprain and had 9 yards on five carries.
Hill and Mauti triggered the defensive effort, combining for 17 tackles, including three for loss, and two sacks. Mauti had one of two interceptions against struggling Iowa quarterback James Vandenberg (17-for-36 passing, 189 yards).
"It was one of my better games," said Hill, who led Penn State with nine tackles. "[Defensive line coach Larry Johnson] always says, 'Who's going to rise to the occasion when you're playing under the lights?'"
Penn State will be back under the lights next Saturday when it hosts undefeated Ohio State. The forecast calls for a whiteout at Beaver Stadium. No Big Ten fan base cherishes night games like Penn State's. For seniors such as Mauti, McGloin and Hill, it'll be their last time playing in front of the faithful at night.
It'll also give Penn State an idea of exactly where it stands.
"It'll be the best team we play so far this season," Hill said. "It'll be a great test for us, and we're up for the challenge."
In O'Brien's eyes, why wouldn't they be up for it?
"When you play football at Penn State," he said, "you have a hell of a lot to play for."
Saturday night against Ohio State, Penn State will play for the title of Big Ten's best team.
Penn State vs Wisconsin Highlight