Penn State Nittany Lions:

Kevin Newsome
June, 10, 2014
6/10/14
5:00
PM ET
Questions, answers and
Twitter
. What could possibly be better on a Tuesday in June?
Let's begin ...

Virgel from Valdosta, Ga., writes:
Adam, do you think that if this season ends the Tim Beckman era at Illinois, they would go after a high-profile coach on the bench right now, like a Mack Brown? Your thoughts?
Adam Rittenberg:
Interesting thought, Virgel, as it's hard to know where athletic director Mike Thomas would turn. He has a track record of hiring MAC coaches -- Butch Jones, Brian Kelly, Beckman -- but I'd be shocked if he went that route again. Brown will be 62 in August, has a ton of money and likely a lengthy TV career ahead, so I'm not sure how much he would want to coach again. And if he did, for how long?
Illinois doesn't want to keep changing coaches. But thinking outside the box could be a good approach. Or Thomas could hire a guy like Michigan State defensive coordinator Pat Narduzzi, who is ready to lead a major-conference program.
---
Kyle from Hamilton, Ontario, writes:
We all have heard how "weak" Iowa's schedule is. It has even been rumoured that they could be favoured in every game. Given the fact they don't play Ohio State, a scenario exists that they both could go undefeated. That could have happened in 2002 if Iowa didn't blow the lead against Iowa State that year. My question is this: If both Ohio State and Iowa go undefeated do both teams make the playoffs?
Adam Rittenberg:
Man, I love that Canadian spelling. This would be a fascinating scenario, Kyle. A lot depends on what happens in other conferences and how the Big Ten performs in marquee nonleague games. But I don't think Iowa makes the playoff with a loss in the league championship game, primarily because of the seemingly soft regular-season schedule.
In this scenario, Ohio State would have a road win against a preseason top-10 team in Michigan State. The Buckeyes also play Virginia Tech in nonleague play. Will the Michigan home win help or hurt Ohio State? How much credit will Iowa get for beating Wisconsin and Nebraska at home? All these questions factor into the playoff decision. Ultimately, I doubt the Big Ten gets two teams into the initial playoff. Fairly or unfairly, the league will pay for its recent shortcomings. But Ohio State has a better chance as a one-loss team than Iowa.
---
Dave from Marietta, Ohio, writes:
The Big Ten should've gone to North-South divisions instead of East-West. I'm not sure about the exact locations of the schools, but a North-South alignment could look something like this ... North -- Minnesota, Wisconsin, Michigan, Michigan State, Northwestern, Purdue, Iowa. South -- Maryland, Rutgers, Penn State, Ohio State, Indiana, Illinois, Nebraska.
Adam Rittenberg:
Interesting idea, Dave, as this proposal appears to create more historical balance than the current East-West alignment. But if you look at the Big Ten's recent expansion, the idea is to live in a second region along the East Coast. It's not a northern expansion but an eastern one. Another factor to consider is geography. Nebraska would be a major outlier in the South division -- nearly an eight-hour drive from its closest division competitor (Illinois) and a loooong way from Ohio State, Penn State, Maryland and Rutgers. Would Husker fans care? Maybe, maybe not. They would get annual games with both Penn State and Ohio State.
I like how your proposal satisfies the
Iowa-Wisconsin-Minnesota rivalry triangle/dilemma
, but it also would require at least one extra protected crossover, Ohio State-Michigan, which would reduce the overall schedule rotation for two of the league's marquee programs. I definitely see value in the North-South model, but East-West is here, at least for now.
---
[+] Enlarge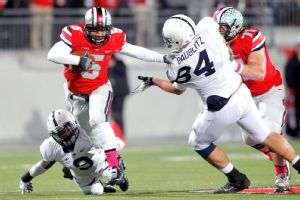 AP Photo/Paul VernonOhio State's Braxton Miller is one of just two early enrollees to be Big Ten Freshman of the Year in the last seven years.
Dave from Columbus, Ohio, writes:
I wondered if you've seen any data comparing early enrollees and players who enroll in the fall. Do early enrollees start sooner, play in more games, have better drafts or have better graduation rates than players who enroll in the summer/fall? My thought is if the player works hard enough to graduate high school early, maybe there's a bit of a better work ethic.
Adam Rittenberg:
Good question, David, and there's not a great answer yet as this trend remains somewhat new. The number of early enrollees really spiked in the 2009 and 2010 recruiting classes. Not surprisingly, there is some evidence that
early enrollees
are
contributing faster
in their careers than those who arrive in the summer. We've seen examples in the Big Ten such as Wisconsin cornerback
Sojourn Shelton
, who earned a starting job as a true freshman. Ohio State quarterback
Braxton Miller
enrolled early and has started since the middle of his freshman season.
Then again, a
2009 ranking of top early enrollee groups

showed more misses (Tate Forcier, Kevin Newsome, Will Campbell) than hits (Gerald Hodges) in the Big Ten. Penn State had
seven early enrollees in 2010
but only one, running back Silas Redd, became a star for the Lions.
Of the Big Ten's last seven Freshman of the Year recipients, just two -- Ohio State's Miller and Illinois' Arrelious Benn -- were early enrollees. So it's hard to draw clear conclusions.
---
Peter from Boston writes:
Would be interested to hear your thoughts on a
recent article by John U. Bacon
about attendance issues at Michigan (Ivan Maisel referenced it in his latest
3-Point Stance
). Personally, I think you could insert any major program in the country (including my alma mater Penn State) and write roughly the same article. ADs constantly point the finger at high-definition TV and other tech as the reason for slipping attendance, and it's definitely a factor, but Bacon makes some very good points about the in-game experience and costs of attending a game at a major university. What do you think?
Adam Rittenberg:
There are some very valid points in Bacon's story, especially about rising ticket prices. As Ohio State AD Gene Smith recently told me, "The reality is a lot of our ticket pricing, some of us are at the top of the pyramid." And it seems like the branding push, especially in the Big Ten, is turning off some fans. Has the sport sold its soul in some ways? No doubt. Is branding too much of a priority in the Big Ten, which makes a lot of money but doesn't really win anything? There's a case to be made. ADs are devoting a
lot of energy to improving the gameday experience
, but two solutions are pretty simple: scheduling better opponents and charging less for tickets.
August, 30, 2013
8/30/13
6:20
PM ET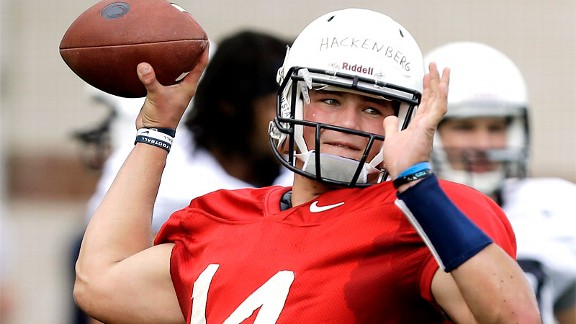 AP Photo/Gene J. PuskarChristian Hackenberg, the top-rated quarterback in the 2013 recruiting class, will start the opener at Penn State.
STATE COLLEGE, Pa. -- Four months ago,
Christian Hackenberg
was kicking up sand near the dugout as part of the Fork Union (Va.) Military Academy baseball team.
He was finding free time, between baseball and classwork, to
break out flash cards and study the Penn State playbook
-- names of plays and formations on one side and blank on the other, so he could scribble what they looked like. He'd catch himself daydreaming about running through that Beaver Stadium tunnel and launching touchdown passes behind a cheering crowd.
Now? All that studying, dreaming and summer training has culminated in what he's waited to achieve since Feb. 29, 2012, the day he committed to the Nittany Lions: According to sources,
he is the starting quarterback
at Penn State.
Hackenberg's father had initially weighed the value of a redshirt, but that was before the senior high school season of ESPN's top-rated passer. And a lot has changed in Happy Valley since then. Sophomore
Steven Bench
, who some expected to be a short-term Band-Aid,
transferred to South Florida
upon learning he wouldn't receive first-team reps in the preseason. Then juco quarterback
Tyler Ferguson
missed about a month of voluntary workouts
for personal reasons.
Ferguson still held the edge early in camp. But Hackenberg, perhaps the biggest-name quarterback to ever sign a Penn State letter of intent, quickly caught up and impressed the coaching staff. A week into camp, head coach Bill O'Brien said
the race became "very even."
Less than three weeks later, Hackenberg pulled ahead. He'll be the second PSU true freshman in the last 100 years to be the starting quarterback.
"Christian has come in here and really done a nice job," O'Brien said early on at camp. "He's attentive. He must be staying up late at night studying the playbook because he's come from Day 1 to Day 2 to Day 3 and improved. And he asks great questions in the meetings."
Hackenberg's strong arm
dazzled onlookers at last year's Elite 11
and the Under Armour All-America Game, and the baby-faced quarterback already shows more ability to stretch the field than his predecessor, Matt McGloin. During part of an open practice two weeks ago, some reporters muttered "woah" when Hackenberg zipped a pass against his body to the opposite sideline -- right at the receiver's numbers.
Between his arm, accuracy and size -- he is 6-foot-4 and 220 pounds -- Hackenberg's potential and raw ability have never really come into question. Talent is oozing from the aw-shucks kid whose father attended high school in Pennsylvania.
Recruiting analysts, opposing players, college coaches and former quarterbacks have thrown almost as much praise Hackenberg's way as they did to O'Brien after an emotional, 8-4 first season. Said Super Bowl-winning quarterback Trent Dilfer: "Christian is a kid you build a program around."
But potential and high accolades don't always translate to success -- at least not immediately. Former No. 1-rated QB Matt Stafford struggled as a freshman at Georgia and threw 13 interceptions and seven touchdowns. Notre Dame's Jimmy Clausen threw seven scores to six interceptions. USC's Matt Barkley had a 15:14 ratio of TDs to interceptions in his first season. ESPN rated each the No. 1 quarterback in his respective class, and all are in the NFL.
So what does that mean for Hackenberg? That future greatness does not necessarily equate to immediate success. Opposing high school coaches have said Hackenberg struggled diagnosing disguised coverages, and the schemes and talent of Big Ten defenses will obviously lie in stark contrast to those Hackenberg saw in high school.
McGloin didn't have the strongest arm but he was a great decision-maker, throwing 24 touchdowns and five interceptions in 2012. Hackenberg is not expected to top those numbers this year, but he is expected to show promise.
The Nittany Lions have had their fair share of busts and underachieving quarterbacks over the years --
Rob Bolden
,
Paul Jones
, Anthony Morelli and Kevin Newsome, to name a few -- but this Lions group also has something different nowadays, namely O'Brien and quarterbacks coach Charlie Fisher.
O'Brien molded McGloin, a former walk-on, into a player the
Big Ten blog thought deserved consideration
for the Davey O'Brien Award. What can he do with the best true freshman quarterback prospect in the nation, one who turned down teams such as Alabama, Florida and Georgia?
We'll start to see at 3:30 p.m. Saturday.
January, 24, 2013
1/24/13
8:00
AM ET
Experts, fans and pundits will analyze every angle of the 2013 recruiting class in the coming weeks, but there will be no certainties there. There never are in recruiting.
For every elite prospect who falls short, there's an Allen Robinson -- an under-the-radar, two-star prospect who exceeds all expectations. The only true way to gauge the success of a recruiting class is in hindsight, by simply waiting.
So, as part of a RecruitingNation-wide series, NittanyNation took a closer look at
PSU's Class of 2009
. Some fifth-year seniors will have one more chance to show what they have on the field next fall. But, at this point, it's pretty safe to judge whether the class was a bust or not.
January, 22, 2013
1/22/13
8:00
AM ET
Obviously, coaches hope every elite recruit they reel in becomes a star player and household name. But recruiting doesn't work like that.
For every hit, there's a miss. So, NittanyNation decided to take a look at five big-name recruits -- from the 2006 class and on -- that never were. Here they are:
To continue reading this article you must be an Insider
November, 12, 2012
11/12/12
4:39
PM ET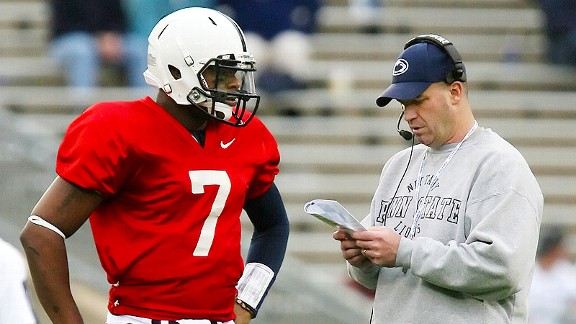 Matthew O'Haren/Icon SMIPaul Jones is the fourth PSU quarterback to transfer in four years.
Quarterback
Paul Jones
, who left the Penn State football team for personal reasons in September, announced on Twitter he planned to transfer to FCS school Robert Morris.
Colonials spokesman Spencer Kowitz acknowledged the university was recruiting Jones but said his transfer was not yet official. Jones could not immediately be reached for comment.
Jones expressed reservations early in the season when Bill O'Brien demoted him to the third string and moved his primary position to tight end. Jones told the media he moved past the switch but ultimately left the team a few weeks later.
Robert Morris, which is about 12 miles from Jones' Sto-Rox High School, is 4-6 this season. Its starting quarterback, Jeff Sinclair, will graduate -- so Jones would be expected to compete for the starting job.
Jones, a redshirt sophomore, leaves Penn State without attempting a single pass. Academic issues kept him on the sideline his first two seasons, and he leaves with one career catch for seven yards and one run for minus-7 yards.
He enrolled in Penn State as a high-end three-star quarterback whom ESPN ranked No. 33 at this position. He's the fourth Penn State quarterback to transfer in four years, following
Pat Devlin
,
Kevin Newsome
and
Rob Bolden
.
September, 26, 2012
9/26/12
3:33
PM ET
Matt McGloin
chuckled when asked whether this offense was an improvement over last year.
He didn't point out his conference-leading nine touchdown passes or argue how the Nittany Lions are spending more time in opponent territory than in the locker room. No, he just stifled a laugh.
[+] Enlarge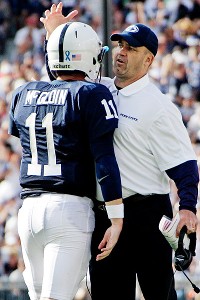 AP Photo/Gene J. PuskarMatt McGloin believes this season's offense is markedly better than last season's.
"What kind of question is that, man? You can't compare the two," he said in a light-hearted prodding Wednesday. "It's different philosophies. All I'm saying is that I'm happy to be in the offense this year."
Despite four new starters on the offensive line, starting four different tailbacks in four weeks and watching three wideouts leave since the spring, this offense has transformed from a run-up-the-middle slumber party to one where adjectives such as "exciting" and "high-powered" are no longer used ironically.
Former quarterbacks coach Jay Paterno struggled building offensive foundations with four- and-five star talent (
Kevin Newsome
,
Paul Jones
,
Rob Bolden
). But Bill O'Brien and Charlie Fisher have molded an above-average Big Ten quarterback out of a former walk-on.
Penn State's leading receiver,
Allen Robinson
, was a third-string afterthought last season.
Zach Zwinak
was the third-string fullback. Against Temple, the two led the team in rushing and receiving.
O'Brien has taken a patchwork offense and stitched it into something that's attracted the top high school offensive talent in the country.
"I'm looking forward to working with that system," said ESPN's No. 1-rated passer,
Christian Hackenberg
(Fork Union, Va./Fork Union).
McGloin boasts one more yard passing right now than USC's
Matt Barkley
. No one is saying McGloin's the better signal-caller, but no one thought he'd be ahead of Barkley at this point either. Penn State's offense still has a long way to go before it can call itself one of the best in the Big Ten, but the fact it somehow seems improved is a feat in itself.
The Lions averaged less than 20 points a game last season with stars like
Silas Redd
,
Justin Brown
and
Derek Moye
. Through four games -- against three teams that played in bowls last season -- Penn State's put up an average of 22 points on the scoreboard and left a lot more points on the field.
Against Temple, Penn State's first eight drives entered opponent territory. Against Virginia, the Lions drove close enough to attempt five field goals.
They've been close to scoring, breaking out of mediocrity, and they're getting closer every game.
So, near the end of McGloin's teleconference call Wednesday afternoon, the quarterback wasn't in the mood to discuss whether this offense was better. He admitted the passing game struggled in the past and labeled it "successful" this season ... but he wasn't answering that question.
"Come on, dude, asking stuff like that," he said with a laugh. "All right, we're done here."
BIG TEN SCOREBOARD
Thursday, 9/3
Friday, 9/4
Saturday, 9/5
Sunday, 9/6
Monday, 9/7