Penn State Nittany Lions:

Kevin Kelly
November, 14, 2012
11/14/12
3:19
PM ET
Sam Ficken
stared at his bedroom wall -- sometimes before brushing his teeth, other times after hours of practice -- and remembered.
The sophomore kicker had tacked a PSU-Virginia game program to that apartment wall so he couldn't forget. He didn't want to make the same mistakes. He didn't want history to repeat itself. And he didn't want his career to be defined by that 1-of-5 performance in a 17-16 loss.
[+] Enlarge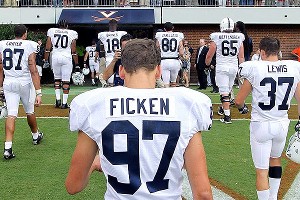 AP Photo/Andrew ShurtleffPlace-kicker Sam Ficken walks off the field dejected after missing a last-second field goal at Virginia.
Nothing motivated him more than that magazine. But now, nine weeks after that performance, Ficken said he awakes with thoughts of the future instead of regrets about the past.
"I actually ended up taking that down about a week ago," he said. "I'm trying to move on from that game, I'm trying to forget about it. So I'm trying not to dwell."
Ficken has gone from being a constant source of disparaging Tweets and student chatter -- a kicker whom the crowd would, somewhat mockingly, scream loudly for after a converted extra point -- into a player who's made his last six field goals. Fans no longer hold their collective breath when he steps on the field, and Ficken's confidence has been rising as steadily as his field goal percentage.
"He's a very, very laid-back guy that cares about his teammates," Bill O'Brien said. "It's nice to see him improve like he has."
October, 12, 2012
10/12/12
9:00
AM ET
Every week, NittanyNation will pose five questions to a recruit, player, alum or coach about all things Penn State.
This week's subject is
Kevin Kelly
, a PSU kicker from 2005-2008 who started all four seasons. He came on with a scholarship and left by shattering the school points record. The 5-foot-7 Pennsylvania native ended his career with 425 points -- 143 points more than the No. 2 on the list, Craig Fayak.
Kelly still attends about four games a year and says he never misses a game on TV.
NittanyNation: Have you reached out to Sam Ficken at all, and just how much of a mental game is kicking?
Kevin Kelly
: Yeah. I reached out to him a couple weeks ago, and we've been texting back and forth here and there. But, at this point, it's a mental thing. Being at a Division I school and being a starting kicker, especially at Penn State, it's not physical. His mistakes maybe are physical, but it's moreso a mental thing for him, and it's just something that takes time.
My freshman and sophomore years, I wasn't a good kicker. I made field goals, but I didn't make the ones that I needed to make. He's kind of in the same area, where he's growing and learning. He's gradually getting better and better, and that's what we can expect of him. As long as he's trying to fix those mistakes, that's all we can ask for.
Penn State vs Wisconsin Highlight