Penn State Nittany Lions:

Kenny Jackson
November, 13, 2013
11/13/13
11:00
AM ET
STATE COLLEGE, Pa. -- The debate's been raging in Happy Valley dorm rooms, tailgates and bars for the past few weeks: Is
Allen Robinson
the greatest Penn State receiver of all-time?
[+] Enlarge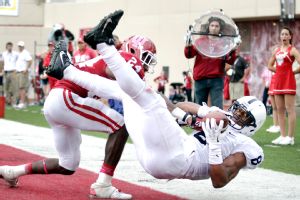 AJ Mast/Icon SMIIs Allen Robinson the greatest receiver in Penn State history? Time will tell.
One glance at the stats is all it takes to make a quick case for the junior. He broke NFL vet Bobby Engram's single-season school record for receiving yards (1,084) last week -- and he still has three games remaining. He's either at the top, or near the top, of every conceivable receiving category. And he's just the second receiver in PSU's 127-year history to clinch back-to-back 1,000-yard seasons.
Much to the chagrin of fans hoping for closure to the debate, Robinson declined to weigh in last week by saying, "Just being in the conversation with those guys is an honor."
But those former Penn State greats weren't so reserved in discussing Robinson's place in history.
"He's every bit as good as any one of us," two-time All-American Kenny Jackson told ESPN.com.
Jackson was referring to himself and two other PSU greats, Engram and O.J. McDuffie. All three earned All-America honors, all three played in the NFL, and all three are mainstays in the Penn State record books. When it comes to Penn State's best-ever wideouts, those are the three most often brought up in conversation.
And, now, it appears that there are four -- including the 6-foot-3, 210-pound Robinson.
"He's got every tool we had," McDuffie told ESPN.com, "and every physical tool we wish we had. We made the most of what we had, but he's an atypical receiver in the NFL."
But it's not quite time to place Robinson at the top of that list and end the debate. Despite that praise, neither former receiver was quite ready to anoint A-Rob as the greatest ever -- even if his numbers put him in the company of one.
Based purely on ability, both still labeled Engram as the G.O.A.T. Engram was the first-ever Biletnikoff Award winner in 1994, a human vacuum who reeled in every pass, leaving State College with about a dozen receiving records and an undefeated 1994 season.
"I put Bobby Engram at No. 1, Kenny at No. 2 -- and then I think it's hard between me and Allen," said McDuffie, who finished his PSU career in 1992 with 125 catches for 1,988 yards and 16 touchdowns. "Bobby is one of those guys who could mix it up; he could block downfield and make big catches. Kenny, well, I didn't get to see much from what he did on the football field, but what really draws me to him is that he's a two-time All-American receiver at Penn State -- and that's not easy to do at Penn State."
Historian/author Lou Prato,
who literally wrote the encyclopedia on Nittany Lions football
, borrowed a line from a Magic-8 ball: "Ask again later." He wasn't ready to rank Robinson, a junior who could declare early for the NFL, because his career wasn't yet over.
Prato said he'd have to consult his notes and reflect upon the question before offering an educated opinion. He graduated from Penn State in 1959, six years before Joe Paterno took over as head coach, and he wouldn't go further than acknowledging Robinson belongs in the top 10 and that Engram was PSU's "greatest clutch receiver."
But both he and the two wideouts cautioned not to base the "best-ever" title on numbers alone. Robinson's stats this season -- 73 catches; 1,106 yards; six TDs -- are more a product of the times as opposed to a simple reflection of talent, they said.
Jackson, a track star, lined up with his hand in the dirt in the early 1980s when JoePa's hair still matched his jet-black shoes. He earned All-America honors in 1983 when he caught just 28 balls.
Neither Jackson nor McDuffie competed on a team that completed more than 180 passes. Former walk-on Matt McGloin completed 270 passes just last season when Robinson set a school record with 77 receptions.
"I don't care how he broke Bobby's 1,000 yards. That is not impressive; any one of us could've done that if the coach wanted to target us," Jackson said. "Allen Robinson is impressive to me not because of the numbers because it's so easy to get ridiculous numbers now. What's impressive to me is Allen Robinson, every Saturday, shows up with nothing to play for. He's got talent; I'm very impressed without looking at the numbers."
Added Prato: "Because of those different eras, it all becomes subjective. There were a couple great receivers in the '30s and '40s, but they didn't pass as much. So who knows?"
Robinson may not be the most talented -- according to Jackson and McDuffie, that's Engram -- but he certainly appears to be the most valuable of the four. So far in 2013, Robinson has accounted for 39 percent of the team's receptions (73 of 188) and 47 percent of its passing yards (1,106 of 2,342).
Compare that to past greats, and Robinson is still on top. (Engram's best season, 1995, comes close as he hauled in 32 percent of his team's catches and 46.5 percent of the passing yards.) A-Rob accounted for more of the passing offense than any PSU receiver since 1971.
Plus, Jackson and McDuffie argued, Robinson is doing more with less. Kerry Collins -- who threw for more than 40,000 yards in the NFL -- launched balls to Engram. Should Robinson get a few bonus points since he's catching balls from a true freshman, on a team with 24 fewer scholarships than the opposition?
It all depends on what criteria one wants to use to determine the best-ever. But, looking ahead, both all-time greats believe Robinson is destined for a path on which few Penn State receivers have traveled.
"Allen Robinson has more upside and did more with what he had at Penn State than I did," Jackson said. "And if you asked me, 'Who would I draft -- me or Allen Robinson?' I'd say, 'Draft Allen.' I don't know if even Bobby or O.J. had as much upside as this kid because of his size."
At the very least, Robinson has already earned the respect from the very best.
So, for now, let the debate rage on.
July, 10, 2013
7/10/13
11:00
AM ET
STATE COLLEGE, Pa. -- The
all-time Penn State fantasy draft
might be over, but the controversy has only just begun.
NittanyNation thought it'd take an extra day to reflect on the process, offer some analysis, give some opinions and then move on from a memorable three-hour, 24-round draft.
Steve Jones and Mike Poorman will grade each team later today, but NittanyNation wanted to give its own rundown of the draft and offer a behind-the-scenes look at a few picks.
The best PSU player?
In a casual Twitter poll Monday night, linebacker Jack Ham received the most mentions for best overall Penn State player. Team Prato took him in the second round, with everyone except the softspoken McDuffie playfully calling Lou Prato a jerk. (Everyone wanted Ham.)
It was an interesting, nonscientific poll because it took about a dozen votes for a single name to be repeated. LaVar Arrington and John Cappelletti also received multiple mentions.
Prato voted for Lenny Moore by drafting him with his No. 1 overall pick.
[+] Enlarge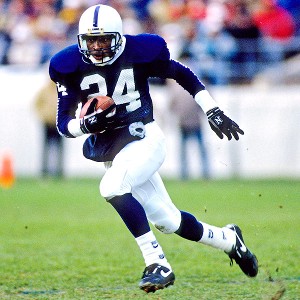 USA TODAY SportsO.J. McDuffie wasn't happy when Team Moyer drafted him -- immediately before McDuffie planned to draft himself.
Most memorable part of the draft:
Definitely the end of the seventh round. Only one receiver had been drafted until that point (Bobby Engram), and Team Moyer needed a wideout.
So, right before Team McDuffie had back-to-back picks, Team Moyer selected O.J. McDuffie for his own fantasy team.
Team Moyer: "Sorry to do this to you, OJ, but I got to. I'm taking O.J. McDuffie. Need Collins to throw to someone."
Team McDuffie: "Damn, Josh. I was just about take myself."
That's when four receivers -- McDuffie, Bryant Johnson, Deon Butler, Kenny Jackson -- were taken consecutively and caused headaches for the other three participants. That was a key part to the draft. And, five days later, O.J. still wasn't happy about the move.
"I still can't believe you did that," McDuffie said, laughing. "Right before me."
Biggest head-scratchers:
Cornerback Brian Miller as the No. 2 overall pick? C'mon, Team McClellan. Cornerback was the slimmest position in the draft, so corners had added value -- that was McClellan's reasoning for taking him so high -- but one could've held off on Miller until at least the fourth or fifth round.
Team McClellan passed up Ki-Jana Carter and Kerry Collins for Miller. Team Morris also received some ribbing for making Sean Lee the No. 1 LB, but Stephon Morris wanted to draft someone in the first round with whom he had played. So that was understandable.
But when Morris took kicker Chris Bahr in the 10th round? Definite head-scratcher -- although he did
explain that move here
. McDuffie also surprised just about everyone when he drafted Larry Johnson over the likes of Curt Warner and Cappelletti.
Best undrafted players:
Where to even begin? There were plenty; you could make up a great team on just left-overs from the draft.
QB Tony Sacca, FB Franco Harris, RB Blair Thomas, WR Derek Moye, OT Chris Conlin, and C Matt Stankiewitch are among the best remaining picks on offense. As far as the defense: DT Jimmy Kennedy, DE Bruce Bannon, LB Michael Mauti, CB Derek Bochna and S Harry Hamilton were also undrafted.
Best sleepers (or best-value picks):
OK, we'll throw Team McClellan a bone here. Grabbing two-time All-American and College Football Hall-of-Famer Dennis Onkotz in the 16th round was probably the steal of the draft.
That greatly boosted Team McClellan's LB corps. And he grabbed another great-value pick with Lydell Mitchell in the 20th round. Team Morris definitely got great value in QB Todd Blackledge in the 19th round, and Team Moyer's best-value picks appeared to be LB Greg Buttle in the 18th round and Kenny Jackson in the eighth.
Morris means business:
A lot of participants hit the books before the draft, but Morris' preparation was a little different. As a player, he had a bit of a leg up, because he didn't just stop at reading up on all the players -- he went straight to the source.
Morris called up several former players -- including Lee, Chafie Fields, NaVorro Bowman, Derrick Williams and Arrington -- to talk about whom they thought deserved to be drafted.
"Once you told me about it, I had contacts with guys who I played with and guys like Chafie Fields, who I was thinking about signing with, so I just did my research," Morris said Tuesday night. "I asked them about some guys, who I should choose and pretty much went from there."
Morris' research seemed to pay off. Prato was pleasantly surprised at Morris' Penn State knowledge, and his defense is among the best.
Can we get a mulligan?
When you're picking players without a fancy draft board and you're racing against the clock, sometimes panic and confusion set in -- and it basically happened to all of us.
Prato regretted not taking Gregg Garrity; Morris likely would've taken Brandon Noble over Devon Still if he had another chance; McDuffie would've drafted himself sooner. And Team Moyer? Why, oh why, couldn't Lydell Mitchell hold out for one more round? Michael Mauti also likely would've replaced Ed O'Neil upon closer inspection.
Looking back on the draft:
The most difficult part wasn't necessarily creating your own "cheat sheet" and ranking the best players at each position. It was trying to weigh whether someone like Michael Robinson had more value than someone like Engram.
There was no blueprint to this, since it had never really been done before. We all knew what players we wanted -- but we weren't so sure just who we could wait for and who we needed to grab right away.
Morris agreed that you kind of had to adopt a reactive strategy with the draft. With no mock drafts, it was definitely unique. But, looking ahead, at least future drafters will have some idea of what to expect.
It was definitely a lot of fun. The NittanyNation staff will probably continue trash-talking about this throughout the season. And McDuffie, Morris and Prato were all great sports.
"If I'd know the level of participation McDuffie and Morris would have I'd have picked them 1 and 2," McClellan said. "Great guys and tremendously patient during the whole process, too."
BIG TEN SCOREBOARD
Thursday, 9/3
Friday, 9/4
Saturday, 9/5
Sunday, 9/6
Monday, 9/7