PSU Nittany Lions:

Justin Brown
November, 28, 2012
11/28/12
10:00
AM ET
Every day during the next two weeks, NittanyNation will take a closer look at each position and how Penn State fared over the course of the season.
Up today
: Wide receivers.
To continue reading this article you must be an Insider
November, 24, 2012
11/24/12
9:46
PM ET
STATE COLLEGE, Pa. --
Michael Mauti
bowed his head slightly and choked back tears before Saturday's game.
Jordan Hill
embraced a line of fans once he stepped off the blue bus.
[+] Enlarge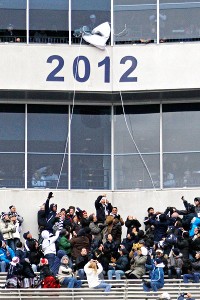 AP Photo/Gene J. PuskarPenn State honored the efforts of this season's team by etching the number 2012 on the facade of Beaver Stadium's private boxes.
Seniors lingered on the field and tugged one last time on the victory bell -- shortly after Bill O'Brien whispered a Hail Mary and the team watched
Kyle French
push a 44-yard field goal wide left in a 24-21 overtime win. Before, during and after the game, the emotions of the last 13 months -- a scandal, a coach's death, the sanctions -- were painted on the faces of Penn State's players and worn on their helmets.
This game embodied the Nittany Lions' tumultuous season. Few expected them to come back, but they quickly showed -- after the first two scores -- they wouldn't surrender. They pressed, they pushed and they out-fought Wisconsin.
"I think this says that you can take bowl games and you can take external things from people," defensive coordinator Ted Roof said. "But you can't take a warrior's heart. And our kids got warriors' hearts."
An oversized, almost goofy grin was glued to
John Urschel
's face, but he didn't mind -- even when it was pointed out. Urschel shook his head, recalling how everyone counted Penn State out before the season.
Some columnists opined how 80 fewer scholarships, no postseason and lax transfer rules would bury Penn State with a fate worse than SMU's death penalty. This was cruel and unusual punishment, some said.
Silas Redd
transferred;
Justin Brown
followed. And with 10 new offensive starters, it seemed as if Penn State's hopes might have gone with them.
September, 30, 2012
9/30/12
10:30
AM ET
Nine players transferred around the time the sanctions were announced, and NittanyNation has checked in with each player to see how he's doing on his new team.
We've taken a look at their playing time and stats -- and have tried to answer whether each player is better off with the move. We're not talking bowl games or individual priorities here; we're strictly answering whether the exposure/playing time is better on the new squad.
(
Derrick Thomas
and
Devon Smith
are not included because they left the team in June, a month before the sanctions hit.)
QB Rob Bolden, junior, LSU
To continue reading this article you must be an Insider
September, 26, 2012
9/26/12
3:33
PM ET
Matt McGloin
chuckled when asked whether this offense was an improvement over last year.
He didn't point out his conference-leading nine touchdown passes or argue how the Nittany Lions are spending more time in opponent territory than in the locker room. No, he just stifled a laugh.
[+] Enlarge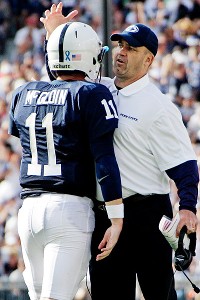 AP Photo/Gene J. PuskarMatt McGloin believes this season's offense is markedly better than last season's.
"What kind of question is that, man? You can't compare the two," he said in a light-hearted prodding Wednesday. "It's different philosophies. All I'm saying is that I'm happy to be in the offense this year."
Despite four new starters on the offensive line, starting four different tailbacks in four weeks and watching three wideouts leave since the spring, this offense has transformed from a run-up-the-middle slumber party to one where adjectives such as "exciting" and "high-powered" are no longer used ironically.
Former quarterbacks coach Jay Paterno struggled building offensive foundations with four- and-five star talent (
Kevin Newsome
,
Paul Jones
,
Rob Bolden
). But Bill O'Brien and Charlie Fisher have molded an above-average Big Ten quarterback out of a former walk-on.
Penn State's leading receiver,
Allen Robinson
, was a third-string afterthought last season.
Zach Zwinak
was the third-string fullback. Against Temple, the two led the team in rushing and receiving.
O'Brien has taken a patchwork offense and stitched it into something that's attracted the top high school offensive talent in the country.
"I'm looking forward to working with that system," said ESPN's No. 1-rated passer,
Christian Hackenberg
(Fork Union, Va./Fork Union).
McGloin boasts one more yard passing right now than USC's
Matt Barkley
. No one is saying McGloin's the better signal-caller, but no one thought he'd be ahead of Barkley at this point either. Penn State's offense still has a long way to go before it can call itself one of the best in the Big Ten, but the fact it somehow seems improved is a feat in itself.
The Lions averaged less than 20 points a game last season with stars like
Silas Redd
,
Justin Brown
and
Derek Moye
. Through four games -- against three teams that played in bowls last season -- Penn State's put up an average of 22 points on the scoreboard and left a lot more points on the field.
Against Temple, Penn State's first eight drives entered opponent territory. Against Virginia, the Lions drove close enough to attempt five field goals.
They've been close to scoring, breaking out of mediocrity, and they're getting closer every game.
So, near the end of McGloin's teleconference call Wednesday afternoon, the quarterback wasn't in the mood to discuss whether this offense was better. He admitted the passing game struggled in the past and labeled it "successful" this season ... but he wasn't answering that question.
"Come on, dude, asking stuff like that," he said with a laugh. "All right, we're done here."
September, 13, 2012
9/13/12
11:30
AM ET
Graham Zug
will lie back and peruse the box scores every Saturday. He'll glance past the passing, sometimes the defensive stats. Sometimes, he won't even look at the other team.
The former Penn State wideout isn't interested in the Heisman race or even the national title picture. He just wants to know how Penn State's transfers played.
"I still watch them," Zug said.
Zug isn't alone. Several lettermen said a majority of recent players support the transfers, although they believed the mood is more evenly split among other alumni.
Derek Moye
, last year's top wideout, said he harbors no resentment toward the nine transfers. He wishes they would have remained in Happy Valley, but their departures have led to an unexpected bonus on Saturdays.
"I watch a majority of the guys' games, and I think it's kind of cool to have a rooting interest for teams other than Penn State," Moye said.
[+] Enlarge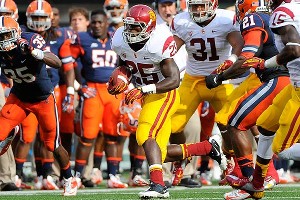 Rich Barnes/US PresswireMany of his former Penn State teammates admit to watching Silas Redd run for his current team, USC, on Saturdays.
Moye and Zug have watched both games of USC transfer
Silas Redd
, not others, because the Trojans appear on TV so often. Whenever Moye's clicking through the channels, finding games with the transfers becomes a priority -- as long as it remains competitive.
He admitted to clicking away from the USC-Hawaii game after awhile. But, then again, USC led 35-0 at halftime.
"I don't really know if I could say if they made the right or wrong decision," Moye said, referring to Redd and Oklahoma's
Justin Brown
. "But both of their teams are 2-0 and Penn State's 0-2. It's really hard to look at how they're both doing and say they made a wrong decision."
Feelings appeared to be mixed among the current team. Defensive end
Pete Massaro
shook his head Tuesday and said he doesn't follow them.
Deion Barnes
said he'll chat with Redd occasionally -- but that's the extent of his involvement.
Allen Robinson
and
Adrian Amos
both said they continue to root for their former teammates.
"At the end of the day," Robinson said, "we're still brothers."
Adam Taliaferro
, a member of the 2000 recruiting class, agreed with Robinson's sentiment. He hasn't missed Redd's first two games, and he still talks with Brown.
Taliaferro and a few former players packed into a downtown sports bar after the Penn State season-opener and cheered for Redd against the Rainbow Warriors. Taliaferro still hasn't watched Brown, but the Sooners haven't yet appeared on national TV.
"I told Justin he's still a Penn State guy, he's just in a different uniform for a while," Taliaferro said. "When you're part of the family, it's hard to turn your back on anyone like that."
Most players said they understood the transfers, but Brown's and Redd's still came as a shock. Redd was a returning tailback who could have seen 25 touches a game, while Brown would have been the No. 1 option in a pro-style offense during his final semester. But, the current and former lettermen said, the transfers did what they thought was best for them.
"I don't have any hard feelings for them," Zug added. "But, if it was me, I would've stayed at Penn State because I dedicated my life to Penn State. But you can't get mad at other people -- they had great opportunities."
September, 11, 2012
9/11/12
4:30
PM ET
Even though
Justin Brown
has moved on, making an instant impact for the Sooners, the former Penn State star has watched his former teammates stumble to an 0-2 start with disappointing losses to Ohio and Virginia.
The 17-16 loss to the Cavaliers was particularly heartbreaking as PSU kicker
Sam Ficken
missed a game-winner at the end of regulation.
"I shot him a text," Brown said of Ficken, who missed four field goals in the loss. "You definitely have your heart out to those guys seeing what they're going through."
Brown has six receptions for 87 yards and six punt returns for 132 yards in his first two games as a Sooner. He was one of several former Penn State players who elected to transfer after the Big Ten school was hit with NCAA sanctions and said he continues to talk to several of his former teammates, both at PSU and across the nation.
August, 29, 2012
8/29/12
6:00
PM ET
Allen Robinson
couldn't believe the news.
Earlier this month, the wide receiver ahead of him on the depth chart,
Justin Brown
, decided to leave. The man he trained aside of, grabbed lunch with and shared laughs with announced his transfer to Oklahoma.
"I was a little surprised," Robinson said. "Maybe it pushed me a little bit more."
To continue reading this article you must be an Insider
August, 29, 2012
8/29/12
12:00
PM ET
Each day over the last week, NittanyNation has taken a look at a different position and broken it down. Today it's special teams.
Special teams will have a completely different look this year. The departure of do-it-all
Anthony Fera
(Texas) opens two starting positions now -- punter and kicker.
Sam Ficken
will have to navigate his new spot as starting kicker, while
Alex Butterworth
will have to step up as the punter.
Kick returner isn't so clear-cut. Now that
Justin Brown
is at Oklahoma, coach Bill O'Brien needs to find someone new.
Bill Belton
might have been the obvious pick before, but with the defection of top tailback
Silas Redd
, O'Brien might not risk injury to Belton.
The kick returner is anyone's guess, but
Alex Kenney
definitely has the speed to impress.
Positives:
Ficken has a powerful leg and has the ability to hit 50-yarders.
Lots of options for returner here.
Butterworth shows good hangtime and could have a net average that's in line with other Big Ten punters.
Negatives:
Fera's accuracy (11-of-14 last year) is hard to replace.
To continue reading this article you must be an Insider
August, 23, 2012
8/23/12
11:00
AM ET
Each day, for the next week, NittanyNation will take a look at a different position and break it down. Today it's wide receivers.
This group might be the biggest question mark on the team. The transfer of
Justin Brown
(Oklahoma) leaves Penn State with a plethora of young talent but a shortage of experience.
Shawney Kersey
leads all returners with five receptions from last season, the same number as returning fullback
Michael Zordich
. Kersey will have to step up, while fans will have to cross their fingers and hope
Alex Kenney
or
Evan Lewis
can replace Brown as Penn State's downfield threat.
Allen Robinson
will slide into a starting outside role, and Bill O'Brien has said he's been impressive.
Those four wideouts will all see significant time this season, and true freshman
Eugene Lewis
could factor in down the line.
Positives
• Starters' hands last year were inconsistent; no place to really go but up.
• Great depth; six or seven could challenge for playing time.
• WR coach Stan Hixon has developed NFL wideouts such as Stevie Johnson, Santana Moss and Antwaan Randle-El.
Negatives
• Extremely limited experience.
• No go-to target with Justin Brown's transfer.
• Lots of new formations, plays could confuse early on.
August, 21, 2012
8/21/12
10:00
AM ET
Each day for the next week NittanyNation will take a look at a different position and break it down. Today it's quarterback.
It seems like a lifetime since Penn State had a clear-cut No. 1 here. But Bill O'Brien anointed
Matt McGloin
the starter in early June and -- with
Rob Bolden
's transfer to LSU -- any possible controversy has been shelved for good.
McGloin has played in 21 games since his redshirt sophomore season and has the potential to go down as one of Penn State's most memorable signal-callers. Not only did he fight through the depth chart as a preferred walk-on, but he's quietly crawled to No. 13 in the record books for career passing yardage (3,119 yards). He'll be No. 2 -- behind Zack Mills -- if he throws for 2,751 yards this season.
To continue reading this article you must be an Insider
August, 20, 2012
8/20/12
11:00
AM ET
Nine Penn State players transferred to other schools since the sanctions, so NittanyNation decided to catch up with them to see how they're doing and what situations they're facing this season.
NittanyNation will look at four transfers now and another five in the afternoon:
Justin Brown
, wide receiver, Oklahoma
To continue reading this article you must be an Insider
August, 14, 2012
8/14/12
9:00
AM ET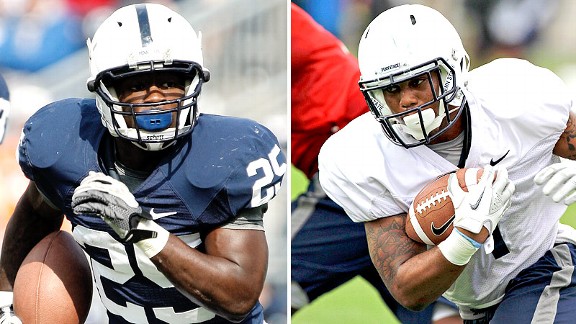 Icon SMI, AP Photo
Silas Redd (left) was a known quantity as one of the top backs in the Big Ten. The load now should fall primarily to Bill Belton, a much different type of back.
While some current Penn State players characterized the nine transfers this offseason as a low number, those departures still will have a big impact on the team's success this year and in the future.
To continue reading this article you must be an Insider
August, 6, 2012
8/06/12
11:15
AM ET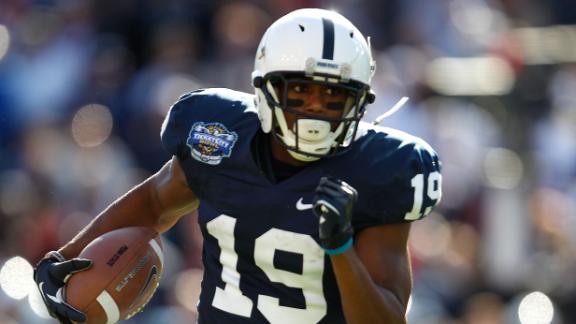 Penn State started 8-1 in 2011 because of a ferocious defense. The Lions rotated quarterbacks, failed to generate much of a passing attack and got a bunch of yards but not many touchdowns from
Silas Redd
.

They won four games without scoring more than 16 points, three in Big Ten play.
It's a blueprint the Blue and White likely must follow again in 2012 to have success in Bill O'Brien's first season. Although O'Brien is an offensive guru, the line should be better and new contributors should emerge, the Penn State offense, at present, simply doesn't look like it can score many points.
Wide receiver
Justin Brown
's
departure to Oklahoma
, as colleague Joe Schad first reported, is the latest blow for Penn State's offense. Make no mistake: The biggest came when All-Big Ten running back Redd transferred to USC. But Brown, the team's leading returning receiver with 35 receptions and 517 receiving yards, is a significant loss as well.
Brown is the ninth player to transfer from Penn State since the NCAA leveled heavy sanctions against the program July 23.
His departure leaves Penn State with no players who recorded more than five receptions in 2011. There's some talent at receiver and running back -- don't be surprised if
Alex Kenney
and
Bill Belton
take big steps this season. The tight end position will be featured more in O'Brien's offense. But Penn State undoubtedly is relying more on potential than proven track records.
Several Penn State fans who responded to me on Twitter tonight pointed out Brown's dropped passes and inconsistent play last season. That's true to an extent, but the team still would have benefited from having a senior with 19 career starts. He was the only Lions player to record at least one reception in every game last season.
Losing only Brown wouldn't sting Penn State too much. But the cumulative effect of losing Brown, Redd and standout kicker/punter
Anthony Fera
could cripple a unit that already had question marks before the sanctions hit, including a giant one at quarterback.
Redd, Fera and Brown accounted for 116 of Penn State's 251 points in 2011. No returnee accounted for more than 12 points last year.
The good news: Penn State's defense still should be very, very good, and the unit hasn't suffered a crucial departure (
Khairi Fortt
might have started at linebacker, but the Lions still should be fine there). This team has won without a dynamic offense recently, and it could again in 2012.
But there will be times when the offense must deliver. Penn State needs some mystery men to answer the bell.
August, 6, 2012
8/06/12
11:12
AM ET
Illinois made waves last week by sending eight assistant coaches to State College to try to lure Penn State players. The aggressive and controversial approach has yielded at least one Nittany Lion.
Offensive lineman
Ryan Nowicki
, a redshirt freshman guard, is
transferring from Penn State to Illinois
, colleague Scott Powers and others are reporting. Nowicki's departure from Penn State has been in the works for a little while, and the 6-foot-5, 280-pound Glendale, Ariz., native, reportedly was deciding between Illinois, Washington and Arizona State.
The Big Ten has waived its intra-conference transfer rule for current Penn State players wishing to leave, Chad Hawley, the league's associate commissioner for compliance, told ESPN.com. So Nowicki will be eligible to play immediately for the Fighting Illini. A three-star recruit who redshirted during the 2011 season, Nowicki adds depth to an Illinois offensive line looking to replace two starters.
Nowicki is the eighth Penn State player to transfer since NCAA sanctions against the program came down last week. He's not a significant loss for the Lions at this point, but you have to wonder how many more will follow. One player Penn State can't afford to lose is wide receiver
Justin Brown
, who is considering an offer from Oklahoma.
Illinois would like to add more Lions to its roster, which features just 80 scholarship players (not counting Nowicki), first-year coach Tim Beckman said last week.
Penn State and Illinois face one another in the Big Ten opener Sept. 29 in Champaign.