Penn State Nittany Lions:

Jordan Hall
November, 1, 2013
11/01/13
10:00
AM ET
A full slate of Big Ten games awaits on Saturday. Here's a look at facts and figures to preview the opening week of November football in the league:
The short-yardage run game is clicking for Minnesota. And we're talking very short yardage. The Gophers' past eight touchdowns on the ground have covered 1 yard. Eleven of their 19 touchdowns this season were punched in from the 1, and 15 covered 5 yards or fewer. Minnesota rushed for just 14 touchdowns last year. The Gophers are 13-10 under coach Jerry Kill when they score a rushing TD and 2-8 when they don't.
Indiana's offense is doing its part in the program's bid for a winning season. The Hoosiers have scored 28 or more points in eight consecutive games, a first at the school. They've passed for more than 300 yards six times season in seven games. Indiana receivers Cody Latimer, Shane Wynn, Kofi Hughes and tight end Ted Bolser have all surpassed 100 career receptions and 1,000 yards in the past four weeks. Indiana is the only team nationally and the first in the Big Ten since Northwestern in 2008 with four 100-1,000 players.
Despite scoring just three points last week against Michigan State, Illinois' offense remains one of the most improved units nationally. From last season, the Illini have jumped more than 60 spots in the national rankings in passing efficiency, big plays (20 yards or more), first downs per game, passing yardage per game, turnovers lost and scoring offense. Illinois averages 400.7 yards of total offense, up 46 spots from last year, when it ranked 119

th

at 296.7 yards per game.
Penn State, under coach Bill O'Brien, has not lost consecutive games since it opened last season 0-2. Its Oct. 12 win over Michigan, 43-40 in four overtimes -- the longest game in Big Ten history -- prevented a two-game skid on the heels of a loss at Indiana. Penn State needs a win on Saturday over Illinois to prevent consecutive defeats in the wake of a 63-14 loss last week to Ohio State. O'Brien is 5-1 at PSU in games after a loss.
Senior Jeremy Gallon's 369 yards on 14 catches last week against Indiana set Michigan and Big Ten records for receiving yardage in a game. It was the second-highest figure ever posted by an FBS receiver, and the 14 receptions were the second most at Michigan in one game. Gallon has recorded a reception in 33 straight games, with nine touchdown receptions over his past eight. He ranks second in the Big Ten in receiving yardage per game at 118.7.
A win for Michigan State on Saturday over Michigan would keep the Spartans in control of the Legends Division and mark their third consecutive victory over the Wolverines at Spartan Stadium, which has never happened in the 105-game series. Michigan is 19-12-2 against Michigan State in East Lansing, but under Brady Hoke, the Wolverines are 6-8 away from Michigan Stadium. A win for the Spartans would also be their fifth in six games over Michigan. That hasn't happened since MSU won six of seven from 1956 to 1962.
No team in the Big Ten feels quite like Northwestern about October. The Wildcats went 0-3 to even their record at 4-4 as November arrives. This final month of the regular season has proven much more kind to Northwestern. It is 12-6 in November since 2008, with five victories over teams ranked in the top 20, including a 28-25 upset in Lincoln over No. 9 Nebraska in 2011. The Wildcats' lone November loss a year ago came at Michigan in overtime.
Redshirt freshman quarterback Tommy Armstrong, set to start for the fourth time this season on Saturday, has guided Nebraska to scores on 12 of 24 possessions in his previous three starts. Armstrong again replaces senior Taylor Martinez, out after he suffered a hip pointer last week in his return at Minnesota after a three-game absence because of a foot injury. A fourth start by Armstrong would mark the first time at Nebraska since 1998, when Bobby Newcombe and Eric Crouch split time, that two quarterbacks started more than three games in the same season.
Ohio State has remained unbeaten this year to extend its nation-leading winning streak to 20 games in large part because of its success at running the football. OSU, after a season-best 408-yard rushing effort against Penn State -- the first 400-yard day at the school since 1995 -- ranks second in the Big Ten and ninth nationally with a 295.6-yard rushing average. Senior Carlos Hyde has rushed for 464 yards and seven touchdowns in the past three games. Hyde and senior Jordan Hall have combined to rush for 1,038 yards and 15 touchdowns.
Purdue has taken Ohio State to overtime in the past two meetings, losing 29-22 a year ago at Ohio Stadium after a 26-23 victory by the Boilermakers in 2011 that marked the program's second straight home win over the Buckeyes. Saturday appears to set up differently as Purdue starts one of the youngest teams nationally. Offensively, four true freshmen, including quarterback Danny Etling, and three redshirt freshmen have participated on the same play in the past two games.
Wisconsin needs one victory to become bowl eligible for the 12

th

consecutive season. Its run of 11 straight bowl appearances ranks as the longest in the Big Ten and ties the Badgers for the eighth-longest streak nationally. A win would also give Wisconsin an edge in the all-time series against Iowa. It is currently equal at 42-42-2. The Badgers have won six straight games that fall after a bye week, including a 35-6 win three weeks ago over Northwestern.
Iowa cornerback Desmond King is averaging 7.2 tackles in Big Ten games, according to the school, more than any other true freshman in the league. King, who has started seven of the Hawkeyes' eight games, recorded a season-best 12 tackles at Ohio State on Oct. 19 and 11 against Michigan State on Oct. 5. King is the first true freshman to start in the Iowa secondary since Jovon Johnson in 2002. His third-down pass breakup last week against Northwestern negated a potential first down in overtime, helping lead to the Iowa win.
October, 16, 2013
10/16/13
5:00
PM ET
It's mail time. I'll warn you in advance, it's going to get weird at the end.
Jason from Columbus writes:
Brian, Iowa is the only FBS team in the country that has not allowed a rushing touchdown in the country this season. Ohio State is 12th in the country with 17 rushing touchdowns in only 6 games. Who comes out on top this weekend, Iowa's rush defense or
Carlos Hyde
,
Dontre Wilson
,
Jordan Hall
, and the rest of the Buckeyes who can run through a defense?
Brian Bennett:
Good question. Urban Meyer is so impressed with Iowa's front seven that he mentioned them in the same sentence as Alabama this week. Not sure I'd go that far, but the improvement of the Hawkeyes' defense up front has been one of the pleasant surprises this season. However, as you mentioned, Ohio State has a great running game. And that all starts with what has been the best offensive line in the Big Ten for the past two years. The Buckeyes' blockers are big, physical and smart, and they pave the way for the speed of Hall, Wilson and
Braxton Miller
as well as the power of Hyde. That's going to be tough for any defense to stop, including one playing as well against the run as Iowa.
The bigger concern I'd have if I were Kirk Ferentz and Phil Parker is Miller taking shots down the field. Ohio State is not a consistently good passing team but does connect at times on the deep ball, and the Hawkeyes are more vulnerable on the back end.
David K. from Oxnard, Calif., writes:
First off, I'm biased: I've been a Badger football fan since November 1962, when I attended the UW-Minnesota game, which the Badgers won with a great comeback, led by Ron Vanderkelen and Pat Richter. And I attended the UW, off and on, from 1966 to 1974. Biases admitted, why the heck isn't
Melvin Gordon
even being mentioned in the discussions regarding the 2013 Heisman Trophy? He's the 3rd-leading rusher in the BCS division with a 9.7 YPC average. Every time he touches the football, everybody holds their breath. I mean, c'mon, guys, what does he have to do? Leap tall buildings in a single bound?
Brian Bennett:
I love watching Gordon, and we named him our midseason offensive player of the year as well as an ESPN.com first half All-American. So he's on the radar for the Heisman, but there are a few things really working against him. One is that Wisconsin has two losses. For better or worse, the Heisman usually goes to players on national title contenders, although Robert Griffin III and Tim Tebow both won it on teams with multiple losses. Another problem is that in the Badgers' signature game, at Ohio State in primetime, Gordon has his lowest output of the season and got injured to boot. Wisconsin simply doesn't have any marquee games left on the schedule, so he won't get the opportunity to make up for it. Gordon would have to put up insane numbers to get back in the conversation. He is, of course, capable of doing just that.
Alex H. from Bloomington, Ill., writes:
Watching that Michigan-PSU game was a bummer, I will not lie. Can we not act like the sky is falling for a moment? The defense played opportunistic despite that last-minute 4th quarter drive, and even on those throws coverage wasn't bad. I was impressed with Gardner's 2nd half. The biggest concern is Lewan out, the run game stalling. This loss doesn't hinder there Big Ten championship goals as they still play Neb, NU, MSU in November. I'd still put them near the top of the Legends, am I being too optimistic in thinking Indy?
Brian Bennett:
Michigan certainly can still win the Legends Division. But the Wolverines are going to have to fix some major problems first. You mentioned the running game, and it is abysmal. It's going to be hard to win those big games in November if Michigan cannot effectively run the ball. The turnovers by Gardner are of course another massive problem. The defense, meanwhile, has been decent but not overpowering, though
Jake Ryan
's return should help. As I've written and asked, what exactly is the strength of this Michigan team? I can't seem to find one. And so it's hard to envision a team like putting together a long winning streak, especially once the schedule toughens up in November.
John K. from Austin, Texas, writes:
You and Adam noted that Brady Hoke "played for the safe field goal instead of going for the touchdown in overtime" as if that is a bad thing. Now, I can understand if he was just going for the tie, but each time it was for the win. He has a good kick (or at least at that point no reason not to believe that). With a good kicker and 42 yards for the win... I'm taking that every day of the week!
Brian Bennett:
To be clear, I'm not saying Hoke should have been going for it on fourth down when all he needed was a field goal to win. I have a major problem with the playcalling on first and second down, when Michigan gained two total yards after
Sam Ficken
missed a field goal in the first overtime. I know
Brendan Gibbons
has been a very good kicker, but a 40-yard field goal on the road in overtime is by no means a sure bet for most college kickers. And then you run the risk of having it blocked, which is exactly what happened.
It's only fair to also point out that Michigan did throw a pass in the third overtime after
Allen Robinson
's fumble, and it gained nine yards. But then on third and one, I hated the call to have
Fitzgerald Toussaint
run it when Michigan's running game had been terrible all game.
We saw the same thing late in the fourth quarter, when Michigan had the ball at Penn State's 28-yard line with 3:10 left, leading by seven. The next three plays were Toussaint runs, which ended up losing two yards, plus a delay of game penalty, to take the Wolverines out of field-goal range.
I understand playing it safe with the lead on the road, but Toussaint had 27 rushes for 27 yards in last week's game. Why would you go to that well 27 times when it clearly isn't working, especially when the game is on the line? You might as well just kneel. And how many times over the years have we seen teams stop being aggressive and then lose?
Sam from East Lansing writes:
First time, long time. Brian, as we progress through the season and my Spartan offense has appeared to return to average (very, very average), I have a scenario question for you. If a Legend' team plays an undefeated Ohio State team in the B1G Championship and loses, possibly putting the Buckeyes in the National Championship, does that mean the loser of B1G Championship game is put in the Rose Bowl automatically or would the bowl committee go back and look at win-loss records, including the B1G Championship lose? Should Legends contender teams who miss Ohio State on the schedule (ie. Michigan State, Nebraska) be rooting for Ohio State to go undefeated? Thoughts of Michigan 2012 Sugar Bowl mishap are dancing in my head. Please calm them.
Brian Bennett:
Not sure you'll like my answer, Sam. If Ohio State goes to the BCS title game, then the Rose Bowl is free to choose any team that qualifies in the BCS standings as its replacement pick. That means the Rose could go outside the Big Ten for its choice, but with this being the 100th edition of the game and the last one before the playoff could disrupt things, I think the Rose Bowl will make every attempt to stage a classic Big Ten-Pac-12 matchup.
The problem is that, historically, losers of conference championship games don't get selected for at-large spots. Bowls prefer teams who are riding winning streaks rather than ones coming off a loss. And Michigan State's issue could be a lack of signature wins. A team like Wisconsin, should it go 10-2, or a Legends runner-up like Nebraska or Michigan could leapfrog the Big Ten runner-up in such a scenario.
As an aside, I know Michigan State is dying to get back to the Rose Bowl. If the Spartans lost to Ohio State in the championship game but still got picked for the Rose, would it feel ... earned? Or does just getting to the Rose Bowl any way possible enough?
Glenn from Florida writes:
Brian, aside from your's, Adam's, and all of ESPN's love for OSU, how can you justify the PSU-Michigan game as not the best and biggest game?
Brian Bennett:
I guess you're talking about our choice of Ohio State-Northwestern as the top game of the first half. You know, just because games go to multiple overtimes does not mean they're great. Michigan-Penn State was very sloppy, and some of the continued failures in overtime was ugly to watch. Northwestern-Ohio State was a far better game aesthetically, in my opinion.
Barry M. from Sheboygan, Wis., writes:
I'm guessing we will not see any Purdue players on [your fantasy teams] this season. You could make it interesting and add a rule that you must take a player from each team for at least one week during the season.
Brian Bennett:
It's nothing personal, Barry, it's just that I want to beat Adam much more than I want to have every school represented on my fantasy team. This isn't the baseball all-star game. Purdue does not have a player in the top 10 in rushing or passing and is starting a true freshman quarterback. There's just not much to choose from. But I'll make you this promise, Barry. If I have either wrapped up the championship or am out of it in the final week, I will pick up a Boilermaker for my team. Even if it's just the kickers.
Bart from Waverly, Neb., writes:
I see how you and Adam both voted Wisconsin in the 17-18 spot. My question is, how do you justify ranking them that high when they have two losses? Granted, one was to OSU, but the other was to a (currently) unranked ASU. I am just curious as the Huskers have had their defensive troubles, but our single loss was to a top-10 team in UCLA, and only Adam was generous enough to include Big Red in his rankings.
Brian Bennett:
I've heard from a few Huskers fans who are miffed that I didn't rank Nebraska, and many of them try to use the loss to UCLA as some sort of justification. Sorry, but you don't get credit just for playing a highly-ranked team, especially if you lose to said team by 20 points at home while looking terrible in the second half. Nebraska just hasn't beaten anyone with a pulse. I won't rank the Huskers until they do, and if that happens, they'll climb up my ballot quickly.
It's a much different story for Wisconsin, whose two losses were on the road to very good teams, and one of those defeats was a direct result of some of the worst officiating incompetency I've ever seen. The Badgers played Ohio State, clearly the best team in the league, to within a touchdown on the road and smashed what was a Top 20 Northwestern team. There's no doubt in my mind that Wisconsin deserves a Top 20 ranking.
Tim P. from Port Washington, Wis., writes:
It is maddening to me to keep hearing about Michigan's "winged" helmets. The markings on a wolverine are the alleged "wings" on its head and stripes down the rest of its body. The Michigan helmet is thus simply a representation of the markings on the wolverine animal. Of course, the Michigan athletic department gets away with calling these helmets "winged" because few, if any, Michiganders have ever actually seen a wolverine. Wolverines are not indigenous to Michigan as their habitat is prmarily alpine tundra and mountain forests; environments which are found only in North America in Canada and the Western U.S. It is estimated there are only 250 to 300 wolverines still living and they are found in Western Montana, Idaho and Eastern Washington and Oregon. So I don't know who started this myth that the Michigan helmets are "winged" but I am sick and tired of hearing about it.
Brian Bennett:
OK, then. It appears we've reached the bizarre part of the mailbag. Proceed with caution...
SSG Smith, Justin from Ft Campbell Ky writes:
Hey Brian, I am not by any means the most knowledgeable NCAA Football fan out there. I say this to humble my self before I ask this question. Were you bullied by a Nebraska fan as a child (or young adult)? ... How do you give so many teams the advantage over Nebraska. Your Biased is unprofessional and your over all hate for the Huskers is blinding. Why do you blog for the Big Ten without being biased?
Brian Bennett:
Ho, boy. Yep, I hate Nebraska so much that I picked the Huskers to win the Legends Division in the preseason. And I picked them to win the Big Ten title game last year. What a hater! Justin also included in his email the records of the teams Nebraska has beaten this year, as if that somehow helped his case. But he did admit right up front that he wasn't knowledgeable, so I can forgive.
John F. from Mansfield, Ohio, writes:
IF you represent the BIG, you should parlay this into BIG votes, I constantly watch "How You VOTED" and ALL I see is YOUR votes for the SEC not the BIG ... YOU cannot say you are BIG representatives, and continue to give other conferences your votes....... this makes you 2-faced and opinionated as well, that's great for people who choose to pencil whip a conference for being the best in the nation... It is press writers who have a vote that are destroying the BIG .......... NOT THE PLAYERS
Brian Bennett:
I only included about half of John's email, which if there were any justice would have been cobbled together by random letters from magazines. I guess the ESPN.com power rankings ballots that Adam and I submit each week are what's holding the Big Ten back. Sure, makes sense. Also, covering a league as a reporter and "representing" a conference are two very different things. Until the Big Ten starts signing my checks, I'll report, write and vote with my conscience, thanks.
October, 3, 2013
10/03/13
12:00
PM ET
October, 2, 2013
10/02/13
12:00
PM ET
We're driving Cadillacs in our dreams.
September, 23, 2013
9/23/13
11:00
AM ET
The constant talk about the Big Ten's national perception and performance against other conferences can get a bit tiresome.
But there's also no denying that the league has an image problem that stems from a lack of noteworthy wins. And with nonconference play all but wrapped up (three nonleague games remain -- Illinois versus Miami (Ohio) and Purdue versus Northern Illinois this week, and BYU at Wisconsin in November), we can make a few judgments.
[+] Enlarge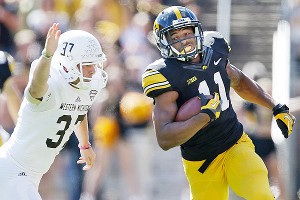 AP Photo/Charlie NeibergallIowa receiver Kevonte Martin-Manley returned two punts for touchdowns in the Hawkeyes' rout of Western Michigan.
The good news is that there weren't many total embarrassments, though Michigan certainly flirted with a couple the past two weeks. The not-so-good news: The Big Ten finished an underwhelming 9-8 against BCS AQ teams. That record is even less impressive when you consider the caliber of the competition.
The best win remains Michigan's Week 2 triumph over Notre Dame, which is the conference's only victory over a ranked opponent for now. Other BCS AQ scalps include California (twice), Cincinnati, Connecticut, Iowa State, South Florida and Syracuse (twice). The losses were to Arizona State (allegedly), Cincinnati, Notre Dame (twice), Missouri, UCF, UCLA and Washington.
The Big Ten went 3-2 against the AAC, 2-0 against the ACC (Syracuse), 1-0 against the Big 12 (Iowa State), 2-3 against the Pac-12, 0-1 against the SEC (Missouri) and 1-2 against Notre Dame. As you can tell, the league didn't exactly play the cream of the crop in the ACC, Big 12 or SEC. The Big Ten's slate was
low on marquee games
, and the conference didn't win any of the ones that were there, save for going 1-for-3 against what looks like a decent but not great Notre Dame team.
Luckily, conference play is almost here, and that will consume us for the next couple of months. But if the Big Ten wants to earn more respect nationally, it will have to wait until bowl season for another shot.
Take that and rewind it back ...
Team(s) of the week:
It's a tie between Iowa and Minnesota. The
Hawkeyes beat Western Michigan 59-3
in their most complete performance in ages, while the
Gophers dismantled San Jose State
and its NFL-caliber quarterback 43-24. Bring on Floyd of Rosedale!
Worst hangover:
Michigan State hoped that maybe, just maybe, it had found a solution to its passing game woes when
Connor Cook
and the offense rolled against Youngstown State two weeks ago. Instead, the Spartans' passing game looked just as bad as last year in a
17-13 loss at Notre Dame
. And the quarterback controversy is not even over, as coach Mark Dantonio strangely went with
Andrew Maxwell
on Michigan State's final possession -- which unfolded just as you would have expected, with three incomplete passes, two penalties and a Maxwell scramble that came up far short of the first-down marker on fourth-and-long.
The Spartans also killed the small momentum they had going in the second half by calling for a halfback pass from
R.J. Shelton
, who threw an interception into tight coverage. Apparently, Michigan State failed to learn from its rival last year, but how about everyone in the Big Ten agree not to call halfback passes in South Bend for a while? Dantonio said he made the Shelton pass call, and he likes to name his trick plays after kids' movies. Call that one "The NeverEnding Story," because that's what MSU's offensive disaster has become.
Big Man on Campus (Offense):
Minnesota QB
Mitch Leidner
made his first career start in place of the injured
Philip Nelson
, and he didn't disappoint. Leidner ran for 151 yards and four touchdowns against San Jose State. The 6-foot-4, 233-pounder showed off some speed when going around the edge and lots of toughness as he continually pushed forward for more yards after first contact.
Big Man on Campus (Defense):
Iowa cornerback
B.J. Lowery
had a pair of pick-sixes against Western Michigan.
Big Man on Campus (Special Teams):
This one's an easy call: Iowa's
Kevonte Martin-Manley
returned a pair of punts for touchdowns in the second quarter, piling up 184 total punt return yards. He became the third Big Ten player to have two punt return touchdowns in the same game and the first since 1983 (Ohio State's Garcia Lane).
Fun with numbers (via ESPN Stats & Information):
Your new Big Ten leader in Total QBR: Ohio State's
Kenny Guiton
, who's No. 10 nationally with an 86.7 rating (based on a 100-point scale). A fan asked on Twitter on Saturday night whether the Buckeyes' Guiton and
Braxton Miller
might be the best two quarterbacks in the league. A strong case could be made for that. ... Wisconsin's
Melvin Gordon
leads the nation in rushing with 624 yards. What's crazy is that the No. 2 rusher, Rutgers'
Paul James
, trails Gordon by 51 yards and has 25 more carries on the season. Gordon is still averaging just over 13 rushes per game. ... Michigan State in a nutshell: The Spartans rank third nationally in total expected points added by the defense at 74.32; the offense, meanwhile, has contributed negative-six expected points added. ... Four Big Ten teams (Wisconsin, Ohio State, Minnesota and Nebraska) rank among the top five in the FBS in rushing yards. Five league teams (Iowa, Nebraska, Minnesota, Northwestern and Ohio State) rank in the top 10 in number of total rush attempts, with the Hawkeyes leading the way at 218 (third nationally). ... Problem not solved: Nebraska has fumbled eight times this year, more than every team except Idaho. The only good news is that the Huskers have lost only four of them. ... Penn State's defense has allowed only 12.8 first downs per game, ranking fourth in the FBS, just behind Michigan State. ... An overlooked part of Minnesota's early success: Gophers opponents have started their possessions inside their own 25-yard line after a kickoff 17 times this season, the most in the nation. Thank kicker
Chris Hawthorne
and the coverage unit for that. By comparison, Michigan's opponents have started a drive after a kickoff inside their 25-yard line just five times this season.
Stern discipline:
Five days after the Pac-12 reprimanded the officials who botched the ending of the Wisconsin-Arizona State game and promised "additional sanctions" for that crew, the same group worked the Utah-BYU game on Saturday night. Yep, that's some punishment, having those officials call an intense in-state rivalry featuring a Pac-12 team on the road. BYU fans didn't like the calls that went against their team in the
20-13 Utes win
and
pelted the officials with trash after they left the field
. That was deplorable by those fans, but as far as we can tell, it was the only real punishment those refs received. The Pac-12 refs aren't the only ones who mess up, though. That was a Big Ten unit hosing Michigan State on those pass interference calls at Notre Dame.
Strangest moment(s):
San Jose State's
Harrison Waid
tried to get revenge for battered punters everywhere after
he got pancaked on a block by Minnesota's
Derrick Wells
. Waid hopped up and tried to go after Wells. Alas, that's a battle a punter will never win, and he got ejected from the game. Yes, a punter was kicked out for fighting.
Meanwhile in Columbus ... as if Ohio State needed any extra help against Florida A&M, running back
Jordan Hall
used umpire Jim Krogstad as a blocker and then a bowling pin
on his way to a touchdown. Maybe FAMU could let Krogstad wet his beak on some of the $900,000 Ohio State paid the school for that 76-0 steamrolling.
Say what?
: Remember when Penn State coach Bill O'Brien called his team a bunch of "fighters" on national TV at the end of last year's Wisconsin finale, but several people
thought he said a different "F" word
? Well, O'Brien appeared to almost use another "F" word
during his postgame news conference Saturday
before catching himself. O'Brien was then asked if he was going to say "fighters" again. "We do have a bunch of fighters," he said. "I don't know anyone who debates me on that. It's like my mom -- she still doesn't believe I said 'fighters.' Do I look like the type of guy who swears?"
September, 19, 2013
9/19/13
9:00
AM ET
Three weeks in and we're all square in the season standings. Get ready for a tightly contested race most of the way.
The Week 4 slate isn't nearly as appetizing as its predecessor, although there are a few sneaky good games on the docket. Big Ten play officially begins at Camp Randall Stadium and 11 league squads are in action (Illinois is off).
Let's begin …
SAN JOSE STATE at MINNESOTA
Brian Bennett:
Mitch Leidner
could start at quarterback for the Gophers as
Philip Nelson
is questionable with a hamstring injury. That's not good news against a San Jose State team led by a future NFL draft pick in
David Fales
. The Spartans are the best team Minnesota has played, and I say they pull off the road upset
. … San Jose State 24, Minnesota 20

Adam Rittenberg:
A tough one here as the Gophers haven't been tested and San Jose State's Fales could stress a
secondary already down one starter
(
Briean Boddy-Calhoun
). There's some uncertainty on offense at quarterback, but I like the fact the Gophers have a full stable of running backs. Minnesota racks up 200 rush yards and three touchdowns to survive with a win.
… Minnesota 27, San Jose State 24
FLORIDA A&M at OHIO STATE
Adam Rittenberg:
The scoreboard operator will be busy as Buckeyes backs
Jordan Hall
and
Carlos Hyde
combine for six touchdowns. The quarterbacks don't have to do much in this one as Ohio State rolls on to 4-0.
… Ohio State 59, Florida A&M 7
Brian Bennett:
This is a ludicrous matchup. Buckeyes can name their score.
… Ohio State 63, Florida A&M 10

WESTERN MICHIGAN at IOWA
Brian Bennett:
Oh boy. We get to watch Western Michigan take on a Big Ten team for the third time in four weeks. The first two times didn't go well for the Broncos, and
Mark Weisman
will add to their misery with 150 yards rushing.
… Iowa 35, Western Michigan 7

Adam Rittenberg:
Northwestern ran roughshod on Western Michigan and Iowa will do the same. Coach Kirk Ferentz gives Weisman a bit of a breather and spreads the ball around, as both
Damon Bullock
and
Jordan Canzeri
reach the end zone. Iowa pulls away in the third quarter.
… Iowa 31, Western Michigan 10
MAINE at NORTHWESTERN
Adam Rittenberg:
Expect another vanilla offensive game plan from Northwestern as the coaches save the goods for Week 6 against Ohio State. Five different Wildcats rush for touchdowns, including true freshman
Warren Long
, in the team's final tune-up before Big Ten play.
… Northwestern 48, Maine 13
Brian Bennett:
Please don't feed the Black Bears!
Ibraheim Campbell
makes it six games in a row with a pick as the Wildcats roll.
… Northwestern 45, Maine 17

MICHIGAN STATE at NOTRE DAME
Brian Bennett:
The Spartans finally have a bit of confidence and stability at quarterback, but
Connor Cook
still has a ways to go and this is a tough road spot. The Irish jump out early on a special-teams touchdown and manage to hold on in a defensive struggle.
… Notre Dame 17, Michigan State 10

Adam Rittenberg:
Michigan State's renewed offense comes in with confidence and scores early. But reality begins to set in on the road, and the Spartans stall midway through the second quarter. The defense keeps it close as always, but Notre Dame rallies late behind
Tommy Rees
and his receivers.
… Notre Dame 19, Michigan State 16
SOUTH DAKOTA STATE at NEBRASKA
Adam Rittenberg:
The Huskers rest top quarterback
Taylor Martinez
(toe), and backups
Ron Kellogg III
and Tommy Armstrong both play and combine for three pass touchdowns.
Imani Cross
sparks the rushing attack in the second quarter and Nebraska fans can smile a little after a brutal eight-day stretch.
… Nebraska 59, South Dakota State 14
Brian Bennett:
The Jackrabbits are just what Nebraska needs right now. The Huskers get off to a sluggish start without a healthy Martinez, but
Randy Gregory
forces a fumble for a defensive score and the running game is too much for SDSU to handle.
… Nebraska 38, South Dakota State 10

KENT STATE at PENN STATE
Brian Bennett:
I think the Penn State defense comes out mad after last week's performance, and Kent State has had a tough time scoring so far this season.
Zach Zwinak
scores twice and the defense comes up with three turnovers.
… Penn State 28, Kent State 10

Adam Rittenberg:
Unless
Blake Bortles
secretly suits up for the Golden Flashes, Penn State should be OK in this one and takes control in the second quarter. Chalk up two more touchdown passes from
Christian Hackenberg
to
Allen Robinson
, and defensive end
Deion Barnes
finally shows up for the Lions.
… Penn State 31, Kent State 20
PURDUE at WISCONSIN
Adam Rittenberg:
No officiating blunders in this one as Wisconsin starts a bit slowly before getting
Melvin Gordon
and the run game going in the second half. Gordon records his first 20-carry performance and racks up 180 yards and two touchdowns. Purdue jumps out to an early lead but once again struggles in the fourth quarter.
… Wisconsin 34, Purdue 21
Brian Bennett:
Purdue hasn't been able to stop the Wisconsin running game the past couple of years, and it's no different in this one. Gordon and
James White
each eclipse 100 yards and the Badgers take out some frustration on the Boilermakers.
... … Wisconsin 42, Purdue 14

MICHIGAN at CONNECTICUT
Brian Bennett:
The Wolverines haven't been quite the same team on the road as they have been at home for Brady Hoke, but Rentschler Field ain't exactly the Horseshoe. UConn doesn't have enough offensive talent to do much damage, and
Devin Gardner
bounces back with four total touchdowns and just one turnover.
… Michigan 38, Connecticut 9

Adam Rittenberg:
Last week's near disaster against Akron will heighten Michigan's focus. So, too, will a road game under the lights (even if it feels more like a home game). Gardner delivers a turnover-free performance, and Fitz Toussaint has a big game on the ground (130 rush yards, 2 TDs).
… Michigan 35, Connecticut 17
MISSOURI at INDIANA
Adam Rittenberg:
This should be the most entertaining game of the day, as both offenses will put up points. Maybe I'm buying into Indiana too much after last week's impressive performance, but I like what I saw from the defense, which does just enough against Mizzou and records a game-ending takeaway. Expect another balanced offensive performance as
Tevin Coleman
rushes for two more touchdowns.
… Indiana 41, Missouri 37
Brian Bennett:
I expect a wild shootout where the punters can probably chill out on the sidelines. Ultimately, I don't have enough faith in the Hoosiers' defense and think
James Franklin
and
Henry Josey
will be too much to overcome. But take heart, Indiana fans: I've been wrong on your team each of the past two weeks.
… Missouri 48, Indiana 42

You've heard from us. Now it's time to see what this week's guest picker has cooked up. As a reminder, throughout the season we'll choose one fan/loyal blog reader each week to try his or her hand at outsmarting us. There's nothing but pride and some extremely limited fame at stake. If you're interested in participating, contact us
here
and
here
. Include your full name (real names, please) and hometown and a
brief
description why you should be that week's guest picker. Please also include "GUEST PICKS" in all caps somewhere in your email so we can find it easily.
We felt a little sorry for this guy after what happened last week in Tempe, Ariz.
Garret Olsen from Madison, Wis.,
the floor is yours:
I am a born-and-raised Wisconsin fan and 2010 University of Wisconsin Grad in complete shock this week. I'm in need of a win. I attended my first Badger football game with my grandparents when I was 5 years old and have attended many more Badger games over the years with them. I never missed a home game during my time as an undergrad and traveled to many of the B1G stadiums and followed the Badgers to Indy and Pasadena. Each week my former Mifflin Street college roommate and I have a friendly pick-off between us and I can proudly report that I have beaten him the last two years. The blog is a daily read for me and I would be honored to pick alongside you and Adam and I promise not to botch any last-second pick situations.
Here are Garret's Week 4 selections:
San Jose State 35, Minnesota 34
Ohio State 45, Florida A&M 7
Iowa 28, Western Michigan 14
Northwestern 55, Maine 10
Notre Dame 17, Michigan State 10
Nebraska 42, South Dakota State 21
Penn State 33, Kent State 24
Wisconsin 49, Purdue 17
Michigan 34, Connecticut 13
Missouri 42, Indiana 38
SEASON RECORDS
Adam Rittenberg:
31-5
Brian Bennett:
31-5
Guest pickers:
27-9
September, 16, 2013
9/16/13
9:00
AM ET
The debate is over, at least for now. Ohio State affirmed itself as the Big Ten's top team by putting on an offensive show against Cal, despite missing its top quarterback and top running back.

There's more doubt about whether Michigan or Northwestern is No. 2 after the Wolverines' surprising struggles Saturday against Akron. For now, we have Michigan ahead by a nose hair, thanks to its win against Notre Dame.
Wisconsin might have moved up to the No. 2 line
if the officials had given the Badgers a chance
to win the game against Arizona State. We like most of what we saw from Gary Andersen's crew on Saturday night. The same can't be said for Nebraska, which takes a tumble after folding the tent against UCLA, and Penn State, which caved defensively against UCF.
Week 3 was mostly rough for the Big Ten, but it had some bright spots. Michigan State found a quarterback, Indiana regained its footing on defense, and Iowa impressed on the ground against Iowa State.
There's not much separation in the league's bottom half, but as
we noted Sunday
, the Big Ten might not have a truly bad team.
Here's one last look at
last week's rankings
.
Now, let's get to the rundown ...
1. Ohio State (3-0, last week: 1):
It'll take more than injuries and suspensions to slow down the Buckeyes' potent offense. Quarterback
Braxton Miller
didn't suit up against Cal, but backup
Kenny Guiton
once again stepped up with 276 pass yards and four touchdowns, to go along with 92 rush yards. Running back
Jordan Hall
(168 rush yards, 3 TDs) continued his brilliance filling in for the injured
Carlos Hyde
, who returns this week against Florida A&M.
2. Michigan (3-0, last week: 2):
A week after looking like arguably the Big Ten's best team, Michigan backslid with a mistake-ridden performance against Akron. Brady Hoke's crew emerged with a win but also plenty of questions on both sides of the ball. As good as
Devin Gardner
has looked at times, the first-year starting quarterback must take better care of the football. Michigan also must patch up a vulnerable defense before Big Ten play.
3. Northwestern (3-0, last week: 3):
Take away a lackluster first quarter against Western Michigan, and the Wildcats looked impressive on their home field. The offense clearly has improved despite the continued absence of star running back
Venric Mark
, as stand-in
Treyvon Green
(158 rush yards, 2 TDs) looks more than capable. Northwestern's defense remains too leaky but covers up yards with takeaways. The Wildcats have positioned themselves well for an Oct. 5 showdown with Ohio State.
4. Wisconsin (2-1, last week: 4):
What is there left to say about the Arizona State ending? Wisconsin was far from perfect Saturday night, struggling to protect
Joel Stave
or stop back-shoulder throws from Arizona State's
Taylor Kelly
. But the Badgers fought hard in all three phases and received another huge boost from sophomore running back
Melvin Gordon
. They deserved better. It'll be interesting to see how they bounce back in the Big Ten opener against Purdue.
5. Michigan State (3-0, last week: 8):
Look, an offense! And a quarterback! The Spartans finally start moving in the right direction in the rankings after a scoring explosion against Youngstown State.
Connor Cook
solidified himself as the team's starting quarterback with four touchdown passes and no interceptions, as Michigan State scored 35 first-half points. Sure, it's Youngstown State, but Michigan State needed a starting point on offense. It has one before a tough test at Notre Dame.
6. Nebraska (2-1, last week: 4):
The collapses are no longer surprising because they seem to happen so often for Bo Pelini's teams. Sure, Nebraska normally keeps it together at home, and Saturday's third quarter was one of the worst in team history. But this is who these Huskers are under Pelini, a fragile team prone to blowout losses in big games. Nebraska falls off the national radar for a while but still could contend in the mediocre Big Ten.
7. Minnesota (3-0, last week: 7):
It was a rough Saturday for the Gophers, who lost starting quarterback
Philip Nelson
to a hamstring injury and head coach Jerry Kill to another seizure. Minnesota also had a slow start against FCS Western Illinois until the offense caught fire in the fourth quarter behind running back
David Cobb
and backup quarterback
Mitch Leidner
, who was efficient in relief of Nelson. The Gophers face a test this week as San Jose State comes to town.
8. Penn State (2-1, last week: 6):
It'll be a long week for defensive coordinator John Butler and a unit that surrendered 507 yards in the loss to UCF and had no answers for Knights quarterback
Blake Bortles
. After a final non-league tuneup against Kent State, Penn State opens Big Ten play against four potent offenses: Indiana, Michigan, Ohio State and Illinois. Wide receiver
Allen Robinson
is a beast, but Penn State needs more balance.
9. Indiana (2-1, last week: 10):
The Hoosiers forced a punt against Bowling Green, and they did much, much more in one of their better defensive performances in recent memory. Bowling Green didn't score an offensive touchdown as defensive end
Nick Mangieri
and the Hoosiers bent but didn't break. Indiana had more than enough offense from quarterback
Nate Sudfeld
(335 pass yards, 2 TDs) and running backs
Tevin Coleman
(129 rush yards, 2 TDs) and
Stephen Houston
(155 rush yards), pulling away for an impressive win.
10. Illinois (2-1, last week: 9):
Missed scoring opportunities in the first half doomed Illinois in the final 30 minutes against Washington, which repeatedly gashed a young Illini defense. But Illinois showed plenty of fight, even in the fourth quarter when the outcome seemed decided. Illinois has playmakers on both sides of the ball -- QB
Nathan Scheelhaase
, RB/WR
Josh Ferguson
, WR
Ryan Lankford
, LB
Jonathan Brown
-- and could surprise some Big Ten teams.
11. Iowa (2-1, last week: 11):
There's an argument that Iowa
should
handle Iowa State rather easily, which is what happened Saturday in Ames. But Iowa hasn't handled the Cyclones nearly as often as they should, which is what made Saturday's performance so important. The Hawkeyes needed to win this one to generate some positive vibes, and thanks to a
Mark Weisman
-led run game and a solid defense, they got it done.
12. Purdue (1-2, last week: 12):
The Boilers remain at the bottom, but we feel a lot better about them after the Notre Dame game. Quarterback
Rob Henry
and the offense looked more comfortable, and the defense contained the Irish run attack. There were still too many mistakes down the stretch, but coach Darrell Hazell can build on this. The problem is the schedule simply doesn't let up, as Purdue visits Wisconsin this week.
September, 12, 2013
9/12/13
9:00
AM ET
After two relatively easy weeks of picking games, the challenge gets much tougher with a delicious slate of Week 3 games. Last week, our picks mirrored one another. There will be some disagreements this time around.

Let's dive in ...
BOWLING GREEN at INDIANA
Brian Bennett:
Bowling Green has looked terrific in its first two games, while Indiana's defense was all but absent last week versus Navy. Different styles, but I think the Falcons seize on the Hoosiers' weaknesses. They kick a field goal late for my not-very-special upset special. ...
Bowling Green 37, Indiana 34
Adam Rittenberg:
I had Indiana beating Navy and losing this game entering the season, so naturally, I'm picking the Hoosiers to win after falling to Navy. The defense bounces back a little against a more conventional offense, and
Nate Sudfeld
consistently attacks downfield to
Kofi Hughes
and
Shane Wynn
. Sudfeld rallies IU in the fourth quarter and finds
Ted Bolser
for the game-winning touchdown. ...
Indiana 38, Bowling Green 35
WESTERN ILLINOIS at MINNESOTA
Rittenberg:
Can you wake me when Minnesota finally starts playing someone? Quarterback
Philip Nelson
adds two more rushing scores as the Gophers pull away early in the third quarter following a
Ra'Shede Hageman
forced fumble. Then we can look ahead to San Jose State. ...
Minnesota 37, Western Illinois 17
Bennett:
There's not much interesting about this game, except that we get to throw around the word "Leathernecks." It's a good week to get
Mitch Leidner
some experience. ...
Minnesota 35, Western Illinois 13

UCLA at NEBRASKA
Bennett:
I've gone back and forth on this all week, but in the end I worry that Nebraska's home-field advantage won't be enough to overcome its youth on defense.
Brett Hundley
amasses five total touchdowns, and the Huskers come up just short on their final drive. ...
UCLA 38, Nebraska 34
Rittenberg:
Nebraska's defense remains a big concern, especially against Hundley, but with no Johnathan Franklin, the early kickoff and a long trip, I expect UCLA to be a big sluggish. Martinez delivers a turnover-free performance in a big game and finds
Quincy Enunwa
for the game-winning touchdown pass in the final minute. ...
Nebraska 35, UCLA 34
AKRON at MICHIGAN
Rittenberg:
UCF's
Blake Bortles
abused Akron for big plays in Week 1.
Devin Gardner
, eat your heart out. The Gardner-Gallon connection cranks up again as
Jeremy Gallon
hauls in two more touchdowns.
Fitzgerald Toussaint
goes for 120 rush yards and a score as Michigan rolls. ...
Michigan 45, Akron 17
Brian Bennett:
Akron has won four games since the end of the 2009 season. Notre Dame hangover? Maybe, but it won't matter one bit. ...
Michigan 48, Akron 10

YOUNGSTOWN STATE at MICHIGAN STATE
Bennett:
Is Jim Tressel back coaching Youngstown State? Maybe then the Penguins would have a chance. The Spartans play
Connor Cook
and
Damion Terry
and get only two touchdown drives out of both of them. But the defense scores again. ...
Michigan State 27, Youngstown State 3
Rittenberg:
I'm tempted to go with the Penguins since Michigan State's offense is ice cold (be sure to tip your waitress). This will be close for three quarters, but Michigan State's Terry steps up late with a touchdown pass and a touchdown run (yes, two offensive touchdowns). Sadly, no touchdown for Bane this week. ...
Michigan State 24, Youngstown State 10
IOWA at IOWA STATE
Rittenberg:
Do I have to pick a winner here? Iowa took a step back last week in many ways, although the power run stepped up when the team needed a lift. This will be a sloppy game on both sides, but
Mark Weisman
and
Damon Bullock
, along with the offensive line, prove to be the difference in the fourth quarter.
... Iowa 19, Iowa State 17
Bennett:
Kirk Ferentz really needs this game. Then again, so does Paul Rhoads after losing to Northern Iowa in the opener. I don't expect many fireworks, either, but the Cyclones are just a little more desperate and have the momentum in this series. They win it on an overtime field goal.
... Iowa State 16, Iowa 13
UCF at PENN STATE
Bennett:
UCF is a trendy sleeper pick and has an experienced quarterback. But Penn State's defense is a major step up from Conference USA/American Athletic competition. It's close for a half, but
Christian Hackenberg
gets going in the third quarter with a pair of touchdown tosses to
Allen Robinson
, and Bill O'Brien tops George O'Leary.
... Penn State 27, UCF 17

Rittenberg:
Tricky game for Bill O'Brien's crew, but I expect Penn State's defense to do enough against
Blake Bortles
and a talented UCF offense. UCF jumps out to an early lead, but
Zach Zwinak
and
Akeel Lynch
spark Penn State's rushing attack in the second half, each scoring a touchdown as the Lions prevail.
... Penn State 34, UCF 27
WASHINGTON vs. ILLINOIS (at Chicago)
Rittenberg:
Washington is the more talented and experienced team, and a lot needs to go right for the Illini to pull off the upset. I see another fast start for Illinois against a Huskies team that struggles on the road and might be a little sleepy following a bye week.
Nathan Scheelhaase
throws two more touchdown passes, but Washington tight end
Austin Seferian-Jenkins
proves to be the difference with 120 receiving yards and a score.
... Washington 31, Illinois 21
Bennett:
I'd like to pick the Illini here because it would be a great story. They certainly proved me wrong last week in a big way. I still think Washington is just a little too talented, though.
Keith Price
throws four touchdown passes, making him the best quarterback Soldier Field has seen in a while. (That one's for you, Adam.)
... Washington 37, Illinois 23

OHIO STATE at CALIFORNIA
Bennett:
Cal played Northwestern pretty tough and then ... almost lost to Portland State? Inconsistency should be expected, I guess, with a freshman QB and a new coach. There are going to be a whole lot of big plays in this one, and I suspect
Kenny Guiton
will see the majority of the action. Big coming-out party for
Dontre Wilson
here.
... Ohio State 49, Cal 28

Rittenberg:
Cal provides a nice test for Ohio State's young defense, but the presence of cornerback
Bradley Roby
should help hold one of the Bears' standout wide receivers (
Chris Harper
and
Bryce Treggs
) in check. Ohio State has too much at the line of scrimmage and will use its ground game of
Jordan Hall
,
Rod Smith
and Wilson to outlast the Bears.
... Ohio State 38, Cal 27
NOTRE DAME at PURDUE
Rittenberg:
The Boilers have shown me nothing to suggest they can knock off a team like Notre Dame, which is pretty darn good despite last week's loss in Ann Arbor, Mich. Purdue starts strong but can't finish two early drives. The Irish then take over with their rushing attack, led by
Amir Carlisle
, and force two second-half takeaways.
... Notre Dame 38, Purdue 17
Bennett:
Circle the wagons, Purdue. It's going to be a long couple months.
... Notre Dame 35, Purdue 7

WESTERN MICHIGAN at NORTHWESTERN
Bennett:
Western Michigan just lost to Nicholls State. OK, then. Northwestern might not be quite as sharp after two big games, but it won't need to be.
Kain Colter
rushes for 100 yards and a pair of scores, and he and
Trevor Siemian
both get an early rest.
... Northwestern 38, Western Michigan 10

Rittenberg:
Previous Northwestern teams might be ripe for a letdown, but not the 2013 squad. Kain Colter and Trevor Siemian deliver another strong performance, combining for five touchdowns (three pass, two rush), including two scoring passes to
Christian Jones
. The defense forces two more turnovers as the Wildcats cruse.
... Northwestern 41, Western Michigan 17
WISCONSIN at ARIZONA STATE
Rittenberg:
I just don't like the matchup for the Badgers, even though they've been so impressive early on. Arizona State's strength (pass game) goes up against Wisconsin's weakness (secondary), and although the Badgers control the clock with their run game, the Sun Devils hit in too many big plays. Too much
Taylor Kelly
in this one.
... Arizona State 35, Wisconsin 28
Bennett:
I think big
Will Sutton
will be a shock to the system to Wisconsin offensive linemen used to dealing with the UMass and Tennessee Tech lines of the world. The secondary also gets burned a few too many times.
Joel Stave
throws two interceptions to thwart a comeback attempt, and Big Ten teams stay thirsty in the desert.
... Arizona State 28, Wisconsin 20.

Wait, we're not done yet. It's time for our guest picker of the week. Oh, you haven't heard? Throughout the season, we'll choose one fan/loyal blog reader each week to try his or her hand at outsmarting us. There's nothing but pride and some extremely limited fame at stake. If you're interested in participating, contact us
here
and
here
. Include your full name (real names, please) and hometown and a
brief
description why you should be that week's guest picker. Please also include "GUEST PICKS" in all caps somewhere in your email so we can find it easily.
We found this week's picker in the desert:
Adam Fraser from Gilbert, Ariz.
The floor is yours:
I'm a lifelong Husker fan living in Arizona. I'm a season-ticket holder and couldn't make it back for the UCLA game. I just started a new career at Prudential and my boss played football for UCLA. I've followed your blog for years and constantly smash your predictions. Let me put it on record at least one week, the Huskers biggest week of the year!! Thanks Adam (do it for your fellow Adam).
Other Adam's picks ...
Bowling Green 42, Indiana 40
Minnesota 30, Western Illinois 20
Nebraska 41, UCLA 37
Michigan 45, Akron 6
Michigan State 20, Youngstown State 13
Iowa 20, Iowa State 16
Penn State 24, UCF 13
Washington 31, Illinois 30
Ohio State 30, California 28
Notre Dame 38, Purdue 14
Northwestern 48, Western Michigan 10
Arizona State 34, Wisconsin 20
SEASON RECORDS


Brian Bennett: 22-2
Adam Rittenberg: 21-3
Guest pickers: 18-6


September, 11, 2013
9/11/13
5:00
PM ET
It's Wednesday. Business time. So let's get down to the business of your e-mails:
Adam from D.C. writes:
After two weeks down, I have a couple questions/observations. First, Michigan should top the power rankings after putting down Notre Dame. OSU has yet to really impress/dominate their weak scheduled opponents. This was really evident when Baylor hung 70 points and put up 781 yards on the same Buffalo team that OSU only scored 40 on and put up 460 yards. Is Michigan really the B1G team to beat and should they be on top of the power rankings? Secondly, we all know the Nebraska defense is still having issues. But Northwestern has actually given up the most yards of all the B1G teams so far and is second-to-last in points per a game allowed. You could argue they had to play Cal, but then Cal just barely beat Portland State. So who has the worst defense in the B1G?
Brian Bennett:
Adam and I had the Michigan-Ohio State power rankings debate on Saturday night. If you go only by what the two teams have on their 2013 résumés, then the Wolverines deserve to be on top. They are, after all, the only Big Ten team to defeat a ranked opponent. However, Ohio State hasn't had the opportunity to do the same, and we were convinced all offseason that the Buckeyes were the best and most talented team in the conference. Are we really going to abandon that notion simply because their wins over Buffalo and San Diego State (by a combined score of 82-27, by the way) weren't otherworldly beatdowns?
The other thing to consider here is that Urban Meyer has yet to play with a full deck.
Carlos Hyde
remains suspended,
Bradley Roby
and
Rod Smith
missed the opener,
Braxton Miller
missed most of last week's game,
Corey Linsley
has been recovering from an injury, etc. I still think Ohio State at full strength is the Big Ten's best team, but it sure would be nice to actually see that total lineup go against a strong opponent. Guess we'll have to wait for the Wisconsin game. Also: Two games are in the books. Let's not get too hung up on rankings just yet.
As for Northwestern, the defense hasn't put up terrific stats, but the Wildcats easily have played the toughest schedule in the first two weeks. They are the only team in the league who has opened against a pair of AQ teams, and whatever you want to say about Cal, that team is going to score a whole bunch of points this year. Syracuse really only moved the ball effectively in the second half after Northwestern had built a huge lead and might have been coasting a bit. The loss of cornerback
Daniel Jones
hurt in the Cal game, and freshman
Dwight White
needs to make some major improvements before Big Ten play. But I like the playmaking ability of that defense, which has come up with seven interceptions in the first two games.
It's impossible to judge Northwestern's defense statistically against a team like Wisconsin, which has pitched a pair of shutouts against FCS quality teams. The title of worst defense in the Big Ten still belongs to Indiana until proven otherwise.
---
Quinn from Moline, Ill., writes:
Michigan came off a huge win recently, but Notre Dame hadn't completely proven themselves as a really good team, in my opinion. As well, Northwestern just dismantled Syracuse, but Syracuse isn't nearly as good as Notre Dame is. Who has more momentum going into Week 3?
Brian Bennett:
Let's not take anything away from Michigan's win. Notre Dame is very, very good, and I believe that will be shown throughout the season. I can't believe how many people want to dismiss the Irish and seem to be completely forgetting that they still have many of the same players as last year's team that played for the BCS title.
Northwestern, to me, has been wildly impressive. You can't overstate how tough it was to start on the road in Pac-12 country, fly across two time zones and back, and then play a physical (if perhaps not offensively gifted) Syracuse team. And the Wildcats won both games by double digits without basically anything from
Venric Mark
. They deserve accolades right now, and if you don't think this is a legitimate conference contender, you're not paying attention.
As far as momentum? I'm not sure it matters. Both teams might be a little beat up, emotionally and physically, after these early season challenges. And Michigan plays Akron and UConn next, while Northwestern gets Western Michigan and Maine.
---
Mike from San Diego writes:
Brian, I know the Badgers have played inferior competition so far this year, but I have never been more optimistic for a game against OSU. In Week 1, OSU didn't look too sharp against Buffalo (granted they were missing a few players due to alleged criminal activity). I don't expect the Badgers' defense to throw a shutout against the Buckeyes, but Wisconsin did hold them to the fewest amount of points in regulation last year. Let's say a glimpse of last year's defense shows up to the game and Wisconsin running backs run like they are capable. Stave is healthy (he was injured last year), and Miller already has a few bumps and bruises. Under those assumptions how do you like Bucky's chances? Personally, I am more worried about Northwestern the following week.
Brian Bennett:
More worried about Northwestern at home than Ohio State on the road? That might be a first. Wisconsin has looked great the first two weeks -- who's had a better early honeymoon than Gary Andersen? -- but the competition was so weak that it's hard to know what that means. Bret Bielema's teams used to steamroll inferior competition at home all the time. The Badgers did play very well defensively against Ohio State last year. Miller might have been a bit banged up, but that Wisconsin defense did a great job of taking away his runs, gumming up the middle of the field and making it a slog. That could happen again, as we don't know yet how healthy Miller will actually be in two weeks with that MCL sprain. On the other hand, the Buckeyes are much better at receiver this year and have more weapons on offense, including
Dontre Wilson
and a healthy
Jordan Hall
. Plus, Carlos Hyde will be back that week with presumably fresh legs.
Of course, we also need to see how that young Silver Bullets defense will handle Wisconsin's powerful running game. We'll have a much, much better handle on the Badgers after this week's Arizona State matchup, which I think will tell us a lot more about Wisconsin's chances vs. Ohio State.
---
Steven from Ann Arbor writes:
It has come up regarding
Devin Gardner
and the Michigan quarterback depth situation a couple times, and I apologize if it has already been addressed, but there is a significant amount of data that suggests running quarterbacks aren't nearly as injury-prone as we all (me included) naturally feel they would be. This
link
is a quick sample of what I could find off hand, and there is more, but, as unnatural as it seems, every additional Gardner run does not necessarily magnify his injury risk. With the example of Denard fresh in our memories from last year, this gets lost. I'm sure there are several factors, but one would probably be that hits at the end of a QB run are much more well prepared for than a blindside sack. It clearly isn't as simple as "more runs = more hits = more injuries."
Brian Bennett:
Steven, we may overrate the injury risk of running quarterbacks, since there are plenty of those in college football and they're not getting hurt every week. Knowing how to slide and avoid contact at the end of a run is huge. But the anecdotal evidence on the other side is pretty strong, too. Just look at Braxton Miller, who had to leave Saturday's game against against San Diego State after spraining his MCL when he got sandwiched at the end of a run. Miller also got hurt last year vs. Purdue after taking a hit on a long run. Northwestern's
Kain Colter
suffered a concussion on the second play at Cal when he was smacked on a run. Quarterbacks can get hurt staying in the pocket as well -- just ask Wisconsin's
Joel Stave
, who suffered a broken collarbone when he was sacked last year by Michigan State. But I feel pretty good about Devin Gardner's blind side as long as
Taylor Lewan
is protecting it. I don't have a problem with Michigan running Gardner, because that's a big weapon and they have to play to his strengths. But I find it hard to believe that there isn't added risk of injury there.
---
Matt E. from Southern MD writes:
Brian, thanks for all the work you and Adam do to entertain us B1G faithful. Why no love for Penn State in "What We Learned in the Big Ten: Week 2" though? We obviously have some growing to do and need to establish some consistency, but I thought there were a number of positives to take away from this past weekend.
Brian Bennett:
Matt, the title of that post is "What We Learned in the Big Ten," not "Giving Love to Teams in the Big Ten" or "Here Are Some Positives to Take Away." We're taking a big-picture approach there, trying to assess the big themes and league-wide revelations from each game day. We do only five items per week. With 12 teams in the Big Ten, odds are we're not going to hit on every team in great detail, especially during a nonconference weekend that includes some pretty lopsided games. As for Penn State, what did we really learn about the Nittany Lions?
Christian Hackenberg
had some highs and lows, the running game looked much better and the defense continues to shine. But it was Eastern Michigan. Penn State
should
beat Eastern Michigan 45-7. We learned much more about Penn State in Week 1 against Syracuse, a game I covered in person, and we'll likely learn more this week against UCF.
---
Dave from Kansas City writes:
Do you think Kirk Ferentz is in as much danger of losing his job as Mack Brown or Lane Kiffin?
Brian Bennett:
It's actually an interesting comparison, because Brown and Kiffin are among the handful of coaches who make as much or more per year as Ferentz. The Kiffin similarities end, however, when you consider he's only under contract until 2015, at a reported $4 million per year. While eating two more years at that price would be painful, USC can afford it.
Brown's situation is closer to Ferentz, contract wise. Texas has him signed through the 2020 season -- the same length as Ferentz's deal -- with a $5.2 million annual salary and $100,000 raises each year. But, ESPN's Darrell Rovell has reported that Brown's buyout right now is only (maybe I should say "only") $2.75 million. For a school that has more money than Walter White buried in the desert, that's pocket change. Iowa would owe Ferentz around $18 million if it fired him this season, a figure that is still crazy to wrap your head around. And the program isn't nearly as rich as Texas.
Of course, the Hawkeyes are coming off a win, so let's be optimistic here. Iowa really needs to beat Iowa State this week to calm down this talk about Ferentz and to position itself for a potential return to a bowl game this year.
---
Jesse from Plymouth, Mich., writes:
Part of me thinks MSU (and its fan base) should take the patient approach with
Damion Terry
-- allow him to learn the playbook, create chemistry with his teammates, etc. Besides, if we play him and he ends up finishing it out, you can pretty much guarantee Cook, O'Connor and Maxwell won't be on the roster next year. That's a scary thought knowing we won't have any backup QBs besides true freshmen. However, the other part of me wants to see him on the field badly. Everyone keeps pointing to the fact that he doesn't know the playbook as well and that would hinder the play calling. After seeing pro set, read option, Wildcat, pistol, abracadabra ... maybe that would be a good thing, going back to basics and returning to a more simplified scheme for the time being?
Brian Bennett:
Well, first off I can guarantee you that
Andrew Maxwell
won't be on the roster next year because he's a senior. Let's also acknowledge the mythical, magical qualities that fans associate to the backup quarterback. The thrill of the unknown is always so much better than the guy you've seen on the field struggling. Fact is, almost nobody has actually witnessed Terry perform in a Michigan State uniform in practice besides the coaches and a few media members. I trust Mark Dantonio's coaching staff to know whether he's ready to go.
My take on it has been and remains that if the coaches think Terry is ready, or that there's a better than average chance he could offer an improvement on the other quarterbacks the Spartans have, then he needs to play. Because there is no sense in saving a guy's redshirt when it's possible that he could help you win now. This Michigan State team is built to win this year with its defense and its schedule. You worry about next year next year. Whether Terry is in fact an upgrade, no one really knows. I do know that if the receivers, offensive line and play calling don't all also get better, whoever is playing quarterback for the Spartans will have a difficult time succeeding this year.
September, 5, 2013
9/05/13
5:00
PM ET
Adam likes to crow about his narrow victory in our Big Ten fantasy league last season, but order was restored in Week 1 of 2013.
My team, The One Who Knocks, wiped the floor with Adam's Trombone Shorties by a score of 139-93. I had a balanced attack with
Devin Gardner
(27),
Braxton Miller
(22) and
Melvin Gordon
(20) all chipping in with big days. My top scorer, however, was the Michigan State defense, which accounted for a whopping 28 points, thanks to its turnover and sack party versus Western Michigan.
Adam got 25 points from
Taylor Martinez
and 24 from
Jared Abbrederis
. But the injuries to
Kain Colter
and
Venric Mark
left him with just two total points from the Northwestern duo, and that was too much for him to overcome.
So we move onward to Week 2, with Adam getting the first choice off the waiver wire as he tries to pull even in the standings.
Adam adds Indiana QB Nate Sudfeld and drops Northwestern QB Kain Colter
Rationale:
Colter's health remains a big question mark. Sudfeld might not get all the reps against Navy, but he can really stretch the field with Indiana's talented group of receivers.
Brian adds Wisconsin RB James White and drops Nebraska RB Ameer Abdullah
Rationale:
I still believe in Abdullah, but
Imani Cross
might continue to siphon some of his touchdowns. Now I have both White and Melvin Gordon, who ran wild against UMass and should do the same thing vs. Tennessee Tech.
Adam adds Ohio State RB Jordan Hall and drops Northwestern RB Venric Mark
Rationale
: Does Hall have another big game left in him after shredding Buffalo? I think so. He'll find the end zone several more times against slumping San Diego State.
Adam adds Wisconsin's defense and drops Ohio State's defense
Rationale:
This is mainly a move about matchups, as Wisconsin easily could post another shutout against Tennessee Tech at Camp Randall.
Our complete rosters for Week 2:
The Trombone Shorties (Adam)
Nebraska QB Taylor Martinez
Indiana QB Nate Sudfeld
Iowa RB
Mark Weisman
Ohio State RB Jordan Hall
Wisconsin WR Jared Abbrederis
Michigan WR
Jeremy Gallon
Wisconsin defense
Northwestern kickers
The One Who Knocks (Brian)
Ohio State QB Braxton Miller
Michigan QB Devin Gardner
Wisconsin RB Melvin Gordon
Wisconsin RB James White
Penn State WR
Allen Robinson
Nebraska WR
Kenny Bell
Michigan State defense
Nebraska kickers
September, 4, 2013
9/04/13
12:00
PM ET
We've come this far, for us. What's one more?
September, 3, 2013
9/03/13
3:00
PM ET
Every Monday or Tuesday, I'll take a look back at our Big Ten predictions and poke fun at Brian, our guest picker and myself. Unfortunately, Brian is the big winner after Week 1, going a perfect 12-0 in picks to lead me by a game.
To review, the
Week 1 predictions
made by the reporters and guest picker
Ryan Stitt of Litchfield, Ill.
WEEK 1/SEASON RECORD
Brian Bennett: 12-0 (1.000)
Adam Rittenberg: 11-1 (.917)
It's rewind time …
Indiana State at Indiana
Bennett's pick: Indiana 38, Indiana State 14
Rittenberg's pick: Indiana 42, Indiana State 20
Actual score: Indiana 73, Indiana State 35
20-20 hindsight: We both underestimated the prowess of Indiana's offense, which set a stadium record for points scored. Bennett correctly pegged Tre Roberson to start at quarterback for the Hoosiers and Nate Sudfeld to take over and play plenty. My prediction of three combined rush touchdowns for Tevin Coleman and Stephen Houston fell one score short.
UNLV at Minnesota
Bennett's pick: Minnesota 31, UNLV 16
Rittenberg's pick: Minnesota 27, UNLV 14
Actual score: Minnesota 51, UNLV 23
20-20 hindsight: Again, we didn't expect such a scoring explosion from the Big Ten team. I correctly predicted Minnesota would record several takeaways (it had two). Bennett's pick to click, Gophers running back Donnell Kirkwood, had his night cut short by an ankle injury.
Western Michigan at Michigan State
Bennett's pick: Michigan State 28, Western Michigan 6
Rittenberg's pick: Michigan State 31, Western Michigan 10
Actual score: Michigan State 26, Western Michigan 13
20-20 hindsight: Both of us correctly pegged the Spartan Dawgs defense for a big night, although their pick-six came from a safety (Kurtis Drummond), not a cornerback, as I predicted. Bennett had the better forecast on the offense, writing that the quarterback competition wouldn't be settled in Week 1.
Buffalo at Ohio State
Bennett's pick: Ohio State 42, Buffalo 14
Rittenberg's pick: Ohio State 49, Buffalo 13
Actual score: Ohio State 40, Buffalo 20
20-20 hindsight: Bennett came closer on the score prediction, but we both had the wrong Buckeyes going for long touchdowns as running back Jordan Hall and wide receiver Devin Smith did their thing. Defensive end Noah Spence had a sack, but neither Adolphus Washington nor Ryan Shazier recorded one, as I had predicted.
Massachusetts at Wisconsin
Bennett's pick: Wisconsin 38, UMass 7
Rittenberg's pick: Wisconsin 48, UMass 10
Actual score: Wisconsin 45, UMass 0
20-20 hindsight: This was one of our easier and better predictions of Week 1. Bennett's combined yards prediction of 275 for James White and Melvin Gordon came extremely close -- they had 287 -- and I correctly pegged Badgers quarterback Joel Stave to twice find Jared Abbrederis for touchdowns.
Southern Illinois at Illinois
Bennett's pick: Illinois 31, Southern Illinois 13
Rittenberg's pick: Illinois 27, Southern Illinois 17
Actual score: Illinois 42, Southern Illinois 34
20-20 hindsight: Sense a theme? We both undervalued the offenses of several second-division Big Ten squads in Week 1. Brian came close with his predictions of 35 pass attempts (Illinois had 37) and three Nathan Scheelhaase touchdown passes (he had two).
Purdue at Cincinnati
Bennett's pick: Cincinnati 28, Purdue 27
Rittenberg's pick: Cincinnati 27, Purdue 24
Actual score: Cincinnati 42, Purdue 7
20-20 hindsight: We both expected much more from Purdue in coach Darrell Hazell's debut. Cincinnati quarterback Munchie Legaux made big plays early, not late, as Brian predicted. I had Purdue quarterback Rob Henry committing a key fourth-quarter turnover, but he threw picks in the first and third quarters in a poor performance.
Central Michigan at Michigan
Bennett's pick: Michigan 35, Central Michigan 17
Rittenberg's pick: Michigan 38, Central Michigan 14
Actual score: Michigan 59, Central Michigan 9
20-20 hindsight: We had similar score predictions and both turned out to be way off, at least when it comes to Michigan's offensive output. Michigan receiver Jeremy Gallon had one touchdown catch, not two as I had predicted. Wolverines running back Fitzgerald Toussaint had 57 rush yards, falling short of Brian's prediction (95).
Penn State vs. Syracuse
Bennett's pick: Penn State 27, Syracuse 23
Rittenberg's pick: Penn State 24, Syracuse 21
Actual score: Penn State 23, Syracuse 17
20-20 hindsight: One of our better score predictions, as we both expected a fairly low scoring close game and got one. Penn State had zero rushing touchdowns, not the two I had predicted.
Northern Illinois at Iowa
Bennett's pick: Northern Illinois 23, Iowa 21
Rittenberg's pick: Iowa 24, Northern Illinois 23
Actual score: Northern Illinois 30, Iowa 27
20-20 hindsight: Our lone disagreement of Week 1 went Bennett's way, even though I was in good shape for most of the second half. Iowa running back Mark Weisman (100 rush yards) came 50 yards and two touchdowns shy of my prediction. NIU got a big lift late in the fourth quarter from a Jordan Lynch touchdown pass, not a Lynch scoring run, which was Bennett's forecast.
Wyoming at Nebraska
Bennett's pick: Nebraska 49, Wyoming 21
Rittenberg's pick: Nebraska 52, Wyoming 17
Actual score: Nebraska 37, Wyoming 34
20-20 hindsight: We both expected a stress-free night for the Huskers and a much better performance from the young Nebraska defense. Neither happened. I correctly pegged Nebraska quarterback Taylor Martinez to find Quincy Enunwa for two touchdown passes. Brian's prediction of five combined touchdowns for Martinez and Ameer Abdullah came up short as Imani Cross had Nebraska's two rushing touchdowns.
Northwestern at California
Bennett's pick: Northwestern 30, Cal 24
Rittenberg's pick: Northwestern 33, Cal 24
Actual score: Northwestern 44, Cal 30
20-20 hindsight: We both came up short with our score predictions, although Bennett's forecast of Northwestern recording two timely interceptions proved spot on as linebacker Collin Ellis had a pair of pick-sixes in the second half. Injuries prevented the big night I predicted for Northwestern quarterback Kain Colter and running back Venric Mark.
And now for our guest picker …
Indiana 21, Indiana State 13
UNLV 21, Minnesota 17
Michigan State 28, Western Michigan 17
Ohio State 45, Buffalo 13
Wisconsin 38, UMass 14
Southern Illinois 20, Illinois 17
Cincinnati 27, Purdue 21
Michigan 28, Central Michigan 17
Penn State 28, Syracuse 23
Iowa 24, Northern Illinois 13
Nebraska 27, Wyoming 16
Northwestern 24, California 21
Record:
9-3
Assessment:
Not too shabby, Ryan, although you've clearly lived in Big Ten country too long with some of those low score predictions. You came close with Michigan State-Western Michigan but, like the two of us, underestimated the offensive prowess of teams like Michigan, Northwestern, Indiana, Minnesota and Illinois. That UNLV pick doesn't look too good, but not a terrible first effort.
Who's next?
September, 3, 2013
9/03/13
9:00
AM ET
After several mostly speculative versions of the Big Ten power rankings, we finally had a chance to evaluate these teams in games. The Week 1 competition mostly wasn't great, and the Big Ten's overall performance left something to be desired. We'll learn a lot more about most of these teams in the coming weeks.

We try to keep these rankings consistent with our ESPN.com national power rankings, so Ohio State remains No. 1, ahead of Michigan, even though the Wolverines looked more impressive against their MAC opponent than Ohio State did. But a Michigan win against Notre Dame this week could change things.
Wisconsin and Nebraska trade places in the rankings, and so do Penn State and Michigan State.
Here's one last look at the
preseason power rankings
.
Let's get to the rundown ...
1. Ohio State (1-0, preseason: 1):
The Buckeyes had a flawless record in 2012, but they were a flawed team. They still are, and they showed some warts during the final three quarters of a 40-20 win against a plucky Buffalo squad. Quarterback
Braxton Miller
has improved and has a much better supporting cast, including running back
Jordan Hall
, but the Buckeyes need to take better care of the ball. A soft schedule should give Ohio State's young defense time to develop.
2. Michigan (1-0, preseason: 2):
This year's opener went just a tad better than last year's for Brady Hoke's Wolverines. Michigan made big plays in all three phases and received contributions from many different players, delivering the most impressive debut in the league. Quarterback
Devin Gardner
(162 pass yards, 52 rush yards, three total touchdowns, two interceptions) can build off of this performance before facing a talented Notre Dame defense under the lights next week.
3. Northwestern (1-0, preseason: 3):
The Wildcats remain in the three hole but solidified themselves after a resilient performance on the road against Cal. They played most of the game without their dynamic backfield of quarterback
Kain Colter
and running back
Venric Mark
, which fundamentally changed the offense. Thanks to unlikely heroes such as linebacker
Collin Ellis
and running back
Treyvon Green
, Northwestern remained perfect in openers under Pat Fitzgerald. Up next, Syracuse.
4. Wisconsin (1-0, preseason: 5):
Fortunately, Wisconsin's next three openers (LSU twice, Alabama) will provide a lot more clues about the Badgers than Saturday's laugher against FBS bottom-feeder UMass. But you play the team across the field, and to Wisconsin's credit, it completely dismantled the Minutemen on both sides of the ball. The three-headed rushing attack of
James White
,
Melvin Gordon
and
Corey Clement
sparkled, combining for 388 yards and three touchdowns on 40 carries.
5. Nebraska (1-0, preseason: 4):
The concerns about Nebraska's young defense weren't merely confirmed in the opener against Wyoming. They grew. Nebraska surrendered 35 first downs and 602 yards and nearly blew a 16-point fourth-quarter lead before surviving 37-34. Coach Bo Pelini didn't sound too discouraged Monday, but defensive coordinator John Papuchis said the defense has "nowhere to go but up." Nebraska needs a crisper performance this week against Southern Miss.
6. Penn State (1-0, preseason: 7):
Like Northwestern, Penn State fought through some adversity to beat another major-conference team away from its home stadium. Freshman quarterback
Christian Hackenberg
backed up the hype for the most part, and tackle
DaQuan Jones
and safety
Stephen Obeng-Agyapong
sparked the defense. The Lions must get better on third down (1-of-15) before Central Florida comes to town in Week 3.
7. Michigan State (1-0, preseason: 6):
As dominant as the Spartan Dawgs were against Western Michigan -- and could be the entire season -- the big concern here is an offense that appears to have regressed, if that's even possible. The quarterbacks remain the focus, but Michigan State isn't getting enough from any part of its offense. If things don't change, expect another season of games that can go either way. MSU has a chance to get well this week against slumping South Florida.
8. Minnesota (1-0, preseason: 8):
Credit defensive tackle
Ra'Shede Hageman
and the Gophers for making big plays in all three phases in their opener against UNLV. But the 51-23 final score masked some of the issues Jerry Kill's team must address before the competition level improves. Minnesota needs a more physical effort from its offensive line, and it has to get off the field on defense after allowing UNLV to go 4-for-4 on fourth down. The Gophers need to clean things up this week on the road against New Mexico State.
9. Indiana (1-0, preseason: 9):
A loaded Hoosiers offense set a
Memorial Stadium record with 73 points
against Indiana State, and Indiana has multiple weapons at quarterback, running back and wide receiver. But we've seen big offense from Indiana before. Can the Hoosiers' defense improve enough to boost the win total to bowl eligibility? IU's discipline will be tested this week against Navy's tricky triple-option offense.
10. Iowa (0-1, preseason: 11):
Yes, the Hawkeyes actually move up a spot despite a loss (it has more to do with Purdue's plunge). Iowa in some ways looked like a better team against Northern Illinois, surviving a sluggish start to take control behind quarterback
Jake Rudock
, linebacker
Christian Kirksey
and a physical defense. But breakdowns on both sides of the ball doomed Iowa down the stretch, and Rudock's interception led to NIU's game-winning field goal. Iowa really needed a win and must regroup this week against Missouri State.
11. Illinois (1-0, preseason: 12):
Senior quarterback
Nathan Scheelhaase
looks much more comfortable in Bill Cubit's offense and threw for a career-high 416 yards and two touchdowns against Southern Illinois. That's the good news. Illinois still has many areas to fix, especially on defense after nearly blowing a 22-point third-quarter lead. We'll learn a lot more about this team the next two weeks against Cincinnati and Washington.
12. Purdue (0-1, preseason: 10):
What a mess. Nothing went right for the Boilers in coach Darrell Hazell's debut. The defense couldn't get off of the field on third down or fourth down.
Rob Henry
struggled and the offense committed three turnovers. Aside from a Cincinnati special-teams blunder, Saturday was a nightmare for the Boilers, who fell 42-7. Fortunately, Indiana State is next, but there's a lot of work to do.
PSU's 46-Hour Dance Marathon Raises $13 Million
BIG TEN SCOREBOARD
Thursday, 9/3
Friday, 9/4
Saturday, 9/5
Sunday, 9/6
Monday, 9/7