Penn State Nittany Lions:

John Simon
January, 29, 2013
1/29/13
2:30
PM ET
It's awards season in Hollywood, as the film industry lines up to congratulate itself again and again until we're all sick of it before the Oscars.
But, hey, some performances do need recognition. With that in mind, we're listing the Top 10 individual performances by Big Ten players from the 2012 season today. Degree of difficulty is a factor here, so we'll reward those players who shined against tough opponents over those who piled up stats vs. cupcakes. And, ideally, the performance came in a victory for the player's team.
Enough with the intro. A drum roll, please, for our Top 10:
10. Penn State's Michael Mauti vs. Illinois:
Mauti was very vocal with his displeasure at Illinois' attempt to poach Nittany Lions players last summer. The senior linebacker backed up his words with six tackles and a pair of interceptions, including a 99-yard return to end the first half. He came up inches short of a touchdown on that pick but definitely proved his point.
9. Ohio State's John Simon vs. Wisconsin:
In what would turn out to be his final college game, the Buckeyes defensive end went out with a bang against the Badgers in Madison. He had four sacks, which set a school record and were the most by a Big Ten player since Purdue's Ryan Kerrigan registered four vs. Michigan in 2010.
8. Ohio State's Braxton Miller vs. Michigan State:
Miller had better statistical days than the one he turned in against the Spartans, but none were grittier. Hit over and over again, he somehow kept answering the bell and finished with 136 hard-earned rushing yards and 179 passing yards in Ohio State's 17-16 road win. Teammates said after the game that their quarterback was in a tremendous amount of pain, but he earned he even more respect from them.
7. Northwestern's Kain Colter vs. Indiana:
Wildcats coach Pat Fitzgerald sprung a surprise on the Hoosiers by repeatedly lining Colter up at receiver. Colter caught nine passes for 131 yards and also ran for 161 yards and four touchdowns on just 14 carries.
6. Penn State's Matt McGloin and Allen Robinson vs. Indiana:
We're cheating a bit here by including both players, but it's hard to separate the two from this record-setting performance. McGloin shredded the Hoosiers' defense for 395 passing yards and four touchdowns, while Robinson was as usual the main recipient of his throws. The sophomore grabbed 10 catches for 197 yards and three scores in the best day for a Big Ten receiver in 2012.
5. Michigan's Denard Robinson vs. Air Force:
How's this for an individual feat: Robinson accounted for more than 100 percent of his team's offense vs. the Falcons, a statistical oddity we may not see again any time soon. He totaled 426 yards -- 218 rushing, 208 passing -- while a couple of late kneel downs left Michigan's team total for the day at 422. Robinson also scored four touchdowns in the 31-25 win.
4. Michigan's Devin Gardner vs. Iowa:
In just his second start at quarterback, Gardner wrote his name in the Michigan record books. He accounted for six touchdowns -- three passing, three rushing -- in becoming the first Wolverines quarterback to do that since Steve Smith in 1983. He also threw for 314 yards and let everyone know Robinson wasn't getting his old job back.
3. Wisconsin's Montee Ball vs. Purdue:
Ball finished his career with all sorts of NCAA and school records, but he never had as many rushing yards as he did in West Lafayette this fall. He ran for 247 yards on 29 carries and and scored three times to establish himself as the Big Ten's all-time leader in touchdowns.
2. Nebraska's Taylor Martinez vs. Northwestern:
Martinez's best statistical showing came in the opener against Southern Miss (354 passing yards, five TDs), but that was against a team that finished 0-12. His signature performance was in the comeback win at Northwestern. He threw for 342 yards and three scores and ran for another touchdown while leading two 75-plus yard scoring drives in the final six minutes. Of course, he also threw two passes in the fourth quarter that should have been intercepted, but that's just part of the ride with Martinez.
1. Michigan State's Le'Veon Bell vs. Boise State:
In just the second game of the season featuring a Big Ten team, Bell set a bar that could not be cleared. He was Superman against the Broncos, rushing for 210 yards and two touchdowns on 44 carries and catching six passes for 55 yards. The unbelievable 50 touches in the opener was both a testament to Bell's strength and a flashing red warning sign of Michigan State's dearth of playmakers.
Honorable mention:
Bell vs. Minnesota and TCU; Miller vs. California; Ball and
James White
vs. Nebraska in the Big Ten title game; Robinson vs. Purdue; Ohio State's
Ryan Shazier
vs. Penn State; Ohio State's
Carlos Hyde
vs. Nebraska; Indiana's
Cody Latimer
vs. Iowa; Penn State's
Jordan Hill
vs. Wisconsin; Northwestern's
Venric Mark
vs. Minnesota; Michigan's
Jeremy Gallon
vs. South Carolina; Iowa's
Mark Weisman
vs. Central Michigan; Minnesota's
Michael Carter
vs. Purdue and Texas Tech; Purdue's
Kawann Short
vs. Notre Dame.
November, 27, 2012
11/27/12
11:15
AM ET
The Big Ten announced its
2012 all-conference teams and most individual awards
Monday night, but four more awards have yet to be revealed. Before the winners are announced, we're putting in our endorsements for Offensive Player of the Year, Defensive Player of the Year, Coach of the Year and Freshman of the Year. We'll agree on some and differ on others.
Here's our endorsement for the league's top defensive player in 2012:

Brian Bennett endorses Penn State LB Michael Mauti
There are plenty of good candidates for defensive player of the year, and a lot of people think Ohio State linebacker
Ryan Shazier
deserves to win this award. If this honor were just about who played the best in the final half of the season, Shazier would run away with it. But by his own admission and as Urban Meyer says it, Shazier played out of control and missed a whole bunch of tackles early in the year. We can't ignore that. We also can't ignore the immense contributions Mauti made on and off the field for the Nittany Lions. He was great on the field, with 96 tackles, three interceptions and three forced fumbles in a little more than 10 games. He was even greater off the field as one of the best leaders we've seen in recent years among players. He was so respected and admired that his teammates decided to put his No. 42 on their helmets for their final game last week. Mauti was instrumental in keeping an entire community unified through unprecedented adversity. That deserves recognition and puts him over the top, in my view.

Adam Rittenberg endorses Penn State LB Michael Mauti

This is a very tough call for me, as I can overlook a player's early struggles if he develops during the course of the season and plays his best in the most important games, as Shazier certainly did for Ohio State. From a statistical standpoint, he has the edge on Mauti in tackles (115-96), tackles for loss (17-4) and sacks (5-2.5). And he looked dominant down the stretch as the Buckeyes' defense rebounded from its early struggles. Mauti, however, had a bigger role in forcing turnovers with three interceptions and three forced fumbles, ranking in the top five in the Big Ten in both categories. There also was no better leader in the league this season, aside from perhaps Shazier's teammate, defensive end
John Simon
, whom I also considered for this award. Mauti also basically missed the final two games and could have had similar tackles numbers as Shazier. I don't want to punish him for his unfortunate injury. Plus, Shazier has two more years to win this award. After all Mauti has been through, he gets the nod from me as well.
November, 26, 2012
11/26/12
2:11
PM ET
The 2012 All-Big Ten teams and individual award winners will be revealed at 7 p.m. ET tonight on the Big Ten Network. We'll post the full lists shortly thereafter as well as reaction.

The four major awards -- Offensive Player of the Year, Defensive Player of the Year, Coach of the Year and Freshman of the Year -- will be revealed Tuesday night. We will have our official blog endorsements for each of these throughout Tuesday, so be sure to check in.

To clarify, we don't have official votes for All-Big Ten (not like we cover the league closer than anyone year-round or anything, but we're not bitter), but we will reveal our own all-conference team at a later date.

For now, we're going to give our opinions on some of the key debates surrounding this year's all-conference team.
November, 1, 2012
11/01/12
11:00
AM ET
STATE COLLEGE, Pa. --
Matt McGloin
stepped up to the interview chair and offered his usual, confident smirk.
The clean-shaven fifth-year senior looked as if he had arrived straight from the barber. He relaxed under the bright lights of the media room, in a chair that causes some to stutter and others to grasp at loose thoughts, and appeared as if he was sitting for a job interview -- as the boss.
[+] Enlarge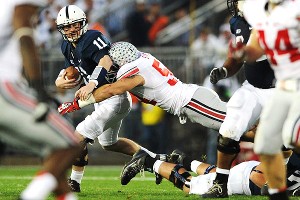 Patrick Smith/Getty ImagesMatt McGloin was under constant pressure against Ohio State, but says he is better prepared to deal with it against Purdue.
The cocksure quarterback talked about how this Purdue game would be different, how Penn State reflected on its flaws and corrected them. But, when asked how he specifically could respond to another heavy pass rush, that smirk faded slightly.
"Nothing," he said.
"As a quarterback it's not your job to worry about whether or not the defender's closing in on you or who's blocking this guy or who's blocking that guy. ... I definitely believe my linemen are capable of blocking anyone they face. I think we should have some time to throw the ball Saturday."
There was no talk about spending more time in the shotgun, or perhaps leaning heavily on three-step drops. Maybe that's in the game plan, maybe not, but McGloin spoke in an even tone as if he held no doubts the line would improve.
The Buckeyes often brought an extra rusher Saturday, and McGloin seemed to dance in the backfield with scarlet and gray jerseys every other play. Trading
Johnathan Hankins
and
John Simon
for Purdue's
Kawann Short
and
Bruce Gaston
seems to be a similar challenge -- another where McGloin might be able to do "nothing" -- but McGloin's teammates know their response isn't pinned to the shoulders of their quarterback.
"We have to do a better job of protecting Matt," offensive guard
John Urschel
acknowledged.
Urschel thought emotions might have gotten to this line, maybe taking their minds off protections or practices. But Bill O'Brien disagreed without elaborating much.
O'Brien said he called upon McGloin and center
Matt Stankiewitch
earlier in the week, sat them down and emphasized communication. That silent cadence is more detailed this week, O'Brien said, and he's hoping that reinvigorates his passing game.
McGloin just shrugged and reiterated he'll keep doing what O'Brien asks. The new coach has brought the former walk-on a long way, and McGloin isn't worried about other units on this offense. If a receiver drops 10 balls, McGloin said he wouldn't hesitate throwing to him again if he finds a seam. And if the offensive line stumbles, the quarterback refuses to grow fearful of taking another sack.
Whatever problems or plans Penn State possesses, concern was not an emotion painted on McGloin's face. Slight irritation at a few questions? Yes. Confidence? Absolutely.
But there was no sense of panic. McGloin looked back at the press, smiled at most questions, and swore this team's desire to finish strong outweighed any lingering disappointment from last Saturday.
"They were full of some good athletes on that team, but we can't focus too much on Ohio State," McGloin said. "That game's in the past and, like I said, we have four left to keep pushing on here.
"And it starts with Purdue."
October, 8, 2012
10/08/12
10:00
AM ET
Bring that beat back.
Team(s) of the week:
Ohio State and Michigan share top billing this week. The Buckeyes turned in an attention-grabbing 63-38 blowout of Nebraska on national TV and have climbed up to No. 8 in The Associated Press poll. An undefeated season remains a strong possibility. Michigan was also very impressive, going on the road to clobber Purdue 44-13 in a must-have win. Anybody else already looking forward to The Game this year?
Best game:
Even though Northwestern led Penn State 28-17 in the fourth quarter, you just knew it wasn't over. In fact, the Nittany Lions were just getting started. They reeled off 22 fourth-quarter points in a game that featured several wild momentum swings and fourth-down plays.
[+] Enlarge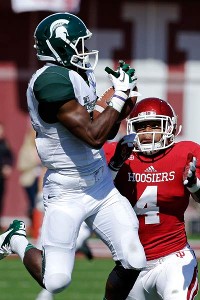 Darron Cummings/AP PhotoMichigan State wide receiver Aaron Burbridge makes a reception while being defended by Indiana linebacker Forisse Hardin.
Biggest play:
Michigan State probably didn't think it would need a big play in the fourth quarter against Indiana, but it sure did. The Spartans were down 27-17 and faced third-and-10 from their own 29 when
Andrew Maxwell
hit receiver
Aaron Burbridge
through double coverage for a 16-yard gain. A punt deep in its own territory would have made it difficult for Michigan State's slow-moving offense to complete the comeback. But that third-down conversion kept alive a drive that resulted in a touchdown en route to a 31-27 victory. Burbridge, a true freshman, gave the Spartans a much-needed shot in the arm with eight catches for 134 yards in his first start.
Best call:
No one can accuse Bill O'Brien of playing it safe. Even though Penn State's kicking game is very shaky, most coaches would have settled for the field goal on fourth-and-4 from the other team's 5-yard line when trailing by three points in the fourth quarter. O'Brien is not most coaches. He rolled the dice and went for it, and
Matt McGloin
scrambled into the end zone for what turned out to be the winning score. Penn State was 5-of-6 on fourth-down conversion attempts against Northwestern.
Second guessing:
Indiana was humming along in the first half against Michigan State but got strangely conservative right before halftime. Kevin Wilson gambled and pulled off an onsides kick after going up 24-14 late in the half. But after driving to the Michigan State 6-yard line, the Hoosiers ran three straight running plays and gained only 4 yards. Wilson elected to kick the field goal instead of going for it on fourth down, even though Michigan State was on the ropes and a touchdown might have provided a knockout blow. That's not the reason Indiana lost, because the Spartans pitched a shutout in the second half. But I bet Wilson would at least throw a pass into the end zone if he had to do that over again. Maybe he and O'Brien should compare notes.
Big men on campus (offense):
It's all about the quarterbacks. Michigan's
Denard Robinson
ran for 235 yards (more than Purdue's entire offense generated) and threw for 105 more in the win over the Boilermakers. Ohio State's
Braxton Miller
ran for 186 yards and threw for 127 more in the pasting of Nebraska. And McGloin threw for 282 yards and accounted for three touchdowns while leading the Nittany Lions' fourth-quarter comeback.
Big man on campus (defense):
Ohio State's
Bradley Roby
had a pair of interceptions against Nebraska and returned the first one 49 yards for a touchdown to open the Buckeyes' scoring onslaught. Props also to Roby's teammate
John Simon
, who had five tackles for loss versus the Huskers.
Big men on campus (special teams):
Northwestern's
Venric Mark
and Ohio State's
Corey Brown
each scored on punt returns. Mark went for 75 yards against Penn State, while Brown took his 76 yards to the house.
Worst hangover:
Purdue. Yes, Nebraska isn't going to enjoy the next two weeks after getting steamrolled by Ohio State. But the Cornhuskers always knew that was going to be a tough road game they could lose and still win the Big Ten. The Boilermakers were fired up after a solid start to the season, and many around the team believed a breakthrough was coming for Danny Hope's program. Instead, Michigan waltzed into Ross-Ade Stadium, rolled out to a 28-3 first-half lead and put Purdue back in its place. Now there are questions again about whether the Boilers will ever turn the corner under Hope. A win over Wisconsin this week now becomes paramount.
Strangest moment(s):
It was a painful day for some of the officials in the Big Ten on Saturday.
In the Northwestern-Penn State game, line judge Michael Mahouski suffered a ruptured quad tendon while avoiding a hit on the sideline and had to be carted off. Another line judge was carted off in the Illinois-Wisconsin game. Forget replacement refs. Big Ten officials might need some replacement hips at this rate.
But those weren't even the weirdest circumstances involving an official on Saturday. In that Illinois-Wisconsin game, Illini quarterback
Nathan Scheelhaase
tried to high-five back judge
Mike Brown after scoring on a short touchdown run. Brown was not having any of it.
"Our deal is to hand the ball to the official," Scheelhaase explained. "But somehow the ball got loose -- I probably, like, threw it a little bit -- and in apology, I tried to give him a high-five. I almost knocked him over. He almost tripped.
"I don't think they can [high-five players]. One of the refs told me they weren't able to do that."
At least Mahouski got a handshake from Northwestern coach Pat Fitzgerald as he left the field on the cart.
August, 29, 2012
8/29/12
9:00
AM ET
The Big Ten doesn't announce an official preseason all-conference team. But that doesn't mean we can't.
Here are our picks for the 2012 preseason All-Big Ten team:

Offense
QB:
Denard Robinson
, Michigan
RB:
Montee Ball
, Wisconsin
RB:
Rex Burkhead
, Nebraska
RB:
Le'Veon Bell
, Michigan State
WR:
Jared Abbrederis
, Wisconsin
TE:
C.J. Fiedorowicz
, Iowa
OT:
Taylor Lewan
, Michigan
OT: Ricky Wagner, Wisconsin
OG:
Spencer Long
, Nebraska
OG:
Chris McDonald
, Michigan State
C:
Travis Frederick
, Wisconsin
Defense
DE:
John Simon
, Ohio State
DE:
William Gholston
, Michigan State
DT:
Kawann Short
, Purdue
DT:
Johnathan Hankins
, Ohio State
LB:
Gerald Hodges
, Penn State
LB:
Chris Borland
, Wisconsin
LB:
Jonathan Brown
, Illinois
CB:
Johnny Adams
, Michigan State
CB:
Ricardo Allen
, Purdue
S:
Isaiah Lewis
, Michigan State
S:
Jordan Kovacs
, Michigan
Specialists
K/P:
Brett Maher
, Nebraska
KR:
Raheem Mostert
, Purdue
PR: Abbrederis
Thoughts:
The first thing that likely jumps out at you is that we have three running backs and just one receiver on our first-team offense. No, we haven't forgotten the rules of football. It's just that we continue to feel the wide receiver crop is weak this season, and no great candidates for the second spot leap out at us. Perhaps
Keenan Davis
of Iowa or one of Northwestern's many receivers will have a great season, but no one has proved anything on a consistent basis. We'd rather have Bell -- who we believe is primed for a huge year -- on the team than any of the receiver candidates. Plus, isn't running the ball what Big Ten football is all about? ... Some of the toughest omissions came at linebacker, where Michigan State's duo of
Denicos Allen
and
Max Bullough
and Wisconsin's
Mike Taylor
were among those left out. At least we know we'd have an outstanding second-team unit at that position. ... Fiedorowicz is a bit of a projection pick, but we love the way he finished last season and how he fits into Greg Davis' new scheme. You certainly could make a strong case for Wisconsin's
Jacob Pedersen
or Ohio State's
Jake Stoneburner
there as well. ... Some of these players won't live up to expectations, and others will explode on the scene this fall. But for now, we'd feel pretty good about throwing this team on the field.
August, 27, 2012
8/27/12
11:00
AM ET
»
Power Rankings
:
ACC
|
Big 12
|
Big East
|
Big Ten
|
Pac-10
|
SEC
|
Non-AQ
Game week is here, and not a moment too soon.

Preseason camps have wrapped up around the Big Ten, and teams are now locking in for their openers this coming weekend. The power rankings will appear each Monday throughout the season, and we're getting things kicked off today.
There aren't many changes from our last version, although some offseason news has affected the rundown. The top five teams certainly have separated themselves in our eyes, while there's not much separating the next five on the list.
Here we go ...
1. Michigan State:
We understand why Michigan is the highest-rated Big Ten team in the polls, but Michigan State gets the top spot in our power rankings because of its defense. A top-10 unit in 2011 could easily become a top-five unit this season, as the Spartans are strong at just about every position. While the concerns at quarterback and receiver are warranted, the offense will be effective enough with the run as
Le'Veon Bell
and a more seasoned line return.
2. Michigan:
The Wolverines endured some injuries and off-field issues this summer and in camp, but they still enter the season with justifiably high hopes. Senior quarterback
Denard Robinson
has matured during his career and could make a serious push for national awards this fall. Michigan must shore up its lines and hope some young players grow up in a hurry. A relentless schedule is the biggest challenge for Brady Hoke's squad.
3. Wisconsin:
The offense might not be as electric as it was the past two seasons and the defense has some question marks (secondary, pass rush), but Wisconsin knows how to win and boasts enough to claim another Big Ten title.
Montee Ball
is extremely motivated after a rough summer, and while
Danny O'Brien
isn't Russell Wilson, he gives the offense some stability. A favorable schedule with both Michigan State and Ohio State at home helps the Badgers.
4. Ohio State:
It's a close call for the No. 4 spot, but the Buckeyes get the edge based on a defense with the potential to be one of the nation's best.
John Simon
anchors arguably the league's top defensive line, and almost everyone returns in the secondary. While there will be growing pains on offense, the unit can't possibly be worse than last year's, and
Braxton Miller
has a chance to make significant strides this season.
5. Nebraska:
Fifteen starters return to a Huskers team that should be much more comfortable with the Big Ten in Year 2. But questions remain surrounding quarterback
Taylor Martinez
, replacing star power on defense and getting over the hump on the road. A signature road victory would go a long way for Bo Pelini's program, which returns 15 starters and has a great chance to climb this list and challenge for the Legends division.
6. Purdue:
Danny Hope repeatedly called this his best Boilers team during the offseason, and we can see why. Purdue boasts a formidable defensive front and two bona-fide stars on defense in tackle
Kawann Short
and cornerback
Ricardo Allen
. The Boilers also return most of their key weapons on offense. What we still need to see is a team that can avoid the major mistakes and mental lapses that have plagued Purdue throughout Hope's tenure. A challenging start to Big Ten play will tell a lot about the Boilers.
7. Penn State:
The Lions will ride emotion and a stout defensive front seven this fall, and they could go further than most think after a brutal offseason. Still, it's hard to figure out how Penn State will score points, and the turmoil is bound to catch up with Bill O'Brien's crew at some point. If O'Brien bolsters an offense featuring mostly unproven personnel, Penn State could make a strong push. The schedule is favorable as the Lions get both Ohio State and Wisconsin at Beaver Stadium.
8. Iowa:
Youth will be served this fall in Iowa City as the Hawkeyes turn to unproven players at several spots, namely defensive line and running back. The good news is that Iowa boasts a veteran in senior quarterback
James Vandenberg
, who could thrive under new coordinator Greg Davis. Iowa must ride Vandenberg's right arm and a talented back seven on defense headlined by cornerback
Micah Hyde
and linebacker
James Morris
. Iowa also should benefit from its schedule.
9. Illinois:
The Illini and Penn State are nearly mirror images, as both teams have first-year coaches, talented defensive front sevens and question marks on offense. Defense could carry Illinois a long way this fall, as end
Michael Buchanan
and linebacker
Jonathan Brown
anchor the unit. A new offensive scheme could spark third-year starting quarterback
Nathan Scheelhaase
, although he'll need unproven weapons to emerge. Illinois could be a sleeper team this fall, although its Big Ten road schedule is flat-out brutal (Wisconsin, Michigan, Ohio State, Northwestern).
10. Northwestern:
After a drop in wins the past three seasons, can Northwestern get things turned around? The Wildcats once again should be strong on offense as
Kain Colter
takes over at quarterback, although there are some questions up front. The defense can't be much worse than it was in 2011, and while there will be more youth throughout the unit, there also should be more talent. Northwestern must capitalize on the first chunk of the schedule, which features several toss-up games but isn't overly taxing.
11. Minnesota:
The Gophers will be an improved team in Year 2 under Jerry Kill. The problem is they play in a loaded division and face a tricky schedule with no gimme games. Quarterback
MarQueis Gray
has a chance to do big things as a senior, although his supporting cast remains a mystery.
Troy Stoudermire
's return should spark the defense, which played better down the stretch in 2011. Like Northwestern, Minnesota needs to get off to a good start and build confidence.
12. Indiana:
The Hoosiers won't go 1-11 again, and they could be dangerous on the offensive side as sophomore quarterback
Tre Roberson
matures and the passing game becomes a bigger part of the plan. Question marks remain throughout the defense, and Indiana hopes an influx of junior-college players helps the situation immediately. Indiana will be older and better than it was in 2011, and the Hoosiers should be more competitive in Big Ten games. But until they prove otherwise, they're at the bottom.
PSU's 46-Hour Dance Marathon Raises $13 Million
BIG TEN SCOREBOARD
Thursday, 9/3
Friday, 9/4
Saturday, 9/5
Sunday, 9/6
Monday, 9/7