Penn State Nittany Lions:

John Cappelletti
September, 11, 2013
9/11/13
12:30
PM ET
John Cappelletti could barely eat for more than a week. He slept for a few hours at a time, tossing and turning about how Saturday's unprecedented honor might be received by Penn State fans.
Penn State announced on Saturday during halftime of the Nittany Lions' home opener that Cappelletti's No. 22 jersey would be retired, a first for the school's football program. The halftime ceremony also would help honor the 40th anniversary of his Heisman and the undefeated 1973 team.
[+] Enlarge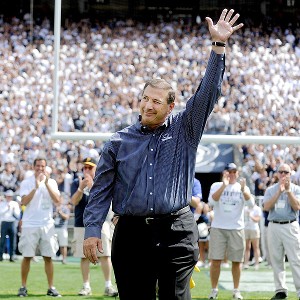 Abby Drey/Centre Daily Times/Getty ImagesJohn Cappelletti waves to the crowd during halftime ceremony at Penn State.
For any other player on any other team, it would be an overdue award received with a mixture of excitement and honor, marinated for days with anticipation. But at Penn State, where last names didn't grace the jerseys until 2012, it was a bit different.
Joe Paterno, the old ball coach with the Coke-bottled frames, preached team-first this and team-first that. If it were up to Paterno, he might've gotten rid of the Heisman Trophy altogether. So he certainly wouldn't have retired a jersey number, even for a running back as skillful as Cappelletti.
No number was retired during JoePa's reign. That's how he wanted it, and that's just how it was.
"My initial reaction was one of just kind of, 'OK, wow, that's quite an honor,' " Cappelletti told ESPN.com. "And my subsequent reaction is that this was something that's never been done before. How are people going to react?
"And then you get into the dynamic of what the school's been through and you think, is this a good time to do this? And should I be the first one with all the great players who played there? And I got into a bit of conversation with [athletic director David Joyner] about, 'Are you guys sure you want to do this?' "
They were. Only eight days before the ceremony, Joyner had told Cappelletti, while he channel-surfed from his orange-and-green couch in California, about the tribute.
And Cappelletti couldn't say no to the honor, of embracing his proud 87-year-old mother on the field and once again making Penn State history. He reassured himself that this could be a good thing for the school, even if Paterno might have opposed it, and that it could be another positive part of Penn State history -- "and maybe we need more of that."
But he was still nervous. Very nervous. He kept a pen and pad next to his bed so, when he laid awake at night, with the fear of fan reaction coursing through his veins like a liter of coffee, he could jot down sudden thoughts. Of why he wanted to do this. Of what he wanted to say. Of why it was important to carry on with the future.
"My brain was kind of nonstop for a week," he said with a laugh. "I don't think it slowed down until after the reunion Saturday night when everybody could relax and have a good time.
"I could not get my mind off what this could mean, what this meant and again starting to think about what I would say. It gets into stuff like, 'Why me? Why me?' And I know why me, and why me is because I was the first one to win the Heisman Trophy, a movie came out with my brother, I had a relatively successful NFL career, and I lived my life in a pretty good way."
Behind the scenes Saturday afternoon, Cappelletti continued to worry. Cappy, as some call him, walked past the goal line while the crowd cheered -- but they didn't yet know what was coming.
When the jersey was unveiled, the applause and the chants picked up. Cappelletti smiled, while he said with a laugh Tuesday evening that some fans surely had to make sure they heard right. The PA announcer told the crowd, for the first time ever, PSU was retiring a number. Cappelletti's number -- No. 22. Half-interested fans suddenly perked up; the applause cascaded. Many stood up, hollered or clapped.
"Did he just say they're retir--," one reporter asked in the press box.
"Yup."
Equipment manager Brad "Spider" Caldwell relayed a message to redshirt freshman tailback Akeel Lynch, who currently sports No. 22. It wasn't a number Lynch originally wanted, but Caldwell insisted because of the history behind it, in large part because of Cappy. After Lynch looked up the greats who preceded him, he kept the number -- even after the one he wanted, No. 5, became available. ("Once I found out the history I'm like, 'No, I'm keeping it,' " Lynch said.)
"Kid," Caldwell told him. "You might have to change your number."
Cappelletti, beaming from the crowd reception and a flood of relief, pulled Lynch aside after the 45-7 victory. He had talked to Joyner days before, telling him he wanted Lynch to finish out his career with the jersey, but Lynch hadn't known of the decision.
The two shook hands and Cappelleti joked with him to make sure he returned the number when he was finished with it. Lynch told the media he felt grateful, that he'd remember Cappelletti and the greats before him every time he slipped the jersey over his shoulder pads.
Cappelletti said afterward that Saturday afternoon played out like a dream, like a best-case scenario. He discovered a connection with Lynch, and the old school had united with the new school. Cappeletti hoped to help Penn State take a step forward, that this might be a positive element for the Blue & White. And, when strictly discussing the decision to allow Lynch to continue wearing No. 22, Cappelletti might have just explained in a microcosm what torn Penn State fans have felt.
"It just felt like it wasn't right otherwise," Cappelletti said. "I didn't feel like something from the past should ever affect a person in the present negatively. I just want to help Penn State and give the fans something to cheer about."
July, 10, 2013
7/10/13
1:00
PM ET
So, what teams had the best and worst
all-time PSU fantasy drafts
on Tuesday?
There's a lot of opinion out there, but NittanyNation tried to find two knowledgable judges to offer their takes on each team's draft. Both Steve Jones and Mike Poorman agreed to grade each team and include a brief analysis.
Jones is the play-by-play voice of Penn State football and hosts a daily radio show that can be heard on ESPN 1450 in State College. Poorman is a columnist and senior lecturer at Penn State who taught the class, "Joe Paterno, Communications & The Media." Both are PSU graduates.
Here's what they had to say:
Team Lou Prato
(Top five picks: RB Lenny Moore, LB Jack Ham, DT Mike Reid, DE Courtney Brown, C Glenn Ressler)
Jones says:
A. Outstanding defense, especially at linebacker, and a solid kicking game. Offensively, Moore could do it all, and people forget Chuck Fusina was a Heisman trophy runner-up who actually had more first-place votes than Billy Sims.
Poorman says:
A. I graded the No. 1 pick at each position, and Lou was tops with eight such selections. His LB combo of Jack Ham and Shane Conlan, PSU's best two ever, and secondary pair of Harry Wilson and Michael Zordich exemplified a depth of knowledge -- and, hence, roster -- that was unmatched, top to bottom. Memo to Bob McClellan: 25 years after you had him in class, Lou is still cantankerous.
Team Bob McClellan
(Top five picks: CB Brian Miller, RB Curt Warner, OT Keith Dorney, OG Mike Munchak, DE Michael Haynes)
Jones says:
A-. Great running game and offensive line, along with the best rushers. This group has underrated receivers and an underrated quarterback who was Big Ten player of the year.
Poorman says:
A-. Seven of Bob's picks were best at their position. His OL spanned four decades and was the strongest group by far. All-time pick leader Neal Smith and punter Ralph Giacamarro showed McClellan's surprising and seasoned savvy against a field of Penn Staters. Flex selection Lydell Mitchell was inspired.
Team Stephon Morris
(Top five picks: LB Sean Lee, LB LaVar Arrington, WR Bobby Engram, DT Matt Millen, RB John Cappelletti)
Jones says:
A-. He mixes the school's only Heisman winner in Cappy with the quarterback who won the first national title. Defensively, the athletes at linebacker are impressive, and Millen is outstanding up front
Poorman says:
Pass. No way I could fail Stephon. A likeable and gutsy player, he was a media favorite with his candor. With his draft picks, he displayed confidence -- he picked Stephon Morris at CB -- and smarts, by snagging four of the giants of Penn State football: John Cappelletti, LaVar Arrington, Matt Millen and Todd Blackledge. But his O-line was of the "oh, my goodness" variety, and his biggest downfall.
Team Josh Moyer
(Top five picks: QB Kerry Collins, S Mark Robinson, OT Levi Brown, OG Sean Farrell, TE Ted Kwalick)
Jones says:
A-. Get ready for the ball to fly. Great quarterback and receivers. Everyone has quality tight ends, but Kwalick was special. Strong secondary behind that defensive line.
Poorman says:
B+. Josh has the best pitch-and-catch triad of Kerry Collins, Kenny Jackson and Ted Kwalick, with Stefen Wisniewski snapping the ball. That's four of his five position-best picks. He showed a healthy respect for -- and use of -- the past (W.T. Dunn, Joe Bedenk) that gets high marks, but his pair of kickers and one corner selection ranked a Z.
Team O.J. McDuffie
(Top five picks: RB Ki-Jana Carter, RB Larry Johnson, OG Steve Wisniewski, OG Jeff Hartings, S Darren Perry)
Jones says:
B+. Great running game along with speed at wide receiver. The defense is solid across the board.
Poorman says:
C. O.J. was in trouble as soon as did not pick O.J. McDuffie. His one old-school pick, Matt Bahr, was the best kicker selected. But O.J. relied almost totally on Nittany Lions from the past three decades and regrettably didn't include one player from the first 88 years of Penn State football. Not OK, O.J.
July, 10, 2013
7/10/13
11:00
AM ET
STATE COLLEGE, Pa. -- The
all-time Penn State fantasy draft
might be over, but the controversy has only just begun.
NittanyNation thought it'd take an extra day to reflect on the process, offer some analysis, give some opinions and then move on from a memorable three-hour, 24-round draft.
Steve Jones and Mike Poorman will grade each team later today, but NittanyNation wanted to give its own rundown of the draft and offer a behind-the-scenes look at a few picks.
The best PSU player?
In a casual Twitter poll Monday night, linebacker Jack Ham received the most mentions for best overall Penn State player. Team Prato took him in the second round, with everyone except the softspoken McDuffie playfully calling Lou Prato a jerk. (Everyone wanted Ham.)
It was an interesting, nonscientific poll because it took about a dozen votes for a single name to be repeated. LaVar Arrington and John Cappelletti also received multiple mentions.
Prato voted for Lenny Moore by drafting him with his No. 1 overall pick.
[+] Enlarge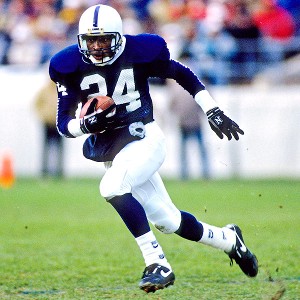 USA TODAY SportsO.J. McDuffie wasn't happy when Team Moyer drafted him -- immediately before McDuffie planned to draft himself.
Most memorable part of the draft:
Definitely the end of the seventh round. Only one receiver had been drafted until that point (Bobby Engram), and Team Moyer needed a wideout.
So, right before Team McDuffie had back-to-back picks, Team Moyer selected O.J. McDuffie for his own fantasy team.
Team Moyer: "Sorry to do this to you, OJ, but I got to. I'm taking O.J. McDuffie. Need Collins to throw to someone."
Team McDuffie: "Damn, Josh. I was just about take myself."
That's when four receivers -- McDuffie, Bryant Johnson, Deon Butler, Kenny Jackson -- were taken consecutively and caused headaches for the other three participants. That was a key part to the draft. And, five days later, O.J. still wasn't happy about the move.
"I still can't believe you did that," McDuffie said, laughing. "Right before me."
Biggest head-scratchers:
Cornerback Brian Miller as the No. 2 overall pick? C'mon, Team McClellan. Cornerback was the slimmest position in the draft, so corners had added value -- that was McClellan's reasoning for taking him so high -- but one could've held off on Miller until at least the fourth or fifth round.
Team McClellan passed up Ki-Jana Carter and Kerry Collins for Miller. Team Morris also received some ribbing for making Sean Lee the No. 1 LB, but Stephon Morris wanted to draft someone in the first round with whom he had played. So that was understandable.
But when Morris took kicker Chris Bahr in the 10th round? Definite head-scratcher -- although he did
explain that move here
. McDuffie also surprised just about everyone when he drafted Larry Johnson over the likes of Curt Warner and Cappelletti.
Best undrafted players:
Where to even begin? There were plenty; you could make up a great team on just left-overs from the draft.
QB Tony Sacca, FB Franco Harris, RB Blair Thomas, WR Derek Moye, OT Chris Conlin, and C Matt Stankiewitch are among the best remaining picks on offense. As far as the defense: DT Jimmy Kennedy, DE Bruce Bannon, LB Michael Mauti, CB Derek Bochna and S Harry Hamilton were also undrafted.
Best sleepers (or best-value picks):
OK, we'll throw Team McClellan a bone here. Grabbing two-time All-American and College Football Hall-of-Famer Dennis Onkotz in the 16th round was probably the steal of the draft.
That greatly boosted Team McClellan's LB corps. And he grabbed another great-value pick with Lydell Mitchell in the 20th round. Team Morris definitely got great value in QB Todd Blackledge in the 19th round, and Team Moyer's best-value picks appeared to be LB Greg Buttle in the 18th round and Kenny Jackson in the eighth.
Morris means business:
A lot of participants hit the books before the draft, but Morris' preparation was a little different. As a player, he had a bit of a leg up, because he didn't just stop at reading up on all the players -- he went straight to the source.
Morris called up several former players -- including Lee, Chafie Fields, NaVorro Bowman, Derrick Williams and Arrington -- to talk about whom they thought deserved to be drafted.
"Once you told me about it, I had contacts with guys who I played with and guys like Chafie Fields, who I was thinking about signing with, so I just did my research," Morris said Tuesday night. "I asked them about some guys, who I should choose and pretty much went from there."
Morris' research seemed to pay off. Prato was pleasantly surprised at Morris' Penn State knowledge, and his defense is among the best.
Can we get a mulligan?
When you're picking players without a fancy draft board and you're racing against the clock, sometimes panic and confusion set in -- and it basically happened to all of us.
Prato regretted not taking Gregg Garrity; Morris likely would've taken Brandon Noble over Devon Still if he had another chance; McDuffie would've drafted himself sooner. And Team Moyer? Why, oh why, couldn't Lydell Mitchell hold out for one more round? Michael Mauti also likely would've replaced Ed O'Neil upon closer inspection.
Looking back on the draft:
The most difficult part wasn't necessarily creating your own "cheat sheet" and ranking the best players at each position. It was trying to weigh whether someone like Michael Robinson had more value than someone like Engram.
There was no blueprint to this, since it had never really been done before. We all knew what players we wanted -- but we weren't so sure just who we could wait for and who we needed to grab right away.
Morris agreed that you kind of had to adopt a reactive strategy with the draft. With no mock drafts, it was definitely unique. But, looking ahead, at least future drafters will have some idea of what to expect.
It was definitely a lot of fun. The NittanyNation staff will probably continue trash-talking about this throughout the season. And McDuffie, Morris and Prato were all great sports.
"If I'd know the level of participation McDuffie and Morris would have I'd have picked them 1 and 2," McClellan said. "Great guys and tremendously patient during the whole process, too."
BIG TEN SCOREBOARD
Thursday, 9/3
Friday, 9/4
Saturday, 9/5
Sunday, 9/6
Monday, 9/7