Penn State Nittany Lions:

Joe Paterno
September, 5, 2013
Sep 5
5:00
AM ET
1. You probably knew this already, but inflation has struck the scoreboard. Of the 10 longest scoring streaks in the history of the game, four are current: Michigan, which has scored in 353 consecutive games, is eight short of the record set by BYU (1975-2003). There's also No. 3 Florida (309 games), No. 9 TCU (255) and No. 10 Air Force (247). The Wolverines were last shut out, 26-0, by Iowa in 1984, one of only two shutouts that Hall of Fame coach Bo Schembechler suffered in 21 seasons in Ann Arbor.
2. Frank Fina, one of the prosecutors in the Jerry Sandusky case, told 60 Minutes Sports that he found no evidence that the late Joe Paterno took part in any effort to conceal Sandusky's child sexual abuse. "I'm viewing this strictly on the evidence," Fina said, "not any kind of fealty to anybody. I did not find that evidence." Fina agreed, using Paterno's own words, that the coach should have done more. That's a long way from the Freeh Report. So someone with subpoenas exonerated Paterno. Maybe now NCAA president Mark Emmert will realize that he overreached. Probably not.
3. With the commitment of West Monroe, La., offensive tackle
Cameron Robinson
to Alabama, the Crimson Tide has 14 players in the 2014 ESPN 300, including 10 in the top 120. However, only two of those prospects are from the state of Alabama. Head coach Nick Saban has commitments from players as far away as California, Oklahoma, and Iowa. That's a long way from 2008, when Saban found three future first-round draft picks in Alabama alone:
Julio Jones
,
Mark Barron
, and
Marcell Dareus
.
May, 30, 2013
May 30
1:37
PM ET
Senior writer and legal analyst Lester Munson takes a look at the most recent lawsuit filed against the NCAA and writes that, although the suit is impressive, it appears to miss the mark.
Among the questions Munson raises is why complaints from Joe Paterno's family, trustees, former players and faculty members weren't directed toward Penn State president Rodney Erickson, who agreed to the sanctions.
Click here to read the full commentary.
February, 27, 2013
Feb 27
10:03
AM ET
Other than the late Joe Paterno, few people have been associated with Penn State's football program longer than Fran Ganter.
A Nittany Lions running back from 1967-70, Ganter spent 33 years on Paterno's coaching staff before moving into an administrative role -- related to football -- in 2004. He will retire from the school Thursday after a 46-year run.
"I am very proud and thankful to have been a member of the Penn State Football family for the past 46 years," Ganter said in a statement released by the team. "I will always owe a debt of gratitude to Coach Bob Phillips for recruiting me to play at Penn State, and to Coach [Joe] Paterno for giving me the opportunity of a lifetime when he hired me onto his staff. Outside of my dad [Fran], who passed away when I was a young man and prior to being a father myself, Coach Paterno was the most influential and constant figure in my life."
Ganter also thanked current Penn State coach Bill O'Brien in his lenghty statement. After graduating from Penn State in 1971, Ganter started coaching the Lions' freshman team that fall before moving up the ladder. He became the team's offensive coordinator in 1984 and assistant head coach in 2000. Ganter coached six All-America running backs, including Curt Warner and Ki-Jana Carter, as well as two All-America kickers during his tenure.
Many thought Ganter's promotion to assistant head coach put him in line to succeed Paterno for the top job (longtime assistant Jerry Sandusky retired following the 1999 season). But Paterno remained head coach through a rough on-field stretch between 2000-04, after which Ganter became associate athletic director for football administration.
Read more on Ganter's retirement, including tributes from former Penn State players, by
clicking here
.
February, 11, 2013
Feb 11
10:33
AM ET
Former Penn State coach Jay Paterno talks about what his family is hoping to accomplish with its report on the Jerry Sandusky scandal, the Freeh Report and more.
Click here to listen

January, 31, 2013
Jan 31
8:00
AM ET
When college coaches gazed across the field at Bethlehem (Pa.) Catholic's quarterback, they saw visions of Joe Montana and Joe Namath.
When the ball rolled off high schooler Dan Kendra's fingertips, fans thought of Dan Marino. When he circled his team in the huddle, he seemed like Jim Kelly. In 1994, Pennsylvania's favorite son was just 18 years old -- but he was already counted on to be the next great signal-caller. A surefire Hall of Famer whose father joked that even Joe Paterno wouldn't be tempted to turn this stout athlete into a linebacker.
Before the digital age, back in the era of pogs and Saturday morning cartoons, Kendra might have been the most recognizable high school player in the world. He was USA Today's Offensive Player of the Year, ESPN's Player of the Year, Parade's Player of the Year and SuperPrep's Player of the Year. He was everybody's player of the year.
[+] Enlarge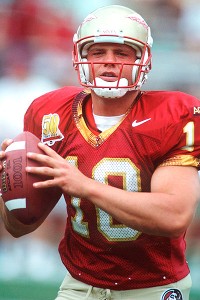 Scott Halleran/Getty ImagesDan Kendra was a physical specimen who eventually ended up playing fullback at Florida State.
He was Tom Lemming and Max Emfinger's No. 1-rated quarterback. And National Recruiting Advisor also ranked the square-chinned kid -- who threw for 1,988 yards and 21 TDs and rushed for another 718 yards as a senior -- as the top QB in the country.
And, in December 1994, he was all Penn State's.
To continue reading this article you must be an Insider
January, 28, 2013
Jan 28
9:06
PM ET
Chris Geiss
remembers milling around the Nittany Lion Inn back when he was in grade school, standing near his parents' side when a familiar face in Coke-bottled frames strolled past.
He wasn't yet old enough to watch a PG-13 movie, but he instantly knew who that man was. Joe Paterno. He extended his little arm, while Paterno smiled and told the fresh-faced youngster something that stuck with him all these years later: "He said one day I'll be playing football up there," Geiss remembered.

On Monday, Geiss finally realized his dream -- and discovered Paterno was right all those years ago -- when he accepted a preferred walk-on offer to play at Penn State.
To continue reading this article you must be an Insider
August, 29, 2012
8/29/12
11:00
AM ET
Every football game triggers emotion for 18- to 22-year-old players who work year-round for a dozen guaranteed days in the spotlight.
Every season opener heightens the adrenaline after eight months of toil. Factor in what Penn State players have been through over the past eight months, and their emotional roller-coaster will reach its apex shortly after noon Saturday at Beaver Stadium.
[+] Enlarge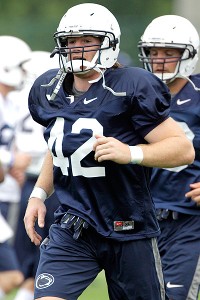 AP Photo/Gene J. PuskarLinebacker Michael Mauti expects Saturday to be very emotional for the Nittany Lions.
Among the key events since the Lions last left the game field Jan. 2 at the TicketCity Bowl in Dallas ...
Jan. 6: The hiring of new coach Bill O'Brien, the program's first new leader since 1966

Jan. 22: The death of former coach Joe Paterno

June: The trial and conviction of former assistant coach Jerry Sandusky

July 11: The release of the university-commissioned Freeh report, which detailed a cover-up at the highest levels of leadership at the school

July 23: The NCAA leveling historically severe sanctions against the program, including a four-year postseason ban beginning this fall

Late July-early August: The transfers of nine players, including star running back Silas Redd
The scrutiny has been there for months, and all Penn State players have wanted to do is play football. They finally return to the game field Saturday against Ohio University in a season opener unlike any other in the history of the school -- or the sport.
August, 7, 2012
8/07/12
4:24
PM ET
Penn State's football makeover under coach Bill O'Brien will include changes to the team uniforms.
The school on Tuesday announced two
changes to the Nittany Lions' unis for the 2012 season
.

1.
A blue ribbon will be worn to honor victims of child abuse.
2.
Players' last names will be displayed for the first time "in recognition of their resolve and dedication to the team and the university," a news release reads.
Penn State has sported an
unmistakably simple look
for decades: white helmets, black shoes, blue or white uniforms, no decals or names. Any talk of changes under former coach Joe Paterno were typically shot down immediately.
But it's a new era in State College, and O'Brien and players had hinted at the changes in recent months. After all that has happened, it's not surprising to see them come to fruition. O'Brien met with several players and they decided to add the names.
"We want our fans to know and recognize these young men," O'Brien said in a statement. "They have stuck together during tough times, and I commend them for the leadership they have shown. Moving forward, I'm deeply committed to honoring Penn State's traditions, while building a bright future for our football program."
Acting athletic director Dave Joyner added of the ribbons, "Coach Bill O'Brien and his football team made it clear they want to support victims and bring more awareness to this issue, which affects so many."
The ribbon addition was a must after the child sex abuse scandal involving former Penn State assistant Jerry Sandusky. But the addition of the names surely will attract more attention.
We'll likely get a closer look at the uniform changes Thursday as Penn State holds its preseason media day. According to a team spokesman, there have been no discussions about the uniform changes beyond the 2012 season.
What's your opinion on the changes?
August, 6, 2012
8/06/12
11:15
AM ET
Joe Paterno's family has just issued the legal equivalent of a Hail Mary pass.
The Paterno family, through attorney Wick Sollers,
sent a letter of appeal
Friday to the NCAA, requesting an open hearing on the sanctions handed down to Penn State as a result of the Jerry Sandusky scandal.
"This matter may be the most important disciplinary action in the history of the NCAA, and it has been handled in a fundamentally inappropriate and unprecedented manner," Sollers wrote in the letter to the NCAA's Infractions Appeal Committee. "To severely punish a University and its community and to condemn a great educator, philanthropist and coach without any public review or hearing is unfair on its face and a violation of NCAA guidelines."
They have a point about the unprecedented nature of how the NCAA chose to punish the school, an argument that many have made. But if the Paternos truly believe this appeal will gain any traction in Indianapolis, then they are delusional. If they believe they are the ones to restore Penn State football back to its pre-Sandusky status, they are living on another planet.
[+] Enlarge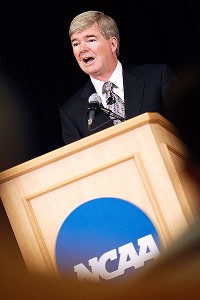 Joe Robbins/Getty ImagesNCAA president Mark Emmert announced sanctions against Penn State's football program July 23.
The family argues that it has the right to file an appeal because Paterno is an "involved individual," according to NCAA rules. Well, OK. But the only real sanctions against Joe Paterno were the vacating of his wins. There is zero chance that the NCAA would overturn that decision. But even if it ignored all previous precedent and restored those wins, who really cares in the grand scheme of things?
Beyond that, Paterno's name is about as radioactive as it gets right now in the halls of the NCAA. There will be no sympathy for his reputation at this time, and that probably won't change unless new information comes to light.
The letter also seems to ignore the fact that Penn State accepted the NCAA sanctions and agreed to not have any kind of hearing on the matter. Or that the school accepted as fact the findings of the Freeh report, which it had itself commissioned and paid for.
Yet the Paternos apparently think their letter of appeal can get the NCAA to consider changing the sanctions against a school whose leadership agreed to the penalties, simply because the family of one of the main figures responsible for the sanctions doesn't think it was fair?
Yeah, um, good luck with that one.
Indeed, the NCAA rightly batted away the appeal late Friday. But, ESPN.com's Don Van Natta Jr. writes, the Paternos could use that denial as the basis to sue the NCAA. So perhaps this is just legal wrangling. But what, really, will the Paternos seek to gain by any kind of lawsuit? I'm no lawyer, but most people have heard the phrase "you can't defame the dead." The Paternos don't seem to have any standing to fight the sanctions against the football program since they are not currently associated with it. So all I could see them angling for is the restoration of wins. Which, again, would be pointless and wildly tone deaf, given all that has gone on in the program.
We get that the Paternos are upset and want to defend JoePa's honor. Fine. Try to find some evidence that disputes the Freeh report. But actions like these only make them look like they're grasping at straws.
August, 6, 2012
8/06/12
11:12
AM ET
By
ESPN.com staff
| ESPN.com


Former head of student affairs at Penn State Vicky Triponey talks to Steve Delshon about taking on Joe Paterno. The "Outside the Lines" segment will air Sunday at 9 a.m. ET on ESPN.
Penn State vs Wisconsin Highlight