PSU Nittany Lions:

Joe Baker
September, 21, 2012
9/21/12
10:30
AM ET
It started out as a joke and ended with a hashtag.
Early last season, six of Penn State's Class of 2011 recruits began calling their close-knit group the "Supa Six," and the nickname recently caught on. They're now ending their tweets with #supasix, and fans have embraced the nickname.
Three redshirt freshman are part of the group:
Deion Barnes
,
Kyle Carter
,
Donovan Smith
. And three sophomores:
Adrian Amos
,
Bill Belton
and
Allen Robinson
.
[+] Enlarge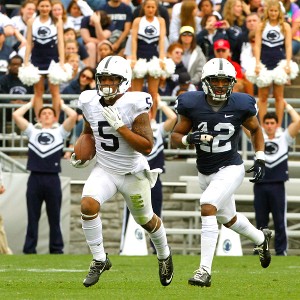 AP Photo/Keith SrakocicPenn State sophomore RB Bill Belton, who is one of the 'Supa Six,' is also regarded by teammates as one of the team's toughest tailbacks to bring down.
Just don't ask their teammates to embrace it. Even if the six are all starters.
"I don't really care what those guys do," said quarterback
Matt McGloin
. "As long as they play good Saturday, they can call themselves whatever they want."
Barnes, who leads the team in sacks (3), said the group -- ahem, Supa Six -- worked together in the offseason. He knew the extra work would pay off, "but we didn't know it was going to happen this fast."
Offensive guard
John Urschel
was also quizzed this week about the Supa Six. He seemed slightly confused and then answered in such a way that his eye-rolls could be heard over the phone.
"I'm not really on top of this Supa Six thing, to be perfectly honest," he said. "I think they have T-shirts or have a sign with their hands. I'm not really up to speed."
With the six already committed to finish their careers at Penn State, expect to hear a lot from them for two more seasons. All of them will likely finish their careers as three-year or four-year starters.
Hardest to tackle?
Mike Hull
was asked, in practice, to name the tailback who is the toughest to bring down. He thought for a moment but then came up with two -- and it wasn't two of the heavier players.
"Bill Belton's pretty tough because he's so shifty," Hull said. "So, whenever you're in the open field, it's pretty tough. But
Derek Day
brings an X factor because he can run you over, too. They're surprisingly physical."
Best defense:
Temple's defense is ranked No. 45 in yards allowed, one spot ahead of Ohio, but two Penn State players believe this weekend could be the offense's toughest test of the early season.
McGloin and Urschel voiced some concerns with an Owls defense that has the most experienced secondary they've seen so far.
"We have our work cut out for us this week," McGloin said, "and we're trying to watch as much football this week and prepare for, probably, the best defense we've played so far."
Philadelphia connections:
Seven Penn State players hail from the Philly area --
Anthony Alosi
,
Mark Arcidiacono
,
Joe Baker
, Barnes,
Pete Massaro
,
Carl Nassib
and
Pat Zerbe
.
Temple coach Steve Addazio pointed to Barnes as the type of player he needs to recruit.
"You're hoping to get a few of those guys, and that'll happen," Addazio said. "That's part of the growth of where we're at. ... There's so much talent surrounding Philadelphia, and those are things we're trying to get done."
Biggest player surprise:
What player has most exceeded expectations this year? According to Urschel, the answer is linebacker
Ben Kline
.
"I'd say that Ben Kline has been doing a great job for us," he said. "He's been doing a phenomenal job for us on special teams. ... He's been a very good player for us, very physical player. He's been making some plays for us; he's going to be one of our great linebackers in future years."
September, 4, 2012
9/04/12
5:25
PM ET
STATE COLLEGE, Pa. -- Nine players might have transferred from Penn State and the roster might be slimmer than ever, but Bill O'Brien swore at Tuesday's news conference this team contains no walk-ons.
No, O'Brien said while chewing gum, this team has "run-ons."
"I know that goes against everybody's term for non-scholarship players over the last 100 years of college football," O'Brien said with a smile, "but that's just our term for them. ...
"These guys don't walk, they run on the field. They sprint on the field. They bust their butts on the field."
O'Brien's staff has placed an increased emphasis on "run-ons" this season. They've turned to several former walk-ons --
Derek Day
,
Matt McGloin
,
Matt Lehman
-- to spark the offense, and they've tried to unearth future "run-ons" by visiting in-state high schools that haven't produced an FBS player in 25 years.
O'Brien said Tuesday that he's hoping his "run-on" program sends a loud message to high school recruits in Pennsylvania.
"High school players can really look at that and say, 'Here's a place I've grown up loving, and I've always wanted to play there, and here's my opportunity,' " he said. "I think there's no doubt, hopefully, that resonates with kids in Pennsylvania."
"Run-on" isn't the only new term the first-year head coach has coined. Scout teams and foreign teams are gone, too. They're now referred to as the "Dirty Show," something O'Brien admittedly stole from the New England Patriots.
Instead of chastising the offense when the defensive scout team makes a play, the "Dirty Show" will celebrate and maybe spike a ball as coaches congratulate them.
"Coach O'Brien is a positive thinker the way he goes about everything," fullback
Michael Zordich
said. "Nobody really likes to be called the foreign team or scout team or walk-on because it feels like they just came and nobody wanted them here -- which is far from the truth."
Kick returners
: The official depth chart listed
Bill Belton
and
Adrian Amos
as the starters, while linebacker
Gerald Hodges
and wideout
Alex Kenney
were the backups.
But, O'Brien said, he wasn't so sure his All-Big Ten linebacker would return kicks Saturday. Hodges fumbled one punt, caught another punt with his hands above his head and returned the opening kickoff out of the end zone to the 12-yard line.
"He's an excellent athlete. He caught every one in practice, but that's a lot on his plate," O'Brien said. "His main role is obviously as our outside linebacker, so he might or might not be back there."
Open competition at punter
:
Alex Butterworth
averaged just 35.8 yards on five punts Saturday, so O'Brien said the punting job will be a week-to-week battle.
Joe Baker
and
Reynolds Parthemore
are the other two punters listed on the roster.
"It's not good enough," he said. "Everybody knows that."
Redshirt?
:
Akeel Lynch
is a true freshman who has impressed this coaching staff, but O'Brien said the staff is still trying to balance a few things with his playing time.
"The decision you have to make there is just like with any freshman," he said. "If you're going to play those guys, then you better play them. So we're going to see how practice goes this week with Akeel and make a decision later in the week."
If Bill Belton can't go Saturday, Lynch could be called into action.
Sticking with McGloin
: O'Brien dismissed any talk of a quarterback controversy by reiterating that McGloin will remain the team's QB1. O'Brien was asked if
Paul Jones
might make an appearance against Virginia:
"Paul has made a lot of improvement but, right now, we're going to stick with one guy," O'Brien said.