Penn State Nittany Lions:

Jerry Sandusky
April, 23, 2014
4/23/14
4:15
PM ET
STATE COLLEGE, Pa. -- Penn State officials ordered Joe Paterno's statue to be taken down nearly two years ago, but fans here haven't forgotten. They never will.
[+] Enlarge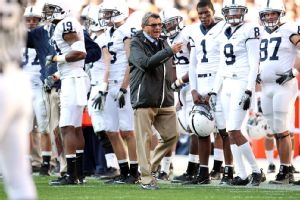 Ned Dishman/Getty ImagesPenn State fans won't easily forget Joe Paterno's legacy at the school, despite how his career ended.
So while controversy might swirl in other parts of the country with the news today that two alumni are
seeking to install a $300,000 statue downtown
, the overwhelming sentiment around here is, "About time."
You can argue about whether such a statue is appropriate, or what type of role Paterno played in the Jerry Sandusky child sex abuse scandal, but common ground in that argument is about as elusive as a national title. So let's just deal with the facts here.
Fans here aren't going to forget about Paterno in another two years, 20 years or 200 years. It's about as difficult to separate Paterno from Penn State as it is to separate Penn State from Pennsylvania. Ignoring Paterno's legacy doesn't freeze the controversy; it just builds up.
There's a growing divide between fans and university officials on this -- and no matter what your feelings are on the issue, the university owes fans an explanation. The new statue has stirred up old questions and renewed others: Will Penn State ever honor Paterno? When? Why or why not? Transparency isn't a negative in this case; the university would do well to fill in fans on its intentions.
Officials ordered the original statue to be torn down, and they've never so much as disclosed the current location. Then-president
Rodney Erickson's statement read
, "I now believe that, contrary to its original intention, Coach Paterno's statue has become a source of division and an obstacle to healing our university and beyond."
The ironic part is that the university's silence on the issue has also become a source of division. In the weeks and months following the statue's removal, it was easier to understand that silence. Fans may not have agreed with the decision, but they understood it. The nation was watching, and many -- rightly or wrongly -- looked at Paterno as more of a criminal than a legend. Like with anything, that extremism eventually gave way to more of a middle ground.
I reached out to a Penn State spokesman in an effort to shed some light on what the university's plans are regarding Paterno. What's the concern with putting Paterno's statue back up? Would there be national outrage? How does the university view him? Those questions remain unanswered because, unsurprisingly, the message was not immediately returned.
If officials are truly concerned about "divisions" and "obstacles," then they should open a dialogue instead of ignoring questions that most of the fan base have asked at one time or another. Maybe the university just wants to focus on a program that has real enthusiasm behind it, one that's somehow thrived under the sanctions. But staying quiet doesn't seem to be working.
Silence might bury a lot of things, but for better or worse, it's not going to bury Paterno's legacy. So no matter where you stand on the issue, one aspect should be evident: Penn State owes its fans and alumni an explanation.
September, 25, 2013
9/25/13
5:30
PM ET
STATE COLLEGE, Pa. -- The afterglow of reduced sanctions has faded here in Happy Valley.
Tuesday afternoon classes filled with chatter about the
restoration of Penn State scholarships
, but the wave of surprise and satisfaction has died down.
Former players, fans and alumni are pleased with the NCAA's most recent move. That much is obvious. But an overwhelming number of people labeled it as simply not good enough. It's cause to smile but not to celebrate.
[+] Enlarge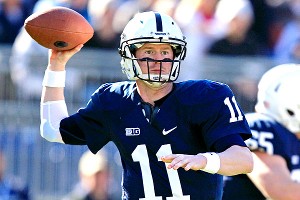 AP Photo/Gene J. PuskarFormer Penn State QB Matt McGloin is pleased with the NCAA's decision, but he wants more.
"I was really excited for Coach [Bill] O'Brien and the program, but I was kind of still pissed off because I feel like the NCAA is just taking baby steps toward things," said Stephon Morris, who played cornerback for Penn State last season. "They know they're wrong -- we all know they're wrong -- so why not give us everything we deserve? I feel like they could do more than what they're doing."
The town's opinion of the NCAA hasn't changed. Some students still strolled downtown, backpacks slung over their shoulders, with blue T-shirts that depict the letters "NCAA" with the "C" angled into a hammer and sickle. "National Communist Athletic Association," the shirts read.
Stop a Penn State student, ask about the reduction in sanctions, and you're almost begging to first hear a soliloquy on everything that's wrong with the NCAA and its president, Mark Emmert. Students and fans are quick to say they don't mean to diminish the atrocities of former defensive coordinator Jerry Sandusky -- but they add he doesn't reflect the university and didn't offer a competitive advantage.
They say the NCAA overstepped into a criminal matter. And a reduction in sanctions is simply a door-prize for being wronged themselves.
"With the scholarships, yeah, I'm happy about it. I'm happy we give out money for kids to play football," said Penn State senior Tyler Bodnar, a meteorology major. "But it seems like they're kind of like, 'Oh we screwed up. We didn't mean to come down that hard.'
"We feel like we're still getting punished for something we had no hand in -- and neither did the players, neither did the coaches, neither did the community."
In the HUB-Robeson Center -- a popular glass-and-brick building where students can dine quickly on cheap pizza, grab a latte and leach off free WiFi -- students read books quietly on the second floor Tuesday evening and again Wednesday afternoon. Some studied on the bustling first floor, while overheard conversations centered on a criminal justice class and dorm-room drama.
The theme of student discussion did not revolve around the NCAA's most recent move, of allowing PSU 75 scholarships next season, as opposed to the original cap of 65, and putting PSU at the full allotment of 85 scholarships by 2016. Four of 10 interviewed students Tuesday evening hadn't even heard of the reduction.
Three thousand miles away, in the confines of Oakland, Calif., Oakland Raiders quarterback Matt McGloin was well-aware of the move. McGloin, the former walk-on and O'Brien protege, sat in the Penn State players' lounge last July 23, when Emmert strolled up to the podium on TV and recited the crushing sanctions.
Emmert glanced up from his notes every few moments, without a change in facial expression. At Penn State some players, mostly the freshmen and sophomores with their entire college careers in front of them, just cried. The upperclassmen, McGloin remembered, just seethed with anger and frustration.
"To watch him on TV, you could see it in his face -- how it meant nothing to him to hand all this out. It meant nothing to him," McGloin said Tuesday night. "That's what got guys so frustrated."
The reduction doesn't make up for that day, McGloin continued, but the news of extra scholarships was still something he was pleased with -- even if he wasn't so sure about the NCAA's motive.
"I'm optimistic about the situation and want to say it's the first step toward something great. At least they're doing something about it," he said. "But, at the same time, I'm starting to think that maybe the direction they're heading is, 'Hey, let's give them something small just to shut everybody up and shut these people up so it makes it look like we're doing something.' That's my only concern with it."
Penn State senior Allen Sheffield, president of the group of student campers known as "Nittanyville," understands where McGloin's coming from. Sheffield still remembers mowing the grass, washing laundry and taking out the trash before reclining on his couch last July 23 to watch the sanctions beside his father.
The shock, anger and potpourri of emotions didn't wane because of a recent NCAA announcement. One student felt it was as if a company cheated them out of $1 million and then tossed them a $100,000 settlement. Of course they're still angry. Of course they think that's not enough.
Nittany Nation took to social media to express their surprise and contentment over the restoration of scholarships. But that happiness had about the same shelf life as milk left out in the sun.
"Twitter tells everything," Sheffield said Wednesday afternoon. "My timeline from the first couple hours was just like boom-boom-boom. And then, later on, no one's really talking about it."
Some fans are still organizing and calling for the Board of Trustees to resign. Cars are still cruising through the downtown with "409" bumper stickers -- a nod to Joe Paterno's 409 wins, 111 of which were vacated as part of the sanctions. And message board posters are still questioning the validity of points made in the Freeh Report.
Happy Valley lived up to its namesake for a few hours Tuesday. But now it's as if the reduction never happened. The community isn't happy -- and might not be until Emmert can say there's no culture problem or the sanctions are erased.
"What they've given us is great and all," McGloin said. "But I guess I'd have to agree with Steph [Stephon Morris]. It's just not enough yet."
July, 23, 2013
7/23/13
1:10
PM ET
Exactly one year ago today, Mark Emmert announced unprecedented sanctions against Penn State.

One year later, those penalties are still being debated -- as is the NCAA's inconsistent punishments. ESPN took a closer look at the enforcement issues the NCAA is facing with cases such as Penn State's.
January, 11, 2013
1/11/13
11:00
AM ET
Every week, NittanyNation will pose five questions to a recruit, player, alum or coach about all things Penn State.

This week's subject is Tim Freeman, a PSU offensive tackle from 1985 to 1989. This week's edition of "5 Questions" is slightly different, in that Freeman will answer five questions based around one theme: Gov. Tom Corbett's lawsuit against the NCAA.

Freeman drove from New Jersey last week to stand behind Corbett during the announcement of the lawsuit. The PSU alum, a youth coach, has three children of his own and feels strongly about the sanctions.

NittanyNation: We talked before, and you told me you didn't think the NCAA should have brought these sanctions against Penn State -- so why do you think they chose to do so in the first place?

Tim Freeman: I think there was a huge reaction as a result of children being harmed -- and the reaction was exactly what it should have been, in terms of people being outraged. So I think that's why the NCAA acted the way they did.

But I would say they actually had a tremendous amount to gain. If you have a very powerful institution and one of the members has an issue, that trade organization can gain a significant amount of power they might not have necessarily been delegated. ... I feel strongly this is a criminal matter, and this is a matter that can only be handled by our judicial system. This is not a matter that the NCAA is capable of handling. They don't have the people who are capable of sorting this out.


August, 6, 2012
8/06/12
11:15
AM ET
Joe Paterno's family has just issued the legal equivalent of a Hail Mary pass.
The Paterno family, through attorney Wick Sollers,
sent a letter of appeal
Friday to the NCAA, requesting an open hearing on the sanctions handed down to Penn State as a result of the Jerry Sandusky scandal.
"This matter may be the most important disciplinary action in the history of the NCAA, and it has been handled in a fundamentally inappropriate and unprecedented manner," Sollers wrote in the letter to the NCAA's Infractions Appeal Committee. "To severely punish a University and its community and to condemn a great educator, philanthropist and coach without any public review or hearing is unfair on its face and a violation of NCAA guidelines."
They have a point about the unprecedented nature of how the NCAA chose to punish the school, an argument that many have made. But if the Paternos truly believe this appeal will gain any traction in Indianapolis, then they are delusional. If they believe they are the ones to restore Penn State football back to its pre-Sandusky status, they are living on another planet.
[+] Enlarge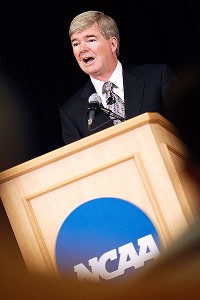 Joe Robbins/Getty ImagesNCAA president Mark Emmert announced sanctions against Penn State's football program July 23.
The family argues that it has the right to file an appeal because Paterno is an "involved individual," according to NCAA rules. Well, OK. But the only real sanctions against Joe Paterno were the vacating of his wins. There is zero chance that the NCAA would overturn that decision. But even if it ignored all previous precedent and restored those wins, who really cares in the grand scheme of things?
Beyond that, Paterno's name is about as radioactive as it gets right now in the halls of the NCAA. There will be no sympathy for his reputation at this time, and that probably won't change unless new information comes to light.
The letter also seems to ignore the fact that Penn State accepted the NCAA sanctions and agreed to not have any kind of hearing on the matter. Or that the school accepted as fact the findings of the Freeh report, which it had itself commissioned and paid for.
Yet the Paternos apparently think their letter of appeal can get the NCAA to consider changing the sanctions against a school whose leadership agreed to the penalties, simply because the family of one of the main figures responsible for the sanctions doesn't think it was fair?
Yeah, um, good luck with that one.
Indeed, the NCAA rightly batted away the appeal late Friday. But, ESPN.com's Don Van Natta Jr. writes, the Paternos could use that denial as the basis to sue the NCAA. So perhaps this is just legal wrangling. But what, really, will the Paternos seek to gain by any kind of lawsuit? I'm no lawyer, but most people have heard the phrase "you can't defame the dead." The Paternos don't seem to have any standing to fight the sanctions against the football program since they are not currently associated with it. So all I could see them angling for is the restoration of wins. Which, again, would be pointless and wildly tone deaf, given all that has gone on in the program.
We get that the Paternos are upset and want to defend JoePa's honor. Fine. Try to find some evidence that disputes the Freeh report. But actions like these only make them look like they're grasping at straws.
August, 6, 2012
8/06/12
11:13
AM ET
By
ESPN.com staff
| ESPN.com
When Gene Marsh got the call on the morning of July 17, he was holed up in a one-room cabin -- with no running water and no toilets -- in woodsy Chebeague Island off of Maine. "A shack fit for the Unabomber," says Marsh, a 60-year-old tart-tongued Tuscaloosa, Ala., lawyer. Only six days earlier, he had been hired by Penn State to help negotiate sanctions from the NCAA in the wake of the Jerry Sandusky child sexual abuse scandal. On the phone was Donald Remy, the NCAA's general counsel. The news was grim. Remy said Penn State was facing an unprecedented punishment: a multiple-season death penalty, no football for years.
"Are you overselling this?" Marsh asked.
"Absolutely not," Remy said.
As he sat in his cabin, "I just imagined an empty stadium," says Marsh, a former chairman of the NCAA's infractions committee who has since defended many schools and coaches before it, including former Ohio State coach Jim Tressel. "I thought about the wind blowing through the portals and all the economic and social and spiritual ramifications of that empty stadium. And this would last … years?"
BIG TEN SCOREBOARD
Thursday, 9/3
Friday, 9/4
Saturday, 9/5
Sunday, 9/6
Monday, 9/7