Penn State Nittany Lions:

Jared Odrick
April, 22, 2014
4/22/14
2:00
PM ET
STATE COLLEGE, Pa. -- The past few years have brought historic changes at Penn State, from the men occupying the head coach's office to the names occupying the backs of the Nittany Lions' jerseys.
Yet until recently, Penn State's defensive line meeting room resisted renovation. It was one of few elements of the program that, in 2013, looked much like it did in 2005. Larry Johnson coached the group, as he had every season since 2000 (and, in some form, since 1996). And while the Lions' defense struggled for much of last season, the line still produced a first-team All-Big Ten performer, tackle
DaQuan Jones
, just as it did the previous five years.
[+] Enlarge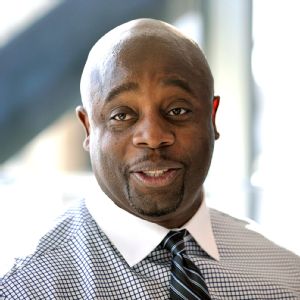 MCT via Getty ImagesNew defensive line coach Sean Spencer wants his guys attacking like 'wild dogs.'
But even the PSU defensive line couldn't evade the winds of change forever. After being passed over for Penn State's head-coaching job for the second time, Johnson in January
declined a chance to remain with
James Franklin
's staff
. Days later, he
latched on at rival Ohio State
.
Lions defensive linemen now take direction from a man known as Coach Chaos. You'll be able to hear Sean Spencer's voice from Row 80 of Beaver Stadium -- on game days. Spencer wants his Lions to be wild dogs, explaining, "The wild dog is the most efficient animal in the jungle in terms of hunting in a pack."
The 43-year-old dynamo with the "spastic" personality differs from that of his reserved, buttoned-down Penn State predecessor. But when it comes to standards, Spencer and Johnson are aligned.
"Traditionally, the D-line here has always been one of the elite in the country," Spencer told ESPN.com. "I know no other way but to have them rise to the expectations that I set forth and that they set forth for themselves. There's no excuse.
"I don't care who I've got out there. I expect to be dominant."
Spencer's message resonates with a group that, unlike others on a reduced roster, doesn't face dire depth challenges. The Lions return both starters at end --
Deion Barnes
and
C.J. Olaniyan
-- and veteran reserve
Brad Bars
, who missed all of last season with a ruptured Achilles' tendon.
Sophomore
Austin Johnson
moves into the lead tackle position and
Anthony Zettel
, a converted defensive end, has been a good fit at the 3-technique tackle spot.
"The D-line is probably our strength," Franklin said. "We have the most depth at that position. We've got about four deep at defensive end and probably two-and-a-half deep at D-tackle."
If the depth holds up, it will help Penn State use a larger rotation that Johnson typically used. Defensive coordinator Bob Shoop said the Vanderbilt linemen he and Spencer coached last fall didn't average more than 40 snaps a game.
The coaches want to use five or six defensive ends, as Bars, junior
Carl Nassib
and redshirt freshman
Garrett Sickels
also are in the mix. A healthy rotation suits Spencer's wild dogs philosophy.
At Vanderbilt, he commissioned a
painting of a Commodores football player blended with a dog
, which he displayed in his office at Penn State this spring. He also took a
giant dog bone
to the field.
"Part of their survival is when they chase their prey down, for three to five miles they take turns biting at him," Spencer said. "One goes to the front, and when he gets tired, the next one comes. It's a really unique strategy in terms of the way they attack things. We rotate a lot of guys, so we just take turns nipping at quarterbacks and making plays in the backfield."
Vanderbilt recorded 28 sacks last season, which tied for fourth in the SEC. Spencer estimates 24 came solely from line pressure. He expects the same production at Penn State.
Defensive tackle has been Penn State's strongest position in recent seasons with players such as Jones, Devon Still, Jordan Hill and Jared Odrick. Although Zettel and Johnson aren't known outside Happy Valley, the coaches think that soon will change.
"Zettel has been been very, very disruptive this spring," Shoop said. "Austin Johnson falls in line of the beast D-tackles Penn State's had in the past. He's over 300 pounds, moves well, he's tough to move at the point of attack, got a big butt and legs."
Olaniyan led Penn State with five sacks last season, his first as a starter. Penn State looks for more from Barnes, the former Big Ten Freshman of the Year whose sacks and tackles for loss totals dropped by more than 50 percent from 2012 to 2013.
"What we're looking at is, how can we get him back to that?" Spencer said.
Spencer is pleased with Barnes' football knowledge and said all the linemen are asking "200- and 300-level questions" in meetings. Life without Johnson undoubtedly caused an adjustment -- "It's always tough to see somebody you call a family member leave," Olaniyan said -- but players quickly connected with Spencer, who lists relationship-building among his strengths.
"I grew up without a dad," said Spencer, whose father played for Michigan State in the 1960s. "Unfortunately, we don't have a relationship right now, and he's still alive. It's one of the things I'm least proud of, but at the same time, it made me who I am today. It made me have the ability to reach out to kids that probably are similar to me. I'm a little younger than Larry so they're not going to look at me as a dad, so to speak. They look at me as a big brother or an uncle.
"I think we've got some similarities in the way we care about our players, but I'm probably a little bit wilder than he is."
A little wilder and a little louder, but just as demanding.
"They both have the same philosophy as far as they want you to do everything perfect," Olaniyan said. "It's easy to embrace the new coaches when they have the same goal. We take pride as the Penn State D-line.
"Each game, we want everybody to see us as one of the best defensive lines out there. We want to be great."
At Penn State, some things never change.
February, 19, 2014
2/19/14
9:00
AM ET
STATE COLLEGE, Pa. – We've reached the middle of this week's countdown, which is ranking Penn State's most impactful recruiting classes of the past decade.
Up next is a class that was responsible for a half-dozen All-Big Ten selections.
No. 3 most impactful class:
Class of 2006
Top prospects:
CB A.J. Wallace, RB
Evan Royster
, TE
Andrew Quarless
, DT Ollie Ogbu, DT
Jared Odrick
, DE
Aaron Maybin
, LB Bani Gbadyu, DE Maurice Evans, OT Lou Eliades, WR
Brett Brackett
, LB
NaVorro Bowman
Biggest surprise:
Royster. ESPN's scouts gave him a grade of 72, which was equivalent to a low-tier three-star prospect. Out of the 20 prospects that ESPN rated, Royster had the lowest grade. But he certainly left his mark at Penn State. He left the university as its all-time leading rusher, surpassing such greats as Curt Warner, Ki-Jana Carter and Franco Harris. He averaged 5.7 yards a carry, rushed for 3,904 yards and scored 29 touchdowns. He wasn't the best tailback ever to wear the blue jersey, but he certainly belongs in the top-10 conversation.
[+] Enlarge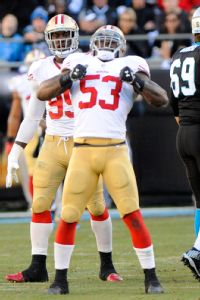 Sam Sharpe/USA TODAY SportsFormer Penn State star linebacker NaVorro Bowman is a three-time All-Pro with the San Francisco 49ers.
Impact player:
Bowman. He basically took the place of All-American
Dan Connor
in 2008 and didn't skip a beat. He led the team with 106 tackles that season and finished behind Maybin in tackles for loss with 16.5. PSU finished with the No. 8 defense in the nation that year, and Bowman came right back the next season and was an All-Big Ten selection before declaring early for the NFL draft. He had 17 tackles for loss in 2009, a half-dozen more than Odrick, who was an All-American. Like Royster, Bowman might not have been the best at his position ever to matriculate through "Linebacker U," but he belongs in the top-10 conversation.
Why this class is important:
Just take a look at these names. The talent here is incredible, as this class produced a half-dozen All-Big Ten selections and a pair of All-America picks. Many of the players here were skilled enough to play in the NFL, as six were taken in the draft.
But if there's one thing that prevents this class from moving up a spot or two, it was the fact a few entered the NFL early or found a way into Joe Paterno's doghouse. Quarless was incredibly skilled, but spent two seasons trying to work his way back into Paterno's good graces after marijuana possession charges. Maybin and Evans had short, but bright careers and clearly weren't ready for the next level when they declared. (Evans might have declared early because he also found himself in Paterno's doghouse.) Bowman also declared early – but clearly was prepared. If those players stayed through their senior seasons or stayed out of trouble, this class goes down as one of the best of all time.
It's still a very good class, one filled with NFL talent and solid college contributors. But this class had the potential to be even better; it could have been legendary.
More impactful recruiting classes:
No. 5: Class of 2011
No. 4: Class of 2004
December, 26, 2013
12/26/13
1:00
PM ET
It's never too late -- or too early -- to see what we learned from this season and also look ahead to next season. So, we've started breaking down each position on the Nittany Lions.
Up today: Defensive line.
REWIND
Expectations entering the 2013 season:
Believe it or not, more question marks surrounded the defensive tackles than the defensive ends. Although Gil Brandt named
DaQuan Jones
the best senior DT in the country, the senior was still an unproven commodity. And the starter alongside him --
Kyle Baublitz
or
Austin Johnson
-- was widely considered a liability.
[+] Enlarge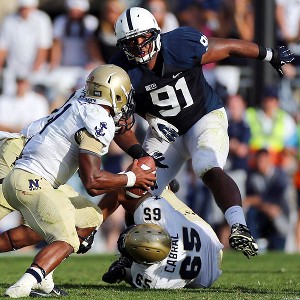 Rob Christy/USA TODAY SportsDT DaQuan Jones lived up to the preseason hype and led the Nittany Lions in stops in the backfield and was fifth on the team in tackles.
Deion Barnes
had already garnered NFL hype, and 10 sacks didn't seem out of the realm of possibility for the reigning Big Ten freshman of the year. The line wasn't expected to be as good as 2012, but it was still expected to be in relatively good shape.
How they fared:
Jones was the best player on the defense, finishing fifth in tackles (56), first in stops in the backfield (11.5) and making it difficult for any tailback to find room up the middle. The combination of Johnson/Baublitz fared better than most thought, too.
But the defensive ends? Well, Barnes might've been the most disappointing player on the team. He followed up his strong freshman season with just four sacks, and he struggled with his run-defense. Bill O'Brien didn't start him for a game or two to send a message.
C.J. Olaniyan
played especially well in the second half of the season, although his forte wasn't exactly setting the edge, either. Still, he wound up with 11 tackles-for-loss and a team-high five sacks, four quarterback hurries and three forced fumbles.
Anthony Zettel
also played well in spots.
What we learned:
Barnes isn't the first-round NFL lock we thought he was. At least not yet. He utilized his speed a lot in 2012, but he was just outmuscled in 2013. He needs to add weight and get stronger before his production matches his freshman season. Teams are aware of him now, so he's not taking anyone by surprise. He's going to be a huge factor on this team moving forward, and we learned he needs to add some tangibles before he reaches double-digit sacks.
Grading the position:
B. No, this group wasn't as strong as 2012. But it was still the best group on the defense in 2013 and often set the tone. When the defensive ends set the edge, fans knew the team would be in OK shape. When they didn't? Disaster loomed. They were able to pressure quarterbacks in the conference season, and -- outside of the Ohio State game -- the run-defense performed well in the Big Ten.
FAST FORWARD
Key losses:
Jones and Baublitz. PSU's top three DEs return, but it loses two of its best three DTs. The interior was a strength in 2013, while the ends were more of an issue. In 2014, that situation's a bit flip-flopped.
Position stock watch:
Trending downward. Jared Odrick, Devon Still,Jordan Hill, Jones -- PSU has had a lot of luck finding future NFL DTs to step in one season after another. But that might end in 2014. If Barnes can improve his production from his freshman season and Olaniyan can make some strides, then it won't be all bad news. But when you lose the best player on your line -- and on your defense -- that usually doesn't work in your favor. Couple that in with Baublitz's decision to leave, and depth at defensive tackle will definitely be a concern.
Key to next season:
Production of the No. 2 DT. It's as simple and as difficult as that. Johnson will return as a starter, but who will start alongside him? The early favorite is probably Zettel, who could move from DE. But incoming juco
Tarow Barney
(Bainbridge, Ga./Northwest Mississippi C.C.) or freshman
Thomas Holley
(Brooklyn, N.Y./Lincoln) playing immediately isn't a total stretch either. If PSU finds a solid replacement, this line is likely in store for another "B" grade next season. If it doesn't? It's going to have to deal with an Achilles' Heel all season. Just ask
Trevor Williams
how that worked out.
September, 10, 2013
9/10/13
9:00
AM ET
STATE COLLEGE, Pa. --
DaQuan Jones
doesn't blush at all from the praise. He's relaxed after peeling off his helmet, and any compliments seem to slide off his shoulders like sweat from a two-hour workout.
[+] Enlarge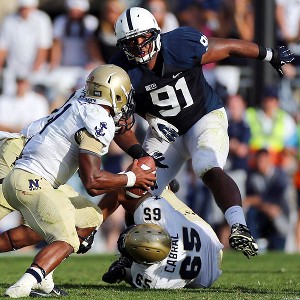 Rob Christy/USA TODAY SportsDT DaQuan Jones lived up to the preseason hype and led the Nittany Lions in stops in the backfield and was fifth on the team in tackles.
The praise rolls on and Jones nods, but he's heard most of it before. Yes, he knows Gil Brandt rated him the top senior DT this season -- he found out on social media -- but that's a title he's not yet earned. Yes, he knows he leads the team in sacks (two), but he counters by saying the season's young.
But, every now and then, Jones is thrown off. You know, one reporter tells him, former cornerback Stephon Morris tweeted about how he should be a Heisman contender. Forget about Johnny Football and those billboard-grabbing quarterbacks.
"That's a bit too much," Jones said, shaking his head as if it were an insult. "That's for the skill guys."
Still, while the Heisman race might be a bit out of the humble senior's grasp, other awards like the Lombardi might just be within reach. After two games, he has five stops in the backfield. And, perhaps most impressively, he leads the Nittany Lions in tackles with 18. Only two players in the Big Ten -- Illinois LB
Jonathan Brown
and Iowa LB
Anthony Hitchens
-- have more. And Jones still has more solo stops than those two leaders.
"Seriously?" the defensive tackle asked Saturday, turning his head. "Man, that's crazy."
Crazy is right. On the field, Penn State's 318-pound defensive tackle -- who was 330-plus before laying off the local chicken-wing shop -- is focused like a prizefighter. He's friendly and gregarious after the game, like any other college student waiting to meet up with his family for a Saturday dinner, but he's another person on the field.
He talks with a slight lisp, not unlike
Mike Tyson
. It's a comparison others have drawn, and it's not a reach considering he constantly delivers knockout blows to the opposing line. He's mean, he's strong, and he's not a player the opposition looks forward to crossing.
"I like double teams better," he said matter-of-factly, as if he was asked his favorite ice cream flavor. "I'm a physical guy, and I like the contact. I don't shy away from them."
Added 240-pound tailback
Zach Zwinak
: "Even in our thud practices [where no one goes to the ground], he's definitely laid a few hits. He's a big boy."
In two games, Penn State has limited rushers to just 1.8 yards a carry and Jones has become the main ingredient in those three-and-outs. Against Syracuse, on three straight rushing plays to end the half, Jones came up with three straight tackles -- even when the Orange tried to avoid Jones by running off to the right on third down. (Jones happened to bring the ball-carrier down in the backfield for a one-yard loss, anyway.)
Trying to stop Jones is about as easy as about as trying to stop a run-away tractor trailer. You can try … but you'll probably get hurt in the process. Still, maybe that shouldn't be so surprising given the school's history at defensive tackle. Jones isn't an exception; he's really part of a trend.
He landed in Happy Valley months after the Miami Dolphins drafted Jared Odrick in the first round. He watched teammate Devon Still become a second-rounder in 2012 and then saw
Jordan Hill
head to the Seattle Seahawks in the third round this past offseason. Compare him to the past DT greats, say he's better, say he's worse -- but Jones is remaining level-headed.
"I want to be known for who I am," Jones said. "I didn't come here to live in anyone's shadows."
Jones is sincere and soft-spoken. When he says he's playing for fun and not awards, it's easy to believe him. He'll laugh when he talks about his pregame ritual with teammate
Deion Barnes
and how they'll just slap the back of each other's heads if one doesn't seem loose enough. And he'll narrow his eyebrows and softly glare, as if to say "Seriously?," when someone dishes out some praise. Part of the reason might just be because he doesn't yet believe himself that he's posted up some mind-boggling numbers.
Here's another: Last season, Jones started 11 games and finished the season with eight solo tackles and two tackles-for-loss. In Week 1 of this year, he already had eight solo tackles and three-tackles-for-loss.
"You know, it came up last week that somebody mentioned people were concerned about our interior defensive line play," defensive coordinator John Butler said. "But that's one of our strengths. DaQuan Jones is a great player. … DaQuan is very unselfish. If he keeps playing the way he's playing, he's going to have a long future playing football after Penn State."
Jones is as comfortable on the gridiron as he is off it. This is his final Penn State season and his last year as a college student, so he said he's going to enjoy it. And so far -- much to the chagrin of opposing offenses -- he sure has.
November, 7, 2012
11/07/12
3:56
PM ET
For five years, defensive tackle
James Terry
has stood on the sidelines and watched.
[+] Enlarge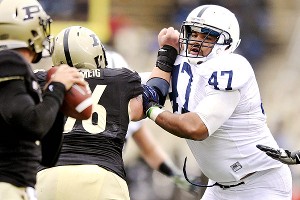 MCT/ZUMA Press/Icon SMIWith Jordan Hill (above) out due to injury, James Terry will get an expanded role.
He saw
Devon Still
wreak havoc in opposing backfields and then become an NFL starter. He looked on as
Jared Odrick
earned Big Ten Player of the Year honors, and he saw
Ollie Ogbu
sign with Indianapolis.
In half-a-decade and 38 career games, he's seen six defenders leap ahead of him on the depth chart. And he's competed in just one token start, where he stood on Beaver Stadium's turf for 24 snaps.
But, this week, Terry realizes he could finally get his chance. This weekend, he could be the starter. And, with
Jordan Hill
's sprained left knee, it won't simply be to see his name first on the depth chart.
"I don't really think I got frustrated at all," he said about his role Wednesday. "I've been waiting for my chance. And whenever my number got called, I was going to be ready to go.
"I don't really think of it as getting a shot. I just think of it as this is my time to step up and do my thing."
Terry often stared across the field the last five years, trying to break down live play as if it were film. He said he'd try to pick up nuances from Hill and Still, adding them to his own repertoire.
He didn't know when his jersey number -- 93 -- might be called. The Delaware native just tried to be ready. And, Saturday, when Hill writhed in pain on the 40-yard line, that time came.
Terry's role instantly evolved from a spectator, a situational player, to an athlete now practicing with the first-team.
"I've gone against him my whole career, and he's kind of always been the backup to Jordan Hill," fifth-year senior
Matt Stankiewitch
said. "And with Hill going day-to-day, I go against Terry a lot. He's a very strong individual and has a very strong bull-rush."
Terry, a 316-pound grad student, dispelled any notion of nerves. He's been on this team since 2008, when some current freshmen were first graduating from the jayvee team. He said he's never seen more than 45 snaps -- and he seemed more eager Wednesday than fearful.
Come Saturday, he expected to see at least 50 plays. And he can't wait to show what he can do with some extra playing time.
"Getting a more extended role, I think people will see the kind of player I am," he said.
Instead of standing on the sideline Saturday, Terry will have to do most of his watching with one hand in the dirt. He's seen
Abe Koroma
and
DaQuan Jones
, along with four other DTs, ahead of him on the depth chart.
But, after five seasons, he's finally through watching as the backup.
August, 23, 2012
8/23/12
1:00
PM ET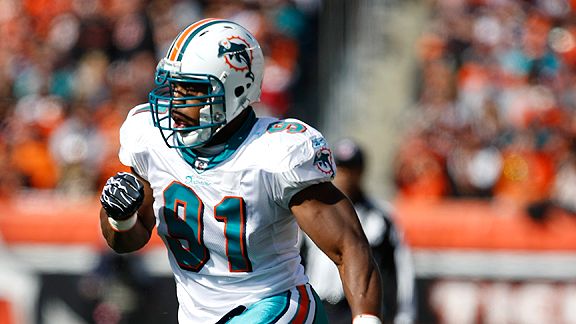 Scott Boehm/Getty ImagesAfter a tour in the CFL, Cameron Wake has turned into a pass-rushing threat with the Miami Dolphins.
NittanyNation takes a look at every Penn State player currently playing in the NFL -- where they are, what their role is and what their careers have looked like.
NittanyNation will look at defensive linemen and defensive backs this afternoon and already glanced at linebackers and punters this morning.
Justin King
, CB,
Indianapolis Colts
Height/weight/age: 5-11/197/25
Role: Backup
PSU career: A highly-touted prospect who, like
Derrick Williams
, contributed solidly but never quite lived up to his elite billing. King declared for the draft after his junior season. King had 49 tackles in his final season with Penn State along with two interceptions.
NFL career: Drafted in the fourth round in 2008. Played 35 games for the
St. Louis Rams
before signing with Indianapolis. Tore a ligament his rookie season but rebounded by seeing time in eight games in 2010. He started 12 games last season with 58 tackles, one interception and one forced fumble. King had six tackles in Week 1 of the preseason.
BIG TEN SCOREBOARD
Thursday, 9/3
Friday, 9/4
Saturday, 9/5
Sunday, 9/6
Monday, 9/7