Penn State Nittany Lions:

James Terry
August, 7, 2013
8/07/13
9:00
AM ET
As part of an ongoing series, NittanyNation will preview a different position leading up to the season opener against Syracuse on Aug. 31. Up today: Defensive tackles.
Projected starters:
DaQuan Jones
(2012 stats: 22 tackles, two tackles-for-loss, one fumble recovery) and
Kyle Baublitz
(three tackles, one sack).
Key losses:
Jordan Hill
(64 tackles, 8.5 tackles-for-loss, 4.5 sacks, one interception, one forced fumble, one fumble recovery) and James Terry (13 tackles, one sack).
Next in line:
Redshirt freshman
Austin Johnson
might not be next in line -- he could very well overtake Baublitz as a starter. Bill O'Brien said on his weekly radio show last season that he expected big things out of the younger defensive tackle, and he's already 21 pounds heavier than Baublitz.
[+] Enlarge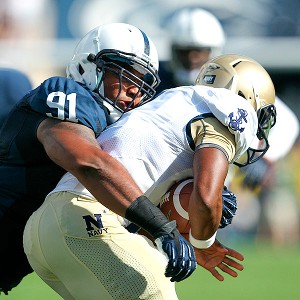 Vinny Carchietta/Icon SMIHow Penn State's defense performs in 2013 will be dependent on how DaQuan Jones plays at defensive tackle.
Regardless, the top three players at this position should see plenty of time. The big question is just who comes in at No. 4. That would be a logjam, and none of the options are all that exciting just yet.
Derek Dowrey
,
Brian Gaia
and
Tyrone Smith
will all compete to see who sees situational time a la Baublitz in 2012. True freshman Parker Cothren likely needs a redshirt season to add bulk before he sees any time on the field.
What to expect
: Huge expectations are being squarely placed on the shoulders of Jones, and he'll need to match Hill's performance to live up to all the hype. Gil Brandt recently
named Jones the top senior DT in the country
-- which was a little surprising considering he made just 12 tackles in the last nine games once Hill faced fewer double-teams and stepped up his game. By comparison, Jones made 10 tackles in the first three games.
For this defensive line to find success, Jones will have to become quickly accustomed to those double teams -- because it'd be an even bigger surprise if teams sent just one interior lineman after him. This position is one of the bigger concerns on the team because, even if the 318-pound Jones does succeed, his other starting teammate will likely be overmatched this season.
Baublitz appears to be a band-aid until Johnson is ready to take off. And Johnson undoubtedly boasts a high ceiling -- but it doesn't seem as if this is the season it will all come together. If the staff had that much faith in him, he would've initially been named starter over Baublitz. Expect PSU's 23rd-ranked run defense to drop, at least a little, in the rankings.
Recruiting trail:
The Nittany Lions have already picked up one 2014 prospect in
Antoine White
(Millville, N.J./Millville), a three-star commit whom ESPN scouts label a "tweener" but who also "gives good effort in pursuit and is a solid wrap-up tackler."
He's about 270 pounds right now, so he needs to bulk up. But PSU's staff really liked the explosiveness of his first step and like his attitude. His high school coach said he and a teammate constantly put in extra work, and White was the lone junior captain on his team last season.
PSU also appears intent on grabbing at least one more DT, likely either ESPN 300 prospect
Thomas Holley
(Brooklyn, N.Y./Lincoln) or a junior college DT such as
Joe Keels
(Highland, Kan./Highland C.C.).
Best-case scenario:
Jones picks up right where Hill left off and becomes an unstoppable run-stuffer who lives up to Brandt's top billing. PSU's No. 23 run defense holds steady, while Johnson breaks out and shows fans that he'll be a four-year starter.
Worst-case scenario:
Jones initially struggles with double teams and gets hurt later in the season, leaving an inexperienced Johnson and a limited Baublitz as the starters. Those two struggle, and Big Ten running backs set up their respective offenses by running straight up the middle.
Top position question:
If Jones falters, what happens to this defense?
Penn State can't withstand mediocre performances at defensive tackle and linebacker. If Jones doesn't live up to expectations, it'll have an ripple effect on the entire defense.
If Jones doesn't play well, that means more work for middle linebacker
Glenn Carson
-- who's been the beneficiary of some great DTs in NFL draft picks Hill and Devon Still. Jones is crucial to this defense's success in a lot of ways, and it was able to overcome a young secondary last season by limiting opponents to 3.54 yards a carry on the ground. If Jones struggles, those rushing numbers increase.
And if those rushing numbers increase? PSU allowed more than four yards a carry in just two of the last 10 seasons. In 2003, it allowed 4.29 yards a carry and finished with a 3-9 record. In 2010, PSU allowed 4.46 yards a carry and went 7-6. In other words, if Jones falters and the run defense struggles, then it might become tricky to get to eight wins.
December, 31, 2012
12/31/12
11:00
AM ET
STATE COLLEGE, Pa. -- Heading into next season, NittanyNation takes a closer look at holes left by departing Penn State players and the candidates who might fill them.
DEFENSIVE TACKLE
[+] Enlarge

MCT/ZUMA Press/Icon SMIJordan Hill led Penn State defensive linemen with 64 tackles, which ranked fourth on the team.

Who: Jordan Hill admitted he struggled in the first three games because he was unaccustomed to all the double teams. But, as the season wore on, he became one of this team's most valuable players. Even coming off a knee injury, there's no doubt he'll be playing on Sundays. He was a balanced defensive tackle who wasn't the biggest but was incredibly effective at plugging the middle when playing the three-technique. James Terry was the top backup on the interior and also filled in when Hill missed time.
By the numbers: Penn State's defense allowed just 3.54 yards a carry, and Hill led the linemen with 64 stops. He finished fourth overall on the team in tackles, third in tackles for loss (8.5) and second in sacks (4.5). He also grabbed an interception on a play that's sure to make his draft highlights. Terry made 13 tackles, one sack and broke up a pass. Only three of those tackles were solo stops.
Job description: It's not yet known if Hill's replacement will play at the one-technique, where Hill opened the season, or will take over his usual three-technique spot. Whoever it is -- and wherever he plays -- will have big shoes to fill. Bill O'Brien called Hill one of the top defensive tackles in the nation, and that wasn't much of an exaggeration. He was the best player on this defensive line, and he brought everything to the table except overwhelming size. Hill is 6-foot-1 and 292 pounds. His quickness and pursuit were more of an asset than his strength, but his departure leaves a big void on the interior. Terry's graduation means two defensive tackles will have to step up in 2013.
Top candidates: Rising redshirt freshman Austin Johnson and rising redshirt junior Kyle Baublitz. Johnson redshirted but was a third-string player on the depth chart and seems to be ahead of the two other Class of 2012 DTs. Baublitz was the No. 4 DT and saw fewer snaps than Terry; he played in six games and finished the season with three tackles and a sack. One of these two will likely start, with the other taking Terry's role as the top backup.
One to watch: Johnson. At 6-4 and 297 pounds, he's already bigger than Hill. He doesn't boast the same speed or quickness as the two-year starter, but he could be the biggest surprise on the line in 2013. O'Brien said on his radio show earlier in the year that Johnson is "going to be a forced to be reckoned with," and he's a player Penn State fans should familiarize themselves with. Even if he doesn't start, he should see quite a bit of time on the field.
November, 22, 2012
11/22/12
10:00
AM ET
November, 7, 2012
11/07/12
3:56
PM ET
For five years, defensive tackle
James Terry
has stood on the sidelines and watched.
[+] Enlarge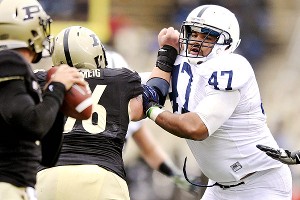 MCT/ZUMA Press/Icon SMIWith Jordan Hill (above) out due to injury, James Terry will get an expanded role.
He saw
Devon Still
wreak havoc in opposing backfields and then become an NFL starter. He looked on as
Jared Odrick
earned Big Ten Player of the Year honors, and he saw
Ollie Ogbu
sign with Indianapolis.
In half-a-decade and 38 career games, he's seen six defenders leap ahead of him on the depth chart. And he's competed in just one token start, where he stood on Beaver Stadium's turf for 24 snaps.
But, this week, Terry realizes he could finally get his chance. This weekend, he could be the starter. And, with
Jordan Hill
's sprained left knee, it won't simply be to see his name first on the depth chart.
"I don't really think I got frustrated at all," he said about his role Wednesday. "I've been waiting for my chance. And whenever my number got called, I was going to be ready to go.
"I don't really think of it as getting a shot. I just think of it as this is my time to step up and do my thing."
Terry often stared across the field the last five years, trying to break down live play as if it were film. He said he'd try to pick up nuances from Hill and Still, adding them to his own repertoire.
He didn't know when his jersey number -- 93 -- might be called. The Delaware native just tried to be ready. And, Saturday, when Hill writhed in pain on the 40-yard line, that time came.
Terry's role instantly evolved from a spectator, a situational player, to an athlete now practicing with the first-team.
"I've gone against him my whole career, and he's kind of always been the backup to Jordan Hill," fifth-year senior
Matt Stankiewitch
said. "And with Hill going day-to-day, I go against Terry a lot. He's a very strong individual and has a very strong bull-rush."
Terry, a 316-pound grad student, dispelled any notion of nerves. He's been on this team since 2008, when some current freshmen were first graduating from the jayvee team. He said he's never seen more than 45 snaps -- and he seemed more eager Wednesday than fearful.
Come Saturday, he expected to see at least 50 plays. And he can't wait to show what he can do with some extra playing time.
"Getting a more extended role, I think people will see the kind of player I am," he said.
Instead of standing on the sideline Saturday, Terry will have to do most of his watching with one hand in the dirt. He's seen
Abe Koroma
and
DaQuan Jones
, along with four other DTs, ahead of him on the depth chart.
But, after five seasons, he's finally through watching as the backup.
October, 30, 2012
10/30/12
9:00
AM ET
STATE COLLEGE, Pa. -- You might not have seen much of them this season -- but Penn State has several first-year athletes who should see plenty of playing time next season.
Maybe they didn't play this year because of playbook issues. Or maybe certain positions were just deeper than others. Whatever the reason, these players could make quite an impact next season.
NittanyNation takes an early look at four freshmen PSU is redshirting this season but who will have bigger roles in 2013:
To continue reading this article you must be an Insider
September, 11, 2012
9/11/12
11:00
AM ET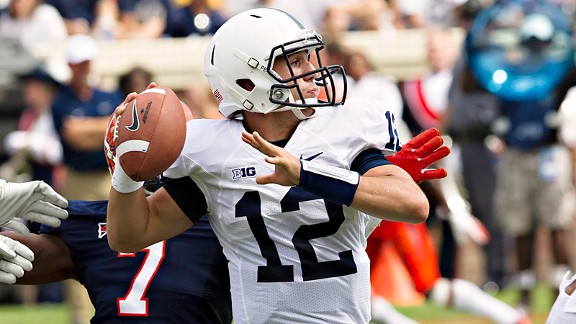 Lee Coleman/Icon SMITrue freshman quarterback Steven Bench subbed in for a banged-up Matt McGloin against Virginia and looks to have assumed the backup quarterback position for the Nittany Lions.
The season is only two weeks old, but the redshirt picture is already becoming a little clearer.
Four true freshmen are listed on the depth chart but haven't seen any time on the field. Six freshmen have already burned their redshirts. And three are still in limbo.
NittanyNation takes a closer look at the impact the true freshmen have had so far and what to expect going forward:
To continue reading this article you must be an Insider
August, 27, 2012
8/27/12
1:37
PM ET
Penn State released its Week 1 depth chart Monday, and six starting spots remain up for grabs.
A closer look at each battle:
Right tackle
:
Mike Farrell
vs.
Adam Gress
To continue reading this article you must be an Insider
BIG TEN SCOREBOARD
Thursday, 9/3
Friday, 9/4
Saturday, 9/5
Sunday, 9/6
Monday, 9/7