Penn State Nittany Lions:

Jake Kiley
February, 12, 2014
2/12/14
9:00
AM ET
STATE COLLEGE, Pa. -- We've made it to the middle of this week's countdown, and this next position shouldn't come as much of a surprise. This group is now without Penn State's MVP.
No. 3:
Wide receivers
[+] Enlarge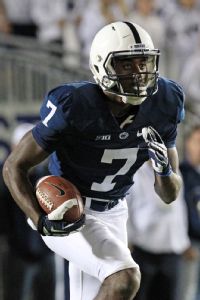 Matthew O'Haren/USA TODAY SportsGeno Lewis' 18 catches as a redshirt freshman makes him the leading returning wide receiver for Penn State.
The players:
Geno Lewis
(18 catches, 234 yards),
Richy Anderson
(13 catches, 111 yards),
Matt Zanellato
(4 catches, 53 yards),
Jake Kiley
(played in one game),
DaeSean Hamilton
(redshirted),
De'Andre Thompkins
(early enrollee),
Chris Godwin
(incoming freshman),
Saeed Blacknall
(incoming freshman),
Troy Apke
(incoming freshman)
Last season:
Allen Robinson
finished with the best statistical receiving year in Penn State history. He broke the school's single-season records for both receptions (97) and receiving yards (1,432) on his way to earning his second straight honor as Big Ten receiver of the year. He accounted for about 46 percent of the passing offense -- the most a single PSU receiver's been relied on in more than 25 years -- while
Brandon Felder
, a senior in 2013, finished second with 28 catches for 312 yards. Robinson was among the best receivers in the nation, but
Christian Hackenberg
had few reliable targets outside of him who weren't listed at tight end.
What's missing:
A-Rob and experience. One quick look at the returning players is all it takes to understand what Penn State's going up against. Four of the nine scholarship wideouts are true freshmen, and only one -- Zanellato -- is an upperclassman. Lewis is the closest thing to a proven commodity, and he needs to improve his route-running for PSU to experience any hint of success here. The future looks bright with one of the nation's top classes of incoming freshmen, but without Robinson there's obviously going to be a drop-off at this position.
Moving forward:
Lewis is the only returning wideout who played in every game last year, so he certainly appears to be the No. 1 -- unless a true freshman can usurp him. James Franklin is going to need those true freshmen to do a lot of heavy lifting this season because there's really no alternative. Zanellato and Anderson will play, but neither is the gamebreaker that Thompkins, Godwin or Blacknall have the potential to be. Thompkins played more tailback than receiver in high school -- catching just 44 balls in the last three seasons -- so he could become the early No. 2 if he learns quickly in the spring. A breakout spring for him would go a long way in putting this staff's minds at ease.
January, 2, 2014
1/02/14
1:30
PM ET
STATE COLLEGE, Pa. -- Most Penn State players reacted with a stunned silence when told of the news that their head coach, Bill O'Brien, was
heading to the NFL's Houston Texans
.
The story broke about 90 minutes before the new year, and most players were either with friends or on their way to parties. Linebacker
Brandon Bell
was driving when he answered his buzzing cell phone.
"It's official?" he asked at 10:30 p.m. Tuesday night. "I don't have much to say. ... Yeah, I guess I'm surprised."
[+] Enlarge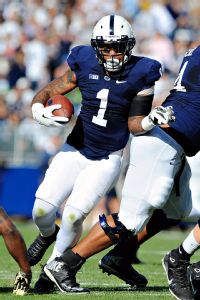 Rich Barnes/USA TODAY SportsBill OBrien's departure caught Bill Belton and his teammates by surprise, but the players feel Penn State will be just fine moving forward.
He paused a few seconds and then continued on: "You can't worry about what you can't control. We got to do what we got to do."
Fifteen minutes later and defensive end
C.J. Olaniyan
said he hadn't heard anything about O'Brien heading elsewhere either. He seemed just as off-guard and even a bit reticent to believe the breaking story.
"Like I said, I haven't heard anything," Olaniyan said. "But no matter what happens, Penn State has shown -- everybody's shown -- that we're going to keep striving forward. No matter what happens."
The overwhelming sentiment from players on Tuesday and Wednesday was one of surprise, but not of betrayal. Their emotions were mixed but not polar -- they felt disappointed, but they were happy for their head coach. They seemed down, but they spoke with conviction about their university and the next season.
"As long as we have each other," wideout
Jake Kiley
said Wednesday, referring to his teammates, "we'll be fine. I think everyone's in the same mind-set."
Tailback
Bill Belton
wanted to enjoy the new year, forget about the coaching change and deal with it later. Wideout
Allen Robinson
hung up as soon as O'Brien's name was mentioned. Offensive guard
John Urschel
took to Twitter to
congratulate his head coach
.
Different players reacted differently. But everyone seemed to agree that Penn State's certainly been through worse, and that it would emerge once again just fine.
Those same players who congratulated their head coach first met O'Brien in January 2012 when the relative unknown landed in Happy Valley and told the media he was
"thrilled to be the head football coach,"
months before the NCAA levied unprecedented sanctions against the school. O'Brien asked players for their commitment, their loyalty, and they overwhelmingly surrendered it.
Eugene Lewis, now a rising redshirt sophomore, was one of those players. The coveted four-star recruit arrived on campus a few weeks before those sanctions, and he could've chosen to transfer elsewhere without penalty. But he decided to stick with O'Brien in Happy Valley.
And, even now, Lewis doesn't regret his decision. Even now, he bristled at feeling even the slightest twinge of betrayal by his old coach.
"That's a strong word because you have to look at it from his point of view," Lewis said Wednesday. "He came into a position that was hard for his family, with the sanctions that we got. You have to look at what he did and how he did all he could. You can't really be mad at him for leaving after two years. I still really respect him."
Lewis was at a friend's house, watching ESPN, when he discovered the news of O'Brien's departure. His phone buzzed with calls and texts from his teammates shortly before midnight. They agreed they'd enjoy the night and then just see what happens.
But Lewis was adamant, whomever the next head coach turns out to be, that he'll still be all-in.
"At the end of the day, we all know we're family and we all know we still have to go out there and play for our school," he said. "You have to be able to fight through adversity, and this is just another obstacle. I'm not mad at Coach O'Brien, I'm happy with what he's done for me and this university.
"I know my team and everyone else there at Penn State -- everyone -- is going to be behind us, and we're going to greet the next coach the same way we greeted Coach O'Brien."
Defensive end
Curtis Cothran
echoed Lewis' words and succinctly summed up the message from Penn State's players: "We're going to be OK."
January, 11, 2013
1/11/13
9:00
AM ET
Over the past week, NittanyNation has taken a glance at different positions and their outlook for next season.
[+] Enlarge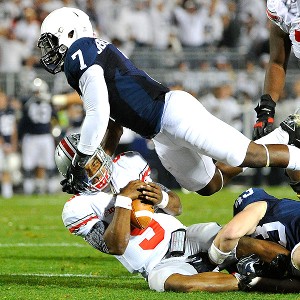 Rich Barnes/US PresswireMuch will be expected of Stephen Obeng-Agyapong in his senior season for the Lions.
Who: Stephen Obeng-Agyapong and Malcolm Willis both return as starters and rising redshirt seniors. Willis was known as the quarterback of the secondary, while teammates called Obeng-Agyapong the most improved player since Week 1. Ryan Keiser is a solid special teams player and might be next in line if someone goes down. Then again, there's certainly enough young players here to push for time as backups. Jake Kiley and Jordan Lucas (listed as a CB but could also play S) appear to be the furthest ahead, while incoming freshman Neiko Robinson should be a solid addition to the scout team for now. Kasey Gaines is almost guaranteed to redshirt.
Strengths: These starters are experienced, and they made some nice improvements in the second half of the season. Willis added a lot to the communication of the defense, and it was pretty evident when he was out of the lineup. Obeng-Agyapong made longer strides than anyone else on defense, and there's a lot of potential here in a quartet consisting of incoming freshmen and redshirt freshmen.
Weaknesses: Although the safeties made great strides last season, they were still the Achilles' heel of this defense. PSU had to resort to more zone coverage because they seemed to lack awareness and were a liability on third downs. Neither safety recorded an interception, and they need to shore up the middle of the field better than in 2012.
Surprise player: Kiley. Bill O'Brien mentioned him by name on Monday, and he's also been a player who's received quite a bit of praise since preseason camp. He likely won't see much time this season, but he could still end up being a three-year starter. This year will go a long way in determining his development and future role. Somebody needs to replace Willis and Obeng-Agyapong in 2014.
Overall: This will obviously be an improved group from last season because both starters return and finally have more experience under their belts. The graduation of Jake Fagnano doesn't hurt that much, and fans can expect to see above-average production out of the safeties. This isn't a strength of the defense -- not by any means -- but it should no longer be a liability. Obeng-Agyapong especially has a lot of potential, and these two starters will be looked upon as leaders in the secondary.
January, 2, 2013
1/02/13
11:00
AM ET
STATE COLLEGE, Pa. -- Heading into next season, NittanyNation takes a closer look at holes left by departing Penn State players and the candidates who might fill them.
CORNERBACK
Who: Stephon Morris was -- by far -- the most experienced player in the secondary in 2012, and his leadership will be missed. He played in 49 career games and evolved into an above-average cornerback who was an honorable-mention selection on the All-Big Ten team. He wasn't the tallest corner on the field at 5-foot-8, but he was quick and picked up a reputation as a hard worker. He earned the Jim O'Hora Award, given to the most improved defensive player, after spring practice.
By the numbers: He finished fifth on the team with 60 tackles (41 solo stops), five tackles for loss, 1.5 sacks and five pass breakups. He was part of a pass defense that was ranked No. 50 nationally and allowed 225 yards per game.
Job description: Morris may have preferred man coverage, but Penn State was forced to stick with zone coverage for most of 2012 because of some early secondary struggles. Whoever fills in for Morris will likely be counted on for more man coverage, though, and his replacement will be asked to force more turnovers. Morris was a good corner, but he didn't come away with a single interception, fumble recovery or forced fumble.
Top candidates: Rising sophomore Da'Quan Davis is the favorite to fill in because he was the only other cornerback to really see time at the position in 2012. Incoming freshman Jordan Smith, who will enroll in less than a week, is a definite darkhorse here, but PSU could always turn to its other two 2012 DBs. Jordan Lucas and Jake Kiley might be better suited at safety, but both could be moved around in case of injury or to add some competition.
One to watch: Davis. He was our No. 1 2012 player to watch next season, and that's because a lot will be resting on his young shoulders. He's not the biggest corner at 161 pounds, but another offseason should help him bulk up. He's being groomed to take over for Morris -- and Morris, Bill O'Brien and two high school coaches all commented on Davis' work ethic. It's his job to lose at this point.
September, 11, 2012
9/11/12
11:00
AM ET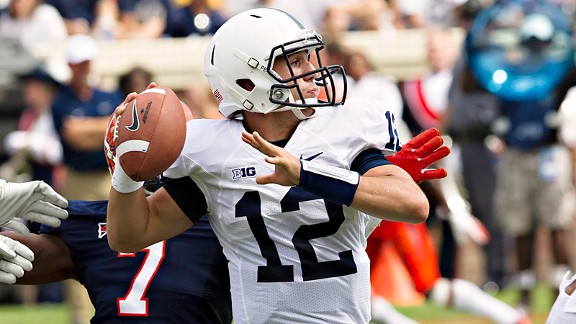 Lee Coleman/Icon SMITrue freshman quarterback Steven Bench subbed in for a banged-up Matt McGloin against Virginia and looks to have assumed the backup quarterback position for the Nittany Lions.
The season is only two weeks old, but the redshirt picture is already becoming a little clearer.
Four true freshmen are listed on the depth chart but haven't seen any time on the field. Six freshmen have already burned their redshirts. And three are still in limbo.
NittanyNation takes a closer look at the impact the true freshmen have had so far and what to expect going forward:
August, 15, 2012
8/15/12
3:00
PM ET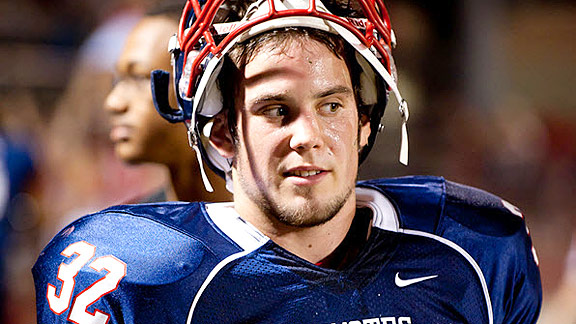 Courtesy of Brandon FranklinAs the first player to commit to Penn State following the NCAA sanctions, Brennan Franklin's the wild card of the class of 2012. If he develops, he could turn into the ultimate recruiting steal.
The defensive players in Penn State's 2012 recruiting class are not the most heralded the Nittany Lions have ever snagged. But defense has been a strength of Penn State since before some of these recruits' parents were born -- and that's not expected to change.
Four-star defensive tackle Brian Gaia heads the incoming defensive class, and several three-star players could see the field this year as most players might be asked to step up sooner than later due to the NCAA sanctions. So NittanyNation takes a closer look at each defensive recruit and breaks down what ESPN's scouts had to say before each player wound up in Happy Valley.
To continue reading this article you must be an Insider
BIG TEN SCOREBOARD
Thursday, 9/3
Friday, 9/4
Saturday, 9/5
Sunday, 9/6
Monday, 9/7