Penn State Nittany Lions:

Grant Haley
April, 1, 2014
4/01/14
4:00
PM ET
Every night, as
Saeed Blacknall
's head hits his pillow, his mind races through the same scenario.
Every night, the details are identical. And, every night, Penn State's incoming freshman receiver relives his future career's first touchdown. He laughs while running through the scenario aloud, because he already has imagined it dozens -- maybe hundreds -- of times. And he won't even report to campus until June 28.
Christian Hackenberg is throwing me a bomb right in front of the student section, and they're all cheering. I just see them all. And It's just like, 'Wow, I can't believe this is happening.' I finally touch my foot in the end zone, and then I run back to the sideline and I see Coach [Josh] Gattis. We jump in the air, and he tells me congratulations on my first touchdown. I see that all the time.
Blacknall, an ESPN 300 receiver, can't shake how much he might contribute this season or how much the Nittany Lions will be counting on him -- in part because
James Franklin
and the staff won't let him, or any of the other incoming freshmen, forget.
Blacknall texts with Gattis, the receivers coach, about every other day, and the assistant never fails to mention how much the Nittany Lions are expecting from him. Cornerback
Grant Haley
said he received a direct tweet just last week from his position coach, "Keep looking at that playbook, and be ready to go." And offensive tackle
Noah Beh
said he received a text in the last week or two that said, "We wish we had you now for spring ball because numbers are low."
"Coach Franklin definitely makes that known anytime we're on campus," incoming wide receiver
Chris Godwin
said. "He lets us know that, that we're going to play a big role in this team's success and this team's future."
With limited depth and 10 fewer scholarships, the remnants of sanctions from two years ago, Franklin has responded vocally when asked how he plans to overcome the disadvantage. Bill O'Brien's plan two seasons ago was that the non-scholarship athletes needed to run, not walk, and referred to them as run-ons. Franklin is telling this freshman class -- constantly -- that it needs to arrive in Happy Valley at a full sprint.
"We're going to have to play a lot of freshmen," Franklin said Saturday. "I typically prefer not to do that, but I've already been direct-messaging these guys and telling them they need to come in in with the mentality they need to play."
Few positions at Penn State boast the benefit of depth. Franklin was already forced to move two defensive tackles to the offensive line because of numbers, and the leading returning wideout started four games and finished with just 18 catches. It's an issue that Franklin knows will only be solved with time -- and the next few freshman classes.
And this 2014 group,
ranked No. 24 in the nation
by ESPN, isn't blind to the plight; Franklin's staff has tried to ensure that with weekly phone calls, texts or Twitter messages. And these freshmen have taken it upon themselves now to remind each other.
Beh milled around a friend's living room on Sunday during March Madness. While his friends watched their brackets fall apart, the offensive tackle continued to group-text with his fellow freshmen. In all, Beh believed about 50 texts were sent Sunday. It's a daily occurrence. And, Beh said, nearly every topic centers around how this freshman class needs to prepare to contribute come August.
"It's just a timing thing. I don't want to say it's up to us, but I think there's a kind of pressure on us that we need to step up," Beh said. "All of us, all of us need to get ready. We all have a chance to contribute our first year."
Four of Penn State's freshmen said Franklin never mentions the word "redshirt." It's not really a luxury the Nittany Lions have; even last season, 54 percent of the Lions' roster consisted of true and redshirt freshmen. And Penn State came away with the last two Big Ten freshman of the year awards. So, players like Haley and Blacknall have tacked extra workouts onto their day so they can continue the streak.
Haley takes it all one step further. The cornerback -- who turned down offers from the likes of Florida and South Carolina -- rolls out of bed at 5 every morning, drives to his Georgia high school and works out for two hours before the first bell rings. Blacknall will run through track practice after school and, depending on the day, either will hit the weight room or perform some footwork drills and text his coach a clip or two.
It's rinse-and-repeat for Blacknall. Every night, he'll come home, head to bed -- and think about how the Nittany Lions already are depending on him. He'll run through that dream scenario. And he can't wait for those daydreams to become reality.
"It's unreal," Blacknall said. "I catch myself thinking about this all the time and, every time I talk to [Franklin] or when he talks to my family, he just reminds us how important this freshman class is. ... I can't wait to get up there."
March, 7, 2014
3/07/14
9:00
AM ET
STATE COLLEGE, Pa. -- We've finally reached the end of this week's countdown involving the top position battles to watch this spring.
Up next is a position that caused a lot of head scratching last season ...
[+] Enlarge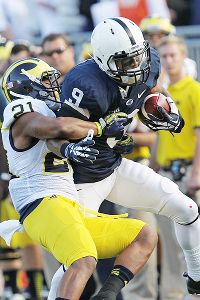 Matthew O'Haren/USA TODAYJordan Lucas seems set at one corner for Penn State, but the other starter is anyone's guess at this point.
No. 1 position battle:
Cornerback
Departures:
None
Returning players:
Jordan Lucas
(65 tackles, 16 pass deflections, 3 INTs),
Trevor Williams
(24 tackles, 2 INTs),
Da'Quan Davis
(5 tackles),
Anthony Smith
(1 tackle),
Jordan Smith
(5 tackles),
Kasey Gaines
(redshirted),
Grant Haley
(incoming freshman),
Amani Oruwariye
(incoming freshman),
Daquan Worley
(incoming freshman)
Breaking it down:
There are other defensive backs who could slide over from safety -- such as
Adrian Amos
and
Jesse Della Valle
-- but, right now, it looks as if cornerback is the position with the question marks. Lucas will take up one starting spot. But the other? At this point, you might as well just throw the names in a hat and pick one out.
Back in 2012, Davis started the season as the No. 3 cornerback before fizzling out and seeing less time as the season progressed. He played in 11 games as a true freshman and just six as a sophomore. In 2013, Williams began the season as a starter before fizzling out and watching Amos move from safety to reclaim his spot. It sure seems like it's time to write Davis off as a starter, but is it too early to write Williams off? If Williams, who switched positions from receiver last season, can't bounce back, then this position truly gets interesting. It seems as if Jordan Smith would be next in line since he's quickly earned a reputation as a hard worker.
Then again, Smith's work could all be for naught. There are several incoming freshmen who could challenge for immediate playing time -- including safety
Christian Campbell
, who could also play corner -- once they arrive over the summer. This position battle might not be totally decided in the spring, but it should go a long way in answering some of the biggest questions on the defense.
Pre-camp edge:
None. That's right -- no one has an edge right now. That's a big reason why this battle is the top spot on the countdown. This is one starting spot that's ripe for the taking. The players who have seen the most time (Davis, Williams) haven't played well, and there's really no strong way to gauge the others since they've seen so little time. Williams might be in the best shape right now, but Jordan Smith should be right behind him. At this point, it seems as if those two corners might be the ones to keep a close eye on this spring ... but anything can happen at corner.
More position battles to watch:
No. 5:
Kicker
No. 4:
Tight end
No. 3:
Defensive tackle
No. 2:
Offensive guard/center
February, 5, 2014
2/05/14
1:30
PM ET
STATE COLLEGE, Pa. -- The signees' breakdown continues now with defense.
You can find the
overview of the offensive signees
here. And, once again, here's a
list of the early enrollees
that are not included here.
LB Troy Reeder (Wilmington, Del./Salesianum)
Four-stars (Scout grade: 81), No. 25 at position
Committed:
Feb. 26, 2013
Top offers:
Miami (Fla.), Pitt, Rutgers
Synopsis:
He's an All-American lacrosse player who originally committed to play the sport at powerhouse North Carolina before opting for football and Penn State. He'll likely play in the middle, and he could be next in line for a spot when
Mike Hull
graduates.
Scouting report

:
A big, strong physical prospect and a jumbo athlete of sorts who can run for his size and make plays with ball skills.
LB/S Koa Farmer (Sherman Oaks, Calif./Notre Dame)
Three stars (Scout grade: 78), No. 72 at ATH position
Committed:
Jan. 25, 2014
Top offers:
Cal, Utah, Washington
Synopsis:
He could play either safety or linebacker -- or a hybrid of both. He was the first Cal commit of the 2014 class, but defensive coordinator Bob Shoop helped sway him and an official visit clinched it. He wants to eventually earn a Ph.D. in pathology.
Scouting report

:
Shows flashes on defense as a high-point safety who would likely need to move to strong or nickel linebacker.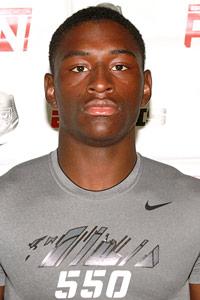 Scott Fink for ESPNDaquan Worley was a prolific running back as a senior before a knee injury ended his season.
DB Daquan Worley (Coatesville, Pa./Coatesville)
Three stars (Scout grade: 77), No. 82 at ATH position
Committed:
May 2, 2013
Top offers:
Georgia Tech, Pitt, Rutgers
Synopsis:
He tore the ACL in his right knee in October, and that ended quite the senior season for Worley. The two-way athlete rushed for 1,246 yards -- averaging 9.6 yards a carry -- and he does have an outside shot to play at tailback at the next level. PSU discovered him after initially recruiting linebacker teammate
Tyler Burke
.
Scouting report

:
Worley is not going to blow you away with size or speed measurables on paper, but he brings a lot of versatility to the table.
S Marcus Allen (Upper Marlboro, Md./Wise)
Three stars (Scout grade: 77), No. 61 at position
Committed:
May 10, 2013
Top offers:
Clemson, Vanderbilt, Wake Forest
Synopsis:
Allen began his career as an undersized linebacker and thought the varsity coach was crazy when he wanted to promote Allen through junior varsity as a safety. After a lot of convincing, Allen agreed to play a 7-on-7 game at safety following his freshman season. He ended up with three picks -- and never played linebacker again.
Scouting report

:
Improved man-to-man skills will really enhance his stock.
CB Grant Haley (Atlanta, Ga./The Lovett School)
Three stars (Scout grade: 76), No. 41 at position
Committed:
Jan. 20, 2014
Top offers:
Florida, South Carolina, Vanderbilt
Synopsis:
Yes, he was a Vanderbilt flip -- but his mother actually attended Penn State in the 1980s. Franklin anticipated him returning kicks at Vanderbilt, so Haley could be a critical part on special teams, too.
Scouting report

:
An elusive and dynamic running back on offense with natural change-of-direction and movements.
LB Jason Cabinda (Flemington, N.J./Hunterdon Central)
Three stars (Scout grade: 74), No. 119 at ATH position
Committed:
Oct. 23, 2013
Top offers:
Boston College, Maryland, Syracuse
Synopsis:
Ron Vanderlinden spent a lot of time with Cabinda during a summer camp and, when
Jared Wangler
decommitted in favor of Michigan, that opened up the spot for Cabinda, who was a Syracuse pledge. Syracuse contacted him again after Bill O'Brien left, but Cabinda didn't budge.
Scouting report

:
He could easily be the big back teams look for, or also be projected as a a solid standup LB.
DL Torrence Brown (Tuscaloosa, Ala./Tuscaloosa Academy)
Three stars (Scout grade: 73), No. 130 at OLB position
Committed:
Feb. 5, 2014
Top offers:
Southern Miss, N.C. State, Northern Illinois
Synopsis:
If there was any sort of surprise on signing day, Brown was the closest thing to it. He received an offer the day before he planned to sign with Southern Miss -- and flipped to the Nittany Lions. He takes the spot of DE
Lloyd Tubman
, who flipped from Vandy to PSU, then flipped again to Kentucky.
Scouting report

:
This is a developmental size prospect who will need time and a redshirt year prior to challenging for playing time at the major level of competition.
CB Amani Oruwariye (Tampa, Fla./Gaither)
Three stars (Scout grade: 73), No. 76 at position
Committed:
Jan. 30, 2014
Top offers:
Louisville, Nebraska, Vanderbilt
Synopsis:
He's another Vanderbilt flip. He's tall for a corner, at 6-foot-1, and he played some receiver -- but he's a DB through and through. Since his sophomore season, he's tallied a dozen interceptions.
Scouting report

:
He is of ideal height and, with time on his side, he should be able to bulk up, which will help his playing strength and confidence in run support.
S Christian Campbell (Phenix City, Ala./Central)
Three stars (Scout grade: 72), No. 127 at position
Committed:
Feb. 3, 2014
Top offers:
Missouri, Minnesota, Memphis
Synopsis:
Campbell was set to pick between Minnesota, Indiana and Syracuse before before Penn State entered the race. He took some heat on Twitter for the choice, but said that Franklin had been recruiting him even before the Gophers and Hoosiers. He was a surprise pickup for PSU.
Scouting report

:
Many lower-level BCS programs should envy his toughness and admire the attitude and physicality he will bring to a program.
January, 21, 2014
1/21/14
1:40
PM ET
New Penn State coach James Franklin landed two more commitments for the Nittany Lions on Monday. Once again, they came at the expense of Vanderbilt as quarterback
Trace McSorley
(Ashburn, Va./Briar Woods) and defensive back
Grant Haley
(Atlanta/The Lovett School) flipped from Vanderbilt to Penn State.
Haley, a three-star cornerback, committed only a few days after defensive back
Troy Vincent Jr
. (Baltimore/Gilman) withdrew his pledge to Penn State. Haley will help fill the void where Vincent was, and he might not be the only defensive back target remaining.
January, 21, 2014
1/21/14
8:00
AM ET
Signing day is inching closer and closer, which means there are questions out there. The Big Ten has plenty of top targets remaining.
Here are five things to watch within the conference as signing day approaches:
To continue reading this article you must be an Insider
BIG TEN SCOREBOARD
Thursday, 9/3
Friday, 9/4
Saturday, 9/5
Sunday, 9/6
Monday, 9/7