Penn State Nittany Lions:

Ezekiel Elliott
May, 30, 2014
5/30/14
4:30
PM ET
The next time we meet (barring breaking news), it will be June. One month closer to the season.
Follow us
on Twitter
.
Looks like I made a few friends down South after
this post
.
To the inbox ...
Jonathan from San Antonio writes:
While I get the irony of oversigning and then standing on "integrity" to complain about Franklin, do you get the irony of your article? You seem to defend Franklin's strategy based on the fact that others do it and that it's within the rules. Yet, you (Big Ten proponents and fans) complain about oversigning, when it too is a "others are doing it," and "it's within the rules" equally applies to that practice. So if you want the SEC to stop complaining about this particular issue (and join in), then the Big Ten needs to stop complaining about oversigning (and join in).
Adam Rittenberg:
Jonathan, you can't possibly be equating oversigning to guest-coaching at another program's camp? Only one of those tactics hurts players. Only one involves dishonesty. My post had a heavy dose of sarcasm, but just to be clear, I don't like oversigning. I have no problem with guest-coaching at camps. Who does it harm? It's a brilliant move by James Franklin, and other coaches either have or will follow. The SEC should get rid of its rule and guest-coach as well. No issue there. These are two extremely different tactics, and only oversigning does real damage, in my view.
---


Tracie from Manhattan, Kan., writes:
You obviously have a personal vendetta against the SEC and are using your public platform to voice your biased opinion. It's disappointing that ESPN allows this type of journalism to be on the website. The message that I received from this article is how jealous you are of the SEC and will try to put the conference down in order to make the Big Ten look better. What actually happened is you made the Big Ten look like all it can do to compete with the SEC is to try to find a loophole. Good luck in your future attempts at journalism, this was a complete fail. Go Hogs.
Adam Rittenberg:
It's kind of funny, Tracie, because every third email I receive states how ESPN promotes the SEC whenever possible. I don't have a vendetta against the SEC. It's a great league with great coaches. It's also a league that doesn't get called out enough for things like this. People might think I'm a Big Ten homer for writing that post. Those
who read me
know
that's far from the truth
. The Big Ten is justifiably criticized for its missteps. The SEC seems to get a pass because it wins national championships. It's not a jealousy issue. The Big Ten
is
way behind the SEC when it comes to recruiting and winning. That's why Franklin's guest-coaching plan makes complete sense. The funny part is that the SEC, a league very good at football but also very good at bending recruiting rules to its advantage, has a problem with it. Woo Pig Sooie!
---
Zac from Colorado Springs, Colo., writes:
No
Ezekiel Elliott
on your list? I know Meyer only has one 1,000-yard (running back) rusher all time, but Elliott is going to get the majority of the carries this year for the Buckeyes. He's more of a home-run threat than Hyde and I'm sure he'll get 1,000-plus this year.
Adam Rittenberg:
I like your confidence, but I need to see more from Elliott to include him on the list of likely 1,000-yard rushers. I can't include every player who eclipsed 250 yards last year. The list becomes pointless. Elliott is a talented back, but 162 of his 262 rushing yards last year came against Florida A&M. He had more than two carries in only one Big Ten game, against last-place Purdue. I also think Ohio State will mix and match backs. So while Elliott could reach 1,000 yards, he needs to prove himself this season.
---
Kevin from Fort Myers, Fla., writes:
Adam, I know there has been talk about [head coach Brady] Hoke being on the hot seat or even let go if there is another losing or unsatisfactory season. If this were to occur (knocking on wood), would there be a chance Coach [Doug Nussmeier] would take over, seeing how he has the résumé for it and that there was talk that his stop at U of M was just temporary until a college came for him as a head coach? Head coach of the Wolverines would be an attractive job for Nuss. ... Your thoughts?
Adam Rittenberg:
It would be an attractive job, Kevin, but it won't happen for several reasons. The biggest one is simple logic. If Michigan is to consider Nussmeier for the top job, Nussmeier would have to perform well as offensive coordinator this season. And if the offense performs better, the team seemingly will, too. Michigan's defense should be as good and likely better than it was in 2013. The team's big issues are on offense. If those are rectified, the win total goes up and Hoke stays. Athletic director Dave Brandon does not want to fire Hoke, whom he hired. Plus, I'd be surprised if Michigan would replace Hoke with a first-time head coach.
---

Anthony from Columbus, Ohio, writes:
It seems like whenever a Big Ten team has a successful year (aka beating Ohio State), that team always underperforms the next season. Penn State, Illinois, Wisconsin, and Michigan have all made it to BCS bowls after winning against Ohio State, but didn't have the same success the next year. Do you think this will happen with Michigan State?
Adam Rittenberg:
Interesting observation, Anthony, although I wouldn't say the 2011 Wisconsin team, which beat Ohio State in 2010 but repeated as Big Ten champion the following year, grossly underperformed. This seems more coincidental than anything else. Michigan State could take a step back if certain linebackers and defensive backs struggle, or if some of
Connor Cook
's near interceptions turn into actual interceptions. But I like how the Spartans, who have been very good at home under Mark Dantonio, get Ohio State, Michigan and Nebraska on their home field.
March, 26, 2014
3/26/14
1:00
PM ET
The best offenses can threaten defenses at the quarterback, running back and wide receiver positions. Brian Bennett on Tuesday examined
the triple-threat combinations from the Big Ten's new West Division
.
Now let's turn our attention to the East Division and rank the triple-threat combinations. The division is strong at quarterback but lacking elite wide receivers.

1. Indiana
QB
Nate Sudfeld
, RB
Tevin Coleman
, WR
Shane Wynn
The Hoosiers featured the league's No. 2 offense in 2013 and top this list even though top receiver
Cody Latimer
bolted for the NFL draft. They have two options at quarterback, but Sudfeld, who had nearly 1,400 more passing yards than teammate
Tre Roberson
, gets the nod here. Coleman brings explosiveness to the backfield after rushing for 958 yards and 12 touchdowns in only nine games. Wynn finished near the top of the league in receiving touchdowns (11) and had 46 receptions for 633 yards.

2. Ohio State
QB
Braxton Miller
, RB
Ezekiel Elliott
, WR
Devin Smith
You would think a team with the back-to-back Big Ten offensive player of the year at quarterback would be rated higher, but the Buckeyes lose a huge piece at running back in
Carlos Hyde
, as well as top receiver
Corey Brown
. Elliott, who had 262 rushing yards last season, is competing for the starting position this spring. Smith has been Miller's big-play target throughout his career and had eight touchdown catches and averaged 15 yards per reception last fall. Tight end
Jeff Heuerman
provides another weapon in the pass game.

3. Michigan State
QB
Connor Cook
, RB
Jeremy Langford
, WR
Tony Lippett
The skinny:
A year ago, Michigan State's offense looked like a mess. Cook began the season as the backup but emerged to lead the Spartans to nine Big Ten wins, all by double digits, and a Rose Bowl championship. Langford answered Michigan State's running back questions with 1,422 yards and 18 touchdowns. There's no true No. 1 receiver on the roster, and while
Macgarrett Kings
(513 receiving yards in 2013) could claim the role, Lippett gets the nod after leading the team in receptions (44) and finishing second in receiving yards (613) last year.

4. Penn State
QB
Christian Hackenberg
, RB
Zach Zwinak
, TE
Jesse James
The Lions have the Big Ten's top pocket passer in Hackenberg, the league's freshman of the year in 2013. But Hackenberg loses his favorite target in
Allen Robinson
, and wide receiver is a major question entering the fall. The tight end position looks much stronger with James,
Kyle Carter
and
Adam Breneman
. Penn State also has options at running back, but Zwinak has led the team in rushing in each of the past two years, finishing with 989 yards and 12 touchdowns last fall.

5. Maryland
QB
C.J. Brown
, RB
Brandon Ross
, WR
Stefon Diggs
Don't be surprised if Maryland finishes higher on the postseason triple-threats list as long as their top players stay healthy, which is hardly a guarantee after the past two seasons. Brown is a veteran dual-threat player who had 2,242 passing yards and 13 touchdowns last year. Ross leads a potentially deep group of running backs after leading the team with 776 rushing yards. Although
Levern Jacobs
led Maryland in receiving last year and returns, Diggs is the team's top threat after averaging 17.3 yards per catch before a season-ending injury in October.

6. Michigan
QB
Devin Gardner
, RB
Derrick Green
, TE/WR
Devin Funchess
Gardner is capable of putting up some big numbers, as he showed last year, but he loses top target
Jeremy Gallon
. The run game is a major question mark for new coordinator Doug Nussmeier, although hopes are high for Green, a heralded recruit who had 270 rushing yards as a freshman. At 6-5 and 230 pounds, Funchess is a tight end who plays like a wide receiver. He finished second on the team in receptions (49), receiving yards (748) and touchdowns (6).

7. Rutgers
QB
Gary Nova
, RB
Paul James
, TE
Tyler Kroft
New coordinator Ralph Friedgen tries to spark an offense that finished 77th nationally in scoring and 95th in yards last season. Nova is competing this spring to retain the starting job, which he has held since the middle of the 2011 season. James averaged 5.6 yards per carry last season and
can be very effective when healthy
. Rutgers is scrambling at bit at the wide receiver position but returns a solid option at tight end in Kroft, who led the team in both receptions (43) and receiving yards (573) last fall.
February, 26, 2014
2/26/14
1:00
PM ET
Spring practice is off and running in the Big Ten, as Michigan took the field Tuesday and Northwestern followed on Wednesday. We're taking snapshots of where each team stands at each position group.
We've already discussed the quarterbacks -- and will have much more on the way -- so the series begins with the running backs.

Illinois:
The Illini are in a bit better shape here than they were the past two springs, as veterans
Josh Ferguson
and
Donovonn Young
both return. Ferguson averaged 5.5 yards per carry and added 50 receptions for 535 yards as the primary playmaker for Illinois' revamped offense. Young added 376 yards on 93 carries. The Illini are looking for others behind the top two, and Dami Ayoola is back with the team after being dismissed in September for a rules violation.

Indiana:
Tevin Coleman
quietly put together a superb sophomore season and leads the Hoosiers' running backs in 2014. Coleman provides big-play ability after averaging 7.3 yards per carry with 12 touchdowns on only 131 attempts in 2013. Indiana loses
Stephen Houston
but brings back veteran
D'Angelo Roberts
, who will play behind Coleman. Younger players such as sophomore
Laray Smith
could get a look here.

Iowa:
Not only did the Hawkeyes toss AIRBHG to the side and get through the season without any major injurie, but they bring back everyone for 2014. Senior
Mark Weisman
leads the contingent after rushing for 975 yards and eight touchdowns last fall.
Jordan Canzeri
came on strong late in the season and is showing no effects from his ACL tear in 2012. Veteran
Damon Bullock
also returns to the mix, and Iowa has talented younger backs such as
LeShun Daniels Jr.
at its disposal. Good situation here.

Maryland:
The Terrapins wide receivers tend to get more attention, but the team also returns its top three running backs from 2013 in
Brandon Ross
,
Albert Reid
and
Jacquille Veii
. Maryland also regains the services of Wes Brown, who finished second on the team in rushing as a freshman in 2012 before
being suspended for all of last season
.
Joe Riddle
is back in the fold as well. The group brings different strengths, from power (Brown) to speed (Veii) to a mixture of both (Ross, Reid).

Michigan:
Sophomore
Derrick Green
enters the spring as the frontrunner to be Michigan's lead back, although coach Brady Hoke wants to ramp up competition everywhere. The Wolverines struggled to consistently run between the tackles, but the 240-pound Green could change things. Hoke also is excited about another sophomore,
De'Veon Smith
. Michigan moved
Ross Douglas
from cornerback to running back, and
Justice Hayes
and
Wyatt Shallman
also are in the mix. "We've got more depth," Hoke said.

Michigan State:
Things look much more promising than they did last spring, when the Spartans ended the session with a linebacker (
Riley Bullough
) as their top back.
Jeremy Langford
emerged as a very solid option during the season, rushing for 1,422 yards and 18 touchdowns. He's back as the clear-cut starter, and
Nick Hill
also returns. It will be interesting to see if
Gerald Holmes
makes a push, or whether
Delton Williams
remains on offense.

Minnesota:
Here's another team that finds itself in very good shape at running back entering the spring.
David Cobb
leads the group after rushing for 1,202 yards and seven touchdowns as a sophomore. Veterans
Donnell Kirkwood
and
Rodrick Williams Jr
. are still around, and highly touted redshirt freshman
Berkley Edwards
will take the field after missing last fall because of knee and ankle injuries. Perhaps the best news will come in the summer as decorated recruit
Jeff Jones
arrives.

Nebraska:
Notice a theme here? Nebraska is yet another Big Ten squad that can feel very good about its running backs entering the spring.
Ameer Abdullah
elected to bypass the NFL draft for one final season at Nebraska, where he led the Big Ten with 1,690 yards on 281 carries as a junior. Abdullah will contend for national awards in the fall.
Imani Cross
, who rushed for 10 touchdowns last year, is one of the nation's top backups.
Terrell Newby
and others add depth behind the top two.

Northwestern:
Top back
Venric Mark
(ankle) will miss spring practice following surgery, and reserve
Stephen Buckley
(knee) also is rehabbing, but Northwestern has no reason to panic.
Treyvon Green
, who filled in well for Mark last season with 736 rushing yards, will get much of the work.
Warren Long
also is in the mix after appearing in seven games as a true freshman. Northwestern also loaded up at running back in recruiting to solidify the position for years to come.

Ohio State:
This will be a position to watch in the spring as Ohio State must replace
Carlos Hyde
, who was nearly unstoppable during Big Ten play last fall. Veteran
Jordan Hall
also departs, and
Rod Smith
will be the veteran of the group despite only 83 career carries. The Buckeyes have some talented young backs, from
Dontre Wilson
, who saw significant playing time last fall, to
Bri'onte Dunn
,
Ezekiel Elliott
and
Warren Ball
. Keep an eye on Elliott, who averaged 8.7 yards per carry in limited work last season but could emerge this spring.

Penn State:
If it feels like
Zach Zwinak
and
Bill Belton
have been competing for carries forever at Penn State, it's because they have. Zwinak and Belton have been part of Penn State's running back rotation for the past two seasons and enter another competition this spring with talented sophomore
Akeel Lynch
, who rushed for 358 yards on only 60 carries last season. It will be interesting to see how much Lynch can push Zwinak and Belton in the team's first spring under a new coaching staff. Penn State has depth issues at several positions, but running back isn't one of them.

Purdue:
The Boilers finished 122nd nationally in rushing offense last season, so the fact all of their running backs return might not spark mass celebration. Senior
Akeem Hunt
leads the group after recording 123 of the team's 319 rushing attempts in 2013. Other veterans
Brandon Cottom
and
Raheem Mostert
also are back, along with younger ball-carries such as
Dayln Dawkins
and three backs --
Keyante Green
,
David Yancey
and
Keith Byars II
-- who redshirted last fall and could have much bigger roles.

Rutgers:
Here's yet another team that returns basically its entire stable of running backs for spring ball.
Paul James
is the name to watch, as he rushed for 573 yards in the first four games last season before suffering a leg injury. James' health is a concern for Rutgers, which could also turn to
Justin Goodwin
, who showed some flashes following James' injury.
Savon Huggins
, who entered last season as the starter before losing ground, is in the mix as he looks to re-establish himself on the depth chart.

Wisconsin:
How many teams can lose a 1,400-yard rusher and still claim to have the best running back group in the Big Ten?
James White
is gone, but Wisconsin remains in very good shape in the backfield.
Melvin Gordon
bypassed the NFL draft for another year in Madison after rushing for 1,609 yards and 12 touchdowns on only 206 carries. Gordon should move into more of a featured role beginning this spring, although he'll be pushed by
Corey Clement
, who had 547 yards and seven touchdowns on only 67 carries.
Jeff Lewis
provides another option behind the top two.
January, 9, 2014
1/09/14
1:00
PM ET
Now that the 2013 season is merely a memory, it's time to start looking toward 2014 and identifying some potential breakout performers.
Options are plentiful, but we are limiting ourselves to five on each side of the ball. We're looking for players who will take that next step into greatness, like Wisconsin's Melvin Gordon, Michigan State's Jeremy Langford and Minnesota's David Cobb did in 2013. As such, players who earned first- or second-team All-Big Ten honors from either the coaches or the media were not eligible for this list. We're focusing instead on those who can make a big leap.
Let's kick it off, while going in alphabetical order:

Adam Breneman, TE, Penn State:
ESPN rated Breneman the No. 1 tight end coming out of high school last year, so the talent is obviously there. The 6-foot-4, 235-pounder got off to a slow start in 2013 after recovering from a knee injury, but he finished strong with touchdown catches in each of Penn State's last three games. The tight end group will be crowded again in State College, but Breneman should give Christian Hackenberg a prime target.

Corey Clement, RB, Wisconsin:
When trying to find new stars, it's always smart to look toward the Badgers backfield. Clement made a strong impression as a true freshman, running for 547 yards and seven touchdowns while averaging 8.2 yards per carry. Most of his work came in garbage time, as he was behind James White and Melvin Gordon. Now that White is graduating, Clement should see a much bigger role alongside Gordon, and Wisconsin has shown it has plenty of carries to hand to two backs.

Ezekiel Elliott, RB, Ohio State:
Someone has to replace Carlos Hyde's production in the Ohio State running game, and Elliott seems like a logical choice. He ran for 262 yards as a freshman, including a 162-yard game vs. Florida A&M. The Buckeyes also have Dontre Wilson, Rod Smith, Warren Ball and Brionte Dunn, but Wilson might be too small to be an every-down back, and Elliott got more carries than the other three combined in 2013.

Donovahn Jones, WR, Minnesota:
The Gophers desperately need some playmakers to emerge on offense, and perhaps Jones will be that guy. The Georgia native turned down SEC offers to come to Minnesota, where he was promised a chance to play quarterback. Instead, he moved to receiver as a true freshman and showed flashes of his athleticism. He still needs to learn the finer points of the position, but at 6-foot-3 with good speed, he has all the tools the Gophers need

MacGarrett Kings Jr., WR, Michigan State:
The Spartans' wide receivers took a big leap forward as a group in 2013, and with Connor Cook and the passing game coming on strong, it might be time for one of them to become a star. Kings is a strong candidate after catching 43 balls for 513 yards and three touchdowns as a sophomore. He can also make things happen on punt returns.
September, 25, 2013
9/25/13
10:30
AM ET
True freshmen are having a bigger and bigger impact throughout college football these days, as coaches are either becoming less afraid to throw their youngsters into the fire or are facing fewer options.
[+] Enlarge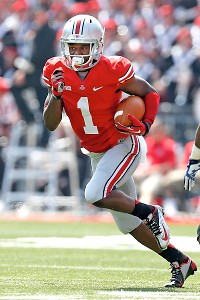 Kirk Irwin/Getty ImagesThe versatile Dontre Wilson could be one of many to get touches in the diamond formation.
With that in mind, today we are ranking the top five teams in the Big Ten in order of the impact true freshmen are making for that team. We're going with quality over quantity here, mind you.
1. Penn State:
The Nittany Lions are starting just one true frosh, but he's a guy with a little bit of importance to the team's fortunes: quarterback
Christian Hackenberg
. The 18-year-old has had some ups and downs but is on pace for a 3,000-yard season. Tight end
Adam Breneman
and receiver
Richy Anderson
have also played in every game, with one start each.
Von Walker
,
Brandon Bell
and
Jordan Smith
are among others who have seen time for coach Bill O'Brien, who doesn't have the luxury to redshirt many guys with the Lions' depth issues.
2. Nebraska:
The Huskers' defense is young, all right. So young that two true freshmen are starting at linebacker for Bo Pelini in
Josh Banderas
and
Nathan Gerry
. They rank fourth and fifth on the team in tackles, and Banderas is handling a leadership position as the middle linebacker.
3. Ohio State:
Urban Meyer says Ohio State doesn't redshirt. If you're ready, you play. Technically, the Buckeyes don't start any true freshmen, but
Dontre Wilson
has already made a big impact as a runner, receiver and kick returner. Several other first-year players dot the two-deep, such as safety
Vonn Bell
and defensive lineman
Joey Bosa
, and running back
Ezekiel Elliott
ran for more than 100 yards and scored two touchdowns last week versus Florida A&M.
4. Indiana:
No surprise to see the Hoosiers on this list, since coach Kevin Wilson has played as many true freshmen as any coach in the country the past few years. That means Indiana finally has some veterans, but Wilson is starting
T.J. Simmons
at linebacker and getting contributions from
Darius Latham
on the defensive line,
Antonio Allen
in the secondary and
Marcus Oliver
and
Clyde Newton
at linebacker.
5. Wisconsin:
The Badgers are mostly an experienced, veteran team. The one exception is in the secondary.
Sojourn Shelton
is starting at cornerback for the Badgers, while
Jakarrie Washington
and
Nate Hammon
are top reserves in the defensive backfield.
August, 13, 2013
8/13/13
12:00
PM ET
"College Football Live" and its Summer Tour stops in Columbus today. Joe Tessitore and Brian Griese will be at Ohio State checking in on Urban Meyer, Braxton Miller and Co. Catch them throughout the day on "SportsCenter" and on CFB Live at 5 p.m. ET on ESPN2.
To the links ...
February, 8, 2013
2/08/13
9:00
AM ET
The Big Ten classes are
signed and sealed
. You can see ESPN's
final class rankings
as well as
grades for all the Big Ten teams

.
As we put a bow on national signing day 2013, let's take a look at some superlatives ...
Biggest winner:
Ohio State. The Buckeyes took a great class and made it even better with the additions of elite safety prospect
Vonn Bell
and four-star receiver prospect
James Clark
. They also held onto running back recruit
Ezekiel Elliott
. Plucking Bell out of SEC country made a significant statement, as Ohio State secured the
nation's No. 3 class
and the best in the Big Ten. Although other Big Ten programs secured strong classes -- Michigan, Nebraska, Penn State, Wisconsin, Michigan State -- Ohio State made the most headlines Wednesday.
Best closer:
Ohio State co-defensive coordinator/safeties coach Everett Withers. Although Buckeyes head coach Urban Meyer is unquestionably one of the nation's top closers, Withers merits a mention here after steering Bell to sign with the Scarlet and Gray. "I've seen some really good efforts," Meyer said Wednesday. "Everett Withers from start to finish, his effort on Vonn Bell, as good as I've ever seen." Bell's
high school coach called Withers
the "most proficient and professional recruiter we've ever dealt with," according to The (Cleveland) Plain Dealer. Withers played a major role in Ohio State securing five defensive backs
ranked in the top 50
by ESPN Recruiting.
Biggest surprise:
Indiana and Penn State. The Hoosiers have reached only one bowl game since the 1993 season and boast just five wins the past two seasons, but things are looking up in Bloomington. Kevin Wilson and his staff signed what appears to be a very solid recruiting class, especially on the defensive side, where IU has struggled for years. The Hoosiers signed two four-star defensive linemen from within the state --
Darius Latham
and
David Kenney III
-- and bolstered the secondary with
Rashard Fant
and others. Penn State overcame NCAA scholarship sanctions and a multiyear bowl ban to sign the nation's No. 24 class, headlined by quarterback
Christian Hackenberg
, rated by ESPN Recruiting as the nation's top pocket passer.
Who flipped/biggest loss:
The only notable intra-league flip on signing day -- and it wasn't a major surprise -- saw linebacker
Reggie Spearman
, a one-time Illinois commit, signing with Iowa. Ohio State (
Taivon Jacobs
) and Wisconsin (
Marcus Ball
) lost commits to Maryland and Arizona State, respectively, while Minnesota made a late flip with junior college linebacker
De'Vondre Campbell
, who was expected to sign with Kansas State. But for the most part, Big Ten teams played good defense on signing day.
December, 31, 2012
12/31/12
8:51
PM ET
SAN ANTONIO -- ESPN 150 outside linebacker
Mike Mitchell
(Plano, Texas/Prestonwood Christian) isn't big on speaking publicly. He'd rather let his game do the talking -- and it speaks volumes.
On Monday, the 6-foot-5, 222-pound linebacker officially confirmed that he will announce his college plans during Saturday's U.S. Army All-American Bowl. Oregon, Texas A&M and Ohio State are his three finalists.
PSU's 46-Hour Dance Marathon Raises $13 Million
BIG TEN SCOREBOARD
Thursday, 9/3
Friday, 9/4
Saturday, 9/5
Sunday, 9/6
Monday, 9/7