Penn State Nittany Lions:

Everett Withers
March, 10, 2014
3/10/14
10:30
AM ET
Non-Minnesota fans might have missed Friday's official announcement that Mike Sherels has been promoted to Gophers linebackers coach after serving on the team's recruiting staff. Sherels is the first new assistant Jerry Kill has hired in his Minnesota tenure, but the move likely signified -- likely being the operative word -- something bigger for the Big Ten.
The end of the coaching carousel for 2014.
This post always includes a reminder that additional coaching changes still can happen, even though most of the Big Ten has started spring practice. It's the nature of the business.
Despite two new teams in the Big Ten, the number of overall changes in the league dropped for the second consecutive year, going from 32 in 2013 to 27 this year. There was only one complete staff overhaul, at Penn State, and four programs -- Illinois, Iowa, Michigan State and Northwestern -- kept all of their coaches from last season. After replacing more than half of his staff in the last offseason, Illinois' Tim Beckman hopes continuity pays off in what likely will be a make-or-break 2014 campaign. Iowa is back to its stable self after two years of coaching flux, while Northwestern coach Pat Fitzgerald hasn't made a staff change since after the 2010 season.
Michigan State made a major commitment
to Mark Dantonio and his assistants after the Spartans' Rose Bowl win, but it's still impressive that Dantonio retained the entire staff after such a great season.
Both Rutgers and Maryland have some new faces on staff before their inaugural season of Big Ten play. Rutgers has two new coordinators (one outside hire, one promotion), while Maryland has new assistants overseeing both lines.
[+] Enlarge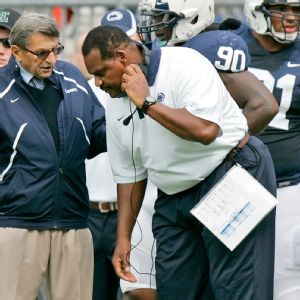 Michael R. Sisak/Icon SMILongtime Penn State defensive line coach Larry Johnson moved to Ohio State this offseason after James Franklin was hired as the Nittany Lions' head coach.
Other than Penn State, Indiana and Rutgers are the only teams featuring two new coordinators in 2014. Although IU assistant Kevin Johns previously held the co-offensive coordinator title, he'll be the main man, as he takes over for Seth Littrell.
For the most part, the coaches leaving Big Ten programs did so voluntarily and for potentially better positions. Penn State head coach Bill O'Brien took the same role with the Houston Texans, while two assistants -- Ohio State's Everett Withers and Maryland's Greg Gattuso -- left to become FCS head coaches at James Madison and Albany, respectively. The Big Ten lost several assistants to the NFL, as O'Brien brought four assistants with him from Penn State (John Butler, Stan Hixon, Charles London and Anthony Midget) and swiped another from Ohio State's staff (Mike Vrabel). Wisconsin also lost running backs coach Thomas Hammock to the Baltimore Ravens.
Arguably the most interesting move took place within the league, as longtime Penn State defensive line coach Larry Johnson replaced Vrabel at Ohio State.
OK, let's get to it already.
Here's the rundown of coaching changes (head coach and full-time assistants only; number of new coaches in parentheses):
INDIANA (3)
Who's gone?
Doug Mallory, defensive coordinator/safeties
Seth Littrell, offensive coordinator/QBs
Jon Fabris, defensive line
Who's in?
Brian Knorr, defensive coordinator/defensive ends/outside linebackers
Larry McDaniel, defensive line
Noah Joseph, safeties
Other moves
Promoted Kevin Johns to main offensive coordinator. Johns also now coaches quarterbacks in addition to wide receivers.
Moved James Patton from assistant defensive line/special teams to tight ends and fullbacks
MARYLAND (3)
Who's gone?
Tom Brattan, offensive line
Lee Hull, wide receivers
Greg Gattuso, defensive line
Who's in?
Greg Studwara, offensive line
Keenan McCardell, wide receivers
Chad Wilt, defensive line
MICHIGAN (1)
Who's gone?
Al Borges, offensive coordinator/quarterbacks
Who's in?
Doug Nussmeier, offensive coordinator/quarterbacks
Other moves
Defensive coordinator Greg Mattison is overseeing linebackers instead of defensive linemen
Mark Smith moves from linebackers to defensive line
Roy Manning moves from outside linebackers to cornerbacks

Curt Mallory will coach only safeties rather than the entire secondary
MINNESOTA (1)
Who's gone?
Bill Miller, linebackers/assistant head coach
Who's in?
Mike Sherels, linebackers (promoted from recruiting staff)
Other moves
Pat Poore moves from wide receivers to running backs
Brian Anderson moves from running backs to wide receivers
NEBRASKA (1)
Who's gone?
Terry Joseph, secondary
Who's in?
Charlton Warren, secondary
OHIO STATE (2)
Who's gone?
Everett Withers, co-defensive coordinator/safeties
Mike Vrabel, defensive line
Who's in?
Chris Ash, co-defensive coordinator/safeties
Larry Johnson, defensive line/assistant head coach
PENN STATE (10)
Who's gone?
Bill O'Brien, head coach/offensive playcaller
John Butler, defensive coordinator/cornerbacks
Charlie Fisher, quarterbacks
Stan Hixon, wide receivers/assistant head coach
Larry Johnson, defensive line
Charles London, running backs
Mac McWhorter, offensive line
Ron Vanderlinden, linebackers
John Strollo, tight ends
Anthony Midget, safeties
Who's in?
James Franklin, head coach
John Donovan, offensive coordinator/tight ends
Bob Shoop, defensive coordinator/safeties
Charles Huff, running backs/special teams
Brett Pry, co-defensive coordinator/linebackers
Josh Gattis, wide receivers/assistant special teams
Herb Hand, offensive line
Ricky Rahne, quarterbacks
Sean Spencer, defensive line
Terry Smith, cornerbacks
PURDUE (1)
Who's gone?
Jon Heacock, defensive backs
Who's in?
Taver Johnson, defensive backs
RUTGERS (4)
Who's gone?
Dave Cohen, defensive coordinator/linebackers
Ron Prince, offensive coordinator
Rob Spence, quarterbacks
Damian Wroblewski, offensive line
Who's in?
Ralph Friedgen, offensive coordinator/quarterbacks
Bob Fraser, linebackers/special teams
Mitch Browning, offensive line
Ben McDaniels, wide receivers
Other moves
Promoted special teams coordinator Joe Rossi to defensive coordinator
Anthony Campanile is coaching only tight ends after overseeing both tight ends and wide receivers
WISCONSIN (1)
Who's gone?
Thomas Hammock, running backs/assistant head coach
Who's in?
Thomas Brown, running backs
February, 24, 2014
2/24/14
9:00
AM ET
The Big Ten likes to consider itself a leader on many fronts in college sports. Several Big Ten schools were among the first to integrate their football programs, and the first two African-American head football coaches in a major conference called the league home.
But for much of this century, when it came to football coaching diversity, the Big Ten lagged behind the rest of the nation.
[+] Enlarge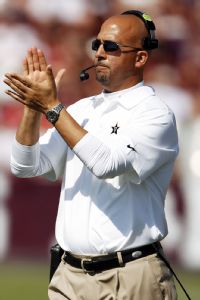 AP Photo/Eric Christian SmithPenn State's decision to hire James Franklin as its first African-American head football coach can't be underestimated.
After the third African-American head coach in league history -- Michigan State's Bobby Williams -- was fired late in the 2002 season, the conference went a decade without another black head football coach. The Big Ten was the only one of the six BCS AQ conferences that did not have at least one African-American head coach during that span; the SEC, by contrast, had four in the same time frame.
Thankfully, things have begun to improve. Two of the last three head coaches hired in the Big Ten -- Purdue's Darrell Hazell and Penn State's James Franklin -- are African-American.
"That's great news, to have that diversity," Ohio State athletic director Gene Smith said. "Now we just need to give them time and let them be successful where they are and develop their programs. I'm glad there is progress, and we need to continue to do more across the country."
There weren't a lot of opportunities, period, for head coaching jobs in the Big Ten during the recent diversity drought, as schools like Iowa, Northwestern, Penn State and Ohio State remained mostly stable at the top. But coaching turnover has increased in the league in the past few years; Penn State, for instance, just hired its second coach in three years after going nearly a half-century without a transition.
Was improving diversity a league-wide priority? Conference officials say no.
"What our schools try to do is hire the best coaches in their pool," Big Ten commissioner Jim Delany said. "We've had plenty of African-American basketball coaches.
"It's more about a commitment to opportunity and a fair process, and as long as our people are hiring the best people in processes that are open, you would hope and think that it would be sort of a broad representation of people. Whether you hire James Franklin or a new coach at any place, I'm not sure race should be the factor. Certainly people wouldn't want it to be a factor. It's really an outcome."
Still, it's hard not to note the importance of Penn State hiring its first African-American head football coach. More so than Dennis Green or Francis Peay at Northwestern or even Williams at Michigan State, Franklin is leading a flagship, blue-blood program. The timing was fortuitous, as the Pennsylvania native was ready for a new challenge after proving himself at Vanderbilt and the Nittany Lions needed a dynamic new leader.
"It's a lot of significance," Penn State athletic director Dave Joyner said. "We hired James because of the kind of person and coach he is. The fact he's African American is great. It's a great testimony to opportunity. A hundred years ago, that wouldn't have happened in this country."
[+] Enlarge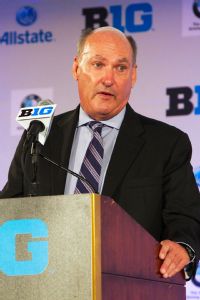 AP Photo/Ting Shen/Triple Play New MediaBig Ten commissioner Jim Delany said the hiring process should be fair and a commitment to opportunity for all coaches.
The Institute for Diversity and Ethics in Sports hasn't yet released its annual hiring report card for college football. But Richard Lapchick, the center's director, said the Big Ten's recent moves are "definitely a sign of progress." While there are only 11 FBS black head coaches heading into the 2014 season, it's noteworthy that minorities have gotten opportunities to lead storied programs like Penn State and Texas (Charlie Strong), Lapchick said.
"That's critically important," he said. "Historically, the opportunities in general that have gone to African-American coaches have been at programs that have been really down, and the opportunities to turn them around have been very problematic. Let's hope [Hazell and Franklin] are successful, because they will help create more opportunities for other African-American and Latino coaches in FBS conferences."
The next step for the Big Ten is to continue to develop and identify the next wave of minority head coaching candidates. Both Franklin and Hazell, who led Kent State for two seasons before Purdue hired him, had already established themselves as winning head coaches elsewhere, though Hazell was also a well-regarded assistant at Ohio State. The Big Ten sent several African-American assistant coaches to the annual minority coaches' forum between 2006 and 2010, and some athletic directors see it as their job to mentor young black coaches.
Smith saw Everett Withers leave the Buckeyes staff this winter to land the James Madison head coaching job and said he is spending time this offseason with running backs coach Stan Drayton to get Drayton accustomed to non-football issues like university budgets and policies.
"We want to have guys who are trained to hopefully win in the interview process," Smith said. "Sometimes, those are beauty contests. You've got to be able to answer the questions the right way and demonstrate an ability to lead."
That's the ultimate goal, to have more minority candidates who are ready when those opportunities do arise. Michigan athletic director Dave Brandon said that wasn't the case a few years ago, but the pool of potential coaches is increasing.
"We're starting to see more and more diversity among the coaching staffs and up-and-coming diverse candidates in all various positions in the sport," Brandon said. "Now, we're seeing more representation at the head coaching level. That was bound to happen and important to have happen, and I'm glad to see that trend evolve."
January, 14, 2014
1/14/14
11:00
AM ET
While Penn State searched for a coach in December 2011, Urban Meyer convinced several Penn State recruits to switch their pledges to Ohio State. Top defensive line prospects like
Noah Spence
and
Tommy Schutt
were among those who went from Blue and White to Scarlet and Gray.
[+] Enlarge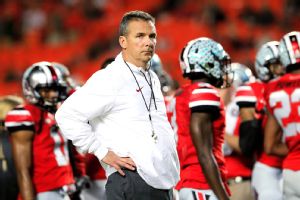 Chris Trotman/Getty ImagesThe rivalry between Ohio State and Penn State could heat up if former PSU defensive line coach Larry Johnson joins Urban Meyer's staff.
Penn State hired a new coach on Saturday in James Franklin, but Meyer once again has used Penn State's situation to bolster Ohio State's defensive line.
Hours after longtime Penn State defensive line coach Larry Johnson announced he wouldn't remain in Happy Valley despite Franklin offering him an assistant position, Sports Illustrated's Pete Thamel and ESPN's Joe Schad reported that Johnson was nearing an agreement to join Meyer's staff at Ohio State. The Buckeyes must replace Mike Vrabel, who has taken a post with the Houston Texans under, yep, former Penn State coach Bill O'Brien.
The coaching business is a small world, isn't it?
Ohio State hasn't confirmed the move, but the addition of Johnson would add to the next phase of the PSU-OSU rivalry. Like Meyer, Franklin comes to the Big Ten from the SEC and brings a similar type of aggressive recruiting approach. When Franklin talked Saturday about dominating the state of Pennsylvania and the region in recruiting, folks in Columbus took notice.
Now Ohio State is poised to replace an exceptional recruiter in Vrabel with another exceptional recruiter in Johnson, who brought top talent to Penn State throughout his 18 years as an assistant there. Johnson coached high school ball in Maryland and has strong connections to the area, which becomes even more important to the Big Ten with the University of Maryland officially joining the league on July 1.
The recruiting competition between Johnson and Franklin, once Maryland's coach-in-waiting, for top recruits in and near the Beltway will be fierce. Recruits from other areas like
Thomas Holley
, an ESPN 300 defensive lineman who committed to Penn State in October, could now be in play for Ohio State.
Johnson could have remained in Happy Valley and has been nothing but positive toward Franklin despite being passed over for the job for the second time in two years. As he told ESPN.com's Josh Moyer on Monday night, "Getting promoted isn't the issue to me. At the end of the day, it's giving Coach Franklin the chance to move forward."
It's also time for Johnson to tackle a new challenge. Ohio State could be shaking up the defensive play-calling duties after the unit's struggles in 2013, and Johnson would be a good candidate to assist Luke Fickell or take over. He turned down a chance to become Illinois' defensive coordinator after the 2008 season, and also said no to an opportunity at Maryland after the 2011 campaign. Joining Ohio State would make less sense if it's strictly a lateral move as a line coach, but if Johnson can move up both in pay and in responsibilities, he's making the right decision. Franklin is expected to bring defensive coordinator Bob Shoop from Vanderbilt to Penn State.
Penn State certainly will miss Johnson, who had plenty of support from current and former players to become the next Lions coach. Ohio State, meanwhile, needed another strong recruiter after losing both Vrabel and Everett Withers from its defensive staff. It certainly would get one in Johnson.
The Ohio State-Penn State rivalry has been ratcheted up a notch, both on the field and especially on the recruiting trail.
January, 10, 2014
1/10/14
4:30
PM ET
Wishing you a great weekend.
Penn State hiring of new coach James Franklin
should be finalized Saturday, so be sure and check the blog for reaction.
Don't forget:
Twitter!
To the inbox ...
Josh from NYC writes:
I know, I know, offensive MVP of the Rose Bowl and Big Ten Championship game. However had those very catchable INTs gone through, Cook could just as easily come out the villain rather than the hero. That said, when, if at all, do you think we start seeing some
Damion Terry
action over there in East Lansing?
Adam Rittenberg:
Josh,
Connor Cook
lived on the edge for most of the season with his throws, and he certainly had fortune on his side. But what I loved is that he'd respond from a near-interception with a great throw on the run in traffic or a nice deep ball. If you get the breaks, you have to capitalize, and that's what Cook did. He deserves to be the starting quarterback entering the 2014 season. That said, Terry should be part of the offense, and I could see Michigan State employing a package of plays to get Terry more involved. Mark Dantonio understands the need to have more mobility and play-making skills from the quarterback spot. Terry certainly can help in that area.
[+] Enlarge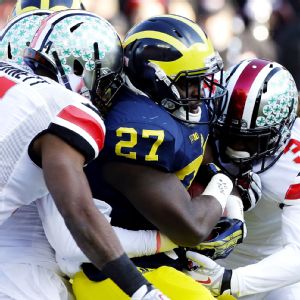 AP Photo/Carlos OsorioOhio State's defense had its struggles against Michigan but have found what needs correcting before facing Michigan State.
Shane from Michigan writes:
Hi Adam, I have a question maybe you can help me with. First of all, I am very optimistic about Michigan's latest hire of Doug Nussmeier. He sounds like a very proven coach. My concern is still the offensive line. The line has never really been great for the three years of the Brady Hoke era. So my question to you is this: how much of the offensive line woes fall on the O-line position coach and how much is that actually on the offensive coordinator?
Adam Rittenberg:
It falls mainly on offensive line coach Darrell Funk, especially because he directly recruited the linemen. The coordinator must create schemes catered to players' strengths and make the right play calls and the right times, but when you can't convert third-and-1 on a consistent basis, there's not much a coordinator can do. I'm interested to see how Michigan's blocking schemes change under Nussmeier, who clearly knows the run game is a priority after the past two seasons. But the development of individual players falls more on Funk.
Brian from Raleigh, N.C., writes:
As the dust clears from the 2013 season, Northwestern loses "QB 1A"
Kain Colter
. Predictions, please: Does
Trevor Siemian
take over as a full-time QB in a 2009 Kafka-style offense? Is there open competition in the spring between Siemian,
Zack Oliver
, and
Matt Alviti
? Or does NU try to replicate 2012's success/take advantage of differing skill sets with another multiple-QB system?
Adam Rittenberg:
Brian, I'm glad you brought up the 2009 offense, and I'd even throw in (pun intended) the pass-heavy 2008 offense led by C.J. Bacher. If Siemian is the starter, and it seems likely he will be, Northwestern should shape the offense more around his skill set, which is pocket passing. Assuming a two-quarterback system will work every year is risky, and assuming one quarterback will get hurt every year because of how much Northwestern runs its quarterbacks isn't a long-term formula for success in my view. There should be a competition this spring and Siemian shouldn't be handed the job. But if he stays healthy and develops with the receiving corps, which should be pretty good, I think Northwestern ditches the 2-QB deal and goes back to the 2008/2009 offenses, except this time with better running backs.
Casey from Dublin, Ohio, writes:
I think the West division from top to bottom will be better than the East in 2014. After Mich St and tOSU they don't have anybody to compete. Michigan still has to prove it can get back. Penn St loses the top playmaker and will break in a new head coach. The West has Neb, Wisky, Iowa, Minny and possibly NW competing for the title in the west if they can get strong QB play and Mark can return to the Mark of 2 seasons ago.
Adam Rittenberg:
Casey, the West undoubtedly has more parity entering 2014 and could be a more exciting divisional race. Will it be top-to-bottom better than the East? A lot depends on Michigan, which must rebound from a very disappointing season, and Penn State, which once again welcomes a new coaching staff. If those two programs both improve, the East should be stronger overall. Every West team has potential flaws, as Wisconsin loses a huge senior class, Minnesota has quarterback problems, Iowa needs to show more on offense, Nebraska must overcome long-term erratic play, and Northwestern comes off a brutal 5-7 year. I feel pretty comfortable writing that MSU and OSU will be pretty good in 2014. There are more unknowns in the West, but it should be a lot of fun to watch.
Greg from Philadelphia writes:
Really Adam?
Christian Hackenberg
isn't a star to watch in 2014?! You're ridiculous.
Adam Rittenberg:
I've been called worse, Greg. It's a national list and you can't include everyone. Penn State's uncertain coaching situation at the time the story ran played a role in not including Hackenberg, who has given every indication he'll return but still faces a decision on his future with the new staff. He certainly looks like an eventual superstar, but he'll have to adjust to a new set of offensive coaches under James Franklin.
[+] Enlarge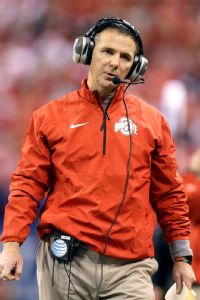 AP Photo/Michael ConroyUrban Meyer has some big shoes to fill on his defensive staff.
Steve from Columbus, Ohio, writes:
Hey Adam, how do you see Coach Meyer handling his defensive staff after he reviews the year, and who are some likely candidates to replace Coach Withers?
Adam Rittenberg:
Meyer will be a busy man next week at the American Football Coaches Association in Indy as he must not only replace Withers but also defensive line coach Mike Vrabel, who is joining Bill O'Brien with the NFL's Houston Texans. Both Withers and Vrabel were exceptional recruiters, so Meyer has to find candidates who not only can develop young players in both areas but get it done on the trail. I think it's important to get an assistant with ties to the South like Withers had. Could Ohio State bring back former coordinator Jim Heacock as defensive line coach? Extremely underrated assistant, in my view.
Nathan from San Antonio writes:
Hey Adam, did you happen to see that next years MSU @ Oregon game was moved from week 3 to week 2? I have only read it in one location and wondered if it was true and if so, how come?
Adam Rittenberg:
It has been moved, Nathan, to accommodate national television and a certain time slot, which won't be at night. The TV plans aren't final, but the game needed to be played Sept. 6 rather than Sept. 13. So Michigan State won't have an extra week to prepare for the Ducks after the opener against Jacksonville State, but it also won't have to deal with Autzen Stadium at night, which is never fun for the visiting team.
Donnie from Atlanta writes:
Hey Adam/Brian, when will the Maryland & Rutgers additions be league official and when will you guys bring them in as part of the blog? Excited to learn more about the newcomers and the new stadiums/fan bases my Buckeyes will be going up against.
Adam Rittenberg:
Donnie, we typically make the transition around national signing day, so check the blog in February as we'll officially welcome Maryland and Rutgers.
December, 20, 2013
12/20/13
4:00
PM ET
Wishing you a great weekend. Check out the
full ESPN bowl schedule
(with broadcast teams).
Don't forget to follow us
on Twitter
if you aren't already.
To the inbox ...

Mike from Allentown, Pa., writes:
Hey Adam, with all the talk about Penn State's bowl ban being looked into this offseason, I have a hypothetical question for you. If the NCAA were to drop Penn State's bowl ban, would the Big Ten comply and make them eligible for the Big Ten championship? Or, is it possible the Big Ten could extend that ban separate from the NCAA?
Adam Rittenberg:
Mike, the Big Ten's penalties always were tied to the NCAA's. Big Ten rules state that if the NCAA declares a team ineligible for postseason play, that team can't play in the Big Ten championship game. So if the NCAA lifts the bowl ban, the Big Ten would declare Penn State eligible for a league title (the Lions already can win their division). Big Ten commissioner Jim Delany has been pleased with Penn State's response to former Sen. George Mitchell, the independent athletics integrity monitor assigned to the school. So I'd be shocked if the Big Ten added or maintained any sanctions against Penn State once the NCAA ones are lifted.
---

Josh from Indy writes:
Have you ever thought about the comparison between Darqueze and his cousin Alfonzo? Both had great careers for their respective teams. Just wanted your take on this.
Adam Rittenberg:
Josh, I definitely thought about it after
Darqueze Dennard
won the Big Ten's Tatum-Woodson Defensive Back of the Year award, which Nebraska's Alfonzo Dennard claimed in 2011. I can't imagine two family members have won the same award while playing for different teams in the same league. Pretty cool. Darqueze's numbers this season are more impressive than Alfonzo's in 2011, although Alfonzo was a true shut-down guy who basically eliminated one side of the field. Darqueze's pro prospects are better, as many peg him as a first-round draft pick. We'll never know where Alfonzo would have been drafted if he hadn't had the off-field trouble. Both are great players, though.
---

Derek from Preston, Iowa, writes:
Hey Adam, I was just curious as to what you thoughts were on Derrell Johnson-Koulianos' Twitter tirade against Kirk Ferentz. Ferentz is beloved for the most part in Hawkeye Country, and this whole thing just seems weird. Why now?
Adam Rittenberg:
The timing is interesting, Derek, as much of this happened three years ago. I understand Derrell's perspective that Ferentz blackballed him with the NFL and stifled his playing career. Some of his teammates back up the accusations against Ferentz and strength coach Chris Doyle. It's an unfortunate situation, but I would be very surprised if Ferentz or Iowa has anything to say about the accusations, especially so long after the fact. Iowa has moved forward and Ferentz's word still carries weight in NFL circles.
DJK has the right to air his grievances, and he has never held back on his views. Honestly, I can't think of a Big Ten player I've covered who fit in less with a particular program. But I doubt there will be major consequences for Ferentz or Iowa.
---

Fatback from Newark, Ohio, writes:
Just wanting to know what your thoughts about Ohio State's defensive coordinator position. I know Fickell is an OSU guy, but we definitely need a change of pace. What do you think about Fickell moving down to just a position coach ( if he doesn't get another job this offseason), and hiring another person from the outside or moving Mike Vrabel up? I think with Vrabel we would play much more aggressive and sit back in all the zone coverage that teams seem to kill us on. Again, your thoughts?
Adam Rittenberg:
It would be tough for Ohio State to demote Fickell, who was the Big Ten's
third highest-paid assistant this year
($610,000). You're not going to pay that salary to a position coach (at least you shouldn't). Fickell still brings a lot of value to Ohio State as a recruiter, and while his defense has its issues this year, youth in the front seven and
Christian Bryant
's injury didn't help matters. On the other hand, Urban Meyer has extremely high standards, and if he feels Fickell isn't helping the team to a national championship, maybe you make the change.
I've heard that Vrabel has definite head-coaching potential, and he did a nice job with a young defensive line this year. With Everett Withers reportedly departing to James Madison, don't be surprised to see a co-coordinator situation with Vrabel and Fickell. Perhaps Vrabel has more say on play calls. I just can't see Ohio State forcing out Fickell right now.
---
Joe from Kentucky writes:
How can you guys leave off
Blake Countess
and
Stanley Jean-Baptiste
from the All-B1G selection for
Bradley Roby
? Roby was suspended for his off-the-field antics (looks really all-conference) and he got exposed by any of the good WRs he faced.
Jared Abbrederis
and
Jeremy Gallon
made him look silly to the tune of almost 400 yards combined. That does not sound like an all-conference performer to me. On the other hand, Countess led the conference in INTs and Jean-Baptiste was right there (if not tied). I think you guys were a little biased in trying to make MSU and OSU the top two represented teams (which their records show). Also,
Ryan Shazier
is the only person on that Ohio State defense to be named All-B1G.
Adam Rittenberg:
Roby's one-game suspension really isn't relevant, as we included
Carlos Hyde
on the team despite his three-game suspension because he was the Big Ten's best running back in league play (few would argue). I agree that Roby struggled against Abbrederis in the Wisconsin game, but many of Gallon's yards didn't come against Roby in the Michigan game. Roby made a touchdown-saving tackle on Gallon, running completely across the field, one of several displays of athleticism he had this season. He had a very good Big Ten season and is one of the better special-teams players I can remember in this league. SJB had a nice season but no picks in Big Ten play. You could make a case for Countess, but I still feel Roby performed better in Big Ten play than any corner other than MSU's Dennard. Shazier is the only other Buckeye defender on our All-Big Ten team, although lineman
Michael Bennett
deservedly made the second-team.
---

Will from Columbus, Ohio, writes:
Should I be concerned that Michigan will be breaking in two new starters at both offensive tackle positions in 2014? Lewan and Schofield took 99.9 percent of the snaps this year, likely making their replacements having VERY little, to no game experience. After the abysmal display on the interior of the line this year, I do believe there are positives in game time reps of the interior line translating to better protection up the middle next season. Will inexperience on the edge hurt the line more next year than the inside this year, or can you mask the youth more on the outside than in?
Adam Rittenberg:
Some good points here, Will. I agree that Michigan's interior line will be improved next year because of all the experience gained, even through some tough times. It will be interesting to see what Michigan does with
Erik Magnuson
, who can play either guard or tackle but might be best at tackle depending on his development. The staff was excited about
Ben Braden
's development in the offseason, and he could step in for Lewan at left tackle. I'm really interested to see how the line performs in Arizona following bowl practices, but you're right that the group will continue to be under the microscope with both veteran tackles departing.
---
Ken from Carmel, Ind., writes:
When
Clifton Garrett
recently committed to LSU, he mentioned the great game-day atmosphere. Having attended a game there, I agree. Sometimes I think the B10 doesn't get that -- and is slow to pick up other little things like that (night games) that can make the difference in winning or losing recruiting battles, and eventually games. As an Iowa grad, the large number of 11 a.m. games certainly don't help the game-day atmosphere. I get the feeling that the people at the top -- president, and A.D. -- don't understand this. You'll have a couple more arrests with later games, but most people just cheer louder and have more fun - a.k.a., better game-day atmosphere. Your thoughts?
Adam Rittenberg:
Couldn't agree more, Ken, and I've been writing this for years. The Big Ten needs to prioritize prime-time games and become more open to weekday games, which would get some of the smaller programs some much-needed exposure. The good news: the league is definitely warming up to the idea, adding more prime-time games and becoming open to November night games, most likely in the 2014 season. Purdue athletic director Morgan Burke said Thursday that the Big Ten's next television contract will feature more prime-time games. That's a good thing, as the noon ET and 3:30 p.m. ET windows just don't carry the same weight with recruits.
February, 8, 2013
2/08/13
9:00
AM ET
The Big Ten classes are
signed and sealed
. You can see ESPN's
final class rankings
as well as
grades for all the Big Ten teams

.
As we put a bow on national signing day 2013, let's take a look at some superlatives ...
Biggest winner:
Ohio State. The Buckeyes took a great class and made it even better with the additions of elite safety prospect
Vonn Bell
and four-star receiver prospect
James Clark
. They also held onto running back recruit
Ezekiel Elliott
. Plucking Bell out of SEC country made a significant statement, as Ohio State secured the
nation's No. 3 class
and the best in the Big Ten. Although other Big Ten programs secured strong classes -- Michigan, Nebraska, Penn State, Wisconsin, Michigan State -- Ohio State made the most headlines Wednesday.
Best closer:
Ohio State co-defensive coordinator/safeties coach Everett Withers. Although Buckeyes head coach Urban Meyer is unquestionably one of the nation's top closers, Withers merits a mention here after steering Bell to sign with the Scarlet and Gray. "I've seen some really good efforts," Meyer said Wednesday. "Everett Withers from start to finish, his effort on Vonn Bell, as good as I've ever seen." Bell's
high school coach called Withers
the "most proficient and professional recruiter we've ever dealt with," according to The (Cleveland) Plain Dealer. Withers played a major role in Ohio State securing five defensive backs
ranked in the top 50
by ESPN Recruiting.
Biggest surprise:
Indiana and Penn State. The Hoosiers have reached only one bowl game since the 1993 season and boast just five wins the past two seasons, but things are looking up in Bloomington. Kevin Wilson and his staff signed what appears to be a very solid recruiting class, especially on the defensive side, where IU has struggled for years. The Hoosiers signed two four-star defensive linemen from within the state --
Darius Latham
and
David Kenney III
-- and bolstered the secondary with
Rashard Fant
and others. Penn State overcame NCAA scholarship sanctions and a multiyear bowl ban to sign the nation's No. 24 class, headlined by quarterback
Christian Hackenberg
, rated by ESPN Recruiting as the nation's top pocket passer.
Who flipped/biggest loss:
The only notable intra-league flip on signing day -- and it wasn't a major surprise -- saw linebacker
Reggie Spearman
, a one-time Illinois commit, signing with Iowa. Ohio State (
Taivon Jacobs
) and Wisconsin (
Marcus Ball
) lost commits to Maryland and Arizona State, respectively, while Minnesota made a late flip with junior college linebacker
De'Vondre Campbell
, who was expected to sign with Kansas State. But for the most part, Big Ten teams played good defense on signing day.
BIG TEN SCOREBOARD
Thursday, 9/3
Friday, 9/4
Saturday, 9/5
Sunday, 9/6
Monday, 9/7