Penn State Nittany Lions:

Evan Lewis
November, 28, 2012
11/28/12
10:00
AM ET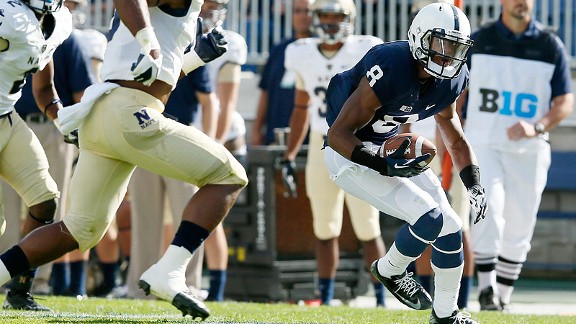 Rob Carr/Getty ImagesPenn State reciever Allen Robinson has proven to be one of the nation's best.
Every day during the next two weeks, NittanyNation will take a closer look at each position and how Penn State fared over the course of the season.
Up today
: Wide receivers.
October, 4, 2012
10/04/12
2:19
PM ET
Stan Hixon saw this coming.
The wide receivers coach told reporters that extra defenders would stalk Allen Robinson throughout the Big Ten season, that they would stick to
Matt McGloin
's top target better than the names on the back of their jerseys.
"We want to spread it around a little more," Hixon said shortly after Penn State's first win, "because, when we get to Big Ten play, there's going to be some double coverage -- and other guys got to come through."
Enter
Alex Kenney
, a wideout-turned-cornerback-turned-wideout.
With the departure of
Shawney Kersey
, McGloin has relied more and more on Kenney as a Plan-B receiver. In the last two games, Kenney has quietly made seven catches to Robinson's eight.
In the non-conference season, Robinson accounted for 40 percent of McGloin's passing yards. But it's clear that won't fly against Big Ten competition. Against Illinois, he reeled in just three catches for 35 yards.
"I don't think you can double-cover one guy on us," McGloin said Wednesday. "We'll just throw to someone else."
Kenney, a redshirt sophomore, wasn't always the most likely candidate to become that "someone else." He competed mostly at cornerback last season until he was thrust into a receiving role in the TicketCity Bowl.
When Hixon first saw Kenney, he told the speedy wideout he wasn't moving back to defense. Kenney waited to hear those words for two seasons.
"It was frustrating," Kenney said about his previous moves, "and it was tough because you didn't know where you were going to be or what plays to learn because you were constantly getting pushed back and forth.
"I'm really appreciative of having a home with this staff."
In the preseason, his starting job in the slot wasn't guaranteed either. He rotated in and out of the first team with
Evan Lewis
. Even during Week 1, a dreaded "OR" was listed next to his name on the depth chart -- signifying the job was still open.
But Kenney ended up wrestling the start away from Lewis. Maybe it had something to do with his speed -- he still holds the state's 60-meter record in high school (6.8 seconds) -- or something else the coaches saw. Kenney isn't sure. He just knows he can't take a play off now.
"I'm just trying to make as many plays as possible and catch balls thrown my way," he said matter-of-factly.
The State College native is beginning to emerge as the No. 2 wideout, but he might not be there yet. McGloin hasn't consistently targeted him downfield -- despite being one of the fastest players on the team.
Most of Kenney's catches have come on screens and short routes, but more aggressive targets could be on the way.
"Alex is a great weapon for us," McGloin said. "He's got a lot of speed. We want to get him the ball in space."
September, 24, 2012
9/24/12
9:00
AM ET
Welcome to Week 4 of NittanyNation's power rankings, a top-10 list of Penn State players who are surpassing expectations, and who to keep an eye on.
After its best week yet, Penn State seems ready for the conference season. Some new players stepped up, some leaders played solidly and a few made big leaps on the list.
Whose performance left the biggest impression, and whose contributions were the most surprising? This week's top 10:
To continue reading this article you must be an Insider
September, 23, 2012
9/23/12
9:00
AM ET
STATE COLLEGE, Pa. -- The good and the bad from Penn State's 24-13 win over Temple on Saturday:
THREE UP
1. Passing game:
Coming into this game,
Matt McGloin
believed Temple's defense might be the best his team's faced yet this season. On paper, it sure looked like it. The Owls boasted an experienced secondary, but McGloin responded by having one of the best games in his career. He tossed completions to nine different receivers and threw for 318 yards. He did throw an interception, but it bounced off his intended receiver's hands. McGloin's looked better each week, and he could surprise even more when the conference season begins.
To continue reading this article you must be an Insider
September, 5, 2012
9/05/12
6:54
PM ET
STATE COLLEGE, Pa. -- Injured tailback
Bill Belton
was nowhere to be seen at Wednesday afternoon's open practice, while
Derek Day
took snaps with the first team.
Twenty minutes before practice officially started, Belton tweeted: "I trust and believe that everything happens for a reason."
Belton was believed to be in the training room while the media watched practice for 30 minutes. He sprained his left ankle Saturday against Ohio, late in the third quarter, and coach Bill O'Brien said Tuesday he remains day-to-day. If Belton doesn't practice by Friday, O'Brien said Day will get the starting nod.
To continue reading this article you must be an Insider
September, 1, 2012
9/01/12
1:51
PM ET
Stat of the half:
2:1. That's the ratio of pass plays to run plays. In a complete reversal, Penn State is now passing the ball twice as much as it runs. Last season, Penn State passed the ball about 42 percent of the time. In the first half against Ohio, passing plays have accounted for 66 percent of the offense.


Player of the half:
Matt McGloin. His quick decisions and quick passes caused some early frustration the Bobcats' defense. He's 16-of-26 for 178 yards and two touchdowns. He had a pair of ugly throws, but he's still moving this offense pretty efficiently.
What's working for Penn State:
Multiple-personnel packages. Penn State's staying fresh by showing a lot of new faces. Ohio simply doesn't know who to key in on.
On offense,
Allen Robinson
caught six balls in the first quarter, and then Bill O'Brien pulled him for a drive and
Kyle Carter
became the star. On defense, at least four players have been rotating in, including
Deion Barnes
with
Pete Massaro
and
Stephen Obeng-Agyapong
with
Jacob Fagnano
.
What's not working for Penn State:
Limiting mistakes. O'Brien said Tuesday he wanted to focus on limiting turnovers and mental mistakes. Two first-half drives ended, however, to those types of errors (
Bill Belton
fumble in red zone,
Evan Lewis
drop at midfield on 3rd-and-5). And Ohio scored its only points after
Gerald Hodges
mishandled a punt return on the 13-yard line.
Play of the half:
Nyeem Wartman
, a true freshman, blocked a punt with less than three minutes left in the half. The block set up Penn State's second touchdown.
August, 31, 2012
8/31/12
12:00
PM ET
NittanyNation takes a look at nine things -- matchups, players, positions and game aspects -- fans should keep track of for Saturday's season opener against Ohio:
1. Tyler Tettleton vs. PSU linebackers
If Tettleton has an open running lane, he's going to take off. The Ohio signal-caller averaged about 50 rushing yards a game last year, and he'll take whatever defenses give him. The secondary could have everyone covered but, if the linebackers don't stand their ground, Tettleton's going to frustrate with some first-down scampers. This isn't a challenge Penn State's linebackers have to worry about often, and it's been an overlooked matchup this week.
To continue reading this article you must be an Insider
August, 30, 2012
8/30/12
2:30
PM ET
So, who has the better quarterback? And whose secondary is the best?
NittanyNation compared every unit and has all those questions answered:
Quarterback
To continue reading this article you must be an Insider
August, 30, 2012
8/30/12
11:00
AM ET
With the season just around the corner, NittanyNation takes a look into its crystal ball and tries to discern what lies ahead for this year's Penn State team:
1. Penn State finishes 7-5
. The Nittany Lions play better than their record indicates and give the Class of 2013 enough hope to stay together. (And, yes, that means
Christian Hackenberg
and
Adam Breneman
stick with PSU.) Penn State starts out strong but falters later in the season, losing three of the last five, once teams start to pick up its tendencies with more film.
2. Passing game no longer anemic
.
Matt McGloin
finishes the season with more than 2,500 yards -- good enough for one of the school's top-5 spots in single-season yardage -- and winds up around the middle of the pack in Big Ten passer efficiency.
To continue reading this article you must be an Insider
August, 29, 2012
8/29/12
6:00
PM ET
Allen Robinson
couldn't believe the news.
Earlier this month, the wide receiver ahead of him on the depth chart,
Justin Brown
, decided to leave. The man he trained aside of, grabbed lunch with and shared laughs with announced his transfer to Oklahoma.
"I was a little surprised," Robinson said. "Maybe it pushed me a little bit more."
To continue reading this article you must be an Insider
August, 28, 2012
8/28/12
7:23
PM ET
STATE COLLEGE, Pa. --
Matt McGloin
dropped back and rehearsed some draws early Tuesday evening while quarterbacks coach Charlie Fisher barked some encouragement.
"Bam!" Fisher yelled when the football hit
Bill Belton
's stomach. "C'mon! Good!"
Bill O'Brien asked the media to leave soon after those positional drills, but NittanyNation still found some highlights to the short-lived open practice:
To continue reading this article you must be an Insider
August, 27, 2012
8/27/12
1:37
PM ET
Penn State released its Week 1 depth chart Monday, and six starting spots remain up for grabs.
A closer look at each battle:
Right tackle
:
Mike Farrell
vs.
Adam Gress
To continue reading this article you must be an Insider
August, 23, 2012
8/23/12
11:00
AM ET
Each day, for the next week, NittanyNation will take a look at a different position and break it down. Today it's wide receivers.
This group might be the biggest question mark on the team. The transfer of
Justin Brown
(Oklahoma) leaves Penn State with a plethora of young talent but a shortage of experience.
Shawney Kersey
leads all returners with five receptions from last season, the same number as returning fullback
Michael Zordich
. Kersey will have to step up, while fans will have to cross their fingers and hope
Alex Kenney
or
Evan Lewis
can replace Brown as Penn State's downfield threat.
Allen Robinson
will slide into a starting outside role, and Bill O'Brien has said he's been impressive.
Those four wideouts will all see significant time this season, and true freshman
Eugene Lewis
could factor in down the line.
Positives
• Starters' hands last year were inconsistent; no place to really go but up.
• Great depth; six or seven could challenge for playing time.
• WR coach Stan Hixon has developed NFL wideouts such as Stevie Johnson, Santana Moss and Antwaan Randle-El.
Negatives
• Extremely limited experience.
• No go-to target with Justin Brown's transfer.
• Lots of new formations, plays could confuse early on.
August, 21, 2012
8/21/12
5:40
PM ET
STATE COLLEGE, Pa. -- All eyes were on
Matt McGloin
as he focused on short routes and impressed on intermediate, 15- to 20-yard ones during Tuesday afternoon's practice.
He threw only one incompletion on his last six throws — a ball that sailed about a foot over freshman
Eugene Lewis
' head. He clapped his hands, let out a yell and then resumed anticipating the moves of his wideouts and receiving little criticism from the coaches.
"We feel like Matt's got a really good grasp of the operation, how it all fits together," Penn State coach Bill O'Brien said before practice.
[+] Enlarge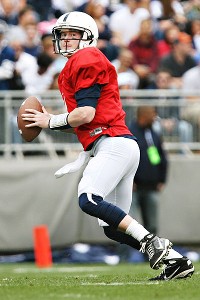 Matthew O'Haren/Icon SMIQuarterback Matt McGloin is getting a good grasp of Bill O'Brien's offense.
Evan Lewis
and
Alex Kenney
split time at the slot, and McGloin's nicest connection involved Lewis. The fifth-year quarterback tossed a tight spiral against his body and led Lewis to the sideline about 20 yards downfield.
Kenney mishandled one ball over the middle, trying to trap it with his body, but still managed to haul it in. "Hands!" one coach yelled.
Shawney Kersey
did not dress because of an ankle injury, so
Christian Kuntz
rotated in with the first team. Sophomore
Allen Robinson
appears to be the No. 1 wideout on the outside and showed consistent hands Tuesday.
"Allen Robinson's had an excellent camp," O'Brien said. "He's made a lot of good plays for us."
Freshman receiver Eugene Lewis practiced with the backups, and
Matt Zanellato
played with the third-string.
Paul Jones
remains the backup quarterback, but O'Brien said he needs to show more consistency. True freshman
Steven Bench
flashed some accuracy but struggled throwing on the run.
Injury update:
Safety
Jake Fagnano
's hamstring still hasn't fully healed, and O'Brien said the coaching staff will have to decide Monday what to do there.
"You got to let it heal," O'Brien said. "Otherwise it'll keep nagging at you."
No other injuries seem to be affecting the roster, however.
The other starting safety,
Malcolm Willis
, did not practice -- but O'Brien said he's doing much better now and should practice soon.
Tight end
Garry Gilliam
tweaked his quad Monday night and should be fine.
Pete Massaro
did not practice because he's coming off a torn ACL from last season and the staff wants to be cautious.
Gerald Hodges
earned a day off last week, too, so he could rest up.
Malik Golden
,
Derek Day
and
Mike Yancich
also did not practice.
Brad Bars
was seen heading to the locker room.
Belton's backup:
Day is ahead of
Akeel Lynch
right now for the No. 2 tailback spot behind
Bill Belton
.
O'Brien said
Curtis Dukes
played well the last two days — and that might have been the first time O'Brien mentioned Dukes all preseason.
Tallest player:
Freshman
Jesse James
, a 6-foot-7 tight end who enrolled in January, towered above the other tight ends and wideouts Tuesday. Besides reserve offensive tackle
Kevin Blanchard
, he's the tallest on the team.
O'Brien hasn't mentioned James much when discussing freshmen. But the coach smiled when asked if he's forgotten the early enrollee actually is a first-year player.
"He had a big play yesterday in practice on a pass route and broke it for about a 50-yard gain. So he's done some good things," O'Brien said. "He obviously has a future for us."
Right tackle battle:
Donovan Smith
finally returned to practice and looks good at left tackle. But, it appears as if there's a position battle heating up on the other end, at right tackle.
Adam Gress
was listed as the starter in the spring, and has mostly practiced with the first team this preseason, but O'Brien said
Mike Farrell
has come on strong and will challenge for the job.
"I feel good about the offensive line," O'Brien added.
Best camp:
One of the finalists for that honor appears to be
Michael Zordich
, who caught a few balls from McGloin early on out of the backfield.
He's also impressed on special teams, O'Brien said.
"Zordich, at fullback, has had one of the best camps out of anyone here," O'Brien added.
Punting issues:
O'Brien admitted he still didn't feel comfortable with the punting game.
Alex Butterworth
has improved over the last week, but his consistency still isn't where it needs to be.
"We don't always have to punt it," O'Brien said with a laugh. "We can go for it."
College Football Minute
BIG TEN SCOREBOARD
Thursday, 8/28
Friday, 8/29
Saturday, 8/30