Penn State Nittany Lions:

Eric Murray
June, 26, 2014
6/26/14
9:00
AM ET
It goes against the offensive lineman's credo to crave attention. Despite his size, he would rather go undetected, often a strong indicator that he's doing his job well.
Indiana's offensive linemen are no exception. They don't seek out the spotlight. But it's time to recognize what they've been doing the past few years, because few seem to notice.
[+] Enlarge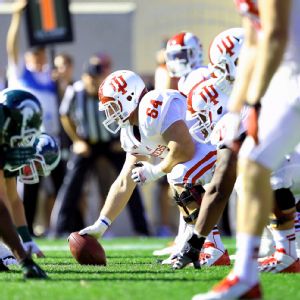 Mike Carter/USA TODAY SportsIndiana's offensive line has quietly become one of the premier units in the Big Ten.
Let's be as clear as possible: Indiana's offensive line is the most underrated unit in the Big Ten.
You might disagree, but I doubt you've actually paid attention to Indiana's line. Maybe because it's Indiana. Maybe it's because the Hoosiers run an up-tempo spread offense rather than a traditional, road-grading one that typically shines a brighter light on the five men up front. Whatever the reason, the Hoosiers line rarely gets much love.
But it's a huge reason why Indiana has had the Big Ten's No. 2 offense in each of the past two seasons. Despite two true freshman starters in 2012, Indiana led the Big Ten in fewest sacks allowed: one for every 31.8 pass attempts. Last season, the line overcame several major injuries -- IU started nine linemen and used seven different lineups -- and prevented sacks in six games. The offense averaged more than 300 pass yards and more than 200 rush yards for the first time in team history.
"When I came in with Coach [Kevin] Wilson, both of us having an offensive line background, we wanted to build a unit that has great flexibility, the ability to run the ball," Hoosiers offensive line coach Greg Frey told ESPN.com "Our goal, as it is with any offensive line, is to control the game. We're going to pick up that third-and-1. If you need more time to throw, we're going to give you more time."
Strong offensive lines are normally stocked with veterans, but Indiana has excelled with youth. Five Hoosiers linemen have earned freshman All-Big Ten honors since 2011, including two in each of the past two seasons. Tackle
Jason Spriggs
and guard
Dan Feeney
both earned freshman All-America honors in 2012, when they set team freshman records by starting all 12 games.
Indiana lost Feeney to a foot injury days before the 2013 season and lost two other starters,
Peyton Eckert
and
David Kaminski
, to season-ending injuries in October. But others stepped up, players such as
Collin Rahrig
, a former walk-on who started 10 games at center, earning honorable mention All-Big Ten honors.
Ralston Evans
, who suffered a major knee injury before the 2011 season and appeared in only one game in 2012, started all 12 games at right tackle last season.
"When we were at Michigan, coaches came up and said, 'Who the hell is this right tackle you've got?'" Frey said. "I said, 'Don't tell me. Tell him he did a good job.' These guys work hard. There's a good culture there."
Indiana returns 130 career offensive line starts
, most in the Big Ten and third most in the FBS behind Appalachian State and UTSA. Frey, who previously coached lines at Michigan, West Virginia and South Florida, thinks this could be his deepest group.
It's a close group, too, one that spends a lot of time together off of the field. If a Bloomington restaurant offers a food special, the Hoosiers' linemen are quick to find it.
Frey doesn't change his expectations for the line in 2014. They've always been high.
"The ability to be a leader or a presence on the team, that part of it changes," he said. "There's some credentials there, a little bit of background, some personal expectations.
"We have more voices there who are respected."
But will the group gain respect? It will take more than yards and points.
"They realize the more you're winning in college football, the more people know about you," Frey said. "Not that it matters in the grand scheme of things, but you'd like to see the fruits of their labor be recognized. Everybody likes to be recognized a little bit.
"Hopefully as we go on, that will naturally happen."
Indiana's offensive line tops my list of the Big Ten's most underrated position groups. Here are four others ...

Minnesota's secondary:
Jay Sawvel does an excellent job with Minnesota's back four. Fourth-round draft pick Brock Vereen will be tough to replace, but safety
Cedric Thompson
had a good spring and
Eric Murray
could become an elite cornerback this season.
Derrick Wells
adds a playmaking presence at corner and
Briean Boddy-Calhoun
, who opened last season as a starting cornerback, returns from injury.

Penn State's running backs:
Quarterback
Christian Hackenberg
grabs the headlines and justifiably so, but he'll need help in the backfield from a talented group of ball-carriers. How many people know
Zach Zwinak
has nearly 2,000 career rush yards?
Bill Belton
had an excellent spring and could be the offense's top playmaker, and junior
Akeel Lynch
has a nice speed-power mix.

Northwestern's receivers/tight ends:
I've stumped for this group and while it hasn't quite blossomed, a two-quarterback system and a shift from a pass-heavy attack didn't help. Northwestern should be much more pass-heavy with
Trevor Siemian
as its sole signal caller.
Christian Jones
and
Tony Jones
are proven veterans, Rutgers transfer Myles Shuler fills a void in the slot and
Kyle Prater
is finally healthy. Tight end
Dan Vitale
is poised for a breakout season.

Maryland's linebackers:
The Terps return three of four starters who combined for 233 tackles last season.
Cole Farrand
is a strong leader, and
Matt Robinson
provides a spark on the outside. Maryland will miss the disruptive Marcus Whitfield but returns five of its top six linebackers from 2013. If the group stays healthy -- a big if given Maryland's recent misfortune -- it could be very good.
April, 2, 2014
4/02/14
5:00
PM ET
Back from Michigan. And back to the mailbag.

Caleb from MSU writes:
With
Malik McDowell
finally
in the fold
, we now have a better look at the pieces available to the MSU defensive line. That being said, what are the chances McDowell starts and or contributes in a major way this year? With
[Marcus] Rush
and
[Shilique] Calhoun
on the ends, there could be some favorable matchups on the inside. Or do you think he needs time to mature to the college game?
Brian Bennett:
Caleb, it's really tough to predict how much a young guy will contribute before he ever makes it to campus. But McDowell was a big-time recruit, or else we wouldn't have been nearly so interested in him. Mark Dantonio usually likes to redshirt guys on the lines, but he said Wednesday that McDowell would likely play this fall because, "I just think he's too big and strong and fast." The Spartans are excited about
Joel Heath
's potential on the inside, but after losing
Tyler Hoover
and
Micajah Reynolds
off last season's team, there should be some opportunities for McDowell to at least contribute.
---

Kyle G. from Prior Lake, Minn., writes:
Curious as to what your thoughts are on the Gophers defense for this upcoming season. A lot of guys returning. Could they [rank] in the top half of the Big Ten?
Brian Bennett
: Minnesota didn't lose a lot of players off last season's defense, but they must replace their best defensive lineman (
Ra'Shede Hageman
), two starting linebackers (
Aaron Hill
and
James Manuel
) and a very good defensive back (
Brock Vereen
). So those are concerns. But I think Jerry Kill and Tracy Claeys have shown they can put together a strong defense, and they still have some good players to work with such as defensive end
Theiren Cockran
and corner
Eric Murray
. If someone such as
Scott Ekpe
steps up to help replace Hageman in the middle and some young linebackers move forward, this has a chance to be an upper-level Big Ten defense.
---

Jon L. via Twitter writes:
Read some stuff at NU specific sites but interested in a broader opinion... What will
Kain Colter
's legacy be in the BIG and at NU?
Brian Bennett:
Good question, but the answer is tied to the eventual outcome of the unionization case. Maybe the full NLRB or the Supreme Court eventually rules against the union movement, or Northwestern's players elect not to unionize. Then this could become an interesting footnote. Or maybe Colter winds up as college sports' version of Curt Flood, an excellent player in his own right who's now known more for his role in bringing about free agency in baseball. Colter's legacy as a player is solid, as he helped lead Northwestern to 10 wins in 2012 and guided the Wildcats to their first bowl victory in 64 years. But whether he's eventually viewed as a pioneer who helped improve athletes' causes or someone who brought down college sports as we know them can't possibly be known yet.
---

Timmer S. via Twitter writes:
Would an annual B1G-ACC football tourney ever be possible? Would be an awesome Week 2 event. Probably tough to schedule.
Brian Bennett:
It would be a blast, and there are already some natural tie-ins with Penn State-Pitt, the Rutgers and Maryland connections and Notre Dame. But as we saw with the short-lived Big Ten/Pac-12 alliance idea, it's just extremely difficult to schedule these types of things in football because teams have vastly different priorities, rivalries, etc. The ACC has talked about having such an alliance with the SEC, where there are already a lot of established interconference clashes. So I don't think we'll ever see a Big Ten/ACC football challenge materialize.
---



Chris Grandview, Mo., writes:
Brian, I am wondering why more and more people want Penn State over Iowa to play Nebraska on Black Friday? I mean, there is history for both Iowa and Penn State playing Nebraska, but why now does everyone think Penn State will be a better matchup now? Look at last year; no one picked Iowa, like I did, to beat Nebraska and Iowa completely dominated Nebraska. Are fans of the Big Ten afraid Iowa can't handle their own now, or that Penn State is some better program always, compared to Iowa? Thanks for your time, sir!
Brian Bennett:
Fans from both Penn State and Nebraska have enjoyed that series, and there is some interesting history there, as you noted. So I understand that. But I've also said repeatedly that the Heroes Game series between Iowa and Nebraska just needs time to grow. The geography makes that a natural potential rivalry, and it will also be a West Division game. The Hawkeyes' victory in Lincoln was the first step in making that more of an actual rivalry. These things need some time to develop, and I think eventually Iowa-Nebraska can become a much more interesting end-of-season affair.
March, 12, 2014
3/12/14
10:30
AM ET
We're just about at the halfway point of our 2014 ultimate Big Ten road trip, and this is when all those nights in a hotel room and bad eating habits start to take their toll. But we press on -- at least in our minds.
For those just joining in, we're each selecting one Big Ten game to attend each week during the 2014 season. We aren't tied down by a travel budget or nagging editors. If we want to attend a game -- depending on matchup, location, culinary offerings or any other factors -- we can go.
Let's check out the options for Week 7:
Oct. 11
Illinois at Wisconsin
Indiana at Iowa
Michigan State at Purdue
Northwestern at Minnesota
Penn State at Michigan
Open date: Maryland, Nebraska, Ohio State, Rutgers
Adam Rittenberg's pick
: Northwestern at Minnesota


It has been nearly five years since I last witnessed a game at TCF Bank Stadium, one of the nation's more picturesque college football venues. Sure, Penn State and Michigan are bigger names, but I've already seen Michigan twice and Penn State once. I'll be getting my fill of the Gophers after covering them in two of three weeks, but Northwestern is an intriguing team and I'm all about the destination here as Minneapolis offers a lot to do and see.
The game should be a competitive one, if not a good one. Five of the teams' last seven meetings -- and 13 of the past 20 -- have been decided by eight points or fewer. Northwestern has won three straight in Minneapolis, and Minnesota upset the Wildcats last year in Evanston to kick off a nice surge in league play. Northwestern quarterback
Trevor Siemian
had a very rough day against the Gophers last October and looks for a stronger performance on the road. The Wildcats likely will attack a Minnesota secondary led by cornerback
Eric Murray
. Minnesota will pound away with the run game, using a talented group of backs and a big, athletic quarterback in
Mitch Leidner
.
The West Division is wide open, and while both these teams play tougher schedules than both Wisconsin and Iowa -- Minnesota's slate is especially challenging -- they could be in the title mix with certain improvements (Minnesota's passing game, Northwestern's offensive production). Week 7 isn't a great platter of games, but the trip to Minneapolis sounds very appetizing.
Brian Bennett's pick
: Penn State at Michigan


Not exactly the most tantalizing set of games, although if Minnesota and Northwestern get off to hot starts, or teams such as Illinois and Indiana are better than expected, it could be more interesting. Still, it's tough not to choose the Nittany Lions-Wolverines matchup out of this group.
We both agree that Michigan State and Ohio State are the clear-cut East Division favorites in 2014, but Michigan and Penn State should be factors. The winner here will have a major upper hand (remember, Penn State technically can win the division, and it's possible the program could be ruled eligible for the 2014 postseason). I saw the Lions in Week 1 of this ultimate trip, but this would be my first time getting an up-close look at the Wolverines.
Give me a game 75 percent as wild as last year's four-overtime thriller in State College, and I'll be very happy I made this pick. With
Christian Hackenberg
and
Devin Gardner
involved, the potential for fireworks is ample. I always look forward to a trip to Ann Arbor and the Big House, and a game like this on tap would make things even more exciting.
Road trip itinerary
Week 1:
Brian at Penn State-UCF (in Dublin, Ireland); Adam at Wisconsin-LSU (in Houston)
Week 2:
Adam at Michigan-Notre Dame; Brian at Michigan State-Oregon
Week 3:
Brian at Minnesota-TCU; Adam at Penn State-Rutgers
Week 4:
Adam at Miami-Nebraska; Brian at Miami-Nebraska
Week 5:
Brian at Cincinnati-Ohio State; Adam at Minnesota-Michigan
Week 6:
Adam at Nebraska-Michigan State; Brian at Nebraska-Michigan State
March, 6, 2014
3/06/14
3:00
PM ET
We're taking snapshots of each position group with every Big Ten team entering the spring. Up next: the defensive backs.

Illinois:
The secondary returns mostly intact from 2013, as Illinois returns starters at both cornerback spots (
V'Angelo Bentley
and
Eaton Spence
), as well as
Zane Petty
, who started the final seven games at free safety.
Taylor Barton
, who opened last season as a starting free safety, also is back. Building safety depth is important this spring as Illinois must replace
Earnest Thomas III
. Barton will compete with
Jevaris Little
and others for playing time. The depth is much better at corner as
Darius Mosely
and
Jaylen Dunlap
both saw significant action as freshmen last fall.

Indiana:
Like Illinois, Indiana returns a lot in the defensive backfield but must improve after struggling to stop opponents in 2013. The Hoosiers also lose only one starter in safety
Greg Heban
, a mainstay during the past four seasons. There's a lot of experience at cornerback with returning starters
Tim Bennett
(senior) and
Michael Hunter
(junior), along with reserve
Kenny Mullen
(senior). Decorated recruit
Rashard Fant
, who redshirted in 2013, will compete for significant playing time. Senior safety
Mark Murphy
will lead the secondary, and sophomore
Antonio Allen
could fill the other safety spot when he returns from an ACL tear. Building depth here always is a priority at IU.

Iowa:
The situation isn't as dramatic as the linebacker spot, but Iowa still must replace two productive players in cornerback
B.J. Lowery
and safety
Tanner Miller
, who combined for six interceptions in 2013. Lowery is the more significant loss, as he had 19 passes defended and three forced fumbles. The good news is
Desmond King
looks like a budding star and he will move into the featured role Lowery occupied.
Jordan Lomax
,
Sean Draper
and others will compete to start opposite King. Strong safety
John Lowdermilk
returns after a solid junior season. Lomax also could play free safety and will compete there with
Anthony Gair
and
Nico Law
, who both appeared in all 13 games last fall as reserves.

Maryland:
The back four aims for better results on the injury front and on the field in 2013. Maryland returns both starters at safety in
Sean Davis
, the team's leading tackler with 102 last fall, and
Anthony Nixon
, but there should be competition behind them with
A.J. Hendy
and
Zach Dancel
. The cornerback position is worth watching this spring as
Dexter McDougle
departs and
Jeremiah Johnson
remains limited by a toe injury.
Will Likely
has opened the spring as a starter, and
Alvin Hill
could rise up after recording 24 tackles last season.

Michigan:
The secondary took a step back in 2013 and
all jobs are open
even though Michigan returns two veteran cornerbacks --
Blake Countess
and
Raymon Taylor
-- and some experience at safety.
Jabrill Peppers
, the nation's No. 2 overall recruit according to ESPN Recruiting Nation, will play a major role for the Wolverines this fall, whether it's at corner, safety or nickel. Junior
Jarrod Wilson
started the first seven games of last season at free safety, and
Dymonte Thomas
is a good candidate to start at one of the safety spots. Michigan should expect more from this group in 2014.

Michigan State:
Will opposing offenses invade the
No Fly Zone
in 2014? Not if Michigan State can fill several spots, none bigger than
Darqueze Dennard
's at cornerback. Dennard, a unanimous All-American and the Jim Thorpe Award winner, departs to the NFL, and junior
Trae Waynes
slides into the featured corner role after a promising sophomore season. The competition opposite Waynes heats up this spring as
Ezra Robinson
,
Darian Hicks
,
Jermaine Edmondson
and
Arjen Colquhoun
compete. Free safety
Kurtis Drummond
boasts 21 career starts and enters 2014 as one of the league's top safeties.
RJ Williamson
likely will fill
Isaiah Lewis
' spot at strong safety, and
Demetrious Cox
provides depth.

Minnesota:
Like the Gophers' defensive line, the secondary loses a huge piece in
Brock Vereen
, who played both safety and cornerback last season. But there might be enough returning pieces to fill the void. Cornerback
Eric Murray
had a
very solid first season as a starter
, and Minnesota also brings back
Derrick Wells
and
Briean Boddy-Calhoun
, both of whom have starting experience. Leading tackler
Cedric Thompson
and
Antonio Johnson
finished last season as the starting safeties, and both are back. Senior
Grayson Levine
provides some experience in a reserve safety role.

Nebraska:
An important spring awaits new defensive backs coach Charlton Warren, who must identify new starters at cornerback, safety and nickel. The Huskers are replacing
Ciante Evans
and
Stanley Jean-Baptiste
, who combined for eight interceptions, 18 passes defended and 15 tackles for loss in 2013. Safety
Andrew Green
, who made 10 starts in 2013, also leaves. The good news is cornerback
Josh Mitchell
had an excellent bowl game and will fill a starting spot. Leading tackler
Corey Cooper
also returns at safety. There's not much experience at corner other than Mitchell, and
Daniel Davie
, Auburn transfer
Jonathan Rose
and others will compete. Nebraska brings back more at safety with
Harvey Jackson
, who made three starts in 2013, and junior
Charles Jackson
.

Northwestern:
That the Wildcats' secondary could be one of the team's biggest strengths seemed laughable three years ago, but it could be true this fall. All four starters return, led by safety
Ibraheim Campbell
, one of the Big Ten's most productive defenders (262 career tackles). The depth at cornerback looks strong as starters
Nick VanHoose
and
Matt Harris
return, along with
Dwight White
and
Daniel Jones
, who opened 2013 as a starter and is coming back from an ACL tear.
Traveon Henry
should start alongside Campbell, and there are some promising young safeties like
Godwin Igwebuike
.

Ohio State:
Pass defense proved to be Ohio State's downfall in 2013, and the Buckeyes' secondary will be under the microscope this spring as new assistant Chris Ash steps in. Ohio State loses All-Big Ten cornerback
Bradley Roby
and will lean more on
Doran Grant
, who started opposite Roby in 2013. Ash also expects big things from
Tyvis Powell
, who will start at one of the safety spots. Safety
Vonn Bell
finally logged significant playing time in the Orange Bowl and could become a permanent starter as a sophomore. Veteran
Ron Tanner
and
Cam Burrows
also are in the mix at safety. There should be good competition to start opposite Grant, as
Armani Reeves
tries to hold off redshirt freshmen
Gareon Conley
and
Eli Apple
.

Penn State:
After a season of moving parts and inconsistent plays, Penn State hopes for a more settled secondary.
Adrian Amos
, who alternated between cornerback and safety last season, will lead the group and brings plenty of experience.
Jordan Lucas
likely will start opposite Amos at cornerback after making strides toward the end of his sophomore season. PSU loses some leadership at safety with
Malcolm Willis
and
Stephen Obeng-Agyapong
departing and will lean on
Ryan Keiser
and
Jesse Della Valle
, both of whom have starting experience. Converted wideouts
Trevor Williams
and
Malik Golden
provide depth at cornerback and safety, respectively.

Purdue:
The rotation from 2013 returns almost completely intact, but Purdue loses a very big piece in cornerback
Ricardo Allen
, a four-year starter. Cornerback
Frankie Williams
enters his third year as a starter and will slide into Allen's featured role, while the competition for the other top corner spot will feature
Antoine Lewis
and
Leroy Clark
, among others. Purdue has plenty of experience at safety with
Taylor Richards
, who started every game in 2013, and
Anthony Brown
, who replaced the injured
Landon Feichter
and had 69 tackles. Feichter also is back from a broken leg.

Rutgers:
This group is anxious to turn the page after a season filled with personnel issues and poor performance (Rutgers finished 120th nationally in pass defense). Senior safety
Lorenzo Waters
leads the group after recording 62 tackles and two forced fumbles in 2013.
Johnathan Aiken
will try to start opposite Waters at free safety, although he'll be pushed by
Delon Stephenson
and
Tejay Johnson
, who started three games last fall.
Gareef Glashen
started six games last season and seems likely to retain one of the top cornerback spots. There will be competition at the other between
Anthony Cioffi
and
Nadir Barnwell
, both of whom started games as true freshmen in 2013. The most intriguing player to watch is cornerback
Ian Thomas
, who
returns to the team after quitting midway through last season
, one that he began as a starter.

Wisconsin:
The Badgers are relatively young at both secondary positions but boast far more experience at cornerback than safety. Junior
Darius Hillary
and sophomore
Sojourn Shelton
started all 13 games at cornerback last season.
Peniel Jean
adds even more experience at the position. Safety is much less settled as
Dezmen Southward
graduates,
Michael Caputo
shifts to linebacker and
Tanner McEvoy
returns to quarterback.
Nate Hammon
and
Leo Musso
both played in all 13 games last fall as reserves. Newcomers like
Serge Trezy
and
Austin Hudson
could compete for time when they arrive this summer.
BIG TEN SCOREBOARD
Thursday, 9/3
Friday, 9/4
Saturday, 9/5
Sunday, 9/6
Monday, 9/7