Penn State Nittany Lions:

Dymonte Thomas
September, 2, 2013
Sep 2
11:00
AM ET
Exhale.
You wait nearly nine months for the return of college football, to see players and coaches that have been endlessly analyzed all offseason, and then it all spills out on opening weekend. So of course the natural inclination is to make immediate judgments on what you've seen, and to find instant reasons to panic.
Nebraska's defense is going to be historically bad! Michigan State's offense is somehow worse than last year's! Ohio State is wildly overrated! Purdue and Iowa might not win a game in the conference besides the one against each other!
Some concerns obviously are valid. But remember that it was just opening week. Teams and players are still figuring things out, learning who and what they are. In Week 1 last year, for example, Michigan State beat a ranked Boise State team, Michigan got destroyed by Alabama, Minnesota needed triple-overtime to put away a bad UNLV team, Penn State lost at home to Ohio and Illinois rolled over Western Michigan. Those outcomes hardly defined the season for those teams.
Or better yet, look back to Iowa's win over Northern Illinois in the first game of the 2012 season. Who would have guessed then that the victorious team would wind up 4-8 and that the loser would go to the Orange Bowl?
Many of Saturday's games were also played in extreme heat, a stark contrast to the unseasonably cool August temperatures most teams trained in during the preseason. That's not an excuse, because Big Ten opponents had to deal with the same conditions. But the league race will be decided in October and November in much different weather, and probably by teams that will look a whole lot different.
It's a coach's cliché that teams make their biggest improvements from Week 1 to Week 2. So it's not time to panic yet. At least not for another Saturday.
Take that and rewind it back:
[+] Enlarge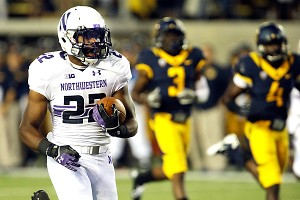 AP Photo/Ben MargotTreyvon Green rushed for 129 yards and two touchdowns in the victory over Cal.
Team of the week:
Northwestern. The Wildcats went to Pac-12 country, where Big Ten teams have had little success in recent years. They lost starting quarterback
Kain Colter
to injury on the second play against Cal, star tailback/returner
Venric Mark
spent more time on the exercise bike than the field, and cornerback
Daniel Jones
went down with a knee injury right before halftime. Meanwhile, Cal threw some haymakers and seemed to seize the momentum in the third quarter. Yet Northwestern -- which had some trouble holding onto late leads last year -- prevailed 44-30.
The win didn't come without controversy, as Cal fans and coaches thought Wildcats players were faking injuries in the second half to slow down the Bears' high-tempo offense. During one Cal drive, Northwestern players went down to the turf after three consecutive plays. Some players, such as linebacker
Damien Proby
, went down more than once. Cal coach Sonny Dykes threw up his hands in frustration at one point, while Bears fans booed, which was pretty funny, given
Cal's own history with faking injuries
against a high-tempo offense.
Northwestern coach Pat Fitzgerald said his team wasn't up to any hijinks.
"If anybody were to question the integrity of myself, our program or our players, I question theirs," he said in the postgame news conference. "When our guys get dinged up, they are instructed to go down, not hobble off to the sideline."
Worst hangover:
The Boilermakers got outscored 35-0 in the second half of their 42-7 loss at Cincinnati and might have gotten shut out if not for a botched Bearcats punt return late in the first half. Purdue was a mess in just about every area and was neither physical nor disciplined, two traits that Darrell Hazell has made priorities.
We're going streaking:
Thanks to Iowa's loss and Illinois' escape against Southern Illinois, the Hawkeyes now have the Big Ten's longest current losing streak, at seven games. That's tied for the fifth-longest losing streak in the FBS and second-worst among AQ teams, behind only Kansas, which was idle last week. The good news is that Iowa should finally get back in the win column this week versus Missouri State, and its Week 3 opponent, Iowa State, lost to Northern Iowa on Saturday.
Fun with numbers (via ESPN Stats & Information):
Yes, the Michigan State passing attack was as bad as it looked against Western Michigan. Through Sunday's games, the Spartans rank second-to-last among all FBS teams in yards per pass attempt (3.14) and percentage of completions that went for at least 10 yards (17.6). ... No team gave up more first downs in Week 1 than Nebraska, which allowed Wyoming to move the chains 35 times. The Huskers were also one of only two AQ teams that gave up more than 500 yards of offense to a non-AQ team in regulation. Oregon State was the other. ... Michigan's
Devin Gardner
threw two interceptions, but he had the Big Ten's
top QBR score
and was No. 15 nationally in Week 1. ... Wisconsin averaged 8.9 yards per rush against UMass and ranks third nationally in that stat. ... Penn State is last in the FBS in third-down conversions after going 1-for-16 against Syracuse. Of course, third down is often only a prelude to the next play for Bill O'Brien.
Point-ing up:
Indiana leads the nation in scoring after putting up 73 against Indiana State on Thursday. The schedule really helped, but offense was up throughout the Big Ten. Eight of the 12 league teams scored at least 37 points and the conference scoring average after one week is 39.5 points per game. Compare that to last year, when the league averaged 26.7 points per game in Week 1. Again, many of the opponents weren't great last week, but the simple eyeball test tells you that several Big Ten teams look more comfortable and have more playmakers on offense. With a couple of notable exceptions.
Big Man on Campus (offense):
Sure, it was against an FCS team, which is why we excluded him from our helmet stickers. But let's recognize Illinois quarterback
Nathan Scheelhaase
, who threw for a carer-high 416 yards and two touchdowns in Bill Cubit's new offense. In one game, Scheelhaase accounted for more than 30 percent of his entire passing yardage in the 2012 season.
Big Man on Campus (defense):
Northwestern linebacker
Collin Ellis
helped save the day, er, night at Cal with a pair of pick-sixes.
Big Man on Campus (special teams):
Tons of big special teams plays this weekend, including kickoff returns for scores by Minnesota's
Marcus Jones
and Illinois'
V'Angelo Bentley
and a punt return TD from Indiana's
Shane Wynn
. Michigan's
Joe Reynolds
scored on a blocked punt by teammate
Dymonte Thomas
. But how about Penn State's
Sam Ficken
? The kicker who was such a liability early last season has turned into a strength, and he made all three of his field goals -- including a career-best 46-yarder -- in the Nittany Lions' 23-17 win over Syracuse.
Best play:
Michigan State safety
Kurtis Drummond
's
one-handed interception against Western Michigan
. Now, can he play receiver?
Looking ahead:
The "GameDay" crew will be at Notre Dame-Michigan, and the Big Ten had better hope for a good showing in this spotlight game. That's because there's nothing much else of interest going on in Week 2. Two Big Ten opponents -- South Florida (at Michigan State) and San Diego State (at Ohio State) -- were blown out by FCS squads in their openers, while another, Southern Miss (versus Nebraska) lost to Texas State. Northwestern-Syracuse is probably the week's second-best game, and the Orange are 0-1 after losing to Penn State.
August, 30, 2013
Aug 30
11:00
AM ET
It's time to dip into the Big Ten recruiting mailbag and answer some of your questions. We'll try to give everyone a chance to get their questions answered. We encourage you to send your questions by Twitter to
@bbournival
or
@TomVH
.
@Blue_gC_Blood: How close in size are Michigan commit Shaun Crawford and Ohio State pledge Eric Glover-Williams? I heard they are pretty much a carbon copy of each other, true?
Brad Bournival:
Having seen both individuals multiple times in pads, that is a very fair assessment. Crawford (Lakewood, Ohio/Saint Edward) is 5-foot-9 and 175 pounds and EGW is 5-10, 170 pounds. But it goes well beyond that as both are very athletic kids who aren't afraid to mix it up at times. Speed, obviously, is their biggest common denominator. It would be great to see Glover-Williams play the slot or split out wide to see just how close in game they actually are, but unfortunately for Canton (Ohio) McKinley, the Bulldogs put their junior star behind center because he is the best athlete on the field. That said Crawford is the better defender, though it should be noted Glover-Williams is better offensively. Seeing the two in camps, however, their game really is almost the same.
---
@joshuas430: Do you think the recruiting success for Rutgers has been more with the move to the Big Ten or their new head coach?
Tom VanHaaren:
That's a good question. I think there is some cache for recruits to play for Rutgers now that they are a part of the Big Ten. But if you look at their top prospects, they are all guys from New Jersey.
In the 2014 class, Rutgers has four ESPN 300 commitments and they are all from New Jersey. Rutgers has always done well with local prospects and that hasn't changed with this class.
From 2011 to 2013, Rutgers actually signed 10 prospects ranked as four-stars from New Jersey and New York. That is a key for the Scarlet Knights' success in recruiting, and it's continued in 2014.
It's interesting to look at the Big Ten aspect of this, because if Rutgers was already in the conference, it would have the No. 3 ranked class in the Big Ten.
---
@GRSportsBlog: What is your opinion of Montae Nicholson being able to play a hybrid safety/outside linebacker at the next level and the fact Penn State is trying to recruit guys to be versatile in its defensive packages?
Bournival:
Penn State has never brought that up to Nicholson (Monroeville, Pa./Gateway) as it wants him to play safety and not linebacker, as the Nittany Lions will take a linebacker in this class. However, with the NCAA sanctions, the limited number of 65 scholarships really does alter how Penn State approaches the type of players they pursue. The Nittany Lions don't have the luxury to miss on a player, so you'll see more athletic players who can play multiple roles on the team. For example, if it can grab a player who helps in the offense and special teams, Penn State won't hesitate.
The other reason the Nittany Lions need to have fast, athletic type players is to be able to matchup in an ever-changing Big Ten Conference that isn't all ground and pound anymore.
---
@dydd911: Do you think we will see any commits from visitors at the Under the Lights game?
VanHaaren:
Michigan's night game against Notre Dame in Week 2 is going to be one of the bigger recruiting events of the season. The Wolverines really only have three big home games, so it's also an important event in general.
The last time these two teams faced off at night at Michigan Stadium, safety
Dymonte Thomas
ended up committing right after the game.
This answer all depends on who ends up making it in for the game, but as of now it doesn't look like there will be that type of situation. It looks like this game will be something that sets the tone for a prospect and could eventually lead to a commitment down the road.
Some of the bigger names that are visiting include 2014 defensive end
Da'Shawn Hand
(Woodbridge, Va./Woodbridge) and the No. 1 ranked player in the 2015 class
Jashon Cornell
(St. Paul, Minn./Cretin-Derham Hall).
Hand has his announcement date set for Nov. 14 and still has official visits to Florida and then Alabama, so he doesn't seem likely. Cornell, while he does have Michigan very high on his list, still plans on waiting to make a decision.
Since Michigan's 2014 class is nearly full there will be a lot more underclassmen than seniors. That's not a bad thing, especially if the environment is anything like it was two seasons ago in the first night game.
---
@buckeyefan686: It seems like Urban Meyer went hard after defensive backs and wide receivers in 2013 and linebackers/offensive tackles in 2014. What position groups do you see being the focus in 2015?
Bournival:
First and foremost, I think Meyer looks at the quarterback position more than any other. With
Braxton Miller
possibly gone after this season and
Kenny Guiton
definitely, gone he'll need to bolster that position and give it some depth. There could be no one with any meaningful in-game experience coming back in 2014 and he'll need to address that in 2015.
With four defensive linemen gone after the 2014 season, don't be surprised if he dips into the trenches yet again.
---
Mark, Chicago, Ill.: Do you see Northwestern landing any of the remaining big targets they have left in 2014?
VanHaaren:
Short answer, yes. The bigger targets left on the board are all ESPN 300 prospects. Linebacker
Brandon Lee
(Indianapolis/Lawrence Central), defensive back
Parrker Westphal
(Bolingbrook, Ill./Bolingbrook) and tight end
Garrett Dickerson
(Oradell, N.J./Bergen Catholic).
Lee is visiting Cal this weekend when they take on Northwestern and will likely then take an official out to see the Wildcats at home.
I do think there is a good chance that at least one of these prospects chooses Northwestern. The question is how many? That is yet to be seen.
Penn State Hangs On To Top Wisconsin