Penn State Nittany Lions:

Dwight White
September, 11, 2013
Sep 11
5:00
PM ET
It's Wednesday. Business time. So let's get down to the business of your e-mails:
Adam from D.C. writes:
After two weeks down, I have a couple questions/observations. First, Michigan should top the power rankings after putting down Notre Dame. OSU has yet to really impress/dominate their weak scheduled opponents. This was really evident when Baylor hung 70 points and put up 781 yards on the same Buffalo team that OSU only scored 40 on and put up 460 yards. Is Michigan really the B1G team to beat and should they be on top of the power rankings? Secondly, we all know the Nebraska defense is still having issues. But Northwestern has actually given up the most yards of all the B1G teams so far and is second-to-last in points per a game allowed. You could argue they had to play Cal, but then Cal just barely beat Portland State. So who has the worst defense in the B1G?
Brian Bennett:
Adam and I had the Michigan-Ohio State power rankings debate on Saturday night. If you go only by what the two teams have on their 2013 résumés, then the Wolverines deserve to be on top. They are, after all, the only Big Ten team to defeat a ranked opponent. However, Ohio State hasn't had the opportunity to do the same, and we were convinced all offseason that the Buckeyes were the best and most talented team in the conference. Are we really going to abandon that notion simply because their wins over Buffalo and San Diego State (by a combined score of 82-27, by the way) weren't otherworldly beatdowns?
The other thing to consider here is that Urban Meyer has yet to play with a full deck.
Carlos Hyde
remains suspended,
Bradley Roby
and
Rod Smith
missed the opener,
Braxton Miller
missed most of last week's game,
Corey Linsley
has been recovering from an injury, etc. I still think Ohio State at full strength is the Big Ten's best team, but it sure would be nice to actually see that total lineup go against a strong opponent. Guess we'll have to wait for the Wisconsin game. Also: Two games are in the books. Let's not get too hung up on rankings just yet.
As for Northwestern, the defense hasn't put up terrific stats, but the Wildcats easily have played the toughest schedule in the first two weeks. They are the only team in the league who has opened against a pair of AQ teams, and whatever you want to say about Cal, that team is going to score a whole bunch of points this year. Syracuse really only moved the ball effectively in the second half after Northwestern had built a huge lead and might have been coasting a bit. The loss of cornerback
Daniel Jones
hurt in the Cal game, and freshman
Dwight White
needs to make some major improvements before Big Ten play. But I like the playmaking ability of that defense, which has come up with seven interceptions in the first two games.
It's impossible to judge Northwestern's defense statistically against a team like Wisconsin, which has pitched a pair of shutouts against FCS quality teams. The title of worst defense in the Big Ten still belongs to Indiana until proven otherwise.
---
Quinn from Moline, Ill., writes:
Michigan came off a huge win recently, but Notre Dame hadn't completely proven themselves as a really good team, in my opinion. As well, Northwestern just dismantled Syracuse, but Syracuse isn't nearly as good as Notre Dame is. Who has more momentum going into Week 3?
Brian Bennett:
Let's not take anything away from Michigan's win. Notre Dame is very, very good, and I believe that will be shown throughout the season. I can't believe how many people want to dismiss the Irish and seem to be completely forgetting that they still have many of the same players as last year's team that played for the BCS title.
Northwestern, to me, has been wildly impressive. You can't overstate how tough it was to start on the road in Pac-12 country, fly across two time zones and back, and then play a physical (if perhaps not offensively gifted) Syracuse team. And the Wildcats won both games by double digits without basically anything from
Venric Mark
. They deserve accolades right now, and if you don't think this is a legitimate conference contender, you're not paying attention.
As far as momentum? I'm not sure it matters. Both teams might be a little beat up, emotionally and physically, after these early season challenges. And Michigan plays Akron and UConn next, while Northwestern gets Western Michigan and Maine.
---
Mike from San Diego writes:
Brian, I know the Badgers have played inferior competition so far this year, but I have never been more optimistic for a game against OSU. In Week 1, OSU didn't look too sharp against Buffalo (granted they were missing a few players due to alleged criminal activity). I don't expect the Badgers' defense to throw a shutout against the Buckeyes, but Wisconsin did hold them to the fewest amount of points in regulation last year. Let's say a glimpse of last year's defense shows up to the game and Wisconsin running backs run like they are capable. Stave is healthy (he was injured last year), and Miller already has a few bumps and bruises. Under those assumptions how do you like Bucky's chances? Personally, I am more worried about Northwestern the following week.
Brian Bennett:
More worried about Northwestern at home than Ohio State on the road? That might be a first. Wisconsin has looked great the first two weeks -- who's had a better early honeymoon than Gary Andersen? -- but the competition was so weak that it's hard to know what that means. Bret Bielema's teams used to steamroll inferior competition at home all the time. The Badgers did play very well defensively against Ohio State last year. Miller might have been a bit banged up, but that Wisconsin defense did a great job of taking away his runs, gumming up the middle of the field and making it a slog. That could happen again, as we don't know yet how healthy Miller will actually be in two weeks with that MCL sprain. On the other hand, the Buckeyes are much better at receiver this year and have more weapons on offense, including
Dontre Wilson
and a healthy
Jordan Hall
. Plus, Carlos Hyde will be back that week with presumably fresh legs.
Of course, we also need to see how that young Silver Bullets defense will handle Wisconsin's powerful running game. We'll have a much, much better handle on the Badgers after this week's Arizona State matchup, which I think will tell us a lot more about Wisconsin's chances vs. Ohio State.
---
Steven from Ann Arbor writes:
It has come up regarding
Devin Gardner
and the Michigan quarterback depth situation a couple times, and I apologize if it has already been addressed, but there is a significant amount of data that suggests running quarterbacks aren't nearly as injury-prone as we all (me included) naturally feel they would be. This
link
is a quick sample of what I could find off hand, and there is more, but, as unnatural as it seems, every additional Gardner run does not necessarily magnify his injury risk. With the example of Denard fresh in our memories from last year, this gets lost. I'm sure there are several factors, but one would probably be that hits at the end of a QB run are much more well prepared for than a blindside sack. It clearly isn't as simple as "more runs = more hits = more injuries."
Brian Bennett:
Steven, we may overrate the injury risk of running quarterbacks, since there are plenty of those in college football and they're not getting hurt every week. Knowing how to slide and avoid contact at the end of a run is huge. But the anecdotal evidence on the other side is pretty strong, too. Just look at Braxton Miller, who had to leave Saturday's game against against San Diego State after spraining his MCL when he got sandwiched at the end of a run. Miller also got hurt last year vs. Purdue after taking a hit on a long run. Northwestern's
Kain Colter
suffered a concussion on the second play at Cal when he was smacked on a run. Quarterbacks can get hurt staying in the pocket as well -- just ask Wisconsin's
Joel Stave
, who suffered a broken collarbone when he was sacked last year by Michigan State. But I feel pretty good about Devin Gardner's blind side as long as
Taylor Lewan
is protecting it. I don't have a problem with Michigan running Gardner, because that's a big weapon and they have to play to his strengths. But I find it hard to believe that there isn't added risk of injury there.
---
Matt E. from Southern MD writes:
Brian, thanks for all the work you and Adam do to entertain us B1G faithful. Why no love for Penn State in "What We Learned in the Big Ten: Week 2" though? We obviously have some growing to do and need to establish some consistency, but I thought there were a number of positives to take away from this past weekend.
Brian Bennett:
Matt, the title of that post is "What We Learned in the Big Ten," not "Giving Love to Teams in the Big Ten" or "Here Are Some Positives to Take Away." We're taking a big-picture approach there, trying to assess the big themes and league-wide revelations from each game day. We do only five items per week. With 12 teams in the Big Ten, odds are we're not going to hit on every team in great detail, especially during a nonconference weekend that includes some pretty lopsided games. As for Penn State, what did we really learn about the Nittany Lions?
Christian Hackenberg
had some highs and lows, the running game looked much better and the defense continues to shine. But it was Eastern Michigan. Penn State
should
beat Eastern Michigan 45-7. We learned much more about Penn State in Week 1 against Syracuse, a game I covered in person, and we'll likely learn more this week against UCF.
---
Dave from Kansas City writes:
Do you think Kirk Ferentz is in as much danger of losing his job as Mack Brown or Lane Kiffin?
Brian Bennett:
It's actually an interesting comparison, because Brown and Kiffin are among the handful of coaches who make as much or more per year as Ferentz. The Kiffin similarities end, however, when you consider he's only under contract until 2015, at a reported $4 million per year. While eating two more years at that price would be painful, USC can afford it.
Brown's situation is closer to Ferentz, contract wise. Texas has him signed through the 2020 season -- the same length as Ferentz's deal -- with a $5.2 million annual salary and $100,000 raises each year. But, ESPN's Darrell Rovell has reported that Brown's buyout right now is only (maybe I should say "only") $2.75 million. For a school that has more money than Walter White buried in the desert, that's pocket change. Iowa would owe Ferentz around $18 million if it fired him this season, a figure that is still crazy to wrap your head around. And the program isn't nearly as rich as Texas.
Of course, the Hawkeyes are coming off a win, so let's be optimistic here. Iowa really needs to beat Iowa State this week to calm down this talk about Ferentz and to position itself for a potential return to a bowl game this year.
---
Jesse from Plymouth, Mich., writes:
Part of me thinks MSU (and its fan base) should take the patient approach with
Damion Terry
-- allow him to learn the playbook, create chemistry with his teammates, etc. Besides, if we play him and he ends up finishing it out, you can pretty much guarantee Cook, O'Connor and Maxwell won't be on the roster next year. That's a scary thought knowing we won't have any backup QBs besides true freshmen. However, the other part of me wants to see him on the field badly. Everyone keeps pointing to the fact that he doesn't know the playbook as well and that would hinder the play calling. After seeing pro set, read option, Wildcat, pistol, abracadabra ... maybe that would be a good thing, going back to basics and returning to a more simplified scheme for the time being?
Brian Bennett:
Well, first off I can guarantee you that
Andrew Maxwell
won't be on the roster next year because he's a senior. Let's also acknowledge the mythical, magical qualities that fans associate to the backup quarterback. The thrill of the unknown is always so much better than the guy you've seen on the field struggling. Fact is, almost nobody has actually witnessed Terry perform in a Michigan State uniform in practice besides the coaches and a few media members. I trust Mark Dantonio's coaching staff to know whether he's ready to go.
My take on it has been and remains that if the coaches think Terry is ready, or that there's a better than average chance he could offer an improvement on the other quarterbacks the Spartans have, then he needs to play. Because there is no sense in saving a guy's redshirt when it's possible that he could help you win now. This Michigan State team is built to win this year with its defense and its schedule. You worry about next year next year. Whether Terry is in fact an upgrade, no one really knows. I do know that if the receivers, offensive line and play calling don't all also get better, whoever is playing quarterback for the Spartans will have a difficult time succeeding this year.
September, 5, 2013
Sep 5
9:00
AM ET
Ten items to track around Big Ten football in Week 2:

1. House party:
If the second night game at Michigan Stadium is anything like the first, we'll all be thrilled (well, except for those Notre Dame folks). Michigan and Notre Dame
delivered the drama two years ago under the lights
, and the spectacle Saturday night in Ann Arbor should once again be incredible. The teams' past four meetings have all been decided by seven points or fewer (19 points total). The series sadly disappears after the 2014 meeting in South Bend, so enjoy it while it lasts.
2. Rees vs. Gardner:
Notre Dame-Michigan features another appetizing quarterback matchup. While
Tommy Rees
remains a polarizing figure for some Notre Dame fans, it's hard to argue with what he has done against Michigan. Before last Saturday's opener against Temple, Rees' only 300-yard passing performance came against Michigan two years ago, and he led Notre Dame to victory last fall. Rees can stretch the field, as he had more passes of 20 yards or longer against Temple (7) than Everett Golson had in any game last season.
Devin Gardner
was Michigan's leading receiver last year against Notre Dame, but he's firmly entrenched as a quarterback. Gardner has been deadly in the red zone for the Wolverines, converting 19 touchdowns in 22 red zone trips as the starter.
3. Spartans looking for a spark:
Michigan State basically has two more weeks to get its offense right before facing one of the nation's top defenses on the road at Notre Dame. The unit's opening act was highly disappointing, as Michigan State averaged just 3.8 yards per play against a Western Michigan defense that ranked 61st nationally in 2012. Head coach Mark Dantonio has kept mostly quiet about his quarterback situation this week as
four players continue to get reps in practice
. The Spartans need a solution there and at other offensive spots against South Florida, which allowed 56 points to McNeese State in its opening loss.
4. Illini aim to continue big-play ways:
One of the nation's most feeble offenses in 2012 broke out last week against Southern Illinois, as Illinois recorded six plays of 30 yards or longer -- matching its total from all of last season! Senior quarterback
Nathan Scheelhaase
recorded a career-high 416 pass yards and featured weapons like
Josh Ferguson
and
Ryan Lankford
. The question is whether the Illini can come close to that type of production against a much, much tougher opponent in Cincinnati, which held Purdue to one short scoring drive and only 226 yards last week. We'll get a much better gauge about Illinois' offensive progress against Tommy Tuberville's defense.
5. Northwestern's health:
After a mostly injury-free season in 2012, Northwestern already has been bitten by that pesky bug early this fall. The Wildcats will be without starting cornerback
Daniel Jones
(knee) for the rest of the season, putting redshirt freshman
Dwight White
in the spotlight against Syracuse. Top quarterback
Kain Colter
(head) and running back
Venric Mark
(leg) both are questionable for the game. If Northwestern can survive again like it did last week against Cal, it has a chance to get healthy in the next two weeks against weaker opponents before a two-week prep for Ohio State.
[+] Enlarge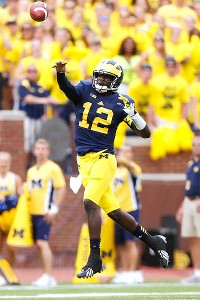 Gregory Shamus/Getty ImagesQuarterback Devin Gardner was 10-of-15 passing for 162 yards with one touchdown and two interceptions in Michigan's season-opening rout of Central Michigan.
6. Roby watch in Columbus:
After playing nine new defensive starters in last week's opener against Buffalo, Ohio State regains a very big piece in All-Big Ten cornerback
Bradley Roby
, who returns from suspension. Coach Urban Meyer wanted Roby to re-prove himself as a starter this week in practice, but it's only a matter of time before the junior distinguishes himself. Ohio State is looking for a cleaner performance in all three phases against struggling San Diego State, and it will be interesting to see how Roby performs.
7. Indiana's offensive efficiency:
Kevin Wilson's Hoosiers scored touchdowns on five of their first six offensive possessions in last week's opener against Indiana State, en route to a Memorial Stadium-record 73 points. If Indiana can come close to that type of efficiency Saturday against Navy, it will improve to 2-0. Possessions likely will be limited against the Midshipmen, as Indiana found out last year when it had only 10 offensive drives in a 31-30 loss. The Hoosiers had to settle for three field goals of 30 yards or less and need to be better about punching it in against Navy. "You don't get as many at-bats," Wilson said.
8. Second chances:
Purdue and Iowa didn't get off to the starts they wanted in Week 1, and neither did Nebraska's defense, which surrendered 35 first downs and 602 yards to Wyoming in the opener. Fortunately, all three teams should redeem themselves against weaker competition on Saturday. The Boilermakers need to boost quarterback
Rob Henry
's confidence and fix their communication problems on offense against Indiana State. Iowa quarterback
Jake Rudock
must rebound from his late interception against Missouri State. The Huskers defense, meanwhile, aims to clean things up against a Southern Miss team that has lost 13 straight and scored just 15 points against Texas State last week.
9. Wolverines' youth put to test:
Don't be surprised if Michigan-Notre Dame comes down to how well the Wolverines' young interior offensive line performs against an elite Fighting Irish defensive front led by nose guard
Louis Nix III
and end
Stephon Tuitt
, two potential first-round picks in next April's NFL draft. Michigan will start redshirt freshman
Kyle Kalis
at right guard, true sophomore
Jack Miller
at center and redshirt sophomore
Graham Glasgow
at left guard. They'll be challenged all night long (especially Miller) as they try to create running room for
Fitzgerald Toussaint
and protect Gardner.
10. Hack's home debut:
Penn State fans have been waiting more than a year and a half to watch quarterback
Christian Hackenberg
take snaps at Beaver Stadium. They'll finally get their chance Saturday as the Lions face Eastern Michigan in their home opener. Hackenberg had a few expected hiccups in his collegiate debut against Syracuse but also showed why he can be such a special player for Penn State's offense. Head coach Bill O'Brien vows to put Hackenberg in better positions to succeed this week. Hackenberg also will have top weapon
Allen Robinson
at his disposal from the start, which should make a big difference.
Penn State Hangs On To Top Wisconsin