Penn State Nittany Lions:

Dezmen Southward
May, 12, 2014
5/12/14
1:00
PM ET
Tired of NFL draft rewind posts? Well, it's nearly over. And besides, not much else is happening in mid-May.
We're taking a closer look, roundtable-style, at
the Big Ten's draft
: how certain teams did, the risers, the falls and more. Noted draft hater Brian Bennett is somewhere in Italy, so Big Ten reporters Mitch Sherman, Josh Moyer and Austin Ward are kind enough to join me in breaking down the draft.
The draft roundtable is on the clock ...
[+] Enlarge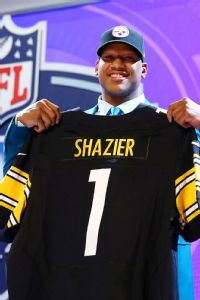 Elsa/Getty ImagesRyan Shazier ended a three-year drought without a Buckeye in the first round.
Let's start off with individual teams you cover -- Nebraska (Sherman), Penn State (Moyer) and Ohio State (Ward), for those who need a refresher. What stood out to you most about each team's draft showing?
Moyer:
Penn State had just three players drafted, so what really stood out to me was how divided the opinion was on
Allen Robinson
, who was picked up by the
Jacksonville Jaguars
in the second round. At times, he was a projected first-rounder. At other times, he wasn't projected to go until Day 3. Some lauded the Jags' pick; others labeled it a reach. Let me add my two cents: He's going to succeed in the NFL. I spoke with two former PSU and NFL wideouts,
O.J. McDuffie
and Kenny Jackson, and they both said last season that A-Rob boasts more physical skills than they ever did. That has to count for something.
Sherman:
NFL organizations continue to rate Nebraska defensive backs highly. Cornerback
Stanley Jean-Baptiste
(second round to the Saints) was the 11th draftee from the secondary in the past 10 years. Since 2003, though, just two Nebraska offensive players, including new Redskins guard
Spencer Long
, have landed in the top three rounds. Receiver
Quincy Enunwa
, despite technical shortcomings, offers value to the Jets as a sixth-round pick. As expected, all others, including quarterback
Taylor Martinez
, had to take the free-agency route.
Ward:
Ohio State has long been a pipeline for the next level, but it had actually been three years since it had produced any first-round picks until
Ryan Shazier
and
Bradley Roby
on Thursday night. The Buckeyes followed that up with four more players being selected, which suggests the talent level is starting to get back to the level the program is accustomed to after going through a bit of a down stretch. It seems a bit backward that two guys from a beleaguered defense were the top picks while the record-setting offense wasn't represented until
Carlos Hyde
and
Jack Mewhort
were grabbed in the second round, but either way the Buckeyes appear to be back as a favored target for NFL organizations.
Turning our attention to the entire Big Ten, which player surprised you by how high he was drafted, and which player surprised you with how far he fell in the draft?
Rittenberg:
I was a little surprised to see
Michael Schofield
go before the end of Day 2. We knew Michigan's poor offensive line play wouldn't impact
Taylor Lewan
, but I thought it might make teams hesitant about selecting Schofield. He's a good player who enters a great situation in Denver. Another Big Ten offensive lineman on a struggling unit, Purdue's
Kevin Pamphile
, surprised me with how early he went. I didn't see
Darqueze Dennard
, the nation's most decorated cornerback on arguably the nation's best defense last season, dropping to No. 24 overall. Wisconsin's
Chris Borland
and Ohio State's Hyde went later than I thought they would.
Sherman:
Long's rise to the third round surprised me after he missed the final six games of his senior season with a knee injury that kept him out of the combine and limited him at Nebraska's pro day. I pegged the former walk-on as a fifth- or sixth-round pick. And I thought Lewan might slip past the first 15 picks because of character questions from a pair of off-field incidents at Michigan. Conversely, I thought Borland's exemplary résumé at Wisconsin might propel him into the top 50 picks. At No. 77 to the 49ers he's a steal.
Ward:
There really weren't guys who made shocking jumps up the board in my mind, though Ohio State safety
Christian Bryant
sneaking into the seventh round was a feel-good story after he missed the majority of his senior season with a fractured ankle. The Big Ten also had a handful of first-round caliber players slide to the second day, so Minnesota's
Ra'Shede Hageman
, Indiana's
Cody Latimer
, Hyde or Penn State's Robinson all qualified as minor surprises -- and great values for their new teams.
Moyer:
How many people thought
Dezmen Southward
would be the first Badger drafted? I sure didn't. The
Atlanta Falcons
scooped him up early in the third round, and they probably could've snagged him two rounds later. As far as guys who fell, I expected both Latimer and Dennard to go sooner. They didn't free-fall, but you kept hearing before the draft how those two improved their stock -- and then Latimer nearly fell to the third round, anyway.
[+] Enlarge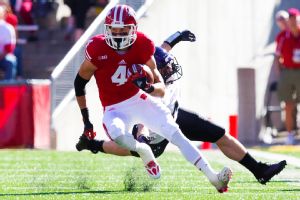 Jeff Hanisch/USA TODAY SportsWisconsin WR Jared Abbrederis went in the fifth round to the Green Bay Packers.
Which Big Ten players will be the biggest sleepers/best values in the draft?
Ward:
General managers and coaches might view running backs as easily replaceable in this new era in the NFL, but the league's most recent champion offered another reminder of how important it is to have a productive rushing attack and an elite tailback. Hyde hasn't proven anything at the next level yet, so comparing him with Seattle's
Marshawn Lynch
is a bit premature. But Hyde has all the physical tools to be a star, from his well-built frame to his often overlooked speed, and he's going to a team in San Francisco that has a system that will put him in position to thrive.
Rittenberg:
Southward's high selection surprised me, too, but the other four Wisconsin players -- Borland,
Jared Abbrederis
, running back
James White
and nose tackle
Beau Allen
-- all are good value pickups. White is an extremely versatile player who might never be a featured back but can block, catch passes and do whatever his coaches need. Allen gained great experience as a nose tackle last fall. I think the
New York Jets
get a sixth-round steal in Enunwa, whose blocking skills should help him get on the field. Big Ten coaches loved
DaQuan Jones
, who looks like a nice value pickup for Tennessee in the fourth round.
Sherman:
I'll place Robinson (second round to Jacksonville) and Abbrederis (fifth to Green Bay) together in a category of undervalued Big Ten receivers. Perhaps it illustrates a general stigma about offensive skill players from the conference; throw second-rounders Latimer and Hyde into the discussion, too. NFL decision-makers might not respect the competition these players face on a weekly basis and count it against them in evaluations. If so, that's a big problem for the Big Ten.
The Big Ten had eight more players drafted this year than in 2013, but its champion, Michigan State, had only one selection. What does this say about the league and its trajectory?
Sherman:
After 2012, the Big Ten presumably had nowhere to go but up in producing quality prospects. The influx of Urban Meyer-recruited talent will soon impact the Big Ten in the draft. Same goes for Brady Hoke, even if he's not making gains in the standings. Penn State and Nebraska, too, are upgrading their talent, so the trajectory figures to continue upward. As for Michigan State, it was young on offense and clearly better than the sum of its parts on defense, a testament to Mark Dantonio and Pat Narduzzi. The absence in the draft of
Max Bullough
and
Denicos Allen
caught me off guard.
Moyer:
Having more picks shows the Big Ten is on the right track ... but it still has a long way to go. Yes, it improved on last year -- but it still finished behind the SEC (49), ACC (42) and Pac-12 (34) this year, in terms of players drafted. As far as Michigan State, I think their success serves as a reminder that the right coaching and the right schemes can still trump a roster full of NFL-caliber players. Penn State's success during the sanctions also helps to reinforce that.
Ward:
It's another reminder of how well-coached the Spartans were a year ago, particularly in turning a defense that had just one player drafted into the nation's best unit. Dantonio deserves another bow for the job he and his staff did a year ago, even if they didn't have much to celebrate during the draft. The league does seem to be on the rise again in the minds of top athletes around the country with Meyer, Hoke and now James Franklin upping the ante on the recruiting trail. Those efforts should produce even better weekends than the one that just wrapped up.
Rittenberg:
It says something when arguably the best Big Ten team in the past seven or eight years -- MSU had nine double-digit league wins plus the Rose Bowl triumph -- produces only one draft pick. Still, I think the arrow is pointed up after a horrendous 2013 draft. The Big Ten has struggled to produce elite prospects at both cornerback and wide receiver in recent years. This year, the league had three corners drafted in the first two rounds, and while I agree the Big Ten's wide receivers were undervalued, the league still produced five picks. The next step is obvious: generating better quarterback play as no Big Ten QBs were drafted this year.
May, 12, 2014
5/12/14
9:00
AM ET
The biggest non-game on the American sporting calendar is
all done
, as the 2014 NFL draft wrapped up Saturday afternoon in New York. After
arguably its worst draft in the modern era
in 2013, the Big Ten performed better this year with 30 picks. Still, the league finished fourth among conferences in selections, trailing the SEC (49), ACC (42) and Pac-12 (34).
After a big Friday night with six second-round selections -- including four in a row -- and six third-round selections, the Big Ten's momentum slowed a bit Saturday in the final four rounds. The league had only one sixth-round pick and only four in the seventh round.
Let's start the breakdown by listing Big Ten draftees by round (with comments below). Maryland and Rutgers players aren't included here because neither group competed in the Big Ten (Terrapins CB Dexter McDougle went in the third round; Rutgers had no players drafted).
FIRST ROUND (4)
[+] Enlarge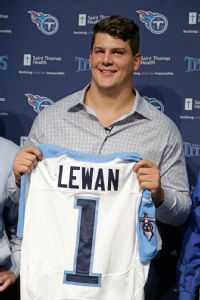 AP Photo/Mark HumphreyTaylor Lewan was the first Big Ten player selected, going 11th overall to the Tennessee Titans.
Analysis:
Click here for my first-round thoughts
SECOND ROUND (6)
Analysis:
Hageman ends up in a really good spot with the Falcons. Although Latimer had an excellent pre-draft performance, it wasn't surprising to see him end up in the middle of the second round. Hyde waited longer than many anticipated, but he enters a great situation with a team that loves to play power football. Robinson joins a new-look Jaguars passing attack featuring quarterback
Blake Bortles
and wideout
Marqise Lee
.
THIRD ROUND (6)
Analysis:
Everyone had Southward going before Borland, right? Borland, the 2013 Big Ten defensive player of the year, had an exceptional college career, but concerns about his height and perhaps his injury history moved him down the draft boards. The Iowa Effect shows up here as both Fiedorowicz and Kirksey were swept up by teams that respect what the Hawkeyes do. What does it say that Michigan's offensive line struggled mightily in 2013 but had two tackles drafted in the first three rounds? Those young Wolverines linemen had better step up this fall.
FOURTH ROUND (4)
Analysis:
Some really good pickups in this round, especially White, who will fit in very well with New England's offense. Although
James Morris
received the most accolades among Iowa's linebackers at the college level, both Kirksey and Hitchens were mid-round selections, while Morris went undrafted and signed with New England as a free agent. As a Chicago Bears fan, I love the Vereen pick. He's a smart, athletic versatile player who knows from his older brother what it takes to succeed in the NFL.
FIFTH ROUND (5)
[+] Enlarge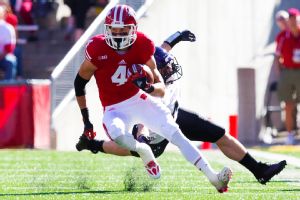 Jeff Hanisch/USA TODAY SportsJared Abbrederis isn't venturing far from Madison as he was drafted by the Green Bay Packers.
Analysis:
Like his teammate Borland, Abbrederis had a much longer wait than expected but lands in a very familiar spot with Green Bay. I think he's a steal and will surprise people with his ability to make plays despite less-than-ideal measurables. Pamphile had a fairly quiet college career but is seen as a project and could develop into a better pro. Urschel is another player who lacks the ideal physical traits sought in the NFL, but could make up for it with exceptional intelligence.
SIXTH ROUND (1)
Analysis:
Enunwa complemented his superb blocking skills with big-play ability in the pass game as a senior. He's a good value for a Jets team that needs to boost the league's 31st-ranked pass offense.
SEVENTH ROUND (4)
Analysis:
All four players could be very good values. Bolser is an athletic tight end who had 15 career touchdown catches. Allen showed versatility as a senior, transitioning to a 3-4 scheme. Gallon heads to a Patriots team that has had success with smaller, productive receivers. Bryant likely would have been selected higher if not for major leg and ankle injuries last season.
Here are the draft picks per B1G team:
Ohio State:
6
Wisconsin:
5
Michigan:
3
Penn State:
3
Nebraska:
3
Iowa:
3
Purdue:
2
Minnesota:
2
Indiana:
2
Michigan State:
1
The big surprise is a Michigan State team that dominated Big Ten play and won the Rose Bowl had just one player selected, as standout linebackers
Max Bullough
and
Denicos Allen
didn't have their names called. Only four teams -- LSU, Alabama, Notre Dame and Florida State -- had more selections than Ohio State. Illinois, which led the Big Ten in draft picks last season (4) and had 18 picks between 2009-13, had no selections. Northwestern also went without a draft pick for the second straight year.
Curious about the Big Ten's undrafted free-agent signings? Check back in a bit as we take a look.
March, 6, 2014
3/06/14
3:00
PM ET
We're taking snapshots of each position group with every Big Ten team entering the spring. Up next: the defensive backs.

Illinois:
The secondary returns mostly intact from 2013, as Illinois returns starters at both cornerback spots (
V'Angelo Bentley
and
Eaton Spence
), as well as
Zane Petty
, who started the final seven games at free safety.
Taylor Barton
, who opened last season as a starting free safety, also is back. Building safety depth is important this spring as Illinois must replace
Earnest Thomas III
. Barton will compete with
Jevaris Little
and others for playing time. The depth is much better at corner as
Darius Mosely
and
Jaylen Dunlap
both saw significant action as freshmen last fall.

Indiana:
Like Illinois, Indiana returns a lot in the defensive backfield but must improve after struggling to stop opponents in 2013. The Hoosiers also lose only one starter in safety
Greg Heban
, a mainstay during the past four seasons. There's a lot of experience at cornerback with returning starters
Tim Bennett
(senior) and
Michael Hunter
(junior), along with reserve
Kenny Mullen
(senior). Decorated recruit
Rashard Fant
, who redshirted in 2013, will compete for significant playing time. Senior safety
Mark Murphy
will lead the secondary, and sophomore
Antonio Allen
could fill the other safety spot when he returns from an ACL tear. Building depth here always is a priority at IU.

Iowa:
The situation isn't as dramatic as the linebacker spot, but Iowa still must replace two productive players in cornerback
B.J. Lowery
and safety
Tanner Miller
, who combined for six interceptions in 2013. Lowery is the more significant loss, as he had 19 passes defended and three forced fumbles. The good news is
Desmond King
looks like a budding star and he will move into the featured role Lowery occupied.
Jordan Lomax
,
Sean Draper
and others will compete to start opposite King. Strong safety
John Lowdermilk
returns after a solid junior season. Lomax also could play free safety and will compete there with
Anthony Gair
and
Nico Law
, who both appeared in all 13 games last fall as reserves.

Maryland:
The back four aims for better results on the injury front and on the field in 2013. Maryland returns both starters at safety in
Sean Davis
, the team's leading tackler with 102 last fall, and
Anthony Nixon
, but there should be competition behind them with
A.J. Hendy
and
Zach Dancel
. The cornerback position is worth watching this spring as
Dexter McDougle
departs and
Jeremiah Johnson
remains limited by a toe injury.
Will Likely
has opened the spring as a starter, and
Alvin Hill
could rise up after recording 24 tackles last season.

Michigan:
The secondary took a step back in 2013 and
all jobs are open
even though Michigan returns two veteran cornerbacks --
Blake Countess
and
Raymon Taylor
-- and some experience at safety.
Jabrill Peppers
, the nation's No. 2 overall recruit according to ESPN Recruiting Nation, will play a major role for the Wolverines this fall, whether it's at corner, safety or nickel. Junior
Jarrod Wilson
started the first seven games of last season at free safety, and
Dymonte Thomas
is a good candidate to start at one of the safety spots. Michigan should expect more from this group in 2014.

Michigan State:
Will opposing offenses invade the
No Fly Zone
in 2014? Not if Michigan State can fill several spots, none bigger than
Darqueze Dennard
's at cornerback. Dennard, a unanimous All-American and the Jim Thorpe Award winner, departs to the NFL, and junior
Trae Waynes
slides into the featured corner role after a promising sophomore season. The competition opposite Waynes heats up this spring as
Ezra Robinson
,
Darian Hicks
,
Jermaine Edmondson
and
Arjen Colquhoun
compete. Free safety
Kurtis Drummond
boasts 21 career starts and enters 2014 as one of the league's top safeties.
RJ Williamson
likely will fill
Isaiah Lewis
' spot at strong safety, and
Demetrious Cox
provides depth.

Minnesota:
Like the Gophers' defensive line, the secondary loses a huge piece in
Brock Vereen
, who played both safety and cornerback last season. But there might be enough returning pieces to fill the void. Cornerback
Eric Murray
had a
very solid first season as a starter
, and Minnesota also brings back
Derrick Wells
and
Briean Boddy-Calhoun
, both of whom have starting experience. Leading tackler
Cedric Thompson
and
Antonio Johnson
finished last season as the starting safeties, and both are back. Senior
Grayson Levine
provides some experience in a reserve safety role.

Nebraska:
An important spring awaits new defensive backs coach Charlton Warren, who must identify new starters at cornerback, safety and nickel. The Huskers are replacing
Ciante Evans
and
Stanley Jean-Baptiste
, who combined for eight interceptions, 18 passes defended and 15 tackles for loss in 2013. Safety
Andrew Green
, who made 10 starts in 2013, also leaves. The good news is cornerback
Josh Mitchell
had an excellent bowl game and will fill a starting spot. Leading tackler
Corey Cooper
also returns at safety. There's not much experience at corner other than Mitchell, and
Daniel Davie
, Auburn transfer
Jonathan Rose
and others will compete. Nebraska brings back more at safety with
Harvey Jackson
, who made three starts in 2013, and junior
Charles Jackson
.

Northwestern:
That the Wildcats' secondary could be one of the team's biggest strengths seemed laughable three years ago, but it could be true this fall. All four starters return, led by safety
Ibraheim Campbell
, one of the Big Ten's most productive defenders (262 career tackles). The depth at cornerback looks strong as starters
Nick VanHoose
and
Matt Harris
return, along with
Dwight White
and
Daniel Jones
, who opened 2013 as a starter and is coming back from an ACL tear.
Traveon Henry
should start alongside Campbell, and there are some promising young safeties like
Godwin Igwebuike
.

Ohio State:
Pass defense proved to be Ohio State's downfall in 2013, and the Buckeyes' secondary will be under the microscope this spring as new assistant Chris Ash steps in. Ohio State loses All-Big Ten cornerback
Bradley Roby
and will lean more on
Doran Grant
, who started opposite Roby in 2013. Ash also expects big things from
Tyvis Powell
, who will start at one of the safety spots. Safety
Vonn Bell
finally logged significant playing time in the Orange Bowl and could become a permanent starter as a sophomore. Veteran
Ron Tanner
and
Cam Burrows
also are in the mix at safety. There should be good competition to start opposite Grant, as
Armani Reeves
tries to hold off redshirt freshmen
Gareon Conley
and
Eli Apple
.

Penn State:
After a season of moving parts and inconsistent plays, Penn State hopes for a more settled secondary.
Adrian Amos
, who alternated between cornerback and safety last season, will lead the group and brings plenty of experience.
Jordan Lucas
likely will start opposite Amos at cornerback after making strides toward the end of his sophomore season. PSU loses some leadership at safety with
Malcolm Willis
and
Stephen Obeng-Agyapong
departing and will lean on
Ryan Keiser
and
Jesse Della Valle
, both of whom have starting experience. Converted wideouts
Trevor Williams
and
Malik Golden
provide depth at cornerback and safety, respectively.

Purdue:
The rotation from 2013 returns almost completely intact, but Purdue loses a very big piece in cornerback
Ricardo Allen
, a four-year starter. Cornerback
Frankie Williams
enters his third year as a starter and will slide into Allen's featured role, while the competition for the other top corner spot will feature
Antoine Lewis
and
Leroy Clark
, among others. Purdue has plenty of experience at safety with
Taylor Richards
, who started every game in 2013, and
Anthony Brown
, who replaced the injured
Landon Feichter
and had 69 tackles. Feichter also is back from a broken leg.

Rutgers:
This group is anxious to turn the page after a season filled with personnel issues and poor performance (Rutgers finished 120th nationally in pass defense). Senior safety
Lorenzo Waters
leads the group after recording 62 tackles and two forced fumbles in 2013.
Johnathan Aiken
will try to start opposite Waters at free safety, although he'll be pushed by
Delon Stephenson
and
Tejay Johnson
, who started three games last fall.
Gareef Glashen
started six games last season and seems likely to retain one of the top cornerback spots. There will be competition at the other between
Anthony Cioffi
and
Nadir Barnwell
, both of whom started games as true freshmen in 2013. The most intriguing player to watch is cornerback
Ian Thomas
, who
returns to the team after quitting midway through last season
, one that he began as a starter.

Wisconsin:
The Badgers are relatively young at both secondary positions but boast far more experience at cornerback than safety. Junior
Darius Hillary
and sophomore
Sojourn Shelton
started all 13 games at cornerback last season.
Peniel Jean
adds even more experience at the position. Safety is much less settled as
Dezmen Southward
graduates,
Michael Caputo
shifts to linebacker and
Tanner McEvoy
returns to quarterback.
Nate Hammon
and
Leo Musso
both played in all 13 games last fall as reserves. Newcomers like
Serge Trezy
and
Austin Hudson
could compete for time when they arrive this summer.
February, 7, 2014
2/07/14
9:00
AM ET
The official
invite list for the 2014 NFL combine
is out, and 36 Big Ten players will try to impress pro scouts during workouts in Indianapolis from Feb. 22-25. In case you were wondering, that's fourth most among conferences behind the SEC (71 invitees), the ACC (48) and the Pac-12 (45).
Here are the Big Ten players who were invited, broken down by position:
Quarterbacks (0)

Running backs (2)

Wide receivers (8)

Tight ends (2)

Offensive linemen (8)

Defensive linemen (2)

Linebackers (7)

Defensive backs (7)

Specialists (0)
Breakdown
It's a strong list of players, but were there any snubs. Nebraska quarterback
Taylor Martinez
, Michigan State linebacker
Denicos Allen
and Iowa cornerback
B.J. Lowery
jump out right away as missing, though Martinez has injury (and position) concerns, while Allen's small frame means he'll have to prove to scouts he can play at the next level.
I'm also a bit surprised not to see Indiana's
Ted Bolser
on this list; he's not a traditional blocking tight end, but his receiving skills would seem to translate to the NFL. Only nine kickers and punters were invited to Indy, yet it's a little disappointing that Purdue's
Cody Webster
and Northwestern's
Jeff Budzien
weren't included in the specialists.
Others who could have gotten an invite include Purdue defensive tackle
Bruce Gaston
, Ohio State guard
Andrew Norwell
and Nebraska defensive back
Ciante Evans
.
That doesn't mean those guys won't play in the NFL. But their path to the league might be a little more winding.
January, 27, 2014
1/27/14
11:00
AM ET
The North team lost 20-10 to the South in the
Senior Bowl
on Saturday, but it was still a good day for many Big Ten draft hopefuls.
[+] Enlarge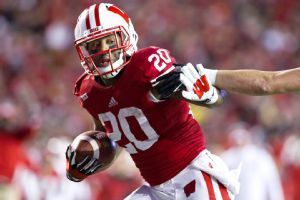 Dan Sanger/Icon SMIJames White was one of a few Wisconsin players who stood out at the Senior Bowl.
Wisconsin seniors in particular grabbed the spotlight in Mobile, Ala. Former Badgers tailback
James White
led all rushers with 11 carries for 62 yards and had the game's only rushing score, a 1-yard, fourth-quarter plunge that also was his team's lone touchdown. White added five catches for 15 yards, showing the versatility that made him a standout for four years in Madison. After he was long overlooked in college, it's good to see White getting a chance to shine on his way toward the NFL.
White's teammate, former Badgers tight end
Jacob Pedersen
, led the North squad with 46 receiving yards on four catches. Meanwhile, ex-Wisconsin star
Chris Borland
wrapped up a terrific week of practice with a team-best eight tackles, including a tackle for a loss and his signature play: the forced fumble.
Borland was named the most outstanding linebacker at the Senior Bowl on Friday. He appeared to answer any lingering concerns about his height and should be drafted within the first two or three rounds in April.
One Wisconsin star didn't play in the game, as receiver
Jared Abbrederis
tweaked a hamstring late in the week and flew home to recover. That opened a spot for Michigan State's
Bennie Fowler
, who contributed two catches for 19 yards on Saturday.
Iowa's
Christian Kirksey
finished second on the North team with six tackles, including 1.5 for loss. He received positive reviews for his play all week. His former Hawkeyes teammate, tight end
C.J. Fiedorowicz
, did not record a catch but was credited with two tackles. Fiedorowicz was named the most outstanding tight end at the Senior Bowl on Friday, and his impressive physical attributes should make him attractive to teams on draft day.
Other Big Ten players who collected stats included:
The North team also featured Big Ten offensive line products
Jack Mewhort
(Ohio State) and
Michael Schofield
(Michigan).
December, 16, 2013
12/16/13
4:00
PM ET
Bowl season is just around the corner, and all-star season is just beyond the bowls. Invitations for several pre-draft events have gone out to seniors around the Big Ten.
This is
not
a final list, just an early rundown to give you an idea of who is going where to showcase their skills in front of the NFL folks.
REESE'S SENIOR BOWL (Jan. 25, Mobile, Ala.)
EAST-WEST SHRINE GAME (Jan. 18, St. Petersburg, Fla.)
The
NFLPA Collegiate Bowl
has announced only a few player confirmations (including former Wisconsin DE
David Gilbert
), but none yet from the Big Ten. We'll include Big Ten invites in our next update. The
Texas vs. Nation game
and
Raycom College Football All-Star Classic
will not take place this season.
November, 30, 2013
11/30/13
7:00
AM ET
STATE COLLEGE, Pa. -- The Badgers are still trying to keep their hopes for a BCS bowl alive, while the Nittany Lions are trying to finish with a winning season.
Penn State is about a three-touchdown underdog, and it would be a small victory just to keep this game close. Here are five things to watch in PSU's season finale:


1. Two of the best true freshmen in the Big Ten.
OK, Penn State fans, the first one's a pretty easy guess -- quarterback
Christian Hackenberg
. He seems to be the favorite for the Big Ten freshman of the year award, and he's played pretty well considering he only enrolled over the summer. But Wisconsin also boasts one of the best true freshmen in the conference, and it's someone whom Hackenberg's going to have to deal with -- 5-foot-9 cornerback
Sojourn Shelton
, who leads his team with four interceptions. Shelton will be lined up against
Allen Robinson
at times, and he's looking forward to the matchup. Here's what he told ESPN.com earlier this week: "It's marked on my calendar; it's a very serious situation. I played pretty good receivers all this season, but this is that one where this is your chance to blow up as a guy. I want to be talked about like
Darqueze Dennard
and
Bradley Roby
-- and this is my shot. You can either seize the moment or you can fold." Think he's not fired up? Should be interesting to see a glimpse of the future with these two.
2. Wisconsin running game vs. PSU run defense.
The average Badgers' offensive lineman is a little more than eight pounds heavier than the average Green Bay Packers' OL, and Wisconsin's two tailbacks --
James White
and
Melvin Gordon
-- have had no trouble running this season. Wisconsin leads the nation in rushes of 30 yards or longer (21) and 50 yards or longer (9). And it's averaged a BCS-high 9.1 yards per carry on designed runs outside the tackles -- and it just so happens that's a weakness of the Penn State defense. DEs
Deion Barnes
and
C.J. Olaniyan
will have to contain and be on top of their games -- or this could get ugly. Fast.
3. One-dimensional pass offenses.
Robinson and
Jared Abbrederis
are basically their teams' only receiving threats. Abbrederis (61 catches, 916 yards) has accounted for more than one in every three Wisconsin completions, and he's accounted for 43 percent of the passing offense. It's even starker for Penn State. Robinson (89 catches, 1,310 yards) has accounted for 40 percent of the offense's completions and 47 percent of the passing offense. When Hackenberg targets Robinson, he's completing 63.6 percent of his passes and has thrown five TDs to one pick. When he targets any receiver not named Robinson? His completion rate drops to 50.4 percent, and he's passed for four TDs and four picks. Basically, if neither wideout can get going, it means neither can the passing games.
4. Repeat performance for Zach Zwinak?
The 240-pound back is playing his best football right now, as his last three games have been his three biggest rushing performances of the season (150 yards, 149 yards, 149 yards). And he had quite the game last year against Wisconsin, when he carried the ball 36 times for 179 yards. Don't think Wisconsin forgot. "That is something that stuck with me," senior safety
Dezmen Southward
told the Milwaukee Journal Sentinel
. The Badgers are out for revenge, and Penn State's offense needs the running game to remain strong for it to have any shot at keeping the game close.
5. Wisconsin on play-action passes.
Yes, just the threat of Wisconsin running the ball helps out the offense. It's night and day when
Joel Stave
attempts a pass off a play-action pass compared to without. Without, he has eight TDs to seven interceptions, averages 6.5 yards through the air and has a dozen completions that have gone for longer than 20 yards. With the play-action, he's almost been a different quarterback. He's passed for nine TDs to two picks, averages 12.1 yards through the air and has 18 completions that have gone for at least 20 yards. So, really, whenever Wisconsin turns toward its tailbacks for a handoff -- even if it's a fake -- that could spell trouble for the Penn State's defense.
September, 30, 2013
9/30/13
11:00
AM ET
How much heartburn can one team and one fan base take?
That's one of the lingering questions from Week 5 for Wisconsin, which dropped another close game Saturday in a 31-24 loss to Ohio State. That's 10 defeats by seven points or less since the start of 2011 for the Badgers, who have done this so much that we're starting to see reruns.
Prime example: Ohio State quarterback
Braxton Miller
's 40-yard touchdown pass to
Corey Brown
with one second to go in the first half covered the same distance as Miller's game-winning heave in the last half Wisconsin played in the Horseshoe, back in 2011. This time, safety
Dezmen Southward
was late in providing help after cornerback Peniel Jean peeled off, making an inexcusable mistake by letting a receiver get free in the end zone on the half's final snap.
"It's basically a play that shouldn't ever happen," Southward said afterward.
[+] Enlarge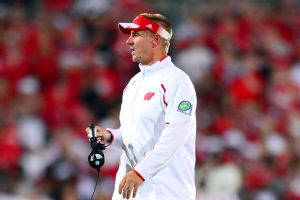 Andrew Weber/USA TODAY SportsGary Andersen couldn't pull out a win for Wisconsin against Ohio State.
The Badgers also had two potential Ohio State turnovers negated by penalties, one on a face-mask call that didn't look like a face-mask violation on replay and the other on an illegal punt formation. Kicker
Kyle French
also missed a 32-yard field goal -- the same distance he was being set up for at Arizona State.
The late-game problems can't really be blamed on the head coach's late-game management. Gary Andersen had his team in position to win at Arizona State until the officials botched the final seconds. On Saturday, he elected to have his team punt on fourth-and-1 from its own 17 with under seven minutes left, while trailing by 14 points. At the time, that looked like a potential mistake. But Wisconsin got the ball right back and scored a touchdown with 2:05 left.
The Badgers then tried a pooch onside kick that
Bradley Roby
had to knock out of bounds. In retrospect, with all three timeouts remaining, Andersen could have just kicked off and potentially gotten better field position after his defense held for a three-and-out. But it was a totally understandable call to try to get the ball back on the road.
Meanwhile, every decision seems to continue working out for Urban Meyer in his 17-game winning streak. I thought Meyer was a little more conservative than normal on Saturday night. It was very surprising, for instance, to see him not go for it on fourth and 2 from the Wisconsin 45 in the first half, instead trying the lame "Let's-try-to-draw-them-offside" technique before punting. Ohio State also played it safe in the fourth quarter instead of going for the kill shot. Miller's wounded duck pass before the touchdown at the end of the half should have been picked off.
But the Buckeyes -- who scored only seven points in the second half -- again came away unscathed. They have become the anti-Wisconsin, having won six games by seven or fewer points since the start of last season.
Badgers fans have to wonder when their heartburn will finally be soothed.
Take that and rewind it back …
Team of the week:
Ohio State. The Buckeyes got their first major challenge of the season and pulled through in a tough game against Wisconsin. The environment in the Horseshoe was electric from start to finish and included a visit from LeBron James and
this amazing halftime show
by TBDBITL (try not to be impressed by the formation around the 4:30 mark). Seventeen in a row and counting.
Worst hangover:
Minnesota. The Gophers thought they had made progress in getting ready for the rigors of Big Ten play and that this year's 4-0 start meant more than last year's. Instead, they got manhandled by Iowa in game No. 5 just like last season, leading to questions about what really has changed for this program.
Big Man on Campus (offense):
We usually don't single out players from teams who lost for this honor, but the best effort we saw this past weekend came from Wisconsin receiver
Jared Abbrederis
. Ohio State thought it could slow down the Badgers' only notable receiving threat by putting All-America cornerback Roby on him. Not close. Abbrederis finished with 10 catches for 207 yards and a touchdown. His Twitter handle is @abbrecadabra, and how he keeps getting so open might just be magic.
Big Man on Campus (defense):
Iowa linebacker
James Morris
had an outstanding game against Minnesota, recording eight tackles, a sack and an interception and leading the defensive effort that limited the Gophers to just 165 total yards. "He plays the way I expect him to," Iowa coach Kirk Ferentz said. "He's a complete football player. Nobody prepares any harder, works any harder. He does things you would hope anybody would do. And he backs it up every Saturday." Ohio State's
Ryan Shazier
and Wisconsin's
Chris Borland
also had standout games, but what else is new in this star-studded linebacker league?
Big Man on Campus (special teams)
: Ohio State punter
Cameron Johnston
placed all six of his punts inside the Wisconsin 20-yard line and five of those inside the 10, helping the Buckeyes maintain great field position most of the night. The Badgers managed just three return yards on punts. "Our punt team is solid, and that's probably the star of our special teams," Meyer said.
Fun with numbers (via ESPN Stats & Info):
Ohio State's Miller was 9-for-11 for 107 yards and had three of his four passing touchdowns off play-action Saturday. He has completed more passes off run fakes against Wisconsin (17) in his career than any other opponent. … Meanwhile, Badgers QB
Joel Stave
threw the ball 25 times without using play-action and completed just 13. It was only the third game in the last four seasons that a Wisconsin quarterback attempted at least 25 passes without a run fake; the Badgers have lost all three of them. … Illinois'
Nathan Scheelhaase
has completed 21 passes that have gone for at least 20 yards. That's tops in the Big Ten and tied for eighth in the nation. … Remember how frustrating it was to watch Iowa continually come up short of the sticks on third down last season? That's not the case this year for the improved Hawkeyes. They're converting on 52.5 percent of their third-down tries, good for 13th best in the country. … Northwestern has scored 83 points off turnovers in four games, the most in the nation. … Purdue's opponents have committed just 12 penalties in five games, second fewest of any team in the FBS. The Boilers' penalty margin is the worst in the country, as they have committed 30 themselves for a minus-18 margin.
August, 12, 2013
8/12/13
12:00
PM ET
If that's true, if you don't know who I am, then maybe your best course would be to tread lightly.
BIG TEN SCOREBOARD
Thursday, 9/3
Friday, 9/4
Saturday, 9/5
Sunday, 9/6
Monday, 9/7