Penn State Nittany Lions:

Derek Dowrey
March, 5, 2014
Mar 5
12:00
PM ET
STATE COLLEGE, Pa. -- Penn State lost quite a few solid starters this offseason, but that should make the spring position battles all the more interesting.
As part of this week's countdown, which centers on those position battles, we're taking a closer look today at one such position that lost two experienced players ...
No. 3 position battle:
Defensive tackle
Departures:
DaQuan Jones
(56 tackles; 11.5 tackles for loss),
Kyle Baublitz
(23 tackles, three sacks)

Returning players:
Tarow Barney
(early enrollee),
Parker Cothren
(redshirted),
Brian Gaia
(5 tackles; 11 games played),
Austin Johnson
(27 tackles; three tackles for loss),
Antoine White
(early enrollee)
Breaking it down:
Johnson will take up one starting spot, but there's a big question mark surrounding the other.
Derek Dowrey
appears to have moved to the offensive line, and there's still a chance that defensive end
Anthony Zettel
could slide inside on a permanent basis. But for now it appears as if the main battle will be between Barney and Gaia.
Gaia boasts more experience than Barney, an early enrollee -- but not by much. Barney is a bit bigger at 290 pounds, according to the current online roster, and it should be a good battle. Penn State really needs someone who can stuff the run, since Zettel can always rush the passer inside. So whoever is better in the run-stuffing department should take this spot. Defensive line coach Sean Spencer likes to use a lot of bodies and combinations along the line, too, so even the backup should see quite a bit of playing time this season.
Pre-camp edge:
Gaia. He has the edge since he's spent more time with the team and the strength program. But anything can happen here.
Tyler Ferguson
had the advantage at quarterback last May, and look what happened there. Barney isn't as used to this level of competition as Gaia since he's coming from a community college in Mississippi, so it will take some time to adjust. Make no mistake; Gaia has the advantage right now. But that advantage could be eroded by the time the Blue-White Game swings around April 12. That's what makes this position battle one of the best ones to watch.
More position battles to watch:
No. 5:
Kicker
No. 4:
Tight ends
February, 26, 2014
Feb 26
9:00
AM ET
STATE COLLEGE, Pa. -- We've reached the midpoint of this week's countdown, which is ranking the five players to keep an eye on this spring.
Up next is a versatile defensive lineman who was quite the spark plug last season …
No. 3 spring player to watch:
DL
Anthony Zettel
[+] Enlarge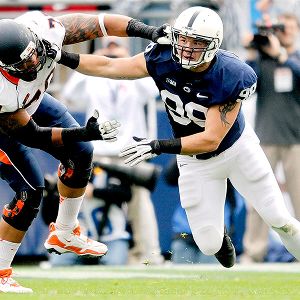 MCT via Getty ImagesAnthony Zettel proved to be a solid pass-rusher and keeping him on the edge could help the Penn State defense.
2013 review:
Zettel played in every game and was a key reserve who came up with four sacks, an interception and six tackles for loss. He didn't see as much time as those numbers suggest, but he was almost a lock to make his stops in the backfield. He finished with just 16 tackles, and more than one in three ended up going for a loss. He saw more time as the season progressed and was one of the nicer surprises for the defensive line. He played both defensive end and, in passing situations, also played defensive tackle. He was surprisingly effective inside on those situations, despite playing at just 258 pounds.
Why spring is so important:
There are a few questions surrounding this line: Can
Deion Barnes
rebound from his sophomore slump? Can this defensive line improve without
DaQuan Jones
? Who'll start alongside
Austin Johnson
at defensive tackle? All those answers will touch on Zettel one way or another. If Barnes struggles, Zettel could take his spot just as he did twice last season against Michigan and Illinois. Zettel also has the ability to play inside and, if the other defensive tackles start off slow, he could potentially make a permanent move and start alongside Johnson. Zettel finished second in team sacks (4) last season despite starting just two games, and he definitely has the ability to challenge for a starting job or at least earn more considerable playing time.
Best-case scenario:
For the team? Barnes returns to old form and either
Brian Gaia
,
Derek Dowrey
or
Tarow Barney
progress quickly enough to be a solid option at defensive tackle. Defensive line coach Sean Spencer doesn't start Zettel but plays him constantly, and Zettel still finishes near the top when it comes to sacks and tackles for loss. Best-case for Zettel? His talent can no longer be ignored, and he either surpasses Barnes on the depth chart or he gains weight in the offseason and takes up a spot alongside Johnson. He leads the team in at least one stat category and is in the conversation as an All-Big Ten player.
Worst-case scenario:
Zettel is forced to spend most of his team inside, and he's unable to put on significant weight before the season opener. He does fine on passing downs, but Spencer is forced to keep him in on rushing plays -- and that's where Zettel struggles. The interior becomes a defensive soft spot, and Big Ten teams run all over the Nittany Lions as a result. It's nearly the opposite of the season before, and Penn State struggles against bigger running backs.
More players to watch:
No. 5:
DB
Adrian Amos
No. 4:
LB
Nyeem Wartman
February, 10, 2014
Feb 10
9:00
AM ET
STATE COLLEGE, Pa. -- Signing day is over and spring practice is still a few weeks away, so we've designed a few countdowns to keep you busy in the meantime.
This week, we're taking a look at Penn State's top five position groups with room to improve. No. 1 will be unveiled on Friday, so sit back and relax as this countdown kicks off.
Up today: No. 5 -- defensive tackles.
[+] Enlarge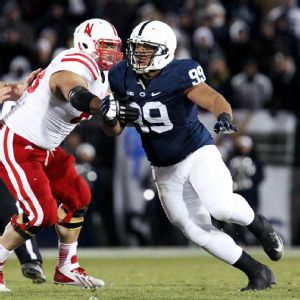 Matthew O'Haren/USA TODAY SportsAustin Johnson showed promise at defensive tackle in 2013 and will be the foundation of Penn State's defensive line next season.
No. 5:
Defensive tackles
The players:
Austin Johnson
(27 tackles, 1 sack, 1 fumble recovery),
Brian Gaia
(5 tackles),
Derek Dowrey
(1 tackle),
Parker Cothren
(redshirt),
Antoine White
(early enrollee),
Tarow Barney
(early enrollee).
Last season:
The interior was a strength in 2013, with 318-pound
DaQuan Jones
anchoring it. Jones earned the team's MVP award by routinely taking on double teams and still leading PSU with 11.5 tackles for loss. He also ensured that neither of Wisconsin's tailbacks reached the 100-yard mark Penn State's upset over the then-No. 15 Badgers.
Kyle Baublitz
rotated in with Johnson on the other side and put up respectable numbers (3 sacks, 1 blocked kick) before deciding to move on with a teaching career. The line was the defense's strong point last season.
What's missing:
Experience. Jones is heading to the NFL, Baublitz is heading to State College Area High, and Johnson is the only returning defensive tackle who saw serious time at the position last season. Put simply, there are a lot of question marks. Former coach Bill O'Brien was set on taking a junior college defensive tackle because he was in such desperate need of finding an immediate contributor, so it wouldn't be surprising to see new coach James Franklin plug in a newcomer right away.
Moving forward:
Defensive end
Anthony Zettel
could move inside and, in a lot of ways, that would help quiet those questions surrounding experience. But he's only 258 pounds right now, so of course there's the question of his weight. Defensive line coach Sean Spencer likes to rotate a lot of players on his line, so we could see more of a lot more combinations this season. Johnson is really the only lock, but he has a bright career ahead of him.
The staff needs to decide quickly what it wants to do with Zettel and, from there, find at least one more DT who can separate himself. Gaia played in 11 games last season and likely holds the slight edge right now, but Dowrey's not that far behind. Barney and Cothren are both darkhorses, and a lot of eyes will be on them in the spring.
January, 2, 2014
Jan 2
3:00
PM ET
Here's a compilation of Twitter reaction from current players, former players and recruits regarding Bill O'Brien's decision to coach the Houston Texans:
I love my 2014 class of PSU ....we have that brothers connection and we didn't even enroll to PSU yet

— Marcus Allen (@Chico_Ehhh) January 2, 2014
If it wasn't for Coach OB I probably wouldn't be playing football anymore, I wish him the best in the NFL.

— Devin Pryor #16 (@D_Pryor16) January 1, 2014
I just can't wait to figure out who my head coach is going to be next year #WeAre #WeAreAndAlwaysWillBe

— Charlie Shuman (@BigCShu71) January 1, 2014
We all we got! No reason to panic or jump ship! Doesn't matter the system nor the coach...players win games period

— Bill Belton (@W3BII) January 1, 2014
No matter what happens football games will be played and won by the Nittany Lions love all my brothers we will stick together #WeAre

— Hunter Crafford (@Craf_FordTough) January 1, 2014
Never worry about the things you can't control

— Malik Golden (@_goldenboy6) January 1, 2014
A man's gotta do what a man has GOT TO DO. It's life baby !

— Stephen Obeng-Agy... (@BigBENGTheory7) January 1, 2014
New Year, New Head Coach I suppose

— DaeSean Hamilton (@SkeeterMills__) January 1, 2014
Recruiting Class of 2014 #pennstate #weare I'm going stick by penn state side ! Regardless the new head coach I will be attending penn state

— MARK ALLEN (@theALLENshow) January 1, 2014
Bout to be the best year for me yet and bout to be the best year for Penn State #WeAre

— carter Henderson (@hendydo_42) January 1, 2014
I hope I have another chance to play under Coach O'B. I love the guy, I appreciate everything he's done for me. I couldn't be more thankful.

— Jesse James (@JJames18_) January 1, 2014
Good luck to Coach O'Brien and his family. Made a tremendous impact on my life and many others during his time at Penn State.

— Ty Howle (@THowle60) January 1, 2014
Best of luck to the O'Brien family and to the lucky man that gets to coach this prestige organization... I can't wait to meet you

— Troy Stivason (@teejaystives) January 1, 2014
To all of the Penn State family: Penn State is and will always be about more than any one man. WE ARE everything we have always been

— Derek Dowrey (@doubleDowrey) January 1, 2014
Coach O'Brien was a great mentor, coach and father figure but every coach has the aspirations to coach in the NFL. glad coach can chase his.

— Brian Gaia (@that_gaia) January 1, 2014
Gotta keep on movin forward people that's all we can do #yafeelme

— Austin Johnson (@AJohn15) January 1, 2014
One thing OB taught me is that this is a business, and u should do what's best for you.Texans are getting a good coach, I wish him the best

— Deion Barnes (@DBarnes_18) January 1, 2014
Its weird that I am one of the few penn state football players that will have 4 head coaches #mindblown #ohwell it's the business #NFL

— Matt Zanellato (@mzanellato) January 1, 2014
Coach O'brien is a great coach and great person! Proud to have called him my coach. It was his dream to coach in the NFL, best of luck. #PSU

— Mike Hull (@m_hull4943) January 1, 2014
I'll love Coach Obrien forever. He will always be apart of Penn State. One of the greatest men I've ever known. #PennStateForever

— Miles Dieffenbach (@Curiousjorge65) January 1, 2014
Fight on. We still are and forever will be.

— Garrett Sickels (@Sickels_90) January 1, 2014
Time to move on Penn State! We will find the right man for the job. BOB did plenty for us. Time for a true Blue and White bleeder! #WeAre

— OJ McDuffie (@ojmcduffie81) January 1, 2014
November, 19, 2013
11/19/13
4:30
PM ET
STATE COLLEGE, Pa. -- Coach Bill O'Brien announced Tuesday that three Penn State players will forgo their final seasons of eligibility and be honored Saturday along with the seniors.
Here's a look at each player, what he has meant to the team and who will be taking his place next season:
DT Kyle Baublitz, 6-foot-5, 281 pounds
Season stats:
Started seven out of 10 games. 17 tackles, two sacks, one blocked kick.
Synopsis:
Baublitz announced Saturday he decided to move on with his life and will perform student-teaching next year at State College Area High School instead of starting along the PSU interior. He will be missed immensely, as he was expected to start alongside
Austin Johnson
in 2014 as the clear No. 1. His departure leaves PSU in a very difficult spot with
DaQuan Jones
graduating. PSU clearly doesn't feel very good at this position because it continues to go after juco defensive tackles -- and it wouldn't be out of the question for a first-year player to make an impact next year either.
Taking over:
No returning defensive tackles have a lot of experience (i.e. --
Derek Dowrey
and
Brian Gaia
), so the smart money would be on defensive end
Anthony Zettel
moving inside. Zettel said several weeks ago he feels confident he can make an impact along the interior, and PSU could certainly use him. PSU likes to use at least three players on a rotation, so expect Zettel-Johnson to start inside with another guy -- possibly a first-year player -- also seeing a good amount of time.
RT Garry Gilliam, 6-6, 303
Seasons stats:
Played in nine games and started four. Helped PSU average 4.2 ypc.
Synopsis:
Gilliam is easily the most surprising of the bunch. He moved from tight end to offensive tackle in the offseason, and he has done a tremendous job at transitioning. He has battled
Adam Gress
for the starting spot all season and, if he returned next year, he'd almost certainly be the starter opposite LT
Donovan Smith
-- especially considering the other competition, Gress and
Eric Shrive
, are set to graduate. There's not a lot of options at offensive tackle with Gilliam leaving.
Taking over:
O'Brien has been high on freshman
Andrew Nelson
all season, and he could be the heir apparent. There really aren't too many other options.
Anthony Alosi
can play both guard and tackle -- but he'll be the only other returning player who's listed as a tackle on the roster. PSU needs to replace two inside linemen, too, so moving a guard to the outside will require quite a bit of forward thinking.
WR Alex Kenney, 6-0, 195.
Season stats:
Played in six games with zero starts. Has three catches for 25 yards.
Synopsis:
He's the least-surprising player to graduate early. He came in to Penn State as a four-star recruit, but he never really made an impact. He always seemed to be a track athlete in a football uniform. He was supplanted this season by freshman
Richy Anderson
, and he hasn't caught a pass since Week 3. Even with PSU's top-two receivers likely leaving after this season, Kenney still wouldn't have seen time next season.
Taking over:
Anderson has already taken over for Kenney, so it's not much of a stretch to think he'll stay at his slot position. Anderson has 11 catches for 95 yards so far.
October, 14, 2013
10/14/13
4:30
PM ET
STATE COLLEGE, Pa. -- Bill O'Brien's gutsy decision to go for it Saturday on fourth-and-1 in the fourth overtime still has this town talking.
Punter
Alex Butterworth
tweeted Monday morning that everyone in his classes was still
chatting about the season-defining win
over Michigan. Defensive tackle
Derek Dowrey
said he was watching highlights in class -- and getting
"hyped all over again."
[+] Enlarge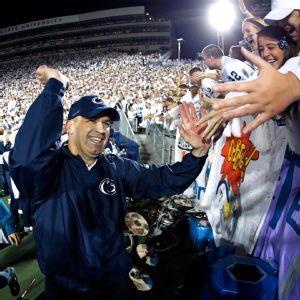 AP Photo/Gene J. PuskarNo coach in a BCS conference has gone for it on fouth down more since 2012 than Bill O'Brien.
Monday's conversations could have been markedly different had O'Brien decided to play it safe and instead try for the 33-yard field goal to force a fifth overtime. But there has been nothing safe about O'Brien's play-calling since he arrived in Happy Valley.
Since O'Brien took over, only two other coaches -- Air Force's Troy Calhoun and Army's Rich Ellerson -- have decided to go for it more often. Both coaches have left their kickers twiddling their thumbs on the sideline 57 times since the start of last season, while O'Brien has done it 51 times.
Penn State players were asked about all sorts of things Saturday night -- their surprise over the blocked field goal, their emotions after the game-winning TD, exactly when their shock gave way to joy -- but absent were any questions about whether they were surprised to see O'Brien march the offense out on the field in place of the field-goal unit.
No one asked because this was normal by O'Brien standards. There was no bewilderment from the players, the media or the fans. This was just Bill O'Brien. In fact, the head coach was thinking of gambling well before the game hit a Big Ten-record fourth OT.
He initially stuck two fingers in the air following
Christian Hackenberg
's improbable touchdown drive in the final minute of regulation. "I changed my mind and went with the PAT," he said.
So when that fourth-and-1 situation reared its head in overtime No. 4? When PSU found itself on the 16-yard line? When O'Brien had another chance to ditch the conservative play-calling? There was no question about what O'Brien wanted to do. He didn't hesitate.
"If you miss," one reporter told him, "you're going to get crucified by everybody."
"Of course I'm going to get crucified," O'Brien said, shrugging his shoulders. "That's part of the job. The thing is at that point in time, it was the fourth overtime and I felt like it was time for someone to win the game. We could sit here and keep trading field goals back and forth, but eventually it was time for someone to win the game -- and I had the opportunity to do it."
O'Brien, whose go-to play last season was the quarterback sneak, instead opted to call a handoff to his 205-pound tailback,
Bill Belton
. The junior didn't hit the hole right away, instead waiting for a block from his fullback -- pushing him forward with a left hand on his back -- and then diving forward for 3 yards.
"That was a heck of a run," O'Brien said.
It was a heck of a play-call, one that led to the game-winning score. But the decision was almost expected. O'Brien opted to go for it twice before in the game, including a curious first-quarter call when PSU found itself on its own 34. Against Indiana, PSU again kept kicker
Sam Ficken
on the sideline on a fourth-and-5 play from the IU 26. Pick out any random game, and you can find plenty of examples.
Conventional football knowledge dictates kicking the ball and, during Saturday's overtime, most coaches likely would've called upon their kicker for the 33-yard attempt -- especially considering Ficken hadn't missed a field goal under 40 yards since about 54 weeks ago. But there has been nothing conventional about these Nittany Lions ever since Jan. 7, 2012, when O'Brien became head coach and told a swarm of media, "I have a lot of confidence in my ability to lead us through what some say is a tough time."
He led Penn State to a tough win Saturday. And, although he was mostly reserved while fielding questions from reporters, he couldn't hide his emotions in the immediate aftermath of a 43-40 victory over Michigan. He jogged over to the student section, while fans leaned over the railing to pat his shoulder, arm, back, whatever they could get a hold of. He closed his eyes while thrusting his arms into the air.
At this rate, O'Brien will hit the century-mark for fourth down attempts by the final game of the 2014 season. He'll still be a gambler. But, out of all the fourth downs he has gone for or ever will go for, none might top this one.
"I've never been in a game like this," he said.
August, 7, 2013
8/07/13
9:00
AM ET
As part of an ongoing series, NittanyNation will preview a different position leading up to the season opener against Syracuse on Aug. 31. Up today: Defensive tackles.
Projected starters:
DaQuan Jones
(2012 stats: 22 tackles, two tackles-for-loss, one fumble recovery) and
Kyle Baublitz
(three tackles, one sack).
Key losses:
Jordan Hill
(64 tackles, 8.5 tackles-for-loss, 4.5 sacks, one interception, one forced fumble, one fumble recovery) and James Terry (13 tackles, one sack).
Next in line:
Redshirt freshman
Austin Johnson
might not be next in line -- he could very well overtake Baublitz as a starter. Bill O'Brien said on his weekly radio show last season that he expected big things out of the younger defensive tackle, and he's already 21 pounds heavier than Baublitz.
[+] Enlarge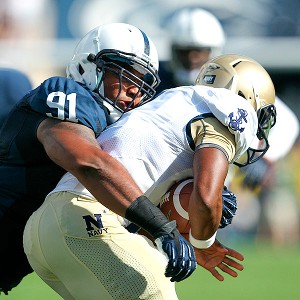 Vinny Carchietta/Icon SMIHow Penn State's defense performs in 2013 will be dependent on how DaQuan Jones plays at defensive tackle.
Regardless, the top three players at this position should see plenty of time. The big question is just who comes in at No. 4. That would be a logjam, and none of the options are all that exciting just yet.
Derek Dowrey
,
Brian Gaia
and
Tyrone Smith
will all compete to see who sees situational time a la Baublitz in 2012. True freshman Parker Cothren likely needs a redshirt season to add bulk before he sees any time on the field.
What to expect
: Huge expectations are being squarely placed on the shoulders of Jones, and he'll need to match Hill's performance to live up to all the hype. Gil Brandt recently
named Jones the top senior DT in the country
-- which was a little surprising considering he made just 12 tackles in the last nine games once Hill faced fewer double-teams and stepped up his game. By comparison, Jones made 10 tackles in the first three games.
For this defensive line to find success, Jones will have to become quickly accustomed to those double teams -- because it'd be an even bigger surprise if teams sent just one interior lineman after him. This position is one of the bigger concerns on the team because, even if the 318-pound Jones does succeed, his other starting teammate will likely be overmatched this season.
Baublitz appears to be a band-aid until Johnson is ready to take off. And Johnson undoubtedly boasts a high ceiling -- but it doesn't seem as if this is the season it will all come together. If the staff had that much faith in him, he would've initially been named starter over Baublitz. Expect PSU's 23rd-ranked run defense to drop, at least a little, in the rankings.
Recruiting trail:
The Nittany Lions have already picked up one 2014 prospect in
Antoine White
(Millville, N.J./Millville), a three-star commit whom ESPN scouts label a "tweener" but who also "gives good effort in pursuit and is a solid wrap-up tackler."
He's about 270 pounds right now, so he needs to bulk up. But PSU's staff really liked the explosiveness of his first step and like his attitude. His high school coach said he and a teammate constantly put in extra work, and White was the lone junior captain on his team last season.
PSU also appears intent on grabbing at least one more DT, likely either ESPN 300 prospect
Thomas Holley
(Brooklyn, N.Y./Lincoln) or a junior college DT such as
Joe Keels
(Highland, Kan./Highland C.C.).
Best-case scenario:
Jones picks up right where Hill left off and becomes an unstoppable run-stuffer who lives up to Brandt's top billing. PSU's No. 23 run defense holds steady, while Johnson breaks out and shows fans that he'll be a four-year starter.
Worst-case scenario:
Jones initially struggles with double teams and gets hurt later in the season, leaving an inexperienced Johnson and a limited Baublitz as the starters. Those two struggle, and Big Ten running backs set up their respective offenses by running straight up the middle.
Top position question:
If Jones falters, what happens to this defense?
Penn State can't withstand mediocre performances at defensive tackle and linebacker. If Jones doesn't live up to expectations, it'll have an ripple effect on the entire defense.
If Jones doesn't play well, that means more work for middle linebacker
Glenn Carson
-- who's been the beneficiary of some great DTs in NFL draft picks Hill and Devon Still. Jones is crucial to this defense's success in a lot of ways, and it was able to overcome a young secondary last season by limiting opponents to 3.54 yards a carry on the ground. If Jones struggles, those rushing numbers increase.
And if those rushing numbers increase? PSU allowed more than four yards a carry in just two of the last 10 seasons. In 2003, it allowed 4.29 yards a carry and finished with a 3-9 record. In 2010, PSU allowed 4.46 yards a carry and went 7-6. In other words, if Jones falters and the run defense struggles, then it might become tricky to get to eight wins.
March, 28, 2013
3/28/13
9:00
AM ET
STATE COLLEGE, Pa. -- Every spring, a few players step up and offer the first glimpses of an upcoming breakout season. Often, the media can only guess and project since they're not at every practice, weightlifting session and team meeting.
The players, however, are there and can see who might be the next
Deion Barnes
or
Allen Robinson
. So, NittanyNation polled several players inside the Lasch Football Building on Wednesday and also took information from Wednesday teleconferences.
The question: Who's made the biggest impact this spring or who's been the biggest surprise? Here's what Penn State's veterans had to say:
Linebacker Glenn Carson:
"I'm really impressed with
Jesse James
. He's had a great winter. That kid's just an animal. I'm really excited to watch him play this year. I think he's a freak athlete. I think he can do amazing things. And if you haven't been impressed by him yet, I think you're going to be even more impressed by him next year."
Offensive guard John Urschel:
"
Ty Howle
is a great center and a great football player. I'd say he's one of the most underrated football players on our team. You don't hear about him enough. I don't think you guys talk about him enough. I don't think we're going to have any problems with him playing at center."
[+] Enlarge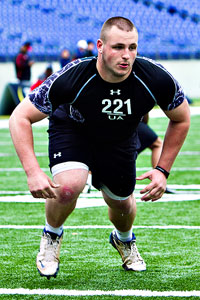 Davide De Pas for ESPN.comCould defensive lineman Brian Gaia break out for the Nittany Lions in 2013?
Defensive tackle DaQuan Jones:
"I really think
Austin Johnson
,
Derek Dowrey
and
Brian Gaia
. They're young, but they're showing a lot of ability. They're going to be great down the road. I'm happy seeing their competitiveness in spring ball."
Safety Malcolm Willis:
"It's a number of guys. If I had to pick one, it'd probably be John Urschel. He comes in every day early and gets his workout in early. And pound for pound, he's probably one of the strongest guys on the team.
Mike Hull
, he's another guy who works his butt off.
Adrian Amos
.
Zach Zwinak
-- I work out with him in the weight room every day, and the amount of weight he can put up, it's crazy. Those are a couple of the guys who have really impressed me so far."
Offensive tackle Adam Gress:
"I'd have to say a lot of the defensive linemen are coming along. All of the younger guys are really working hard, and the guys I was playing against on the scout team last year, now those guys are players. They're people we compete with. So that group's made a lot of progress. ... Austin Johnson's definitely made a lot of progress."
Linebacker Mike Hull:
"
Nyeem [Wartman]
has looked good so far. He's doing a great job filling in. I think he's going to be a great player for us. We just need to all come together as a unit. He's looking good so far, so we just have to see how he progresses."
Defensive end Deion Barnes:
"I think it would be
Kyle Baublitz
. I think he's doing a great job right now. Whoever's been talking to him has done a great job because he's come out of his shell. I've never seen him like this before."
February, 28, 2013
2/28/13
11:00
AM ET
STATE COLLEGE, Pa. -- With spring drills just a few weeks away, NittanyNation decided to break down several of the brewing position battles.
To continue reading this article you must be an Insider
December, 24, 2012
12/24/12
9:00
AM ET
Over the next week, NittanyNation will look at different players from the 2012 class that could make a big impact next season
No. 4 player to watch
: DT
Austin Johnson

He may have redshirted his first season, but he traveled with the team and was listed as the team's third-string defensive tackle. With the graduations of
Jordan Hill
and
James Terry
, Johnson could be the next man up in 2013.
He appears to be further along than the other defensive tackles in the 2012 class (
Derek Dowrey
,
Brian Gaia
), and the competition among the interior isn't all that deep. Outside of redshirt sophomore
Kyle Baublitz
and starter
DaQuan Jones
, the only other player listed on the depth chart at this position was
Anthony Zettel
, a 253-pound player more accustomed to defensive end.
In other words, it's highly likely Johnson sees time next season, and he'll compete with Baublitz for the starting job. At 297 pounds, Johnson is already 10 pounds heavier (and one inch shorter) than Baublitz, so his youth isn't exactly a hindrance to his frame.
Johnson made an immediate impact in preseason camp and became one of just a handful of freshmen who found themselves on the depth chart. He could've played in 2012, but it wasn't necessary because the Nittany Lions' boasted three experienced upperclassmen.
With two of them leaving, though, Johnson could very well be a surprise in 2013. He's definitely a player to watch.
Quotables
: He's "going to be a force to be reckoned with." -- Bill O'Brien
September, 11, 2012
9/11/12
11:00
AM ET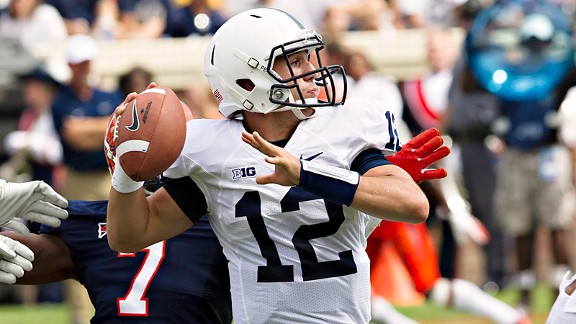 Lee Coleman/Icon SMITrue freshman quarterback Steven Bench subbed in for a banged-up Matt McGloin against Virginia and looks to have assumed the backup quarterback position for the Nittany Lions.
The season is only two weeks old, but the redshirt picture is already becoming a little clearer.
Four true freshmen are listed on the depth chart but haven't seen any time on the field. Six freshmen have already burned their redshirts. And three are still in limbo.
NittanyNation takes a closer look at the impact the true freshmen have had so far and what to expect going forward:
To continue reading this article you must be an Insider
August, 15, 2012
8/15/12
3:00
PM ET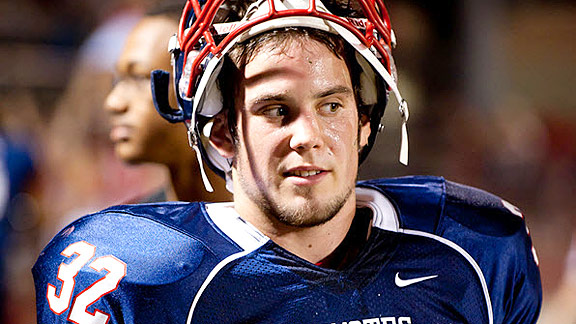 Courtesy of Brandon FranklinAs the first player to commit to Penn State following the NCAA sanctions, Brennan Franklin's the wild card of the class of 2012. If he develops, he could turn into the ultimate recruiting steal.
The defensive players in Penn State's 2012 recruiting class are not the most heralded the Nittany Lions have ever snagged. But defense has been a strength of Penn State since before some of these recruits' parents were born -- and that's not expected to change.
Four-star defensive tackle Brian Gaia heads the incoming defensive class, and several three-star players could see the field this year as most players might be asked to step up sooner than later due to the NCAA sanctions. So NittanyNation takes a closer look at each defensive recruit and breaks down what ESPN's scouts had to say before each player wound up in Happy Valley.
To continue reading this article you must be an Insider
The Early Offer: March 5
BIG TEN SCOREBOARD
Saturday, 12/21
Monday, 12/23
Tuesday, 12/24
Thursday, 12/26
Friday, 12/27
Saturday, 12/28
Monday, 12/30
Tuesday, 12/31
Wednesday, 1/1
Thursday, 1/2
Friday, 1/3
Saturday, 1/4
Sunday, 1/5
Monday, 1/6