Penn State Nittany Lions:

Dave Joyner
February, 24, 2014
Feb 24
9:00
AM ET
The Big Ten likes to consider itself a leader on many fronts in college sports. Several Big Ten schools were among the first to integrate their football programs, and the first two African-American head football coaches in a major conference called the league home.
But for much of this century, when it came to football coaching diversity, the Big Ten lagged behind the rest of the nation.
[+] Enlarge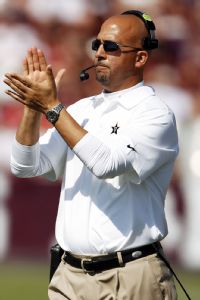 AP Photo/Eric Christian SmithPenn State's decision to hire James Franklin as its first African-American head football coach can't be underestimated.
After the third African-American head coach in league history -- Michigan State's Bobby Williams -- was fired late in the 2002 season, the conference went a decade without another black head football coach. The Big Ten was the only one of the six BCS AQ conferences that did not have at least one African-American head coach during that span; the SEC, by contrast, had four in the same time frame.
Thankfully, things have begun to improve. Two of the last three head coaches hired in the Big Ten -- Purdue's Darrell Hazell and Penn State's James Franklin -- are African-American.
"That's great news, to have that diversity," Ohio State athletic director Gene Smith said. "Now we just need to give them time and let them be successful where they are and develop their programs. I'm glad there is progress, and we need to continue to do more across the country."
There weren't a lot of opportunities, period, for head coaching jobs in the Big Ten during the recent diversity drought, as schools like Iowa, Northwestern, Penn State and Ohio State remained mostly stable at the top. But coaching turnover has increased in the league in the past few years; Penn State, for instance, just hired its second coach in three years after going nearly a half-century without a transition.
Was improving diversity a league-wide priority? Conference officials say no.
"What our schools try to do is hire the best coaches in their pool," Big Ten commissioner Jim Delany said. "We've had plenty of African-American basketball coaches.
"It's more about a commitment to opportunity and a fair process, and as long as our people are hiring the best people in processes that are open, you would hope and think that it would be sort of a broad representation of people. Whether you hire James Franklin or a new coach at any place, I'm not sure race should be the factor. Certainly people wouldn't want it to be a factor. It's really an outcome."
Still, it's hard not to note the importance of Penn State hiring its first African-American head football coach. More so than Dennis Green or Francis Peay at Northwestern or even Williams at Michigan State, Franklin is leading a flagship, blue-blood program. The timing was fortuitous, as the Pennsylvania native was ready for a new challenge after proving himself at Vanderbilt and the Nittany Lions needed a dynamic new leader.
"It's a lot of significance," Penn State athletic director Dave Joyner said. "We hired James because of the kind of person and coach he is. The fact he's African American is great. It's a great testimony to opportunity. A hundred years ago, that wouldn't have happened in this country."
[+] Enlarge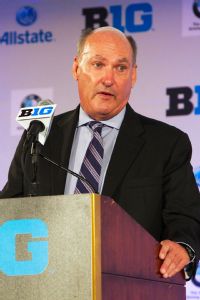 AP Photo/Ting Shen/Triple Play New MediaBig Ten commissioner Jim Delany said the hiring process should be fair and a commitment to opportunity for all coaches.
The Institute for Diversity and Ethics in Sports hasn't yet released its annual hiring report card for college football. But Richard Lapchick, the center's director, said the Big Ten's recent moves are "definitely a sign of progress." While there are only 11 FBS black head coaches heading into the 2014 season, it's noteworthy that minorities have gotten opportunities to lead storied programs like Penn State and Texas (Charlie Strong), Lapchick said.
"That's critically important," he said. "Historically, the opportunities in general that have gone to African-American coaches have been at programs that have been really down, and the opportunities to turn them around have been very problematic. Let's hope [Hazell and Franklin] are successful, because they will help create more opportunities for other African-American and Latino coaches in FBS conferences."
The next step for the Big Ten is to continue to develop and identify the next wave of minority head coaching candidates. Both Franklin and Hazell, who led Kent State for two seasons before Purdue hired him, had already established themselves as winning head coaches elsewhere, though Hazell was also a well-regarded assistant at Ohio State. The Big Ten sent several African-American assistant coaches to the annual minority coaches' forum between 2006 and 2010, and some athletic directors see it as their job to mentor young black coaches.
Smith saw Everett Withers leave the Buckeyes staff this winter to land the James Madison head coaching job and said he is spending time this offseason with running backs coach Stan Drayton to get Drayton accustomed to non-football issues like university budgets and policies.
"We want to have guys who are trained to hopefully win in the interview process," Smith said. "Sometimes, those are beauty contests. You've got to be able to answer the questions the right way and demonstrate an ability to lead."
That's the ultimate goal, to have more minority candidates who are ready when those opportunities do arise. Michigan athletic director Dave Brandon said that wasn't the case a few years ago, but the pool of potential coaches is increasing.
"We're starting to see more and more diversity among the coaching staffs and up-and-coming diverse candidates in all various positions in the sport," Brandon said. "Now, we're seeing more representation at the head coaching level. That was bound to happen and important to have happen, and I'm glad to see that trend evolve."
January, 27, 2014
Jan 27
9:00
AM ET
As the coach hiring season nears an end, we're examining the Big Ten coaching landscape and some recent trends. First, a closer look at the increased investments Big Ten schools are making in their football staffs to keep up with the national market.
Two days before Michigan State ended its best season in nearly a half-century with a Rose Bowl victory, Mark Hollis stood outside a Los Angeles conference room and described the dilemma he and other athletic directors face with football coaches' salaries.
"I get concerned sometimes about where we're going with coaches' salaries as an industry," Hollis said, "but at the same time, you need to ensure that continuity is in place."
[+] Enlarge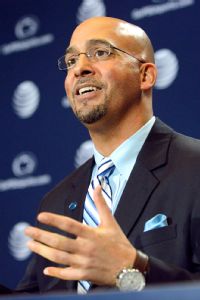 AP Photo/ John BealeNew Penn State coach James Franklin will make about $1 million more than his predecessor Bill O'Brien.
Michigan State ensured continuity by making major financial commitments for coach Mark Dantonio and his assistants. Penn State, meanwhile, is paying new coach James Franklin about $1 million more than a coach (Bill O'Brien) it lost to the NFL. Michigan used its financial resources to attract an offensive coordinator (Doug Nussmeier) from national power Alabama.
The recent moves underscore a greater willingness throughout the deep-pocketed Big Ten to invest more in the men charged to coach its flagship sport, one that has struggled for the past decade. The Big Ten didn't set the market for soaring coaches' salaries, but after some initial reluctance, the league seems more willing to join it.
"When you see an institution like Penn State and Franklin, it says we're going to attract the best talent that we can and in order to do that, we have to step up financially to procure that person's services," Ohio State athletic director Gene Smith told ESPN.com. "I think that's great for our league. ... We need to have the best coaches, we need to retain the best coaches."
Ohio State in 2011 hired Urban Meyer for a salary of $4 million per year. At the time, the Big Ten had no coaches earning more than $4 million and
only two making more than $3 million
. Purdue was one of the few major-conference programs paying its coach (Danny Hope) less than $1 million. Bret Bielema cited the difficulty of retaining top assistants at Wisconsin as one reason he left for the Arkansas job in 2012.
The landscape has changed.
Last year, both Meyer and Michigan's Brady Hoke made more than $4 million, while Iowa's Kirk Ferentz made just less ($3.985 million),
according to USA Today
. Franklin's deal at Penn State
includes an annual salary of $4.25 million
. Terms of Dantonio's new contract at Michigan State have yet to be announced, but it will put Dantonio, previously among the lowest-paid Big Ten coaches ($1.9 million),
in the top salary tier
. His staff also will receive nice pay bumps.
"I don't think we've been woefully behind," Smith said of the Big Ten. "We were not the first ones to drive the salaries up, but we weren't far behind in responding. Whenever we can attract someone who is really talented, we pay them."
They also must pay top assistants, many of whom command salaries well above those of head coaches from smaller leagues. The Big Ten, after
lagging behind nationally
in assistant coach pay, is
catching up
.
"The offensive and defensive coordinators, those decisions become critically important," Michigan AD Dave Brandon said. "You can have the greatest head coach in the world, but if you're not providing him with those leaders who can manage those smaller staffs ... it's hard to believe that the head coach is going to be successful."
There has been no Big Ten mandate to increase salaries, and athletic directors don't discuss financial specifics when they meet. These are institutional decisions, and Hollis, upon realizing Dantonio and his aides deserved an increase, first looked at what MSU could provide before surveying the Big Ten, the national college scene and the NFL.
Part of his challenge is verifying data, as some numbers, even those available through records requests, aren't always accurate.
"Every school pays individuals in different ways," Hollis said. "There can be longevity payments put in there, different bonuses."
Penn State athletic director Dave Joyner expected to make a strong financial push for O'Brien's successor but didn't know exactly where the numbers would fall. Among the metrics Joyner used was the potential attendance increase a new coach could bring.
Despite PSU's on-field success the past two years, average attendance at Beaver Stadium has
dropped by about 5,000
. An increase of 1,000 fans during the season, including parking and concessions, adds about $500,000 in revenue, Joyner said.
[+] Enlarge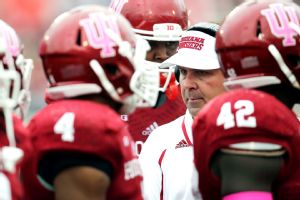 AJ Mast/Icon SMIIndiana has put more resources than ever before into coach Kevin Wilson and his staff.
"If you believe [the coach is] going to have a very positive effect on your fan base and on your program and on your ability to put bodies in the seats," he said, "it doesn't take a lot of seats to cause a return on that investment."
Indiana AD Fred Glass also wants to fill seats, but he's in a different financial ballpark from schools with massive stadiums like Penn State, despite competing in the same conference. Glass notes that while Michigan made $147.5 million in football revenue last year, Indiana made only about $4.5 million.
But it didn't stop IU from doubling its salary pool for assistant coaches when Kevin Wilson arrived, or awarding Wilson a seven-year contract worth $1.2 million annually, or increasing the number of full-time strength coaches devoted to football from two to five, the NCAA maximum.
"There's a reason IU traditionally hasn't been where we want to be in football," Glass said. "We haven't really made the investments in it. We haven't stuck with continuity. We haven't stayed with a staff over a long period of time. That's what we need.
"Kevin understands we're making resources available, but it's not a bottomless pit."
Glass' last point resonates in the Big Ten, which
generates record revenues
but also sponsors more sports, on average, than any other major conference. The league believes in broad-based programs, which makes it harder to sink money into football, despite the superior return.
"We are a college program versus just a football franchise, and I think our football coaches not only understand that but really embrace it," Hollis said. "I believe in the Big Ten, maybe more so than others -- I've had the opportunity to see East and West -- [coaches] feel that the athletic department is part of their family."
But they also have to take care of their own families, and their assistants. They know salaries are rising everywhere.
Big Ten athletic directors know this, too. To keep up, you have to pay up.
January, 23, 2014
Jan 23
3:00
PM ET
STATE COLLEGE, Pa. -- Bill O'Brien wasn't pushed out by the "Paterno people," and he didn't bolt from Penn State at the first chance he received either.

No,
Fourth and Long
author John U. Bacon writes, a lot of it had to do with the lack of leadership at the university, the lack of support by its administrators and the lack of fulfilled promises that sent O'Brien to the Houston Texans. In short, a lot of it had to do with athletics director Dave Joyner.
Bacon's portrayal of Penn State's athletics director is far from flattering in
an in-depth piece that directly tackles Penn State's continued dysfunction
. Sure, there are other issues with the university -- such as an outdated Board of Trustees system that puts too much power into the hands of too few board members -- but the piece didn't shy away from placing a lot of the blame squarely on Joyner.
Among Bacon's findings:
Joyner assured O'Brien he would increase the budget for assistant coach salaries, recruiting and facilities. He never delivered.
O'Brien's résumé and cover letter were lost in the department mailroom for eight days. They were found when O'Brien called to make sure they received it.
Joyner, a former member of the Board of Trustees, became AD despite holding no athletic department experience -- and his business experience entailed founding a company that declared bankruptcy four years later. Pennsylvania's auditor general said the hire created "reasonable public perceptions of insider influence and conflicting interests."
After O'Brien was hired, players asked him to keep Joyner away from the team because they felt he didn't support or respect them. (Prior to O'Brien, at least one player had to be separated during a heated exchange with Joyner.) Joyner obliged and was not on the sideline, in the locker room or team meetings.
While most athletic directors or general managers meet with the head coach the Monday after the season ends -- when coaches' cell phones are usually blowing up -- Joyner was out on a hunting trip.
That list is pretty damning for Joyner. It wasn't a well-kept secret in Happy Valley that he and O'Brien disliked each other, intensely, but the above blunders weren't well known.
Joyner isn't a revered figure on campus. Far from it. He earned few supporters when, under his watch, construction crews took the Joe Paterno statue down. And he earned fewer still for the
odd firing of legendary fencing coach Emmanuil Kaidanov
. Despite two good football hires, Joyner doesn't boast overwhelming support from alumni.
The university is moving ahead to find a new president, but there's also no guarantee that Joyner's "temporary" gig won't turn into a permanent position. When asked three weeks ago if he planned to continue his role as AD, Joyner said this: "I'm here to serve Penn State as long as they need my services, and that's how I feel today as it was in November of 2011."
The football team is moving on from the sanctions. And, maybe for the university to move on from what Bacon termed "administrative dysfunction," it has to move on without Joyner.
January, 11, 2014
Jan 11
5:56
PM ET
James Franklin won more games at Vanderbilt than most people expected. But there should have been no surprise that Franklin won the press conference as he was introduced as Penn State's new head coach on Saturday. Crushed it, actually.
Self-confidence is one of Franklin's more easily identifiable traits. It fairly oozes out of him and is part of the reason why he has been such a terrific recruiter during his career. So Franklin had no problem setting the bar high for his Nittany Lions tenure during a news conference that lasted almost an hour.
[+] Enlarge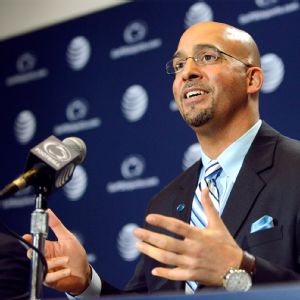 AP Photo/ John BealeJames Franklin described his desire to aggressively recruit all of Pennsylvania.
On recruiting, for example, Franklin said, "We are going to dominate the state. We are going to dominate the region." He later mentioned the domination angle a couple more times. He also said he would recruit all corners of Pennsylvania and that his team would primarily be comprised of in-state players, though he'd also recruit nationally. Look out, Pitt.
Did we say confident? Here was Franklin's reply when asked about attendance at Beaver Stadium, which has sagged a bit in recent years:
"How many does the stadium hold?" he asked. "[It will be] 107,000 every single game from here on out. That stadium will be sold out from here on out."
Franklin's predecessor, Bill O'Brien, was uncomfortable having to play the role of Penn State's top ambassador and unifier of the community. The new coach made it clear he embraces that wholeheartedly.
"I think I'm the right guy to come back and unite this state and bring this program back to where I think it should be," said Franklin, a Pennsylvania native. "... The healing process is why I'm here. It's why we're all here. To bring this great university back together."
Franklin said he took all the deans, provosts and faculty leaders out to lunch when he first got to Vanderbilt and will do the same in State College. He plans on reaching out to just about every stakeholder at the university and said he'd never turn down a speaking engagement. In a great line, he added that "if people ask us to blow up balloons in the backyard, we'll do that as well."
He didn't run away from the Joe Paterno faction, either, calling him a great man and saying he was enthralled by Paterno's "success with honor." Franklin said he's talked to several former Penn State players on the phone already and that he has gotten to know and respect Paterno's widow, Sue.
In short, Franklin said all the right things to get the Nittany Lions fan base fired up. Here are some more notable items from his introduction:
Franklin was asked about the Vanderbilt scandal in which four players were accused of raping an unconscious 21-year-old woman in June. He called it the most-challenging situation he'd ever been through and said he and Penn State's search committee discussed it thoroughly.
"We were honest and we were upfront that we made decisions quickly and tried to do everything we possibly could to respect the situation," he said.
Athletic director Dave Joyner said the vetting process on Franklin was the most thorough background check used on any hire in school history. The search committee did its due diligence, he said, and spoke to many people at Vanderbilt about Franklin.
"My belief, without a doubt, is James Franklin is a man of extremely high character," Joyner said.
The uncertainty at president and athletic director, where new people should be in place by the summer, was a concern for Franklin. But he said he was sold on the larger picture and was confident that Penn State "has a plan and has a purpose." He also called Penn State his dream job, something he said he mentioned to his wife when they started dating. Franklin grew up a Penn State fan and attended a Nittany Lions camp in the 11th grade.
"I thought I was good enough to play at Penn State," he said. "I was not."
Franklin said he hoped to be at Penn State a long time. He had interest this offseason from some NFL teams but said, "I'm a college guy. I'm a relationship guy."

Franklin said he will sit down with Larry Johnson, who served as interim coach after O'Brien left, and former assistant Ron Vanderlinden, but described himself as "fiercely loyal" to assistants he's worked with in the past. Expect several Vanderbilt assistants to follow him to State College.

On his coaching philosophy, Franklin said, "We're going to be multiple-pro style offense, defense and special teams. I'm not a guy that's going to pigeon-hole what we do." He added that Penn State would be aggressive in everything it does, including getting off the bus. And he said the team would take chances and have fun, "and it always helps to have a quarterback." He's pretty excited to coach Christian Hackenberg.

Franklin didn't have a lot to say about dealing with Penn State's remaining NCAA sanctions. He said he'd let the administrators handle trying to get those penalties reduced and he'd focus on making the team the best it can be on and off the field.

Franklin plans to reach out to Penn State's committed players very soon. Some of them he recruited at Vanderbilt. The ones who chose the Nittany Lions over the Commodores will find themselves at the bottom of the depth chart, he joked.
January, 9, 2014
Jan 9
12:00
PM ET
Penn State must be cramming a century's worth of silly seasons into one. Welcome to the party.
January, 5, 2014
Jan 5
4:35
PM ET
Al Golden won't be returning to Penn State after all.

Golden on Sunday
reaffirmed his commitment to Miami
a day after meeting with Penn State's search committee, a source told ESPN's Brett McMurphy. Several media outlets reported that Golden, a former Penn State tight end and assistant coach, had or soon would accept the Penn State job, but it's not happening.
"There has been much speculation concerning my future at the University of Miami," Golden said in a prepared statement. "While I am flattered that our progress at The U during an extremely difficult period of time is recognized, I am also appreciative of just what we have here at UM and I am not a candidate for another position. We are eager to welcome our student athletes back to campus next week and visit with prospective student-athletes and their families beginning January 15."
Golden appeared to be a good fit for Penn State's vacancy, as he is a current college head coach with strong ties to the school who had done well at Temple and handled a difficult situation at Miami.
ESPN's Chris Mortensen reports that
Penn State on Sunday interviewed Mike Munchak
, who was fired Saturday as Tennessee Titans coach. Munchak is a former offensive linemen at Penn State. Vanderbilt coach James Franklin also is on Penn State's radar. The Commodores completed their season Saturday.
Penn State defensive line coach Larry Johnson, also serving as the school's interim head coach, will interview with the search committee at some point. Athletic director Dave Joyner said Thursday that the search will take days not weeks.
January, 1, 2014
Jan 1
7:00
AM ET
There's never an ideal time to lose a football coach, especially a bright, successful one like Bill O'Brien. But the timing of
O'Brien's reported departure to the NFL's Houston Texans
appears to be especially unfortunate for Penn State.
It isn't necessarily related to recruiting, although Penn State's 2014 class certainly could be impacted significantly by O'Brien's exit, barely a month before national signing day. It isn't necessarily related to the current players, although key ones such as quarterback
Christian Hackenberg
certainly must reassess their future with the program.
[+] Enlarge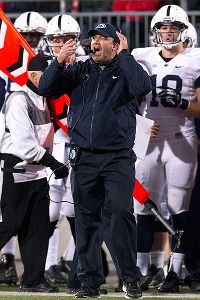 Greg Bartram/USA TODAY SportsWhoever replaces Bill O'Brien at Penn State will go to a school that is losing both its athletic director and president shortly.
The bad timing has more to do with those overseeing the upcoming coach search and the willingness of coveted candidates to buy into Penn State. The problem is that Penn State's football program isn't the only entity at the school with instability at the top. There's the athletic department. And the entire university itself.
Athletic director Dave Joyner and university president Rodney Erickson both were hastily appointed to their posts in 2011 after the child sex abuse scandal broke. Joyner is no longer Penn State's acting AD, but he's only expected to serve until Erickson steps down June 30 (or potentially earlier). Penn State's
presidential search has been rocky and unsuccessful so far
, as the school's reported choice, David Smith, ended up resigning his post at SUNY-Upstate Medical University in November after it was
found that he had been accepting unapproved money from outside companies
linked to the school.
So Penn State must now begin a coaching search with a lame-duck AD and a lame-duck president. It might not matter, as the school hired O'Brien at a shaky time. The program still continues to operate under heavy NCAA sanctions, including two more years of a postseason ban, but O'Brien's impressive performance elevated its profile for potential candidates. There's also a chance the sanctions are further reduced before the 2014 season.
Still, coaches like to know who their bosses will be. They know what happens when new athletic directors come in and things go south on the field. ADs want to hire their own coaches, and typically keep inherited coaches on shorter leashes than ones they select. Regardless of the sentiment about Joyner and Erickson -- and for many Penn Staters, it's not favorable -- the fact that they'll soon be gone can't be overlooked by potential candidates. There will be more than two people involved in identifying and hiring Penn State's next coach, but every coach wants and needs to have an AD and a president firmly in his corner for the long term.
O'Brien's frustration with Penn State's leadership and the need to be a figurehead for the school -- as
told to David Jones in this illuminating piece
-- also must be noted. Few coaches will be interested in a job that requires them to not only win football games but unify a community.
Penn State's administrative flux might not matter to the right coach. Maybe it's someone with stronger ties to the school, who isn't worried about winning over his future bosses.
But after all Penn State has been through, it would be better to begin another football transition without one still going on with the administration.
September, 24, 2013
9/24/13
1:25
PM ET
Penn State issued the following statements Tuesday after
the NCAA announced the gradual reinstatement of scholarships
to the football program.
Athletic director Dave Joyner
"I am very happy for Coach [Bill] O'Brien, the football coaches and staff and the players; especially pleased for our current and future student-athletes, who are the most important reason why we love working in intercollegiate athletics. We will continue to work hard within the Athletics Integrity Agreement to fully comply and to achieve excellence in everything we do at Penn State."
Head football coach Bill O'Brien
"Today's announcement by the NCAA is tremendous news. As a staff, we are especially pleased for our players, who have proven themselves to be a resilient group of young men who are able to look ahead, focus and overcome adversity. Penn State has long been known for graduating its student-athletes and providing them with a world class education. The scholarship additions will allow us to provide more student-athletes with a tremendous opportunity to earn that degree and play football for Penn State."
Clearly a great day for O'Brien and the Lions. More to come ...
September, 19, 2013
9/19/13
1:40
PM ET
STATE COLLEGE, Pa. -- Penn State has certainly been getting a head start on its future schedules lately.


The Nittany Lions announced Thursday afternoon that they have scheduled a home-and-home with West Virginia for the 2023 and 2024 seasons. PSU will host the Mountaineers on Sept. 2, 2023, and will then travel to Morgantown on Aug. 31, 2024.
The move comes just a month after PSU scheduled Virginia Tech for the 2022-2023 seasons.
"As we prepare to move to a nine-game Big Ten schedule [2016], I am very pleased that we have been able to schedule old rivals like West Virginia and Pitt and Virginia Tech in upcoming years," PSU athletic director Dave Joyner said.
It's far into the future -- today's third graders will wind up playing as freshmen in the game -- but it sure beats another round of lower-tier MAC opponents. Someone might even want to send ESPN.com reporter Brian Bennett a nice housewarming gift
after he suggested in June
that the Hokies and Mountaineers "would be fun and easy trips for Lions fans."
(Bennett also mentioned Alabama, Miami (Fla.) and possibly USC. Maybe we'll hear about those matchups in time for the 2037 season?)
PSU's nonconference opponents haven't elicited a lot of excitement lately. It played -- and lost -- to Alabama in 2010 and 2011, but other opponent mainstays have included the likes of Eastern Michigan and Temple.
This is another step in the right direction for Penn State. And, at this rate, it will have all its schedules through 2025 filled out before the new year.
August, 20, 2013
8/20/13
12:34
PM ET
Game week is rapidly approaching ...
August, 14, 2013
8/14/13
12:29
PM ET
First came the announcement of the Nittany Lions' first-ever game
overseas in Ireland
. Then, on Tuesday, came official word that PSU scheduled its
first-ever meeting with San Diego State
in 2015.
On Wednesday, Penn State set another precedent by scheduling Virginia Tech for the 2022-23 seasons. The two never before faced each other, but PSU's nonconference schedule has really taken a step forward this summer -- especially with the most recent addition.
Fans haven't been all too pleased with the recent nonconference slate. Sure, Big Ten teams can no longer schedule FCS opponents, but the Lions have consistently turned to the lowly MAC -- scheduling the likes of Kent State, Eastern Michigan, Akron, Buffalo and UMass -- in games that have drawn little excitement and smaller crowds.
The Hokies matchup is far different. The Big Ten blog
polled PSU fans in June
to see just what nonconference opponents they'd most love to see, and Virginia Tech was among the top picks. PSU athletic director Dave Joyner seemed well aware of that fact.
"Virginia Tech is an opponent our alumni and fans have been asking about adding to the schedule," Joyner said.
PSU's early schedule has been, well, a little boring as of late. But with the Lions renewing the Pitt rivalry in 2016 and with the Hokies on the horizon, it seems to be heading in the right direction.
July, 25, 2013
7/25/13
5:00
PM ET
CHICAGO -- While linebacker Glenn Carson fiddled with his phone on the plane to Big Ten media days, playing Candy Crush, teammate John Urschel played his own game.
And, of course, the offensive guard's smart phone app involved math -- Brain Crunchers: Math workouts. (And, if there was any doubt, the player currently pursuing his second master's degree put the setting on the highest difficulty.) Out of curiosity, Carson and Malcolm Willis decided to try the game out.
[+] Enlarge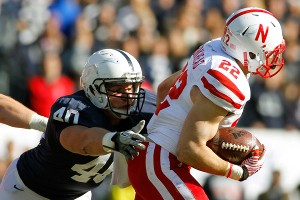 Justin K. Aller/Getty ImagesLinebacker Glenn Carson holds down the middle and kills on Candy Crush ... but no math, please.
It didn't end well.
"I was on expert or whatever he was on, and I got lost in like three seconds," Carson said with a laugh. "And then we put it on easy, and Malcolm and I still couldn't get it down. It was a little embarrassing."
Urschel tested the game out on the media Thursday morning on medium difficulty. Numbers would flash on the screen: Add 20, multiply by seven, subtract eight, divide by three, etc.
"Can I write this down?" asked one flustered reporter.
"No," Urschel said, smiling.
In the end, only two of about six reporters got the right answer. Urschel seemed in his element.
"I'm just like any other kid," Urschel insisted. "If I'm bored on the bus, I'm waiting for something or for class to start, I get on my phone just like everyone else and play my little games. But my games happen to be math games, that's all."
That's not to say this is the kind of math Urschel focuses on. When asked if he's ever seen the movie "Good Will Hunting" and could solve that problem on the blackboard, Urschel hesitated because he couldn't remember the equation in question. But that's the kind of math he enjoys, he said, the kind that doesn't really involve numbers.
"I like the challenge," he said. "You don't get far into math until all of a sudden there are no numbers."
Carson smiled and added that he's sticking to Candy Crush.
Reversing the sanctions:
O'Brien and athletic director Dave Joyner were both tight-lipped about any future actions the Nittany Lions might take regarding the sanctions. Both declined to comment about possibly approaching the NCAA in the future, saying they both hoped to focus on the 2013 season.
Other Big Ten players and coaches also refused to comment on Penn State's situation. The closest thing to an actual opinion -- on whether the sanctions should be cut back -- came from Northwestern coach Pat Fitzgerald.
"At the end of the day, I'm for what's best for the student-athletes," he said. "Again, I can't speak for Bill or his program but, obviously, under his leadership and what's transpired, you have to be nothing but impressed. The way that senior class a year ago -- under Coach's leadership and that coaching staff -- came together and fought through that time, it was nothing short of impressive.
"... They do things the right way and you hope that, for the student-athletes that are currently in the locker room, they get the experience that every student-athlete gets."
Back to normal:
Last year's Big Ten media days obviously felt a lot different to O'Brien and the Nittany Lions. The issue of the sanctions and just how they would affect the program became interview staples.
Questions on the sanctions still popped up this time around, but they were no longer the focus. And Urschel shared an interesting response when asked if everything seems back to normal now, like when he first arrived on campus.
"I'd say better," he said. "We're blessed to have Coach O'Brien on our coaching staff. We're blessed to have Fitz [Craig Fitzgerald] in the weight room. This is the best football situation I've ever been a part of. We have a great group of coaches."
[+] Enlarge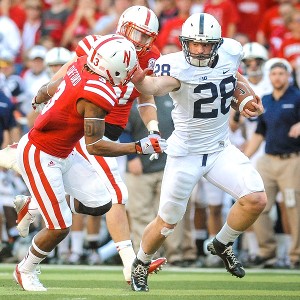 Eric Francis/Getty ImagesTailback Zach Zwinak is ahead of schedule in recovery from his injured wrist but still could skip some contact drills when camp opens
Injury/player update:
Both tailback Zach Zwinak and tight end Kyle Carter are expected to be healthy in time for camp, O'Brien said, although they're on different timetables.
Zwinak injured his wrist in the Blue-White Game and is ahead of schedule but likely will miss some contact drills. Carter, who hurt his wrist last season, is expected to participate in all drills once practice starts Aug. 5.
Bill Belton, who has taken time to focus on his academics, also will return for camp. O'Brien said Belton is not in danger of being academically ineligible. There was still no concrete return date for Tyler Ferguson, either, although O'Brien said he'd be back for camp.
Secondary stepping up:
Willis said he has been pleasantly surprised by three young CBs this offseason: Da'Quan Davis, Trevor Williams and Jordan Lucas.
"Those are three guys who have stepped up their game and have gotten a lot better," Willis said. "They've caught on to a lot of things that we do, mentally, and also on the field. Just seeing their body change over the summer -- seeing how much hard work they're putting in and how it's paying off with their physique."
Who's at linebacker?:
The projected depth chart obviously has Carson as the starting MLB, with Mike Hull and Nyeem Wartman as the outside players. But O'Brien said the staff has been thinking about possibly plugging in two other players at linebacker -- DB Adrian Amos and safety Stephen Obeng-Agyapong.
That's not to say the two defensive backs will be leaving safety to focus on linebacker, but it's not out of the realm of possiblity they could line up at the position on some plays.
"Again, it all comes down to health," O'Brien said. "Can Obeng play some [weakside] linebacker, things like that? We kind of sit in there and talk about different scenarios, and I know John Butler does it a lot more than I do with the defense."
Change in the ticket policy:
Want to buy tickets to the Michigan game on Oct. 12 or the Nebraska game on Nov. 23? Turns out you also will have to purchase the same number of tickets for Eastern Michigan or Kent State games.
Joyner addressed that issue Wednesday, telling reporters the change was made for reasons both related to getting more people into the stadium and increasing finances.
Joyner believed big-screen televisions and the home experience have "a lot to do" with declining attendance, so he said PSU also is hoping to make the Beaver Stadium experience a little better.
"We're really working a lot of ways to increase the fan experience at the stadium and make things really interesting that they can't see at home," he said, adding enhanced wi-fi and "better things" on the Jumbotron are among future changes.
May, 14, 2013
5/14/13
2:45
PM ET
CHICAGO -- Penn State athletic director Dave Joyner jokes with his Pitt counterpart Steve Pederson about scheduling football games somewhere on the Pennsylvania Turnpike between State College and Pittsburgh.
It's unlikely the Nittany Lions and Panthers will lock horns on the side of the road, but they could be seeing each other annually for many years to come. Pederson told colleague Brett McMurphy at the ACC spring meetings Tuesday that
he'd like to schedule more games against Penn State
beyond the schools' agreement to play from 2016-19. Joyner has strong interest, too.
"We'd be interested in talking about that," Joyner told ESPN.com at the Big Ten spring meetings. "It's a great series. It's been a great linchpin in Pennsylvania for everyone there. Steve and I will definitely talk about doing that."
The longtime rivals
announced in 2011 they would resume their series
, which had been dormant since 2000, and
tacked on two more games
in December. Penn State and Pitt met every season from 1935-1992. They took a break when Penn State joined the Big Ten, but then resumed with a four-game series from 1997-2000. The Lions own a 50-42-4 advantage in the all-time series.
Pederson said he "would sign a 30-year deal" if he could, adding that the Pitt-Penn State game "ought to be played." Penn State coach Bill O'Brien also has voiced his support for the series.
"Pitt-Penn State, who can forget those games back in the day, usually late in the season, snowing?" O'Brien said on Penn State's recent coaches' caravan. "I think it's great for college football."
Penn State might not be able to play Pitt annually after the Big Ten goes to a nine-game conference schedule in 2016, but there is certainly more support for the series than there was during the latter part of Joe Paterno's tenure.
Joyner also said Penn State is "actively working" on a 2014 game in Ireland, reportedly against UCF, and hopes to have a resolution in the next few weeks. More neutral-site games are a possibility for Penn State, which kicks off the 2013 season against Syracuse at MetLife Stadium in New Jersey.
"Neutral sites are a very, very interesting proposition," Joyner said. "It's good for everybody. From a monetary standpoint, it's a very satisfactory thing to do, but it also engages people in other parts of the country to perhaps come to games. So it's a good thing to consider doing."
August, 7, 2012
8/07/12
4:24
PM ET
Penn State's football makeover under coach Bill O'Brien will include changes to the team uniforms.
The school on Tuesday announced two
changes to the Nittany Lions' unis for the 2012 season
.

1.
A blue ribbon will be worn to honor victims of child abuse.
2.
Players' last names will be displayed for the first time "in recognition of their resolve and dedication to the team and the university," a news release reads.
Penn State has sported an
unmistakably simple look
for decades: white helmets, black shoes, blue or white uniforms, no decals or names. Any talk of changes under former coach Joe Paterno were typically shot down immediately.
But it's a new era in State College, and O'Brien and players had hinted at the changes in recent months. After all that has happened, it's not surprising to see them come to fruition. O'Brien met with several players and they decided to add the names.
"We want our fans to know and recognize these young men," O'Brien said in a statement. "They have stuck together during tough times, and I commend them for the leadership they have shown. Moving forward, I'm deeply committed to honoring Penn State's traditions, while building a bright future for our football program."
Acting athletic director Dave Joyner added of the ribbons, "Coach Bill O'Brien and his football team made it clear they want to support victims and bring more awareness to this issue, which affects so many."
The ribbon addition was a must after the child sex abuse scandal involving former Penn State assistant Jerry Sandusky. But the addition of the names surely will attract more attention.
We'll likely get a closer look at the uniform changes Thursday as Penn State holds its preseason media day. According to a team spokesman, there have been no discussions about the uniform changes beyond the 2012 season.
What's your opinion on the changes?
New Joe Paterno Statue Planned
BIG TEN SCOREBOARD
Thursday, 8/28
Saturday, 8/30