Penn State Nittany Lions:

Dave Joyner
September, 24, 2013
Sep 24
1:25
PM ET
Penn State issued the following statements Tuesday after
the NCAA announced the gradual reinstatement of scholarships
to the football program.
Athletic director Dave Joyner
"I am very happy for Coach [Bill] O'Brien, the football coaches and staff and the players; especially pleased for our current and future student-athletes, who are the most important reason why we love working in intercollegiate athletics. We will continue to work hard within the Athletics Integrity Agreement to fully comply and to achieve excellence in everything we do at Penn State."
Head football coach Bill O'Brien
"Today's announcement by the NCAA is tremendous news. As a staff, we are especially pleased for our players, who have proven themselves to be a resilient group of young men who are able to look ahead, focus and overcome adversity. Penn State has long been known for graduating its student-athletes and providing them with a world class education. The scholarship additions will allow us to provide more student-athletes with a tremendous opportunity to earn that degree and play football for Penn State."
Clearly a great day for O'Brien and the Lions. More to come ...
September, 19, 2013
Sep 19
1:40
PM ET
STATE COLLEGE, Pa. -- Penn State has certainly been getting a head start on its future schedules lately.


The Nittany Lions announced Thursday afternoon that they have scheduled a home-and-home with West Virginia for the 2023 and 2024 seasons. PSU will host the Mountaineers on Sept. 2, 2023, and will then travel to Morgantown on Aug. 31, 2024.
The move comes just a month after PSU scheduled Virginia Tech for the 2022-2023 seasons.
"As we prepare to move to a nine-game Big Ten schedule [2016], I am very pleased that we have been able to schedule old rivals like West Virginia and Pitt and Virginia Tech in upcoming years," PSU athletic director Dave Joyner said.
It's far into the future -- today's third graders will wind up playing as freshmen in the game -- but it sure beats another round of lower-tier MAC opponents. Someone might even want to send ESPN.com reporter Brian Bennett a nice housewarming gift
after he suggested in June
that the Hokies and Mountaineers "would be fun and easy trips for Lions fans."
(Bennett also mentioned Alabama, Miami (Fla.) and possibly USC. Maybe we'll hear about those matchups in time for the 2037 season?)
PSU's nonconference opponents haven't elicited a lot of excitement lately. It played -- and lost -- to Alabama in 2010 and 2011, but other opponent mainstays have included the likes of Eastern Michigan and Temple.
This is another step in the right direction for Penn State. And, at this rate, it will have all its schedules through 2025 filled out before the new year.
August, 20, 2013
Aug 20
12:34
PM ET
Game week is rapidly approaching ...
August, 14, 2013
Aug 14
12:29
PM ET
First came the announcement of the Nittany Lions' first-ever game
overseas in Ireland
. Then, on Tuesday, came official word that PSU scheduled its
first-ever meeting with San Diego State
in 2015.
On Wednesday, Penn State set another precedent by scheduling Virginia Tech for the 2022-23 seasons. The two never before faced each other, but PSU's nonconference schedule has really taken a step forward this summer -- especially with the most recent addition.
Fans haven't been all too pleased with the recent nonconference slate. Sure, Big Ten teams can no longer schedule FCS opponents, but the Lions have consistently turned to the lowly MAC -- scheduling the likes of Kent State, Eastern Michigan, Akron, Buffalo and UMass -- in games that have drawn little excitement and smaller crowds.
The Hokies matchup is far different. The Big Ten blog
polled PSU fans in June
to see just what nonconference opponents they'd most love to see, and Virginia Tech was among the top picks. PSU athletic director Dave Joyner seemed well aware of that fact.
"Virginia Tech is an opponent our alumni and fans have been asking about adding to the schedule," Joyner said.
PSU's early schedule has been, well, a little boring as of late. But with the Lions renewing the Pitt rivalry in 2016 and with the Hokies on the horizon, it seems to be heading in the right direction.
July, 25, 2013
Jul 25
5:00
PM ET
CHICAGO -- While linebacker Glenn Carson fiddled with his phone on the plane to Big Ten media days, playing Candy Crush, teammate John Urschel played his own game.
And, of course, the offensive guard's smart phone app involved math -- Brain Crunchers: Math workouts. (And, if there was any doubt, the player currently pursuing his second master's degree put the setting on the highest difficulty.) Out of curiosity, Carson and Malcolm Willis decided to try the game out.
[+] Enlarge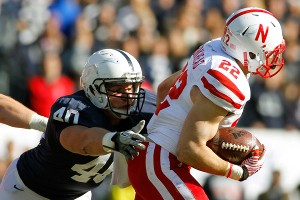 Justin K. Aller/Getty ImagesLinebacker Glenn Carson holds down the middle and kills on Candy Crush ... but no math, please.
It didn't end well.
"I was on expert or whatever he was on, and I got lost in like three seconds," Carson said with a laugh. "And then we put it on easy, and Malcolm and I still couldn't get it down. It was a little embarrassing."
Urschel tested the game out on the media Thursday morning on medium difficulty. Numbers would flash on the screen: Add 20, multiply by seven, subtract eight, divide by three, etc.
"Can I write this down?" asked one flustered reporter.
"No," Urschel said, smiling.
In the end, only two of about six reporters got the right answer. Urschel seemed in his element.
"I'm just like any other kid," Urschel insisted. "If I'm bored on the bus, I'm waiting for something or for class to start, I get on my phone just like everyone else and play my little games. But my games happen to be math games, that's all."
That's not to say this is the kind of math Urschel focuses on. When asked if he's ever seen the movie "Good Will Hunting" and could solve that problem on the blackboard, Urschel hesitated because he couldn't remember the equation in question. But that's the kind of math he enjoys, he said, the kind that doesn't really involve numbers.
"I like the challenge," he said. "You don't get far into math until all of a sudden there are no numbers."
Carson smiled and added that he's sticking to Candy Crush.
Reversing the sanctions:
O'Brien and athletic director Dave Joyner were both tight-lipped about any future actions the Nittany Lions might take regarding the sanctions. Both declined to comment about possibly approaching the NCAA in the future, saying they both hoped to focus on the 2013 season.
Other Big Ten players and coaches also refused to comment on Penn State's situation. The closest thing to an actual opinion -- on whether the sanctions should be cut back -- came from Northwestern coach Pat Fitzgerald.
"At the end of the day, I'm for what's best for the student-athletes," he said. "Again, I can't speak for Bill or his program but, obviously, under his leadership and what's transpired, you have to be nothing but impressed. The way that senior class a year ago -- under Coach's leadership and that coaching staff -- came together and fought through that time, it was nothing short of impressive.
"... They do things the right way and you hope that, for the student-athletes that are currently in the locker room, they get the experience that every student-athlete gets."
Back to normal:
Last year's Big Ten media days obviously felt a lot different to O'Brien and the Nittany Lions. The issue of the sanctions and just how they would affect the program became interview staples.
Questions on the sanctions still popped up this time around, but they were no longer the focus. And Urschel shared an interesting response when asked if everything seems back to normal now, like when he first arrived on campus.
"I'd say better," he said. "We're blessed to have Coach O'Brien on our coaching staff. We're blessed to have Fitz [Craig Fitzgerald] in the weight room. This is the best football situation I've ever been a part of. We have a great group of coaches."
[+] Enlarge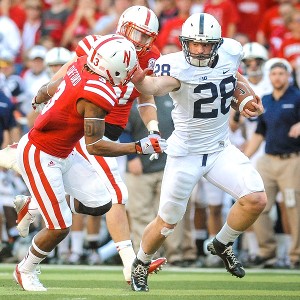 Eric Francis/Getty ImagesTailback Zach Zwinak is ahead of schedule in recovery from his injured wrist but still could skip some contact drills when camp opens
Injury/player update:
Both tailback Zach Zwinak and tight end Kyle Carter are expected to be healthy in time for camp, O'Brien said, although they're on different timetables.
Zwinak injured his wrist in the Blue-White Game and is ahead of schedule but likely will miss some contact drills. Carter, who hurt his wrist last season, is expected to participate in all drills once practice starts Aug. 5.
Bill Belton, who has taken time to focus on his academics, also will return for camp. O'Brien said Belton is not in danger of being academically ineligible. There was still no concrete return date for Tyler Ferguson, either, although O'Brien said he'd be back for camp.
Secondary stepping up:
Willis said he has been pleasantly surprised by three young CBs this offseason: Da'Quan Davis, Trevor Williams and Jordan Lucas.
"Those are three guys who have stepped up their game and have gotten a lot better," Willis said. "They've caught on to a lot of things that we do, mentally, and also on the field. Just seeing their body change over the summer -- seeing how much hard work they're putting in and how it's paying off with their physique."
Who's at linebacker?:
The projected depth chart obviously has Carson as the starting MLB, with Mike Hull and Nyeem Wartman as the outside players. But O'Brien said the staff has been thinking about possibly plugging in two other players at linebacker -- DB Adrian Amos and safety Stephen Obeng-Agyapong.
That's not to say the two defensive backs will be leaving safety to focus on linebacker, but it's not out of the realm of possiblity they could line up at the position on some plays.
"Again, it all comes down to health," O'Brien said. "Can Obeng play some [weakside] linebacker, things like that? We kind of sit in there and talk about different scenarios, and I know John Butler does it a lot more than I do with the defense."
Change in the ticket policy:
Want to buy tickets to the Michigan game on Oct. 12 or the Nebraska game on Nov. 23? Turns out you also will have to purchase the same number of tickets for Eastern Michigan or Kent State games.
Joyner addressed that issue Wednesday, telling reporters the change was made for reasons both related to getting more people into the stadium and increasing finances.
Joyner believed big-screen televisions and the home experience have "a lot to do" with declining attendance, so he said PSU also is hoping to make the Beaver Stadium experience a little better.
"We're really working a lot of ways to increase the fan experience at the stadium and make things really interesting that they can't see at home," he said, adding enhanced wi-fi and "better things" on the Jumbotron are among future changes.
May, 14, 2013
May 14
2:45
PM ET
CHICAGO -- Penn State athletic director Dave Joyner jokes with his Pitt counterpart Steve Pederson about scheduling football games somewhere on the Pennsylvania Turnpike between State College and Pittsburgh.
It's unlikely the Nittany Lions and Panthers will lock horns on the side of the road, but they could be seeing each other annually for many years to come. Pederson told colleague Brett McMurphy at the ACC spring meetings Tuesday that
he'd like to schedule more games against Penn State
beyond the schools' agreement to play from 2016-19. Joyner has strong interest, too.
"We'd be interested in talking about that," Joyner told ESPN.com at the Big Ten spring meetings. "It's a great series. It's been a great linchpin in Pennsylvania for everyone there. Steve and I will definitely talk about doing that."
The longtime rivals
announced in 2011 they would resume their series
, which had been dormant since 2000, and
tacked on two more games
in December. Penn State and Pitt met every season from 1935-1992. They took a break when Penn State joined the Big Ten, but then resumed with a four-game series from 1997-2000. The Lions own a 50-42-4 advantage in the all-time series.
Pederson said he "would sign a 30-year deal" if he could, adding that the Pitt-Penn State game "ought to be played." Penn State coach Bill O'Brien also has voiced his support for the series.
"Pitt-Penn State, who can forget those games back in the day, usually late in the season, snowing?" O'Brien said on Penn State's recent coaches' caravan. "I think it's great for college football."
Penn State might not be able to play Pitt annually after the Big Ten goes to a nine-game conference schedule in 2016, but there is certainly more support for the series than there was during the latter part of Joe Paterno's tenure.
Joyner also said Penn State is "actively working" on a 2014 game in Ireland, reportedly against UCF, and hopes to have a resolution in the next few weeks. More neutral-site games are a possibility for Penn State, which kicks off the 2013 season against Syracuse at MetLife Stadium in New Jersey.
"Neutral sites are a very, very interesting proposition," Joyner said. "It's good for everybody. From a monetary standpoint, it's a very satisfactory thing to do, but it also engages people in other parts of the country to perhaps come to games. So it's a good thing to consider doing."
August, 7, 2012
8/07/12
4:24
PM ET
Penn State's football makeover under coach Bill O'Brien will include changes to the team uniforms.
The school on Tuesday announced two
changes to the Nittany Lions' unis for the 2012 season
.

1.
A blue ribbon will be worn to honor victims of child abuse.
2.
Players' last names will be displayed for the first time "in recognition of their resolve and dedication to the team and the university," a news release reads.
Penn State has sported an
unmistakably simple look
for decades: white helmets, black shoes, blue or white uniforms, no decals or names. Any talk of changes under former coach Joe Paterno were typically shot down immediately.
But it's a new era in State College, and O'Brien and players had hinted at the changes in recent months. After all that has happened, it's not surprising to see them come to fruition. O'Brien met with several players and they decided to add the names.
"We want our fans to know and recognize these young men," O'Brien said in a statement. "They have stuck together during tough times, and I commend them for the leadership they have shown. Moving forward, I'm deeply committed to honoring Penn State's traditions, while building a bright future for our football program."
Acting athletic director Dave Joyner added of the ribbons, "Coach Bill O'Brien and his football team made it clear they want to support victims and bring more awareness to this issue, which affects so many."
The ribbon addition was a must after the child sex abuse scandal involving former Penn State assistant Jerry Sandusky. But the addition of the names surely will attract more attention.
We'll likely get a closer look at the uniform changes Thursday as Penn State holds its preseason media day. According to a team spokesman, there have been no discussions about the uniform changes beyond the 2012 season.
What's your opinion on the changes?
Penn State Hangs On To Top Wisconsin