Penn State Nittany Lions:

Dave Aranda
November, 22, 2013
Nov 22
12:00
PM ET
Winter's cold is too much to handle.
November, 17, 2013
Nov 17
10:00
AM ET
Lessons learned from the weekend that was in the Big Ten:
[+] Enlarge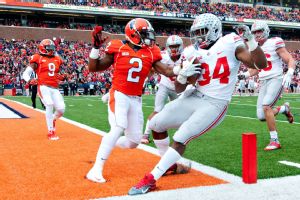 Bradley Leeb/USA TODAY SportsTailback Carlos Hyde rushed for 246 rushing yards and scored five touchdowns in the Buckeyes' win over Illinois.
1. Michigan State vs. Ohio State is happening, so get ready:
The Big Ten championship game is not signed, sealed and delivered yet. But it would take some major chaos for that game not to feature Michigan State and Ohio State. The Spartans clinched at least a tie for the Legends Division title with their
41-28 win at Nebraska
. All they need is to win one of their final two games -- at Northwestern and versus Minnesota -- or have Minnesota lose next week against Wisconsin in order to punch their ticket to Indianapolis. Coach Mark Dantonio's team has come too far to slip up two straight weeks. Ohio State needs one more win to clinch the Leaders spot in the title game because of its head-to-head win over Wisconsin, and the Buckeyes will be favored by multiple scores next week at home against Indiana. This is the matchup that the Big Ten should want -- Michigan State will be in the top 15 and possibly the edge of the top 10 if it wins out, and the Spartans' outstanding defense will test Ohio State's high-scoring offense. It hasn't been the most exciting Big Ten regular season, but things are setting up for a fantastic finish at Lucas Oil Stadium.
2. Wisconsin's defense deserves more notice:
Indiana came into Saturday's game averaging 43.1 points and 527 yards. Whatever you think of the Hoosiers, their offense is legitimately explosive. Wisconsin completely defused that attack in a
51-3 win
, shutting out Indiana in the first half while allowing 224 yards and a lone third-quarter field goal. The Hoosiers had scored in every quarter but three this year and hadn't been blanked in a half since September of last season. The point is that the Badgers' defense is outstanding, yet like the team as a whole, remains underrated. Everyone will notice how Wisconsin ran all over IU for 554 yards, second most in school history, but that pretty much happens every year in the Indiana game. The Badgers D is led by experienced players up front like
Chris Borland
,
Beau Allen
and
Brendan Kelly
and is getting terrific play from less experienced guys like
Sojourn Shelton
and
Tanner McEvoy
on the back end. Don't forget that Ohio State turned in its lowest point total of the season (31) against Dave Aranda's defense. This is a complete team, even if the the voters in the major polls still somehow fail to recognize it.
3. Don't tell Michigan this season is over:
We could have understood if Michigan would have mailed in the end of Saturday's Northwestern game. The Wolverines have been beaten up by opponents and piled on by fans and critics for their lackluster offensive performances. Their Big Ten title hopes are dead, and in coach Brady Hoke's own view, that means the season is a failure already. In the rain in Evanston, they found themselves down 9-6 in the closing moments of an ugly game. But Michigan pulled off a truly incredible effort to set up
Brendan Gibbons
' field goal at the very end of regulation, then ground its way through a
triple-overtime win
. Quarterback
Devin Gardner
, who has been battered and bruised countless times, appropriately scored the winning touchdown and two-point conversion. The Wolverines looked in serious danger of losing out for a 6-6 campaign before Saturday's gritty comeback. While wins at Iowa and against Ohio State the next two weeks won't be easy to come by, Michigan proved that it will not fold up shop. As for Northwestern, you can't fault the effort. But the Wildcats have now lost in just about every terrible way imaginable, including twice in overtime and on a Hail Mary. It's just one of those years for coach Pat Fitzgerald's crew.
[+] Enlarge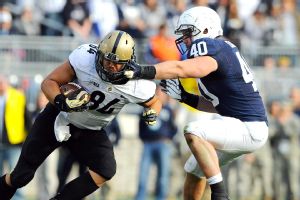 Rich Barnes/USA TODAY SportsLinebacker Glenn Carson and the Nittany Lions gave up just 264 yards to Purdue in the win.
4. It's wait 'til next year -- again -- for Illinois and Indiana:
The best thing you can say about Illinois is that it has shown a lot of fight this year -- even if that sometimes means near fisticuffs between coach Tim Beckman and offensive coordinator Bill Cubit. The Illini did not give up after falling behind Ohio State 28-0 and 35-7 on Saturday, battling back to keep it a two-score game throughout most of the second half. But like the games against Penn State and Indiana, the team simply couldn't finish the job. And so any slight bowl hopes were officially extinguished for Illinois, which now owns the nation's longest conference losing streak -- and second-longest in the long history of the Big Ten -- at 20 games. If Beckman can't lead the team to a win over hapless Purdue next week, he might not get a chance to finish his job, either. Indiana entered the year with high hopes for a bowl. The Hoosiers can still technically get to six wins, but that would require a win next week in Columbus over Ohio State. If you believe that will happen, you are either incredibly optimistic or completely untethered from reality. Coach Kevin Wilson's team has made strides this season on offense and in the running game despite Saturday's showing in Madison, but the defense has failed to grow at all and has some historically inept performances this season. The Hoosiers' status won't change until that side of the ball develops any competency. So it's back to the drawing board for both programs, and they'll have all of December to rethink things.
5. Freshmen making strides at Penn State, Purdue:
If you didn't watch
Penn State's win over Purdue
, we don't blame you. Neither team is going anywhere this season. But the game did provide some hope for the future, thanks to the play of true freshmen on both sides. Purdue quarterback
Danny Etling
took a step forward with the best start of his career, throwing for 223 yards and a touchdown. Both he and Penn State freshman quarterback
Christian Hackenberg
finished with similar stat lines. And their first-year targets fared pretty well, too.
DeAngelo Yancey
was Purdue's leading receiver, with four catches for 83 yards, and Nittany Lions tight end
Adam Breneman
caught the first TD pass of his career. Both teams are looking forward for different reasons, and the play of their youngsters gave them some reasons for hope.
September, 27, 2013
Sep 27
12:00
PM ET
Enjoy the fact that your royal overlords are a frail old woman and a tiny baby.
September, 26, 2013
Sep 26
12:00
PM ET
Welcome back, Ron Swanson.
September, 13, 2013
Sep 13
9:00
AM ET
Penn State defensive coordinator John Butler is so competitive and intense that a childhood friend wonders half-jokingly if a demon lives inside him.
Wisconsin defensive coordinator Dave Aranda, meanwhile, is California cool, an admittedly cerebral coach directing a scheme built on aggression.
[+] Enlarge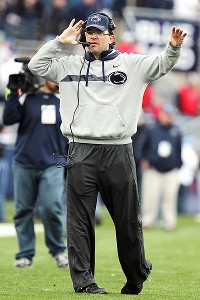 Matthew O'Haren/USA TODAY SportsPenn State's John Butler is emotional, animated, competitive and his players feed off that.
Butler can't be missed on the Penn State sideline, a ball of energy whose animated style makes players feel like he's one of them. Aranda is more Zen-like, bringing a teacher's approach that connects with bright Badger defenders as he conveys messages without veins bulging from his neck.
Butler and his boss, Bill O'Brien, are near replicas, fiery Irishmen from hardboiled Eastern cities who share a relentless drive to succeed. Aranda and his boss, Gary Andersen, first met in Maui of all places. They both have backgrounds in defense but are, as Andersen puts it, "polar opposites."
The obvious differences between Butler and Aranda shouldn't overshadow the fact that both first-year Big Ten defensive coordinators are rising stars, rocketing up the coaching ladder. They're highly respected among their peers and viewed as likely future head coaches.
Both men also will be put to the test this week, as they lead defenses against two strong opponents -- No. 20 Wisconsin visits Arizona State and Penn State hosts UCF -- led by standout quarterbacks (ASU's
Taylor Kelly
, UCF's
Blake Bortles
).
"This is why you do it, man," Butler told ESPN.com. "As a competitor, when the competition improves, you better improve your game or you're going to get embarrassed."
Butler and Keith Conlin rarely were embarrassed as young athletes growing up just outside Philadelphia. In fact, they rarely lost at anything. Conlin and Butler met in first grade and played together on every team and in every sport.
They won titles in everything, thanks to Conlin, a self-described "mutant athlete" who went on to be an All-Big Ten offensive lineman at Penn State, and Butler, who eventually played football and basketball at Division III Catholic University. But they didn't win every game.
"Imagine the kid who would sulk and cry after games when you lose, but during the game was going to do whatever it took to win," Conlin said of Butler. "He wasn't the crybaby who lost and [said], 'I'm going to take my ball and go home.' He was literally mad because we lost. Losing is probably the worst thing he could possibly have in his world.
"It's almost like a demon he has, his drive and competitiveness."
It's also an asset that helped Butler rise from modest coaching origins -- Midwestern State, Texas State and Harvard -- to the Big Ten (Minnesota) in 2007, to the SEC (South Carolina) in 2011 and back to the Big Ten last year as Penn State's secondary coach and special teams coordinator. When defensive coordinator Ted Roof left for Georgia Tech in January,
O'Brien immediately promoted Butler
, who vaulted veteran Lions assistants Larry Johnson (defensive line) and Ron Vanderlinden (linebackers) for the role.
O'Brien's rationale: "He's just a coordinator, that's what he is. ... I knew if the coordinator job ever opened up, he would be the guy."
The transition was quick. Minutes after Roof informed the staff of his move, O'Brien walked into Butler's office.
"Billy said, 'This is the move I want to make,'" Butler recalled. "I told him, 'That's great. Let's move on.' I've prepared myself for this for a long time."
[+] Enlarge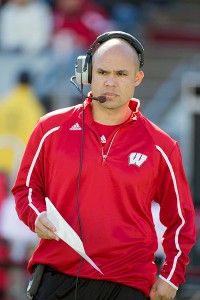 AP Photo/David StlukaWisconsin's Dave Aranda is driven to learn everything he can about defenses and isn't shy about visiting other programs and talking with other coaches.
Preparation is at the core of Aranda's approach. He has his principles -- multiple fronts, varied blitzes, a focus on takeaways -- but constantly keeps his ears open.
If there's a new approach, Aranda, 37, wants to learn it, even if he never employs it in a practice or a game.
"Professional development for him is very important," Andersen said. "He's a great researcher, very detailed. He's always out there looking for new things. He's much better at that than I was as a coordinator. I probably got a little set in my ways.
"If he's in a city where there's a football program, it doesn't matter if it's NFL, Division I or Division II, he's going to see if he can learn something from somebody."
This summer, Aranda dropped in on the Green Bay Packers, Atlanta Falcons and Jacksonville Jaguars, in addition to college teams like Ohio and Eastern Michigan.
"Outside of my family, about the only other people I talk to are other defensive coaches," Aranda said. "You try to get as many questions answered prior to having to answer them in games."
Andersen and Aranda first met at a high school camp in Maui. They both embraced what Andersen calls "the aggressive side of defense" -- capitalizing on blitz opportunities and gearing a scheme toward forcing turnovers. Aranda, like Butler, worked his way through the lower ranks (California Lutheran, Delta State, Southern Utah) before getting his big break at Hawaii.
Andersen watched Aranda's first coordinator stint -- Hawaii led the nation in takeaways in 2010 and finished 15th nationally in sacks the following year -- and
in 2012 brought him to Utah State
, essentially to replace himself as the defensive play-caller. Since Andersen made no other changes, Aranda took over a defensive staff as the only newcomer.
"There's no pretense," Aranda said. "I've always thought that it's not whose ideas that matter; it's just that it works."
After coordinating a Utah State defense that last season finished in the top 15 in points allowed, sacks, rushing yards allowed, pass efficiency and total yards allowed, Aranda received offers from two major-conference schools -- reportedly Cal and Texas Tech – but he chose to stay at Utah State. But that was before Andersen landed the Wisconsin job.
"A lot of people would say it was kind of crazy," Andersen said, "but he said no because he felt like that was where he needed to be. I respected that, so when we had the opportunity to come here, [bringing Aranda] was a slam dunk."
O'Brien and Butler didn't know each other well before O'Brien landed the Penn State job, but they had a mutual connection in strength coach Craig Fitzgerald, who had met O'Brien at Maryland and had attended high school with Butler and Conlin. O'Brien brought both Fitzgerald and Butler in from South Carolina.
After meeting O'Brien, Conlin wondered how Butler would mesh with his new boss.
"How [O'Brien] was emotionally so driven in everything he does, I was like, 'Man, they're either going to be best friends or the most hated enemies of all time,'" Conlin said.
It turned out to be the former. Both men are in their early forties. O'Brien grew up north of Boston in Andover, Mass. Butler lived in Boston while working at Harvard and said the city's energy reminds him of Philly.
"He's a quick-minded guy, a hardworking guy," O'Brien said. "We believe in the same things football-wise."
Added Butler: "It ended up being an excellent match."
Butler's style clicked with Penn State's players, whose competitive spirit carried them through a summer of sanctions and a season with no bowl or championship possibilities. The Lions won eight of their final 10 games last fall and the secondary, labeled as the defense's weak link, held its own.
"He's pumped up, just like all of us," defensive tackle
DaQuan Jones
said. "He's just out there, all loud and running around. I love it."
Butler hasn't pumped the brakes on his approach, despite his increased responsibilities. Competitiveness is non-negotiable for his players, although he has learned over time that it takes on different forms.
"Whether you're overtly competitive, which maybe I am, as opposed to internally competitive, which a lot of other people are, that spirit shows through in all of our guys," he said.
Butler, 40, oversees two of the nation's most accomplished assistants in Johnson and Vanderlinden, the only two holdovers from Joe Paterno's staff. Despite the experience gap, the transition "came natural," Butler said, and Penn State has surrendered only 24 points, 22 first downs and 132 rush yards in its first two games.
Conlin, who has seen Butler's evolution and maturation firsthand, has no doubt his friend will eventually lead a program.
"I don't know when, I don't know where," Conlin said, "but I wouldn't want to be playing against him. There's going to be 11 guys out there who will cut your heart out to win that game."
Andersen also sees Aranda as a future head coach, but hopes to keep him for "a while." Like Butler, Aranda has had early success, as the Badgers have yet to allow a point in two games.
And like Butler, Aranda will be challenged Saturday. Arizona State ranked 14th nationally in scoring last season and put up 55 in its opener. Aranda faced the same Todd Graham offense in the 2010 Hawaii Bowl, when Graham's Tulsa team put up 62 points against Hawaii.
"I think about that a lot," he said. "So it's exciting for me to get back in it and give it a go. It's a challenge, the stuff as a coach you look forward to."
Maybe Aranda and Butler aren't so different after all.
Penn State Hangs On To Top Wisconsin