Penn State Nittany Lions:

Darren Perry
August, 19, 2013
8/19/13
9:00
AM ET
As part of an ongoing series, NittanyNation will preview a different position leading up to the season opener against Syracuse on Aug. 31. Up today: Safeties.
Projected starters:
Adrian Amos
(2012 stats, as CB: 44 tackles, 2.5 tackles-for-loss, two interceptions) and
Malcolm Willis
(45 tackles, one fumble recovery, two pass breakups)
Key losses:
None
[+] Enlarge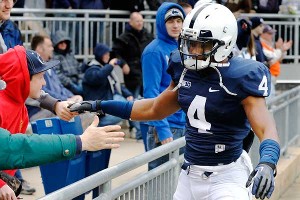 Keith Srakocic/AP PhotoAdrian Amos moves back to safety this season, where he could be a star for the Nittany Lions.
Next in line:
Stephen Obeng-Agyapong
started at safety last season, but he's the top backup now that Amos slid over from cornerback. SOA is one of the fastest players on the team and should still see a lot of time this season.
Walk-on-turned-scholarship-player
Ryan Keiser
is also listed as one of the primary backups, and he played in every game last season -- mostly on special teams. Keiser is a solid situational player who gives this position added depth.
Jesse Della Valle
is likely safety No. 5, so he won't see much time at the position, but he'll contribute on special teams.
And, of course, we can't forget about the younger players. There are some talented guys here who could make an impact well down the line ... just not this season. Think redshirt freshman
Malik Golden
or true freshman
Neiko Robinson
.
What to expect:
This might be the most improved group from last season. The safeties were the weakness of the defense, but Amos instantly solidifies this group. And it would surprise no one if he earned first-team All-Big Ten honors at his natural position in 2013.
With depth and experience -- two characteristics this position didn't have last season -- offenses should no longer be able to target this group downfield. Those long, third-down conversions should be a thing of the past, as long as the corners can hold up their end of the deal.
This was an average group on a good defense last season. Now the safeties are good, and Amos could be one of the best. This is his chance to break out, and it's Willis' secondary to lead. Big things should be expected at this position.
Recruiting trail:
Three-star 2014 safety
Marcus Allen
(Upper Marlboro, Md./Wise) already committed in May, and he's a big body who could see early playing time once he arrives on campus. The 6-foot-2 safety used to play linebacker in high school, and he has earned a reputation as a hard-hitting player. He can definitely offer some good run support.
PSU also still is pursuing a few defensive backs, notably ESPN 300 safety
Montae Nicholson
(Monroeville, Pa./Gateway). Nicholson is taking his recruitment slowly, but PSU is on his short list. He would be a huge boon to the Nittany Lions' 2014 recruiting class.
Best-case scenario:
Amos earns a spot on the All-Big Ten first team, and there's even some chatter about All-America honors. He cements the fact he boasts an NFL future, as Willis exceeds expectations and helps the young corners along with his calls and adjustments.
Worst-case scenario:
Amos is forced to move back to cornerback, and the combination of Willis and Obeng-Agyapong struggles a bit. There's some progress from last season, but not much, and this group turns in an average performance over the course of the season.
Top position question: What does Amos' move to safety mean for Penn State?
It means a couple things. For one, now that there's actually some depth here, Amos can play the position he's best at -- and, as we previously mentioned, it also means defensive coordinator John Butler has enough faith in the two new cornerbacks.
Amos was a good cornerback and earned an honorable mention on the All-Big Ten team last year. But he's an even better safety. He could be the secondary equivalent of
Allen Robinson
, and his versatility gives this defense an incredible boost. Forget
Mike Hull
or
Deion Barnes
; Amos is the most valuable player on this defense for that very reason.
Expect Butler to utilize Amos in a lot of different ways -- and expect Amos to shine. By the end of his career, he could be mentioned with the likes of Kim Herring and Darren Perry. The cornerback-turned-safety is poised for a breakout season, and by extension, that means nothing but good things for the Penn State defense.
July, 10, 2013
7/10/13
1:00
PM ET
So, what teams had the best and worst
all-time PSU fantasy drafts
on Tuesday?
There's a lot of opinion out there, but NittanyNation tried to find two knowledgable judges to offer their takes on each team's draft. Both Steve Jones and Mike Poorman agreed to grade each team and include a brief analysis.
Jones is the play-by-play voice of Penn State football and hosts a daily radio show that can be heard on ESPN 1450 in State College. Poorman is a columnist and senior lecturer at Penn State who taught the class, "Joe Paterno, Communications & The Media." Both are PSU graduates.
Here's what they had to say:
Team Lou Prato
(Top five picks: RB Lenny Moore, LB Jack Ham, DT Mike Reid, DE Courtney Brown, C Glenn Ressler)
Jones says:
A. Outstanding defense, especially at linebacker, and a solid kicking game. Offensively, Moore could do it all, and people forget Chuck Fusina was a Heisman trophy runner-up who actually had more first-place votes than Billy Sims.
Poorman says:
A. I graded the No. 1 pick at each position, and Lou was tops with eight such selections. His LB combo of Jack Ham and Shane Conlan, PSU's best two ever, and secondary pair of Harry Wilson and Michael Zordich exemplified a depth of knowledge -- and, hence, roster -- that was unmatched, top to bottom. Memo to Bob McClellan: 25 years after you had him in class, Lou is still cantankerous.
Team Bob McClellan
(Top five picks: CB Brian Miller, RB Curt Warner, OT Keith Dorney, OG Mike Munchak, DE Michael Haynes)
Jones says:
A-. Great running game and offensive line, along with the best rushers. This group has underrated receivers and an underrated quarterback who was Big Ten player of the year.
Poorman says:
A-. Seven of Bob's picks were best at their position. His OL spanned four decades and was the strongest group by far. All-time pick leader Neal Smith and punter Ralph Giacamarro showed McClellan's surprising and seasoned savvy against a field of Penn Staters. Flex selection Lydell Mitchell was inspired.
Team Stephon Morris
(Top five picks: LB Sean Lee, LB LaVar Arrington, WR Bobby Engram, DT Matt Millen, RB John Cappelletti)
Jones says:
A-. He mixes the school's only Heisman winner in Cappy with the quarterback who won the first national title. Defensively, the athletes at linebacker are impressive, and Millen is outstanding up front
Poorman says:
Pass. No way I could fail Stephon. A likeable and gutsy player, he was a media favorite with his candor. With his draft picks, he displayed confidence -- he picked Stephon Morris at CB -- and smarts, by snagging four of the giants of Penn State football: John Cappelletti, LaVar Arrington, Matt Millen and Todd Blackledge. But his O-line was of the "oh, my goodness" variety, and his biggest downfall.
Team Josh Moyer
(Top five picks: QB Kerry Collins, S Mark Robinson, OT Levi Brown, OG Sean Farrell, TE Ted Kwalick)
Jones says:
A-. Get ready for the ball to fly. Great quarterback and receivers. Everyone has quality tight ends, but Kwalick was special. Strong secondary behind that defensive line.
Poorman says:
B+. Josh has the best pitch-and-catch triad of Kerry Collins, Kenny Jackson and Ted Kwalick, with Stefen Wisniewski snapping the ball. That's four of his five position-best picks. He showed a healthy respect for -- and use of -- the past (W.T. Dunn, Joe Bedenk) that gets high marks, but his pair of kickers and one corner selection ranked a Z.
Team O.J. McDuffie
(Top five picks: RB Ki-Jana Carter, RB Larry Johnson, OG Steve Wisniewski, OG Jeff Hartings, S Darren Perry)
Jones says:
B+. Great running game along with speed at wide receiver. The defense is solid across the board.
Poorman says:
C. O.J. was in trouble as soon as did not pick O.J. McDuffie. His one old-school pick, Matt Bahr, was the best kicker selected. But O.J. relied almost totally on Nittany Lions from the past three decades and regrettably didn't include one player from the first 88 years of Penn State football. Not OK, O.J.
BIG TEN SCOREBOARD
Thursday, 9/3
Friday, 9/4
Saturday, 9/5
Sunday, 9/6
Monday, 9/7