PSU Nittany Lions:

Craig Fitzgerald
February, 8, 2013
Feb 8
12:00
PM ET
STATE COLLEGE, Pa. -- Players' tweets start up a little after 4:30 a.m., that strange time when it's not quite day and not quite night. Traffic lights blink yellow along College Avenue, and -- outside of a whirring Herr's potato chip truck -- the roads are silent.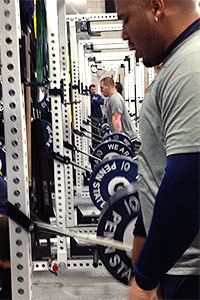 Josh Moyer/ESPNPenn State's players participated in an early workout Friday.
On this starless night ... or morning (take your pick) ... players pry their heads off their pillows and descend on the nearby Lasch Football Building. Streetlights around town still shine, and not a single student is spotted walking on a campus that holds more than 40,000.
But
Garry Gilliam
, a tight end turned offensive tackle, is up. He tweeted, at 4:39 a.m, "They sleep, we grind. They dream, we shine."
On this Friday, Penn State football players' days have already started. In about 30 minutes, their morning workouts will begin.
5:12 a.m.
Bill O'Brien walks onto the field with a whistle draped around his neck. The players are still inside the building, throwing on their gray T-shirts and blue shorts, and Penn State's dimple-chinned coach awaits them in the 31-degree weather.
Four bright stadium lights for the practice field are flipped on, and snow covers the perimeter of the turf. O'Brien chats with the staff and grad assistants, who constantly shift their weight from one leg to another to stay warm. He's cracking jokes, smiling and seems to be acting as if it's 3 p.m. He's ready.
"We should've had this at 3," he says with a nod.
About five minutes later, players burst from the weight room doors. Some hold their hands in the air, almost as if they're running through the south tunnel of Beaver Stadium. They yell, they chatter, they run.
The nearby stereo starts blaring LMFAO's "Party Rock Anthem," and the drills begin.
5:28 a.m.
Strength and conditioning coach Craig Fitzgerald, an eccentric-but-beloved guy who's been known to lick the weight room floor and do the worm in pregames, is dressed in his trademark shorts, backward hat and T-shirt.
Players break into six groups. Some flip tires, others weave through cones, and others stretch. Fitzgerald guides about a dozen to the northwest corner of the field. If he pumps his arms left, they go left. Right, they go right. Down? Their stomachs kiss the turf.
But O'Brien isn't liking what he's seeing. He cuts the music, and the entire field falls silent like a third-grade classroom that's ticked off the schoolteacher for the last time.
"I don't see the intensity I'm expecting!" O'Brien barks. "Let's do it!"
The pace noticeably picks up.
August, 20, 2012
8/20/12
9:30
AM ET
Before leaving Penn State for a new home at USC, running back
Silas Redd
left
Bill Belton
with a simple message.
"He said, 'It's your time now. You've got to move forward and prepare yourself for the big games coming up this year,'" Belton recalled.
Belton has done just that.
Football is a game of opportunity, whether it comes by virtue of injury, academic missteps or, in Penn State's case, historic NCAA sanctions that prompted a wave of transfers. Redd, a second-team All-Big Ten selection in 2011, was among those to depart Happy Valley, leaving Penn State with a sizable void in the backfield.
Belton is working to fill it for the 2012 season. Despite little experience as a primary running back, Belton locked up the starting job in preseason camp.
"He's definitely cemented himself as a starter at this point," coach Bill O'Brien said last week. "Other guys will play, but Billy will start the game. ... Billy's a good football player."
[+] Enlarge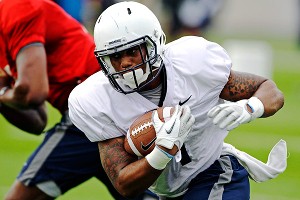 AP Photo/Gene J. PuskarBill Belton saw time as a receiver and Wildcat quarterback last season but will start at tailback as a sophomore for Penn State this fall.
After playing wide receiver and some Wildcat quarterback as a true freshman in 2011, Belton transitioned to running back this spring. Little did he know how much his move would mean. Redd's departure, along with the losses of Stephfon Green and Brandon Beachum, leave Penn State without a back who recorded more than 50 carries in 2011.
Curtis Dukes
, who missed spring practice because of academic issues, logged 41 carries for 237 yards last fall. Penn State's next-most-productive ball-carrier? Belton, with 13 carries for 65 yards, many as the speedy triggerman for the Wildcat offense.
Regardless of his inexperience as a primary running back -- Belton played quarterback for Winslow Township High School in Atco, N.J. -- he impressed O'Brien this spring and continued to do so after
Redd's departure July 31
.
"Sy was big here," Belton said of Redd, who rushed for 1,241 yards and seven touchdowns last fall. "Silas is a great friend of mine and I wish him the best of luck. But I'm definitely ready for the opportunity moving forward."
Belton prepared himself in the weight room this summer with new strength and conditioning coach Craig Fitzgerald. Running backs coach Charles London told Belton about the physical toll pass protection takes on running backs. Like Redd, who transformed his body between the 2010 and 2011 seasons to take the pounding, Belton "leaned up" and added muscle mass.
Although he actually was a bit heavier in 2011 and hopes to play around 203 pounds this season, Belton is confident in his progress.
"I feel like I'm in the best shape of my life right now," he said.
Penn State will lean on Belton for carries behind a potentially improved offensive line, but the sophomore's versatility could be his biggest asset for the offense. The receiver position returns almost no experience, and while Belton recorded only one reception in 2011, he can help the passing game.
"That adds a dimension to the game," Belton said. "You've got to account for the backs, too."
O'Brien said Belton recorded an 80-yard touchdown run in a scrimmage early in camp and has improved his pass protection. Asked how many carries he can handle, Belton said as many as the coaches give him.
"You strive to be the best," he said. "That's basically what I'm trying to do this year. I'm definitely looking forward to September 1st "