Penn State Nittany Lions:

Corey Clement
March, 31, 2014
Mar 31
12:00
PM ET
College basketball season is over in the state of Michigan, but
the party continues
in Wisconsin.
Ready for some spring football links? Here ya go ...
March, 19, 2014
Mar 19
5:00
PM ET
Take your nose out of the brackets for a second and dive into this latest Big Ten mailbag.
Joe F. from Wrightsville, Pa., writes:
Top three Big Ten games for 2014? Bottom three? How soon will PSU play into Big Ten title talk?
Brian Bennett:
We'll probably do a list at some point of our best and worst games of 2014, but after going through the
ultimate road trip
exercise, this is a topic fresh in my mind. My top three games for 2014:
1. Ohio State at Michigan State, Week 11:
This one's fairly obvious. It's the rematch of last year's Big Ten title game, and both teams should be ranked in the top 10 to start the season as the clear league favorites.
2. Michigan State at Oregon, Week 2:
This is the most exciting Big Ten nonconference game in years, in my opinion. Sure, we had Michigan-Alabama a couple seasons ago, but most people didn't think the Wolverines were ready to compete with the Tide (and they were right). These two teams are not only legitimate national title contenders, but the extreme contrast in styles -- the Ducks' quick-strike offense against the Spartans' ferocious D -- is incredibly compelling.
3. Nebraska at Wisconsin, Week 12:
The third choice could fluctuate between now and the start of the season. Wisconsin-LSU is really interesting, Michigan-Ohio State is always must-see and Iowa's last two games of the season could be huge if the Hawkeyes come through early on. That's just to name a few. But for now, I'll take what looks like the key showdown for the West Division title.
As for the three worst, I'm always going to pick terrible nonconference games for those. And my three snooze-fests right now would be Western Michigan (1-11 last year) at Purdue in Week 1, along with Week 2 weaklings Howard at Rutgers and Western Illinois (4-8 in '13) at Wisconsin.
Lastly -- and very sneaky of you to get three questions in, Joe -- I've been pretty consistent in saying 2016 is my pick for Penn State to contend for the Big Ten title. It's potentially
Christian Hackenberg
's senior season, and all of the sanctions will be gone. It wouldn't shock me if James Franklin moved that timeline up to 2015, however.
---
Taylor from North Platte, Neb., writes:
Brian, love the blog! Question I ask people in "The Good Life" a lot is, would you rather see Nebraska play Wisconsin at the end of the year instead of Iowa? Many agree, the Iowa rivalry is forced (I personally cheer for Iowa over ISU in the Cy-Hawk Game) for Nebraskans, and many people have a bad taste in their mouth when talking about Wisconsin, just because the whippings they have given the Huskers two out of three times Nebraska has played them. Just wanted your thoughts on that.
Brian Bennett:
The Nebraska-Iowa rivalry is forced, to a large degree. But I think the fact that the Hawkeyes won last year in Lincoln should help the Heroes Game grow, and it's possible the two teams could be playing for a division title on the final weekend in 2014. I believe the Nebraska-Wisconsin rivalry will grow now that the two teams are in the same division, but there really has only been one good game between them so far (the Huskers' home win in 2012). And I prefer having Wisconsin and Minnesota continue college football's oldest rivalry on the final weekend.
---

Tim from Raleigh, N.C., writes:
I just read
your article
about the running game at Wisconsin with
Melvin Gordon
and
Corey Clement
. In the article, you mention that there isn't depth besides those two. I agree that there isn't any "proven" depth, but that hasn't stopped Wisconsin recently. Just like every other year, Wisconsin starts the season with two good running backs and questionable depth. But the No. 3 RB always proves that the depth is there. White, Gordon and Clement all proved to be great players while only being third on the depth chart. I wouldn't be surprised to see
Taiwan Deal
or maybe
Vonte Jackson
(I know he has moved to safety, but want to see him at RB) provide the depth for the Badgers.
Brian Bennett:
Tim, the depth situation is really more the concern of Gary Andersen this spring, which is why he's holding Gordon and Clement out of contact. There's a very good chance that Deal becomes that No. 3 back in the mold of Gordon in 2012 or Clement in 2013, but remember that he's not on campus yet. The only other scholarship tailbacks right now are senior
Jeff Lewis
and redshirt freshman
Austin Ramesh
. Andersen doesn't want to risk Gordon and Clement getting hurt this spring, and there's really no reason to have them get tackled right now.
---

Joelfr from South Brunswick, N.J., writes:
Do you think that Rutgers will stick with experienced but inconsistent QB
Gary Nova
this coming season as Big Ten action starts, or will they go with one of their young QBs who have never started a game?
Brian Bennett:
We'll start to get some answers when the Scarlet Knights open practice Monday, but I'd say every option is on the table right now, especially with new offensive coordinator Ralph Friedgen. Youngsters
Mike Bimonte
,
Blake Rankin
and
Chris Laviano
have a lot to prove, as none of them has taken a college snap. But Nova has thrown 39 interceptions in parts of three seasons, which helped lead to his benching last season. He has a huge experience edge, but it might be time to start over in Piscataway. The good news is that if anyone can fix Nova, it's probably Friedgen. If not, then one of the young guys will get a shot.
---

Andrew from Fremont, Ind., writes:
Brian, as a Purdue fan, the 2013-14 athletic season was horrible, bottom of the league in both major sports. I believe things are going to be better in 2014-15. To find a ray of hope, I decided to look back at the Big Ten's worst since the turn of the century. The records obviously point to the Hoosiers being the worst (surprise!). IU has only had one season where they have finished at .500 since 2000, and in only six of those years has it won more than one conference game. Aside from Illinois, no one in the Big Ten has even been close to being that bad. Despite surprise trips to the Rose and Sugar Bowls, Illinois has done their best to match IU's level of awfulness with three zero-win Big Ten seasons during that time. As bad as Purdue was this season, history seems to favor that a crummy IU team or the Fighting Illini are destined to reclaim the basement. Which Big Ten team gets your honor in the preseason as the Big Ten's worst?
Brian Bennett:
Andrew, I feel your pain. What a rough go of it this has been for Boilers fans. I actually wrote back in November about
the worst Big Ten teams
in recent years, and the 2013 Purdue squad ranked among the worst of the worst. And that was before the Boilermakers lost to Illinois and Indiana (by 20 points) to finish out a 1-11 campaign. Purdue lost by an average of 23.1 points per game last year and ranked at or very close to the bottom nationally in virtually every major statistical category. While I believe Darrell Hazell will eventually turn things around and that the schedule should help the Boilers improve a little this season, there's no doubt that they begin the year as the worst team in the league again, especially as Illinois and Indiana look capable of competing for a bowl bid.
February, 26, 2014
Feb 26
1:00
PM ET
Spring practice is off and running in the Big Ten, as Michigan took the field Tuesday and Northwestern followed on Wednesday. We're taking snapshots of where each team stands at each position group.
We've already discussed the quarterbacks -- and will have much more on the way -- so the series begins with the running backs.

Illinois:
The Illini are in a bit better shape here than they were the past two springs, as veterans
Josh Ferguson
and
Donovonn Young
both return. Ferguson averaged 5.5 yards per carry and added 50 receptions for 535 yards as the primary playmaker for Illinois' revamped offense. Young added 376 yards on 93 carries. The Illini are looking for others behind the top two, and Dami Ayoola is back with the team after being dismissed in September for a rules violation.

Indiana:
Tevin Coleman
quietly put together a superb sophomore season and leads the Hoosiers' running backs in 2014. Coleman provides big-play ability after averaging 7.3 yards per carry with 12 touchdowns on only 131 attempts in 2013. Indiana loses
Stephen Houston
but brings back veteran
D'Angelo Roberts
, who will play behind Coleman. Younger players such as sophomore
Laray Smith
could get a look here.

Iowa:
Not only did the Hawkeyes toss AIRBHG to the side and get through the season without any major injurie, but they bring back everyone for 2014. Senior
Mark Weisman
leads the contingent after rushing for 975 yards and eight touchdowns last fall.
Jordan Canzeri
came on strong late in the season and is showing no effects from his ACL tear in 2012. Veteran
Damon Bullock
also returns to the mix, and Iowa has talented younger backs such as
LeShun Daniels Jr.
at its disposal. Good situation here.

Maryland:
The Terrapins wide receivers tend to get more attention, but the team also returns its top three running backs from 2013 in
Brandon Ross
,
Albert Reid
and
Jacquille Veii
. Maryland also regains the services of Wes Brown, who finished second on the team in rushing as a freshman in 2012 before
being suspended for all of last season
.
Joe Riddle
is back in the fold as well. The group brings different strengths, from power (Brown) to speed (Veii) to a mixture of both (Ross, Reid).

Michigan:
Sophomore
Derrick Green
enters the spring as the frontrunner to be Michigan's lead back, although coach Brady Hoke wants to ramp up competition everywhere. The Wolverines struggled to consistently run between the tackles, but the 240-pound Green could change things. Hoke also is excited about another sophomore,
De'Veon Smith
. Michigan moved
Ross Douglas
from cornerback to running back, and
Justice Hayes
and
Wyatt Shallman
also are in the mix. "We've got more depth," Hoke said.

Michigan State:
Things look much more promising than they did last spring, when the Spartans ended the session with a linebacker (
Riley Bullough
) as their top back.
Jeremy Langford
emerged as a very solid option during the season, rushing for 1,422 yards and 18 touchdowns. He's back as the clear-cut starter, and
Nick Hill
also returns. It will be interesting to see if
Gerald Holmes
makes a push, or whether
Delton Williams
remains on offense.

Minnesota:
Here's another team that finds itself in very good shape at running back entering the spring.
David Cobb
leads the group after rushing for 1,202 yards and seven touchdowns as a sophomore. Veterans
Donnell Kirkwood
and
Rodrick Williams Jr
. are still around, and highly touted redshirt freshman
Berkley Edwards
will take the field after missing last fall because of knee and ankle injuries. Perhaps the best news will come in the summer as decorated recruit
Jeff Jones
arrives.

Nebraska:
Notice a theme here? Nebraska is yet another Big Ten squad that can feel very good about its running backs entering the spring.
Ameer Abdullah
elected to bypass the NFL draft for one final season at Nebraska, where he led the Big Ten with 1,690 yards on 281 carries as a junior. Abdullah will contend for national awards in the fall.
Imani Cross
, who rushed for 10 touchdowns last year, is one of the nation's top backups.
Terrell Newby
and others add depth behind the top two.

Northwestern:
Top back
Venric Mark
(ankle) will miss spring practice following surgery, and reserve
Stephen Buckley
(knee) also is rehabbing, but Northwestern has no reason to panic.
Treyvon Green
, who filled in well for Mark last season with 736 rushing yards, will get much of the work.
Warren Long
also is in the mix after appearing in seven games as a true freshman. Northwestern also loaded up at running back in recruiting to solidify the position for years to come.

Ohio State:
This will be a position to watch in the spring as Ohio State must replace
Carlos Hyde
, who was nearly unstoppable during Big Ten play last fall. Veteran
Jordan Hall
also departs, and
Rod Smith
will be the veteran of the group despite only 83 career carries. The Buckeyes have some talented young backs, from
Dontre Wilson
, who saw significant playing time last fall, to
Bri'onte Dunn
,
Ezekiel Elliott
and
Warren Ball
. Keep an eye on Elliott, who averaged 8.7 yards per carry in limited work last season but could emerge this spring.

Penn State:
If it feels like
Zach Zwinak
and
Bill Belton
have been competing for carries forever at Penn State, it's because they have. Zwinak and Belton have been part of Penn State's running back rotation for the past two seasons and enter another competition this spring with talented sophomore
Akeel Lynch
, who rushed for 358 yards on only 60 carries last season. It will be interesting to see how much Lynch can push Zwinak and Belton in the team's first spring under a new coaching staff. Penn State has depth issues at several positions, but running back isn't one of them.

Purdue:
The Boilers finished 122nd nationally in rushing offense last season, so the fact all of their running backs return might not spark mass celebration. Senior
Akeem Hunt
leads the group after recording 123 of the team's 319 rushing attempts in 2013. Other veterans
Brandon Cottom
and
Raheem Mostert
also are back, along with younger ball-carries such as
Dayln Dawkins
and three backs --
Keyante Green
,
David Yancey
and
Keith Byars II
-- who redshirted last fall and could have much bigger roles.

Rutgers:
Here's yet another team that returns basically its entire stable of running backs for spring ball.
Paul James
is the name to watch, as he rushed for 573 yards in the first four games last season before suffering a leg injury. James' health is a concern for Rutgers, which could also turn to
Justin Goodwin
, who showed some flashes following James' injury.
Savon Huggins
, who entered last season as the starter before losing ground, is in the mix as he looks to re-establish himself on the depth chart.

Wisconsin:
How many teams can lose a 1,400-yard rusher and still claim to have the best running back group in the Big Ten?
James White
is gone, but Wisconsin remains in very good shape in the backfield.
Melvin Gordon
bypassed the NFL draft for another year in Madison after rushing for 1,609 yards and 12 touchdowns on only 206 carries. Gordon should move into more of a featured role beginning this spring, although he'll be pushed by
Corey Clement
, who had 547 yards and seven touchdowns on only 67 carries.
Jeff Lewis
provides another option behind the top two.
January, 9, 2014
Jan 9
1:00
PM ET
Now that the 2013 season is merely a memory, it's time to start looking toward 2014 and identifying some potential breakout performers.
Options are plentiful, but we are limiting ourselves to five on each side of the ball. We're looking for players who will take that next step into greatness, like Wisconsin's Melvin Gordon, Michigan State's Jeremy Langford and Minnesota's David Cobb did in 2013. As such, players who earned first- or second-team All-Big Ten honors from either the coaches or the media were not eligible for this list. We're focusing instead on those who can make a big leap.
Let's kick it off, while going in alphabetical order:

Adam Breneman, TE, Penn State:
ESPN rated Breneman the No. 1 tight end coming out of high school last year, so the talent is obviously there. The 6-foot-4, 235-pounder got off to a slow start in 2013 after recovering from a knee injury, but he finished strong with touchdown catches in each of Penn State's last three games. The tight end group will be crowded again in State College, but Breneman should give Christian Hackenberg a prime target.

Corey Clement, RB, Wisconsin:
When trying to find new stars, it's always smart to look toward the Badgers backfield. Clement made a strong impression as a true freshman, running for 547 yards and seven touchdowns while averaging 8.2 yards per carry. Most of his work came in garbage time, as he was behind James White and Melvin Gordon. Now that White is graduating, Clement should see a much bigger role alongside Gordon, and Wisconsin has shown it has plenty of carries to hand to two backs.

Ezekiel Elliott, RB, Ohio State:
Someone has to replace Carlos Hyde's production in the Ohio State running game, and Elliott seems like a logical choice. He ran for 262 yards as a freshman, including a 162-yard game vs. Florida A&M. The Buckeyes also have Dontre Wilson, Rod Smith, Warren Ball and Brionte Dunn, but Wilson might be too small to be an every-down back, and Elliott got more carries than the other three combined in 2013.

Donovahn Jones, WR, Minnesota:
The Gophers desperately need some playmakers to emerge on offense, and perhaps Jones will be that guy. The Georgia native turned down SEC offers to come to Minnesota, where he was promised a chance to play quarterback. Instead, he moved to receiver as a true freshman and showed flashes of his athleticism. He still needs to learn the finer points of the position, but at 6-foot-3 with good speed, he has all the tools the Gophers need

MacGarrett Kings Jr., WR, Michigan State:
The Spartans' wide receivers took a big leap forward as a group in 2013, and with Connor Cook and the passing game coming on strong, it might be time for one of them to become a star. Kings is a strong candidate after catching 43 balls for 513 yards and three touchdowns as a sophomore. He can also make things happen on punt returns.
January, 3, 2014
Jan 3
4:00
PM ET
Eventful week in the Big Ten so far, and bowl season wraps up tonight in South Florida.

Time to check the mail ...
Dave from Columbus, Ohio, writes:
Adam -It was great to see Coach Dantonio finish out the season with a Rose Bowl win. His team's effort reminded me a lot of OSU's defense the year they won the NC game. I also like seeing him getting a huge raise. But what does it say, 1) to Texas, and 2) to MSU, their fan base, and the players that Dantonio turned down overtures there? Granted, I'm sure he isn't the only coach being contacted, but the fact that he'd just plain turn down interest in the role has to say something significant.
Adam Rittenberg:
The most significant development is that Michigan State will pay Dantonio like the top-tier coach that he is. Not enough Big Ten programs are willing to invest the ridiculous sums of money they earn every year into winning football championships. I know money isn't everything, but it shows the commitment to head coaches and top assistants like Pat Narduzzi, who also should get a big raise after another superb season. Dantonio's loyalty to MSU has never really been in doubt. He told me years ago the only job he'd leave for is Ohio State -- when Jim Tressel was still there. But I didn't know if MSU would make the necessary financial commitment, and it appears as though it will.
Joe from South Bend, Ind., writes:
Adam,Maybe I am biased. But I can't help but feel that the notion of "JoeBots" caused O'Brien to leave, a bit disingenuous. Why aren't the fans allowed to be upset when, Ron Vanderlinden, the recruiter and developer of All-American, All-Pro and Pro Bowl linebackers - Bowman, Lee, Poz, Connor, etc - was fired? Also, wouldn't Alabama fans, despite the amazing record of Saban, react harshly if Saban tried to change Alabama's historic uniforms? This narrative seems so forced to me. Most Penn State fans are more than supportive of O'Brien. Even the great coaches can be the subject of legitimate criticisms.
Adam Rittenberg:
Joe, the Joe Paterno supporters weren't the reason O'Brien took the Texans job. He came to Penn State as a coach likely to jump to the NFL and jumped after two years. I'm not surprised and most Penn State fans shouldn't be, either. Fans absolutely have the right to question decisions like dismissing Vanderlinden, which left several Big Ten coaches puzzled. Being upset about the uniforms thing is a little less understandable, as O'Brien made changes with good intentions in mind. I agree that the large majority of PSU fans supported O'Brien, but he also was in a stressful situation after the way things ended with Paterno. But his exit had much more to do with the allure of the NFL.
Steve M. from Columbus, Ohio, writes:
Hey Adam, which loss on Ohio State's D is more crippling...
Bradley Roby
or
Noah Spence
?
Adam Rittenberg:
It's sort of a chicken-and-egg question because if Spence pressures Clemson's
Tajh Boyd
, he has less time to attack a Roby-less secondary. Then again, Roby is capable of matching up against Clemson's talented wide receivers. You can replace good pass rushers, and I wouldn't say Spence is an elite one just yet. It's very hard to replace standout corners like Roby.
Matt from Plymouth, Minn.:
Hey Adam,With
Jeff Jones
getting even more exposure from winning the MVP honors at the Under Armour All-America Game, is there any way he will actually end up signing a letter of intent with the Gophers, especially given that he's already softened his commitment? It would be huge for the program if they could convince him to stay in his home state.
Adam Rittenberg:
It's going to be tough, Matt, as the higher-profile programs are swarming now. Michigan offered today, and Jones will take an official visit to Florida later this month. Minnesota can sell staying local and helping the Gophers reach new heights, but I wouldn't be surprised if Jones signed elsewhere. He would be a great get for Minnesota, which loses too many of its elite prep prospects (
James Onwualu
, Seantrel Henderson, Michael Floyd) to other programs.
Lance from Greensboro, N.C., writes:
When people question how tough the B1G bowl lineup is, you should point out that we were the only one of the 5 power conferences to play nothing but power conference teams in bowls. A few MWC, AAC, C-USA, or MAC matchups would definitely help the record!Also, I hope you plan to make some mention in the blog about Gordon/White breaking the record for rushing yards by teammates in a season, and also the first ever pair of 1,400 yard rushers on the same team. Quite an achievement! That said, I wouldn't be shocked if Gordon/Clement do just as well next year.
Adam Rittenberg:
Lance, I've argued for years that the Big Ten's bowl lineup is way too difficult given the league's current state and the locations of games. I don't think you need to face a bunch of teams from non-power conferences, but a little more ACC wouldn't hurt. The new lineup is much better overall. I admire commissioner Jim Delany's desire to play the best, but perception is based more on wins, not who you play. Thanks for bringing up
James White
and
Melvin Gordon
, who had excellent seasons and worked well together. I agree that the Gordon-
Corey Clement
combination next year will be very good.
Will from Walcott, Iowa, writes:
Big Hawkeye fan. Disappointed in the outcome in the Outback Bowl, a game we could have won. However, the thing that bothered me the most in this game was the flagrant fake injuries the LSU players were displaying late in the game. I counted at least 3 times an LSU player was on the ground in "agony" only to to be back in one play later jumping and hopping around like nothing happened. I think Les Miles should be reprimanded for allowing this un-sportsman like conduct to go on. I see this happening more and more in college football. Is there anything that can be done to stop it?
Adam Rittenberg:
There's not much that can be done, as it's hard to conclusively prove that the injuries, however benign they might be, are conclusively fake. I know Iowa fans aren't laughing, but isn't it a bit funny that we're talking about a defense faking injuries to slow down the Hawkeyes' offense? I couldn't believe it when they made the defensive substitution ruling. Against an Iowa offense? Somewhere, Chip Kelly was chuckling. But the fake injuries are an unfortunate part of the game today. It's on officials' radar, but I'm not sure how they'll go about stopping it. I agree that Iowa could have won that game.
Nick from Sparta writes:
Adam, Alright, since it hasn't been discussed enough the last few years. Any chance, that with the recent, and now reasonably prolonged Spartan success, that the divisions will be realigned? Looking at the last few years, the divisions seem incredibly unbalanced, with HUGE schedule favoritism to Wisc and Neb. Any chance?
Adam Rittenberg:
No chance, Nick. The Big Ten based the original alignment on long-term results and the most recent one on geography. The East certainly looks loaded, but only if Michigan improves substantially and Penn State gets back on track. That looks like a two-team race -- Michigan State and Ohio State -- in 2014.
December, 16, 2013
12/16/13
1:00
PM ET
Earlier today, we presented our All-Big Ten team. Now it's time to honor the top freshmen from 2013 with our Big Ten all-freshman team.
Here it is:
OFFENSE
QB:
Christian Hackenberg
, Penn State (captain)
RB:
Corey Clement
, Wisconsin
WR:
DeAngelo Yancey
, Purdue
WR:
Jordan Westerkamp
, Nebraska*
TE:
Maxx Williams
, Minnesota*
TE:
Jake Butt
, Michigan
OL:
Dan Voltz
, Wisconsin*
OL:
Ben Lauer
, Minnesota*
OL:
Jack Conklin
, Michigan State*
OL:
Jacob Bailey
, Indiana*
OL:
Kyle Kalis
, Michigan*
DEFENSE
DL:
Joey Bosa
, Ohio State (captain)
DL:
Austin Johnson
, Penn State*
DL:
Avery Moss
, Nebraska*
DL:
Willie Henry
, Michigan*
LB:
Michael Rose
, Nebraska*
LB:
Nyeem Wartman
, Penn State*
LB:
T.J. Simmons
, Indiana
DB:
Sojourn Shelton
, Wisconsin
DB:
Desmond King
, Iowa
DB:
Tyvis Powell
, Ohio State*
DB:
Matthew Harris
, Northwestern
SPECIALISTS
K:
Michael Geiger
, Michigan State
P:
Cameron Johnston
, Ohio State
All purpose:
Dontre Wilson
, Ohio State
* -- redshirt freshman
It was a pretty strong year for freshmen in the league, highlighted by Hackenberg and Bosa. Shelton was terrific as well. ... Tight end is a promising position for the future. Penn State's
Adam Breneman
just missed, but he looks like a future star. And Michigan State's
Josiah Price
had a big impact in the Big Ten title game. ... Nebraska's young defense could really turn into something special. We also considered defensive lineman
Vincent Valentine
and linebackers
Jared Afalava
,
Nathan Gerry
and
Josh Banderas
. ... It was also a good year for rookie QBs, as beyond Hackenberg there was Purdue's
Danny Etling
, Nebraska's Tommy Armstrong and Minnesota's
Mitch Leidner
. ... Ohio State's Wilson didn't have a true position, but he did a lot of things and was a good return man, so that's why he gets our all-purpose slot. ... Some others we considered included Penn State receiver
Geno Lewis
and linebacker
Brandon Bell
, Purdue offensive lineman
Jason King
and Indiana defensive lineman
Ralphael Green
.
December, 3, 2013
12/03/13
3:30
PM ET
The
All-Big Ten teams and individual awards
are out, and the league hands out its four major awards — Offensive Player of the Year, Defensive Player of the Year, Coach of the Year and Freshman of the Year — later Tuesday. As always, we're handing out our endorsements for each award in advance of the announcement. We'll agree on some and differ on others.
Let's wrap up the endorsements with the league's top freshman.
[+] Enlarge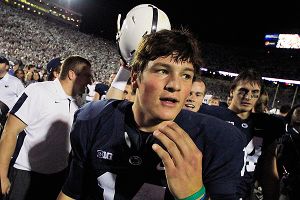 AP Photo/Gene J. PuskarPenn State freshman quarterback Christian Hackenberg lived up to expectations.
Adam Rittenberg endorses Penn State QB Christian Hackenberg
This was the easiest decision of the four major awards, as Hackenberg is the only acceptable choice here. The true freshman started all 12 games for Penn State, finishing third in the Big Ten in passing yards (2,955) and tied for second in touchdown passes (20). He had some freshman moments but also showed tremendous poise in rallying Penn State to wins against Michigan and Illinois. Hackenberg ended his season with a signature performance against Wisconsin (339 pass yards, four touchdowns) as Penn State recorded the most surprising and impressive win of the Bill O'Brien era. Hackenberg won five Big Ten Freshman of the Week awards, including each of the last two weeks. The league had other good freshmen, such as Ohio State defensive lineman
Joey Bosa
, Wisconsin running back
Corey Clement
and Nebraska quarterback
Tommy Armstrong Jr
., but Hackenberg wins this award going away.
Brian Bennett endorses Hackenberg
Slam dunk. I think Hackenberg could win a lot of major awards before his career is done. I'd add Wisconsin's
Sojourn Shelton
and Ohio State's
Dontre Wilson
as other standout freshmen. But this one's a rout.
More endorsements:
November, 18, 2013
11/18/13
11:00
AM ET
Twelve seconds.
That's how much time remained in regulation at Northwestern after Michigan quarterback
Devin Gardner
hit
Jeremy Gallon
on a 16-yard pass. The clock was running. What happened next was what Wolverines coach Brady Hoke said "might be the best single play I've ever seen."
The Michigan field goal unit sprinted onto the field. Holder
Drew Dileo
, who had run a pattern as a wide receiver, ran in from the other side of the field and slid into position. The snap came with one second to go, and kicker
Brendan Gibbons
made a 44-yarder to send the game into overtime, where the Wolverines eventually won.
Northwestern coach Pat Fitzgerald was upset that his team didn't get a chance to substitute its block team in. The Wildcats were in disarray as the field goal try went up. Referee Bill LeMonnier
explained to a pool reporter afterward
that on the final play of the half, teams aren't automatically given the right to substitute on field goal defense.
That play goes down as the second-craziest finish to regulation of a Big Ten game this year. In the Wisconsin-Arizona State game, there were 18 seconds left when
Joel Stave
downed the ball. The Badgers never got to run another play.
Take that and rewind it back ...
[+] Enlarge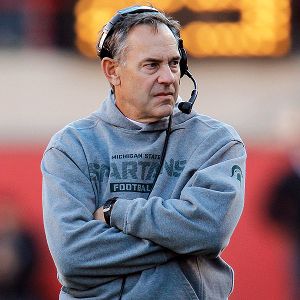 Bruce Thorson/USA TODAY SportsMark Dantonio and the Spartans control their own destiny to reach the Big Ten title game.
Team of the week:
Michigan State. It was not a vintage defensive performance for the Spartans, who allowed 28 points to a Nebraska offense that turned the ball over five times and played with a stitched-together line. But Mark Dantonio's team still won by double digits on the road in Lincoln for its first win over the Huskers while clinching at least a share of the Legends Division title. Then there's this: Through 10 games, the Spartans are averaging 30.9 points per contest.
Worst hangover:
Northwestern finds more ways to lose than anybody. The Wildcats had a dominant defensive effort against Michigan in allowing no touchdowns in regulation. But they had a 7-yard shank punt that set up a Michigan first-and-goal,
Ibraheim Campbell
dropped an easy interception on the Wolverines' final drive, and they couldn't pounce on a fumble in overtime. Northwestern has lost twice in overtime, once on a Hail Mary and in games that went down to the final drives against Minnesota and Ohio State. Sheesh.
Best call:
Nebraska had to be ready for some Michigan State tomfoolery, right? We've seen it so many times from Dantonio in a big game.
And it worked again on Saturday. The Spartans lined up for a field goal on fourth-and-1 from the Nebraska 27, leading 27-21 in the fourth quarter. Punter
Mike Sadler
, who serves as the holder on field goals, took the snap and pushed his way forward for 3 yards. The play was called "Charlie Brown," evoking memories of Lucy snatching the ball away in "Peanuts." But Sadler was actually supposed to check out of the play because of the way Nebraska was set up, and the play was never designed to go up the middle where he ran.
"That was the last thing going through my mind," said Sadler, who went up the middle on a successful punt fake at Iowa last month. "I was just trying to think of my touchdown dance."
He didn't score, but
Connor Cook
delivered a touchdown pass three plays later to all but seal the victory.
Big Man on Campus (Offense):
Ohio State running back
Carlos Hyde
piled up five total touchdowns while rushing for 246 yards on just 24 carries versus Illinois. He had touchdown runs of 51 and 55 yards in the final four minutes to put the game on ice.
Big Man on Campus (Defense):
In a game that didn't feature a whole lot of defense, Ohio State's
Ryan Shazier
still managed an impressive stat line at Illinois: 16 tackles, 3.5 tackles for loss, 1.5 sacks and a forced fumble. He had the safety on
Reilly O'Toole
that gave the Buckeyes some breathing room. And while he had a chance to turn that into a touchdown had he not celebrated a bit too soon, Shazier still had an outstanding performance considering Ohio State's other two starting linebackers were out with injuries.
[+] Enlarge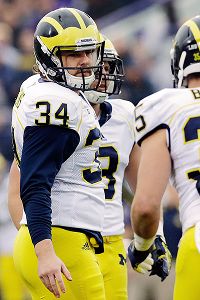 AP Photo/Nam Y. HuhBrendan Gibbons hit a 44-yard field goal as time expired to put Michigan into overtime at Northwestern.
Big Men on Campus (Special teams):
This goes to the entire Michigan field goal unit, including Gibbons, Dileo, snapper
Jareth Glanda
, special-teams coordinator Dan Ferrigno and everyone else involved in that unbelievable play at the end of regulation at Northwestern. That was a team effort, and if one guy was a half-second late, the Wolverines lose. (Tips of the cap also go out to Purdue's
Raheem Mostert
and Illinois'
V'Angelo Bentley
, who both scored on returns).
Sideline interference:
Illinois coach Tim Beckman
had to be separated
from offensive coordinator Bill Cubit on the sidelines after quarterback Reilly O'Toole was sacked in the end zone. Both coaches later said it was just a heat-of-the-moment thing, and Cubit added, "You'd be shocked at how many times" that happens during games. But it's still not a good look for Beckman, whose sideline mishaps the past two years include getting called for interference penalties and getting caught using chewing tobacco.
Who needs tickets?:
Want to see a Big Ten game, but you don't have more than 50 cents in your pocket? Then this week's Illinois-Purdue Basement Bowl is for you. On
StubHub this morning
, several tickets to Saturday's game at Ross-Ade Stadium could be had for as little as 39 cents. Get 'em while they're hot!
Fun with numbers (via ESPN Stats & Info):
Wisconsin ran for 554 yards Saturday versus Indiana. It was the second most in school history, behind the 564 the Badgers compiled against the Hoosiers last year. So in the past two games against IU, Wisconsin has rushed for 1,118 yards and 13 touchdowns; on Saturday the Badgers had three 100-yard rushers (James White, Melvin Gordon and Corey Clement) and an 86-yard rusher (Jared Abbrederis, on reverses). The Badgers' running game added 35.8 expected points to their net scoring margin; two of the top 10 rushing EPA games in the FBS the past 10 years were posted by Wisconsin against Indiana. The Badgers still fell far short of the Big Ten rushing record of 832 yards, set by Minnesota in 1905. But they do get Indiana again next year, so you never know.
ESPN's strength of schedule rankings (out of 126 FBS teams):
Alabama: 48th
Florida State: 60th
Ohio State: 88th
Baylor: 95th
November, 18, 2013
11/18/13
9:00
AM ET
There's minimal movement in the Power Rankings as the top teams took care of business and both Minnesota and Iowa spent Saturday on the couch.

Our big debate continues to be whether to put Wisconsin or Michigan State at No. 2 behind front-runner Ohio State. The Spartans are getting more love nationally and deservedly so after starting Big Ten play at 6-0. They found some different ways to win against Nebraska, including the "Charlie Brown" fake field goal attempt.
But we've been bullish on Wisconsin for a while now, and the Badgers have done nothing to change our minds. Wisconsin's defensive performance against an Indiana team that has given defenses fits all seasons makes it tough to drop the Badgers. So we're not.
The margin is very thin between Wisconsin and Michigan State, and Wisconsin will be tested more this week as it visits rival Minnesota.
Penn State and Indiana trade places this week, and Nebraska moves down a spot.
Here's one final look at the
Week 11 rankings
.
Now, for the newest rundown ...
1. Ohio State (10-0, 6-0 Big Ten; last week: 1):
Urban Meyer's crew had another fast start, jumping ahead of Illinois 21-0 in the first 11 minutes, 30 seconds. Ohio State received big performances from running back
Carlos Hyde
(246 rush yards, 4 TDs), quarterback
Braxton Miller
(184 rush yards, TD, 2 pass TDs), and cornerback
Bradley Roby
(INT return for TD). But the defense surrendered 420 yards and 35 points, which isn't good. Ohio State can clinch the Leaders division title this week against Indiana.
2. Wisconsin (8-2, 5-1; last week: 2):
Much of the focus is on Wisconsin's historic rushing performance: 554 yards, the second-highest total in team history, and three 100-yard rushers in
James White
,
Melvin Gordon
and
Corey Clement
. But the Badgers' defense deserves a lot of credit for bottling up Indiana's quick-strike offense, holding the Hoosiers to just three points, 14 first downs and 224 total yards. Wisconsin continues to get zero respect nationally but could gain a little with a strong performance at Minnesota this week.
3. Michigan State (9-1, 6-0; last week: 3):
The Spartans are a win -- or a Minnesota loss -- from punching their ticket to Indianapolis for the Big Ten championship game. They found themselves in a surprisingly high-scoring game Saturday against Nebraska but controlled the clock and made big plays in all three phases. Running back
Jeremy Langford
(151 rush yards, 3 TDs) and safety
Kurtis Drummond
(forced fumble, interception) were among the standouts. MSU visits Northwestern this week.
4. Minnesota (8-2, 4-2; last week: 4):
Get ready for the biggest Gophers home game in recent memory as rival Wisconsin comes to town with the Axe on the line. Minnesota needs a win and a Michigan State loss to woeful Northwestern to remain in the Legends division race.
David Cobb
and the Gophers' power run offense faces a Wisconsin defense playing at a very high level these days. Minnesota will need a stout effort from
Ra'Shede Hageman
and the defensive line against Wisconsin's ground attack.
5. Iowa (6-4, 3-3; last week: 6):
How much of a step forward will Iowa take this season? We'll find out the next two weeks as the Hawkeyes close the regular season against Michigan and Nebraska. Both games are quite winnable, and Iowa's four losses all have come against ranked opponents. Iowa has won three of its past four home contests against Michigan and boasts a defensive front seven that could give the Wolverines fits.
6. Nebraska (7-3, 4-2; last week: 5):
Credit Bo Pelini's team for rallying in the second half and moving the ball surprisingly well against the nation's No. 1 defense. But Nebraska made far too many mistakes to beat the Legends division front-runner, committing five turnovers in the game. Junior
Ameer Abdullah
(123 rush yards) continues to look like one of the nation's best running backs, but he needed more help around him Saturday. The Huskers now visit Penn State.
7. Michigan (7-3, 3-3; last week: 7):
It's not pretty for the Wolverines right now, although their ability to get off a last-second field goal to tie the game at Northwestern was a thing of beauty. Michigan's offense struggled until overtime, but a stout defense kept the team in the game, and quarterback
Devin Gardner
continues to display his toughness. Brady Hoke's crew finally won a league road game and looks to do the same this week at Kinnick Stadium, where it has struggled in recent years.
8. Penn State (6-4, 3-3; last week: 9):
Home cookin' once again proved to be exactly what Penn State needed, as the Nittany Lions rebounded from a road loss at Minnesota by beating Purdue rather easily.
Zach Zwinak
made his case to be the team's top running back with 149 rush yards and three touchdowns, and quarterback
Christian Hackenberg
completed 16 of 23 pass attempts as the Lions converted 10 of 12 third downs. Penn State remains in Happy Valley this week for its final home contest against Nebraska.
9. Indiana (4-6, 2-4; last week: 8):
Wisconsin once again brought out the worst in Indiana, which had its weakest effort of the season. The defense remains a mess, as Indiana surrendered a record 554 rush yards, including seven gains of 30 yards or more. Perhaps more surprising, a high-powered offense did next to nothing, held more than 300 yards below its average. Barring a miracle this week at Ohio State, Indiana will miss a bowl for the fifth straight season, a major disappointment given a schedule with eight home games.
10. Northwestern (4-6, 0-6; last week: 10):
Kicker Jeff Budzien said after Northwestern's latest setback that if he had been told the team would be 4-6 he "would have laughed at you." The Wildcats' utter inability to close out games is no laughing matter. How does a team that used to be so good in the clutch now find every imaginable way to lose games? Northwestern is almost certainly home for the holidays. Then again, this dumpster fire of a season can't end soon enough.
11. Illinois (3-7, 0-6; last week: 11):
There's certainly some fight in these Illini, even on the sideline, as head coach
Tim Beckman and offensive coordinator Bill Cubit had to be separated
following a safety in the third quarter. Beckman can't be too upset at Cubit, the biggest reason for Illinois' improvement this season. It's too bad the Illini haven't seen similar strides from a defense that can't stop anybody right now. Beckman really needs a win this week at Purdue as Illinois tries to snap its 20-game league road losing streak.
12. Purdue (1-9, 0-6; last week: 12):
Baby steps. Purdue's offense is making them after a historically poor start to Big Ten play. The Boilers scored 21 points at Penn State, and quarterback
Danny Etling
(223 pass yards) had a decent day throwing the ball. The run game remains invisible and the defense couldn't get off the field or slow down Penn State's run or pass game. If Purdue is going to show some real progress before ending this miserable season, the time is now as Illinois visits Ross-Ade Stadium.
October, 18, 2013
10/18/13
4:00
PM ET
Wishing you a great weekend of football watching. Don't forget to follow us
on Twitter
, the best way to keep track on Saturdays.
To the inbox ...
Sumeet from San Francisco writes:
Adam, what else, schedule questions. I have one, parity-based scheduling doesn't appear to be working as you may think, coming from a PSU fan. From 2014-2019 (a six-season stretch), PSU plays Nebraska once and Wisconsin once, both at Beaver Stadium. Really? This after we played both teams annually the past three years with some classic games? But we play Iowa four times in a row, and the other West teams multiple times over the six years. PSU-Nebraska especially had the makings of a budding rivalry, but now we won't see them until 2017, and Wisky in 2018. What gives?
Adam Rittenberg:
Sumeet, it's unfortunate that the Lions and Huskers will meet so infrequently during that stretch, as both fan bases love that game on the schedule. It seems like the Big Ten has prioritized certain games over others with parity-based scheduling. Nebraska and Ohio State, for example, meet every year between 2016 and 2019, but Nebraska and Michigan meet just once between 2014 and 2019. Wisconsin and Michigan also meet every year between 2016-19, but the Badgers only play Penn State once during that span. The Big Ten is trying to create appealing matchups more often while also satisfying its principle to have teams meet at least once in a four-year span.
Penn State does seem to be put in the second tier when it comes to this approach, as the Lions aren't facing the marquee West division teams as often as you'd hope. I would point out, though that, Penn State-Iowa was a significant Big Ten matchup not long ago, and could be once again in the near future. It's not the same as facing Nebraska every year, but Penn State and Iowa had a nice rivalry going for a while.
---
Jackie from New York:
It's no secret that Badger running backs have great respect for each other and pride in their performance as a unit. That said, is there any cause for concern that the unbelievable depth could hurt the Badgers in recruiting? You could argue that not just two, but all three of the Badgers' current backs are FBS starting caliber, even though the third,
Corey Clement
, is a true freshman.
Melvin Gordon
, leading candidate for B1G offensive player of the year is not even first on the depth chart. Heck, they even have J.J. Watt's little brother lining up back there at fullback! So, my question is, how do you keep convincing big-time recruits to come to Madison when they might have to spend years sharing carries?
Adam Rittenberg:
I don't think you worry about it until it becomes a problem, Jackie. The beauty of Wisconsin's running back situation is that the players all buy in to the spirit of competition and don't simply look for a place where they can be The Guy without first earning it. Running backs coach Thomas Hammock fosters this atmosphere of constant competition, and he looks for guys who want to compete and not have things just handed to them. Look at Montee Ball. He was the third-stringer for most of 2010 and had to boost his game to a point where he could be a featured back. Could Wisconsin's way lead to a transfer eventually or a highly touted player going elsewhere? Sure. But Wisconsin has built such a strong reputation for producing elite running backs that the talent will continue to come to Madison. More important, the right types of players will show up -- those ready to compete.
---
Ian from Tacoma, Wash., writes:
Adam, there was a recent question from another B1G fan in one of your chats that I found pretty absurd. Someone made a comment along the lines of "Do we want Ohio State in the championship game" with the assumption that Ohio State losing somehow damages the B1G's reputation. Correct me if I'm wrong, but Ohio State is the only B1G team to PLAY in the NC game, much less win it. Ohio State also has the most BCS wins and appearances of any school, and has more BCS wins than any other B1G teams have appearances. Big Ten fans can hate Ohio State all they want, but the Buckeyes have accomplished more in the BCS era than any other league school, and it's not even close.
Adam Rittenberg:
You're absolutely right, Ian. Ohio State has been the Big Ten's only consistently elite team during the BCS era. It underscores the Big Ten's lack of depth at the top, which is a big reason it lags behind the SEC, a conference that has multiple teams that can challenge for national titles almost every year. As I said in the chat, the only way the Big Ten boosts its perception is to win a national title, and you can't win one without reaching that game. Ohio State still unfairly gets blamed for its title-game losses more than half a decade ago. But you have to wonder whether this Buckeyes team is ready to compete with an Alabama or an Oregon on Jan. 7. We could find out.
---
Bob from Iowa writes:
My Hawkeyes are going into a very hostile environment this weekend at OSU. This team has me thinking about the Hawks' 2008 team. An improving team whose previous three years were very IOWA (mediocre). They entered the 2008 season with a bit of QB controversy (2008 Christiansen vs. Stanzi the Manzi). In 2008, they had a power running game on which they leaned on for the majority of the year. Now, that same year they beat the No. 3 team in the nation, Penn State. Understandable, it was in IC but that doesn't mean it couldn't happen again, right? They finished the year with an 8-4 record and they trounced South Carolina in the Gator Bowl (I believe). The following year they went to the Orange Bowl. Do you think these same results are possible again in our present timeline? What needs to go right?
Adam Rittenberg:
Bob, I love the optimism, and I agree that this season could springboard Iowa to bigger and better things next season, much like the 2008 season did for the 2009 team. Iowa's 2014 schedule is much, much more favorable with no overly difficult road games (Pitt, Purdue, Maryland, Minnesota and Illinois) and no Michigan, Ohio State, Michigan State or Penn State on the slate. If certain things fall right, the Hawkeyes will be in the mix for the West division title. Now can Iowa beat Ohio State on Saturday? I don't see it. This Hawkeyes team isn't as strong as the 2008 version, which lost some games it shouldn't have and ended the year playing as well as anyone in the Big Ten. There was a ton of NFL talent on that team, which I don't see with the current version. Iowa will need to control the line of scrimmage on both sides of the ball, commit no turnovers and gain a few takeaways to stay in Saturday's game. The Hawkeyes also need the edge in the kicking game. It's a tall task, but not an impossible one.
---
Alden from Chicago writes:
I wish the B1G would leave the end-of-year games alone for the Spartans. I understand that the so-called rivalry with Penn State was squandered through the 90s and 00s. But now that we're going to be in the same division again, with MSU more competitive, why not reinstate it? What does MSU have to look forward to by playing Rutgers and Maryland? I feel like it's a major disadvantage in the rankings as well, would you agree? Is it Penn State that wants to end the year playing against the east coast? I say let the Knights and Terrapins play each other to end November.
Adam Rittenberg:
Alden, it very well may work out that Michigan State plays Penn State to end the regular season in most years, but I don't see the problem with rotating that game with several opponents. Penn State has more rivalry potential with Rutgers and Maryland than Michigan State does, and the Big Ten wants to see where those games go over time. I don't understand your point about the game being a "major disadvantage" in the rankings. MSU still will play PSU every season in the division, in addition to both Michigan and Ohio State. The Spartans also typically will have a good crossover game (Nebraska, Northwestern, Wisconsin, etc.). Strength of schedule shouldn't be an issue for any team in the East division.
The plus of playing Rutgers and Maryland -- whenever it falls during the season -- is being able to showcase your product in new markets. Michigan State AD Mark Hollis has talked about the school's large alumni base on the east coast. Those folks will get to see the Spartans play in their backyard in late November. So will recruits that Michigan State targets in states like New Jersey and Maryland. I just can't get excited about the MSU-PSU series enough to make it an annual end-of-season rivalry.
---
John from San Antonio writes:
After a promising start against nonconference creampuffs, it's fair to say that the Beckman rebuild has turned into a hopeless spiral of failure and depression. A five-win season would be a miracle and the next honest shot at a 6-6 season comes in 2107 with the return of Indiana, which is coincidentally when his contract runs out. But the problem is no coach could turn it around before then. So what's a fan to do? Pray for a merciful end to yet another hiring mistake and allow someone else to do no worse? Or fake joy at the "progress" of 4-8 seasons, concluded with a lethargic 2017 campaign for a 6-6 bowl appearance allowing Beckman to go out on a not-exactly-winning note?
Adam Rittenberg:
Wow, John, tell me how you really feel. I don't think you should be doing backflips about the Illini this year, but you have to acknowledge the improvement taking place there, especially on offense. This is still a young team that could take some steps late this season into next season. The remaining schedule looks daunting, and three more wins seem unlikely, but you never know. You can't say the next "honest shot" at a 6-6 season comes only in 2017, and that no coach could turn things around before then. Illinois is going to the West division, which should be the easier side to navigate. The team is already starting to mature a bit, and quarterback transfer
Wes Lunt
becomes eligible next fall. If you don't believe Tim Beckman is the guy, that's fine. But to project that the next four years will bring no bowls or tangible progress is a defeatist approach. Let's see how the rest of this season plays out.
---
Christopher from Middleton, Wis., writes:
Big Ten football's demise is a cyclical phenomenon and not a failure to recruit. Scandal and coaching turnover, not style of play, is the biggest problem. Penn State and Ohio State, possibly the two best programs in the Big Ten were hit with big penalties. Michigan mis-hired with Rich Rod, who by the way was a spread-offense guy. Michigan players left, disgusted with Rich Rod's behavior. It takes many more years than just the years they are penalized or the years the coach is active, for a program to be rebuilt. Programs that have been consistent with coaching and offensive styles have done well, Wisconsin and Northwestern are successful without ranking high in recruiting. Michigan has always been a top recruiter, but had turnover, controversy, and a change of football philosophy that disrupts a program for years. It is not the recruiting but scandal, coaching turnover and the change of football philosophy that calls for different player personnel that goes with coaching change that has hit the Big Ten. Years ago the Big Ten basketball conference was considered weak, and now it is the top conference. My question is, how is recruiting in basketball different than football other than number of players?
Adam Rittenberg:
Some good points here, Christopher, especially about coaching continuity leading to success and the lack of it in the Big Ten in recent years. It's important for programs to build their identities around the coach and the systems they run. We saw Iowa win the Rose Bowl after the 2009 season with a coaching staff and schemes that had been the same for a long time. All that said, football recruiting is quite different from basketball recruiting. The numbers are a huge factor. One or two basketball recruits can transform a program, but a football team needs much more depth.
Also, the Midwest remains a prime spot for elite basketball recruits. Look at all of the players coming out of major cities like Chicago, Detroit, Indianapolis and other Big Ten cities. It's not the same for football, as the numbers don't lie for where the players are coming from. The Big Ten's football downturn is related to all of these factors: lack of coaching continuity, scandals and recruiting all play roles.
September, 19, 2013
9/19/13
4:00
PM ET
Every Big Ten team has already completed one-quarter of its regular-season schedule, and after this weekend, everybody but idle Illinois will have finished off a third of its regular season. (Don't blame me, I'm just the messenger).

With a little bit of data to crunch, it's time to bring back the weekly awards race tracker, where I attempt to gauge the temperature for some of the Big Ten's top individual honors. Please note that there's a long way to go, and performance in conference play looms large, so these will fluctuate wildly. But for now, here's how I see these races stacking up:
Graham–George Offensive Player of the Year
1. Penn State WR Allen Robinson:
Receivers have a tough time winning these kinds of awards because they're so dependent on others. But I'd argue Robinson stands farther above his Big Ten peers at his position than any running back or quarterback right now. He ranks fourth in the FBS in receiving yards with 405 through three games, and that's with missing the first half of the opener because of a suspension. He's on pace for a 1,600-yard season.
2. Wisconsin RB Melvin Gordon:
He's leading the Big Ten in rushing with 477 yards while averaging a ludicrous 12.9 yards per carry.
3. Michigan QB Devin Gardner:
He would have been the frontrunner after Week 2, but his turnover binge against Akron really hurt. Still, he's leading the league in total offense.
4. Indiana QB Nate Sudfeld:
He's tops in the conference in passing (917 yards) and passing touchdowns (10) while ranking seventh nationally in pass efficiency.
5. Iowa RB Mark Weisman:
He's been Superman for the Hawkeyes so far, carrying the ball 85 times in three games and averaging 141.7 yards per game. The big news is that neither
Braxton Miller
, the reigning champ, nor
Taylor Martinez
appear in our initial Graham-George tracker. Miller simply hasn't played enough, while Martinez hasn't put up the rushing numbers we expected. But it's early.
Waiting room:
Illinois QB
Nathan Scheelhaase
; Michigan WR
Jeremy Gallon
; Ohio State RB
Jordan Hall
Nagurski–Woodson Defensive Player of the Year
1. Michigan State DE Shilique Calhoun:
The Spartans sophomore gets the early nod in a wide-open race thanks to his scoring heroics (three defensive touchdowns so far) and being one of the faces of the league's best defense by a large margin.
2. Wisconsin LB Chris Borland:
The Badgers statistically have the Big Ten's second-best defense, though that's propped up by two early cupcake opponents. Still, Borland has been his usual brilliant self, leading his team with 24 tackles.
3. Penn State DT DaQuan Jones:
He was dominant in the Nittany Lions' first two games, not so much in the UCF shredding last week. Yet Jones' numbers -- 23 tackles, two sacks, five tackles for loss -- are very impressive.
4. Minnesota DT Ra'Shede Hageman:
Hageman is having the big senior season we expected from him. He has collected 4.5 tackles for loss, and his push inside has helped free teammate
Theiren Cockran
, who's leading the league in sacks (three).
5. Northwestern S Ibraheim Campbell:
All he does is catch the other team's passes. Campbell has three interceptions so far and one in each of his past five games.
Waiting room:
Ohio State LB
Ryan Shazier
, Michigan State LB
Max Bullough
, Illinois LB
Jonathan Brown
, Iowa LB
Christian Kirksey
Thompson–Randle El Freshman of the Year
1. Penn State QB Christian Hackenberg:
Keep reminding yourself that he's only 18 years old, but Hackenberg has been every bit as good as advertised, and quite possibly better. He has completed 71.7 percent of his passes for 851 yards and four touchdowns, though he does have three interceptions.
2. Ohio State WR Dontre Wilson:
Speed kills, and Wilson is an assassin. He is averaging 9.3 yards per carry, has caught seven passes for 72 yards and has a 51-yard kickoff return. Expect his role to grow throughout the season. For now, this is a two-man race.
Waiting room:
Michigan OL
Kyle Kalis
; Minnesota QB
Mitch Leidner
; Nebraska LB
Josh Banderas
, DE
Avery Moss
and DT
Vincent Valentine
; Indiana S
Antonio Allen
and LB
T.J. Simmons
; Wisconsin RB
Corey Clement
September, 5, 2013
9/05/13
8:00
AM ET
We went a combined 23-1 in our first week of predictions, so let's see if we can keep that robust pace going. And how will our Week 2 guest picker fare?

Let's get to it:
Eastern Michigan at Penn State
Brian Bennett:
Not much to see here, as Eastern Michigan has long been a Big Ten sacrificial lamb. This is a good opportunity for
Christian Hackenberg
to work out some kinks, and the kid throws three TD passes. ...
Penn State 35, Eastern Michigan 9.
Adam Rittenberg:
The Hackenberg-
Allen Robinson
connection will link up for two touchdowns, and Penn State coach Bill O'Brien will keep to his word and call better plays, sparking the run game to 175 yards and two scores. Lions roll.
... Penn State 31, Eastern Michigan 10
Indiana State at Purdue
Adam Rittenberg:
Rob Henry
gets the confidence boost he needs and Purdue fixes its communication issues on offense as running back
Akeem Hunt
goes for 135 yards and two touchdowns. The Boilers come out fast and get a first-quarter forced fumble from big
Bruce Gaston
.
... Purdue 38, Indiana State 14
Brian Bennett:
The FCS just had a great weekend, so maybe we should take the three Big Ten games against FCS opponents seriously on Saturday. Nah. A team that just got done giving up 73 points to Indiana is just what the sputtering Purdue offense needs. ...
Purdue 45, Indiana State 17.
Missouri State at Iowa
Brian Bennett:
Iowa finally snaps its seven-game losing streak, using its superior beef to run for 200 yards, and getting a special-teams score. ...
Iowa 31, Missouri State 13.
Adam Rittenberg:
Yeah, this game has
Mark Weisman
and
Damon Bullock
written all over it. The tandem combines for three rushing touchdowns and
Jake Rudock
adds two more through the air to
C.J. Fiedorowicz
and
Kevonte Martin-Manley
.
... Iowa 38, Missouri State 10
Tennessee Tech at Wisconsin
Adam Rittenberg:
James White
rushing touchdown,
Melvin Gordon
rushing touchdown,
Corey Clement
rushing touchdown. Rinse and repeat.
... Wisconsin 63, Tennessee Tech 3
Brian Bennett:
Yawn. Are we done with the FCS games yet? ...
Wisconsin 56, Tennessee Tech 7.
South Florida at Michigan State
Brian Bennett:
If the Spartans can't move the ball against a Bulls team that gave up 53 points to McNeese State last week, they've got even bigger problems than we realized. Three different QBs play for MSU, and two of them throw for TDs. ...
Michigan State 30, South Florida 10.
Adam Rittenberg:
I agree that Michigan State can't be much worse on offense than it was in the opener and will move the ball better, especially on the ground.
Jeremy Langford
and
Riley Bullough
both reach the end zone, and
Tyler O'Connor
makes the quarterback race a little more interesting.
... Michigan State 34, South Florida 3
Cincinnati at Illinois
Adam Rittenberg:
The Illini start quickly and jump ahead on a
Nathan Scheelhaase
touchdown pass to
Josh Ferguson
. But reality begins to set in as a superior Cincinnati team takes charge behind its athletic defense.
... Cincinnati 28, Illinois 17
Brian Bennett:
Illinois will put up a more respectable showing against the Bearcats than Purdue did. Scheelhaase throws for 300 yards and the game is close until midway through the third quarter. But there's just too much
Munchie Legaux
(I can't help myself). ...
Cincinnati 42, Illinois 27
.
San Diego State at Ohio State
Brian Bennett:
I was interested in this game until San Diego State gagged against Eastern Illinois. The Buckeyes turn in a better overall effort than in Week 1, and
Bradley Roby
has a pick in his first game back. ...
Ohio State 45, San Diego State 20.
Adam Rittenberg:
My concern is Ohio State might be less interested than you are, BB. The Buckeyes overcome a sluggish start as
Braxton Miller
fires two second-quarter touchdown passes. Freshman
Dontre Wilson
scores his first touchdown for the Scarlet and Gray.
... Ohio State 41, San Diego State 13
Southern Miss at Nebraska
Adam Rittenberg:
After a
passionate postgame speech last week
, emerging leader
Ameer Abdullah
takes matters into his own hands. The Huskers running back piles up 200 yards and three touchdowns. The defense has its typical hiccups early before settling down.
... Nebraska 42, Southern Miss 17
Brian Bennett:
I expect -- and would hope -- that the Nebraska offense comes out mad after not finishing key drives last week. The Huskers go for the jugular this week behind
Taylor Martinez
's five total TDs, and the defense makes slight improvements. ...
Nebraska 49, Southern Miss 24.
Navy at Indiana
Brian Bennett:
It's never easy or fun to play Navy, but the Hoosiers got some experience against the option last year. The Midshipmen will shorten the game and frustrate the IU offense some, but
Nate Sudfeld
throws a fourth-quarter TD pass to
Kofi Hughes
to seal it. ...
Indiana 28, Navy 20.

Adam Rittenberg:
Sudfeld and the Hoosiers will finish drives better than they did last year against Navy, as
Tevin Coleman
twice reaches the end zone. IU forces a key third-quarter fumble and pulls away midway through the fourth quarter.
Tre Roberson
sees more field time in this one.
... Indiana 34, Navy 23
Syracuse at Northwestern
Adam Rittenberg:
Northwestern's injury issues are worth monitoring, but the Wildcats have enough weapons on offense to outscore a Syracuse team that didn't impress me much last week against Penn State.
Trevor Siemian
connects with
Dan Vitale
on two touchdowns, and the defense comes up big again with a fourth-quarter takeaway.
... Northwestern 28, Syracuse 20
Brian Bennett:
Hard to know what to expect from Northwestern because of the iffy status of both
Venric Mark
and
Kain Colter
. But Syracuse looked limited offensively last week, and I think Siemian rescues the 'Cats once again. ...
Northwestern 31, Syracuse 24.
Minnesota at New Mexico State
Brian Bennett:
It was a tough call between Ann Arbor and Las Cruces for the "GameDay" crew this week -- seriously, what is Minnesota doing here? Are the Gophers just big "Breaking Bad" fans who are planning a side trip to Albuquerque? Anyway, it's close for a half but the defense comes up with another score to send the Aggies to Belize. ...
Minnesota 37, New Mexico State 20
.
Adam Rittenberg:
Maybe the Gophers can take a side trip to Roswell and check out the UFOs. Minnesota quarterback
Philip Nelson
will provide a few identified flying objects in this one, firing two touchdown passes in the second half. It's not a pretty game, but it's a win as Minnesota improves to 2-0.
... Minnesota 34, New Mexico State 21
Notre Dame at Michigan
Adam Rittenberg:
Can't wait to witness this one under the lights at the Grande Casa. Although Michigan struggles early with Notre Dame's fearsome defensive front, the offense settles down late as
Devin Gardner
and
Jeremy Gallon
connect for two second-half touchdowns, including the game-winner in the final minutes. Tommy Rees' mastery of Michigan ends with two second-half interceptions.
... Michigan 24, Notre Dame 21
Brian Bennett:
I just keep remembering how Michigan mostly outplayed Notre Dame last year except for all those picks, and I don't think Gardner will make the same mistakes. Gardner finds Gallon for a pair of scores, and
Blake Countess
intercepts
Tommy Rees
on Notre Dame's final series to turn the lights out on the Irish. ...
Michigan 27, Notre Dame 24.
Now it's time to hear from our guest picker. As we announced last week, we'll be choosing one fan/loyal blog reader each week to try his or her hand at outsmarting us. There's nothing but pride and some extremely limited fame at stake. If you're interested in participating, contact us
here
and
here
. Include your full name (real names, please) and hometown and a
brief
description why you should be that week's guest picker. Please also include "GUEST PICKS" in all caps somewhere in your email so we can find them easily.
The response so far has been overwhelming. This week's guest picker is
Nick Schmit from West Des Moines, Iowa
. The floor is yours, Nick:
"As a graduate of the University of Iowa, I have been following the conference and teams for as long as I can remember. I have plenty of insight and knowledge to offer. Besides, my wife is due with our first daughter on 10/19 (Iowa vs. OSU). Other than her birth, I need something to be excited about in what looks to be another long, depressing, mediocre (or worse) season for the Hawks."
Nick's picks:
Penn State 28, Eastern Michigan 13
Purdue 28, Indiana State 21
Iowa 34, Missouri State 10
Wisconsin 70, Tennessee Tech 3
Michigan State 35, South Florida 10
Cincinnati 31, Illinois 21
Ohio State 42, San Diego State 6
Nebraska 51, Southern Miss 17
Indiana 41, Navy 31
Northwestern 42, Syracuse 20
Minnesota 33, New Mexico State 21
Notre Dame 27, Michigan 24
SEASON RECORDS
Brian Bennett: 12-0
Adam Rittenberg: 11-1
Guest picker: 9-3
September, 1, 2013
9/01/13
9:00
AM ET
Recognizing the best and brightest from around the Big Ten in Week 1:

Northwestern LB Collin Ellis:
The Wildcats didn't mind watching Ellis experience some deja vu against Cal. In the third quarter, he pulled down a deflected pass for the interception, made a nice cut and then ran it back 56 yards for a touchdown. One quarter later? It was almost like watching Ellis on rewind -- he grabbed another deflected pass and this time sprinted 40 yards for the score. That's right, the linebacker picked off two passes for two touchdowns. His career interceptions total before the game? Zero. Give that man a helmet sticker. (Hey, Adam, can we get away with giving him two?)
Wisconsin running game:
OK, UMass doesn't exactly boast the most dangerous defense. But in a soft opening conference slate, the Badgers impressed by having three running backs each rush for more than 100 yards.
Melvin Gordon
,
James White
and
Corey Clement
ran behind a stout offensive line that allowed the trio to combine for 388 yards and average 9.7 yards per carry. Yes, the running backs nearly averaged a first down every time they touched the ball ... which is probably why Wisconsin won 45-0.
Penn State S/LB Stephen Obeng-Agyapong:
He was expected to be a situational player at both positions but, when LB
Mike Hull
went down, Obeng-Agyapong took over -- and stepped up in a big way. Syracuse targeted the player, but the Orange just couldn't get the best of him. Last year's starting safety ran the gamut of defensive stats by finishing with a sack, a forced fumble, a fumble recovery and an interception. (Oh, and he was third on tackles with 6.5.) Two of his turnovers directly led to six PSU points, and the Lions won 23-17. You don't need OG
John Urschel
to do the math here; Obeng-Agyapong was very important to PSU's victory.
Michigan State LB Jairus Jones and S Kurt Drummond:
Take this pair away from the Spartans defense, and the team might not have experienced a happy ending in Week 1. Jones got the team started off on the right foot by intercepting a first-quarter Western Michigan pass and then having the awareness to lateral it to Drummond, who ran in for the defensive touchdown. Of course, neither was finished. Jones would go on to add another pick, while Drummond made a video game-esque play by using one hand to pluck the ball out of the air for a pick. If that play doesn't make an end-of-the-year highlight reel, there's no justice for these Spartans.
Minnesota DT Ra'Shede Hageman:
Double-teams were no problem for the fifth-year senior, and he showed he'll be one of the Big Ten's big play-makers this season. Midway through the third quarter, UNLV lined up for a 37-yard field goal to bring the game to within one score -- but Hageman was having none of it. He tore through the line and blocked the kick, while teammate
Martez Shabazz
returned it for a touchdown. All of a sudden, Minnesota led by 17 instead of just seven. Hageman also had five tackles and broke up a pass. He got plenty of pats on the back for his effort, and now he's also got a helmet sticker.
February, 6, 2013
2/06/13
7:00
AM ET
ESPN RecruitingNation has signing day covered. Follow ESPNU's coverage, chat with analysts and get breaking news on our Signing Day Live page beginning at 7:30 a.m. ET through 7 p.m. ET. For more on what to expect on signing day, check out the Big Ten conference breakdown

.
Bold prediction: Penn State will hang on to a top-25 class, even if just by the slimmest of margins. Bill O'Brien and his staff deserve all the credit in the world for having to originally put together a class after the scandal and then reshaping it after NCAA sanctions were levied in July.
Illinois

Biggest need: The Illini's offense was arguably the worst in the Big Ten in 2012, and Illinois needs help just about everywhere on offense, especially at the skill positions.

Biggest recruit: Four-star athlete Aaron Bailey is the future at quarterback for Illinois, and the coaches will expect him to be ready to take the reins once Nathan Scheelhaase moves on.
Indiana

Biggest need: To just put up a fence around Indianapolis and the state of Indiana. Kevin Wilson did that, assuaging defensive line concerns in the process by adding Indianapolis linemen David Kenney III and Darius Latham.

Biggest recruit: The Hoosiers are not accustomed to landing ESPN 150 prospects, but not only did they get Rashard Fant, but they got him all the way out of Georgia.
Iowa

Biggest need: After having several productive running backs over the past decade, the Hawkeyes are hurting in the backfield due to injuries and off-the-field issues.

Biggest recruit: The Hawkeyes were after Berkley Edwards for a while, but once that fell through they put the screws to former Boston College running back commit LeShun Daniels. He flipped shortly after an official visit to Iowa.
Michigan

Biggest need: Brady Hoke is transitioning to a pro-style offense, and he needed a pocket passer and a running back who makes his living in between the tackles.

Biggest recruit: ESPN 150 quarterback Shane Morris is that pro-style quarterback, but he is also the unquestioned leader of Team 134 and helped put together one of the nation's top classes.
Michigan State

Biggest need: The Spartans will lose their top two rushers from 2012, including Big Ten rushing leader Le'Veon Bell, so running back is a priority. They are bringing in two.

Biggest recruit: ESPN 300 dual-threat quarterback Damion Terry is a capable thrower and runner, and he led his high school to a state title as a senior. Andrew Maxwell did not exactly lock down the starting quarterback job with his performance last season.
Minnesota

Biggest need: Donnell Kirkwood is a promising player at running back, but he struggled against some of the league's better defenses and wore down late in the season. A complement is sorely needed.

Biggest recruit: Three-star running back Berkley Edwards is the younger brother of former Michigan receiver Braylon Edwards. Berkley is one of the Gophers' highest-rated commitments, and running back is a position that lends itself to an easy transition.
Nebraska

Biggest need: Nebraska needs to return to its days of the Blackshirts, as the Huskers' defense was gashed on the ground all season. The Huskers need help along the defensive line.

Biggest recruit: Elite 11 finalist Johnny Stanton is a dual-threat quarterback, but he's a much more polished passer than Taylor Martinez, who has taken his share of lumps since his flashy start in Lincoln.
Northwestern

Biggest need: Now that the Wildcats are a legitimate threat in the Big Ten under Pat Fitzgerald, the next step is to get better athletes to compete with Michigan and Ohio State. Fitzgerald is doing that with Ifeadi Odenigbo in 2012 and Godwin Igwebuike in 2013.

Biggest recruit: ESPN 300 dual-threat quarterback Matt Alviti had offers from some big programs including Notre Dame, but he chose nearby Northwestern. The Wildcats have an unsettled situation at quarterback, and as a local product Alviti could be called for by the fans if the quarterback play does not improve.
Ohio State

Biggest need: Linebacker was the biggest need for the Buckeyes, and after a shaky start Urban Meyer wrapped up a nice haul at the position with ESPN 150 products Trey Johnson and Mike Mitchell.

Biggest recruit: It's a tie between Jalin Marshall and Dontre Wilson, who are separated by just a few spots in the ESPN 150. Both have game-breaking ability as a receiver or out of the backfield.
Penn State

Biggest need: Despite significantly improved play from Matt McGloin in 2012, the Nittany Lions have not been blessed with quarterbacks the past decade, with the exception of a few good seasons from Michael Robinson and Daryll Clark.

Biggest recruit: While the class did field its share of decommitments, the damage would have been irreparable if No. 1 QB Christian Hackenberg bolted. By staying on, he instilled confidence in several other recruits to stay or join him in State College.
Purdue

Biggest need: The quarterback situation at Purdue has been unsettled the past few seasons, which is not good when it comes to the most important position on the field.

Biggest recruit: An Elite 11 finalist, Danny Etling stuck with the Boilermakers through the coaching change. He will be looked at as the future of the program.
Wisconsin

Biggest need: While the Badgers always have a strong stable of backs, losing Montee Ball is going to hurt, especially in the red zone. Wisconsin addressed it with top commitment Corey Clement.

Biggest recruit: The loss of Russell Wilson left a major void at quarterback, but the Badgers landed quarterback Tanner McEvoy on Monday. McEvoy is ranked No. 44 among juco prospects nationally and the expectation is he will contend for a starting job immediately.
Penn State 2015 Class Debuts At No. 3
BIG TEN SCOREBOARD
Thursday, 8/28
Saturday, 8/30