Penn State Nittany Lions:

Cole Pensick
May, 12, 2014
5/12/14
10:30
AM ET
Thirty Big Ten players heard their names called
during the 2014 NFL draft, but many others received phone calls immediately after the event. The undrafted free-agent carousel is spinning, and players from around the Big Ten are hopping aboard.
Unlike the draft, the UDFA list is somewhat fluid, and other players could get picked up later today or in the coming days. To reiterate:
This is not the final list
.
Here's what we know right now from various announcements and media reports:

ILLINOIS
LB Jonathan Brown, Arizona Cardinals
WR Ryan Lankford, Miami Dolphins
TE Evan Wilson, Dallas Cowboys
WR Steve Hull, New Orleans Saints
WR Spencer Harris, New Orleans Saints
Notes:
Illini OT Corey Lewis, who battled knee injuries throughout his career, told Steve Greenberg that
several teams are interested in him
if he's cleared by doctors.

INDIANA
WR Kofi Hughes, Washington Redskins
RB Stephen Houston, New England Patriots
Notes
: S Greg Heban and K Mitch Ewald have tryouts with the Chicago Bears.

IOWA
LB James Morris, New England Patriots
OT Brett Van Sloten, Baltimore Ravens
G Conor Boffeli, Minnesota Vikings
WR Don Shumpert, Chicago Bears
LS Casey Kreiter, Dallas Cowboys

MARYLAND
LB Marcus Whitfield, Jacksonville Jaguars
CB Isaac Goins, Miami Dolphins

MICHIGAN
LB Cam Gordon, New England Patriots
S Thomas Gordon, New York Giants
Notes:
RB Fitzgerald Toussaint (Baltimore), DT Jibreel Black (Pittsburgh), LS Jareth Glanda (New Orleans) and DT Quinton Washington (Oakland)
will have tryouts
.

MICHIGAN STATE
LB Denicos Allen, Carolina Panthers
S Isaiah Lewis, Cincinnati Bengals
T/G Dan France, Cincinnati Bengals
WR Bennie Fowler, Denver Broncos
LB Max Bullough, Houston Texans
DT Tyler Hoover, Indianapolis Colts
DT Micajah Reynolds, New Orleans Saints
OL Fou Fonoti, San Francisco 49ers
Notes:
LB Kyler Elsworth has a tryout scheduled with Washington.

MINNESOTA
LB Aaron Hill, St. Louis Rams

NEBRASKA
QB Taylor Martinez, Philadelphia Eagles
OT Brent Qvale, New York Jets
CB Mohammed Seisay, Detroit Lions
DE Jason Ankrah, Houston Texans
C Cole Pensick, Kansas City Chiefs
OT Jeremiah Sirles, San Diego Chargers
Notes:
CB Ciante Evans has yet to sign but will do so soon. DB Andrew Green
has a tryout with the Miami Dolphins
.

NORTHWESTERN
WR Kain Colter, Minnesota Vikings
K Jeff Budzien, Jacksonville Jaguars
WR Rashad Lawrence, Washington Redskins
DE Tyler Scott, Minnesota Vikings

OHIO STATE
S C.J. Barnett, New York Giants
K Drew Basil, Atlanta Falcons
WR Corey Brown, Carolina Panthers
G Andrew Norwell, Carolina Panthers
G Marcus Hall, Indianapolis Colts
WR Chris Fields, Washington Redskins

PENN STATE
OT Garry Gilliam, Seattle Seahawks
LB Glenn Carson, Arizona Cardinals
S Malcolm Willis, San Diego Chargers
Notes:
OT Adam Gress will
have a tryout with the Pittsburgh Steelers
.

PURDUE
DE Greg Latta, Denver Broncos
S Rob Henry, Oakland Raiders
G Devin Smith, San Diego Chargers
DT Bruce Gaston Jr., Arizona Cardinals
Notes:
P Cody Webster will have a tryout with Pittsburgh.

RUTGERS
WR Brandon Coleman, New Orleans Saints
WR Quron Pratt, Philadelphia Eagles
LB Jamal Merrell, Tennessee Titans
DE Marcus Thompson, Miami Dolphins
S Jeremy Deering, New England Patriots
Notes:
According to
Dan Duggan
, DE Jamil Merrell (Bears) and G Antwan Lowery (Baltimore) will have tryouts.

WISCONSIN
G/T Ryan Groy, Chicago Bears
TE Jacob Pedersen Atlanta Falcons
TE Brian Wozniak, Atlanta Falcons
DE Ethan Hemer, Pittsburgh Steelers
Quick thoughts:
Martinez's future as an NFL quarterback has been heavily scrutinized, but Chip Kelly's Eagles are a fascinating destination for him. Whether he plays quarterback or another position like safety, Kelly will explore ways to use Martinez's speed. ... The large Michigan State contingent is still a bit startling. The Spartans dominated the Big Ten, beat Stanford in the Rose Bowl, use pro-style systems on both sides of the ball and had just one player drafted. Bullough, Allen and Lewis all were multiple All-Big Ten selections but will have to continue their careers through the UDFA route. ... Colter certainly
looked like a draft pick during Senior Bowl practices
in January, but that was before his ankle surgery and his role in leading the unionization push at Northwestern. I tend to think the injury impacted his status more, but NFL teams have been known to shy away from so-called locker-room lawyers. ... Other Big Ten standouts like Jonathan Brown, Morris and Pedersen were surprisingly not drafted. Morris should be a great fit in New England. ... Coleman's decision to leave Rutgers early looks questionable now that he didn't get drafted.
April, 1, 2014
4/01/14
5:00
PM ET
Coming at ya from Happy Valley. Dropping in on James Franklin and the Nittany Lions on Wednesday.
To the inbox ...
Ken from Kansas City, Mo., writes:
Hey Adam! I loved the "dictator for the day" thread. I just have one suggestion ... since everyone was worried about some teams getting five home games and other teams getting four in a nine-game schedule, and with two bye weeks now due to extending games beyond Thanksgiving, how about every team has one of their conference games played internationally each year, following a bye week? This would: increase international exposure for the B1G, be a cool perk when it came to recruiting -- "your son will get to visit four or five foreign countries during their years at our university" -- and leave everyone with an even 4-4-1 split on conference game locations and make for some cool travel options for the fans.
Adam Rittenberg:
Ken, a couple things here. The double-bye thankfully won't be an annual occurrence in college football. It takes place only when Aug. 30 or Aug. 31 falls on a Saturday, as was the case last year and again this fall. Also, Big Ten schools don't want to part with home games, especially for an international site that, while appealing to some, prevents many others from attending. It also disrupts the players' schedule. I like the way you're thinking because exposure is the name of the game, and occasional international events like Penn State's opener this fall make sense. But not every year.
---
Brian from Baltimore writes:
So far PSU and James Franklin are "walking the walk"' as far as dominating recruiting. How surprising is this? After this torrid pace of commitments slows down, how do you see Penn State faring overall for 2015 recruits?
Rittenberg:
Brian, while the sheer number of early commits is noteworthy, Franklin's recruiting success certainly is not. He has been regarded as a nationally elite recruiter since his time as a Maryland assistant, and the enthusiasm he brings to Penn State -- and a region where he and several of his assistants already have familiarity -- translates on the trail. Franklin did really well with early commitments in Vanderbilt's 2013 class, as 16 players pledged before the season. If Penn State hangs onto all these recruits and continues to add solid pieces, Franklin will bring in a nationally elite class next February.
---
Brian from West Michigan writes:
If the Northwestern unionizing efforts succeed, are they aware of the unintended consequences that are coming from their actions? For instance, now that they are considered "employees," their scholarship value (upwards of 50K/year depending on the school) is considered compensation and eligible to be taxed. You hear stories of kids being able to use athletics to get them a degree that otherwise they couldn't have afforded. How does a college kid who is now "making" $50K/year scrape up the cash to pay Uncle Sam?
Rittenberg:
Brian, the tax question looms large in the debate, and there are different opinions on what the players would be required to pay.
Kevin Trahan addresses it well here
, quoting several tax experts who say the players will have to pay taxes on their scholarships. College Athletes Players Association president Ramogi Huma, meanwhile, cites a provision in the tax code that states scholarships for "degree candidates" are not taxable. It doesn't sound like tax status will factor into the NLRB's final ruling on whether players are employees, but it's certainly a significant factor for the players as they pursue this route.
---
Jim from Virginia writes:
A lot is made of "skill" positions (top three backfield, etc). Yet, when looking at the offensive and defensive lines, Nebraska seems to be able to make a case for turning a four-loss year last year -- when the offensive line got experience through injuries and the defensive line matured -- into maybe Bo Pelini's best campaign.
Rittenberg:
Jim, I agree that Nebraska's ceiling this season largely depends on line play.
Randy Gregory
provides a major edge-rushing threat for the defensive line, and if Nebraska can stay healthy and generate more from the inside tackles, it should be pretty stout up front. There are more questions along the offensive line, which loses key players such as
Spencer Long
,
Cole Pensick
and
Jeremiah Sirles
. Alex Lewis is a key addition because he brings experience from Colorado. Lewis and
Jake Cotton
should anchor the left side of the Husker line. Nebraska must build depth and chemistry with the group the rest of the spring and through fall camp. It likely needs younger players such as
Givens Price
to blossom.
---
Keith from Kunming, China, writes:
Hey Adam,You didn't like the Premier League model for B1G and MAC, but I do. You said it's not realistic to move between leagues, but it is if the B1G and the MAC have a contractual relationship, and the MAC is essentially absorbed into the B1G as a sort of junior league. B1G doesn't "own" MAC programs but it effectively subsidizes them. Michigan will continue to fill its stadium when relegated (oh! the joy in East Lansing!), which will be financially great for the MAC opponents. My only change to the model proposed is that relegation should happen every years, as in England. Why wouldn't this work?
Rittenberg:
Keith, first off, thanks for reading from so far away. Although the Big Ten and the MAC have a strong relationship when it comes to scheduling, officiating and other areas, your proposal requires the Big Ten to shoulder a major financial and structural burden, while embarrassing its members in the process. I'm not saying it wouldn't be fun for fans, but does the Big Ten want to be so closely tied with the MAC, which has schools with profiles that differ markedly from those in the Big Ten? Scheduling would be a huge headache because you wouldn't know where certain teams would be. Money would be a problem on several levels, from television audience to stadium size.
January, 10, 2013
1/10/13
11:00
AM ET
The Big Ten won only two bowl games this season, but several players stood out around the league.
Let's take a look at ESPN.com's Big Ten All-Bowl squad ...
OFFENSE
QB:
Devin Gardner
, Michigan -- There weren't many good choices around the league, but Gardner fired three touchdown passes and racked up 214 pass yards. He has accounted for at least two touchdowns in all five of his starts at quarterback for the Wolverines.
RB:
Le'Veon Bell
, Michigan State -- The nation's ultimate workhorse running back did his thing in his final game as a Spartan. Bell had 32 carries for 145 yards and a touchdown, recording his eighth 100-yard rushing performance of the season. He also threw a 29-yard pass on a pivotal third-down play.
RB:
Rex Burkhead
, Nebraska -- Another back who stood out in his final collegiate game, Burkhead racked up 140 rush yards and a touchdown on 24 carries, and added four receptions for 39 yards. It's really too bad we didn't get to see what Burkhead could have done all season when healthy.
[+] Enlarge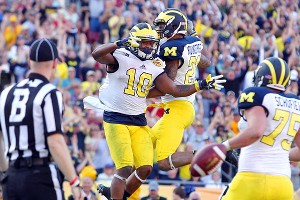 Kim Klement/USA TODAY SportsJeremy Gallon celebrates one of his two touchdown catches against South Carolina.
WR:
Jeremy Gallon
, Michigan -- Gallon recorded career highs in receptions (9) and receiving yards (145), and scored two touchdowns against a strong South Carolina defense in the Outback Bowl. It was his third 100-yard receiving performance of the season.
WR:
Derrick Engel
, Minnesota -- Along with quarterback
Philip Nelson
, Engel provided some hope for Minnesota's future on offense with 108 receiving yards on four receptions in the Meineke Car Care Bowl of Texas. His 42-yard reception marked the third longest of Minnesota's season.
TE:
Dan Vitale
, Northwestern -- The freshman provided offensive balance Northwestern needed against a Mississippi State team that focused on taking away
Venric Mark
and the run game. Vitale recorded team highs in both receptions (7) and receiving yards (82) as Northwestern ended the nation's longest bowl losing streak in the TaxSlayer.com Gator Bowl.
OL:
Taylor Lewan
, Michigan -- Everyone remembers
Jadeveon Clowney
's near decapitation of Michigan's
Vincent Smith
in the Outback Bowl -- which
resulted from a miscommunication
between Lewan and tight end
Mike Kwiatkowski
-- but the Wolverines' left tackle did a good job overall against college football's most dominant defensive lineman. Lewan anchored a line that helped Michigan put up decent numbers against an elite defense.
OL:
Zac Epping
, Minnesota -- Minnesota's offensive line showed flashes of the dominance it displayed for much of the Glen Mason era against Texas Tech. The Gophers racked up 222 rush yards and two touchdowns on 54 carries, as Epping and his linemates opened up holes for
Donnell Kirkwood
,
Rodrick Williams
and
MarQueis Gray
.
OL:
Brian Mulroe
, Northwestern -- Mulroe made his 40th career start and helped Northwestern finally get over the hump in a bowl game. The Wildcats had a balanced offensive attack, avoided the penalty flag and didn't allow a sack against Mississippi State.
OL
:
Cole Pensick
, Nebraska -- Stepping in for the injured
Justin Jackson
at center, Pensick helped the Huskers find success running the ball against Georgia, especially up the middle. Nebraska had 239 rushing yards in the Capital One Bowl.
OL:
Travis Frederick
, Wisconsin: The Badgers rushed for 218 yards against Stanford, which came into the Rose Bowl with the nation's No. 3 rush defense. They also gave up only one sack to a defense which led the FBS in that category. Frederick played very well at center and announced he would skip his junior year to enter the NFL draft a few days later.
DEFENSE
DL:
Quentin Williams
, Northwestern -- Williams set the tone for Northwestern's win with an interception returned for a touchdown on the third play from scrimmage. He also recorded two tackles for loss, including a sack, in the victory.
DL:
William Gholston
, Michigan State -- Another player who stood out in his final collegiate game, Gholston tied for the team lead with nine tackles, including a sack, and had a pass breakup in the Buffalo Wild Wings Bowl win against TCU. The freakishly athletic defensive end stepped up in a bowl game for the second straight season.
DL:
Tyler Scott
, Northwestern -- Scott and his fellow linemates made life tough for turnover-prone Mississippi State quarterback
Tyler Russell
in the Gator Bowl. The Wildcats junior defensive end recorded three tackles for loss, including two sacks, and added a quarterback hurry in the win.
DL:
Ra'Shede Hageman
, Minnesota -- The big man in the center of Minnesota's defensive line stood out against Texas Tech, recording six tackles, including a sack, and a pass breakup. Gophers fans should be fired up to have Hageman back in the fold for the 2013 season.
LB:
Max Bullough
, Michigan State -- Bullough once again triggered a strong defensive performance by Michigan State, which held TCU to just three points in the final two and a half quarters of the Wings bowl. The junior middle linebacker tied with Gholston for the team tackles lead (9) and assisted on a tackle for loss.
LB:
Chris Borland
, Wisconsin -- The Badgers' defense clamped down against Stanford after a slow start, and Borland once again stood out with his play at middle linebacker. The standout junior led Wisconsin with nine tackles as the defense kept the Badgers within striking distance in Pasadena.
LB:
Jake Ryan
, Michigan -- Ryan capped a breakout season with another strong performance in the bowl game, recording 1.5 tackles for loss, a fumble recovery and half a sack. He'll enter 2013 as a top candidate for Big Ten Defensive Player of the Year honors.
CB:
Michael Carter
, Minnesota -- Carter finished off a strong senior year with two interceptions, a pass breakup and seven tackles in the 34-31 loss to Texas Tech.
CB:
Nick VanHoose
, Northwestern: The redshirt freshman picked off a Mississippi State pass and returned it 39 yard to set up the game-clinching touchdown in the fourth quarter.
S:
Jared Carpenter
, Northwestern: The senior was named MVP of the Gator Bowl win with a game-high 10 tackles and a near interception late in the game.
S:
Ibraheim Campbell
, Northwestern: The Wildcats dominate our all-bowl team secondary for good reason. Campbell had an interception and a pass breakup against the Bulldogs.
Specialists
P:
Mike Sadler
, Michigan State -- The punters took center stage in Tempe as both offenses struggled, and Sadler provided MSU with a huge lift in the field-position game. He set Spartans bowl records for punts (11) and punting yards (481), averaging 43.7 yards per punt with three inside the 20-yard line. His booming punt inside the TCU 5 helped lead to a game-turning fumble by the Horned Frogs'
Skye Dawson
.
K:
Brendan Gibbons
and
Matt Wile
, Michigan -- Both kickers share the honors after combining to go 3-for-3 on field-goal attempts in the Outback Bowl. Gibbons, the hero of last year's Sugar Bowl, connected from 39 yards and 40 yards in the first half. Wile hit a career-long 52-yard attempt in the third quarter, setting an Outback Bowl record.
Returner:
Troy Stoudermire
, Minnesota -- It took a bit longer than expected, but Stoudermire finally set the NCAA record for career kick return yards with a 26-yard runback on the opening kickoff against Texas Tech. The senior cornerback finished the game with 111 return yards, including a 37-yard runback, on four attempts.
PSU's 46-Hour Dance Marathon Raises $13 Million
BIG TEN SCOREBOARD
Thursday, 9/3
Friday, 9/4
Saturday, 9/5
Sunday, 9/6
Monday, 9/7