Penn State Nittany Lions:

Chris Gulla
December, 1, 2013
Dec 1
10:00
AM ET
Lessons learned from
Penn State's 31-24 upset win over No. 15 Wisconsin
in the season finale, its first win over a top-15 team since the Capital One Bowl victory over LSU in 2010:

1. Don't underestimate Penn State.
You think we would've learned that by now. But after seeing the Buckeyes absolutely dominate Penn State, 63-14, it seemed as if PSU would be in for another flogging. Everyone counted them out -- Vegas put the line at 24 points -- but the Nittany Lions seem to do best when everyone else thinks they have no chance. They came out of absolutely nowhere to not just slip past the Badgers, but to totally outplay them. Penn State's defense stopped one of the nation's best rushing attacks, and freshman quarterback
Christian Hackenberg
picked on the Wisconsin secondary. If there's one thing we should learn from this game, it's that we should never count these Nittany Lions out.
2. The future looks bright.
Next season should have its share of question marks, but even look past that. Hackenberg is playing beyond his years, freshman LB
Brandon Bell
garnered his first start (and grabbed six tackles), and PSU dressed 23 total freshmen.
Adam Breneman
and
Eugene Lewis
still have three years left and had terrific performances on Saturday. And then there are other freshmen such as
Akeel Lynch
,
Richy Anderson
,
Nyeem Wartman
,
Austin Johnson
and
Malik Golden
who have seen quite a bit of time this season.
3. Sam Ficken's struggles aren't behind him, after all.
Ficken had a miserable stretch last season before he seemingly turned it all around -- but those issues are most certainly back. He has made just seven of his last 13 field goals (54 percent) and also missed a PAT last week. He went 1-of-3 against Wisconsin, missing a 31-yarder and 34-yarder, and he'll need to find more answers over the offseason. He's bounced back once already, but he'll need to find a way to do it again. Otherwise, freshman
Chris Gulla
could push him for time.
4. The offensive line needs to be more disciplined, as far as penalties.
Either it wasn't prepared for Wisconsin's defensive linemen moving around or it wasn't focused. Whatever the reason, it was one of the odder sights during Saturday afternoon's game. Penn State was called for at least eight motion penalties, with left tackle
Donovan Smith
responsible for four of those. Offensive line coach Mac McWhorter was clearly frustrated on the sideline and, although the line played well overall, it certainly needs to concentrate more on the snap count and less on what the opposition is doing. Those mistakes nearly lost PSU the game.
5. Secondary, bad; front seven, good.
Joel Stave
had difficulty locating quite a few open targets, and that came as a big break for Penn State. The secondary still struggled, but it came up with key interceptions off Stave mistakes to somewhat atone. It's still clearly the weak link of this defense, but the front-seven -- especially the defensive line -- played very well yet again Saturday. They finished with five quarterback hurries and three sacks, and the line really limited the Badgers' rushing attack. Wisconsin was held to its second-lowest rushing total of the season (120 yards), and defensive coordinator John Butler deserves a lot of the credit. That should bode well moving forward.
August, 9, 2013
Aug 9
11:30
AM ET
STATE COLLEGE, Pa. -- Penn State's media day might be over, but there's still plenty to reflect on.
Here's a look at five lessons learned from a day spent talking to coaches and players:
1. Tyler Ferguson currently boasts the early edge at quarterback.
That wasn't a huge surprise, considering
Christian Hackenberg
enrolled over the summer while Ferguson started school in January. But Hackenberg has picked up things quickly, and there's no telling where the race might be in another week or two.

But, as luck would have it, that's exactly when Bill O'Brien hopes --
hopes
-- to name the starter. The head coach isn't a fan of waiting until the night before the season opener because he wants the starter to get more reps with the first team. At this juncture, most of the media believes Hackenberg will start ... but O'Brien said that Ferguson holds the slight lead right now.
2. Linebacker is the biggest concern when it comes to depth.
Penn State might be known as Linebacker U, but it's not very big on quantity this season. When asked about depth on defense -- since the DTs don't have the greatest numbers either -- O'Brien didn't hesitate in expressing his concern over the linebacker unit.
Nyeem Wartman
will start as a redshirt freshman and the top backup,
Ben Kline
, is still coming off a shoulder injury and didn't participate in Thursday's practice. One more injury at this spot could spell doom for this defense. Safeties such as
Adrian Amos
and
Stephen Obeng-Agyapong
could come in relief of Wartman on passing downs, but there's only so many tweaks this staff can make to shore up the depth here.
3. Special teams are a point of focus.
The Nittany Lions finished among the bottom of the country in just about every special teams category last season -- No. 103 in net punting, No. 90 in punt returns, No. 112 in kick returns, etc. O'Brien said the team is working hard on improving those numbers.
Sam Ficken
remains the starting kicker, but he should be pushed by preferred walk-on Chris Gulla. That true freshman has also practiced punting a lot, so he should also compete with
Alex Butterworth
. And, as far as kick returners, those duties remain between eight candidates -- including
Richy Anderson
,
Alex Kenney
,
Bill Belton
,
Trevor Williams
,
Akeel Lynch
and Eugene Lewis.
4. Newest injuries don't affect depth that much.
True freshman wideout
DaeSean Hamilton
, a four-star wideout from Virginia, is out for the season with a wrist injury suffered from high school. But Hamilton was a redshirt candidate before the announcement, and the corps there is pretty deep. PSU shouldn't miss a beat at wideout.
Redshirt freshman
Brent Wilkerson
also suffered a back injury and is "out for a while," although O'Brien declined to elaborate. Regardless, tight end is the deepest position on the roster -- and there are at least four other tight ends who could see time here.
Kyle Carter
and
Jesse James
remain the starters, but
Matt Lehman
is a solid backup and
Adam Breneman
could see time as a true freshman.
5. WR Allen Robinson is just getting started.
Robinson broke the longstanding school-record for receptions last season, but assistant coach Stan Hixon said Robinson has just scratched the surface of his potential. The All-Big Ten wideout improved his strength, speed and hounded teammates over the summer for some extra 7-on-7 drills.
Robinson acknowledged he might not top last year's numbers -- 77 catches, 1,013 yards, 11 TDs -- but that doesn't mean he's not a better wideout. He has been timed at 4.6 seconds in the 40-yard dash, and he has worked hard on winning more one-on-one battles this offseason. He's a good basketball player with a strong vertical leap, and he could be the big-play threat this offense desperately needs. He's the best player on this offense -- and he has gotten better. Much better.
July, 19, 2013
Jul 19
11:00
AM ET
Welcome to NittanyNation's mailbag! We asked you to tweet or email your questions, and we've selected three to answer in-depth this week.
Jim Murphy writes:
How will Brad Bars' injury impact depth for the Lions this season? Was he poised for significant playing time?
Josh Moyer:
He had high expectations back in February. I last talked to a smiling Bars during Thon weekend, when he volunteered to show host families around the football building. He said this at the time: "I feel like this is the season I'm going to take my game to another level. My expectations have risen a lot. ... I expect to be a key player on the team this year."
To continue reading this article you must be an Insider
May, 22, 2013
May 22
9:00
AM ET
STATE COLLEGE, Pa. -- Penn State's 2013 recruiting class will report to campus in less than a month, and several players could play a huge role on the team this season.
This is Bill O'Brien's first real class, and fans should catch an early glimpse of what it's capable of this season. Here are three incoming prospects -- not early enrollees -- who could contribute immediately:
To continue reading this article you must be an Insider
May, 12, 2013
May 12
11:00
AM ET
NittanyNation takes a look at this past week's Penn State football news and what you might have missed:
May, 9, 2013
May 9
12:00
PM ET
Incoming preferred walk-on
Chris Gulla
(Toms River, N.J./Toms River North) will compete for the starting job at kicker once he gets on campus over the summer.
He has a strong chance to start sometime during his career. So NittanyNation recently spoke to him about his chances this season, his thoughts on PSU and what fans can expect from him.
NittanyNation: You'll arrive at Penn State on June 22, and the first game is about two months later. I know you want to start, but that's still a quick turnaround. How do you like your chances, and how disappointed would you be if you were relegated to backup?
To continue reading this article you must be an Insider
March, 14, 2013
Mar 14
11:00
AM ET
STATE COLLEGE, Pa. -- With just four days until spring practice starts, NittanyNation decided to look into its crystal ball to find out what could await Penn State this season.
Who'll be the opening-day starter at quarterback? And what run-on could end up starting? Here's what we think:
To continue reading this article you must be an Insider
February, 24, 2013
Feb 24
10:00
AM ET
NittanyNation takes a look at this week's Penn State football news and what you might have missed:
February, 19, 2013
Feb 19
9:00
AM ET
Every weekday, as part of an ongoing series, NittanyNation will take a closer look at a Penn State walk-on.
Vitals:
Kicker
Chris Gulla
, Toms River (N.J.) North, 6-foot-2, 195 pounds.
To continue reading this article you must be an Insider
February, 11, 2013
Feb 11
12:31
PM ET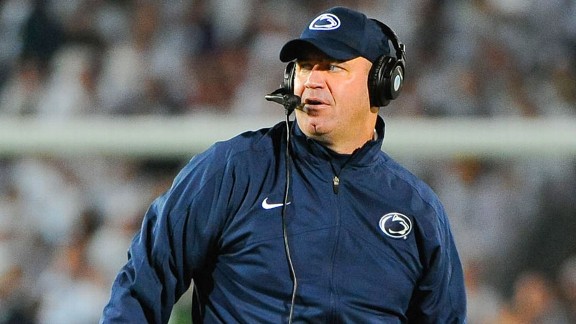 Rich Barnes-USA TODAY SportsBill O'Brien is building a base for the future with PSU's run-on program.
STATE COLLEGE, Pa. -- Bill O'Brien has constantly emphasized the importance of his run-on program, and his hope is this will allow him to add needed depth during a time of sanctions and scholarship reductions.

Penn State's head coach said last week he was hoping to add about 20 walk-ons, and the count currently stands at 21. NittanyNation is aware of a handful of recruits that PSU is either still considering or who are just awaiting acceptance into the school.
But most of this run-on class is already in the books. Here's a list -- complete with film and notes -- of the players on defense and special teams who have committed as run-ons.
To continue reading this article you must be an Insider
February, 3, 2013
Feb 3
3:08
PM ET
With the Super Bowl just a few hours away, NittanyNation decided to poll some of Penn State's committed run-ons to get their take on the game. We asked for them to give the winner, the score -- and their reasoning.
Overwhelmingly, it appears as if Penn State's preferred walk-ons believe the San Francisco 49ers will win the Super Bowl. And the consensus is by a field goal:
WR Gregg Garrity Jr., Wexford (Pa.) North Allegheny: 49ers, 27-17. No answer for Kaepernick and not enough weapons for Baltimore. San Fran will shut down Ray Rice, forcing them to pass. Flacco will have a long day.
QB Jack Seymour, Indianapolis (Ind.) Park Tudor: Ravens, 31-24. I think Flacco is a much better overall quarterback with a really efficient offense that played really well in the past playoff games. He's really stepped up and shown himself to be an elite quarterback. I also picked them because Ray Lewis will carry their defense and is their source of motivation. And he will stop at nothing to win. Ravens all the way! This will be San Francisco's first-ever loss in a Super Bowl!
WR Chris Geiss, Malvern (Pa.) Great Valley: 49ers, 27-24. I don't think the Ravens' D can stop the option.
OG Evan Galimberti, State College (Pa.): 49ers, 27-13. I just think the defense of the 'Niners is too good and Kaepernick could outrun the Ravens.
LS Sean Corcoran, Kankakee (Ill.) Bishop McNamara: 49ers, 27-24. I think their pistol offense is extremely dangerous, and I think their defense will be able to stop Ray Rice to make the Ravens too reliant on the pass game. But I'm still rooting for Corey Graham and Brendon Ayanbadejo on the Ravens because they're former Bears!
LB Kyle Searfoss, Lewisberry (Pa.) Red Land: 49ers, 24-17. Their defense is too good, and Colin Kaepernick is too good.
S Tom Pancoast, Kennett Square (Pa.) Unionville: 49ers, 24-21. Colin Kaepernick has a big game and wins Super Bowl MVP.
K Chris Gulla, Toms River (N.J.) Toms River North: Ravens, 24-21. I'm thinking a little game-winner from Justin Tucker.
RB Brian Tomasetti, Scranton (Pa.) Old Forge: Ravens, 24-20. Their defense is too good. Kaepernick is going to get shut down, and I believe Joe Flacco will have the game of his life. Position-by-position, I feel the Ravens are better -- especially at running back with Ray Rice. Also, Ray Lewis will not lose his last game.
RB Cole Chiappialle, Beaver Falls (Pa.) Blackhawk: 49ers, 27-24. As a diehard Steelers fan, I will be rooting for the 49ers. No way I will cheer for the Ravens!
SB Von Walker, Mill Hall (Pa.) Central Mountain: 49ers, 24-17. Ravens can't stop Gore running or the Kaepernick passing attack.
OT Austin Fiedler, Turbotville (Pa.) Warrior Run: No idea. I think the score for each team will be in the high 20s, and it will be very close -- within six points. OK, I don't really know who will win. Both teams have a lot going for them. The Ravens have the bigger fan base, and that will give somewhat of a homefield advantage. But, on the other hand, I think the 49ers are overall a more solid team. I can't wait to watch the game actually, even though I'm not a big NFL fan.
January, 17, 2013
Jan 17
1:00
PM ET
Penn State will have several commits up for weekend visits, but this might be the most important Sunday of the year when it comes to potential preferred walk-ons.
NittanyNation has confirmed that at least eight players who were extended spots on the team as non-scholarship players will be in Happy Valley for "Run-on Day," which will take place from 11 a.m. to 1:30 p.m. Potential walk-ons -- or run-ons, as Bill O'Brien calls them -- will be broken into two groups and will take part in several tours or meetings.
According to recruits, they'll meet with the training staff, coaches and hear about academics. They'll also have lunch together but, due to NCAA rules, recruits will have to pay $10. One prospect said 10 or 11 players received an email with Sunday's itinerary.
To continue reading this article you must be an Insider
December, 26, 2012
12/26/12
11:00
AM ET
What kind of player is Penn State getting here? And what can fans expect?
NittanyNation turned to the person who knows most what Chris Gulla is capable of on the field -- his high school coach -- and asked what separates him as a player, how he first noticed Gulla's ability and when he especially showcased his college potential.
Chris Gulla, Toms River (N.J.) North
To continue reading this article you must be an Insider
December, 21, 2012
12/21/12
1:00
PM ET
Every week, NittanyNation will pose five questions to a recruit, player, alum or coach about all things Penn State.
This week's subject is Chris Gulla, a kicker out of Toms River (N.J.) North who decided to accept an invitation to become a preferred walk-on at Penn State. He chose Penn State over Maryland, Rutgers and South Carolina.

He can also punt, but Penn State is currently focusing on his field-goal kicking.
NittanyNation: Was it an easy decision for you to walk-on to PSU, or was it something you were struggling with for awhile?
Chris Gulla:
It wasn't much of a difficult decision for me; that's where I always wanted to play. I got accepted into the business school and I have a great chance at playing time, which is awesome.
Most of my family is actually from the Lehigh Valley, and they're huge Penn State fans, so I've pretty much been raised a Penn State fan. They offered me the preferred walk-on a long time ago. I kicked for them over the summer and that's when they offered me. I just wanted to keep all my options open [in case of a scholarship]. I couldn't be happier with my decision.
NN: What do you like most about Penn State?
CG
: It's a combination. Playing at Beaver Stadium is an incredible experience, and so's having a great education with a great networking system. That's hard to pass up.
Walking out of the tunnel, you can't even really picture it until you actually do it. It's going to be really great for the next four years running out on that field.
Penn State vs Wisconsin Highlight