Penn State Nittany Lions:

Chris Geiss
March, 5, 2013
3/05/13
9:00
AM ET
Every weekday, as part of an ongoing series, NittanyNation will take a closer look at a Penn State walk-on.
Vitals:
Wideout
Chris Geiss
, Malvern (Pa.) Great Valley, 6-foot-3, 190 pounds
February, 11, 2013
2/11/13
12:30
PM ET
Here's a list -- complete with film and notes -- on Penn State's offensive run-ons.
To continue reading this article you must be an Insider
February, 3, 2013
2/03/13
3:08
PM ET
With the Super Bowl just a few hours away, NittanyNation decided to poll some of Penn State's committed run-ons to get their take on the game. We asked for them to give the winner, the score -- and their reasoning.
Overwhelmingly, it appears as if Penn State's preferred walk-ons believe the San Francisco 49ers will win the Super Bowl. And the consensus is by a field goal:
WR Gregg Garrity Jr., Wexford (Pa.) North Allegheny: 49ers, 27-17. No answer for Kaepernick and not enough weapons for Baltimore. San Fran will shut down Ray Rice, forcing them to pass. Flacco will have a long day.
QB Jack Seymour, Indianapolis (Ind.) Park Tudor: Ravens, 31-24. I think Flacco is a much better overall quarterback with a really efficient offense that played really well in the past playoff games. He's really stepped up and shown himself to be an elite quarterback. I also picked them because Ray Lewis will carry their defense and is their source of motivation. And he will stop at nothing to win. Ravens all the way! This will be San Francisco's first-ever loss in a Super Bowl!
WR Chris Geiss, Malvern (Pa.) Great Valley: 49ers, 27-24. I don't think the Ravens' D can stop the option.
OG Evan Galimberti, State College (Pa.): 49ers, 27-13. I just think the defense of the 'Niners is too good and Kaepernick could outrun the Ravens.
LS Sean Corcoran, Kankakee (Ill.) Bishop McNamara: 49ers, 27-24. I think their pistol offense is extremely dangerous, and I think their defense will be able to stop Ray Rice to make the Ravens too reliant on the pass game. But I'm still rooting for Corey Graham and Brendon Ayanbadejo on the Ravens because they're former Bears!
LB Kyle Searfoss, Lewisberry (Pa.) Red Land: 49ers, 24-17. Their defense is too good, and Colin Kaepernick is too good.
S Tom Pancoast, Kennett Square (Pa.) Unionville: 49ers, 24-21. Colin Kaepernick has a big game and wins Super Bowl MVP.
K Chris Gulla, Toms River (N.J.) Toms River North: Ravens, 24-21. I'm thinking a little game-winner from Justin Tucker.
RB Brian Tomasetti, Scranton (Pa.) Old Forge: Ravens, 24-20. Their defense is too good. Kaepernick is going to get shut down, and I believe Joe Flacco will have the game of his life. Position-by-position, I feel the Ravens are better -- especially at running back with Ray Rice. Also, Ray Lewis will not lose his last game.
RB Cole Chiappialle, Beaver Falls (Pa.) Blackhawk: 49ers, 27-24. As a diehard Steelers fan, I will be rooting for the 49ers. No way I will cheer for the Ravens!
SB Von Walker, Mill Hall (Pa.) Central Mountain: 49ers, 24-17. Ravens can't stop Gore running or the Kaepernick passing attack.
OT Austin Fiedler, Turbotville (Pa.) Warrior Run: No idea. I think the score for each team will be in the high 20s, and it will be very close -- within six points. OK, I don't really know who will win. Both teams have a lot going for them. The Ravens have the bigger fan base, and that will give somewhat of a homefield advantage. But, on the other hand, I think the 49ers are overall a more solid team. I can't wait to watch the game actually, even though I'm not a big NFL fan.
January, 30, 2013
1/30/13
11:00
AM ET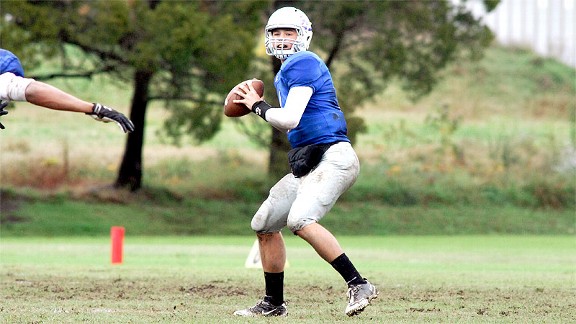 Courtesy of Charles Thomas/Fork UnionWith size and arm ability, Christian Hackenberg will be groomed as Penn State's QB of the future.
Two months ago, Penn State had just one committed quarterback -- and that seemed like a pressing issue that might take a while to resolve. With just one QB officially on the roster in
Steven Bench
, depth was obviously a concern.
Well, it certainly isn't anymore. Bill O'Brien garnered commitments from five players who'll compete at quarterback. And he also convinced four other players -- who were the starting quarterbacks on their respective teams -- to play at other positions at Penn State.
NittanyNation takes a closer look at all these signal-callers:
QUARTERBACKS WHO WILL STAY QBs
Christian Hackenberg, Fork Union (Va.) Military Academy
Stats:
Passing -- 156-of-291; 2,144 yards, 24 TDs, 9 INTs. Rushing -- 89 carries, 436 yards, 3 TDs.
Status:
Committed (scholarship)
Synopsis:
He's the top-rated high school quarterback in the nation. He can make all the throws, has a great arm, and his potential is endless. He just needs to familiarize himself with the playbook and better learn to read defenses. Opposing coaches said he had difficulty picking up disguised coverages and blitzes. He's obviously Penn State's quarterback of the future.
To continue reading this article you must be an Insider
January, 28, 2013
1/28/13
9:06
PM ET
Chris Geiss
remembers milling around the Nittany Lion Inn back when he was in grade school, standing near his parents' side when a familiar face in Coke-bottled frames strolled past.
He wasn't yet old enough to watch a PG-13 movie, but he instantly knew who that man was. Joe Paterno. He extended his little arm, while Paterno smiled and told the fresh-faced youngster something that stuck with him all these years later: "He said one day I'll be playing football up there," Geiss remembered.

On Monday, Geiss finally realized his dream -- and discovered Paterno was right all those years ago -- when he accepted a preferred walk-on offer to play at Penn State.
To continue reading this article you must be an Insider
BIG TEN SCOREBOARD
Thursday, 9/3
Friday, 9/4
Saturday, 9/5
Sunday, 9/6
Monday, 9/7