Penn State Nittany Lions:

Carl Nassib
August, 26, 2013
8/26/13
12:30
PM ET
Penn State's
depth chart was released
on Monday and, much to no one's surprise, a starting quarterback was not named. An "OR" appears next to the names of
Tyler Ferguson
and
Christian Hackenberg
.
Still, there were a few notable changes on the depth chart and in the game notes:
Adam Gress was nursing an injury last week, and he was not listed as the definite starter at right tackle. He's still battling with TE-turned-OT Garry Gilliam. Bill O'Brien will likely update Gress' progress on Tuesday.
Von Walker, a run-on whom O'Brien complimented last week, is listed as competing for the No. 2 kickoff return spot with Akeel Lynch. Walker is an athlete whom PSU hopes to utilize as a slotback. This might be the biggest surprise on the depth chart. You can read more about Walker here.
D.J. Crook is listed as the third-string quarterback. He was competing with Austin Whipple and Jack Seymour for the No. 3 spot. He was listed as the third-stringer on the post-spring depth chart as well.
Bill Belton is still listed as the No. 2 tailback, ahead of Lynch ... but that likely doesn't mean much. Both will see carries.
There's an "OR" listed next to Malcolm Willis' name, signifying he's still competing with Ryan Keiser at safety. Willis is obviously expected to be the starter -- barring injury. O'Brien will undoubtedly be asked about that on Tuesday.
Middle linebacker Glenn Carson is still listed as the snapper at punter, despite picking up a run-on whose specialty is snapping and having Howle snapping on field goals.
February, 17, 2013
2/17/13
12:00
PM ET
STATE COLLEGE, Pa -- Three small children, between the ages of 3 and 5, weren't intimidated by Penn State's mammoth football players. A boy in a blue hat, who just reached
Kyle Carter
's waist, instead actually tried to intimidate the 6-foot-3 tight end.
"Boo!" he yelled, giggling furiously once Carter and two other players --
Carl Nassib
and
Brian Gaia
-- feigned being frightened.
"



They're fighting for their lives every day and, just being able to see them fight and be happy, it's really inspiring.



"


-- Penn State DE Brad Bars
"Boo!" his brother joined in. Soon enough, all three siblings were joining in a chorus more fit for Halloween. "Boo!" Laughter. "Boo!" More laughter.
The children were part of the 28 Make-A-Wish families who descended on the Lasch Football Building to hang out with the football players, tour the facilities -- and even try on some pads and uniforms in the locker room. Saturday afternoon's event was part of THON weekend, which is centered around a student dance marathon that helps raise money to fight pediatric cancer. Just last year, THON helped raise $10.68 million.
"Every time, it just gets better," Carter said. "This is definitely the most [players]. I'm not sure if guys are just feeling they really wanted to give back this year; I just feel like the whole team is here today. I can't think of one guy who is not here."
Even true freshman
Adam Breneman
, who's been enrolled about a month, slowly walked through the building's hallways -- stopping every so often to point out the meaning of plaques or what goes on in certain rooms.
Donovan Smith
, a 316-pound offensive tackle, couldn't have caused more laughter -- well, maybe with his teammates-- if he had slipped on a purple dinosaur costume.
Steven Bench
chatted up any adult or kid within earshot.
September, 21, 2012
9/21/12
10:30
AM ET
It started out as a joke and ended with a hashtag.
Early last season, six of Penn State's Class of 2011 recruits began calling their close-knit group the "Supa Six," and the nickname recently caught on. They're now ending their tweets with #supasix, and fans have embraced the nickname.
Three redshirt freshman are part of the group:
Deion Barnes
,
Kyle Carter
,
Donovan Smith
. And three sophomores:
Adrian Amos
,
Bill Belton
and
Allen Robinson
.
[+] Enlarge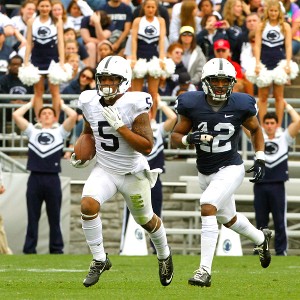 AP Photo/Keith SrakocicPenn State sophomore RB Bill Belton, who is one of the 'Supa Six,' is also regarded by teammates as one of the team's toughest tailbacks to bring down.
Just don't ask their teammates to embrace it. Even if the six are all starters.
"I don't really care what those guys do," said quarterback
Matt McGloin
. "As long as they play good Saturday, they can call themselves whatever they want."
Barnes, who leads the team in sacks (3), said the group -- ahem, Supa Six -- worked together in the offseason. He knew the extra work would pay off, "but we didn't know it was going to happen this fast."
Offensive guard
John Urschel
was also quizzed this week about the Supa Six. He seemed slightly confused and then answered in such a way that his eye-rolls could be heard over the phone.
"I'm not really on top of this Supa Six thing, to be perfectly honest," he said. "I think they have T-shirts or have a sign with their hands. I'm not really up to speed."
With the six already committed to finish their careers at Penn State, expect to hear a lot from them for two more seasons. All of them will likely finish their careers as three-year or four-year starters.
Hardest to tackle?
Mike Hull
was asked, in practice, to name the tailback who is the toughest to bring down. He thought for a moment but then came up with two -- and it wasn't two of the heavier players.
"Bill Belton's pretty tough because he's so shifty," Hull said. "So, whenever you're in the open field, it's pretty tough. But
Derek Day
brings an X factor because he can run you over, too. They're surprisingly physical."
Best defense:
Temple's defense is ranked No. 45 in yards allowed, one spot ahead of Ohio, but two Penn State players believe this weekend could be the offense's toughest test of the early season.
McGloin and Urschel voiced some concerns with an Owls defense that has the most experienced secondary they've seen so far.
"We have our work cut out for us this week," McGloin said, "and we're trying to watch as much football this week and prepare for, probably, the best defense we've played so far."
Philadelphia connections:
Seven Penn State players hail from the Philly area --
Anthony Alosi
,
Mark Arcidiacono
,
Joe Baker
, Barnes,
Pete Massaro
,
Carl Nassib
and
Pat Zerbe
.
Temple coach Steve Addazio pointed to Barnes as the type of player he needs to recruit.
"You're hoping to get a few of those guys, and that'll happen," Addazio said. "That's part of the growth of where we're at. ... There's so much talent surrounding Philadelphia, and those are things we're trying to get done."
Biggest player surprise:
What player has most exceeded expectations this year? According to Urschel, the answer is linebacker
Ben Kline
.
"I'd say that Ben Kline has been doing a great job for us," he said. "He's been doing a phenomenal job for us on special teams. ... He's been a very good player for us, very physical player. He's been making some plays for us; he's going to be one of our great linebackers in future years."
Penn State 2015 Class Debuts At No. 3
BIG TEN SCOREBOARD
Thursday, 8/28
Saturday, 8/30