Penn State Nittany Lions:

Brian Gaia
November, 19, 2013
Nov 19
4:30
PM ET
STATE COLLEGE, Pa. -- Coach Bill O'Brien announced Tuesday that three Penn State players will forgo their final seasons of eligibility and be honored Saturday along with the seniors.
Here's a look at each player, what he has meant to the team and who will be taking his place next season:
DT Kyle Baublitz, 6-foot-5, 281 pounds
Season stats:
Started seven out of 10 games. 17 tackles, two sacks, one blocked kick.
Synopsis:
Baublitz announced Saturday he decided to move on with his life and will perform student-teaching next year at State College Area High School instead of starting along the PSU interior. He will be missed immensely, as he was expected to start alongside
Austin Johnson
in 2014 as the clear No. 1. His departure leaves PSU in a very difficult spot with
DaQuan Jones
graduating. PSU clearly doesn't feel very good at this position because it continues to go after juco defensive tackles -- and it wouldn't be out of the question for a first-year player to make an impact next year either.
Taking over:
No returning defensive tackles have a lot of experience (i.e. --
Derek Dowrey
and
Brian Gaia
), so the smart money would be on defensive end
Anthony Zettel
moving inside. Zettel said several weeks ago he feels confident he can make an impact along the interior, and PSU could certainly use him. PSU likes to use at least three players on a rotation, so expect Zettel-Johnson to start inside with another guy -- possibly a first-year player -- also seeing a good amount of time.
RT Garry Gilliam, 6-6, 303
Seasons stats:
Played in nine games and started four. Helped PSU average 4.2 ypc.
Synopsis:
Gilliam is easily the most surprising of the bunch. He moved from tight end to offensive tackle in the offseason, and he has done a tremendous job at transitioning. He has battled
Adam Gress
for the starting spot all season and, if he returned next year, he'd almost certainly be the starter opposite LT
Donovan Smith
-- especially considering the other competition, Gress and
Eric Shrive
, are set to graduate. There's not a lot of options at offensive tackle with Gilliam leaving.
Taking over:
O'Brien has been high on freshman
Andrew Nelson
all season, and he could be the heir apparent. There really aren't too many other options.
Anthony Alosi
can play both guard and tackle -- but he'll be the only other returning player who's listed as a tackle on the roster. PSU needs to replace two inside linemen, too, so moving a guard to the outside will require quite a bit of forward thinking.
WR Alex Kenney, 6-0, 195.
Season stats:
Played in six games with zero starts. Has three catches for 25 yards.
Synopsis:
He's the least-surprising player to graduate early. He came in to Penn State as a four-star recruit, but he never really made an impact. He always seemed to be a track athlete in a football uniform. He was supplanted this season by freshman
Richy Anderson
, and he hasn't caught a pass since Week 3. Even with PSU's top-two receivers likely leaving after this season, Kenney still wouldn't have seen time next season.
Taking over:
Anderson has already taken over for Kenney, so it's not much of a stretch to think he'll stay at his slot position. Anderson has 11 catches for 95 yards so far.
November, 2, 2013
Nov 2
6:15
PM ET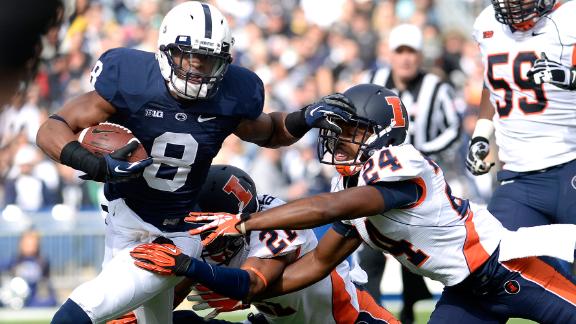 STATE COLLEGE, Pa. -- Offensive guard
Miles Dieffenbach
watched the referees walk back the go-ahead touchdown in overtime. He watched the points disappear off the scoreboard.
He couldn't have been blamed for harvesting a few doubts at that point. Blame the inevitable loss on dumb luck, a holding call, or take solace in an eventual field goal. But Dieffenbach said this team's been through some hard times -- through players leaving, unprecedented sanctions, a 63-14 thumping against OSU -- so playing against the odds in a simple overtime game? He didn't dwell.
For Penn State, it was just more of the same old, same old.
Dieffenbach turned to his freshman quarterback in the huddle, on third-and-11 from the 15, and told him he was moments from throwing the game-winning TD. Other offensive linemen patted his helmet and told him similarly. Dieffenbach just remembered
Christian Hackenberg
smiling back -- seconds before finding tight end
Kyle Carter
on a 15-yard touchdown strike, minutes before an interception would seal another Penn State comeback win.
[+] Enlarge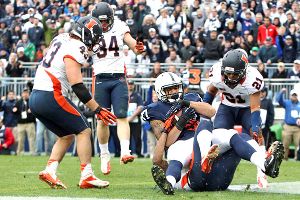 Matthew O'Haren/USA TODAY SportsPSU tight end Kyle Carter hauls in a 15-yard touchdown catch in overtime.
"Hell of a ride, know what I mean?" Dieffenbach said, shaking his head. "There are some crazy games we've had in the past. I have all the trust in Christian; I tell him that all the time. I wouldn't expect anything less. I expect us to win those games."
This win didn't say Penn State's a great team. It didn't even say that PSU's a good team. Bill O'Brien took the dais after the game, shook off any notion of this being a fortunate win -- "You're fortunate to win the lottery," he countered -- and said he still thinks Penn State
has a chance
to be a good football team.
Carter, who admittedly made the play of his career, agreed. Penn State is not a great team. Not yet. But it's getting there.
"We're not there yet. We haven't proved yet that we're a great team," he added. "Great teams beat other great teams. And we just got to definitely keep doing what we're doing."
But that's not say this win meant nothing, that it should be filed away and not celebrated. The Nittany Lions did prove one fact beyond a reasonable doubt on Saturday afternoon, in front of fans bundled up in winter jackets and praying the rain would hold off: You can never count Penn State out.
Trailing by a field goal, with about five minutes left, O'Brien's squad drove 69 yards before a fumble on the 2-yard line halted the drive. For most teams, that would've spelled game over. For Penn State, it just meant a win would take a little longer. Hackenberg spent time on the sideline calmly talking with
Richy Anderson
and
Bill Belton
; he told the media, at that point, he knew the game wasn't over.
"We got scrappers," he said.
PSU's struggling defense held Illinois to a three-and-out. And, then, PSU got the ball back at midfield with no timeouts and 1:44 left. Just like two games ago against Michigan, PSU knotted the game up at the end of regulation. And just like two games ago, the Lions sprinted on the field in ecstasy at the end of overtime -- but not in disbelief.
Dieffenbach said he expected this. He put his arm around the smiling freshman quarterback and told him he loved him. Right tackle
Garry Gilliam
patted Hackenberg on the shoulder and bobbed his head before sprinting toward the railing to high-five the student fans.
Adam Breneman
and
Brian Gaia
embraced.
Illinois had a bowl bid on the line. Penn State, on paper, had nothing really. Except pride. But like the scrappy, hard-headed boxer who gets beaten down time and time again, Penn State bounced right back up.
The defense took a beating at times. The offense struggled in the red zone. But, just when the bout seemed lost, when these Lions were down for the count, they delivered a knockout blow and grabbed the unlikely win.
This isn't a great team, but it sure is a gutsy team. The win doesn't say it's good either, but it does say -- with a large, bolded exclamation mark -- that it is something else.
"It does say we're resilent," Carter said. "We're a resilient bunch of guys."
August, 7, 2013
Aug 7
9:00
AM ET
As part of an ongoing series, NittanyNation will preview a different position leading up to the season opener against Syracuse on Aug. 31. Up today: Defensive tackles.
Projected starters:
DaQuan Jones
(2012 stats: 22 tackles, two tackles-for-loss, one fumble recovery) and
Kyle Baublitz
(three tackles, one sack).
Key losses:
Jordan Hill
(64 tackles, 8.5 tackles-for-loss, 4.5 sacks, one interception, one forced fumble, one fumble recovery) and James Terry (13 tackles, one sack).
Next in line:
Redshirt freshman
Austin Johnson
might not be next in line -- he could very well overtake Baublitz as a starter. Bill O'Brien said on his weekly radio show last season that he expected big things out of the younger defensive tackle, and he's already 21 pounds heavier than Baublitz.
[+] Enlarge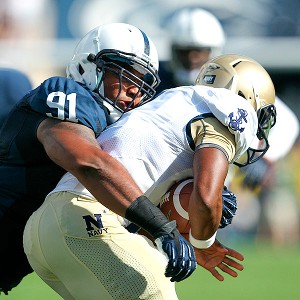 Vinny Carchietta/Icon SMIHow Penn State's defense performs in 2013 will be dependent on how DaQuan Jones plays at defensive tackle.
Regardless, the top three players at this position should see plenty of time. The big question is just who comes in at No. 4. That would be a logjam, and none of the options are all that exciting just yet.
Derek Dowrey
,
Brian Gaia
and
Tyrone Smith
will all compete to see who sees situational time a la Baublitz in 2012. True freshman Parker Cothren likely needs a redshirt season to add bulk before he sees any time on the field.
What to expect
: Huge expectations are being squarely placed on the shoulders of Jones, and he'll need to match Hill's performance to live up to all the hype. Gil Brandt recently
named Jones the top senior DT in the country
-- which was a little surprising considering he made just 12 tackles in the last nine games once Hill faced fewer double-teams and stepped up his game. By comparison, Jones made 10 tackles in the first three games.
For this defensive line to find success, Jones will have to become quickly accustomed to those double teams -- because it'd be an even bigger surprise if teams sent just one interior lineman after him. This position is one of the bigger concerns on the team because, even if the 318-pound Jones does succeed, his other starting teammate will likely be overmatched this season.
Baublitz appears to be a band-aid until Johnson is ready to take off. And Johnson undoubtedly boasts a high ceiling -- but it doesn't seem as if this is the season it will all come together. If the staff had that much faith in him, he would've initially been named starter over Baublitz. Expect PSU's 23rd-ranked run defense to drop, at least a little, in the rankings.
Recruiting trail:
The Nittany Lions have already picked up one 2014 prospect in
Antoine White
(Millville, N.J./Millville), a three-star commit whom ESPN scouts label a "tweener" but who also "gives good effort in pursuit and is a solid wrap-up tackler."
He's about 270 pounds right now, so he needs to bulk up. But PSU's staff really liked the explosiveness of his first step and like his attitude. His high school coach said he and a teammate constantly put in extra work, and White was the lone junior captain on his team last season.
PSU also appears intent on grabbing at least one more DT, likely either ESPN 300 prospect
Thomas Holley
(Brooklyn, N.Y./Lincoln) or a junior college DT such as
Joe Keels
(Highland, Kan./Highland C.C.).
Best-case scenario:
Jones picks up right where Hill left off and becomes an unstoppable run-stuffer who lives up to Brandt's top billing. PSU's No. 23 run defense holds steady, while Johnson breaks out and shows fans that he'll be a four-year starter.
Worst-case scenario:
Jones initially struggles with double teams and gets hurt later in the season, leaving an inexperienced Johnson and a limited Baublitz as the starters. Those two struggle, and Big Ten running backs set up their respective offenses by running straight up the middle.
Top position question:
If Jones falters, what happens to this defense?
Penn State can't withstand mediocre performances at defensive tackle and linebacker. If Jones doesn't live up to expectations, it'll have an ripple effect on the entire defense.
If Jones doesn't play well, that means more work for middle linebacker
Glenn Carson
-- who's been the beneficiary of some great DTs in NFL draft picks Hill and Devon Still. Jones is crucial to this defense's success in a lot of ways, and it was able to overcome a young secondary last season by limiting opponents to 3.54 yards a carry on the ground. If Jones struggles, those rushing numbers increase.
And if those rushing numbers increase? PSU allowed more than four yards a carry in just two of the last 10 seasons. In 2003, it allowed 4.29 yards a carry and finished with a 3-9 record. In 2010, PSU allowed 4.46 yards a carry and went 7-6. In other words, if Jones falters and the run defense struggles, then it might become tricky to get to eight wins.
March, 28, 2013
Mar 28
9:00
AM ET
STATE COLLEGE, Pa. -- Every spring, a few players step up and offer the first glimpses of an upcoming breakout season. Often, the media can only guess and project since they're not at every practice, weightlifting session and team meeting.
The players, however, are there and can see who might be the next
Deion Barnes
or
Allen Robinson
. So, NittanyNation polled several players inside the Lasch Football Building on Wednesday and also took information from Wednesday teleconferences.
The question: Who's made the biggest impact this spring or who's been the biggest surprise? Here's what Penn State's veterans had to say:
Linebacker Glenn Carson:
"I'm really impressed with
Jesse James
. He's had a great winter. That kid's just an animal. I'm really excited to watch him play this year. I think he's a freak athlete. I think he can do amazing things. And if you haven't been impressed by him yet, I think you're going to be even more impressed by him next year."
Offensive guard John Urschel:
"
Ty Howle
is a great center and a great football player. I'd say he's one of the most underrated football players on our team. You don't hear about him enough. I don't think you guys talk about him enough. I don't think we're going to have any problems with him playing at center."
[+] Enlarge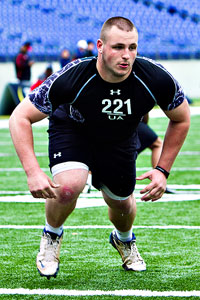 Davide De Pas for ESPN.comCould defensive lineman Brian Gaia break out for the Nittany Lions in 2013?
Defensive tackle DaQuan Jones:
"I really think
Austin Johnson
,
Derek Dowrey
and
Brian Gaia
. They're young, but they're showing a lot of ability. They're going to be great down the road. I'm happy seeing their competitiveness in spring ball."
Safety Malcolm Willis:
"It's a number of guys. If I had to pick one, it'd probably be John Urschel. He comes in every day early and gets his workout in early. And pound for pound, he's probably one of the strongest guys on the team.
Mike Hull
, he's another guy who works his butt off.
Adrian Amos
.
Zach Zwinak
-- I work out with him in the weight room every day, and the amount of weight he can put up, it's crazy. Those are a couple of the guys who have really impressed me so far."
Offensive tackle Adam Gress:
"I'd have to say a lot of the defensive linemen are coming along. All of the younger guys are really working hard, and the guys I was playing against on the scout team last year, now those guys are players. They're people we compete with. So that group's made a lot of progress. ... Austin Johnson's definitely made a lot of progress."
Linebacker Mike Hull:
"
Nyeem [Wartman]
has looked good so far. He's doing a great job filling in. I think he's going to be a great player for us. We just need to all come together as a unit. He's looking good so far, so we just have to see how he progresses."
Defensive end Deion Barnes:
"I think it would be
Kyle Baublitz
. I think he's doing a great job right now. Whoever's been talking to him has done a great job because he's come out of his shell. I've never seen him like this before."
February, 28, 2013
Feb 28
11:00
AM ET
STATE COLLEGE, Pa. -- With spring drills just a few weeks away, NittanyNation decided to break down several of the brewing position battles.
To continue reading this article you must be an Insider
February, 17, 2013
Feb 17
12:00
PM ET
STATE COLLEGE, Pa -- Three small children, between the ages of 3 and 5, weren't intimidated by Penn State's mammoth football players. A boy in a blue hat, who just reached
Kyle Carter
's waist, instead actually tried to intimidate the 6-foot-3 tight end.
"Boo!" he yelled, giggling furiously once Carter and two other players --
Carl Nassib
and
Brian Gaia
-- feigned being frightened.
"



They're fighting for their lives every day and, just being able to see them fight and be happy, it's really inspiring.



"


-- Penn State DE Brad Bars
"Boo!" his brother joined in. Soon enough, all three siblings were joining in a chorus more fit for Halloween. "Boo!" Laughter. "Boo!" More laughter.
The children were part of the 28 Make-A-Wish families who descended on the Lasch Football Building to hang out with the football players, tour the facilities -- and even try on some pads and uniforms in the locker room. Saturday afternoon's event was part of THON weekend, which is centered around a student dance marathon that helps raise money to fight pediatric cancer. Just last year, THON helped raise $10.68 million.
"Every time, it just gets better," Carter said. "This is definitely the most [players]. I'm not sure if guys are just feeling they really wanted to give back this year; I just feel like the whole team is here today. I can't think of one guy who is not here."
Even true freshman
Adam Breneman
, who's been enrolled about a month, slowly walked through the building's hallways -- stopping every so often to point out the meaning of plaques or what goes on in certain rooms.
Donovan Smith
, a 316-pound offensive tackle, couldn't have caused more laughter -- well, maybe with his teammates-- if he had slipped on a purple dinosaur costume.
Steven Bench
chatted up any adult or kid within earshot.
December, 24, 2012
12/24/12
9:00
AM ET
Over the next week, NittanyNation will look at different players from the 2012 class that could make a big impact next season
No. 4 player to watch
: DT
Austin Johnson

He may have redshirted his first season, but he traveled with the team and was listed as the team's third-string defensive tackle. With the graduations of
Jordan Hill
and
James Terry
, Johnson could be the next man up in 2013.
He appears to be further along than the other defensive tackles in the 2012 class (
Derek Dowrey
,
Brian Gaia
), and the competition among the interior isn't all that deep. Outside of redshirt sophomore
Kyle Baublitz
and starter
DaQuan Jones
, the only other player listed on the depth chart at this position was
Anthony Zettel
, a 253-pound player more accustomed to defensive end.
In other words, it's highly likely Johnson sees time next season, and he'll compete with Baublitz for the starting job. At 297 pounds, Johnson is already 10 pounds heavier (and one inch shorter) than Baublitz, so his youth isn't exactly a hindrance to his frame.
Johnson made an immediate impact in preseason camp and became one of just a handful of freshmen who found themselves on the depth chart. He could've played in 2012, but it wasn't necessary because the Nittany Lions' boasted three experienced upperclassmen.
With two of them leaving, though, Johnson could very well be a surprise in 2013. He's definitely a player to watch.
Quotables
: He's "going to be a force to be reckoned with." -- Bill O'Brien
September, 11, 2012
9/11/12
11:00
AM ET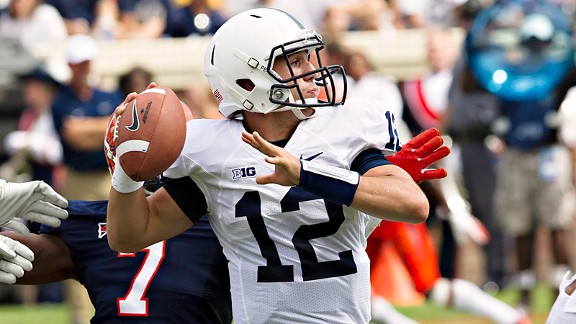 Lee Coleman/Icon SMITrue freshman quarterback Steven Bench subbed in for a banged-up Matt McGloin against Virginia and looks to have assumed the backup quarterback position for the Nittany Lions.
The season is only two weeks old, but the redshirt picture is already becoming a little clearer.
Four true freshmen are listed on the depth chart but haven't seen any time on the field. Six freshmen have already burned their redshirts. And three are still in limbo.
NittanyNation takes a closer look at the impact the true freshmen have had so far and what to expect going forward:
To continue reading this article you must be an Insider
August, 15, 2012
8/15/12
3:00
PM ET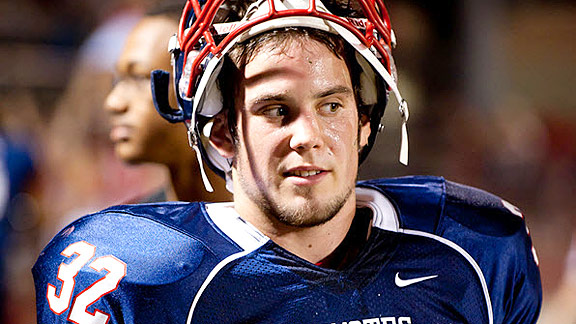 Courtesy of Brandon FranklinAs the first player to commit to Penn State following the NCAA sanctions, Brennan Franklin's the wild card of the class of 2012. If he develops, he could turn into the ultimate recruiting steal.
The defensive players in Penn State's 2012 recruiting class are not the most heralded the Nittany Lions have ever snagged. But defense has been a strength of Penn State since before some of these recruits' parents were born -- and that's not expected to change.
Four-star defensive tackle Brian Gaia heads the incoming defensive class, and several three-star players could see the field this year as most players might be asked to step up sooner than later due to the NCAA sanctions. So NittanyNation takes a closer look at each defensive recruit and breaks down what ESPN's scouts had to say before each player wound up in Happy Valley.
To continue reading this article you must be an Insider
Penn State vs Wisconsin Highlight