Penn State Nittany Lions:

Brad Bars
October, 24, 2013
10/24/13
8:00
AM ET
Injuries are an unfortunate part of the game. Every team must deal with them, but some teams get hurt harder than others. Today, we're taking a look at the teams that have been impacted the most this season. Here's our ranking of the top three:

1. Northwestern:
Injuries have played a major role in the Wildcats' 0-3 start in Big Ten play. All-American kick returner and star tailback
Venric Mark
has been healthy enough to play exactly one full game -- against Ohio State. Quarterback
Kain Colter
has been banged up just about all season as well. Both were reinjured at Wisconsin and missed all of last week's loss to Minnesota. In addition, top defensive tackle
Sean McEvilly
has played in only three games, while starting cornerback
Daniel Jones
suffered a season-ending knee injury in the opener at Cal.

2. Penn State:
The Nittany Lions had major depth issues to begin with because of NCAA sanctions. It hasn't helped that they have also dealt with a series of injuries. Tight ends
Matt Lehman
and
Brent Wilkerson
and defensive end
Brad Bars
were lost for the season. Linebacker
Mike Hull
was hurt for most of the first two months, as was tight end
Kyle Carter
. Wide receiver
Brandon Felder
missed the Indiana loss with an ankle problem. Linebacker
Ben Kline
has been limited after offseason shoulder surgery. Safety
Ryan Keiser
has been dealing with a hand injury since the Kent State game. This team can't afford many more injuries as it approaches the homestretch of the season.

3. Nebraska:
The Huskers' injury problems haven't adversely affected them -- at least not yet. Still, it's never easy when you lose your four-year starting quarterback, and
Taylor Martinez
hasn't played since Week 3 versus UCLA because of turf toe. He could be back this week, but All-American guard
Spencer Long
was lost for the season in the last game against Purdue with a knee injury. He'll be tough to replace.
August, 6, 2013
8/06/13
9:00
AM ET
As part of an ongoing series, NittanyNation will preview a different position leading up to the season opener against Syracuse on Aug. 31. Up today: Defensive ends.
[+] Enlarge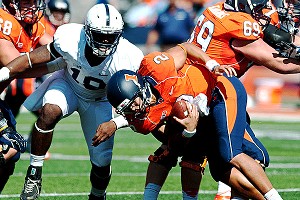 Bradley Leeb/USA TODAY SportsPenn State's Deion Barnes is primed for a big season.
Projected starters:
Deion Barnes
(2012 stats: 26 tackles, 10 tackles for loss, six sacks, three forced fumbles) and
C.J. Olaniyan
(2012 stats: 15 tackles, one sack, one start).
Key losses:
Sean Stanley (2012 stats: 35 tackles, 9.5 tackles for loss, four sacks) and Pete Massaro (2012 stats: eight tackles, one tackle for loss, five starts).
Next in line:
Anthony Zettel
will see increased time this season as the top backup in the rotation. He's slightly bigger than Olaniyan (6-4, 258 compared to 6-3, 244) and he finished third on the team in sacks last fall with four.
DE
Brad Bars
is lost for the season, so that means defensive coordinator John Butler will have to turn to some more inexperienced players to back up those three.
Evan Schwan
is at the top of the list after redshirting last season, and true freshman
Garrett Sickels
could also compete for immediate playing time. Sickels was the top defensive recruit of the 2013 class and is already more physically imposing than Schwan.
What to expect:
These defensive ends should have no problems with the pass rush. DL coach Larry Johnson has routinely put together lines that finish in the Top 25 in sacks, and both ends are quick, athletic players. Barnes was named Big Ten freshman of the year, and Olaniyan will bat down his fair share of passes this season.
PSU finished 15th in the nation in sacks (34) in 2012, and that number should be pretty similar this season. Barnes should even increase his numbers a bit. That being said, the pass rush is clearly the ends' forte here. Barnes worked on developing his run-stopping skills this offseason because he admitted that was one part of his game that needs to get better.
Last season, the ends struggled at times with keeping runs to the outside bottled up. Still, PSU's run defense wasn't a consistent issue last year -- and it shouldn't be a big one for the ends this year. Run defense just doesn't appear to be as big of a strength as the pass rush.
Recruiting trail:
Penn State brought in two defensive ends -- Sickels and
Curtis Cothran
-- in the 2013 class, so it's not expected to take any in this 2014 class. The 2015 class, however, is another story.
Darius Fullwood
(Olney, Md./Good Counsel) impressed the staff during a June camp and already has a PSU offer next to his name. O'Brien spoke to the defensive end on June 8 and already told him the staff could foresee him playing early at PSU. He's No. 225 on the ESPN Junior 300, and he'll be one player the staff keeps a close eye on.
Best-case scenario:
Barnes posts Aaron Maybin-like numbers and gains national recognition after a strong rookie debut, while Olaniyan proves he's slightly better than the Massaro-Stanley combination from a year ago.
Worst-case scenario:
Injuries plague the line, and Schwan or Sickels are forced to see more action than they usually would. The rush defense becomes the biggest issue of the front seven, and that throws the entire defense off kilter.
Top position question:
How good can Barnes be?
Well, after just one season, it's pretty clear Barnes has a future in the NFL. He's one of the top overall players on this team, and it's scary to think he has three seasons left.
His parents said,
prior to last season, he aimed for 13 sacks
. "And when he didn't get that, he was disappointed," his mother said. And reaching double-digit sacks this season is a possibility.
But let's get right to the heart of the question. Barnes has the ability to go down as one of PSU's best pass-rushers of the 2000s. And, if he does reach 10 sacks this season, the record-breaking chatter will undoubtedly start. Courtney Brown holds the school record with 33 sacks; Barnes will need to average nine sacks over the next three seasons -- if he doesn't declare early for the NFL draft -- to tie that record. It's possible.
After all, by Barnes' count, he
should've had 10 sacks last year anyway
. Regardless of the numbers he winds up with, he's arguably the top pass-rusher in the conference already. And he'll only get better.
August, 5, 2013
8/05/13
9:00
AM ET
STATE COLLEGE, Pa. -- Bill O'Brien's voice will soon regularly echo across the practice field.
Allen Robinson
will soon continue cementing his legacy as one of PSU's best. And
Deion Barnes
will, once again, soon start giving quarterbacks a case of happy feet.
Monday marks the start of training camp and a new season, which comes on the heels of one of the most memorable performances in school history. PSU shocked the nation with a gutsy 8-4 record last season ... but that was last season.
The Nittany Lions are trying to take another step forward in 2013, and it won't be easy. The limited roster has its fair share of question marks, so NittanyNation's outlined a few of the bigger ones:
Who will become the QB, and can he succeed?
[+] Enlarge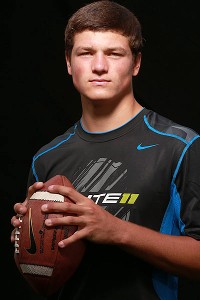 Tom Hauck for ESPN.comPenn State freshman Christian Hackenberg was the No. 1 quarterback prospect in the nation last year.
It's a two-man race between
Christian Hackenberg
and
Tyler Ferguson
-- and Ferguson, the juco signal-caller, didn't do himself any favors. He missed about a month of voluntary workouts, so he's going to have to get re-acclimated ASAP.
O'Brien tried to downplay Ferguson's absence, but safety
Malcolm Willis
spoke candidly at the Big Ten media days
: "If it was me, I would have trouble picking things back up and just being away from the team."
Few analysts are betting against the fresh-faced rookie, in Hackenberg, to start. He was the top-rated quarterback in his class, the 15th-best prospect in the nation, and he's eyeing immediate playing time. O'Brien insisted starting a true freshman like Hackenberg would not be unusual, and it looks a lot better for Hackenberg than it did a month ago.
It's an open competition, and O'Brien hoped to name a starter midway through camp. But whoever takes over isn't going to have an easy time. Sure, Matt McGloin picked up a complex offense in a short period of time -- but he was used to facing Big Ten defenses and digesting college-level playbooks. His touchdown-interception ratio (24:5) was one of the best in PSU history, and it would be hard for even an experienced quarterback to match those numbers.
Quarterback is really the only question mark on this offense. But it's a big one. If PSU succeeds here, it doesn't just bode well for 2013 -- it gives fans hope for 2014, 2015 and 2016. This is the biggest storyline on the team, and it's one that will be watched closely all season.
Can this front seven match last year's performance?
Michael Mauti and Gerald Hodges formed the best LB tandem in the conference and one of the best in the nation last season. PSU was the lone school to place two linebackers on the semifinalist list for the Butkus Award. And
Jordan Hill
was an All-Big Ten player who
dominated the season finale in a fashion that few defensive tackles have done before.
Those three key players are gone, and it's really not up for debate whether this front seven will be as good as last year. It won't ... but just how good can it be? Players like MLB
Glenn Carson
and OG
John Urschel
have pointed to LB
Mike Hull
as the guy who's impressed them the most this offseason. He's been a staple of any "Players poised to break out" lists, and he'll be carrying a full-time workload this season as opposed to situational playing time.
Hull is a special player, but the young LB lining up on the other side of the field is where the concerns start.
Nyeem Wartman
made an early mark last season with a big punt block but was lost for the year just one week later. Defensive tackle is also a huge concern without Hill. Big things are expected out of
DaQuan Jones
, whom Gil Brandt
named as the top senior DT in the country
, but
Kyle Baublitz
and
Austin Johnson
will be taking on a much bigger role this season. Johnson has potential, but it's not yet known if either player will be a force in 2013.
How will PSU counter the depth issues?
Get used to this question because it'll be asked until the sanctions finally end. O'Brien wants to lessen some of the hitting in practice, and he's often said he boasts a "next man up" philosophy. When someone goes down, there's no hesitation -- that next player has to and will be ready.
That's a nice philosophy to have, but there are just key areas on this team that can ill afford injuries of any type -- such as linebacker, quarterback and defensive tackle. (Without
Brad Bars
, PSU has just one experienced backup DE in
Anthony Zettel
. Ditto at LB in
Ben Kline
.) There are some run-ons to choose from and a class of 16 recruits, but it's no secret that the overall quality of this team will suffer with each and every injury at those key places.
O'Brien was able to keep his players fresh in the trenches with a nice rotation last season, and it wouldn't be a big surprise if some players -- such as DT Jones -- sit out in, say, the fourth quarter of the Eastern Michigan contest. Also, there's a good chance fans won't see too many Wisconsin repeats this year -- where
Zach Zwinak
carries the ball 36 times.
There's only so much O'Brien and Co. can do here, though. Ultimately, a lot of it comes down to preparing the players and then just crossing fingers and hoping everyone stays healthy. A healthy Penn State could become a BCS buster; an unhealthy Penn State could struggle getting past .500.
July, 23, 2013
7/23/13
1:00
PM ET
STATE COLLEGE, Pa. -- Three seniors will accompany Bill O'Brien to the Big Ten media days on Wednesday and Thursday in Chicago: offensive guard
John Urschel
, linebacker
Glenn Carson
and safety
Malcolm Willis
.
There's plenty of news surrounding these Nittany Lions, so here are five storylines to keep in mind during the two-day event:
1. Asking the NCAA to reduce the sanctions:
O'Brien opened this door a little bit Friday, saying he
hoped the NCAA would meet him "halfway."
And questions will undoubtedly be thrown his way about those statements. Will PSU make a presentation to the NCAA? Will it just hope, wait and keep its fingers crossed?
Reducing the sanctions would have a monumental effect on the program and the university, so it would be no surprise if that turned into one of the main focuses at the B1G media days. Ohio State athletic director Gene Smith recently said in an interview that he
believed the penalties were "overly harsh."
2. Quarterback "controversy":
It's not just
Tyler Ferguson
vs. Christian Hackenberg that creates an interesting dynamic here. Ferguson hadn't returned to campus as of last Friday and is currently missing summer workouts. Granted, they're voluntary -- but players in the midst of position battles usually don't miss them. O'Brien tried to downplay Ferguson's absence on Friday, saying the media "made a mountain out of a mole hill."
[+] Enlarge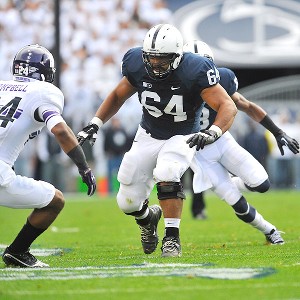 Randy Litzinger/ Icon SMISenior lineman John Urschel will be the keynote speaker at the final luncheon during the Big Ten media days.
Some things are more important than football -- and Ferguson's mother is sick -- but the questions will continue: Does Hackenberg lead now? When does O'Brien plan to announce the starter? And has Ferguson decided when he'll return to campus? The overall picture will remain blurry for a while, but hopefully part of it comes into focus this week.
3. DE Brad Bars' season-ending injury and depth concerns:
Until the end of the sanctions, this will be a continuing theme -- and it seems especially newsworthy now because of Bars missing the season. There isn't much depth at defensive tackle and linebacker, and O'Brien should elaborate more on how he's trying to create, or make up for, depth at those positions.
4. Urschel to be a featured speaker at Thursday luncheon:
He might just be the smartest football player in the Big Ten, and it will be interesting to hear what he has to say. All eyes will be on the All-Big Ten lineman, and he'll be representing B1G players as the keynote speaker.
Michigan quarterback
Denard Robinson was the speaker last season
, and he recounted his difficult upbringing and how his 5-year-old brother died when Denard was just 10 years old. That's a tough act to follow.
5. What kind of leadership will PSU have this season?
With the departures of fiery quarterback Matt McGloin and the soul of the team in Michael Mauti, leadership on this team has obviously taken a hit. Maybe, then, it's no surprise that O'Brien is bringing along what could be considered the team's top three leaders. Teammates have referred to Willis as the "quarterback of the defense," Carson is the most experienced player on defense and Urschel has stepped up and become a vocal leader on offense.
Still, with a first-year quarterback at the helm -- and the departures of
Jordan Hill
, Michael Zordich, Matt Stankiewitch, Gerald Hodges and Stephon Morris -- just how big of a concern is the leadership? Even O'Brien didn't hide just how special of a player Mauti was, and it's somewhat reminiscent of the 2006 season, when PSU had to find an identity following the graduation of Michael Robinson and company.
July, 19, 2013
7/19/13
11:00
AM ET
Welcome to NittanyNation's mailbag! We asked you to tweet or email your questions, and we've selected three to answer in-depth this week.
Jim Murphy writes:
How will Brad Bars' injury impact depth for the Lions this season? Was he poised for significant playing time?
Josh Moyer:
He had high expectations back in February. I last talked to a smiling Bars during Thon weekend, when he volunteered to show host families around the football building. He said this at the time: "I feel like this is the season I'm going to take my game to another level. My expectations have risen a lot. ... I expect to be a key player on the team this year."
To continue reading this article you must be an Insider
July, 18, 2013
7/18/13
5:27
PM ET
Some bad news for Penn State's defensive line as the team announced Thursday afternoon that reserve defensive end
Brad Bars
will miss the season after rupturing his Achilles tendon earlier this week during a workout.

Bars, a redshirt junior, will undergo surgery in the next few days before beginning a rehabilitation plan estimated at 4-6 months, according to team doctor Peter Seidenberg. The 6-3, 251-pound Bars was listed as a backup end on
Penn State's summer depth chart
behind
C.J. Olaniyan
. He appeared in eight games last year and recorded two tackles against Navy.
A two-time academic All-Big Ten selection, Bars redshirted the 2010 season, so he will have just one season of eligibility remaining unless he applies for a sixth year.
"Definitely plan on playing another season and know I have a lot of football left in me," said Bars in a text to
NittanyNation
's Josh Moyer.
Deion Barnes
, the 2012 Big Ten Freshman of the Year, has locked up one starting defensive end spot, and Olaniyan and sophomore
Anthony Zettel
are expected to compete for the other. Bars' injury thins Penn State's depth up front, but if Barnes, Olaniyan and Zettel stay healthy, the Lions should be OK at a traditionally strong position.
June, 13, 2013
6/13/13
3:19
PM ET
Penn State released an updated depth chart today and, although quarterback remains a question mark, some positions certainly became clearer.
Here's a closer look at some of the notable changes:
1. Lots of movement in the secondary.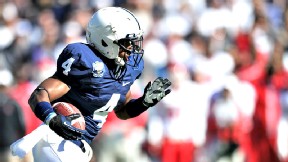 Cal Sport Media via AP ImagesA starting cornerback last season, Adrian Amos currently tops the depth chart at safety.
Adrian Amos
is the top DB for the Nittany Lions, and he shined at cornerback last season. The versatile player practiced a lot at safety this offseason, though, and the depth chart now lists him as a starting safety alongside ... well, apparently, the other starter still isn't a lock.
Stephen Obeng-Agyapong
, who started last season, is listed as Amos' backup. The other starter isn't yet decided, as Bill O'Brien put the "OR" next to
Malcolm Willis
' name, meaning a competition is still under way between him and walk-on-turned-scholarship athlete
Ryan Keiser
.
At cornerback, which saw Amos and the graduated Stephon Morris as the 2012 starters, there are two new names to watch. Sophomore
Jordan Lucas
grabbed one starting spot, while wideout-turned-corner
Trevor Williams
is listed at the other.
Da'Quan Davis
is Lucas' backup.
2. TE-turned-OT Garry Gilliam is now up to 305 pounds.
That's a huge turnaround in less than a year. He played the role of blocking TE last year and started the season at 262 pounds. So, in about 10 months, he's gained 43 pounds. That says quite a bit about PSU's strength and conditioning program. He's currently listed as Dononvan Smith's backup at left tackle.
3. Kyle Baublitz will start alongside DaQuan Jones at DT.
Redshirt freshman
Austin Johnson
received a lot of praise over the spring, and he seemed poised to grab the starting spot. But the more-experienced Baublitz is instead part of the first-string lineup.
Baublitz played in six games last year, and the most recent roster puts him at 286 pounds -- 32 pounds lighter than Jones and 11 pounds lighter than Johnson. He had two tackles and one sack last year.
4. The long-snapper is ... MLB Glenn Carson?
At least for now, it is.
Sean Corcoran
is an incoming run-on who's expected to compete for the starting snapping jobs, so Carson's name there could be short-lived.
5. Bill Belton remains the No. 2 RB, while Brandon Moseby-Felder will still start opposite WR Allen Robinson.
Neither was a big surprise, but there were questions surrounding both players.
Akeel Lynch
is the no. 3 RB, while
Eugene Lewis
-
Matt Zanellato
are the receiving backups. (Lewis should still see a considerable amount of time on the field, obviously.)
Moseby-Felder nursed a leg injury last season, which slowed him down in the early going, and he could be a nice surprise this season. Early enrollee
Richy Anderson
might have garnered his share of pats on the back, too, but he's listed as a fourth-stringer. A redshirt could be in his future.
6. Charles Idemudia is the non-scholarship LB to watch.
Yes, the starting lineup is still
Mike Hull
-Carson-
Nyeem Wartman
... but that was never really in doubt. With just five scholarship linebackers on the roster -- six once
Brandon Bell
gets on campus -- a walk-on was poised to see some time.
PSU's players threw around a couple names, such as
Adam Cole
and Matthew Baney, but Idemudia is the only non-scholarship LB listed on the depth chart.
7. Kick/punt returners listed.
PSU tried a few different players on special teams last season. But as of now Belton and
Alex Kenney
are listed as the top-two kick returners, with
Jesse Della Valle
as the top punt returner. Those three had the most kick/punt returns last season, so it's not a huge shock to see those names again. One interesting change, though? Anderson is the No. 2 PR.
March, 27, 2013
3/27/13
6:19
PM ET
STATE COLLEGE, Pa. -- Bill O'Brien wasn't overly pleased with his quarterbacks at the beginning of Wednesday's practice. The fiery coach yelled early on at the four signal-callers, "You do not want me to play quarterback, because I can't throw."
The media were allowed to attend about 30 minutes of Penn State's fifth spring practice, and the defense seemed to get the better of the offense during a brief battle. Juco quarterback
Tyler Ferguson
took snaps with the the first team during the offense-defense competition, while
Steven Bench
went with the second team. (They alternated first-team snaps during walk-throughs.)
The offense had four chances to reach a first down, and Ferguson opened up by connecting with
Allen Robinson
on a seven-yard pass. That was the offensive highlight of the two series, however, as linebacker
Glenn Carson
stopped
Zach Zwinak
at the line of scrimmage, then Ferguson was nearly "sacked" on a play-action pass.
Bench didn't fare any better and didn't complete a pass in four downs. In what might have been the best overall play, defensive end
Brad Bars
made nice penetration, then leaped in the air to deflect a screen pass. His teammates yelled, "Oooooh," because of the impressive vert, but Bench actually caught the rebound. Still, the play was whistled dead.
Bill Belton
ran twice without much success, and Bench then held on to the ball for what seemed like an eternity. At least two linemen could've sacked him had he not been wearing a red shirt, and he ended up scrambling to the outside. That play also was blown dead.
The offense was forced to do five hit-its as a result of losing the competition. Obviously, eight snaps and a handful of passes don't genuinely reflect the quarterbacks' overall success, but it at least offered a glimpse.
Injury report:
Tight end-turned-offensive tackle
Garry Gilliam
did not take part in practice because of an injury to his right calf. He's week-to-week. ...
Stephen Obeng-Agyapong
(shoulder) and
Kyle Carter
(wrist) wore red shirts but practiced. ... DT
DaQuan Jones
spent the first few minutes of practice with the first team during walk-throughs but was not wearing pads and did not participate in contact drills. The nature of his injury was not immediately clear, but a spokesman said it wasn't serious. ... Tight end
Adam Breneman
also wore a red shirt -- something he didn't do in the first practice -- and had his right arm taped up.
Visitors:
Members of the Cornell coaching staff were on hand to watch practice, and two 2014 recruits also walked around the practice field to take in the sights.
ESPN Watch List QB
Michael O'Connor
(Bradenton, Fla./IMG Academy) and cornerback
Marcus Whitfield
talked to their respective position coaches and watched from the sideline.
Starting lineup:
At wide receiver, Robinson and
Brandon Moseby-Felder
lined up as the starters, while both
Austin Johnson
and
C.J. Olaniyan
practiced with the first-team defense.
In a curious move,
Donovan Smith
was limited while
Eric Shrive
replaced him. Smith received some one-on-one instruction at times, and it wasn't clear if he was injured.
Regardless, it didn't seem serious. Smith is the clear starter, and reporters were told this was the first practice where Smith was treated like that.
Special teams' woes:
The field-goal unit practiced what appeared to be extra points. (The yardage markers run parallel to the posts, so it's not clear.) On one snap, center
Ty Howle
tossed it back a little low and the holder wasn't able to get a handle it.
It rocketed behind the kicker when
Ryan Keiser
couldn't grab it in time. PSU was inconsistent on special teams last season, and mistakes like that are exactly what it can't afford in the regular season.
February, 17, 2013
2/17/13
2:00
PM ET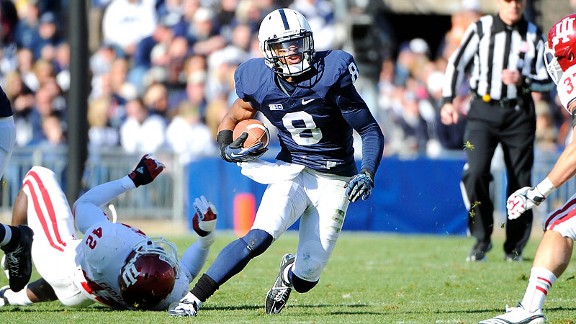 Rich Barnes/US PresswireJunior wide receiver Allen Robinson, who set PSU's single-season record for receptions last season, is working to improve his size and strength.
STATE COLLEGE, Pa. --
Allen Robinson
smiled and cocked his head to the left when asked how he plans to improve, how he hopes to follow up his record-breaking 2012 season.
It's not that he needed to search for words or that he didn't know the answer. The junior wideout just didn't know where to begin.
"I just want to improve all my weaknesses I had in my game last year," he said matter-of-factly.
After setting a school record with 77 receptions, Robinson's weaknesses might not be so evident. His route-running and leaping ability set him apart and made him one of the most dangerous wideouts in the Big Ten.
He finished his first year as a starter with 1,013 yards and 11 touchdowns, more than twice as many as Penn State's No. 2 target. But, on Saturday afternoon, he rattled off a list of improvements almost as long as his list of accolades.
First off, he said, he needs to increase his weight and improve his diet. He finished 2012 hovering around 198 pounds, so he felt tired and sore as the season wore on. He's now eating three meals a day --- instead of the usual two if he wakes up later -- and put himself on a 2,500-calorie diet.
"I'm at about 208 right now," he said. "So I just want to be more of a durable receiver, able to get across the middle and take those hits and be a better blocker in the run game."
He's also watching more film, trying to pinpoint cracks in his technique. He wants to throw more footballs with
Steven Bench
and the stable of young quarterbacks. And he's hitting the weight room -- early and often.
February, 17, 2013
2/17/13
12:00
PM ET
STATE COLLEGE, Pa -- Three small children, between the ages of 3 and 5, weren't intimidated by Penn State's mammoth football players. A boy in a blue hat, who just reached
Kyle Carter
's waist, instead actually tried to intimidate the 6-foot-3 tight end.
"Boo!" he yelled, giggling furiously once Carter and two other players --
Carl Nassib
and
Brian Gaia
-- feigned being frightened.
"



They're fighting for their lives every day and, just being able to see them fight and be happy, it's really inspiring.



"


-- Penn State DE Brad Bars
"Boo!" his brother joined in. Soon enough, all three siblings were joining in a chorus more fit for Halloween. "Boo!" Laughter. "Boo!" More laughter.
The children were part of the 28 Make-A-Wish families who descended on the Lasch Football Building to hang out with the football players, tour the facilities -- and even try on some pads and uniforms in the locker room. Saturday afternoon's event was part of THON weekend, which is centered around a student dance marathon that helps raise money to fight pediatric cancer. Just last year, THON helped raise $10.68 million.
"Every time, it just gets better," Carter said. "This is definitely the most [players]. I'm not sure if guys are just feeling they really wanted to give back this year; I just feel like the whole team is here today. I can't think of one guy who is not here."
Even true freshman
Adam Breneman
, who's been enrolled about a month, slowly walked through the building's hallways -- stopping every so often to point out the meaning of plaques or what goes on in certain rooms.
Donovan Smith
, a 316-pound offensive tackle, couldn't have caused more laughter -- well, maybe with his teammates-- if he had slipped on a purple dinosaur costume.
Steven Bench
chatted up any adult or kid within earshot.
January, 24, 2013
1/24/13
9:00
AM ET
Every weekday until signing day, NittanyNation will break down a commitment from Penn State's 2013 recruiting class.
Vitals:
Defensive end
Curtis Cothran
, Newtown, Pa./Council Rock North, 6-foot-5, 240 pounds
Committed:
March 26, 2012
ESPN.com grade:
70. Three-star prospect.
ESPN.com rankings:
No. 110 at position, No. 204 in region, No. 49 in state.
Picked Penn State over:
Maryland, Rutgers, Syracuse and others.
To continue reading this article you must be an Insider
August, 21, 2012
8/21/12
5:40
PM ET
STATE COLLEGE, Pa. -- All eyes were on
Matt McGloin
as he focused on short routes and impressed on intermediate, 15- to 20-yard ones during Tuesday afternoon's practice.
He threw only one incompletion on his last six throws — a ball that sailed about a foot over freshman
Eugene Lewis
' head. He clapped his hands, let out a yell and then resumed anticipating the moves of his wideouts and receiving little criticism from the coaches.
"We feel like Matt's got a really good grasp of the operation, how it all fits together," Penn State coach Bill O'Brien said before practice.
[+] Enlarge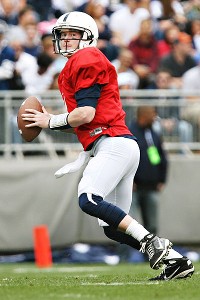 Matthew O'Haren/Icon SMIQuarterback Matt McGloin is getting a good grasp of Bill O'Brien's offense.
Evan Lewis
and
Alex Kenney
split time at the slot, and McGloin's nicest connection involved Lewis. The fifth-year quarterback tossed a tight spiral against his body and led Lewis to the sideline about 20 yards downfield.
Kenney mishandled one ball over the middle, trying to trap it with his body, but still managed to haul it in. "Hands!" one coach yelled.
Shawney Kersey
did not dress because of an ankle injury, so
Christian Kuntz
rotated in with the first team. Sophomore
Allen Robinson
appears to be the No. 1 wideout on the outside and showed consistent hands Tuesday.
"Allen Robinson's had an excellent camp," O'Brien said. "He's made a lot of good plays for us."
Freshman receiver Eugene Lewis practiced with the backups, and
Matt Zanellato
played with the third-string.
Paul Jones
remains the backup quarterback, but O'Brien said he needs to show more consistency. True freshman
Steven Bench
flashed some accuracy but struggled throwing on the run.
Injury update:
Safety
Jake Fagnano
's hamstring still hasn't fully healed, and O'Brien said the coaching staff will have to decide Monday what to do there.
"You got to let it heal," O'Brien said. "Otherwise it'll keep nagging at you."
No other injuries seem to be affecting the roster, however.
The other starting safety,
Malcolm Willis
, did not practice -- but O'Brien said he's doing much better now and should practice soon.
Tight end
Garry Gilliam
tweaked his quad Monday night and should be fine.
Pete Massaro
did not practice because he's coming off a torn ACL from last season and the staff wants to be cautious.
Gerald Hodges
earned a day off last week, too, so he could rest up.
Malik Golden
,
Derek Day
and
Mike Yancich
also did not practice.
Brad Bars
was seen heading to the locker room.
Belton's backup:
Day is ahead of
Akeel Lynch
right now for the No. 2 tailback spot behind
Bill Belton
.
O'Brien said
Curtis Dukes
played well the last two days — and that might have been the first time O'Brien mentioned Dukes all preseason.
Tallest player:
Freshman
Jesse James
, a 6-foot-7 tight end who enrolled in January, towered above the other tight ends and wideouts Tuesday. Besides reserve offensive tackle
Kevin Blanchard
, he's the tallest on the team.
O'Brien hasn't mentioned James much when discussing freshmen. But the coach smiled when asked if he's forgotten the early enrollee actually is a first-year player.
"He had a big play yesterday in practice on a pass route and broke it for about a 50-yard gain. So he's done some good things," O'Brien said. "He obviously has a future for us."
Right tackle battle:
Donovan Smith
finally returned to practice and looks good at left tackle. But, it appears as if there's a position battle heating up on the other end, at right tackle.
Adam Gress
was listed as the starter in the spring, and has mostly practiced with the first team this preseason, but O'Brien said
Mike Farrell
has come on strong and will challenge for the job.
"I feel good about the offensive line," O'Brien added.
Best camp:
One of the finalists for that honor appears to be
Michael Zordich
, who caught a few balls from McGloin early on out of the backfield.
He's also impressed on special teams, O'Brien said.
"Zordich, at fullback, has had one of the best camps out of anyone here," O'Brien added.
Punting issues:
O'Brien admitted he still didn't feel comfortable with the punting game.
Alex Butterworth
has improved over the last week, but his consistency still isn't where it needs to be.
"We don't always have to punt it," O'Brien said with a laugh. "We can go for it."
Challenges Facing Franklin at Penn State
BIG TEN SCOREBOARD
Saturday, 12/21
Monday, 12/23
Tuesday, 12/24
Thursday, 12/26
Friday, 12/27
Saturday, 12/28
Monday, 12/30
Tuesday, 12/31
Wednesday, 1/1
Thursday, 1/2
Friday, 1/3
Saturday, 1/4
Sunday, 1/5
Monday, 1/6