Penn State Nittany Lions:

Bobby Engram
November, 16, 2013
11/16/13
7:00
AM ET
Both the Nittany Lions and the Boilermakers are still trying to find their footing late in the season. A win gives Purdue something to build on for next year, while a PSU win would at least get the Lions back on some kind of track before the final two games.
Here are five things to keep an eye on:


1. Two true freshman QBs with lots of potential.
OK, you already know plenty about
Christian Hackenberg
and how he's making a strong case for the Big Ten freshman of the year award. But Purdue's
Danny Etling
could have a bright future ahead of him, too. The Boilermakers are struggling, but Etling said -- despite the numbers -- he's improving every week. He was a four-star recruit last season, the Boilermakers' highest-rated prospect since ESPN started keeping track, and he's been the starter since Week 6. He has thrown five interceptions to four TDs so far this season, but his best football is ahead of him. Same goes for Hackenberg. Watching these two players Saturday should be like catching a quick glimpse of the B1G future.
2. Allen Robinson nearing another school record ... again.
No, this isn't a misprint. He broke Bobby Engram's single-season receiving mark of 1,084 yards last week -- and he could set the single-season receptions record against Purdue. Robinson set that record last year with 77 catches, and he currently boasts 73 receptions. He's the only Penn State receiver to reach the 70-catch mark, and no PSU wideout has ever reached the 80-reception plateau. Expect more of the same from Robinson; he's making history just about every week now.
3. Running wild over Purdue.
The Boilermakers have allowed 200-yard rushing games five times so far this season, as they're ranked No. 111 in the country in rush defense. That means big games could be in store for both
Bill Belton
and
Zach Zwinak
. It's been difficult to predict lately who'll handle the heavier workload, but both are likely to see plenty of time in the afternoon. Zwinak can run on the inside and blow over defenders for extra yards, while Belton's cutting ability has improved greatly since last season. Both players should be able to pad their stats against Purdue's dismal run defense.
4. Third-down defense.
The Lions' defense took a step back last week, as they allowed the opposition to convert on 7-of-10 third downs during the first half of last week's game. They couldn't get off the field, and that was a big reason they were manhandled in the first two quarters -- so it's worth keeping an eye on that same down Saturday. The good news for Penn State is that Purdue is among the worst in the country (notice a trend?) and ranks No. 114 in terms of converting third downs (30.6 percent). So, if PSU can't stop Purdue on third down, then it probably won't be able to stop future opponents Nebraska and Wisconsin.
5. New PSU player roles?
LB
Ben Kline
didn't open the season as the starter, but he started the last two games and seemed to be making a lot of progress. He's out for the season now, so it'll be interesting to see if this corps takes a step back against Purdue.
Stephen Obeng-Agyapong
and
Nyeem Wartman
will likely compete for his spot, just as they did before Kline earned the starts, but Bill O'Brien also mentioned that true freshman LB
Brandon Bell
should see an increased workload. On the offensive side of the ball, O'Brien told reporters to expect to see more of redshirt freshman wideout
Eugene Lewis
, who made an outstanding 54-yard TD catch in Week 1 ... but has only accounted for 71 yards since. If Robinson leaves early for the NFL, Lewis could be PSU's top wideout next season.
November, 13, 2013
11/13/13
11:00
AM ET
STATE COLLEGE, Pa. -- The debate's been raging in Happy Valley dorm rooms, tailgates and bars for the past few weeks: Is
Allen Robinson
the greatest Penn State receiver of all-time?
[+] Enlarge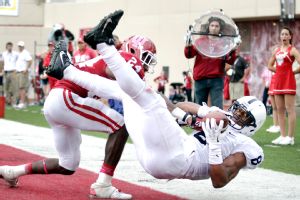 AJ Mast/Icon SMIIs Allen Robinson the greatest receiver in Penn State history? Time will tell.
One glance at the stats is all it takes to make a quick case for the junior. He broke NFL vet Bobby Engram's single-season school record for receiving yards (1,084) last week -- and he still has three games remaining. He's either at the top, or near the top, of every conceivable receiving category. And he's just the second receiver in PSU's 127-year history to clinch back-to-back 1,000-yard seasons.
Much to the chagrin of fans hoping for closure to the debate, Robinson declined to weigh in last week by saying, "Just being in the conversation with those guys is an honor."
But those former Penn State greats weren't so reserved in discussing Robinson's place in history.
"He's every bit as good as any one of us," two-time All-American Kenny Jackson told ESPN.com.
Jackson was referring to himself and two other PSU greats, Engram and O.J. McDuffie. All three earned All-America honors, all three played in the NFL, and all three are mainstays in the Penn State record books. When it comes to Penn State's best-ever wideouts, those are the three most often brought up in conversation.
And, now, it appears that there are four -- including the 6-foot-3, 210-pound Robinson.
"He's got every tool we had," McDuffie told ESPN.com, "and every physical tool we wish we had. We made the most of what we had, but he's an atypical receiver in the NFL."
But it's not quite time to place Robinson at the top of that list and end the debate. Despite that praise, neither former receiver was quite ready to anoint A-Rob as the greatest ever -- even if his numbers put him in the company of one.
Based purely on ability, both still labeled Engram as the G.O.A.T. Engram was the first-ever Biletnikoff Award winner in 1994, a human vacuum who reeled in every pass, leaving State College with about a dozen receiving records and an undefeated 1994 season.
"I put Bobby Engram at No. 1, Kenny at No. 2 -- and then I think it's hard between me and Allen," said McDuffie, who finished his PSU career in 1992 with 125 catches for 1,988 yards and 16 touchdowns. "Bobby is one of those guys who could mix it up; he could block downfield and make big catches. Kenny, well, I didn't get to see much from what he did on the football field, but what really draws me to him is that he's a two-time All-American receiver at Penn State -- and that's not easy to do at Penn State."
Historian/author Lou Prato,
who literally wrote the encyclopedia on Nittany Lions football
, borrowed a line from a Magic-8 ball: "Ask again later." He wasn't ready to rank Robinson, a junior who could declare early for the NFL, because his career wasn't yet over.
Prato said he'd have to consult his notes and reflect upon the question before offering an educated opinion. He graduated from Penn State in 1959, six years before Joe Paterno took over as head coach, and he wouldn't go further than acknowledging Robinson belongs in the top 10 and that Engram was PSU's "greatest clutch receiver."
But both he and the two wideouts cautioned not to base the "best-ever" title on numbers alone. Robinson's stats this season -- 73 catches; 1,106 yards; six TDs -- are more a product of the times as opposed to a simple reflection of talent, they said.
Jackson, a track star, lined up with his hand in the dirt in the early 1980s when JoePa's hair still matched his jet-black shoes. He earned All-America honors in 1983 when he caught just 28 balls.
Neither Jackson nor McDuffie competed on a team that completed more than 180 passes. Former walk-on Matt McGloin completed 270 passes just last season when Robinson set a school record with 77 receptions.
"I don't care how he broke Bobby's 1,000 yards. That is not impressive; any one of us could've done that if the coach wanted to target us," Jackson said. "Allen Robinson is impressive to me not because of the numbers because it's so easy to get ridiculous numbers now. What's impressive to me is Allen Robinson, every Saturday, shows up with nothing to play for. He's got talent; I'm very impressed without looking at the numbers."
Added Prato: "Because of those different eras, it all becomes subjective. There were a couple great receivers in the '30s and '40s, but they didn't pass as much. So who knows?"
Robinson may not be the most talented -- according to Jackson and McDuffie, that's Engram -- but he certainly appears to be the most valuable of the four. So far in 2013, Robinson has accounted for 39 percent of the team's receptions (73 of 188) and 47 percent of its passing yards (1,106 of 2,342).
Compare that to past greats, and Robinson is still on top. (Engram's best season, 1995, comes close as he hauled in 32 percent of his team's catches and 46.5 percent of the passing yards.) A-Rob accounted for more of the passing offense than any PSU receiver since 1971.
Plus, Jackson and McDuffie argued, Robinson is doing more with less. Kerry Collins -- who threw for more than 40,000 yards in the NFL -- launched balls to Engram. Should Robinson get a few bonus points since he's catching balls from a true freshman, on a team with 24 fewer scholarships than the opposition?
It all depends on what criteria one wants to use to determine the best-ever. But, looking ahead, both all-time greats believe Robinson is destined for a path on which few Penn State receivers have traveled.
"Allen Robinson has more upside and did more with what he had at Penn State than I did," Jackson said. "And if you asked me, 'Who would I draft -- me or Allen Robinson?' I'd say, 'Draft Allen.' I don't know if even Bobby or O.J. had as much upside as this kid because of his size."
At the very least, Robinson has already earned the respect from the very best.
So, for now, let the debate rage on.
November, 9, 2013
11/09/13
2:45
PM ET
Allen Robinson
moved to the top of the Penn State record books.
The junior wide receiver set the Nittany Lions' single-season receiving record in the fourth quarter of the Minnesota game on a 12-yard pass from
Christian Hackenberg
. He moved past Bobby Engram, who set the long-standing mark of 1,084 yards back in 1995.
Entering the game, Robinson needed just 42 yards to surpass the milestone. He finished the game with seven catches for 63 yards.
He now holds the school's single-season records for both receiving yards and receptions. He broke the receptions record (77) last season, and h'es on pace to break that again this season.
"I don't try to pay too much attention to it," Robinson said earlier this week, regarding the records. "But it's a good honor."
Heading into the Minnesota game, he averaged 10 catches and 149 yards in Big Ten games and was ranked fourth nationally with 1,043 yards. He's accounting for about 48 percent of the passing offense.
He'll still need one more season to catch up to Engram's record for career receiving yards (3,026), but he could choose to leave for the NFL. Robinson said that's something he'll discuss with the coaching staff once the season's over.
November, 9, 2013
11/09/13
7:00
AM ET
While Penn State is trying to finish the season strong, Minnesota is seeking its fourth consecutive Big Ten win for the first time since 1973.


The Governor's Victory Bell is on the line, and here are five things to keep an eye on:
1. Allen Robinson nearing another school record.
The Penn State receiver is just 42 yards shy of breaking the single-season school record for receiving yards (1,084), a mark set in 1995 by Bobby Engram. Robinson is averaging 10 catches and 149 yards in each Big Ten contest, so it seems almost certain that he will break the record against Minnesota. Of course, there's also an outside shot he'll break another record in the afternoon -- the single-season receptions record. Robinson is at 66 catches right now, and he needs 12 more to break his record from last season. He has twice grabbed a dozen receptions in Big Ten games this season.
2. Stopping quarterbacks on the run.
In the last three games, quarterbacks have run for 247 yards (82.3 per game) against Penn State. Minnesota quarterbacks
Philip Nelson
and
Mitch Leidner
are both dual-threats -- Leidner tends to run the most -- and have averaged a combined 75 rushing yards a game. The Nittany Lions have been mostly good against the run, outside of the Ohio State game, but they haven't fared well against running quarterbacks. Penn State's ability to limit both quarterbacks on the run will be paramount to stopping Minnesota.
3. Can Bill Belton continue playing at this level?
The junior tailback rushed for 201 yards last week, the first time a Penn State running back gained 200 yards in a game since Larry Johnson in 2002. Belton has been the most improved player on the offense, and he's solidified his status as the starter. But, after carrying 36 times last week, can he keep carrying such a heavy load? This game, against the No. 39 run defense, would go a long way in helping cement him as a top player. Big Ten Blog readers already voted him as
the most surprising tailback in the conference
.
4. More aggressive Minnesota passing offense.
In the first six games of the season, the Golden Gophers averaged just 116.8 passing yards a game and amassed a total of just nine completions of 20 yards or longer. In the last three games? It's
been completely different
. Nelson has helped guide Minnesota to an average of 202.3 yards per game and the Gophers have accounted for 13 big passing plays. Offensive coordinator Matt Limegrover has opened up the playbook, and it will be a challenge for Penn State's secondary.
5. PSU defense vs. Minnesota offense in the red zone.
The Gophers aren't the highest-scoring team in the Big Ten. But when they get inside the red zone, they're almost automatic. Minnesota ranks third in the nation by recording scores on 29 of 30 red-zone trips, with 22 touchdowns and seven field goals. Penn State is a middle-of-the-road team when it comes to bending and not breaking. The defense was able to come up with big plays when it needed against Illinois, but it will have to be even better against Minnesota. The Gophers have a penchant from running it in within five yards; 11 rushing touchdowns have been from 1 yard out.
November, 7, 2013
11/07/13
2:30
PM ET
There's no use in trying to get
Allen Robinson
to discuss school records.
[+] Enlarge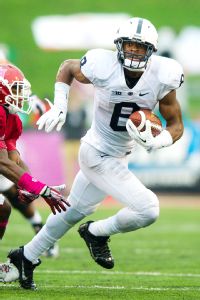 AP Photo/Doug McSchoolerHe's closing in on another school record, but Allen Robinson isn't thinking too much about it.
He's just 42 yards shy of breaking Penn State's single-season record for receiving yards (1,084), a mark set in 1995 by NFL vet Bobby Engram. But Robinson deflects nearly any mention of rewriting the history books or figuring out where he fits in Nittany Lion history.
"I just try not to pay too much attention to it," Robinson said, "but it's definitely a good honor."
This isn't feigned humility from the reigning Big Ten receiver of the year. He shattered Penn State's single-season record for receptions last season by making 77 catches, 14 more than former record holders Engram and O.J. McDuffie. But, earlier this season, his parents admitted that record-breaking football isn't sitting on a mantle back home in Southfield, Mich.
Despite the presence of Penn State's All-Sports Museum inside the football stadium, no one thought to grab the record pigskin last year. Robinson and his parents figured they continued to play the game with that football, and it then got tossed along with all the other game-used ones.
That doesn't bother them. They never thought about it, really, until a reporter asked. Records just aren't that important to the Robinsons. So there's no telling what will happen with this next record-breaking football, which is something fans and the media are well-aware of, even though it's not exactly something the team emphasizes.
When a reporter told Bill O'Brien that his star receiver was nearing Engram's mark earlier this week, Penn State's head coach didn't launch into a soliloquy about Robinson's importance. O'Brien's response: "Is he?"
"Yeah," the reporter said, asking whether he talked about the record with Robinson.
"No, no, no," O'Brien responded. "I just learned that from you. No, we don't talk about records. We talk about doing the best we can to make sure we're ready to go for Minnesota."
Robinson ranks first in the Big Ten and fourth in the nation with 1,043 receiving yards. He's first in the Big Ten and eighth in the nation with 66 receptions. And he's averaging 10 catches and 149 yards in each Big Ten contest.
He's in the conversation as the best Penn State receiver of all time, and the junior could very well enter the NFL draft early. (That's something he'll discuss with the staff after the season, he insisted.) Robinson will almost certainly set the receiving record on Saturday at TCF Bank Stadium because it'd be a season-low if he didn't.
He's on pace to break his receptions record from last season. If he stays another season, he could break just about every PSU career receiving record. And he's accounting for 48 percent of Penn State's passing offense right now.
But ask Robinson about the feats, and you're likely to hear a familiar refrain: "I haven't thought too much of it."
October, 11, 2013
10/11/13
10:00
AM ET
You know what's better than regular old trivia? Big Ten trivia. So take a look at this week's crazy numbers and interesting facts:
The Badgers boast two standout players on offense who pile on the yards, which puts them in pretty elite company. Wisconsin is one of just three teams in the country who have a player averaging 100 rushing yards a game (Melvin Gordon, 139.6) and another player averaging 100 receiving yards a game (Jared Abbrederis, 114.4). Those other two teams? LSU and Baylor.
Northwestern has scored at least 30 points in every game this season. Actually, going back to last year, the Wildcats have done that in seven straight games -- the longest such streak in school history. Only one team in the FBS currently boasts a longer streak, and that's the Baylor Bears who have scored between 69 and 73 points in four games this season.
Wisconsin's Gordon has played the role of home-run threat this season and, outside of averaging more than a first down every carry, he also leads the FBS in rushes of 25 yards or more. He's broken long runs like that seven times already this season, including a nation-best four TD runs of 25 yards or more. He didn't have one such long rush against Ohio State last week, the first time all season.
Devin Gardner obviously hasn't been the most consistent of quarterbacks, but the Michigan offense has been pretty steady at keeping drives alive thanks to its incredible third-down numbers. Last season, it was sixth in the nation -- and first in the Big Ten -- when it converted just over half (87-of-173) of its third-down attempts. This season so far? It's even better. U-M is converting 54 percent (36-of-67) of its third-down attempts and still ranks atop the conference.
Michigan's defense hasn't allowed a rushing touchdown all season -- and that's pretty rare. The Wolverines are one of only two teams that can say that; the other is Iowa. On the flip side, Penn State has rushed for 11 scores already this year and is averaging a little more than two a game.
Penn State wideout Allen Robinson was asked this week about whether he'd declare early for the NFL -- he said it's not yet on his mind -- but that opportunity really shouldn't have been a surprise. He's currently on pace for the best receiving performance ever by a Penn State player. By far. He currently owns the school's single-season receptions record with 77 catches (from last year), and Bobby Engram boasts the single-season receiving yards record with 1,084 yards (from the 1995 season). Well, if you take Robinson's current numbers (38 catches, 621 yards) and average them out to the course of a season, A-Rob is on pace for a record-breaking 91 catches and 1,490 yards.
Indiana coach Kevin Wilson takes pride in his uptempo offense, and the numbers certainly seem like cause for satisfaction. Twenty-six of the Hoosiers' 32 scoring drives -- which went for 23 TDs -- have taken three minutes or less. Eleven scoring drives, all of which went for TDs, have taken under 60 seconds. And Indiana runs one play, on average, every 19.9 seconds. That's enough to tire out just about any defense.
Where do we even begin when it comes to putting into words and numbers how dominant Michigan State's defense has been? Well, first of all, it ranks No. 1 in total defense (203.8 yards per game), rushing defense (51.2 yards per game), passing efficiency defense (81.16 rating) and opponent third-down conversions (22 percent; 17-of-77). Oh, and it's also near the top of the nation, within the top 10, in scoring defense (13.4 ppg) and passing defense (152.6 yards per game). Basically, think up a defensive stat and there's a pretty good chance the Spartans are ranked at the top of the Big Ten.
True freshman quarterback Danny Etling will grab his first career start for Purdue this weekend, but he's hardly the only young player seeing time for the Boilermakers. Just look at the roster to begin with -- Purdue has 52 freshmen (29 true, 23 redshirt) on the roster, while there are just 60 sophomores, juniors and seniors. Sixteen freshmen have already played this season, including five true freshmen. So it seems as if it should only get better in West Lafayette, Ind., in the coming seasons.
Most offenses try to strike a nice balance, and no team in the Big Ten has done a better job in the last two years -- at least statistically -- than Nebraska. Yes, the running game has been its forte in the early going. But its part of an exclusive club that has thrown for at least 200 yards a game while also running for more than 200. Last season, it was one of just 19 teams in the country to join the 200-200 club. So far this season, it's one of 31 schools in the country.
August, 13, 2013
8/13/13
9:00
AM ET
STATE COLLEGE, Pa. --
Allen Robinson
crossed his arms during Penn State's media day and lingered near the end zone, a place he found plenty -- 11 times to be exact -- during last season's record-breaking run.
Despite the familiar surroundings, the stonefaced junior seemed out of place with the focus on his accolades. He routinely dismissed talk about last season's Big Ten-leading 77 catches and 1,013 yards. And on three separate occasions, he labeled his year as "decent" before deflecting praise to teammates or addressing the offseason.
[+] Enlarge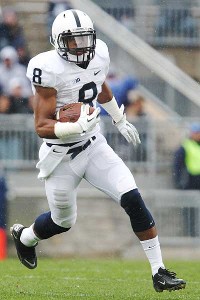 Matthew O'Haren/USA TODAY SportsAllen Robinson says he still has room for growth on the football field, despite pulling in 77 catches last season to break Penn State's single-season receptions record of 63.
"I don't know, Allen," said one reporter. "I think it was a little better than decent."
Robinson offered a slight shrug but didn't crack a smile: "I'm just trying to come open and make plays when my number's called."
The junior wideout is coming off one of the most surprising performances from one of the program's most surprising seasons -- but he's not looking back. After shattering the school's long-standing single-season receptions record (63) as a sophomore, surpassing the likes of PSU greats Bobby Engram and O.J. McDuffie, Robinson said he's focused on 2013.
So maybe it shouldn't come as a surprise he declined to talk much about that record. He didn't want to talk about it much last season either. His parents opted to use the word "relief" when describing it, and the two paused when asked just how much Robinson has brought up the fact he sent those PSU record books back to the printing press.
"I don't remember him bringing it up once since January," his mother, Tracie, said. "I really don't. He just doesn't talk about his achievements."
Added his father, also named Allen: "He hasn't brought it up, not once with me. Allen talks the most about him and
Adrian Amos
, as far as D-back and wide receiver. That's what he talks about, about making each other better."
Neither Robinson nor his family are even sure where that record-setting pigskin is. It's not resting on a desk inside his dorm, nor is it on the family's mantle. The Robinsons said they never really thought about it; a Penn State spokesman said he didn't think anyone ever pulled it aside for the museum located inside the very stadium Robinson set the record.
Not that the younger Robinson really seems to mind. He's looking ahead. Without an experienced quarterback, the wideout with the 37-inch vertical took it upon himself this summer to organize the team. He'd wake up every morning at exactly 5:05 -- just enough time to rush to the football building by 5:30 -- lift, then grab a quick breakfast before heading to class and later sending out mass texts for some 7-on-7s or extra route-running drills.
"He was the one initiating all those sessions," wideout
Matt Zanellato
said. "There were some times where we'd be doing so much that Fitz (strength coach Craig Fitzgerald) would send out a text saying, 'Take this afternoon off. You guys need to relax.'"
Robinson mostly heeded Fitzgerald's words, "but it's just me trying to be a leader. And a lot of it's how good do we really want to be this year? Do we want to be 8-4 again -- or do we want to be 12-0?"
The 6-foot-3 wideout, the recipient of last year's Richter-Howard Receiver of the Year Award, is nine pounds heavier this season. He's faster, he's become accustomed to all the receiver spots, and he's improved his route-running. Put simply, the Big Ten's best wideout is even better.
Assistant coach Stan Hixon has taught quite a few great ones, such as Buffalo Bills' leading WR Stevie Johnson and first-round draft pick Michael Clayton. Robinson reminds him a bit of Clayton -- "tough, tough, tough" -- but Hixon believed the player affectionately known as A-Rob still has a ways to go in 2013.
"He's going to be really good," Hixon said. "But he's just good right now. With the guys I've been around, he's got that ceiling. He has the potential to be better, so my expectation is higher than what a lot of people think."
Robinson, as serious a player as there is on the Nittany Lions, was relayed that message from Hixon: Good, but not yet really good. The Michigan native glanced down, trying to conceal a quick grin -- the first and only smile in 15 minutes of speaking.
"I would say he's right," Robinson said.
"There's a lot of things I can do to improve my game. Last year, I had a decent year -- so I'm just trying to improve off that. There were some catches last year I didn't come down with, so I'm just trying to improve."
That became the third, and final, time Robinson used "decent." So, clearly, those records and those accolades are in the past for the Penn State receiver. He's hoping last season isn't a highlight -- he's convinced it's just the beginning for him and these Nittany Lions.
July, 10, 2013
7/10/13
1:00
PM ET
So, what teams had the best and worst
all-time PSU fantasy drafts
on Tuesday?
There's a lot of opinion out there, but NittanyNation tried to find two knowledgable judges to offer their takes on each team's draft. Both Steve Jones and Mike Poorman agreed to grade each team and include a brief analysis.
Jones is the play-by-play voice of Penn State football and hosts a daily radio show that can be heard on ESPN 1450 in State College. Poorman is a columnist and senior lecturer at Penn State who taught the class, "Joe Paterno, Communications & The Media." Both are PSU graduates.
Here's what they had to say:
Team Lou Prato
(Top five picks: RB Lenny Moore, LB Jack Ham, DT Mike Reid, DE Courtney Brown, C Glenn Ressler)
Jones says:
A. Outstanding defense, especially at linebacker, and a solid kicking game. Offensively, Moore could do it all, and people forget Chuck Fusina was a Heisman trophy runner-up who actually had more first-place votes than Billy Sims.
Poorman says:
A. I graded the No. 1 pick at each position, and Lou was tops with eight such selections. His LB combo of Jack Ham and Shane Conlan, PSU's best two ever, and secondary pair of Harry Wilson and Michael Zordich exemplified a depth of knowledge -- and, hence, roster -- that was unmatched, top to bottom. Memo to Bob McClellan: 25 years after you had him in class, Lou is still cantankerous.
Team Bob McClellan
(Top five picks: CB Brian Miller, RB Curt Warner, OT Keith Dorney, OG Mike Munchak, DE Michael Haynes)
Jones says:
A-. Great running game and offensive line, along with the best rushers. This group has underrated receivers and an underrated quarterback who was Big Ten player of the year.
Poorman says:
A-. Seven of Bob's picks were best at their position. His OL spanned four decades and was the strongest group by far. All-time pick leader Neal Smith and punter Ralph Giacamarro showed McClellan's surprising and seasoned savvy against a field of Penn Staters. Flex selection Lydell Mitchell was inspired.
Team Stephon Morris
(Top five picks: LB Sean Lee, LB LaVar Arrington, WR Bobby Engram, DT Matt Millen, RB John Cappelletti)
Jones says:
A-. He mixes the school's only Heisman winner in Cappy with the quarterback who won the first national title. Defensively, the athletes at linebacker are impressive, and Millen is outstanding up front
Poorman says:
Pass. No way I could fail Stephon. A likeable and gutsy player, he was a media favorite with his candor. With his draft picks, he displayed confidence -- he picked Stephon Morris at CB -- and smarts, by snagging four of the giants of Penn State football: John Cappelletti, LaVar Arrington, Matt Millen and Todd Blackledge. But his O-line was of the "oh, my goodness" variety, and his biggest downfall.
Team Josh Moyer
(Top five picks: QB Kerry Collins, S Mark Robinson, OT Levi Brown, OG Sean Farrell, TE Ted Kwalick)
Jones says:
A-. Get ready for the ball to fly. Great quarterback and receivers. Everyone has quality tight ends, but Kwalick was special. Strong secondary behind that defensive line.
Poorman says:
B+. Josh has the best pitch-and-catch triad of Kerry Collins, Kenny Jackson and Ted Kwalick, with Stefen Wisniewski snapping the ball. That's four of his five position-best picks. He showed a healthy respect for -- and use of -- the past (W.T. Dunn, Joe Bedenk) that gets high marks, but his pair of kickers and one corner selection ranked a Z.
Team O.J. McDuffie
(Top five picks: RB Ki-Jana Carter, RB Larry Johnson, OG Steve Wisniewski, OG Jeff Hartings, S Darren Perry)
Jones says:
B+. Great running game along with speed at wide receiver. The defense is solid across the board.
Poorman says:
C. O.J. was in trouble as soon as did not pick O.J. McDuffie. His one old-school pick, Matt Bahr, was the best kicker selected. But O.J. relied almost totally on Nittany Lions from the past three decades and regrettably didn't include one player from the first 88 years of Penn State football. Not OK, O.J.
July, 10, 2013
7/10/13
11:00
AM ET
STATE COLLEGE, Pa. -- The
all-time Penn State fantasy draft
might be over, but the controversy has only just begun.
NittanyNation thought it'd take an extra day to reflect on the process, offer some analysis, give some opinions and then move on from a memorable three-hour, 24-round draft.
Steve Jones and Mike Poorman will grade each team later today, but NittanyNation wanted to give its own rundown of the draft and offer a behind-the-scenes look at a few picks.
The best PSU player?
In a casual Twitter poll Monday night, linebacker Jack Ham received the most mentions for best overall Penn State player. Team Prato took him in the second round, with everyone except the softspoken McDuffie playfully calling Lou Prato a jerk. (Everyone wanted Ham.)
It was an interesting, nonscientific poll because it took about a dozen votes for a single name to be repeated. LaVar Arrington and John Cappelletti also received multiple mentions.
Prato voted for Lenny Moore by drafting him with his No. 1 overall pick.
[+] Enlarge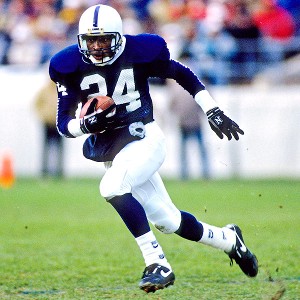 USA TODAY SportsO.J. McDuffie wasn't happy when Team Moyer drafted him -- immediately before McDuffie planned to draft himself.
Most memorable part of the draft:
Definitely the end of the seventh round. Only one receiver had been drafted until that point (Bobby Engram), and Team Moyer needed a wideout.
So, right before Team McDuffie had back-to-back picks, Team Moyer selected O.J. McDuffie for his own fantasy team.
Team Moyer: "Sorry to do this to you, OJ, but I got to. I'm taking O.J. McDuffie. Need Collins to throw to someone."
Team McDuffie: "Damn, Josh. I was just about take myself."
That's when four receivers -- McDuffie, Bryant Johnson, Deon Butler, Kenny Jackson -- were taken consecutively and caused headaches for the other three participants. That was a key part to the draft. And, five days later, O.J. still wasn't happy about the move.
"I still can't believe you did that," McDuffie said, laughing. "Right before me."
Biggest head-scratchers:
Cornerback Brian Miller as the No. 2 overall pick? C'mon, Team McClellan. Cornerback was the slimmest position in the draft, so corners had added value -- that was McClellan's reasoning for taking him so high -- but one could've held off on Miller until at least the fourth or fifth round.
Team McClellan passed up Ki-Jana Carter and Kerry Collins for Miller. Team Morris also received some ribbing for making Sean Lee the No. 1 LB, but Stephon Morris wanted to draft someone in the first round with whom he had played. So that was understandable.
But when Morris took kicker Chris Bahr in the 10th round? Definite head-scratcher -- although he did
explain that move here
. McDuffie also surprised just about everyone when he drafted Larry Johnson over the likes of Curt Warner and Cappelletti.
Best undrafted players:
Where to even begin? There were plenty; you could make up a great team on just left-overs from the draft.
QB Tony Sacca, FB Franco Harris, RB Blair Thomas, WR Derek Moye, OT Chris Conlin, and C Matt Stankiewitch are among the best remaining picks on offense. As far as the defense: DT Jimmy Kennedy, DE Bruce Bannon, LB Michael Mauti, CB Derek Bochna and S Harry Hamilton were also undrafted.
Best sleepers (or best-value picks):
OK, we'll throw Team McClellan a bone here. Grabbing two-time All-American and College Football Hall-of-Famer Dennis Onkotz in the 16th round was probably the steal of the draft.
That greatly boosted Team McClellan's LB corps. And he grabbed another great-value pick with Lydell Mitchell in the 20th round. Team Morris definitely got great value in QB Todd Blackledge in the 19th round, and Team Moyer's best-value picks appeared to be LB Greg Buttle in the 18th round and Kenny Jackson in the eighth.
Morris means business:
A lot of participants hit the books before the draft, but Morris' preparation was a little different. As a player, he had a bit of a leg up, because he didn't just stop at reading up on all the players -- he went straight to the source.
Morris called up several former players -- including Lee, Chafie Fields, NaVorro Bowman, Derrick Williams and Arrington -- to talk about whom they thought deserved to be drafted.
"Once you told me about it, I had contacts with guys who I played with and guys like Chafie Fields, who I was thinking about signing with, so I just did my research," Morris said Tuesday night. "I asked them about some guys, who I should choose and pretty much went from there."
Morris' research seemed to pay off. Prato was pleasantly surprised at Morris' Penn State knowledge, and his defense is among the best.
Can we get a mulligan?
When you're picking players without a fancy draft board and you're racing against the clock, sometimes panic and confusion set in -- and it basically happened to all of us.
Prato regretted not taking Gregg Garrity; Morris likely would've taken Brandon Noble over Devon Still if he had another chance; McDuffie would've drafted himself sooner. And Team Moyer? Why, oh why, couldn't Lydell Mitchell hold out for one more round? Michael Mauti also likely would've replaced Ed O'Neil upon closer inspection.
Looking back on the draft:
The most difficult part wasn't necessarily creating your own "cheat sheet" and ranking the best players at each position. It was trying to weigh whether someone like Michael Robinson had more value than someone like Engram.
There was no blueprint to this, since it had never really been done before. We all knew what players we wanted -- but we weren't so sure just who we could wait for and who we needed to grab right away.
Morris agreed that you kind of had to adopt a reactive strategy with the draft. With no mock drafts, it was definitely unique. But, looking ahead, at least future drafters will have some idea of what to expect.
It was definitely a lot of fun. The NittanyNation staff will probably continue trash-talking about this throughout the season. And McDuffie, Morris and Prato were all great sports.
"If I'd know the level of participation McDuffie and Morris would have I'd have picked them 1 and 2," McClellan said. "Great guys and tremendously patient during the whole process, too."
July, 8, 2013
7/08/13
12:29
PM ET
Imagine creating a team consisting solely of Penn State greats. Which All-American tailback would you choose? Which defensive tackle? Better yet, what about those linebackers?
These aren't easy questions to answer -- but you won't have to imagine for much longer. NittanyNation organized a 24-round Nittany Lions fantasy draft to see whom five experts would choose head to head. We'll publish the results and analysis on Tuesday.

The mission: Draft players forming a 4-3 defense, take a starting offensive lineup -- including one RB, two wideouts, a tight end and a "flex" position -- along with a kicker and punter. NittanyNation's Josh Moyer organized the draft and participated, along with:
O.J. McDuffie. If this name doesn't ring a bell, your Penn State fan card is revoked. McDuffie is one of PSU's greatest wideouts and sits fifth in the school record books for career receptions (125). He and Bobby Engram also held the single-season receptions record (63) until Allen Robinson broke it last season. McDuffie was a first-round NFL draft pick who hauled in 415 catches over eight seasons with the Miami Dolphins.
Lou Prato. He literally wrote the encyclopedia on Penn State football, and one would be hard-pressed to find a person who knows more about the Nittany Lions than him. He's the director of the Penn State All-Sports Museum and is a noted author and historian.
Stephon Morris. The speedy cornerback was the most experienced player in the secondary last season and is currently a DB for the New England Patriots. He was one of PSU's senior leaders who helped keep the team together during the sanctions and, boy, did Morris take this draft seriously. He called up several former players, pored over player bios, consulted with his father, etc. His competitive nature on the field carried over to the fantasy draft.
Bob McClellan. He is te editor of ESPN.com's NittanyNation, BuckeyeNation and WolverineNation and a Big Ten grad. Bob has been a sports editor and sports writer in newspapers and online for 25-plus years. Prato was a professor of his in graduate school at Northwestern.
This isn't supposed to be the be-all, end-all of the greatest PSU players. But it's definitely a great starting point to the conversation. Each participant came in with a different strategy -- somewhat unsurprisingly, for example, Morris focused on defense early to control field position -- and each drafter brought something new to the table.
The best players weren't always picked first -- especially if drafters thought they could get away with waiting to snag the better, possibly lesser-known players later on. (Who's better: Greg Buttle or 1906 captain W.T. Dunn?) That didn't always work out and led to some lighthearted name-calling during the draft, along with some continued ribbing a few days later.
Every participant left the draft feeling as if he had pieced together the best team. Would you have done anything differently? Did one of us drop the ball? Were more recent players overvalued?
Take a look on Tuesday, and let us know. We'll roll out the full team results, the position-by-position breakdown and an analysis from every participant. We can't exactly offer a sneak peek just yet, but here was our draft order (and, yes, it followed a snake draft where the last to draft in the first round was the first to draft in the next):
1. Prato
2. McClellan
3. Morris
4. Moyer
5. McDuffie
Which PSU player went No. 1 overall? Which 15 linebackers were taken, and in what order? See you on Tuesday.
November, 18, 2012
11/18/12
9:00
AM ET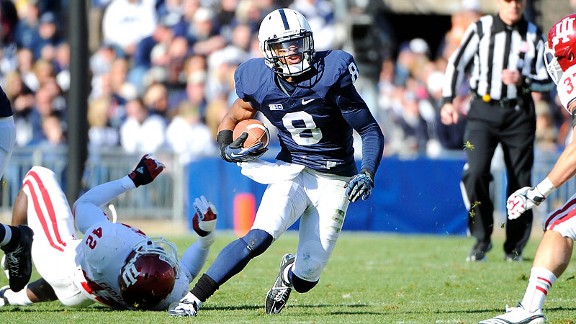 Rich Barnes/US PresswireAllen Robinson had 10 catches for 197 yards and is opening up his own wing in the Penn State record book.
The good and the bad from Penn State's 45-22 win over Indiana on Saturday:
THREE UP
November, 17, 2012
11/17/12
3:46
PM ET
STATE COLLEGE, Pa. -- It was a record-breaking day for Penn State.
Allen Robinson
set the Nittany Lions' single-season receptions record in the first quarter, and
Matt McGloin
set a school record for yards in a single season and career touchdowns.
Behind a strong offensive effort -- highlighted by performances from Robinson and McGloin -- the Nittany Lions overcame a slow start to
throttle Indiana 45-22
Saturday.
Robinson now has 73 receptions, surpassing the record of 63 set by former PSU greats
Bobby Engram
and
O.J. McDuffie
. McGloin boasts 3,071 passing yards this season and 45 career passing touchdowns.


With the win, Penn State's record improves to 7-4 (5-2 Big Ten), while Indiana falls to 4-7 (2-5 Big Ten).
It was over when
:
Zach Zwinak
crossed the goal line for a 1-yard touchdown late in the third quarter. The Hoosiers were building momentum, but that score put an end to it. PSU led 35-22 at that point, and Indiana wouldn't threaten again.
Game ball goes to
: Robinson. Not only did he set the single-season receptions record on his first catch of the game, but he caused problems for Indiana all day. He was responsible for the Nittany Lions' first three touchdowns and finished with 10 catches for 197 yards.
Stat of the game
: 482 -- Penn State's offensive yardage in the first three quarters, when the game was still in doubt. Indiana couldn't stop the Nittany Lions on the ground or through the air.
Turning point
: In the third quarter, with Indiana trailing by only six, Bill O'Brien found his team facing fourth-and-10 on his opponent's 33. He decided to go for it -- surprise, surprise -- and McGloin found
Brandon Moseby-Felder
for a 12-yard gain. That key play set up a touchdown.
Unsung hero
:
Gerald Hodges
. With the
injury to Michael Mauti
, Penn State's other outside linebacker stepped up. He showed just why he's a Butkus Award candidate with 12 tackles and an interception. Hodges was this defense's playmaker Saturday.
Unsung hero, part deux
:
Cameron Coffman
. With no help from the running game, Coffman was forced to throw often -- and he did a pretty good job. He threw two interceptions, but one came when he pressed while trailing by three touchdowns. He finished with 454 passing yards.
November, 17, 2012
11/17/12
12:19
PM ET
STATE COLLEGE, Pa. --
Allen Robinson
set the Penn State single-season record for receptions in style Saturday.
Needing just one catch to break the mark of 63 set by PSU greats Bobby Engram and O.J. McDuffie, the sophomore wideout finished with 10 catches, 197 yards and three touchdowns against Indiana.
"It means a lot, just with some of the guys that come through here," Robinson said Saturday. "It definitely means a lot."
Robinson's record-setting catch came on a 3rd-and-6 play in the first quarter. Matt McGloin found him on a screen pass, but Robinson was tackled for a one-yard loss. His later catches better flashed his athleticism.
The 6-foot-3 wideout grabbed a screen pass midway through the second quarter, spun to fake out a safety, and sprinted for a 53-yard touchdown. Through 11 games, he now has 73 catches for 978 yards and 11 touchdowns.
Robinson caught just three passes last season as a backup. He said he didn't really set any goals immediately after the season. But once Bill O'Brien came on board and several starters were either dismissed, transferred or graduated, he aimed to reach 70 receptions.
"With all the guys leaving, I knew that somebody would have to step up," he added.
Wide receivers coach Stan Hixon said he knew "right off the bat" the sophomore was special. And Robinson knew the record was possible with O'Brien's new offense.
Most of Penn State's passing records figure to go down with the new pro-style offense -- Robinson himself will likely break the career receptions mark of 179 -- so this was simply the first.
Matt McGloin also broke several records Saturday, although they were only on the books for a short time. He passed Daryll Clark for most passing yards in a season (3,066) and now has the most career touchdowns (45).
November, 15, 2012
11/15/12
2:30
PM ET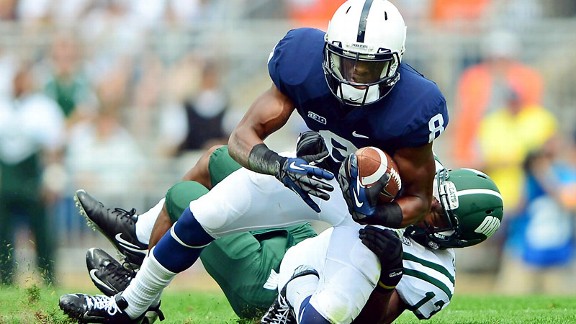 Andrew Weber/US PresswireSophomore wideout Allen Robinson has already tied Penn State's single-season receptions record with 63 this year.
Allen Robinson
stood on the sideline Jan. 2, during an unusually cool Texas afternoon, and watched
Rob Bolden
toss 26 balls -- not one of which traveled toward his direction.
Robinson was a backup wideout, an offensive afterthought, during the TicketCity Bowl. If he tried to envision his future with Penn State, broken records and national honors likely weren't on his mind.
But that dynamic quickly changed with Bill O'Brien's pass-first offense. Robinson said Wednesday he wasn't surprised -- even though he was one season removed from three receptions -- that he needed just one more catch to break Penn State's single-season receptions record.
"With the offense that Coach O'Brien has us running and stuff, I knew once the season was starting, I was going to be in position to make big plays," Robinson said. "This was really one of my goals, to be able to have as many catches as I do now. So it's not too surprising."
The sophomore wideout has already tied Penn State's single-season receptions record (63) with two PSU greats,
Bobby Engram
and
O.J. McDuffie
. One more catch Saturday, and Robinson will send those record books back to the printing press.
Robinson didn't flip to Page 75 of the glossy football guide to view those records, nor did he set out to figure whether he was close. As chatter intensified on Twitter and fans picked up on the potential record, Robinson couldn't ignore it. He realized relatively early he could set this record -- even if his teammates weren't quite as aware.
"Nah, I wasn't aware of that," linebacker
Glenn Carson
said earlier this week. "I just know that Allen's been playing great ball and really helping the team on offense this year. But, no, I wasn't aware of that -- and that's great news. Good for him."
College Football Player Rankings: 41-60
BIG TEN SCOREBOARD
Thursday, 8/28
Friday, 8/29
Saturday, 8/30