Penn State Nittany Lions:

Blue-White Game
April, 14, 2014
4/14/14
2:00
PM ET
STATE COLLEGE, Pa. --
James Franklin
smiled one last time as he trotted beneath the tunnel, waving goodbye and shouting, "Thanks for coming" to the lingering fans who leaned over the railing.
There's been a lot of reasons for Franklin to smile lately. At the start of the fourth quarter, the PA announcer boomed that a little more than 72,000 fans attended the spring game, which featured fan favorite
Christian Hackenberg
for just three short series. So far, no scrimmage has garnered a higher attendance. And, before the game, ESPN 300 defensive lineman
Adam McLean
committed to Penn State
-- and half of the scouting services move the Nittany Lions' 2015 class to No. 1 in the nation.
Franklin, the
"Pennsylvania boy with the Penn State heart,"
arrived in Happy Valley just three months ago. And, as the past weekend showed, he hasn't wasted much time in making an impact.
[+] Enlarge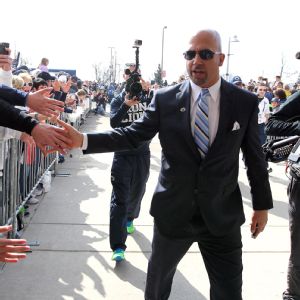 Matthew O'Haren/USA TODAY SportsAn announced crowd of 72,000 came out to see James Franklin and Penn State's 2014 team.
"I don't think there's any doubt that we're special," Franklin said, referring to Penn State, "and one of the big reasons that we're special is because of the support we get from the community. ... I couldn't be more excited."
Fans fired up their grills and began tailgating as early as five hours before the 1:30 p.m. kickoff. Some opted to stay in the parking lot during game time; about half the crowd left by halftime, once the skill players traded in their helmets for a spot on the bench. Hackenberg ended up appearing for about eight minutes, the top three running backs combined for five carries and the starting offense never once took on the defensive starters. The first team suited up in Blue and, unsurprisingly, beat the White team of backups 37-0.
But the sense of excitement surrounding Franklin and this program was unmistakable. Hundreds of fans,
maybe a dozen deep
, lined up for the arrival of Penn State's blue buses while several recruits pressed their noses close to the glass from the comfort of the lounge overlooking the scene. "No vacancy" signs dotted the hotels in the surrounding area. And fans literally took off in a sprint to greet players during a 45-minute autograph session; with a
crowd of about 5,000
, the line more closely resembled a mosh pit.
It was the biggest crowd for the Blue-White Game since 2009, when the Nittany Lions were just three months removed from a Rose Bowl appearance. Because of the current sanctions, Penn State still can't appear in the postseason for another two years -- which really made the excitement surrounding Saturday all the more surprising.
"I can only imagine what a regular season game is like," defensive coordinator Bob Shoop said. And a minute later: "We're trying to take this program to the next level and compete for Big Ten and national championships."
That last line is likely a big reason for the optimism in Happy Valley. Franklin took the dais on Day 1 and vowed a return to national prominence, in addition to
dominating the state and region in recruiting
. The staff has reminded the media and fans so much of those intentions that Franklin doesn't even need to finish his sentences once he broaches the topic.
Once Penn State's first-year coach talked Saturday about hitting the recruiting trail hard, he stopped abruptly. "We are going to ...," he said, pausing. "Dominate the state," recruits mumbled from the balcony above press row.
"Exactly right," Franklin said.
Franklin's first game at Beaver Stadium almost seemed secondary to the atmosphere surrounding it. There was some "Wildcat," a formation Vanderbilt loved last season but former Penn State coach Bill O'Brien loathed, and a 56-yard double-reverse pass that wideout
Geno Lewis
swore wasn't rehearsed in practice.
Conversely, some concerns only became magnified. The offensive line -- seemingly the weakest unit on the team -- surrendered nine sacks and the offense failed to find much rhythm. But the thin-rostered line also lost center
Wendy Laurent
and
Brian Gaia
to injury in the first half. Counting that pair, the Lions were missing four OL starters in the final two quarters.
But, as is usual with these scrimmages, the game wasn't as much an indicator of the future as it was a show for the fans. And, with Franklin as its ringleader, the game generated as much hype as offseasons filled with BCS aspirations.
"Great crowd, unbelievable support from this community," Franklin said in his opening statement. "I'm not surprised one bit."
April, 22, 2013
4/22/13
11:51
AM ET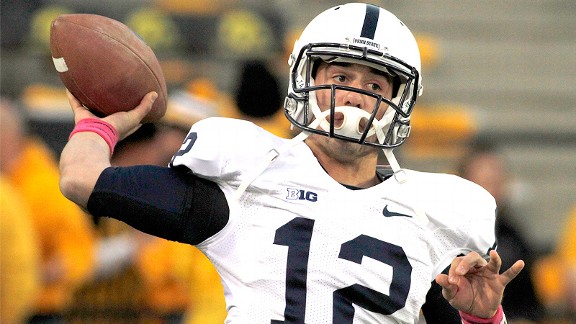 Matthew Holst/Getty ImagesQuarterback Steven Bench was impressive in the first quarter of Penn State's spring game.
STATE COLLEGE, Pa. -- Welcome to Year 2 of the Bill O'Brien era.
Fans saw the first glimpse of what's in store for the Nittany Lions this season during Saturday's annual Blue-White Game. And while many starters saw limited time and others were held out for precautionary reasons, there were still a few encouraging developments.
1. Quarterbacks still trying to separate themselves
In the spring game, it's usually best to ignore the numbers because of the stripped-down version of the offense that's been implemented.
Steven Bench
and
Tyler Ferguson
both finished 9-of-15 without any interceptions, but inconsistency plagued the signal callers. In a span of four plays, Ferguson followed up two great passes with a near-pick and then took a sack. Bench opened the first quarter by impressing on-lookers but then was outplayed in the second.
There's obviously potential here. But, at this point in the spring, that's all it is right now. Both have a long way to go before they can approach the efficiency of
Matt McGloin
's 26 touchdowns-to-five interceptions season. There was a lot of good -- but also quite a bit of bad on Saturday.
April, 20, 2013
4/20/13
7:19
PM ET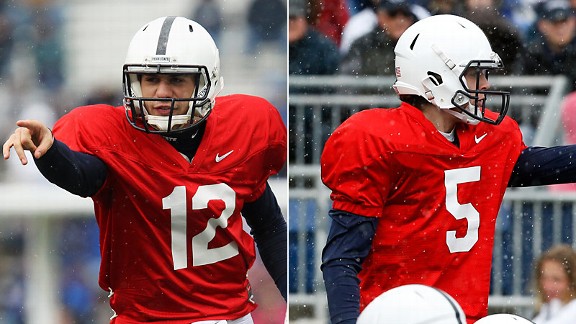 AP Photo, USA Today SportsThe quarterback battle at Penn State between Steven Bench and Tyler Ferguson will continue, and they'll be joined by top recruit Christian Hackenberg this summer.
STATE COLLEGE, Pa. -- Bill O'Brien crossed his arms and furiously chewed a piece of gum when the inevitable question was asked Saturday: Was the Penn State coach any closer to naming a starting quarterback?
He had to know the question was coming. That was the storyline of the Blue-White Game, the main topic fans discussed in the stands, and a topic that reporters have peppered him about every time O'Brien has made himself available.
"No, I'm not any closer," he said. "But I enjoy coaching both guys and, eventually, we'll have to make a decision. But I'm not ready to make that right now."
Inconsistency appeared to be theme of the day for junior college newcomer
Tyler Ferguson
and returning sophomore
Steven Bench
. O'Brien didn't use that term, but he might as well have. He said the pair obviously would've liked to have some plays back but also made some nice throws.
April, 20, 2013
4/20/13
4:34
PM ET
STATE COLLEGE, Pa. --
Akeel Lynch
clapped his hands as he walked off the field Saturday. He smiled, waved to a few cameras and seemed happier than some of the fans who snagged autographs from PSU coaches.
[+] Enlarge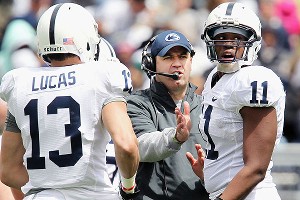 Matthew O'Haren/USA TODAY SportsPSU coach Bill O'Brien was more than pleased with Akeel Lynch's work at Saturday's Blue-White Game, shouting repeated praise at the RB over the Beaver Stadium loudspeaker.
This was the tailback's debut, the first time he competed in front of more than a scattered high school crowd. Last season he redshirted and watched his teammates from Beaver Stadium's sideline. So, on a chilly afternoon
during the Blue-White Game
, with grass stains covering his white pants, Lynch tried to take it all in.
That smile wasn't just because of his numbers -- 13 carries, 83 yards, one touchdown -- or because fans applauded as he jogged toward the tunnel. He has been waiting for this for a long time, and when asked about it he couldn't help but grin again.
"I was just happy because I finally played in Beaver Stadium," he said. "This is something I dreamed about since I got that Penn State jacket as an 8-year-old, and actually coming out and playing in Beaver Stadium -- finally getting a grass stain on my jersey -- it's a dream come true. I was all smiles."
That jacket, a blue $20 varsity jacket purchased by his mom in Erie, Pa., came during fifth or sixth grade, before Lynch ever heard of the school. He liked the color blue, so his mom thought he'd like the garb. And, when he moved from Canada to Buffalo as a high school junior, his mom found that same jacket and gave it back.
"Wouldn't it be funny if you go to Penn State?" he remembered her asking.
His mom was there in the crowd Saturday, undoubtedly smiling along with her son. After all, Lynch was the name that rested on most people's minds immediately after the game. His teammates, fellow tailback
Zach Zwinak
and linebacker
Glenn Carson
, talked in the weeks leading up to the Blue-White Game about his progress.
April, 19, 2013
4/19/13
3:14
PM ET
NittanyNation reporter Josh Moyer stopped by SportsNation on Friday to chat about the state of Penn State football
and answer your questions
.
April, 19, 2013
4/19/13
9:00
AM ET
STATE COLLEGE, Pa. -- Saturday's annual scrimmage, known as the Blue-White Game, will offer fans a nice reprieve as they wait more than 20 weeks for the college season to kick off.
Saturday will be the first time most of last season's freshmen will play in front of a crowd, the first time fans can size up the quarterback race and the first time the media can see the progress this team has made over the spring.
The Blue-White weekend has taken on a carnival-type atmosphere these past few years, and there's plenty to see. But on the field, NittanyNation takes a closer look on what fans should keep an especially close eye on.
QUARTERBACK RACE
[+] Enlarge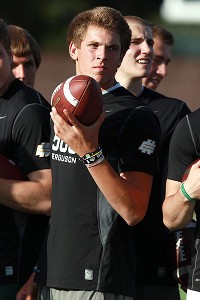 Tom Hauck for ESPNTyler Ferguson and Steven Bench are side by side in Penn State's quarterback competition this spring.
Let's get the obvious out of the way.
Steven Bench
threw just eight passes last season, and the media has seen little of
Tyler Ferguson
. Both quarterbacks have been lauded for their ability to scramble --
Stephon Morris
said he probably wouldn't even label Bench as a pocket passer -- but both are basically a mystery. Can Bench guide this offense? Will Ferguson outshine him? Saturday's scrimmage is far from the be-all, end-all, but it is a start to answering some of those questions.
Bill O'Brien said in the past no quarterback separated himself yet. Maybe, just maybe, someone will gain an edge Saturday.
BRING ON THE MAN COVERAGE
Defensive coordinator John Butler acknowledged last season that PSU couldn't play be as aggressive in the secondary because of the depth. But that is improved this season.
Jordan Smith
and
Anthony Smith
enrolled early, while wideouts
Malik Golden
and
Trevor Williams
switched to defensive back.
PSU began practicing the nickel this spring, and fans can expect finally to see that package this season. There's no telling who might start alongside
Adrian Amos
come August --
Jordan Lucas
is currently practicing with the first team -- and fans should keep an eye on the young corners here.
PROJECTED (RS) FRESHMAN STARTERS
DT
Austin Johnson
and LB
Nyeem Wartman
are just redshirt freshmen, but it already looks as if they'll crack the starting lineup this season. Both very well could wind up as the rare four-year PSU starter, and expectations are high for these two.
Johnson already is up to 302 pounds, and O'Brien has praised his ability since he was asked about his top freshmen last season. And the hard-hitting Wartman, whom PSU fans already are familiar with, blocked a punt in his PSU debut before an injury in Week 2 that sidelined him for the season (and allowed him to pick up a medical redshirt). With the departures of
Mike Mauti
and
Gerald Hodges
, Wartman will have to play well right off the bat for PSU to remain strong here. One recruit said he was especially impressed watching No. 5, because he was all over the field during one practice. Let's see what they can do in a scrimmage.
(Also,
Akeel Lynch
and
Eugene Lewis
might not be starters ... but is there anyone who doesn't plan to keep a close eye on them?)
HOW MUCH BETTER HAVE THE BEST GOTTEN?
Practice observers and teammates have pointed constantly to
Allen Robinson
when asked who has impressed so far this spring. He broke the single-season school record for receptions last season, and he has gained needed weight while maintaining his speed. Robinson was the best in the Big Ten last year, and now he's even better. That's hard to picture on the field.
Mike Hull
,
Deion Barnes
,
Zach Zwinak
, Amos, etc. all have earned a lot of praise this spring. Zwinak has improved his strength, Barnes is shoring up his run-stopping, Hull is embracing a starting role ... and Amos? Well, he's probably PSU's most versatile player. Returner, safety, cornerback -- he can do everything. And it'll be interesting to see just how much he does Saturday.
TIGHT END U?
It's pretty incredible just how much this position has evolved in about 15 months.
Kyle Carter
won't play in the Blue-White Game, but fans still will be able to look at
Matt Lehman
,
Jesse James
and
Brent Wilkerson
.
MLB
Glenn Carson
mentioned James as the player who has impressed him the most overall. He broke out during Carter's absence late in the year, and he boasts good speed for a 6-foot-7 target. James has "red-zone target" written all over him, and it'll be interesting to see how this young corps does in the scrimmage. It'll be an even bigger bonus if
Adam Breneman
is able to play.
April, 18, 2013
4/18/13
12:00
PM ET
STATE COLLEGE, Pa. -- At least a dozen 2014 prospects will be taking in the annual Blue-White Game on Saturday, and the staff is hoping a a large crowd will be able to persuade at least one recruit to commit.
Here's a list of those visitors, complete with an overview on each player, in addition to a list of some big-name prospects who'll be elsewhere.
ATTENDING
RB Mark Allen (Hyattsville, Md./DeMatha):
He was the first commit of Penn State's 2014 class, and he said he's bringing along DeMatha teammates QB
John Lovett
and LB
JaWhaun Bentley
. He's currently ahead of schedule in recovering from an ACL tear.
BIG TEN SCOREBOARD
Thursday, 9/3
Friday, 9/4
Saturday, 9/5
Sunday, 9/6
Monday, 9/7