Penn State Nittany Lions:

Blake Countess
December, 2, 2013
Dec 2
6:15
PM ET
You've had a chance to check out the 2013 All-Big Ten teams and individual award winners. The four major award winners -- Offensive Player of the Year, Defensive Player of the Year, Coach of the Year and Freshman of the Year -- will be unveiled Tuesday.

Let's dive into today's selections ...
INDIVIDUAL AWARDS
The overall list isn't bad, although some of the selections certainly are debatable.
ALL-BIG TEN TEAMS
Overall, these looked a little
better than the 2012 version
, which contained several glaring problems in our view. The coaches' team continues to surprise us (not in a good way) with six defensive backs and two punters because of ties in the voting, and no Mewhort on the first team is hard to believe. But this was a slight step up.
(By the way, the Big Ten still doesn't have either of us vote for the media team, so direct your blame elsewhere).
Lewan, Mewhort and Iowa's Brandon Scherff all are terrific tackles, but we would have gone with Mewhort and Lewan on the first team, which the coaches did not.
Although Michigan's Devin Funchess claimed Kwalick-Clark Tight End of the Year honors, the coaches went with Iowa's C.J. Fiedorowicz as their first-team tight end. We can debate whether Funchess actually is a tight end or not, but his receiving numbers (47 catches, 727 yards, six touchdowns) are way better than Fiedorowicz's (26 catches, 253 yards, six TDs).
The coaches had six first-team defensive backs but didn't find room for Michigan's Blake Countess, who tied for the league lead in interceptions, or Nebraska's Stanley Jean-Baptiste, who had four picks and 11 pass breakups. Maybe only one Michigan State safety (our pick would be Kurtis Drummond) should be there.
Michigan wide receiver Jeremy Gallon had some huge performances, but he probably belongs on the second team behind Penn State's Robinson and Wisconsin's Jared Abbrederis, who were more consistent as the season went along. The coaches went with Ohio State's Corey Brown as their other second-team wideout, while the media went with Indiana's Cody Latimer. We like Latimer there.
One player the coaches and media differed on is Minnesota safety Brock Vereen, a first-team selection by the coaches but just an honorable mention selection by the media. He probably belongs right in between, on the second team, after leading a stout Gophers defense.

Another big difference between the coaches and media involved Iowa's B.J. Lowery. The media voted him as a first-team defensive back, while the coaches did not have Lowery among their eight choices on the first and second teams. Lowery is a nice player, but we're scratching our heads a bit as to why he was a first-team pick by the media.
Both Wisconsin back, Melvin Gordon and James White, made the second team. It says a lot about the depth at running back this year that Michigan State's Jeremy Langford, who ran for 1,200 yards and 16 touchdowns, couldn't crack the first or second teams.

We sure wish the league had a process for breaking ties on the coaches' team. Six defensive backs and two punters? That's just strange, though we'd like to see that two-punter formation in real life.
Connor Cook or Nathan Scheelhaase as the second-team quarterback? The coaches and media split on that. Scheelhaase has the better numbers, but Cook won all eight Big Ten starts. No wonder that latter fact probably impressed the coaches more.
The major awards -- offensive and defensive players of the year, freshman of the year and coach of the year -- will be announced on Tuesday.
November, 7, 2013
Nov 7
10:15
AM ET
Storylines to watch this week in the Big Ten:
1. Legends eliminator:
Michigan State has the lead and its feet up on the couch during its bye week. It can simply relax and watch as Michigan and Nebraska fight to stay alive in the division race, with the loser effectively out of the picture after just two weeks in November. The Wolverines, in particular, are barely hanging on and would need a lot of help after dropping the head-to-head tiebreaker to the Spartans. Meanwhile, after nearly having their chances extinguished a week ago, but surviving with a Hail Mary, the Huskers have a chance to make the most of their good fortune. Consecutive games against Michigan and Michigan State -- with a couple of wins -- could surprisingly put them in first place.
[+] Enlarge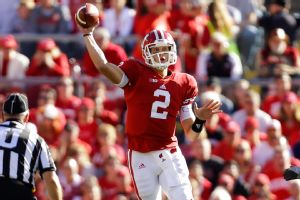 Mike McGinnis/Getty ImagesJoel Stave and the Badgers look to keep their BCS at-large hopes alive on Saturday.
2. Resume building:
The Badgers can't get the help they need in the Leaders Division with Ohio State on a bye week, and they can't make a move within the conference anyway as they step outside the Big Ten for a late-season date with BYU. Gary Andersen just can't seem to escape the Cougars after four encounters with them at Utah State and 11 more as an assistant at Utah,
and he could use a win over his old foe as the Wisconsin coach tries to keep his program in the running for a potential BCS at-large bid. A win over the Cougars won't do anything to change their fate in the league, but it could provide a boost nationally for the perception of the Badgers.
3. Digging into the mix:
The Gophers need some help if they're going to win the division, but the way they've handled their own business to even stay in the picture in the middle of November is impressive enough no matter what happens. Given all the potential distractions that could have come with coach Jerry Kill's health or playing multiple quarterbacks, the work Minnesota has done to get to 3-2 in the league and within striking distance if things break its way is one of the better stories of the season. It also won't be over if it can take care of Penn State at home.
4. B.B. firing:
There is no uncertainty in the Penn State backfield now, and it's safe to assume that any chance of a road win over the Gophers will involve a heavy dosage of
Bill Belton
. The Nittany Lions junior is coming off a career-best 201-yard performance in a win over Illinois that made it quite clear that he's the best option for Bill O'Brien's rushing attack. And while Minnesota hasn't been a slouch on defense during its surprising run, it has allowed more than 142 yards per game on the ground, which Belton would be more than willing to exploit.
5. Postseason plans:
With Penn State again ineligible for a bowl bid due to its NCAA sanctions, only Iowa can clinch a postseason appearance with a win this weekend. And if the Hawkeyes can't get it done against Purdue, they probably don't deserve to go anywhere but home for the holidays. The Boilermakers have been shut out for two straight games, and Iowa has appeared more than capable of extending that scoring drought with its solid defense against Ohio State and Wisconsin in recent weeks, even in losing efforts. Struggling Purdue could put an end to that losing skid and ensure the Hawkeyes get an extra game this season.
6. Worst nightmare for a scoreboard operator:
The two worst defenses in the Big Ten are set to do battle on Saturday, and the first unit to get a stop as Illinois visits Indiana might just get a win. The Hoosiers have been far and away the least productive defensive team in the league this season in allowing more than 500 yards per game, almost 50 more than the Illini. Indiana does balance that out with an offense that is putting up 40 points per game, which ranks second only to Ohio State's ruthless scoring machine in the Big Ten. But points figure to be easy to come by this weekend, so forcing a turnover or two could decide the outcome.
7. Purdue is searching for the red zone:
Forget about scoring points. The first thing the Boilermakers need to do is just move the football inside the 20-yard line. The Boilermakers have made a total of only 16 trips into the red zone all season, an average of just two visits per game and obviously a major factor for an offense putting up just 11.5 points every week. That's still just half the battle, though, and three missed field goals and three interceptions have ended scoring threats for the Boilermakers even when they do put together a deep drive into opposing territory.
[+] Enlarge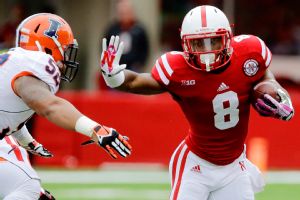 AP Photo/Nati HarnikAmeer Abdullah is locked in a duel with Wisconsin's Melvin Gordon for the B1G rushing crown.
8. Rushing title up for grabs:
There's enough distance now to officially call it a two-man race for the season rushing title, and Nebraska's
Ameer Abdullah
and Wisconsin's
Melvin Gordon
are once again going to see plenty of the football with lots at stake for both teams this weekend. Abdullah holds the lead by just 34 yards, though Gordon has a decisive edge in yards per carry thanks to his 33 fewer attempts. Ohio State's
Carlos Hyde
is in the discussion with those two tailbacks for All-Big Ten honors, but his three-game suspension early in the season leaves him lagging behind the leaders for the rushing crown.
9. Dueling defensive backs:
The co-leaders atop the Big Ten in interceptions obviously won't be on the field at the same time, but if either Michigan's
Blake Countess
or Nebraska's
Stanley Jean-Baptiste
are able to pull ahead with a pick on Saturday, it could be critical in determining which team keeps its division hopes alive for another week. There's obviously a chance they could both add to their total of four interceptions since the Wolverines and Huskers have combined to throw 21 of them already this season, but turnovers figure to be decisive and those guys have proven they can force them.
10. Ohio State looks for help:
Even without a game, the Buckeyes could still be a big winner on the off date as they cheer for a few upsets to boost their national title case. In order, Ohio State will be tuned in looking for Oklahoma to knock off Baylor, Stanford to beat Oregon or Alabama to lose to LSU as it continues to wait for some assistance to climb higher than No. 4 in the BCS standings. Within the Big Ten, and with Michigan State off, the Buckeyes figure to be most interested in Wisconsin extending its winning streak to continue making their win in September look better.
October, 18, 2013
Oct 18
11:00
AM ET
We've reflected on the
first half of the Big Ten season
, evaluated
each team
and looked ahead to what promises to be a
more exciting second half
.
As we put a bow on the first half, we're selecting a midseason All-Big Ten team. This list certainly isn't as significant as the postseason squad, but these players merit recognition for their performances during the first seven weeks of the season.

The envelope, please ...
OFFENSE
QB:
Nathan Scheelhaase
, Illinois
RB:
Melvin Gordon
, Wisconsin
RB:
Ameer Abdullah
, Nebraska
WR:
Allen Robinson
, Penn State
WR:
Jared Abbrederis
, Wisconsin
TE:
Ted Bolser
, Indiana
C:
Corey Linsley
, Ohio State
OL:
Spencer Long
, Nebraska
OL:
Brandon Scherff, Iowa

OL:
Rob Havenstein, Wisconsin

OL:
Jack Mewhort, Ohio State
DEFENSE
DE: Shilique Calhoun, Michigan State
DT: DaQuan Jones, Penn State
DE: Tyler Scott, Northwestern
LB: Chris Borland, Wisconsin
LB: Ryan Shazier, Ohio State
LB: Max Bullough, Michigan State
LB: James Morris, Iowa
DB: Darqueze Dennard, Michigan State
DB: Stanley Jean-Baptiste, Nebraska
DB: Ibraheim Campbell, Northwestern
DB: Blake Countess, Michigan
SPECIALISTS
K:
Jeff Budzien
, Northwestern
P:
Mike Sadler
, Michigan State
KR:
Marcus Jones
, Minnesota
PR:
Kevonte Martin-Manley
, Iowa
We'll start with the quarterback spot, which has been underwhelming around most of the league, partly because of injury. It was a close call between Scheelhaase and Penn State true freshman
Christian Hackenberg
, but Scheelhaase gets a slight edge with more touchdown passes and fewer interceptions. We had another tough decision at the No. 2 running back spot between Abdullah and Iowa's
Mark Weisman
, who has been very productive so far. Ultimately, Abdullah has made more out of his carries and got the nod.
The Big Ten's depth at linebacker prompted us to go with a 3-4 defensive alignment for the midseason team. We had some debate for the lone defensive tackle spot between Jones, Ohio State's
Michael Bennett
and Minnesota's
Ra'Shede Hageman
, but went with Jones, the league's leader in tackles for loss (8.5). Linebacker is so deep that it was tough limiting the list to only four. We ultimately went with Morris over Illinois'
Jonathan Brown
because Morris has made more game-changing plays. Cornerback has been a deeper position than safety through the first half, so we went with three corners and only one safety.
Kick returner was another close call between Minnesota's Jones and Illinois'
V'Angelo Bentley
.
October, 12, 2013
Oct 12
7:00
AM ET
The Wolverines haven't been perfect, but they've made plays when necessary to remain undefeated. Penn State has been a different story. Still, with a sold-out home crowd, this won't be the kindest of environments for Michigan. Here are five things to keep an eye on:
Which Devin Gardner will show up?
After the Michigan quarterback tossed four touchdowns to one pick against Notre Dame -- along with throwing for 294 yards and rushing for another 82 -- his Heisman stock reached a peak. According to Bovada, at that point, Gardner was a 14-to-1 underdog. Now? Well, let's just say all that stock has since been sold off, because he's no longer even listed as an option. Gardner was a turnover machine against Akron and UConn, and he has been wildly inconsistent this season. After last week's game against Minnesota, it's not yet time to say he has turned a corner. But, if the same Gardner shows up that played in Week 2, then the Wolverines should have something to celebrate. If the Week 3 and and Week 4 Gardner shows up? Say good-bye to that perfect record.
[+] Enlarge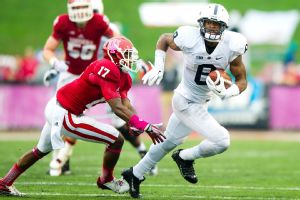 AP Photo/Doug McSchoolerAllen Robinson, PSU's best receiver, likely will be challenged by Michigan corner Blake Countess.
Potential matchup of Allen Robinson vs. Blake Countess.
This could be a pretty entertaining battle, as Robinson is the reigning Big Ten receiver of the year, and Countess already has come down with four interceptions this season. They're two All-Big Ten talents, and Penn State hasn't shown it has a receiving threat outside of A-Rob. If U-M decides to match Countess up with Robinson and Countess can get the best of him, there goes a player who has accounted for 45 percent of the PSU passing offense. It's certainly not going to be easy, however. Robinson is on pace for nearly 1,500 receiving yards. Even if the two don't match up against each other every play, they'll undoubtedly bump helmets throughout the game.
Third-down offenses.
The Wolverines have had some inconsistencies on offense, but they've been just fine consistently keeping drives alive. They're atop the conference when it comes to third-down conversions, and they rank No. 11 nationally with a 53.7 percent conversion rate. Penn State, on the other hand, is near the bottom -- ranked No. 112 in the country -- with a 29.7 percent conversion rate. Central Florida got the best of PSU because the defense couldn't get it off the field, and the Lions are hoping to avoid a repeat.
Lack of depth.
This will be a recurring issue for PSU until it returns to full strength in 2016. For this season, it has about 61 scholarship players -- 24 fewer than Michigan. Bill O'Brien didn't want to talk about that this week, but it undoubtedly will have an impact on the game. Linebacker
Mike Hull
is still recovering from an injury and isn't quite 100 percent. Safety
Ryan Keiser
is also questionable for the game, and that severely handicaps the personnel decisions of defensive coordinator John Butler. Lack of depth on defense could lead to a tired defense in the fourth quarter.
DaQuan Jones vs. U-M interior.
If there's one bright spot to the Nittany Lions' defense, it's their 318-pound defensive tackle. And if there's one big concern on the U-M offense -- besides Gardner's inconsistency -- it's the interior of the offensive line. Center
Graham Glasgow
made his first career start last week and, with all the noise inside Beaver Stadium, it's no stretch to think there might be a few communication problems between him and his quarterback. Jones has the ability to take over a game, so he'll either be routinely double-teamed -- freeing up teammates -- or he could have a standout statistical performance. It's definitely a matchup to watch.
October, 10, 2013
Oct 10
10:15
AM ET
Ten things to keep your eyes on in the four Big Ten games on Saturday:
1. Strength vs. strength for the Spittoon:
The Indiana-Michigan State game might not be the most-hyped matchup of the weekend, but if you like irresistible force/immovable object conflicts, this one's for you. The Spartans lead the FBS in total defense, rush defense and passing efficiency defense. The Hoosiers, meanwhile, are ninth nationally in total offense, 10th in passing yards and 11th in scoring. Indiana scored the first 17 points of the game last year in Bloomington before falling 31-27. This year's Old Brass Spittoon winner will go to the team that better parlays its strengths and its corresponding weaknesses (Michigan State's defense, Indiana's offense).
2. Inexperienced travelers:
Both Indiana and Nebraska have had comfortable early-season schedules, as each has played its first five games at home. Both teams go on the road for the first time this week, with the Hoosiers in East Lansing and Nebraska visiting Purdue. Bo Pelini said the schedule worked out well for his young defense to gain some less stressful experience, but he still will be leaning on youthful players both on defense and at quarterback with redshirt freshman
Tommy Armstrong Jr
. Indiana coach Kevin Wilson said his team uses a lot of hand signals on offense, so he's not too worried about crowd noise. Michigan also gets easily its toughest road test at Penn State, which should be a much more intimidating atmosphere than UConn's Rentschler Field.
3. Heartbreak Hotel, aka Camp Randall Stadium:
No team has suffered more gut-wrenching close losses in the past 2½ years than Wisconsin. But at least Northwestern can relate. Both teams might be playing for national titles if the NCAA shortened games to 55 minutes. On Saturday, Team 5:03 travels to the team that has yielded more Hail Marys than the pope's rosary beads. Both the Wildcats and Badgers are also coming off tough losses to Ohio State, with Wisconsin having two weeks to lick its wounds. The winner can still dream about a BCS bowl. The loser will be in serious catch-up mode. Is there any way it can end except on a key play in the final minute?
4. Northwestern's run defense vs. Wisconsin's rushing attack:
The Wildcats had trouble stopping Ohio State's offensive line and bulldozing back
Carlos Hyde
as the Buckeyes racked up 248 rushing yards in last week's 40-30 win. Northwestern players and coaches say it was more a matter of tackling and execution than a size and strength issue. They will have to do a much better job this week against Wisconsin, which is averaging 300 rushing yards per game. By all accounts, star tailback
Melvin Gordon
's left knee is fine after he injured it against Ohio State two weeks ago, and
James White
ran for 134 yards the last time these two teams played, in 2010 (yes, he's been around a long time). The Badgers ran for 329 yards in that last meeting three years ago. The teams have changed, but Wisconsin's approach hasn't. Northwestern had better hope its run defense has improved.
[+] Enlarge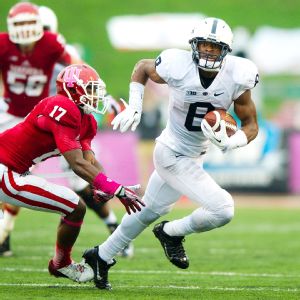 AP Photo/Doug McSchoolerPenn State wideout Allen Robinson has 38 catches for 621 yards this season, with five touchdowns.
5. Penn State's response:
Bill O'Brien has been jovial in many of his news conferences this year, but he was clearly not a happy man on Tuesday.
O'Brien was terse in his answers
with the media and basically refused to address anything regarding the Indiana loss or the team's scholarship situation. It's understandable why he wouldn't want to relive the program's first-ever loss to the Hoosiers or dwell on problems, because he needs his team focused on 5-0 Michigan, which comes to Beaver Stadium for a 5 p.m. game. The game is sold out and will be a White Out, though the enthusiasm from the fans might be a little less than before last week's loss. It remains to be seen whether the team will match O'Brien's feistiness and come out with a much better effort this Saturday.
6. Allen Robinson vs. Blake Countess:
Penn State's Robinson is the reigning Big Ten receiver of the year and is gunning for another trophy after his 12-catch, 173-yard day against Indiana last week. Michigan's top job on defense is to find a way to stop him, and that's where cornerback Countess should come in. Countess has four interceptions this year, tying him for the national lead. The Wolverines likely will need more than just Countess to slow down Robinson, and Penn State continues to search for a complementary weapon in the passing game for quarterback
Christian Hackenberg
.
7.
Ryan's return?
Michigan linebacker
Jake Ryan
has been itching to return from the torn ACL he suffered in the spring, and he has been medically cleared to play on Saturday in State College. Coach Brady Hoke appears hesitant to put his star back in there, fearing the risk of further injury. Hoke said Wednesday that Ryan has practiced as a backup. The Wolverines' defense has been light on big-play ability, which Ryan brings to the table in spades. Getting him back would provide a physical and emotional boost for Michigan.
8.
Etling's big day:
In what has been a sorry season so far for Purdue, at least quarterback
Danny Etling
provides reason for optimism. After making his college debut two weeks ago against Northern Illinois, the freshman gets his first start Saturday vs. Nebraska. Head coach Darrell Hazell says Etling's strong arm opens the whole field for the Boilermakers' passing game, and he hinted at offensive changes made during the bye week to suit Etling's skills. Nebraska's defense did a good job slowing down Illinois' passing attack last week but still has vulnerabilities. Etling had better watch out for cornerback
Stanley Jean-Baptiste
, who -- like Countess -- has four interceptions this season.
9. Two steps forward for Spartans' passing game?
Michigan State had its most encouraging offensive performance of the season in last week's 26-14 win at Iowa. Quarterback
Connor Cook
made good decisions en route to a 277-yard day, and even better for the offense, receivers
Bennie Fowler
and
Macgarrett Kings Jr
. showed off excellent playmaking ability. While not exactly an Oregon-esque outburst, last week's offensive showing was the kind the Spartans and their fans had been waiting to see for more than a year. The key will be whether that is a repeatable performance, especially this week against a below-average Indiana defense.
10. Well, hello again (and for the first time):
One of the most aggravating byproducts of conference expansion is the gap between games for some high-profile programs. Michigan hasn't played Penn State since 2010, while Northwestern and Wisconsin also haven't met in three years despite the short distance between the two schools. That's why it's good to see those two games on the schedule this weekend. With the new division alignment starting in 2014, the Wolverines and Nittany Lions will be paired in the East, while the Wildcats and Badgers will be in the West. Perhaps this will be the start of some renewed rivalry tensions in both series. Meanwhile, Nebraska plays Purdue for the first time as a Big Ten member. The schools have only played twice before and not since 1958 in West Lafayette. Scouting takes on added importance in all three of those games, as these teams have few players and coaches who have ever faced one another on the field.
September, 18, 2013
Sep 18
12:00
PM ET
I, for one, welcome our new insect overlords.
August, 7, 2013
Aug 7
3:08
PM ET
July, 25, 2013
Jul 25
9:00
AM ET
Every weekday over the next two weeks, NittanyNation will take a closer look at a different game this season and how the matchup stacks up for PSU. Up today: Michigan.
In some ways, Michigan and Penn State are pretty similar. For every question mark, there's a twinge of optimism the answer will wind up involving good news.
Subpar 2012 season for the tailbacks? No problem; true freshman
Derrick Green
will have an instant impact.
Jake Ryan
out until November? Plenty of quality depth at linebacker. Jordan Kovacs gone? Well, the secondary boasts more athleticism now. Different defensive line? No worries; it'll be just as good as last season.
There's no certainty the Wolverines will finish within the top two of the Big Ten, but that's what's often being projected -- and there's one big reason for that. OK, two. Brady Hoke and
Devin Gardner
.
Hoke has historically beefed up the passing game, which is why San Diego State finished with more than 7,000 passing yards in the two seasons Hoke was at the helm. It was more of the same at Ball State and, many believe, Michigan will follow suit with its new pro-style offense.
The Wolverines' success will likely reflect Gardner's performance, and Gardner seems poised to meet high expectations.
To continue reading this article you must be an Insider
December, 12, 2012
12/12/12
9:00
AM ET
Head coaches are like quarterbacks. They get too much credit and too much blame.
Assistant coaches are like nose tackles. They don't get nearly enough credit despite playing vital roles.
Today, we'll change it up and give some recognition to Big Ten assistant coaches who did exemplary jobs with their position groups or, in some cases, units in 2012. Each of these coaches fostered improvement this season. Some took units in bad shape and made them better. Others took units in decent shape and made them very good. Some entered the season with skeptics and quieted them.
We came up with 13 assistants who deserve recognition. Yes, we realize we're leaving out some quality folks, but we had to cap it somewhere and wanted to spread the love around to the different teams.
Here's the rundown in alphabetical order:
Chris Ash, Wisconsin, defensive coordinator/secondary:
All the attention on the offense's turbulent season took the spotlight away from the good things happening on the defensive side. Wisconsin finished in the top 25 nationally in total defense, scoring defense, rushing defense and pass efficiency defense. The Badgers held nine opponents to 21 points or fewer and gave an inconsistent offense chances to win every time out. Ash will be missed as
he joins ex-Wisconsin coach Bret Bielema at Arkansas
.
[+] Enlarge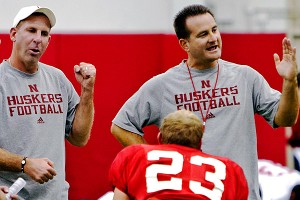 AP Photo/Nati Harnik, FileTim Beck, right, coordinated Nebraska's Big Ten-leading offense for head coach Bo Pelini.
Tim Beck, Nebraska, offensive coordinator/quarterbacks:
The second-year play caller oversaw the Big Ten's top offense, which averaged 462.2 yards per game (24th nationally) and 35.1 points per game (28th nationally). Junior quarterback
Taylor Martinez
made significant strides under Beck's watch, and Nebraska survived the loss of star running back
Rex Burkhead
for most of the season thanks to contributions from
Ameer Abdullah
and others.
Tracy Claeys, Minnesota, defensive coordinator:
An improved defense sparked Minnesota to a 4-0 start and eventually to bowl eligibility for the first time since the 2009 season. The Gophers pass rush showed life for the first time in years as senior end
D.L. Wilhite
and others put pressure on opposing quarterbacks. Minnesota was especially good against the pass, ranking 11th nationally and 20th in pass defense efficiency. Although the offense remains a work in progress, Minnesota should be pleased with the direction on defense under Claeys.
Adam Cushing, Northwestern, offensive line:
Cushing's recruiting ability always has stood out, but his coaching skills had been questioned as Northwestern struggled to convert promising line prospects into powerful blockers. The Wildcats went from a finesse offense to a power offense this season, blasting off of the line to the tune of 230.9 rush yards per game. Red zone offense went from a weakness to a strength as Northwestern tied for 17th nationally. Cushing's line paved the way for star running back
Venric Mark
.
Rich Fisher, Nebraska, wide receivers:
Nebraska isn't known for its wide receiver play, but things are changing under Fisher's watch. Led by standout sophomore
Kenny Bell
, the Huskers' top three receivers combined for 1,657 yards and 11 touchdowns on 115 receptions. Just as important, the receiving corps helped Nebraska's bread-and-butter run game with
effective blocking throughout the season
. Fisher's hiring after the 2010 season raised some eyebrows, as he had taken a break from college coaching, returned to the high school ranks and also served as a
golf instructor in Massachusetts
. But he definitely looks like a great addition to Bo Pelini's staff.
Patrick Higgins, Purdue, wide receivers:
Higgins played a significant role in Purdue's late-season surge, as he took over the offensive play-calling duties after coordinator Gary Nord suffered a severe back injury. Purdue won its final three games with Higgins and head coach Danny Hope handling the play calls. Higgins also did a nice job with Purdue's wide receiving corps, despite the fluctuating quarterback situation. Three veteran Boilers receivers eclipsed 40 catches and 300 receiving yards, and redshirt freshman
Dolapo Macarthy
showed promise.
Seth Littrell, Indiana, offensive coordinator/tight ends/fullbacks:
Head coach Kevin Wilson brought in Littrell to boost Indiana's passing attack, and Littrell delivered despite losing starting quarterback
Tre Roberson
in Week 2. Indiana went from 80th nationally in pass offense to 19th, leading the Big Ten with 311.2 yards per game. With help from assistant offensive coordinator/quarterbacks coach Kevin Johns, Littrell managed the quarterback situation pretty well as both
Cameron Coffman
and
Nate Sudfeld
had success. Littrell will go largely unnoticed because of Indiana's low profile and 4-8 record, but he was one of the Big Ten's best coaching additions for 2012.
Curt Mallory, Michigan, secondary:
Michigan's defensive line dominates the spotlight because that's where coordinator Greg Mattison and head coach Brady Hoke put their primary focus, but Mallory has done a really nice job with a secondary that struggled mightily under the previous regime. Despite losing promising cornerback
Blake Countess
to a
torn ACL in the season opener
, Michigan still finished second nationally (behind Nebraska) in pass defense (155.2 ypg allowed). Safety
Jordan Kovacs
has blossomed under Mallory's watch, and while the depth in the secondary isn't where it will be eventually, Mallory has managed things well.
[+] Enlarge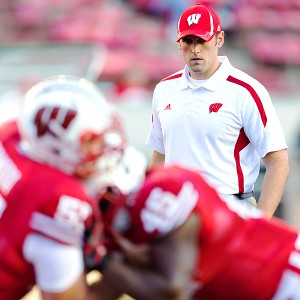 Jeff Hanisch/USA TODAY SportsBart Miller went from grad assistant to coach of a Wisconsin O-line that pummeled its way to Pasadena.
Bart Miller, Wisconsin, offensive line:
Miller began the season as a graduate assistant and moved into one of the team's top assistant roles in Week 3 after the surprising dismissal of veteran line coach Mike Markuson. Although Wisconsin's line didn't have its typical dominant performances every time out, Miller fostered obvious improvement and cohesion during the course of the season. The finished product showed up in the Big Ten championship game against Nebraska, as Wisconsin bullied the Huskers to the tune of 70 points, 539 rushing yards and eight rushing touchdowns.
Reese Morgan, Iowa, defensive line:
Iowa didn't have much to cheer about in 2012, and some of the staff changes Kirk Ferentz made led to some growing pains. Morgan faced a significant challenge in moving from offensive line to defensive line, which returned only a handful of players who had logged field time in 2011. Given the youth and inexperience along the Hawkeyes' defensive front, Morgan did a nice job in Year 1.
Joe Gaglione
had a nice senior season (9 tackles for loss, 5 sacks, 2 forced fumbles) and young players like
Louis Trinca-Pasat
showed promise. The line held its own in the first half of the season before struggling late.
Pat Narduzzi, Michigan State, defensive coordinator:
Many of these assistants took questionable units and improved them. Narduzzi led an elite defense that entered the season with high expectations and met them. Make no mistake: Michigan State's defense is the only reason the team found itself in every game this season. The Spartans had a few standouts, namely linebacker
Max Bullough
, but their overall team defense and stinginess stood out. Narduzzi is one of the nation's premier coordinators and should land a head-coaching job in the near future.
John Strollo, Penn State, tight ends:
Although O'Brien's offense is a tight end's dream, Strollo did a terrific job of developing young and unproven players this season. Redshirt freshman
Kyle Carter
emerged into one of the Nittany Lions' top passing threats, and junior
Matt Lehman
and true freshman
Jesse James
also stepped up at times. Of Penn State's top five receiving-yards leaders this season, three players are tight ends (Carter, Lehman and James).
Ed Warinner, Ohio State, offensive line/co-offensive coordinator:
Warinner took an underachieving Buckeyes offensive line with serious depth questions and turned it into quite possibly the best line in the league. The Buckeyes' front five turned a corner in Big Ten play and created lanes for
Braxton Miller
,
Carlos Hyde
and the Big Ten's top scoring offense. Warinner was the Big Ten's best assistant hire of the last offseason and earns our vote as the league's top assistant in 2012.
Penn State vs Wisconsin Highlight