Penn State Nittany Lions:

Blake Bortles
February, 14, 2014
Feb 14
9:00
AM ET
STATE COLLEGE, Pa. -- The end of
this week's countdown
is finally here. And if you're surprised by this top choice, then you just haven't been watching the past two seasons ...
No. 1:
Safeties
[+] Enlarge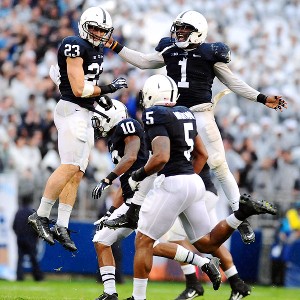 Evan Habeeb/USA TODAY SportsPenn State defensive back Ryan Keiser (23) has experience at safety, but he must improve to get on the field in 2014.
The players:
Adrian Amos
(50 tackles, six pass deflections),
Ryan Keiser
(38 tackles, 11 pass deflections),
Jesse Della Valle
(21 tackles),
Malik Golden
(eight tackles),
Koa Farmer
(incoming freshman),
Marcus Allen
(incoming freshman),
Christian Campbell
(incoming freshman)
Last season:
This group has been the Nittany Lions' Achilles' heel for the past two seasons. Amos started 2013 as a safety while
Trevor Williams
tried his hand at cornerback. Neither fared well, however, and that experiment was abandoned midseason with Keiser taking over. Keiser didn't fare any better, and the safeties found themselves constantly out of position. A third-and-long play was no guarantee for a punt the next down, and better quarterbacks -- like
Blake Bortles
and
Braxton Miller
-- absolutely shredded this secondary.
What's missing:
Ability. There's really no other way to put it. You could go with speed or athleticism or awareness, but all adjectives point back to that same simple trait: talent.
Malcolm Willis
was a really hit-or-miss player last season, but he was at least a team leader who knew the signals well enough to become the "quarterback of the defense." With his graduation, that won't be easily replaced either. Amos is a great corner, too, but he wasn't such a great safety.
Moving forward:
It's not an easy exercise to even decipher who might be a safety next season. Amos didn't fare well, but the newest roster update still puts him at the position. Even
Jordan Lucas
could technically play the position. Those two are clearly the best cornerbacks, but the concern is obviously how much of a liability safety is with the team's top two DBs both at corner. Last season, PSU fared better with both at corner. This season -- who knows? One of the incoming freshmen could become a Day 1 starter, or maybe Golden takes over after a strong spring. Whatever happens, though, the most surprising move might be having two of the more experienced safeties -- Keiser and Della Valle -- both starting alongside one another. Both came to Penn State without scholarships and have impressed in that regard, but they're simply not a good season-long solution to PSU's issues at safety.
On the bright side, though, could Penn State's safety play really be any worse than it was the last two seasons?
October, 10, 2013
10/10/13
1:00
PM ET
Michigan will travel to Happy Valley on Saturday for its 17th meeting against Penn State. So, in preparation of the game, Michigan beat writer Chantel Jennings and Penn State beat writer Josh Moyer sat down to discuss four key questions surrounding the contest.
What's the X-factor for the Michigan-PSU game?
Jennings:
Whether Michigan can get control early. If this is close going into the fourth quarter, I don't like Michigan's chances. It should come as no surprise -- especially with a young QB like
Christian Hackenberg
-- that Penn State gets better as the game goes on. The Nittany Lions have scored 21 first-quarter points but 65 fourth-quarter points. The crowd will be behind Hackenberg and his offense so if it comes down to a fourth-quarter stand from the Michigan D I just don't see it happening.
Moyer:
Turnovers. I know, I know -- they're an X-factor in every game. But bear with me here. Neither of these teams often finds itself on the right side of the turnover battle -- both are tied for 97th this season in turnover margin -- and they've both managed to win in spite of that. And it's a toss-up Saturday to see who'll take advantage. Michigan is turning the ball over, on average, a little bit more than twice a game. Only 17 FBS teams are worse. On the flip side, only a dozen teams in the FBS have forced fewer turnovers than Penn State. Something has to give. For either team to finish even plus one would be big.
Which player is the most important?
[+] Enlarge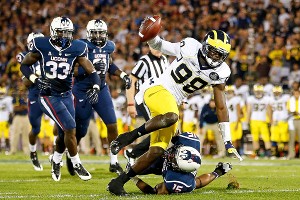 Jim Rogash/Getty ImagesThe maddening inconsistency of Devin Gardner will play a major role on Saturday in State College.
Jennings:
Michigan QB
Devin Gardner
. This could be a high-scoring game depending on how Michigan's defense handles Hackenberg and whether Gardner is himself or just a shell of himself. If the Gardner who showed up against Akron and UConn is on the one who takes the field this Saturday, things could get ugly fast. Penn State isn't the friendliest of environments, and we've seen how mistakes pile up on the road. The offense hinges on his performance and if Michigan wants to win, Gardner needs to take care of the ball and run this offense like he can.
Moyer:
Gardner. The opponent's passing games have dictated a lot for PSU. Just look at their two losses:
Blake Bortles
was the key in the UCF-PSU game, and Indiana's passing game posted 336 yards. Gardner might not be a better passer than Bortles, but he's easily the best athlete under center that PSU has faced. If he escapes the pocket, Penn State is in trouble. If Gardner plays like he did against Akron and UConn, Penn State wins. If he plays like he did against Notre Dame and Minnesota, Penn State loses.
What's the matchup to watch?
Jennings:
Penn State's secondary against wide receiver
Devin Funchess
. After the Minnesota game, teams are going to key in on Funchess. Physically, I can't really see many defensive backs in the country having the inherent advantage in this battle, but I think it'll be very interesting to see how the sophomore handles the added pressure and coverage.
Moyer:
DT
DaQuan Jones
vs. U-M interior. The 318-pound tackle is Penn State's most dominant defensive player, and the Wolverines' interior isn't exactly a strength.
Graham Glasgow
made his first start at center last week, and Jones has the ability to take over a game. He's second -- yes, second -- on the team in tackles with 30, and he leads PSU with two sacks and 6.5 stops in the backfield. If Penn State's defensive line gets a good push Saturday, or U-M's tailbacks have difficulty running up the middle, it'll almost certainly be due to Jones.
Which team has the advantage?
Jennings:
If all things were equal and it just came down to each team playing to its potential, I'd say Michigan would have the advantage. However, the Wolverines have not played well on the road and Beaver Stadium is going to provide a huge challenge. Communication issues are going to pop up and considering this will be just the second start for this group as a unit on the offensive line -- and just the second start with Glasgow and Gardner together -- I have to believe mistakes will be made that will heavily favor Penn State.
Moyer:
Michigan. The main issue surrounding the Wolverines seems to be which Gardner will show up. The main issue surrounding Penn State is ... well ... there's a lot more than one issue. That's the problem. There has been no No. 2 receiving threat, the running game has been inconsistent, the linebackers have looked lost at times, and the secondary remains a weakness. To me, that seems to be too many question marks against a ranked team. Inconsistent or not, the Wolverines have made the plays when they've needed to. The same cannot be said of Penn State. Could Penn State pull this one out? Absolutely. But it would most certainly be an upset.
October, 3, 2013
10/03/13
1:00
PM ET
STATE COLLEGE, Pa. -- Safety
Adrian Amos
didn't want to talk about Central Florida's passing attack on Wednesday.
Amos kept his chinstrap buckled after that 34-31 loss in mid-September, even during the singing of the alma mater. He didn't talk to the media then; few players were eager to say much after that loss.
But that game was in the past, Amos insisted. He wasn't thinking about UCF's passing game or the sting of walking to the locker room without tugging on the victory bell. Indiana is another team, another opportunity against a high-powered passing attack, and he said that's what his team is focusing on.
"We're just looking at Indiana as Indiana," he said. "We're just looking at Indiana based on what
they
do."
The cornerback-turned-safety couldn't be blamed for wanting to place his focus elsewhere, even if Indiana's passing offense is ranked higher than the Knights'. UCF quarterback
Blake Bortles
played nearly a perfect game against the PSU secondary by completing 20-of-27 passes for 288 yards, three touchdowns and one interception. He finished with a QBR of 96.7; a perfect score is 100.
Penn State players this week were continually peppered with questions about UCF because Indiana's passing offense might just be better -- at least it certainly is statistically. (Indiana boasts the nation's eighth-ranked passing offense, while UCF is No. 22.) Some wondered whether PSU's secondary was in for a repeat of the UCF game. Or if Penn State would fare better this time around.
Defensive tackle
DaQuan Jones
came the closest to addressing Central Florida this week, but even he wouldn't totally admit to reflecting on it.
"It's always in the back of my mind -- but, at the same time, it's not," Jones said. "We want to go out there and play our game the way it's supposed to be played, Penn State-style.
"They are two completely different offenses. Indiana is more fast paced, quick throw -- stuff like that. I learned from UCF that I have to pick my game up that much more."
The UCF game was a popular topic of conversation because it's the only above-average passing offense the Nittany Lions have faced so far. UCF is the lone top-40 passing offense PSU has gone against -- and that outcome was far from ideal.
Jones said Indiana would be the most up-tempo offense the defense sees all season. Head coach Bill O'Brien focused on the issue of space during a Tuesday press conference, mentioning the word six times and explaining how the Hoosiers tend to get the ball to their playmakers.
Because of that, tackling is more important than ever. Missed tackles can lead to big, explosive plays in space -- yet another issue in the loss to Central Florida.
"They're going to probably get the ball to their playmakers out in space," cornerback
Jordan Lucas
said, "And they're going to try to make us make tackles in space. That's what the game is going to be."
Indiana tight end
Ted Bolser
said he watched eight hours of film on PSU's defense last week and planned to watch another eight hours this week. Several PSU defenders said they prepared by practicing against a no-huddle scout team headed by walk-on
D.J. Crook
.
Clearly, something has to give here. The Hoosiers are out to show they can score big in the Big Ten, and PSU wants to make sure UCF was just a one-time mistake. Both want to start 1-0 in conference play.
"It's a challenge," Amos said. "I don't know whether it's going to be the toughest or not."
October, 3, 2013
10/03/13
10:15
AM ET
Ten items to track around Big Ten football in Week 6:
1. Will the real Devin Gardner please stand up:
The Michigan quarterback has been an anomaly in the last three weeks. He exceeded expectations against Notre Dame, the toughest test so far this season, but struggled against two cupcake opponents. He competed 64 percent of his passes against the Irish; he went 11-of-23 against UConn. He threw four touchdowns to one interception against Notre Dame; he posted three picks against Akron. He's going up against a middle-of-the-road Minnesota defense Saturday, and no one's quite sure what Gardner is going to show up. Is he finished struggling against mediocre competition? Or is this just the new normal?
2. Sixteen tries, zero wins:
Since 1993, Indiana has played Penn State 16 times. And, since 1993, the Hoosiers have beaten the Nittany Lions a grand total of … zero times. They've come close on six occasions -- losing by just one score -- but Indiana's hoping to reverse that trend this weekend. Redshirt senior
Ted Bolser
has watched his team fall to Penn State four times now, and he doesn't want to make it five. This will be the most up-tempo team PSU faces all season, and Indiana's hoping to catch the visitors off guard.
[+] Enlarge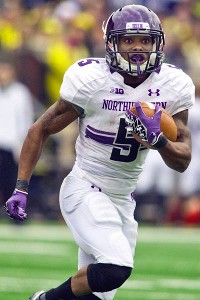 Tony Ding/AP PhotoThe return of running back Venric Mark is a huge boost for Northwestern as it tries to upset No. 4 Ohio State on Saturday.
3. Venric Mark returns:
The Wildcats' offense is about to get quite the boost, as Mark will return after sitting out the last three games with a leg injury. He rushed for more than 1,300 yards last season and he comes back at just the right time for Northwestern. He's a big part of the option attack, which just hasn't been the same without him. And he'll likely play a big role against the Buckeyes. It's great timing for Northwestern -- and terrible timing for OSU.
4. Epic defensive matchup:
At the final whistle, the Michigan State-Iowa score might just end up looking like a baseball tally. The Spartans boast the nation's top-ranked defense, while Iowa isn't too far behind at No. 7. No other game so far this year has pitted two top-seven defenses against one another, and this should be an exciting one for fans who prefer low-scoring contests. The Spartans have come up with nine sacks and 24 tackles-for-loss in just four games, while Iowa ranks 12th in the country by forcing 11 turnovers.
5. Tailoring a game plan without Taylor Martinez:
Martinez is still battling turf toe, and the Nebraska QB is questionable for Saturday's game against Illinois. If he can't go, offensive coordinator Tim Beck could opt to go with the same two-quarterback system he utilized against South Dakota State. That means redshirt freshman
Tommy Armstrong Jr.
and fifth-year senior
Ron Kellogg III
would split reps. Martinez started 32 consecutive games before the streak ended two weeks ago, so neither backup is exactly a proven commodity. Martinez could still play but, if he doesn't, there'll be quite a few extra question marks for the Huskers on Saturday.
6. Can Nathan Scheelhaase keep up this pace?:
The Illini have already surpassed last season's win total, and Scheelhaase has been a big reason for that. He leads the conference in passing yards (1,162) and quarterback rating (174.8). Plus, he's second in completion percentage (67.2), yards per attempt (9.5) and passing touchdowns (12). At this point, it certainly seems as if he belongs on the All-Big Ten team. And it'll be interesting to see if Scheelhaase's huge numbers can continue. He's going up against Nebraska's 105th-ranked passing defense this weekend.
7. Seventeen and counting
Ohio State's 17-game winning streak is on the line against No. 16 Northwestern, and this matchup is once again the Big Ten game of the week. A convincing win here would help boost the Buckeyes' No. 4 ranking in the polls, while a Northwestern victory would help cement the Wildcats' status as a title contender. Pat Fitzgerald has been looking for his gritty team to take the next step, and this is the perfect opportunity. Urban Meyer, meanwhile, hopes to increase the nation's best winning streak and to pave the way to the national title game. Ohio State's the favorite, but no one's counting out the Wildcats.
8. Redeeming the secondary:
OK, there are a few Big Ten teams that could fit under the title of "struggling secondary," but there's one team where that identity isn't quite clear yet -- Penn State. The Nittany Lions actually boast the No. 23 passing defense, BUT they were absolutely dominated by
Blake Bortles
and UCF. Indiana's eighth-ranked passing attack will be a tough test for the PSU secondary. And this will go a long way in determining whether UCF was an anomaly, or whether big passing numbers will be the new norm for Penn State's defense.
9. Forgetting the pig in favor of a jug:
After starting out 4-0 and then losing the Floyd of Rosedale to Iowa, the Golden Gophers will get another chance at a trophy -- in the battle for the Little Brown Jug against Michigan. Of course, Minnesota has only won the trophy three times since 1968. Still, Jerry Kill keeps a replica of the trophy on his desk, and this would be a program-defining upset. The Gophers need one of those, as they have a difficult schedule coming up and a bowl berth certainly isn't guaranteed. Four of their next five opponents are Michigan, Northwestern, Nebraska and Penn State.
10. Bradley Roby trying to get back on track:
He gave up a few big plays against Cal and then, against Wisconsin,
Jared Abbrederis
lit him up to the tune of 207 yards for the biggest game a Badgers receiver has had in a decade. Roby wasn't made available to the media this week, but his teammates voiced confidence in the preseason All-American. He is -- was? -- considered one of the nation's top cornerbacks, but that title might be in jeopardy. He's undoubtedly looking for a big play or two to help silence the doubters. Northwestern doesn't have the most high-powered passing attack so, if Roby struggles this weekend, those critics will only get louder.
September, 19, 2013
9/19/13
9:00
AM ET
Three weeks in and we're all square in the season standings. Get ready for a tightly contested race most of the way.
The Week 4 slate isn't nearly as appetizing as its predecessor, although there are a few sneaky good games on the docket. Big Ten play officially begins at Camp Randall Stadium and 11 league squads are in action (Illinois is off).
Let's begin …
SAN JOSE STATE at MINNESOTA
Brian Bennett:
Mitch Leidner
could start at quarterback for the Gophers as
Philip Nelson
is questionable with a hamstring injury. That's not good news against a San Jose State team led by a future NFL draft pick in
David Fales
. The Spartans are the best team Minnesota has played, and I say they pull off the road upset
. … San Jose State 24, Minnesota 20

Adam Rittenberg:
A tough one here as the Gophers haven't been tested and San Jose State's Fales could stress a
secondary already down one starter
(
Briean Boddy-Calhoun
). There's some uncertainty on offense at quarterback, but I like the fact the Gophers have a full stable of running backs. Minnesota racks up 200 rush yards and three touchdowns to survive with a win.
… Minnesota 27, San Jose State 24
FLORIDA A&M at OHIO STATE
Adam Rittenberg:
The scoreboard operator will be busy as Buckeyes backs
Jordan Hall
and
Carlos Hyde
combine for six touchdowns. The quarterbacks don't have to do much in this one as Ohio State rolls on to 4-0.
… Ohio State 59, Florida A&M 7
Brian Bennett:
This is a ludicrous matchup. Buckeyes can name their score.
… Ohio State 63, Florida A&M 10

WESTERN MICHIGAN at IOWA
Brian Bennett:
Oh boy. We get to watch Western Michigan take on a Big Ten team for the third time in four weeks. The first two times didn't go well for the Broncos, and
Mark Weisman
will add to their misery with 150 yards rushing.
… Iowa 35, Western Michigan 7

Adam Rittenberg:
Northwestern ran roughshod on Western Michigan and Iowa will do the same. Coach Kirk Ferentz gives Weisman a bit of a breather and spreads the ball around, as both
Damon Bullock
and
Jordan Canzeri
reach the end zone. Iowa pulls away in the third quarter.
… Iowa 31, Western Michigan 10
MAINE at NORTHWESTERN
Adam Rittenberg:
Expect another vanilla offensive game plan from Northwestern as the coaches save the goods for Week 6 against Ohio State. Five different Wildcats rush for touchdowns, including true freshman
Warren Long
, in the team's final tune-up before Big Ten play.
… Northwestern 48, Maine 13
Brian Bennett:
Please don't feed the Black Bears!
Ibraheim Campbell
makes it six games in a row with a pick as the Wildcats roll.
… Northwestern 45, Maine 17

MICHIGAN STATE at NOTRE DAME
Brian Bennett:
The Spartans finally have a bit of confidence and stability at quarterback, but
Connor Cook
still has a ways to go and this is a tough road spot. The Irish jump out early on a special-teams touchdown and manage to hold on in a defensive struggle.
… Notre Dame 17, Michigan State 10

Adam Rittenberg:
Michigan State's renewed offense comes in with confidence and scores early. But reality begins to set in on the road, and the Spartans stall midway through the second quarter. The defense keeps it close as always, but Notre Dame rallies late behind
Tommy Rees
and his receivers.
… Notre Dame 19, Michigan State 16
SOUTH DAKOTA STATE at NEBRASKA
Adam Rittenberg:
The Huskers rest top quarterback
Taylor Martinez
(toe), and backups
Ron Kellogg III
and Tommy Armstrong both play and combine for three pass touchdowns.
Imani Cross
sparks the rushing attack in the second quarter and Nebraska fans can smile a little after a brutal eight-day stretch.
… Nebraska 59, South Dakota State 14
Brian Bennett:
The Jackrabbits are just what Nebraska needs right now. The Huskers get off to a sluggish start without a healthy Martinez, but
Randy Gregory
forces a fumble for a defensive score and the running game is too much for SDSU to handle.
… Nebraska 38, South Dakota State 10

KENT STATE at PENN STATE
Brian Bennett:
I think the Penn State defense comes out mad after last week's performance, and Kent State has had a tough time scoring so far this season.
Zach Zwinak
scores twice and the defense comes up with three turnovers.
… Penn State 28, Kent State 10

Adam Rittenberg:
Unless
Blake Bortles
secretly suits up for the Golden Flashes, Penn State should be OK in this one and takes control in the second quarter. Chalk up two more touchdown passes from
Christian Hackenberg
to
Allen Robinson
, and defensive end
Deion Barnes
finally shows up for the Lions.
… Penn State 31, Kent State 20
PURDUE at WISCONSIN
Adam Rittenberg:
No officiating blunders in this one as Wisconsin starts a bit slowly before getting
Melvin Gordon
and the run game going in the second half. Gordon records his first 20-carry performance and racks up 180 yards and two touchdowns. Purdue jumps out to an early lead but once again struggles in the fourth quarter.
… Wisconsin 34, Purdue 21
Brian Bennett:
Purdue hasn't been able to stop the Wisconsin running game the past couple of years, and it's no different in this one. Gordon and
James White
each eclipse 100 yards and the Badgers take out some frustration on the Boilermakers.
... … Wisconsin 42, Purdue 14

MICHIGAN at CONNECTICUT
Brian Bennett:
The Wolverines haven't been quite the same team on the road as they have been at home for Brady Hoke, but Rentschler Field ain't exactly the Horseshoe. UConn doesn't have enough offensive talent to do much damage, and
Devin Gardner
bounces back with four total touchdowns and just one turnover.
… Michigan 38, Connecticut 9

Adam Rittenberg:
Last week's near disaster against Akron will heighten Michigan's focus. So, too, will a road game under the lights (even if it feels more like a home game). Gardner delivers a turnover-free performance, and Fitz Toussaint has a big game on the ground (130 rush yards, 2 TDs).
… Michigan 35, Connecticut 17
MISSOURI at INDIANA
Adam Rittenberg:
This should be the most entertaining game of the day, as both offenses will put up points. Maybe I'm buying into Indiana too much after last week's impressive performance, but I like what I saw from the defense, which does just enough against Mizzou and records a game-ending takeaway. Expect another balanced offensive performance as
Tevin Coleman
rushes for two more touchdowns.
… Indiana 41, Missouri 37
Brian Bennett:
I expect a wild shootout where the punters can probably chill out on the sidelines. Ultimately, I don't have enough faith in the Hoosiers' defense and think
James Franklin
and
Henry Josey
will be too much to overcome. But take heart, Indiana fans: I've been wrong on your team each of the past two weeks.
… Missouri 48, Indiana 42

You've heard from us. Now it's time to see what this week's guest picker has cooked up. As a reminder, throughout the season we'll choose one fan/loyal blog reader each week to try his or her hand at outsmarting us. There's nothing but pride and some extremely limited fame at stake. If you're interested in participating, contact us
here
and
here
. Include your full name (real names, please) and hometown and a
brief
description why you should be that week's guest picker. Please also include "GUEST PICKS" in all caps somewhere in your email so we can find it easily.
We felt a little sorry for this guy after what happened last week in Tempe, Ariz.
Garret Olsen from Madison, Wis.,
the floor is yours:
I am a born-and-raised Wisconsin fan and 2010 University of Wisconsin Grad in complete shock this week. I'm in need of a win. I attended my first Badger football game with my grandparents when I was 5 years old and have attended many more Badger games over the years with them. I never missed a home game during my time as an undergrad and traveled to many of the B1G stadiums and followed the Badgers to Indy and Pasadena. Each week my former Mifflin Street college roommate and I have a friendly pick-off between us and I can proudly report that I have beaten him the last two years. The blog is a daily read for me and I would be honored to pick alongside you and Adam and I promise not to botch any last-second pick situations.
Here are Garret's Week 4 selections:
San Jose State 35, Minnesota 34
Ohio State 45, Florida A&M 7
Iowa 28, Western Michigan 14
Northwestern 55, Maine 10
Notre Dame 17, Michigan State 10
Nebraska 42, South Dakota State 21
Penn State 33, Kent State 24
Wisconsin 49, Purdue 17
Michigan 34, Connecticut 13
Missouri 42, Indiana 38
SEASON RECORDS
Adam Rittenberg:
31-5
Brian Bennett:
31-5
Guest pickers:
27-9
September, 15, 2013
9/15/13
10:00
AM ET
Every Sunday around this time, we'll recap five lessons from the week that was Penn State football.
And away we go:
[+] Enlarge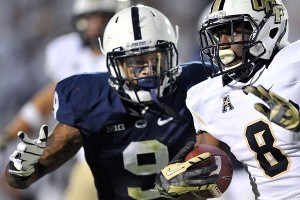 Abby Drey/Centre Daily Times/Getty ImagesJordan Lucas and the Penn State secondary had a difficult night against UCF.
1. The first-year starting cornerbacks still have a lot of learning to do.
Trevor Williams
and
Jordan Lucas
did not have good games. That much is obvious. Defensive coordinator John Butler was forced to bench Williams and slide
Adrian Amos
over to cornerback at one point. And Lucas committed a huge pass-interference penalty on a third-and-9 play that prevented a PSU comeback. UCF's
Blake Bortles
completed nearly 75 percent of his passes, and PSU's corners led the team in tackles. Those aren't numbers you want to see. Those two will see other tough passing attacks, and there's no telling if Amos will be able to stay at safety as a result. This now seems to be the biggest issue on the team.
2. Zach Zwinak's fumble concerns are still not behind him.
He's big, he's strong, and he wears defenses down. But -- and this is a big 'but' -- he still has problems holding onto the pigskin. That was the main knock on the 240-pound back last season, and it would appear he's still not over those issues. Zwinak committed a costly fumble in the fourth quarter that also killed PSU's comeback hopes. He fumbled five times last season and still hasn't lived down that reputation.
3. The sanctions are catching up with Penn State.
Butler conceded as much, and he's right. The defensive coordinator explained that PSU has been forced to limit tackling in practice out of the fear of injuries. And, if you limit tackling, missed tackles are going to happen. It's a product of that depth. Fewer scholarships mean fewer options on defense. The bad news for Penn State? Injuries tend to progress along with the season -- so it's only going to get worse.
4. Mike Hull is not at 100 percent.
He just didn't seem like the same linebacker against Central Florida, and his participation was limited. Bill O'Brien was asked about where Hull was, injury-wise, after the game and the head coach responded, "He's a tough kid, and I think he is giving us everything he's got." He didn't elaborate but said he'd watch the tape and offer more information Tuesday. Safety-turned-linebacker
Stephen Obeng-Agyapong
replaced Hull when he couldn't go, and linebacker is obviously a huge concern for PSU moving forward. Hull is important to this defense, and it greatly impacts this defense when he's not 100 percent. And he clearly was not 100 percent.
5. True freshmen are really stepping up.
It's not just the obvious here in
Christian Hackenberg
, who has exceeded very lofty expectations already. It's a lot of other true freshmen. Tight end
Adam Breneman
finished second in catches Saturday with four (for 22 yards), and
Richy Anderson
finished third in catches with two (for 21 yards). Anderson seems to have supplanted redshirt junior
Alex Kenney
as the slot receiver. And run-on
Von Walker
has also seen a lot of time as a returner and on other special teams. This is a special class and should offer fans hope for the future.
September, 14, 2013
9/14/13
11:15
PM ET
STATE COLLEGE, Pa. --
Deion Barnes
stared blankly ahead once the coaches shook hands near midfield. There was no changing the blinking lights on the scoreboard. Barnes hurriedly unbuckled his chin strap and headed to the tunnel.
The defensive end's stare told the story of the Nittany Lions' day. Barnes seemed angry, frustrated and in disbelief. Most of the fans were, too.
The Nittany Lions' defense was supposed to be the strong point of this team. The rush defense was supposed to be nearly impenetrable. (It had allowed just 1.8 yards a carry.) The secondary was supposed to be much improved. But against George O'Leary's Knights, these Nittany Lions allowed 507 yards -- including nearly 6 yards a carry.
Bill O'Brien called it a team loss, but it was clear it was the defense that disappointed.
"We knew what we had to do to stop them," defensive coordinator John Butler said between swigs of orange sports drink. "And, to be honest with you, we couldn't stop what we needed to stop."
Safety
Adrian Amos
didn't remove his helmet while fans swayed to the alma mater. He wasn't the only one. Neither Amos nor Barnes, staples of the interview room, stopped to chat with reporters after their first loss of the season.
Instead, Butler took center stage and tried his best to answer questions -- minutes after O'Brien tried to deflect most by reiterating that he'll watch the tape. Butler did, too, but he tried his best to explain just how PSU managed to allow 15 plays that went for 10 yards or more.
The defensive coordinator knew people would blame PSU's thud practices, in which no one is tackled to the ground, for the missed tackles. And he didn't try to dismiss that explanation, either.
"I think it's fair," Butler said. "But that's just a decision we have to make because when you only have 62 scholarship players, you've got to do your best to get what you have to the field. You don't want to take it to 57 because you're tackling in practice, and maybe two of those five players you lose are your best players.
"So I think we drill it, and I think we have to keep drilling it. And part of it's leverage and their athletes."
The defense had its chances to stop UCF and give the offense a chance at the comeback. In the final quarter, with PSU trailing by just a touchdown and with the students' deafening chants,
Jordan Lucas
was flagged for a pass-interference penalty on third-and-9. ("Shoot, I thought we had a stop," Lucas said.) Later on that same drive, on third-and-2,
William Stanback
rumbled ahead for the first down.
And then, on UCF's final drive, PSU allowed a 13-yard pass on second-and-9 to seal the game.
"Yeah, I feel like we should've won this game," defensive tackle
DaQuan Jones
said. "But, at the same time, we didn't. They were the better team today."
DE
C.J. Olaniyan
missed a critical stop in the backfield. CBs
Trevor Williams
and Lucas led the team with six tackles apiece. And PSU came up with no sacks and no quarterback hurries.
The problem with the defense was that there was more than just one problem. At one point, wideout-turned-cornerback Williams took the bench while safety Amos moved back to cornerback.
Blake Bortles
completed nearly 75 percent of his passes, so PSU needed to do something. Still, it didn't work. Butler moved around personnel, tried different game plans, but nothing seemed to slow down UCF.
"We tried everything. That's the one thing I know I can say," Butler said. "We emptied the game plan. We tried to play man, we tried to play zone, we tried to play half-man, half-zone. They did a good job."
Christian Hackenberg
and
Allen Robinson
showed they can hang tough in a shootout. The unit with the most question marks -- PSU's passing game -- played well.
O'Brien said he'll have more answers by Tuesday. So hopefully, for the Nittany Lions, they'll find some answers for their defense in time for the Big Ten season.
September, 14, 2013
9/14/13
7:00
AM ET
STATE COLLEGE, Pa. -- In a few hours tailgaters will fire up their grills, players will daydream on the blue-bus ride to Beaver Stadium, and the Nittany Lions will face their toughest nonconference test of the season.
[+] Enlarge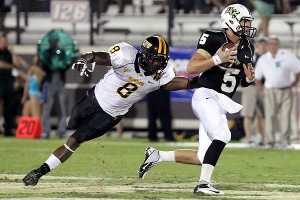 Kim Klement/USA TODAY Sports Blake Bortles could pose problems for Penn State's defense.
Penn State's win over Syracuse showed it wouldn't be a push-over, but today's game against Central Florida should help reveal just how good this team is.
Blake Bortles
is one of the best quarterbacks that Bill O'Brien's squad will face all season, and the Lions will undoubtedly be tested.
Bortles has gone more than 200 pass attempts without an interception. He threw for more than 3,000 yards last season. And O'Brien said he was an NFL-caliber quarterback. Throw all those facts together, mix them with tailback
Storm Johnson
and wideout
Rannell Hall
, and you have the recipe for a good game.
PSU is the six-point favorite here, but UCF is the tempting upset pick. First-year cornerbacks
Trevor Williams
and
Jordan Lucas
should have their hands full, and their performances today should offer a glimpse at just how effective they can be against Big Ten competition.
For the Lions to come away with a win here, the secondary has to be on top of its game. But it's not just the DBs who will play an important role. The pass-rush is another key to the game. In three of UCF's four losses last season, the opposition combined for 10 sacks and a dozen quarterback hurries.
That means
Deion Barnes
should be a player to watch this game. But, of course, he's not the only one fans will be eyeing.
You can't mention the Penn State offense without true freshman
Christian Hackenberg
. The 18-year-old Virginia native has balanced the weight of 500,000 alumni on his shoulders and has impressed so far.
He's made a few mistakes, but he's rebounded and certainly doesn't look like a player who arrived on campus about three months ago. He's completing more than 70 percent of his passes, and he's second in the Big Ten in passing yards. For as lofty as expectations were for Hackenberg, few predicted those kinds of numbers.
Still, mistakes and turnovers are something PSU can ill-afford in close games. And Hackenberg will be counted on to limit both of those today. O'Brien played it very conservative against the Orange, opened it up against cupcake Eastern Michigan ... and today?
Today is Hackenberg's time to shine, the secondary's time to prove itself -- and Penn State's chance to show it will remain a force in the conference. Kickoff can't get here soon enough.
September, 13, 2013
9/13/13
9:00
AM ET
Penn State defensive coordinator John Butler is so competitive and intense that a childhood friend wonders half-jokingly if a demon lives inside him.
Wisconsin defensive coordinator Dave Aranda, meanwhile, is California cool, an admittedly cerebral coach directing a scheme built on aggression.
[+] Enlarge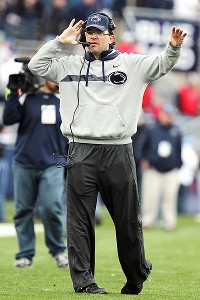 Matthew O'Haren/USA TODAY SportsPenn State's John Butler is emotional, animated, competitive and his players feed off that.
Butler can't be missed on the Penn State sideline, a ball of energy whose animated style makes players feel like he's one of them. Aranda is more Zen-like, bringing a teacher's approach that connects with bright Badger defenders as he conveys messages without veins bulging from his neck.
Butler and his boss, Bill O'Brien, are near replicas, fiery Irishmen from hardboiled Eastern cities who share a relentless drive to succeed. Aranda and his boss, Gary Andersen, first met in Maui of all places. They both have backgrounds in defense but are, as Andersen puts it, "polar opposites."
The obvious differences between Butler and Aranda shouldn't overshadow the fact that both first-year Big Ten defensive coordinators are rising stars, rocketing up the coaching ladder. They're highly respected among their peers and viewed as likely future head coaches.
Both men also will be put to the test this week, as they lead defenses against two strong opponents -- No. 20 Wisconsin visits Arizona State and Penn State hosts UCF -- led by standout quarterbacks (ASU's
Taylor Kelly
, UCF's
Blake Bortles
).
"This is why you do it, man," Butler told ESPN.com. "As a competitor, when the competition improves, you better improve your game or you're going to get embarrassed."
Butler and Keith Conlin rarely were embarrassed as young athletes growing up just outside Philadelphia. In fact, they rarely lost at anything. Conlin and Butler met in first grade and played together on every team and in every sport.
They won titles in everything, thanks to Conlin, a self-described "mutant athlete" who went on to be an All-Big Ten offensive lineman at Penn State, and Butler, who eventually played football and basketball at Division III Catholic University. But they didn't win every game.
"Imagine the kid who would sulk and cry after games when you lose, but during the game was going to do whatever it took to win," Conlin said of Butler. "He wasn't the crybaby who lost and [said], 'I'm going to take my ball and go home.' He was literally mad because we lost. Losing is probably the worst thing he could possibly have in his world.
"It's almost like a demon he has, his drive and competitiveness."
It's also an asset that helped Butler rise from modest coaching origins -- Midwestern State, Texas State and Harvard -- to the Big Ten (Minnesota) in 2007, to the SEC (South Carolina) in 2011 and back to the Big Ten last year as Penn State's secondary coach and special teams coordinator. When defensive coordinator Ted Roof left for Georgia Tech in January,
O'Brien immediately promoted Butler
, who vaulted veteran Lions assistants Larry Johnson (defensive line) and Ron Vanderlinden (linebackers) for the role.
O'Brien's rationale: "He's just a coordinator, that's what he is. ... I knew if the coordinator job ever opened up, he would be the guy."
The transition was quick. Minutes after Roof informed the staff of his move, O'Brien walked into Butler's office.
"Billy said, 'This is the move I want to make,'" Butler recalled. "I told him, 'That's great. Let's move on.' I've prepared myself for this for a long time."
[+] Enlarge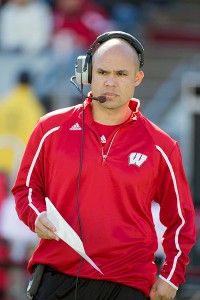 AP Photo/David StlukaWisconsin's Dave Aranda and his network of connections have risen through the coaching ranks.
Preparation is at the core of Aranda's approach. He has his principles -- multiple fronts, varied blitzes, a focus on takeaways -- but constantly keeps his ears open.
If there's a new approach, Aranda, 37, wants to learn it, even if he never employs it in a practice or a game.
"Professional development for him is very important," Andersen said. "He's a great researcher, very detailed. He's always out there looking for new things. He's much better at that than I was as a coordinator. I probably got a little set in my ways.
"If he's in a city where there's a football program, it doesn't matter if it's NFL, Division I or Division II, he's going to see if he can learn something from somebody."
This summer, Aranda dropped in on the Green Bay Packers, Atlanta Falcons and Jacksonville Jaguars, in addition to college teams like Ohio and Eastern Michigan.
"Outside of my family, about the only other people I talk to are other defensive coaches," Aranda said. "You try to get as many questions answered prior to having to answer them in games."
Andersen and Aranda first met at a high school camp in Maui. They both embraced what Andersen calls "the aggressive side of defense" -- capitalizing on blitz opportunities and gearing a scheme toward forcing turnovers. Aranda, like Butler, worked his way through the lower ranks (California Lutheran, Delta State, Southern Utah) before getting his big break at Hawaii.
Andersen watched Aranda's first coordinator stint -- Hawaii led the nation in takeaways in 2010 and finished 15th nationally in sacks the following year -- and
in 2012 brought him to Utah State
, essentially to replace himself as the defensive play-caller. Since Andersen made no other changes, Aranda took over a defensive staff as the only newcomer.
"There's no pretense," Aranda said. "I've always thought that it's not whose ideas that matter; it's just that it works."
After coordinating a Utah State defense that last season finished in the top 15 in points allowed, sacks, rushing yards allowed, pass efficiency and total yards allowed, Aranda received offers from two major-conference schools -- reportedly Cal and Texas Tech – but he chose to stay at Utah State. But that was before Andersen landed the Wisconsin job.
"A lot of people would say it was kind of crazy," Andersen said, "but he said no because he felt like that was where he needed to be. I respected that, so when we had the opportunity to come here, [bringing Aranda] was a slam dunk."
O'Brien and Butler didn't know each other well before O'Brien landed the Penn State job, but they had a mutual connection in strength coach Craig Fitzgerald, who had met O'Brien at Maryland and had attended high school with Butler and Conlin. O'Brien brought both Fitzgerald and Butler in from South Carolina.
After meeting O'Brien, Conlin wondered how Butler would mesh with his new boss.
"How [O'Brien] was emotionally so driven in everything he does, I was like, 'Man, they're either going to be best friends or the most hated enemies of all time,'" Conlin said.
It turned out to be the former. Both men are in their early forties. O'Brien grew up north of Boston in Andover, Mass. Butler lived in Boston while working at Harvard and said the city's energy reminds him of Philly.
"He's a quick-minded guy, a hardworking guy," O'Brien said. "We believe in the same things football-wise."
Added Butler: "It ended up being an excellent match."
Butler's style clicked with Penn State's players, whose competitive spirit carried them through a summer of sanctions and a season with no bowl or championship possibilities. The Lions won eight of their final 10 games last fall and the secondary, labeled as the defense's weak link, held its own.
"He's pumped up, just like all of us," defensive tackle
DaQuan Jones
said. "He's just out there, all loud and running around. I love it."
Butler hasn't pumped the brakes on his approach, despite his increased responsibilities. Competitiveness is non-negotiable for his players, although he has learned over time that it takes on different forms.
"Whether you're overtly competitive, which maybe I am, as opposed to internally competitive, which a lot of other people are, that spirit shows through in all of our guys," he said.
Butler, 40, oversees two of the nation's most accomplished assistants in Johnson and Vanderlinden, the only two holdovers from Joe Paterno's staff. Despite the experience gap, the transition "came natural," Butler said, and Penn State has surrendered only 24 points, 22 first downs and 132 rush yards in its first two games.
Conlin, who has seen Butler's evolution and maturation firsthand, has no doubt his friend will eventually lead a program.
"I don't know when, I don't know where," Conlin said, "but I wouldn't want to be playing against him. There's going to be 11 guys out there who will cut your heart out to win that game."
Andersen also sees Aranda as a future head coach, but hopes to keep him for "a while." Like Butler, Aranda has had early success, as the Badgers have yet to allow a point in two games.
And like Butler, Aranda will be challenged Saturday. Arizona State ranked 14th nationally in scoring last season and put up 55 in its opener. Aranda faced the same Todd Graham offense in the 2010 Hawaii Bowl, when Graham's Tulsa team put up 62 points against Hawaii.
"I think about that a lot," he said. "So it's exciting for me to get back in it and give it a go. It's a challenge, the stuff as a coach you look forward to."
Maybe Aranda and Butler aren't so different after all.
September, 12, 2013
9/12/13
9:00
AM ET
After two relatively easy weeks of picking games, the challenge gets much tougher with a delicious slate of Week 3 games. Last week, our picks mirrored one another. There will be some disagreements this time around.

Let's dive in ...
BOWLING GREEN at INDIANA
Brian Bennett:
Bowling Green has looked terrific in its first two games, while Indiana's defense was all but absent last week versus Navy. Different styles, but I think the Falcons seize on the Hoosiers' weaknesses. They kick a field goal late for my not-very-special upset special. ...
Bowling Green 37, Indiana 34
Adam Rittenberg:
I had Indiana beating Navy and losing this game entering the season, so naturally, I'm picking the Hoosiers to win after falling to Navy. The defense bounces back a little against a more conventional offense, and
Nate Sudfeld
consistently attacks downfield to
Kofi Hughes
and
Shane Wynn
. Sudfeld rallies IU in the fourth quarter and finds
Ted Bolser
for the game-winning touchdown. ...
Indiana 38, Bowling Green 35
WESTERN ILLINOIS at MINNESOTA
Rittenberg:
Can you wake me when Minnesota finally starts playing someone? Quarterback
Philip Nelson
adds two more rushing scores as the Gophers pull away early in the third quarter following a
Ra'Shede Hageman
forced fumble. Then we can look ahead to San Jose State. ...
Minnesota 37, Western Illinois 17
Bennett:
There's not much interesting about this game, except that we get to throw around the word "Leathernecks." It's a good week to get
Mitch Leidner
some experience. ...
Minnesota 35, Western Illinois 13

UCLA at NEBRASKA
Bennett:
I've gone back and forth on this all week, but in the end I worry that Nebraska's home-field advantage won't be enough to overcome its youth on defense.
Brett Hundley
amasses five total touchdowns, and the Huskers come up just short on their final drive. ...
UCLA 38, Nebraska 34
Rittenberg:
Nebraska's defense remains a big concern, especially against Hundley, but with no Johnathan Franklin, the early kickoff and a long trip, I expect UCLA to be a big sluggish. Martinez delivers a turnover-free performance in a big game and finds
Quincy Enunwa
for the game-winning touchdown pass in the final minute. ...
Nebraska 35, UCLA 34
AKRON at MICHIGAN
Rittenberg:
UCF's
Blake Bortles
abused Akron for big plays in Week 1.
Devin Gardner
, eat your heart out. The Gardner-Gallon connection cranks up again as
Jeremy Gallon
hauls in two more touchdowns.
Fitzgerald Toussaint
goes for 120 rush yards and a score as Michigan rolls. ...
Michigan 45, Akron 17
Brian Bennett:
Akron has won four games since the end of the 2009 season. Notre Dame hangover? Maybe, but it won't matter one bit. ...
Michigan 48, Akron 10

YOUNGSTOWN STATE at MICHIGAN STATE
Bennett:
Is Jim Tressel back coaching Youngstown State? Maybe then the Penguins would have a chance. The Spartans play
Connor Cook
and
Damion Terry
and get only two touchdown drives out of both of them. But the defense scores again. ...
Michigan State 27, Youngstown State 3
Rittenberg:
I'm tempted to go with the Penguins since Michigan State's offense is ice cold (be sure to tip your waitress). This will be close for three quarters, but Michigan State's Terry steps up late with a touchdown pass and a touchdown run (yes, two offensive touchdowns). Sadly, no touchdown for Bane this week. ...
Michigan State 24, Youngstown State 10
IOWA at IOWA STATE
Rittenberg:
Do I have to pick a winner here? Iowa took a step back last week in many ways, although the power run stepped up when the team needed a lift. This will be a sloppy game on both sides, but
Mark Weisman
and
Damon Bullock
, along with the offensive line, prove to be the difference in the fourth quarter.
... Iowa 19, Iowa State 17
Bennett:
Kirk Ferentz really needs this game. Then again, so does Paul Rhoads after losing to Northern Iowa in the opener. I don't expect many fireworks, either, but the Cyclones are just a little more desperate and have the momentum in this series. They win it on an overtime field goal.
... Iowa State 16, Iowa 13
UCF at PENN STATE
Bennett:
UCF is a trendy sleeper pick and has an experienced quarterback. But Penn State's defense is a major step up from Conference USA/American Athletic competition. It's close for a half, but
Christian Hackenberg
gets going in the third quarter with a pair of touchdown tosses to
Allen Robinson
, and Bill O'Brien tops George O'Leary.
... Penn State 27, UCF 17

Rittenberg:
Tricky game for Bill O'Brien's crew, but I expect Penn State's defense to do enough against
Blake Bortles
and a talented UCF offense. UCF jumps out to an early lead, but
Zach Zwinak
and
Akeel Lynch
spark Penn State's rushing attack in the second half, each scoring a touchdown as the Lions prevail.
... Penn State 34, UCF 27
WASHINGTON vs. ILLINOIS (at Chicago)
Rittenberg:
Washington is the more talented and experienced team, and a lot needs to go right for the Illini to pull off the upset. I see another fast start for Illinois against a Huskies team that struggles on the road and might be a little sleepy following a bye week.
Nathan Scheelhaase
throws two more touchdown passes, but Washington tight end
Austin Seferian-Jenkins
proves to be the difference with 120 receiving yards and a score.
... Washington 31, Illinois 21
Bennett:
I'd like to pick the Illini here because it would be a great story. They certainly proved me wrong last week in a big way. I still think Washington is just a little too talented, though.
Keith Price
throws four touchdown passes, making him the best quarterback Soldier Field has seen in a while. (That one's for you, Adam.)
... Washington 37, Illinois 23

OHIO STATE at CALIFORNIA
Bennett:
Cal played Northwestern pretty tough and then ... almost lost to Portland State? Inconsistency should be expected, I guess, with a freshman QB and a new coach. There are going to be a whole lot of big plays in this one, and I suspect
Kenny Guiton
will see the majority of the action. Big coming-out party for
Dontre Wilson
here.
... Ohio State 49, Cal 28

Rittenberg:
Cal provides a nice test for Ohio State's young defense, but the presence of cornerback
Bradley Roby
should help hold one of the Bears' standout wide receivers (
Chris Harper
and
Bryce Treggs
) in check. Ohio State has too much at the line of scrimmage and will use its ground game of
Jordan Hall
,
Rod Smith
and Wilson to outlast the Bears.
... Ohio State 38, Cal 27
NOTRE DAME at PURDUE
Rittenberg:
The Boilers have shown me nothing to suggest they can knock off a team like Notre Dame, which is pretty darn good despite last week's loss in Ann Arbor, Mich. Purdue starts strong but can't finish two early drives. The Irish then take over with their rushing attack, led by
Amir Carlisle
, and force two second-half takeaways.
... Notre Dame 38, Purdue 17
Bennett:
Circle the wagons, Purdue. It's going to be a long couple months.
... Notre Dame 35, Purdue 7

WESTERN MICHIGAN at NORTHWESTERN
Bennett:
Western Michigan just lost to Nicholls State. OK, then. Northwestern might not be quite as sharp after two big games, but it won't need to be.
Kain Colter
rushes for 100 yards and a pair of scores, and he and
Trevor Siemian
both get an early rest.
... Northwestern 38, Western Michigan 10

Rittenberg:
Previous Northwestern teams might be ripe for a letdown, but not the 2013 squad. Kain Colter and Trevor Siemian deliver another strong performance, combining for five touchdowns (three pass, two rush), including two scoring passes to
Christian Jones
. The defense forces two more turnovers as the Wildcats cruse.
... Northwestern 41, Western Michigan 17
WISCONSIN at ARIZONA STATE
Rittenberg:
I just don't like the matchup for the Badgers, even though they've been so impressive early on. Arizona State's strength (pass game) goes up against Wisconsin's weakness (secondary), and although the Badgers control the clock with their run game, the Sun Devils hit in too many big plays. Too much
Taylor Kelly
in this one.
... Arizona State 35, Wisconsin 28
Bennett:
I think big
Will Sutton
will be a shock to the system to Wisconsin offensive linemen used to dealing with the UMass and Tennessee Tech lines of the world. The secondary also gets burned a few too many times.
Joel Stave
throws two interceptions to thwart a comeback attempt, and Big Ten teams stay thirsty in the desert.
... Arizona State 28, Wisconsin 20.

Wait, we're not done yet. It's time for our guest picker of the week. Oh, you haven't heard? Throughout the season, we'll choose one fan/loyal blog reader each week to try his or her hand at outsmarting us. There's nothing but pride and some extremely limited fame at stake. If you're interested in participating, contact us
here
and
here
. Include your full name (real names, please) and hometown and a
brief
description why you should be that week's guest picker. Please also include "GUEST PICKS" in all caps somewhere in your email so we can find it easily.
We found this week's picker in the desert:
Adam Fraser from Gilbert, Ariz.
The floor is yours:
I'm a lifelong Husker fan living in Arizona. I'm a season-ticket holder and couldn't make it back for the UCLA game. I just started a new career at Prudential and my boss played football for UCLA. I've followed your blog for years and constantly smash your predictions. Let me put it on record at least one week, the Huskers biggest week of the year!! Thanks Adam (do it for your fellow Adam).
Other Adam's picks ...
Bowling Green 42, Indiana 40
Minnesota 30, Western Illinois 20
Nebraska 41, UCLA 37
Michigan 45, Akron 6
Michigan State 20, Youngstown State 13
Iowa 20, Iowa State 16
Penn State 24, UCF 13
Washington 31, Illinois 30
Ohio State 30, California 28
Notre Dame 38, Purdue 14
Northwestern 48, Western Michigan 10
Arizona State 34, Wisconsin 20
SEASON RECORDS


Brian Bennett: 22-2
Adam Rittenberg: 21-3
Guest pickers: 18-6


September, 12, 2013
9/12/13
8:00
AM ET
STATE COLLEGE, Pa. --
DaQuan Jones
has become accustomed to chasing down dual-threat quarterbacks in the Big Ten. There's been
Braxton Miller
and
Taylor Martinez
,
Kain Colter
and now
Devin Gardner
.
But the 318-pound defensive tackle has never started against a 3,000-yard pocket-passer in the BCS. Not until this coming Saturday against Central Florida.
Blake Bortles
has thrown 217 passes without an interception. He tossed for 3,059 yards and 25 touchdowns last season. He's the best Central Florida signal-caller since Daunte Culpepper. Put simply, he's good. Really good. And Jones had to think when asked whether he was the best pocket passer his defense would face this year.
"I'm not really sure," Jones said. "I know he's a heck of a quarterback and he looks solid. … They're a very good offense. It'll be a challenge."
Whether Bortles is at the very top of the list is irrelevant. The fact is Bortles is the toughest test yet for this Penn State defense and, as Jones said, he'll be a challenge. Look at the stats, look at the film, look at the scouting reports -- and there really shouldn't be a question of that.
Even Bill O'Brien didn't try to downplay the kind of competitor his defense was up against.
"One thing you have to understand about their offense is that they have a really good quarterback," the head coach said. "It's hard to totally stop a guy like that, but you've got to try to contain him. He's very, very good. He's a pro prospect, Blake Bortles."
This isn't a Syracuse team littered with question marks, and it's not a powder-puff Eastern Michigan squad. It's a team that lost three of four games by six points or less last season. (It lost to Ohio State by 15; PSU lost to the Buckeyes by 12.) And it's a team that boasts a quarterback who currently holds a QBR of 90.6 -- nearly a full four points more than Johnny Football.
Safety
Malcolm Willis
knows this will test a still-young secondary. First-year starters
Jordan Lucas
and
Trevor Williams
have played well so far at cornerback, but they haven't faced an above-average quarterback yet. The safeties remain experienced, but coming away with a turnover in the passing game is far from a sure thing.
"From our film study so far, we got to be ready for anything," Willis said. "We got to make sure we're on the top of our game come Saturday."
Willis said the team's hope rests on searching for tendencies on film -- so it can contain Bortles, stop the passing game and come away with a win. In UCF's four losses last season, there definitely seemed to be a trend. Outside of the loss to the Buckeyes, when Bortles tossed a season-high three picks, the winning squad tended to get pressure on the quarterback.
Those three winning opponents combined for 10 sacks and a dozen quarterback hurries. And, against two of those teams, Bortles completed less than half his passes -- the only time last season he didn't reach at least 57 percent.
Either Jones or Willis will likely need to have a big game for PSU to win. They're leaders on this defense and if PSU's planning on celebrating Sunday morning, it'll have to stop Bortles Saturday night.
September, 10, 2013
9/10/13
1:50
PM ET
STATE COLLEGE, Pa. -- Linebacker
Mike Hull
missed Week 2 with an unspecified injury but he'll practice Tuesday and will play Saturday, Bill O'Brien said during his weekly press conference.

The news was expected but remains a big boon to a Nittany Lions' defense that's short on linebacker depth. Plus, Hull is PSU's best coverage 'backer, and PSU will be facing 2012 3,000-yard passer
Blake Bortles
this weekend.
"He's a pro prospect," O'Brien added about the UCF quarterback.
Bortles has yet to commit a turnover this season and might be the best pocket-passer that Penn State faces. He's already thrown for 528 yards and four touchdowns -- so Hull's return is a big one.
Hull was injured in the first quarter of Week 1. He returned with a brace on his right knee, played some, but then stood in street clothes in the second half. If he was needed, he could've possibly played against Eastern Michigan. But he's clearly needed more against a high-powered Central Florida offense.
O'Brien said Hull will start alongside
Glenn Carson
and
Nyeem Wartman
again. Safety-turned-linebacker
Stephen Obeng-Agyapong
will also see time, as will
Ben Kline
.
In other injury news, Penn State's head coach said tailback
Bill Belton
is probable and will likely practice Wednesday. Safety
Ryan Keiser
is listed as questionable.
July, 22, 2013
7/22/13
10:00
AM ET
Every weekday over the next two weeks, NittanyNation will take a closer look at a different game this season and how the matchup stacks up for PSU. Up today: UCF.

The Nittany Lions will welcome Central Florida as their first big test in 2013 -- and it's not going to be easy.
May, 20, 2013
5/20/13
11:00
AM ET
It's Rankings Week at NittanyNation. Through Thursday, we'll rank some aspect touching on PSU heading into the 2013 season. Today we're ranking the top offensive players Penn State will face this season.
Ranking the opposing offensive players
1. QB Braxton Miller (Ohio State):
He finished fifth in the Heisman voting last year, led his team to an undefeated record, threw for more than 2,000 yards and rushed for another 1,271. Need I go on? Miller is one of the most dangerous players in the country, and he's what makes this Buckeyes' offense so good.
To continue reading this article you must be an Insider
College Football Player Rankings: 41-60
BIG TEN SCOREBOARD
Thursday, 8/28
Friday, 8/29
Saturday, 8/30