Penn State Nittany Lions:

Big Ten
December, 24, 2013
12/24/13
10:30
AM ET
Editor's note: During Week 12, 10 ESPN.com reporters changed conferences to experience college football in unfamiliar territory. Here is what they learned from the experience.
One of my best friends in Oklahoma City is a Penn State grad who moved to the Sooner State a couple of years ago. Since we met, she's always talked about how special a place Penn State is.
As fate would have it, my Flip Week assignment happened to be State College, Pa., which gave me the chance to inspect firsthand whether she's been telling the truth.
Turned out, she was.
My visit to Penn State exceeded even the expectation she set for me. The food was great. The people were even better. And the experience was a memorable one.
Below is an overview of my trip to a place I hope to return to someday soon:
(Me eating a Penn State mooseburger)
My first moose burger #campusconnection #flipweek #pennstate pic.twitter.com/3Am5pIrxca

— Jake Trotter (@Jake_Trotter) November 16, 2013
Best meal:
Does this have to be an actual meal? The best thing I ate in State College was a grilled sticky from Ye Olde College Diner. The grilled stickies are akin to cinnamon rolls, only more delicious. ESPN.com Penn State reporter Josh Moyer gave me the sage advice of ordering it a la mode (with ice cream). Add in a cup of black coffee, and it was tremendous. So tremendous I ordered a to-go box to take to the tailgate I had been invited to the next day. And I learned, there's no better way to win over a group of Penn State strangers than a box of grilled stickies from Ye Olde College Diner.
Must-see sight in State College:
The heartbeat of the Penn State football experience is the tailgate. Before every game, tens of thousands descend to the parking lots and fields outside Beaver Stadium for pregame camaraderie. As several tailgaters explained to me, the Penn State tailgate is a way for family and friends who might not live close to one another to reconnect, which is difficult to do during the actual game. The tailgating doesn't end when the final whistle blows, either. Floodlights outside the stadium are kept on hours after the game, so the tailgates -- and the reunions -- can carry on into the night.
Biggest surprise:
Despite everything that has happened the last couple of years, the school spirit at Penn State couldn't be stronger. Students camped out for the best seats the night before, even though the opponent was Purdue. Downtown State College was hopping the night before the game. Penn State bumper stickers lined the highway all the way back to the airport I flew into (Pittsburgh). I couldn't detect any malaise on campus, and thanks in large part to coach Bill O'Brien, there is an infusing optimism that Penn State will be back on top before long. That's saying a lot, considering the program was on the brink of decimation just a year ago.
Biggest difference from Big 12:
The fans in the Big 12 are great. The student sections are great, too. But I'm not sure any students in the Big 12 would camp out in 30-degree weather the night before to get tickets for a game featuring an opponent the caliber of Purdue. In fact, I've seen many student sections in the Big 12 with empty seats under similar circumstances. Not only was the student section at Penn State overflowing, but it was boisterous the entire day. I'm not sure I've seen a student section live or die on every single play in a game that was never really in doubt.
They said it:
"In this state, the one thing you have to do before you die is go to a Penn State tailgate." – Penn State fan Luigi Puglia
If I could go back:
I would take in more of the State College nightlife and the Penn State campus. Because I was on official assignment, I avoided State College staples such as Otto's Pub and Brewery and the American Ale House & Grill, but both came highly recommended. Because my itinerary was crammed, I didn't have a chance to just walk around the Penn State campus and go through buildings like the Hub, either. Apparently, there's a mule skeleton on display there.
August, 21, 2013
8/21/13
2:00
PM ET
The latest version of the
ESPN class rankings
is out, and there are seven Big Ten teams within the top 40 classes.
With movement happening across the board, there are trends and stories developing, so Big Ten recruiting writers Tom VanHaaren and Brad Bournival give you a look at what to watch within the conference:
Trending up
January, 24, 2013
1/24/13
11:46
AM ET
NittanyNation's Josh Moyer joined Big Ten bloggers Adam Rittenberg and Brian Bennett on Thursday morning to talk about Penn State and how it's managed to recruit successfully in the face of NCAA sanctions.
Click here to listen
November, 20, 2012
11/20/12
3:09
PM ET
NittanyNation recently spoke with several Penn State players and commits about their thoughts on the Big Ten expansion to 14 teams. Here's what they had to say:
Bill O'Brien, head coach
"I think it's fantastic. I think that it's funny it's not the Big Ten anymore, right? Tt's the Big 14. But I think it's pretty cool. I think you have the East Coast market now and for many, many years Penn State was the East Coast team -- and now we're starting to get that whole Atlantic corridor there, and those are two good schools with really good football traditions."
Stephon Morris, senior CB
"One of my old teammates at Eleanor Roosevelt High School,
Isaiah Ross
, he's a defensive end at Maryland now. He's amped about it. Of course, I won't be able to play and he won't be able to either. But he said the younger guys on the Maryland team are pretty excited about it, pretty excited to play Ohio State, Penn State, great programs and great traditions especially like that we have. People just at home in general are very excited as well. The Maryland program; if you go to the state of Maryland, you don't really know it's there. So, they pretty much needed a change, I would say, just the fact the crowds that we have and the crowds they have is a big drop-off."
Allen Robinson, sophomore WR
"I would say a lot of people are excited because they're adding some schools from their home states. I think there are people on the team that's excited."
Christian Hackenberg, QB
Class of 2013
"I think it's neat. A lot of teams have been moving around, so I guess it's cool. It's not anything that I'm paying a lot of attention to, but I guess it's cool to play guys who I've seen in camps around here, who I have good relationships with."
Andrew Nelson, OL
Class of 2013
"To be honest, I don't really have a problem with it. But Maryland, are they going to be a powerhouse in the Big Ten? Probably not. But I definitely think it's some competition with some new guys to play, and I think it'll be fun -- and maybe some new rivalries will come about. I don't really have a problem with it, but I'm not overly excited."
Jordan Smith, CB
Class of 2013
"Well, it really played no factor to me. The only thing I thought about was, 'Well, here's another opponent I have to try to help my team get a win against.' Also, I at least get to play another game close to home because my family lives close, so they'd be able to see me play Maryland. I always view everything as a positive, so I think it's a positive thing for the Big Ten."
Adam Breneman, TE
Class of 2013
"I love the [move] of Maryland and Rutgers to the Big Ten. I think some pretty big rivalries will come out of it. I'm excited to play them."
August, 27, 2012
8/27/12
1:37
PM ET
Penn State released its Week 1 depth chart Monday, and six starting spots remain up for grabs.
A closer look at each battle:
Right tackle
:
Mike Farrell
vs.
Adam Gress
To continue reading this article you must be an Insider
August, 27, 2012
8/27/12
10:00
AM ET
Each day in the last week, NittanyNation has taken a look at a different position and broken it down. Today it's linebackers.
[+] Enlarge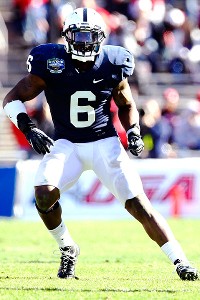 Kevin Jairaj/US PresswireA new coordinator could help Penn State's Gerald Hodges put up even bigger numbers as a senior.
Penn State is known as Linebacker U for a reason, and this year won't change that. ESPN's Brian Bennett and Adam Rittenberg ranked
Gerald Hodges
as the best 'backer in the Big Ten, and
Michael Mauti
wasn't far behind at No. 8.
Hodges could compete for the Butkus Award this season, and there are no soft spots at linebacker.
Glenn Carson
will start inside, and
Mike Hull
is a solid No. 4.
Linebacker and defensive end are the strongest units on this team.
Positives:
Comfort. Linebacker coach Ron Vanderlinden was one of two assistants Bill O'Brien decided to keep. So it's business as usual here.
To continue reading this article you must be an Insider
August, 26, 2012
8/26/12
4:00
PM ET
STATE COLLEGE, Pa. —
Kyle Carter
let out a laugh. He had no idea how many formations the Nittany Lions had installed. The tight end had long since lost count.
"The playbook's about two inches thick, maybe three," he said with a smile. "It's real complex."
Besides quarterback
Matt McGloin
, Carter said the tight ends' playbooks were the biggest. They're expected to know blocking assignments and passing routes in a slew of different packages.
To continue reading this article you must be an Insider
August, 25, 2012
8/25/12
6:15
PM ET
It was a long day for
Christian Hackenberg
(Fork Union, Va./Fork Union).
The Penn State commit -- and ESPN's No. 16 overall prospect -- struggled Saturday behind a shaky offensive line and a solid Hermitage (Richmond, Va.) defense in a 38-0 loss.
The 6-foot-4, 212-pound quarterback went just 13-of-27 for 141 yards with no touchdowns or interceptions. He fumbled once.
To continue reading this article you must be an Insider
August, 25, 2012
8/25/12
10:00
AM ET
Each day for the next week, NittanyNation will take a look at a different position and break it down. Today it's the offensive line.
Another offensive position, another question mark. Center
Matt Stankiewitch
is the only returning starter here -- and he's the only returning player on offense who started every game last season.
Miles Dieffenbach
and
John Urschel
will start inside, while redshirt freshman
Donovan Smith
and
Adam Gress
(or
Mike Farrell
) will play at tackle.
To continue reading this article you must be an Insider
August, 24, 2012
8/24/12
4:30
PM ET
Every week, NittanyNation will pose five questions to a recruit, player, alum or coach about all things Penn State.
This week's subject is
Glenn Carson
, a starting middle linebacker who chatted with NittanyNation after practice Thursday. Carson started 12 games last season and finished fourth in tackles (74). He also forced two fumbles.
NittanyNation: What are you guys doing different on defense this season?
To continue reading this article you must be an Insider
August, 24, 2012
8/24/12
2:00
PM ET
STATE COLLEGE, Pa. --
Stephon Morris
recently called up
New York Jets
safety
D'Anton Lynn
and described Penn State's new preseason camp.
Sounds a lot like what we're doing, Lynn told him.
"It's a full grind," said Morris, a senior cornerback. "We're waking up at 6:45 in the morning and not leaving the building until 10 o'clock at night. Whether it's practice, lifting with coach [Craig Fitzgerald] or meetings. I wasn't used to that."
Other players echoed Morris' sentiment. Bill O'Brien and his staff are holding more meetings, talking more often to players and running through more situational walkthroughs.
Easy was not a term used to describe the new look.
"We get a lot more mental reps," defensive end
Pete Massaro
said. "Coach O'Brien wants us to be students of the game and not just go out there and bang heads."
PSU's 46-Hour Dance Marathon Raises $13 Million
BIG TEN SCOREBOARD
Thursday, 9/3
Friday, 9/4
Saturday, 9/5
Sunday, 9/6
Monday, 9/7