PSU Nittany Lions:

Anthony Zettel
February, 28, 2013
Feb 28
11:00
AM ET
STATE COLLEGE, Pa. -- With spring drills just a few weeks away, NittanyNation decided to break down several of the brewing position battles.
To continue reading this article you must be an Insider
February, 17, 2013
Feb 17
2:00
PM ET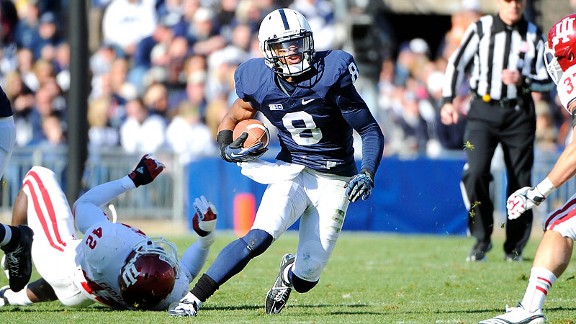 Rich Barnes/US PresswireJunior wide receiver Allen Robinson, who set PSU's single-season record for receptions last season, is working to improve his size and strength.
STATE COLLEGE, Pa. --
Allen Robinson
smiled and cocked his head to the left when asked how he plans to improve, how he hopes to follow up his record-breaking 2012 season.
It's not that he needed to search for words or that he didn't know the answer. The junior wideout just didn't know where to begin.
"I just want to improve all my weaknesses I had in my game last year," he said matter-of-factly.
After setting a school record with 77 receptions, Robinson's weaknesses might not be so evident. His route-running and leaping ability set him apart and made him one of the most dangerous wideouts in the Big Ten.
He finished his first year as a starter with 1,013 yards and 11 touchdowns, more than twice as many as Penn State's No. 2 target. But, on Saturday afternoon, he rattled off a list of improvements almost as long as his list of accolades.
First off, he said, he needs to increase his weight and improve his diet. He finished 2012 hovering around 198 pounds, so he felt tired and sore as the season wore on. He's now eating three meals a day --- instead of the usual two if he wakes up later -- and put himself on a 2,500-calorie diet.
"I'm at about 208 right now," he said. "So I just want to be more of a durable receiver, able to get across the middle and take those hits and be a better blocker in the run game."
He's also watching more film, trying to pinpoint cracks in his technique. He wants to throw more footballs with
Steven Bench
and the stable of young quarterbacks. And he's hitting the weight room -- early and often.
February, 5, 2013
Feb 5
12:00
PM ET
NittanyNation takes a look at returning defensive starters -- and other key players -- to see just how much attention was paid to them back on their respective signing days:
DE Deion Barnes, Grade: 78, three stars:
He clearly came in underrated. He was the nation's No. 45 defensive end and was No. 12 in the state. He now has a future playing football on Sundays, and -- if ESPN could get a mulligan here -- Barnes would easily be a top-10 four-star defensive end. He's already the top pass-rusher on the team and finished with six sacks and 10 tackles for loss last year. He was ranked behind Anthony Zettel in this class.
DT DaQuan Jones, Grade: 77, three stars:
The jury's still out on Jones, but his grade doesn't seem too far off from where he'll end up. He'll be a two-year starter and he did relatively well last season. ESPN thought he could play on the offensive line, too, but believed he "should become a solid starter at the BCS level of competition."
To continue reading this article you must be an Insider
February, 1, 2013
Feb 1
1:00
PM ET
Welcome to NittanyNation's bi-weekly mailbag! We asked you to tweet or email your questions this week, and we've selected three to answer in-depth.
William Amesbury (@WAmesbury16) writes:
Where do you think the 2013 recruiting class would be without the sanctions?
To continue reading this article you must be an Insider
January, 24, 2013
Jan 24
9:00
AM ET
Every weekday until signing day, NittanyNation will break down a commitment from Penn State's 2013 recruiting class.
Vitals:
Defensive end
Curtis Cothran
, Newtown, Pa./Council Rock North, 6-foot-5, 240 pounds
Committed:
March 26, 2012
To continue reading this article you must be an Insider
December, 30, 2012
12/30/12
11:00
AM ET
STATE COLLEGE, Pa. -- Heading into next season, NittanyNation takes a closer look at holes left by departing Penn State players and the candidates who might fill them.
DEFENSIVE END
Who: The defensive line was a strength for Penn State, and Sean Stanley was the Nittany Lions' best end at stopping the run. He played in 46 career games -- starting 19 times -- and there was no controversy heading into 2012 over who would be starting there. Pete Massaro had limited action because of a slew of injuries but remained an above-average backup who played in nine games. He added quality depth to the ends.
By the numbers: Penn State boasted the nation's No. 23 rushing defense, and Stanley was second on the line with 35 tackles. He had 9.5 tackles for loss, four sacks and contributed toward three turnovers. Massaro had just eight tackles, broke up a pass and finished with one stop in the backfield.
Job description: If there was one weakness here, it was containing runs to the outside. The next defensive end must improve upon that, although none will be as seasoned as Stanley. At 6-foot-1 and 243 pounds, the next starter will undoubtedly be bigger and might even bat down a few more passes. PSU's starting defensive line didn't disrupt the throwing lanes too much and broke up just two passes the whole season. Massaro will be much easier to replace.
Top candidates: Rising redshirt sophomore Anthony Zettel and rising redshirt junior C.J. Olaniyan saw more time than Massaro, and both will be counted on even more in 2013. One will likely take over for Stanley, and the other will be the primary backup. Olaniyan is a very athletic end who can stop the run; Zettel is a strong, quick lineman who played basketball in high school.
One to watch: Zettel. At 6-5, he would be the tallest starter on the line, and he showed flashes of potential throughout the season. In a span of 14 plays against Navy, Zettel came away with six tackles and two sacks. He showed the ability to take over a game and finished third on the team with four sacks.
December, 1, 2012
12/01/12
10:00
AM ET
Every day for two weeks, NittanyNation will take a closer look at each position and how Penn State fared over the course of the season.
Today
: Defensive line
The front seven has always been a strength of Penn State, and that continued in 2012. Defensive tackle
Jordan Hill
started slow, taking some time to adjust to double-teams, but finished strong and earned praise from other conference coaches, such as Iowa's Kirk Ferentz. He was the star of this line and one of the best in the conference.
To continue reading this article you must be an Insider
November, 20, 2012
11/20/12
5:14
PM ET
STATE COLLEGE, Pa. --
Michael Mauti
's teammates surrounded him in the meeting room Monday, watching as he delivered an emotional plea to finish this season strong.
Players fell silent when the fifth-year senior steadied himself. There was no whispering, no chatter. They all took a seat, "all eyes glued" to Mauti, cornerback
Stephon Morris
said, and nodded as he told this squad to focus on Saturday.
"We still have a game to play, he got up and told us that yesterday," defensive tackle
Jordan Hill
said, "and that we have to go out there and focus on Wisconsin and not focus on him. He said we can focus on him later next week.
[+] Enlarge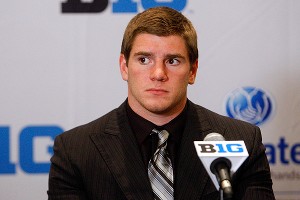 Jerry Lai/US PresswireFifth-year senior linebacker Michael Mauti, Penn State's leading tackler, will watch the Wisconsin game from the sideline.
"That's spoken from a true leader. And that's what we have to do for him, just go and play the game."
Mauti told ESPN on Monday he was still awaiting a diagnosis, and Bill O'Brien said Tuesday that it wasn't the time to address specifics on the linebacker's left knee. It's clear it isn't good -- O'Brien mentioned
Tom Brady
's torn ACL when addressing Mauti -- but the coach expected word of the injury to be released at a later date.
Mauti paused several times Monday when asked about that left knee, which caused him to miss most of last season. He took a few deep breaths and, in a somber tone just said, "It's just not the time, man. Now's not the time. After this week, I'm going to worry about me. Right now, it's about getting these guys ready for Wisconsin."
Mauti has found himself spending a lot of time inside the Lasch Football Building this week. He remains a staple at the team meetings, and he's tried to advise backup
Mike Hull
on nuances of the outside linebacker position.
He stood off to the side during Tuesday's open practice in a blue ballcap and his Penn State varsity jacket. Mauti didn't need crutches to stand, but he walked slowly with a noticeable limp. He passed his stretching teammates, chatting and smiling with
Anthony Zettel
, before watching his teammates take part in position drills.
"I can't tell you how much gratitude I have and how I feel about the fans the last couple of days," Mauti said Monday. "It's been an outpouring of support all year. It helps you understand how special this is."
O'Brien wouldn't say if Mauti might try to petition the NCAA for an extra year of eligibility. He only acknowledged on Monday that the fifth-year senior would not suit up for the final game of the season.
But, even though he'll be on the sideline instead of the field, wearing a ballcap instead of a helmet,
Matt Stankiewitch
knew that wouldn't change the linebacker's mentality.
"It doesn't matter if he can play or he can't play," the senior center said. "He's still going to lead."
October, 15, 2012
10/15/12
9:00
AM ET
Everyone knows about starters like
Michael Mauti
and
Matt McGloin
, but what about the players behind the scenes, the backups who sometimes have just as big an impact on the game?
NittanyNation decided to look at each game and come up with Penn State's top five backups. If a player started at least once (sorry,
C.J. Olaniyan
) or garnered enough playing time to be considered a starter (so long,
Zach Zwinak
), then he wasn't considered for this list.
To continue reading this article you must be an Insider
September, 17, 2012
9/17/12
9:00
AM ET
Welcome to Week 3 of NittanyNation's power rankings, a top-10 list designed to show which Penn State players are surpassing expectations and which to keep an eye on.
After another week of improvement, Penn State finally seems to be on track. Some new players stepped up, some leaders played solidly, and a few made big leaps on the list.
Whose performance left the biggest impression, and whose contributions were the most surprising? This week's top-10 list:
To continue reading this article you must be an Insider
September, 15, 2012
9/15/12
8:36
PM ET
STATE COLLEGE, Pa. --
Deion Barnes
is fast becoming the Nittany Lions' most feared pass-rusher.
Initially pegged as a situational defensive end, the redshirt freshman's time on the field has increased because of a variety of injuries to starter
Pete Massaro
. And Barnes has made the most of the added playing time.
Barnes recorded his third sack of the season Saturday and now leads the team. For the second consecutive game, he also forced a fumble by reaching for the ball when going after the quarterback.
"I'm very confident right now in my ability to be a big pass-rusher," Barnes said after the game.
Only one other Penn State player has more than one sack this season.
Anthony Zettel
recorded two Saturday and is No. 2 on PSU's sack list. But Barnes said he plans to remain the team leader in that statistical category.
"We all battle about it every week who's going to get the most sacks," he said. "I definitely did think before the season I was going to have the most."
Barnes has seven tackles this season and a team-high two forced fumbles.
August, 18, 2012
8/18/12
10:00
AM ET
Good teams need good recruiting, it's as simple — and as hard — as that.
NittanyNation recently looked forward at the Class of 2012, so it decided to glance back at the previous three recruiting classes to see where they stacked up.
Here's a breakdown of those classes based on commits, starters, gems and busts:
To continue reading this article you must be an Insider