Penn State Nittany Lions:

Anthony Morelli
February, 21, 2014
2/21/14
9:00
AM ET
STATE COLLEGE, Pa. -- And then there was one.
We've arrived at the final stop to this week's countdown of Penn State's most impactful recruiting classes of the past decade. This top spot was an easy pick, as this class helped bring Penn State out of the "dark years."
No. 1 most impactful class:
Class of 2005
Top prospects:
QB Daryll Clark, K Kevin Kelly, CB
Justin King
, OT Dennis Landolt, LB
Sean Lee
, S Anthony Scirrotto, CB Lydell Sargeant, TE
Mickey Shuler
, CB Knowledge Timmons, WR
Derrick Williams
[+] Enlarge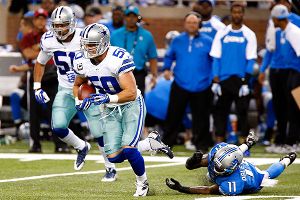 AP Photo/Duane BurlesonCowboys LB Sean Lee helped rally Penn State from a down period as part of the Class of 2005.
Biggest surprise:
Clark. Scout.com listed him as a two-star prospect, and most eyes were on five-star recruit Anthony Morelli from the class before. Plus, with
Michael Robinson
on the roster, no one initially gave the prep-school product a second look. But Clark bided his time and broke out as an upperclassman. He led the Lions to a Rose Bowl as a redshirt junior and then, as a senior, had one of the finest seasons in PSU history with 3,003 passing yards and 24 TDs to 10 interceptions. He led the Lions to a Capital One Bowl victory over LSU in his final game.
Impact player:
Lee. He was overshadowed by
Paul Posluszny
and
Dan Connor
, but he was still a solid 'backer in his own right. He was a three-year starter who finished his career within the top five of Penn State's career tacklers. Athlon Sports even placed him
in the top 25 when it came to the best Big Ten linebackers of the BCS era
. He was the 2007 Alamo Bowl MVP, a team captain and now a solid NFL player for the
Dallas Cowboys
.
Why this class is important:
This class is basically the 2013 class before 2013. This group committed during the "dark years," back when PSU had four losing seasons scattered over five years. The Nittany Lions were fighting for a return to national prominence, and some had already written them off.
Then this class came in. King and Williams were both five-star prospects, two players near the top of the rankings, and made a national statement when they committed to Penn State. Williams was widely regarded as the country's top athlete, and both ended up as All-Big Ten players. This class helped put an end to those dark years. Penn State made seven straight bowl games after they committed.
Landolt, Lee and Scirrotto were three-year starters. Williams and Kelly were four-year starters. And, all together, this class combined for a half-dozen first-team All-Big Ten selections. This class not only had the talent to help turn Penn State around, it helped symbolize and reinforce -- with the help of King and Williams -- PSU's return to prominence.
More impactful recruiting classes:
No. 5:
Class of 2011
No. 4:
Class of 2004
No. 3:
Class of 2006
No. 2:
Class of 2013
February, 18, 2014
2/18/14
9:00
AM ET
STATE COLLEGE, Pa. -- We've reached Day 2 of this week's countdown, which is ranking Penn State's most-impactful recruiting classes of the past decade.
Up next is the class with big names, bigger surprises and even bigger offensive linemen ...
No. 4 most-impactful class:
Class of 2004
[+] Enlarge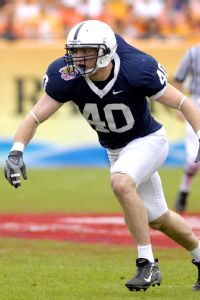 A. Messerschmidt/Getty ImagesDan Connor won the Bednarik Award at Penn State and was the foundation of one of the Nittany Lions' best LB corps.
Top prospects:
OT Gerald Cadogan, LB
Dan Connor
, DB Tony Davis, DE Josh Gaines, QB Anthony Morelli, WR
Jordan Norwood
, OG
Rich Ohrnberger
, WR/S Mark Rubin, LB Tyrell Sales, C
A.Q. Shipley
Biggest surprise:
Norwood. Most recruiting services didn't even bother to rate him -- Scout.com listed him at one star -- because expectations were so low because of his 5-foot-8, 143-pound frame. He had no other FBS offers, and many believed he only received a scholarship at Penn State because his father was on staff. Still, he proved everyone wrong by making the most out of his talent after a grayshirt season. He was a terrific route-runner who finished with at least 32 catches in four consecutive seasons, and he remains in the record books for career receptions (currently No. 5 on the list with 158 catches). He also had 2,015 yards and 13 touchdowns in his career.
Impact player:
Connor. He was a three-year starter who won the Bednarik Award as a senior. He kept the tradition of "Linebacker U" alive and finished his career with the most tackles (334) by a Nittany Lion. He was also part of one of the Lions' most dominant linebacker groups in school history, one that also featured
Paul Posluszny
and
Sean Lee
. The Big Ten Network listed him
as the conference's fifth-best linebacker from 2000 to 2010
.
Why the class is important:
This is the class that built Penn State's offensive line. Ohrnberger, Cadogan and Shipley each earned spots on the All-Big Ten team and each became a three-year starter. Shipley was an All-American who earned the Rimington Trophy as a senior.
However, there were plenty of other players in this class who didn't earn national recognition but still contributed greatly to PSU. Davis and Gaines were both solid three-year starters for the Lions. Rubin played 26 games after moving to safety. Sales was a two-year starter at linebacker. And then there was Morelli. The quarterback never quite lived up to lofty expectations, but he still helped lift PSU to victories in the Outback and Alamo bowls.
More impactful recruiting classes:
No. 5
: Class of 2011
August, 30, 2013
8/30/13
6:20
PM ET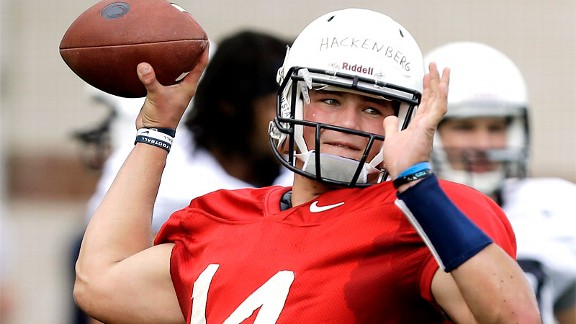 AP Photo/Gene J. PuskarChristian Hackenberg, the top-rated quarterback in the 2013 recruiting class, will start the opener at Penn State.
STATE COLLEGE, Pa. -- Four months ago,
Christian Hackenberg
was kicking up sand near the dugout as part of the Fork Union (Va.) Military Academy baseball team.
He was finding free time, between baseball and classwork, to
break out flash cards and study the Penn State playbook
-- names of plays and formations on one side and blank on the other, so he could scribble what they looked like. He'd catch himself daydreaming about running through that Beaver Stadium tunnel and launching touchdown passes behind a cheering crowd.
Now? All that studying, dreaming and summer training has culminated in what he's waited to achieve since Feb. 29, 2012, the day he committed to the Nittany Lions: According to sources,
he is the starting quarterback
at Penn State.
Hackenberg's father had initially weighed the value of a redshirt, but that was before the senior high school season of ESPN's top-rated passer. And a lot has changed in Happy Valley since then. Sophomore
Steven Bench
, who some expected to be a short-term Band-Aid,
transferred to South Florida
upon learning he wouldn't receive first-team reps in the preseason. Then juco quarterback
Tyler Ferguson
missed about a month of voluntary workouts
for personal reasons.
Ferguson still held the edge early in camp. But Hackenberg, perhaps the biggest-name quarterback to ever sign a Penn State letter of intent, quickly caught up and impressed the coaching staff. A week into camp, head coach Bill O'Brien said
the race became "very even."
Less than three weeks later, Hackenberg pulled ahead. He'll be the second PSU true freshman in the last 100 years to be the starting quarterback.
"Christian has come in here and really done a nice job," O'Brien said early on at camp. "He's attentive. He must be staying up late at night studying the playbook because he's come from Day 1 to Day 2 to Day 3 and improved. And he asks great questions in the meetings."
Hackenberg's strong arm
dazzled onlookers at last year's Elite 11
and the Under Armour All-America Game, and the baby-faced quarterback already shows more ability to stretch the field than his predecessor, Matt McGloin. During part of an open practice two weeks ago, some reporters muttered "woah" when Hackenberg zipped a pass against his body to the opposite sideline -- right at the receiver's numbers.
Between his arm, accuracy and size -- he is 6-foot-4 and 220 pounds -- Hackenberg's potential and raw ability have never really come into question. Talent is oozing from the aw-shucks kid whose father attended high school in Pennsylvania.
Recruiting analysts, opposing players, college coaches and former quarterbacks have thrown almost as much praise Hackenberg's way as they did to O'Brien after an emotional, 8-4 first season. Said Super Bowl-winning quarterback Trent Dilfer: "Christian is a kid you build a program around."
But potential and high accolades don't always translate to success -- at least not immediately. Former No. 1-rated QB Matt Stafford struggled as a freshman at Georgia and threw 13 interceptions and seven touchdowns. Notre Dame's Jimmy Clausen threw seven scores to six interceptions. USC's Matt Barkley had a 15:14 ratio of TDs to interceptions in his first season. ESPN rated each the No. 1 quarterback in his respective class, and all are in the NFL.
So what does that mean for Hackenberg? That future greatness does not necessarily equate to immediate success. Opposing high school coaches have said Hackenberg struggled diagnosing disguised coverages, and the schemes and talent of Big Ten defenses will obviously lie in stark contrast to those Hackenberg saw in high school.
McGloin didn't have the strongest arm but he was a great decision-maker, throwing 24 touchdowns and five interceptions in 2012. Hackenberg is not expected to top those numbers this year, but he is expected to show promise.
The Nittany Lions have had their fair share of busts and underachieving quarterbacks over the years --
Rob Bolden
,
Paul Jones
, Anthony Morelli and Kevin Newsome, to name a few -- but this Lions group also has something different nowadays, namely O'Brien and quarterbacks coach Charlie Fisher.
O'Brien molded McGloin, a former walk-on, into a player the
Big Ten blog thought deserved consideration
for the Davey O'Brien Award. What can he do with the best true freshman quarterback prospect in the nation, one who turned down teams such as Alabama, Florida and Georgia?
We'll start to see at 3:30 p.m. Saturday.
August, 30, 2013
8/30/13
9:00
AM ET
Who'll start Saturday --
Christian Hackenberg
or
Tyler Ferguson
?
Whatever the answer is, the quarterback will face the same challenge on Saturday by making his first career start. We can't peer into the future to see what the end result will be. (Hey, as Bill O'Brien likes to say, we're no genies.)
But we can look back to see how the last five Penn State quarterbacks fared in their first career starts. Here they are:
Matt McGloin, redshirt sophomore
vs. Michigan on Oct. 30, 2010
Outcome:
PSU 41-31
Stats:
17-of-28 for 250 yards, one touchdown, no interceptions
Synopsis:
After Rob Bolden suffered a head injury against Minnesota the week before, McGloin became the next man up. He was the first former walk-on to ever start under Joe Paterno.
After holding on to a 14-10 lead late in the second quarter, McGloin led PSU on two touchdown drives to give the Lions a 28-10 advantage by halftime. Said Paterno after the game: "That's about as well as we can play."
[+] Enlarge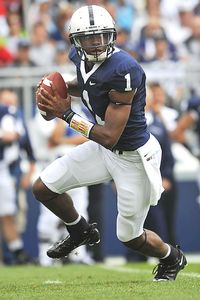 Randy Litzinger/Icon SMIRob Bolden made history in 2010 as the first true freshman quarterback to start an opener for Penn State under coach Joe Paterno.
Rob Bolden, true freshman
vs. Youngstown State on Sept. 4, 2010
Outcome:
PSU 44-14
Stats:
20-of-29 for 239 yards, two touchdowns, one interception
Synopsis:
He was the first true freshman in a century to start an opener for Penn State, and he fared relatively well against lesser competition.
PSU started off slow and led just 16-7 at halftime, but Bolden was able to get some breathing room when Chaz Powell returned the second-half kickoff 100 yards for a touchdown. Bolden didn't get much help from the running game -- Evan Royster had 40 yards on 11 carries -- but PSU dominated after the touchdown return.
Daryll Clark, redshirt junior
vs. Coastal Carolina on Aug. 30, 2008
Outcome:
PSU 66-10
Stats:
11-of-14 for 146 yards, one touchdown, no interceptions
Synopsis:
Penn State performed as expected against an FCS cupcake and didn't even really need to pass. PSU rushed for 334 yards and led 38-0 by halftime.
Pat Devlin and Paul Cianciolo played later in the game because, well, there was really no reason for Clark to risk injury. Clark said this afterward: "When you first start, you want everything to go right. I don't think I got touched today."
Anthony Morelli, junior
vs. Akron on Sept. 2, 2006
Outcome:
PSU 34-16
Stats:
16-of-32 for 206 yards, three touchdowns, no interceptions
Synopsis:
Morelli started off hot and drove the Lions to a score on their first drive, on a 42-yard touchdown pass to Deon Butler. He was 7-of-10 passing for 110 yards and two scores on just his first three drives -- and he was the first PSU quarterback since joining the Big Ten to throw three TDs in his first career start.
Said Akron coach J.D. Brookhart: "That kid can throw from one half to the other, 20 yards deep. You won't see a better arm this year."
Michael Robinson, redshirt sophomore
vs. Wisconsin on Oct. 4, 2003
Outcome:
Wisconsin 30-23
Stats:
22-of-43 for 379 yards, two touchdowns, no interceptions; nine carries for 19 yards
Synopsis:
Robinson stepped up when Zack Mills went down the week before with a sprained left knee, and he performed admirably. Although PSU didn't win, Robinson guided PSU on touchdown drives of 74, 80 and 70 yards. And, at the time, only one other PSU quarterback (Mills) had thrown for more yards in a game.
Robinson said this to the Philadelphia Inquirer: "Before the game, I kind of thought they would blitz me a little more, because that's what you usually do to a guy making his first start. You kind of want to get in his head a little bit. They played back and basically told me, 'Look, if you're going to beat us, you're going to have to throw the ball.' And I think we did a pretty good job."
December, 28, 2012
12/28/12
11:00
AM ET
Welcome to NittanyNation's mailbag! We asked you to tweet or email your questions this week, and we've selected three to answer in-depth -- starting with the question we received most.
Cody Harsomchuck (@chuck_15) writes
: Chances
Jonathan Walton
decommits?
Josh Moyer
: Honestly, if you asked me two weeks ago who I thought was most likely to decommit, I would have picked the three-star linebacker. Ideally, Walton wanted to play in the South, but Penn State was his lone BCS offer and was after him since early in the summer. He liked the fact he was a Plan-A linebacker over at Linebacker U.
November, 17, 2012
11/17/12
6:08
PM ET
STATE COLLEGE, Pa. -- Offensive guard
John Urschel
rubbed his chin and just smiled at the questions Saturday afternoon.
How could Penn State lose 10 offensive starters in one offseason and somehow average 10 points more every game? How could Penn State set several offensive records Saturday with so many new starters?
Urschel, a man who often responds to news conference questions with, "Let me ponder that for a moment," didn't hesitate. He just smiled and said two words after the Nittany Lions toppled Indiana 45-22.
"Bill O'Brien."
He didn't need to say anymore. He didn't elaborate, didn't shrug. There was no more to add. O'Brien's been the coach this Penn State team has needed -- not just to bring the team together after the Jerry Sandusky scandal or past the sanctions. But to update an inefficient offense that seemed about as cutting-edge as a disco ball.
Penn State's just always been an old, throwback run-first team. Since the very beginning of its 126-year history.
Seven years before the topic of a forward pass was even broached -- before Penn State was known as the Nittany Lions -- Penn State ran. They ran when football first appeared live on fuzzy televisions. And they even ran the last time they had a first-round NFL quarterback in
Kerry Collins
.
They ran and ran until now. Until the Bill O'Brien era and the era of weekly changes.
[+] Enlarge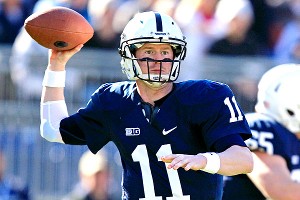 AP Photo/Gene J. PuskarMatt McGloin had his fourth 300-plus yard passing game Saturday against Indiana.
O'Brien's taken
Allen Robinson
, an offensive afterthought who finished with three catches last season, into the record books with the most catches by a PSU player in a single season. He's taken last year's third-string fullback,
Zach Zwinak
, and helped him become a player who could finish the season with more rushing yards than USC transfer
Silas Redd
.
And he's coached up
Matt McGloin
, who spent more time fuming on the sideline last season than behind center. McGloin also sent the record books back to the printing press by passing for more yards in a season (3,066) and the most career touchdowns (45) than any other Penn State quarterback.
"[O'Brien] and Coach [Charlie] Fisher have done a great job of teaching me how to play quarterback the correct way," McGloin said. "They've been doing such a good job of it. They have so much experience that it can't help but rub off on you."
Read between the lines there. McGloin never ever said the same of Jay Paterno, whose legacy of PSU quarterbacks seems to be that a majority regressed (See:
Bolden, Robert
and
Morelli, Anthony
). Jay Paterno knew McGloin for four seasons before he was dismissed from his coaching post -- but he never saw enough of the signal-caller to name him the indisputable starter.
O'Brien needed one spring.
The dimple-chinned coach smiled Saturday when he recalled the first time he knew McGloin was something special. He asked McGloin to draw up a play -- the read, the coverage, the protections. Everything.
McGloin strolled up to the white board and, O'Brien said, completed everything in about three seconds.
"It was Gun Trips Right 64 Special H-Sneak, I'll never forget that," O'Brien said. "And it was
bang
-- and I just knew at that point we had a kid who was working out, who wanted to be the starting quarterback."
The outspoken McGloin thought Robinson didn't get a fair shake last season. And it's clear -- by the benching of
Bill Belton
-- that O'Brien doesn't mind re-evaluating talent on a weekly basis. He's taken last year's scraps and turned them into star performers, coveted by every Big Ten team.
McGloin passed for 395 yards against Indiana, and Robinson caught 10 passes for 197 yards. With the old staff, those two could still be riding the bench right now. At best, those stats might be spread over two or three games. But O'Brien has taken a group of unwanteds -- a group with a strong bond fighting to rebuild the university's reputation -- and turned them into something drawing praise and respect from every corner of the country.
Urschel wasn't asked what Penn State's recipe to future success might be. But his past answer would fit just fine right here.
"Bill O'Brien."
BIG TEN SCOREBOARD
Thursday, 9/3
Friday, 9/4
Saturday, 9/5
Sunday, 9/6
Monday, 9/7