Penn State Nittany Lions:

Anthony Midget
March, 10, 2014
3/10/14
10:30
AM ET
Non-Minnesota fans might have missed Friday's official announcement that Mike Sherels has been promoted to Gophers linebackers coach after serving on the team's recruiting staff. Sherels is the first new assistant Jerry Kill has hired in his Minnesota tenure, but the move likely signified -- likely being the operative word -- something bigger for the Big Ten.
The end of the coaching carousel for 2014.
This post always includes a reminder that additional coaching changes still can happen, even though most of the Big Ten has started spring practice. It's the nature of the business.
Despite two new teams in the Big Ten, the number of overall changes in the league dropped for the second consecutive year, going from 32 in 2013 to 27 this year. There was only one complete staff overhaul, at Penn State, and four programs -- Illinois, Iowa, Michigan State and Northwestern -- kept all of their coaches from last season. After replacing more than half of his staff in the last offseason, Illinois' Tim Beckman hopes continuity pays off in what likely will be a make-or-break 2014 campaign. Iowa is back to its stable self after two years of coaching flux, while Northwestern coach Pat Fitzgerald hasn't made a staff change since after the 2010 season.
Michigan State made a major commitment
to Mark Dantonio and his assistants after the Spartans' Rose Bowl win, but it's still impressive that Dantonio retained the entire staff after such a great season.
Both Rutgers and Maryland have some new faces on staff before their inaugural season of Big Ten play. Rutgers has two new coordinators (one outside hire, one promotion), while Maryland has new assistants overseeing both lines.
[+] Enlarge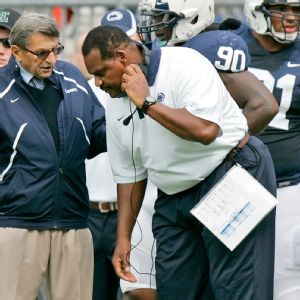 Michael R. Sisak/Icon SMILongtime Penn State defensive line coach Larry Johnson moved to Ohio State this offseason after James Franklin was hired as the Nittany Lions' head coach.
Other than Penn State, Indiana and Rutgers are the only teams featuring two new coordinators in 2014. Although IU assistant Kevin Johns previously held the co-offensive coordinator title, he'll be the main man, as he takes over for Seth Littrell.
For the most part, the coaches leaving Big Ten programs did so voluntarily and for potentially better positions. Penn State head coach Bill O'Brien took the same role with the Houston Texans, while two assistants -- Ohio State's Everett Withers and Maryland's Greg Gattuso -- left to become FCS head coaches at James Madison and Albany, respectively. The Big Ten lost several assistants to the NFL, as O'Brien brought four assistants with him from Penn State (John Butler, Stan Hixon, Charles London and Anthony Midget) and swiped another from Ohio State's staff (Mike Vrabel). Wisconsin also lost running backs coach Thomas Hammock to the Baltimore Ravens.
Arguably the most interesting move took place within the league, as longtime Penn State defensive line coach Larry Johnson replaced Vrabel at Ohio State.
OK, let's get to it already.
Here's the rundown of coaching changes (head coach and full-time assistants only; number of new coaches in parentheses):
INDIANA (3)
Who's gone?
Doug Mallory, defensive coordinator/safeties
Seth Littrell, offensive coordinator/QBs
Jon Fabris, defensive line
Who's in?
Brian Knorr, defensive coordinator/defensive ends/outside linebackers
Larry McDaniel, defensive line
Noah Joseph, safeties
Other moves
Promoted Kevin Johns to main offensive coordinator. Johns also now coaches quarterbacks in addition to wide receivers.
Moved James Patton from assistant defensive line/special teams to tight ends and fullbacks
MARYLAND (3)
Who's gone?
Tom Brattan, offensive line
Lee Hull, wide receivers
Greg Gattuso, defensive line
Who's in?
Greg Studwara, offensive line
Keenan McCardell, wide receivers
Chad Wilt, defensive line
MICHIGAN (1)
Who's gone?
Al Borges, offensive coordinator/quarterbacks
Who's in?
Doug Nussmeier, offensive coordinator/quarterbacks
Other moves
Defensive coordinator Greg Mattison is overseeing linebackers instead of defensive linemen
Mark Smith moves from linebackers to defensive line
Roy Manning moves from outside linebackers to cornerbacks

Curt Mallory will coach only safeties rather than the entire secondary
MINNESOTA (1)
Who's gone?
Bill Miller, linebackers/assistant head coach
Who's in?
Mike Sherels, linebackers (promoted from recruiting staff)
Other moves
Pat Poore moves from wide receivers to running backs
Brian Anderson moves from running backs to wide receivers
NEBRASKA (1)
Who's gone?
Terry Joseph, secondary
Who's in?
Charlton Warren, secondary
OHIO STATE (2)
Who's gone?
Everett Withers, co-defensive coordinator/safeties
Mike Vrabel, defensive line
Who's in?
Chris Ash, co-defensive coordinator/safeties
Larry Johnson, defensive line/assistant head coach
PENN STATE (10)
Who's gone?
Bill O'Brien, head coach/offensive playcaller
John Butler, defensive coordinator/cornerbacks
Charlie Fisher, quarterbacks
Stan Hixon, wide receivers/assistant head coach
Larry Johnson, defensive line
Charles London, running backs
Mac McWhorter, offensive line
Ron Vanderlinden, linebackers
John Strollo, tight ends
Anthony Midget, safeties
Who's in?
James Franklin, head coach
John Donovan, offensive coordinator/tight ends
Bob Shoop, defensive coordinator/safeties
Charles Huff, running backs/special teams
Brett Pry, co-defensive coordinator/linebackers
Josh Gattis, wide receivers/assistant special teams
Herb Hand, offensive line
Ricky Rahne, quarterbacks
Sean Spencer, defensive line
Terry Smith, cornerbacks
PURDUE (1)
Who's gone?
Jon Heacock, defensive backs
Who's in?
Taver Johnson, defensive backs
RUTGERS (4)
Who's gone?
Dave Cohen, defensive coordinator/linebackers
Ron Prince, offensive coordinator
Rob Spence, quarterbacks
Damian Wroblewski, offensive line
Who's in?
Ralph Friedgen, offensive coordinator/quarterbacks
Bob Fraser, linebackers/special teams
Mitch Browning, offensive line
Ben McDaniels, wide receivers
Other moves
Promoted special teams coordinator Joe Rossi to defensive coordinator
Anthony Campanile is coaching only tight ends after overseeing both tight ends and wide receivers
WISCONSIN (1)
Who's gone?
Thomas Hammock, running backs/assistant head coach
Who's in?
Thomas Brown, running backs
January, 6, 2014
1/06/14
5:15
PM ET
STATE COLLEGE, Pa. -- Eight Penn State staff members
submitted their resignations Monday
, and now only three coaches remain on staff.
Among those who left include defensive coordinator John Butler, running backs coach Charles London, wide receivers coach Stan Hixon, safeties coach Anthony Midget and strength coach Craig Fitzgerald.
With the announcement of a new head coach possibly just days away, the movement wasn't considered much of a surprise. Many of those assistants followed former coach Bill O'Brien to Happy Valley, and there was no guarantee they would've kept their jobs had they stayed at Penn State anyway.
Hixon and London were seen as locks to join O'Brien, and O'Brien was forced to defend Butler at several points during the season from "Fire him" criticism. But there was one staff member here whom players most hoped to see back, and one departure that hurt the most -- Fitzgerald, the strength coach.
For those unfamiliar with the Nittany Lions' program, that might come as a surprise. But likely not to PSU fans. Former and current players lamented the loss on Twitter.
The main person we needed to keep after OB was Fitz. Huge lost...took our speed & strength program from cats to dogs. Much love tho. My dude

— Stephon Morris (@S_Morris12) January 6, 2014
He was a fan favorite who wore his trademark shorts and T-shirt during snow squalls and below-freezing temperatures. He'd perform the worm during pregame routines and once, players said, licked the gym floor to fire his team up. So, yeah, maybe the guy was a bit crazy. But in a good way. He was beloved by the team, and he helped improve a weight room that was widely believed to be in need of a makeover. He also aided tight end
Garry Gilliam
in transitioning to right tackle, as he gained about 40 pounds in seven months' time.
Just keep coach J and Fitz and I'm cool lol

— Adrian Amos (@PSU_Amos_4) January 2, 2014
Larry Johnson is the interim head coach now, and he's guiding a bare-bones staff of just two others: TE coach John Strollo and OL coach Mac McWhorter. They'll be charged with keeping this recruiting class together until a new head coach comes along.
This staff could have a whole new look in a week's time; it just received its first official change since O'Brien's departure on Monday afternoon.
April, 2, 2013
4/02/13
3:33
PM ET
Safeties coach Anthony Midget didn't dwell on the difficulties of becoming accustomed to another defense or meshing with his players' personalities after less than three months on the job.
No, the assistant coach who was hired Feb. 14 instead used words Tuesday like "easy" and "blessing" when talking about the transition to Penn State. He complimented the leadership of veteran safeties
Malcolm Willis
and
Stephen Obeng-Agyapong
, thanked defensive coordinator John Butler for helping him along and emphasized just how happy he was to be at "one of the storied programs in the country."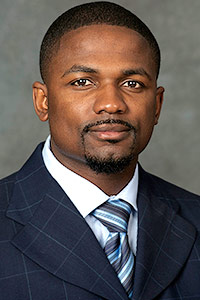 Courtesy of Georgia StateNew safeties coach Anthony Midget brough a fiery, energetic approach from Georgia State.
"It's been great and a blessing," Midget said Tuesday afternoon, the first time he addressed the media since his hire. "Everything happened so fast."
The former Virginia Tech standout, a three-year starting cornerback under Frank Beamer, initially left Georgia State for Marshall this offseason. But, about a week-and-a-half after taking that Conference USA gig, Bill O'Brien called him to gauge his interest in the Nittany Lions' opening.
Midget said the opportunity was just too good to pass up. He could stay with the Thundering Herd or head north to a school that averaged about 70,000 more fans a game. It wasn't a hard decision -- with or without sanctions.
"I was really surprised," Midget said. "And I guess Coach O'Brien had a mutual friend that recommended me. It was an opportunity. He called me and asked if there was interest, and I said yes."
The young coach with the thin goatee has become a fixture inside Holuba Hall and the football building since his hire. He directs a core group of about eight safeties and sometimes switches off with Butler, teaching the cornerbacks some fundamentals or fine-tuning their technique.
They'll coach their groups separately, but they'll watch film and hold meetings together to increase their communication. Midget called himself a fiery, energetic coach -- not unlike Butler -- and said he knows he demands a lot from his players. But, after practices, he tries to soften up some.
"When we walk off that field, our doors are open, and we can have fun together and do what we need to do," he said. "It's that relationship that you're building with the guys, and they understand us being fiery and demanding."
His old boss, former Georgia State coach Bill Curry, said shorty after his hire that's been Midget's personality since he first hired him five years ago. The young coach tries to separate his on-field and off-field demeanor.
"Off the field, he is outgoing, and he's humorous when it's the right time to be humorous," Curry
told ESPN in a Q&A
. "But he can be serious. He's tough as nails. So when he gets on the field, the humor's gone. He coaches football with great intensity; he expects everything out of everyone on every drill."
Despite that hard-nosed approach, the safeties coach pinpointed a number of defensive backs who have impressed him so far. He praised
Ryan Keiser
's offseason work, admired
Adrian Amos
' versatility as a cornerback, safety and nickelback -- and believed wideout-turned-safety
Malik Golden
had a bright future.
"He's picked up on it as far from a physical standpoint," Midget said. "He just has some natural abilities that I think's going to help us in the future. He's still learning throughout the spring, but I'm encouraged physically from what he's shown in the time of the short practices we've had."
Like Golden, this spring has been a time of transition for Midget. And both seem to be moving along pretty well.
The pace of the assistant coach's transition likely has quickened because his responsibilities are more focused. During his previous stint at Georgia State, Midget carried the burden of following recruiting and also taking charge as the secondary coach, defensive coordinator and special teams coach -- something Curry said he would have preferred to avoid.
Now, the focus is primarily on the safeties and on recruiting in the South Florida and Cleveland areas. And Midget seemed pretty thankful Tuesday for that.
"To be able to focus on just one position, it's been great," Midget said. "I think the game has changed so much; I think it's a benefit to have two secondary coaches."
February, 19, 2013
2/19/13
11:00
AM ET
Former Georgia State coach Bill Curry gave
Anthony Midget
, Penn State's new safeties coach, his first serious opportunity in college football. After spending one season as a grad assistant at his alma mater of Virginia Tech, Midget took a job as Curry's DBs coach in 2008.
Curry played 13 seasons in the NFL and also enjoyed coaching stints at Georgia Tech, Alabama and Kentucky. He worked with Midget for five seasons and promoted him to defensive coordinator last year.
NittanyNation recently spoke with Curry about Midget.
NittanyNation: Virginia Tech coach Frank Beamer recommended Anthony Midget to you back in August 2008. What did he say to you that convinced you Midget was right for the job? What made you think he was right?
Bill Curry:
First of all, I have enormous respect for Frank Beamer. I was part of the broadcast crew for several games that Anthony Midget played in, so I watched how he conducted himself as a leader and as a player. He was an outstanding corner on a team that played on the national championship -- and almost won it. So, obviously, he was a solid citizen for a great program on a great football team. That's a lot of the currency that qualifies someone to learn how to coach.
February, 17, 2013
2/17/13
10:00
AM ET
NittanyNation takes a look at this week's Penn State football news and what you might have missed:
February, 14, 2013
2/14/13
11:59
AM ET
Penn State has filled its open coaching position by hiring former Georgia State defensive coordinator Anthony Midget.

Midget will coach the safeties, while John Butler -- who replaced Ted Roof as Penn State's defensive coordinator -- will continue to coach the cornerbacks. Midget was hired by Marshall toward the end of January, but opted to leave for Happy Valley.
"It's an honor to be part of the Penn State family and this great university," Midget said in a news release. "I am thankful to Coach [Bill] O'Brien for the opportunity to come to Penn State and am excited to get to know the players and get ready for spring practice."
Midget was a three-year starter at cornerback for Virginia Tech in the late 1990s. He was a fifth-round draft pick who played for the Atlanta Falcons and Tampa Bay Buccaneers before joining the Hokies as a graduate assistant in 2007.
One year later, he became a member of Georgia State's coaching staff and was promoted to defensive coordinator last season. The Panthers struggled to a 1-10 record and allowed 234 passing yards per game.
The Clewiston, Fla., native is expected to be a boon to Penn State's recruiting efforts thanks to his Southern roots. Roof was well-known around Georgia and also boasted strong ties to Alabama, so Midget's background should help him get a jump-start.
PSU's 46-Hour Dance Marathon Raises $13 Million
BIG TEN SCOREBOARD
Thursday, 9/3
Friday, 9/4
Saturday, 9/5
Sunday, 9/6
Monday, 9/7