Penn State Nittany Lions:

Anthony Hitchens
May, 12, 2014
May 12
9:00
AM ET
The biggest non-game on the American sporting calendar is
all done
, as the 2014 NFL draft wrapped up Saturday afternoon in New York. After
arguably its worst draft in the modern era
in 2013, the Big Ten performed better this year with 30 picks. Still, the league finished fourth among conferences in selections, trailing the SEC (49), ACC (42) and Pac-12 (34).
After a big Friday night with six second-round selections -- including four in a row -- and six third-round selections, the Big Ten's momentum slowed a bit Saturday in the final four rounds. The league had only one sixth-round pick and only four in the seventh round.
Let's start the breakdown by listing Big Ten draftees by round (with comments below). Maryland and Rutgers players aren't included here because neither group competed in the Big Ten (Terrapins CB Dexter McDougle went in the third round; Rutgers had no players drafted).
FIRST ROUND (4)
[+] Enlarge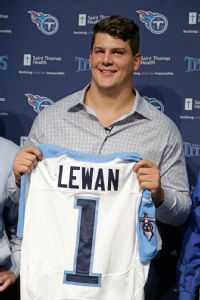 AP Photo/Mark HumphreyTaylor Lewan was the first Big Ten player selected, going 11th overall to the Tennessee Titans.
Analysis:
Click here for my first-round thoughts
SECOND ROUND (6)
Analysis:
Hageman ends up in a really good spot with the Falcons. Although Latimer had an excellent pre-draft performance, it wasn't surprising to see him end up in the middle of the second round. Hyde waited longer than many anticipated, but he enters a great situation with a team that loves to play power football. Robinson joins a new-look Jaguars passing attack featuring quarterback
Blake Bortles
and wideout
Marqise Lee
.
THIRD ROUND (6)
Analysis:
Everyone had Southward going before Borland, right? Borland, the 2013 Big Ten defensive player of the year, had an exceptional college career, but concerns about his height and perhaps his injury history moved him down the draft boards. The Iowa Effect shows up here as both Fiedorowicz and Kirksey were swept up by teams that respect what the Hawkeyes do. What does it say that Michigan's offensive line struggled mightily in 2013 but had two tackles drafted in the first three rounds? Those young Wolverines linemen had better step up this fall.
FOURTH ROUND (4)
Analysis:
Some really good pickups in this round, especially White, who will fit in very well with New England's offense. Although
James Morris
received the most accolades among Iowa's linebackers at the college level, both Kirksey and Hitchens were mid-round selections, while Morris went undrafted and signed with New England as a free agent. As a Chicago Bears fan, I love the Vereen pick. He's a smart, athletic versatile player who knows from his older brother what it takes to succeed in the NFL.
FIFTH ROUND (5)
[+] Enlarge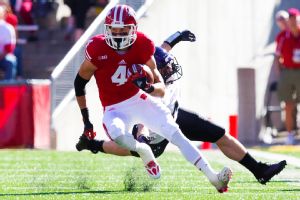 Jeff Hanisch/USA TODAY SportsJared Abbrederis isn't venturing far from Madison as he was drafted by the Green Bay Packers.
Analysis:
Like his teammate Borland, Abbrederis had a much longer wait than expected but lands in a very familiar spot with Green Bay. I think he's a steal and will surprise people with his ability to make plays despite less-than-ideal measurables. Pamphile had a fairly quiet college career but is seen as a project and could develop into a better pro. Urschel is another player who lacks the ideal physical traits sought in the NFL, but could make up for it with exceptional intelligence.
SIXTH ROUND (1)
Analysis:
Enunwa complemented his superb blocking skills with big-play ability in the pass game as a senior. He's a good value for a Jets team that needs to boost the league's 31st-ranked pass offense.
SEVENTH ROUND (4)
Analysis:
All four players could be very good values. Bolser is an athletic tight end who had 15 career touchdown catches. Allen showed versatility as a senior, transitioning to a 3-4 scheme. Gallon heads to a Patriots team that has had success with smaller, productive receivers. Bryant likely would have been selected higher if not for major leg and ankle injuries last season.
Here are the draft picks per B1G team:
Ohio State:
6
Wisconsin:
5
Michigan:
3
Penn State:
3
Nebraska:
3
Iowa:
3
Purdue:
2
Minnesota:
2
Indiana:
2
Michigan State:
1
The big surprise is a Michigan State team that dominated Big Ten play and won the Rose Bowl had just one player selected, as standout linebackers
Max Bullough
and
Denicos Allen
didn't have their names called. Only four teams -- LSU, Alabama, Notre Dame and Florida State -- had more selections than Ohio State. Illinois, which led the Big Ten in draft picks last season (4) and had 18 picks between 2009-13, had no selections. Northwestern also went without a draft pick for the second straight year.
Curious about the Big Ten's undrafted free-agent signings? Check back in a bit as we take a look.
February, 26, 2014
Feb 26
11:00
AM ET
The 2014 NFL scouting combine is all wrapped up, and the countdown to the draft has begun. Monday, we looked at
how Big Ten offensive players performed
in the key drills. Now it's time to see how the defenders -- linemen, linebackers and defensive backs -- fared in their testing. Here are the
full results for each participant
.
TOP PERFORMERS
[+] Enlarge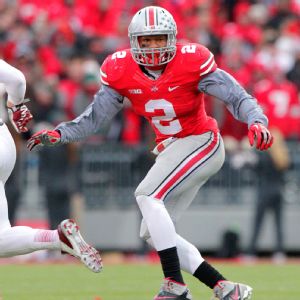 AP Photo/Jay LaPreteRyan Shazier finished first in the vertical jump among linebackers at the NFL scouting combine.
Overall (all positions)
Ohio State CB Bradley Roby finished seventh in the 40-yard dash at 4.39 seconds.

Ohio State C Corey Linsley tied for second in bench-press repetitions with 36; Minnesota DT Ra'Shede Hageman tied for 10th with 32.

Ohio State LB Ryan Shazier ranked first in the vertical jump at 42 inches; Nebraska CB Stanley Jean-Baptiste finished second at 41.5 inches.

Shazier ranked sixth in the broad jump at 10 feet, 10 inches; Jean-Baptiste tied for 10th at 10-8.

Penn State WR Allen Robinson tied for ninth in the 20-yard shuttle at 4.0 seconds.

Robinson tied for ninth in the 60-yard shuttle at 11.36 seconds; Wisconsin WR Jared Abbrederis finished 12th at 11.39 seconds.
By position (linemen, linebackers, cornerbacks, safeties)
Safeties:
Minnesota's
Brock Vereen
finished second in the 40-yard dash (4.47 seconds), first in bench-press repetitions (25), tied for 10th in vertical jump (34 inches), tied for 10th in broad jump (9 feet, 9 inches), second in three-cone drill (6.9 seconds) and second in 20-yard shuttle (4.07 seconds); Michigan State's
Isaiah Lewis
finished 11th in the 40-yard dash (4.6 seconds), tied for seventh in bench-press repetitions (15), tied for third in vertical jump (36.5 inches), fourth in broad jump (10 feet, 2 inches), tied for seventh in three-cone drill (7.05 seconds) and 11th in 20-yard shuttle (4.47 seconds).
Linemen:
Minnesota's Hageman tied for third in bench-press repetitions (32), tied for seventh in vertical jump (35.5 inches) and tied for 14th in broad jump (9 feet, 6 inches).
Linebackers:
Iowa's
Anthony Hitchens
finished 15th in the 40-yard dash (4.74 seconds), tied for 11th in bench-press reps (23) and tied for seventh in three-cone drill (7.15 seconds); Michigan State's
Max Bullough
tied for first in bench-press reps (30), finished 15th in three-cone drill (7.22 seconds) and tied for 13th in 20-yard shuttle (4.3 seconds); Wisconsin's
Chris Borland
finished fifth in bench-press repetitions (27), 14th in three-cone drill (7.18 seconds) and 12th in 20-yard shuttle (4.27 seconds); Ohio State's Shazier tied for eighth in bench-press reps (25), finished first in vertical jump (42 inches), first in broad jump (10 feet, 10 inches), fifth in three-cone drill (6.91 seconds) and ninth in 20-yard shuttle (4.21 seconds); Iowa's
James Morris
tied for 14th in vertical jump (34.5 inches) and seventh in three-cone drill (6.94 seconds); Iowa's
Christian Kirksey
tied for fifth in broad jump (10 feet, 2 inches).
Cornerbacks:
Ohio State's Roby tied for fourth in 40-yard dash (4.39 seconds), tied for seventh in bench-press reps (17), tied for sixth in vertical jump (38.5 inches), tied for ninth in broad jump (10 feet, 4 inches) and tied for fifth in 20-yard shuttle (4.04 seconds); Michigan State's
Darqueze Dennard
tied for 13th in 40-yard dash (4.51 seconds) and tied for 13th in bench-press reps (15); Nebraska's Jean-Baptiste finished first in vertical jump (41.5 inches) and tied for third in broad jump (10 feet, 8 inches); Purdue's
Ricardo Allen
finished ninth in 20-yard shuttle (4.15 seconds).
There were some good performances from Big Ten defenders, particularly from the Ohio State pair of Shazier and Roby, but also from Minnesota's Vereen and Nebraska's Jean-Baptiste, who both likely helped their draft stock. On offense, Penn State's Robinson certainly stood out, along with Michigan tackle
Taylor Lewan
and Iowa tight end
C.J. Fiedorowicz
.
Check out all of ESPN.com's
NFL draft coverage here
.
February, 20, 2014
Feb 20
9:00
AM ET
The NFL scouting combine -- also known as the world's most dissected job interview session -- began Wednesday in Indianapolis, and workouts begin Saturday. The hopefuls include
36 players from Big Ten schools
, 38 if you count Maryland and Rutgers.
[+] Enlarge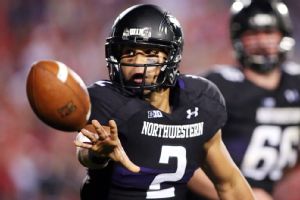 Jerry Lai/USA TODAY SportsFormer Northwestern quarterback Kain Colter will work out as a receiver at the NFL scouting combine.
Here are some of the top storylines to watch as the league's contingents run, lift, jump and shuttle for NFL executives:
How many first-rounders can the Big Ten produce? Last year was arguably the worst draft in league history, as only one player -- Wisconsin's Travis Frederick -- heard his name called on opening night, and not until the 31st pick. The conference should definitely do better in the first round this year, with Michigan left tackle Taylor Lewan and Michigan State cornerback Darqueze Dennard widely viewed as locks to go early. Some others could work their way into the first round with strong showings in Indy, including Minnesota defensive tackle Ra'Shede Hageman (whose physical-freak traits should translate well into workouts), Ohio State cornerback Bradley Roby, linebacker Ryan Shazier and running back Carlos Hyde and Penn State receiver Allen Robinson.

Speaking of Robinson, he's one of eight Big Ten players who will work out as a receiver, and that group includes ultra-productive college wideouts such as Wisconsin's Jared Abbrederis, Michigan's Jeremy Gallon and Indiana's Cody Latimer. This is viewed as a deep draft for receivers in general, so the Big Ten contingent will have to post good times in the 40 and other drills to stand out.

One player who will work out as a receiver is Northwestern's Kain Colter, who primarily played quarterback in college. Colter, of course, has been in the news because of his fight to unionize college football players. How will NFL general managers and executives view the stance taken by Colter, who should interview extremely well? And how will he perform as a wide receiver in drills?

Linebacker is probably the strongest group the Big Ten will send to Indianapolis, which is fitting because that was the best position group in the league in 2013. Many scouts already love Wisconsin's Chris Borland, but his height could remain an issue for some. I think his overall athleticism should shine through this weekend and relieve some of those questions. Michigan State's Max Bullough has excellent height and size, but faces some concerns over his lateral quickness and probably even more regarding his Rose Bowl suspension. Will Bullough publicly reveal the reason for his suspension? It will also be fun to see how Iowa's standout trio of James Morris, Christian Kirksey and Anthony Hitchens compares in their testing.

Spencer Long after his season-ending knee injury? Ohio State's Jack Mewhort was a great leader for the Buckeyes but must show he's athletic enough to play tackle in the NFL. And after interviewing Penn State's John Urschel, will some team ask him to skip his playing days and just run their front office?
Lewan figures to go in the top 15, but he does have some character issues to address in his interviews. Speaking of offensive linemen, how healthy is Nebraska All-American guard

Iowa tight end C.J. Fiedorowicz earned rave reviews at the Senior Bowl. While he wasn't hyper-productive in the passing game with the Hawkeyes, some team easily could fall in love with his size and athleticism and make him an early-round pick.

Defensive back is another deep group from the Big Ten, with seven players invited. Dennard simply needs to not hurt his stock, and Roby could improve his after a good, but not great, junior season. Nebraska's Stanley Jean-Baptiste will be intriguing with his 6-foot-3 frame, especially after the success of the Seattle Seahawks' tall defensive backs. Guys such as Michigan State's Isaiah Lewis, Minnesota's Brock Vereen and Purdue's Ricardo Allen are viewed as late-round picks at this point; they need to make an impression and not lose any more ground in the eyes of scouts.
All these questions and more will begin to be answered this weekend.
February, 7, 2014
Feb 7
9:00
AM ET
The official
invite list for the 2014 NFL combine
is out, and 36 Big Ten players will try to impress pro scouts during workouts in Indianapolis from Feb. 22-25. In case you were wondering, that's fourth most among conferences behind the SEC (71 invitees), the ACC (48) and the Pac-12 (45).
Here are the Big Ten players who were invited, broken down by position:
Quarterbacks (0)

Running backs (2)

Wide receivers (8)

Tight ends (2)

Offensive linemen (8)

Defensive linemen (2)

Linebackers (7)

Defensive backs (7)

Specialists (0)
Breakdown
It's a strong list of players, but were there any snubs. Nebraska quarterback
Taylor Martinez
, Michigan State linebacker
Denicos Allen
and Iowa cornerback
B.J. Lowery
jump out right away as missing, though Martinez has injury (and position) concerns, while Allen's small frame means he'll have to prove to scouts he can play at the next level.
I'm also a bit surprised not to see Indiana's
Ted Bolser
on this list; he's not a traditional blocking tight end, but his receiving skills would seem to translate to the NFL. Only nine kickers and punters were invited to Indy, yet it's a little disappointing that Purdue's
Cody Webster
and Northwestern's
Jeff Budzien
weren't included in the specialists.
Others who could have gotten an invite include Purdue defensive tackle
Bruce Gaston
, Ohio State guard
Andrew Norwell
and Nebraska defensive back
Ciante Evans
.
That doesn't mean those guys won't play in the NFL. But their path to the league might be a little more winding.
December, 2, 2013
12/02/13
11:00
AM ET
There were two huge rivalry games Saturday, with BCS national title implications at stake. What were the odds that both underdog home teams would score a touchdown to get within one point with 32 seconds left in the game?
That was the scenario in both the Ohio State-Michigan and Alabama-Auburn games. You know what happened. Brady Hoke went for the two-point conversion and didn't get it. Auburn chose to kick the extra point for the tie and won on a heaven-sent final play.
[+] Enlarge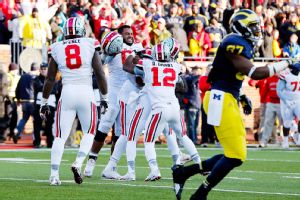 Gregory Shamus/Getty ImagesOhio State survived a scare from Michigan after the Wolverines failed on a two-point conversion to win the game.
Of course, the Tigers and Wolverines were in vastly different situations. Auburn had much more on the line, while Michigan's season would have been made by beating Ohio State. Auburn also knew that Alabama had a dicey kicking situation. Yet Michigan also was at home, where it had lost only once under Hoke, and it already had played in two overtime games this season. The Wolverines could have given themselves a chance to win on a miracle in regulation or in overtime.
Ultimately, I had no problem with Hoke's call, though the two-point play itself was uninspiring. Sometimes it's not the decision but how it unfolds.
Consider that in the biggest play calls for both Penn State and Northwestern on Saturday, both coaches went with a run up the middle on third down. The Nittany Lions' surprise draw play on third-and-9 from their 19 resulted in a 61-yard gain by
Zach Zwinak
that put Wisconsin away. Northwestern went with a basic running play on third-and-6 at Illinois and got 11 yards from
Treyvon Green
, allowing the Wildcats to then run out the clock.
Had those runs been stuffed, both coaches would have been criticized for being too conservative and playing not to lose. It's a tough world, coaching. Unless you are blessed with Guz Malzahn's luck.
Take that and rewind it back ...
Team of the week:
Penn State. Absolutely no one saw the Nittany Lions'
31-24 win
at Wisconsin coming, especially because PSU had played so poorly on the road in Big Ten play. But coach Bill O'Brien led his team to another victory in a season finale, and recording two straight winning seasons under heavy NCAA sanctions is wildly impressive.
Worst hangover:
BCS for Wisconsin? Yes, if that stands for Badgers Caught Sleepwalking. Instead of earning a possible Orange Bowl bid, the Badgers laid a giant egg. A tremendously successful large senior class somehow went out on the worst possible note at Camp Randall Stadium.
Big Men on Campus (offense):
It has been a tough year for Northwestern, but the Wildcats finally got a Big Ten
win at Illinois
. And quarterback
Trevor Siemian
and receiver
Christian Jones
were big reasons why. Siemian threw for 414 yards and four touchdowns, while Jones had two of those scores during a 13-catch, 182-yard career day.
Big Man on Campus (defense):
Iowa linebacker
Christian Kirksey
was named Walter Camp national defensive player of the week after recording 11 tackles, including three for loss, plus a sack and a forced fumble against Nebraska. Really, you could just as easily single out fellow linebackers
James Morris
and
Anthony Hitchens
, who also had great games to cap tremendous seasons by all three. The Hawkeyes will really miss all three seniors next year.
[+] Enlarge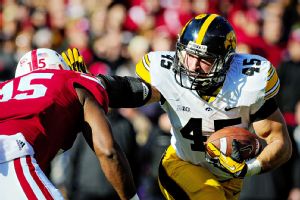 Eric Francis/Getty ImagesIowa's Mark Weisman scored two touchdowns in the win over the Cornhuskers.
Big Man on Campus (special teams):
Chris Davis
. Sure, he plays for Auburn. But his incredible 109-yard kick-six touchdown against Alabama just might allow a Big Ten team to play for the national title for the first time since the 2007 season. Buckeye Nation is a big fan of Davis.
Strangest moment:
Penn State's hurry-up offense clearly confused Wisconsin's defense several times. The most obvious moment came early in the third quarter, when the Badgers had only nine men on defense when the Nittany Lions ran a play. Somehow, Wisconsin got out of that power-play situation when
Tanner McEvoy
broke up an underthrown deep ball.
Pointing the thumb or the finger?
Coaches always talk a good game about accountability, and Bo Pelini usually is one to take blame for a poor performance by his team. But the Nebraska coach looked everywhere but in the mirror on his 15-yard unsportsmanlike conduct penalty against Iowa. Pelini said the call was chicken manure -- I'm paraphrasing -- and even brought Iowa coach Kirk Ferentz's own sideline demeanor into the conversation.
But where was the personal responsibility for Pelini nearly hitting an official in the face with his hat? In what other sport -- or walk of life -- would that be acceptable? Even Prop Joe and Avon Barksdale ("The Wire" nerd alert) knew better than to accost the ref in their annual basketball game. Pelini is lucky to still be employed by Nebraska after Friday's meltdowns.
A Bucket load of offense:
Indiana took out a little offensive frustration on Purdue. After being bottled up on offense by Wisconsin and Ohio State, the Hoosiers unleashed a school record 692 yards and 42 first downs to win the Old Oaken Bucket for the first time in three years.
Tre Roberson
,
D'Angelo Roberts
and
Stephen Houston
all rushed for more than 100 yards for Indiana, the first time in school history the team produced a trio of 100-yard rushers in the same game.
Zero sum game:
Minnesota failed to score an offensive touchdown in its final 10 quarters of the regular season. The lack of an explosive/entertaining offense could hurt the Gophers come bowl selection time. Meanwhile, Michigan State has held six opponents without an offensive TD and pitched shutouts in six of its eight Big Ten games.
Fun with numbers:
Because the debate is about to take over our lives, some key comparisons between Ohio State and Auburn:
Scoring margin: Plus-27.9 per game for Ohio State, plus-16.1 for Auburn

Rushing yardage: 321.3 per game for Ohio State, 318.3 for Auburn

Total yards: 530.5 per game for Ohio State, 491 for Auburn

Team adjusted QBR: 83.8 for Ohio State, 81.0 for Auburn

Yards allowed per game: 355.8 for Ohio State, 414.3 for Auburn

Sagarin strength of schedule rating: 61st for Ohio State, 26th for Auburn

Wins over ranked teams: One for Ohio State (Wisconsin), three for Auburn (Alabama, Georgia, Texas A&M)
December, 1, 2013
12/01/13
9:00
AM ET
Recognizing the best and the brightest around the Big Ten during rivalry weekend:
November, 25, 2013
11/25/13
9:00
AM ET
There's only one debate in the Power Rankings: Who's No. 2?

All the top teams held serve in Week 13, and the Big Ten championship matchup is set for Ohio State and Michigan State to meet Dec. 7 in Indianapolis. The Buckeyes remain atop the league, but which team comes next: Wisconsin or Michigan State?
Although most polls have Michigan State ahead of Wisconsin, we've been keeping the Badgers at No. 2. It's extremely close between the two, and it's too bad the Spartans and Badgers won't face one another this season, especially given their recent history.
We're actually split on the No. 2 spot. Brian is keeping Wisconsin ahead of MSU on his ESPN.com power rankings ballot, while Adam has flipped the two this week, noting Michigan State's superior quarterback and special-teams play.
A second-place tie doesn't really work in the Big Ten rankings, so Wisconsin remains at No. 2 by the slimmest of margins.
Elsewhere, Iowa and Minnesota trade places, and so do Illinois and Northwestern.
Here's one last look at the
Week 12 rankings
.
Now, for the newest rundown …
1. Ohio State (11-0, 7-0; last week: 1):
Another easy afternoon at The Shoe for Urban Meyer's Buckeyes, who set a program record with their 23rd consecutive victory. Quarterback
Braxton Miller
(144 rush yards, 160 pass yards, 4 TDs) and running back
Carlos Hyde
(117 rush yards, two TDs) both hurt Indiana early and often, and linebacker
Ryan Shazier
(20 tackles) sparked a stout defensive effort. Ohio State is very much in the national-title hunt as it prepares to visit rival Michigan this week.
2. Wisconsin (9-2, 6-1; last week: 2):
A BCS at-large appearance looks likelier for the Badgers, who won their fifth consecutive game Saturday and their 10th straight against Minnesota. The running backs might grab the spotlight, but it's time Wisconsin's defense received some credit for an exceptional season. Linebacker
Chris Borland
led the way Saturday with his NCAA record-tying 14th career forced fumble and two fumble recoveries, as the Badgers shut out Minnesota's offense. Wisconsin finishes the regular season against Penn State at Camp Randall Stadium.
3. Michigan State (10-1, 7-0; last week: 3):
Quarterback
Connor Cook
and running back
Jeremy Langford
continue to sparkle in Big Ten play, as both men performed well in a win at Northwestern. The defense surrendered 224 yards but shut out Northwestern in the second half and recorded two takeaways. Michigan State is headed back to Indianapolis for the second time in three seasons to face Ohio State on Dec. 7. Can't wait.
4. Iowa (7-4, 4-3; last week: 5):
Thanks to linebacker
Anthony Hitchens
and a much-improved defense, Iowa overcame four turnovers to rally past Michigan. Quarterback Jack Rudock (two TDs, three INTs) had an erratic day, but Iowa dominated the second half, erasing a 21-7 deficit to win 24-21. The Hawkeyes will be going to a decent bowl game, and they have a chance for a very nice finish if they can beat Nebraska on the road this Friday.
5. Minnesota (8-3, 4-3; last week: 4):
The Gophers are modeling themselves after Wisconsin, which is good, but they're simply not there yet. Minnesota's flaws on offense, especially at wide receiver, showed up Saturday as the Gophers scored no offensive points on their home field. The defense kept the game relatively close, but Minnesota never seriously challenged Wisconsin in the second half. Things don't get any easier this week, when the Gophers visit Michigan State.
6. Nebraska (8-3, 5-2; last week: 6):
A horrendous personal-foul call didn't doom the Huskers, who found a way to beat Penn State in overtime and showed some grit along the way. Running back
Ameer Abdullah
had his typical brilliant game, and quarterback
Ron Kellogg III
did a nice job in relief of
Tommy Armstrong Jr
. Kicker
Pat Smith
stepped up in the clutch as Nebraska won for the third time in four games. The Huskers host Iowa on Black Friday.
7. Michigan (7-4, 3-4; last week: 7):
We'd normally move Michigan lower, but there's no place to put the Wolverines because Penn State and Indiana both lost, too. Linebacker
Jake Ryan
and the defense came to play at Iowa, forcing four turnovers and converting one into points. But the offense remains embarrassingly bad, especially in the run game. Michigan finished with 10 first downs, 60 rush yards and 158 total yards as the heat continues to rise on coordinator Al Borges. Things will likely get worse this week, when Ohio State storms into the Big House.
8. Penn State (6-5, 3-4; last week: 8):
This time, Penn State had no late-game heroics because special-teams miscues and other problems resulted in an overtime loss on senior day. The Lions received a big performance from running back
Zach Zwinak
(149 rush yards) and quarterback
Christian Hackenberg
accounted for three touchdowns, but the team's limitations in all three phases showed up in the loss. Penn State ends the season with a trip to Wisconsin, which likely won't be pretty.
9. Indiana (4-7, 2-5; last week 9):
The lingering defensive issues are there, but Indiana has a new problem: The offense isn't showing up. IU once again felt the absence of injured running back
Tevin Coleman
against Ohio State, recording just 122 rushing yards. Indiana actually had more first downs than the Buckeyes (24 to 22) but didn't score for three and a half quarters and couldn't stop Ohio State's big-play offense.
Kevin Wilson
's team finishes the season against Purdue at home.
10. Illinois (4-7, 1-6; last week: 11):
Tim Beckman and his Illini players can finally stop talking about The Streak, as Illinois won a Big Ten game for the first time in 777 days (Oct. 8, 2011). There was some typical sloppiness, and the defense struggled early, but Illinois made enough plays down the stretch to get out of Purdue with a four-point win. The
Nathan Scheelhaase
-
Steve Hull
connection produced 169 yards and two touchdowns as the close friends are ending their careers on a good note.
11. Northwestern (4-7, 0-7; last week: 10):
The unthinkable has happened, the worst-case scenario amazingly eclipsed: Northwestern's bowl streak is over at five seasons after a 4-0 start and a fourth-quarter lead against Ohio State on Oct. 5. The Wildcats actually moved the ball well against Michigan State but repeatedly stalled in plus territory and took no risks despite a winless mark in Big Ten play. Northwestern has its longest losing streak since 1998, and Pat Fitzgerald has some serious work to do in the offseason, which will begin next week.
12. Purdue (1-10, 0-7; last week: 12):
Darrell Hazell is looking for any sign of progress and saw some against Illinois, as the Boilers played their first competitive game in the Big Ten. Purdue finally ran the ball a little, as
Akeem Hunt
eclipsed 100 yards on the ground, and the defense forced four turnovers. Ultimately, Purdue couldn't do enough offensively or slow down Illinois' pass game. The Boilers wrap up the season this week with the Bucket game in Bloomington, Ind.
October, 28, 2013
10/28/13
11:00
AM ET
You know the old adage about offense selling tickets and defense winning championships? Forget about it.
If that were true, how could you explain that four of the top five scoring teams in the country are Baylor, Oregon, Florida State and Ohio State? And that all four are undefeated, ranked in the top five in the major polls and in the BCS title chase? (No. 4 on that list, by the way, is Texas A&M, which has a reigning Heisman Trophy winner and is 12th in the BCS standings). Even Alabama is averaging 41.2 points per game, 13th best in FBS.
[+] Enlarge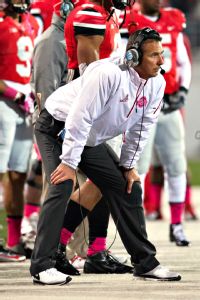 Greg Bartram/USA TODAY SportsUrban Meyer and Ohio State were on the offensive against Penn State.
The only team in the Top 25 nationally in points per game that doesn't have a winning record? Indiana, which is tied for eighth at 42.4 PPG -- but also is No. 119 in total defense.
You've got to score a lot to win big in college football these days, and you've got to do the same to stand out in the BCS crowd. So no wonder Urban Meyer and Ohio State put their foot on the gas pedal Saturday against Penn State, scoring 42 points in the first half en route to a 63-14 rout.
The Buckeyes' 686 total yards were their most ever against a Big Ten opponent. Meyer, in classic step-on-your-neck fashion, challenged a spot on a Penn State fourth-down play late in the third quarter. Ohio State led 56-7 at the time -- and got the call reversal to go its way. Nittany Lions coach Bill O'Brien just stared ahead for several seconds when a a reporter later asked about that challenge, then declined to comment. But O'Brien did say of the game, "We'll remember some things."
Still, it's hard to blame the Buckeyes for doing everything they could to put up an impressive score after they've heard about their lack of style points all year long. The scary thing for the rest of the Big Ten is that Ohio State and
Braxton Miller
appear to be just now finding their stride on offense. Yes, that's a funny thing to say for a team scoring 47.2 points per contest and that has seven 50-point games since 2012, or one more than the program managed in the entire Jim Tressel era. But it's true.
This is an offense that appears to be steamrolling toward a championship. Wouldn't it be fun if Michigan State's equally dominating defense got a chance to test that old adage in Indianapolis?
Take that and rewind it back:
Team of the week:
For the second straight week, it's Minnesota. Of course it is, after the Gophers knocked off Nebraska for the first time since 1960, got their signature Big Ten win and clinched bowl eligibility. What the team has been doing while head coach Jerry Kill is on a leave of absence is incredible.
Worst hangover:
There have been some ugly losses in the Bo Pelini era at Nebraska, but maybe none as dispiriting as Saturday's defeat at Minnesota. The 9-7 home loss to Iowa State might be the only one to trump it. Tommie Frazier, who publicly criticized Pelini and his staff after the UCLA debacle, tweeted out "Do I need to say anymore?" right after the game ended. It will be another uncomfortable week in Lincoln.
Best play:
Facing third-and-7 from the Northwestern 8-yard line in overtime,
Iowa's
Jake Rudock
dropped back to pass and almost immediately had blitzing safety
Ibraheim Campbell
in his grille. When Rudock released the ball, it looked in live action as though he was merely throwing it away. Instead, the ball sailed perfectly to tight end
C.J. Fiedorowicz
for the touchdown that proved to be the game winner.
[+] Enlarge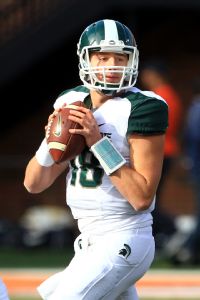 Pat Lovell/USA TODAY SportsConnor Cook won't soon forget Saturday's win.
Craziest play:
Speaking of surprising touchdown passes,
Connor Cook
must be living right. The Michigan State
quarterback scrambled to his right late in the first half
on a third-and-25 from the Illinois 29-yard line. He then threw toward the end zone into double coverage, and a pair of Illini defensive backs,
Jaylen Dunlap
and
Eaton Spence
, were in front of Bennie Fowler for the underthrown pass, and Dunlap tipped it twice before it fell in the hands of Fowler for a TD. The score was 7-3 before that play, and it was the start of 35 unanswered points for Michigan State. "I was a little afraid," Cook said of his throw. But he finished with just one incompletion in 16 attempts.
Big Man on Campus (Offense):
Braxton Miller is getting hot. Scorching hot, in fact. He went 18-of-24 for 252 yards and three touchdowns through the air while rushing for 68 yards and two scores in the 63-14 trouncing of Penn State. If he plays like that, nobody in this league is beating the Buckeyes.
Big Man on Campus (Defense):
Iowa linebacker
Anthony Hitchens
had nine tackles, a sack and a key forced fumble in the win over Northwestern.
Big Man on Campus (Special teams):
His team lost, but
Pat Smith
did all he could for Nebraska. Smith went 3-for-3 on field goals, connecting from 37, 42 and 45 yards on a windy day. Say this for the Huskers: They keep churning out excellent kickers.
Got a plane to catch?
This might be the craziest number of the week: 2:50. That's how long the Northwestern-Iowa game lasted. Yes, the two teams somehow managed to play an overtime game in less than three hours, or about the time it takes for two David Ortiz at-bats. Of course, it might have taken a bit longer had Pat Fitzgerald elected to use his timeouts at the end of the game.
After a
Mike Trumpy
fumble, Iowa took over at midfield with 3:14 remaining. The Hawkeyes struck on an 18-yard Fiedorowicz pass reception to get near field goal range and then started going conservative as the clock drained. Fitzgerald, who had two timeouts in his pocket, did not call either of them to save some potential time for the Northwestern offense. He finally called one after Iowa had used its own timeout on fourth-and-11 with 15 seconds left. The Wildcats then intercepted the pass but had no time to do anything but take a knee.
Fitzgerald said later that he thought the wind would make it tough on Iowa to kick a field goal and that "we were playing to win the game." It sure seemed instead that he was playing for overtime, and we saw in the Michigan game that playing not to lose often leads to exactly the thing you're trying to avoid.
September, 16, 2013
9/16/13
11:00
AM ET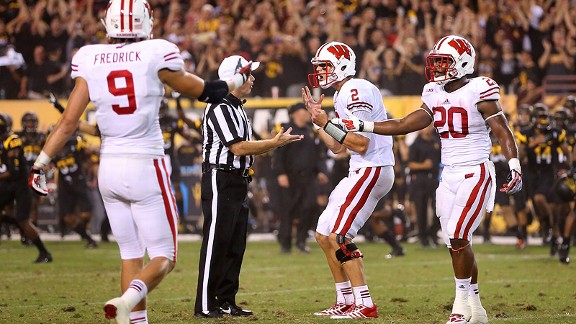 Christian Petersen/Getty ImagesJoel Stave and the rest of the Wisconsin Badgers were flabbergasted by the ending of Saturday night's loss to Arizona State, as the Badgers bizarrely ran out of time deep in ASU territory.
It was a rough weekend all around for the Big Ten, which went 0-3 against ranked teams, 1-3 versus the Pac-12 and only 5-5 against FBS competition. Even some of the winning teams either had major scares (Michigan), looked sluggish (Northwestern) or had the game overshadowed by a different concern (Minnesota).
But, really, all I want to talk about is the Wisconsin-Arizona State ending, aka the Desert Debacle.
If you haven't read up on one of the most absurd finishes of all time yet, take a moment to brush up
here
and
here
and
here
. Consider all the things that went sideways in 18 infamous seconds:
As Badgers quarterback Joel Stave ran to his left to center the ball for an upcoming field goal try, he collided into the backside of left guard Ryan Groy and very nearly clipped Groy's heel while attempting to kneel. (Groy didn't even need to be there, as he'd shed a defender and had no one left to block.) Adding to the confusion, Stave quickly bounced up and placed the ball on the 15-yard line as if the pigskin were covered with scorpions. Had he merely Tebowed it and held onto the ball for a couple of seconds, or just handed it to an official, the ensuing chaos probably doesn't occur.

A whistle had blown and the referee, stationed behind the Wisconsin offense, clearly signaled the ball as down. And yet, other officials and players seemed unsure if Stave had actually knelt or whether it was a live, loose ball. Postgame photographic evidence proved he did take a knee, but it took a specific angle on a freeze frame from the hi-def broadcast to remove doubt. Things aren't nearly as clear in full speed live action when you're a 50-year-old-plus referee who's been running around in desert heat for three-plus hours.

But here's the thing: It shouldn't have mattered whether Stave's knee actually ever touched the turf. According to the NCAA rules manual (specifically, Rule 4, Article 2, Section A), the ball is dead if "an official sounds his whistle (even though inadvertently) or otherwise signals the ball dead." Later in Rule 4, the handbook states that the play is dead "when a ball carrier simulates placing his knee on the ground." So Stave should be off the hook here, even though his actions looked odd at the time.

Three Sun Devils players went for the ball, understandably so given the mixed signals, and Anthony Jones laid on it for more than five seconds. Ironically, Arizona State fans booed earlier in the game when they thought Wisconsin's Michael Caputo faked an injury to slow their team's offensive pace by the goal line. Apparently, an even better way to disrupt tempo is to smother the ball like it's a rogue hand grenade, because Jones astonishingly got away with a clear and obvious delay of game infraction.

Even if Stave's kneel-down had gone smoothly, the clock would not have stopped, and the Badgers had no timeouts. Yet, Stave and his teammates wasted precious time by looking to the confused officials instead of rushing into formation for a spike. In fact, Wisconsin players only frantically pointed to the clock when there were two seconds left. The umpire, moving slower than most Arizona retirees, wrongly signaled for the Badgers line to back away, but even that didn't happen until 0:02. The umpire also appeared never to have looked at the referee as the latter was signaling the ball as down.
Without question, the Pac-12 officiating crew displayed a shocking lack of rules knowledge and cohesion. They never huddled together to try and figure out what had happened. The referee, who presumably whistled the play dead and signaled it as so, should have taken charge of the situation. It's disgraceful that two teams could play so hard for 59-plus minutes, only to have officials approach the frenzied final moments so casually (they sure moved fast once they'd decided the Sun Devils had won, however). And if we're going to continually interrupt games for replays, many of which have seemingly little effect on the final outcome, then why isn't there a protocol in place to correct last-second disasters like this on review?
While the officials deserve nearly all the blame, Wisconsin played with fire in trying to get the ball into only slightly better kicking position with the clock dwindling. Badgers coach Gary Andersen said his team practices that specific play for that amount of time, but any seasoned Saturday observer knows that most college teams are notoriously bad at late-game execution. That's because of both inexperienced players and the NCAA 20-hour rule that limits the amount of time coaches can spend on such scenarios. Even when teams do practice for it, they can neither simulate nor predict how quickly -- or, in this case, how interminably -- a given official will clear the pile and spot the ball.
Two more points to consider: First, the bizarre finish absolved Arizona State's Todd Graham of some atrocious clock management and play calling on the Sun Devils' final drive. Graham has yet to impress as a head coach; he twice decided to go for two-point conversions far too early in a back-and-forth game, and it nearly cost his team.
Secondly, Wisconsin's kicking game has been highly suspect for a while now, so there's no guarantee
Kyle French
makes that field goal, even if it's only from 27 yards out after a delay penalty. But French is 6-for-6 in his career from 30 yards or closer, and he'd made one from 34 earlier Saturday night. It's a shame we'll never know if he could have hit the game winner.
One last question: Why do so many weird things keep cropping up at the end of games for the Badgers, who now have 10 losses by a touchdown or less since the start of 2011? Wisconsin fans can no longer scapegoat Bret Bielema for late-game mismanagement; his wife's schadenfreude was readily apparent when Jen Bielema tweeted "#karma" shortly after the Arizona State fiasco ended.
Take that and rewind it back ...
Team of the Week:
Iowa. The Hawkeyes snapped a two-game losing streak against Iowa State, beat a FBS team for the first time since Oct. 13 of last year, and now can feel much better about a potential return to postseason play.
Biggest hangover:
Nebraska. For all
the obvious reasons
. The sky isn't falling in Lincoln, as the Huskers should still be able to win at least eight or nine games. But the sun sure ain't shining, either.
[+] Enlarge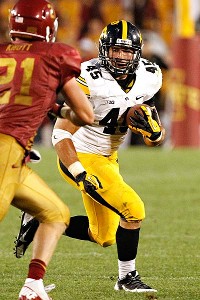 David Purdy/Getty ImagesMark Weisman made 35 carries against Iowa State. Workhorse running backs are still typical throughout the Big Ten.
Fun with numbers (via ESPN Stats & Info):
Iowa's
Mark Weisman
ranks third in the FBS in rushing yards, but his most impressive stat might be his 85 carries. Weisman, who toted it 35 times versus Iowa State, has run the ball 10 times more than anybody else in the nation. Michigan State workhorse Le'Veon Bell had 81 carries through three games last year. ... Wisconsin's
Melvin Gordon
, meanwhile, leads the country at 12.89 yards per rush. The redshirt sophomore is averaging 10.1 yards per attempt for his career. ... Indiana's
Nate Sudfeld
has taken over the Big Ten lead in QBR. Sudfeld ranks seventh nationally with his 91.7 raw score (based on a 100 point scale). Sudfeld also is tied for the national lead in most completions of 20 yards or more, with 19. ... Penn State continues to baffle with its ineptitude on third down, having now converted just four of 34 tries. Only Miami of Ohio (3-for-29) has been worse. ... Bet you wouldn't have guessed this, but Iowa is leading the league in plays per game, at 83 snaps per contest. The Hawkeyes are tied for 10
th
nationally in plays per game. Minnesota is running the fewest plays per game in the Big Ten, at 60.
Big Man on Campus (Offense):
Kenny Guiton
-- or Kenny Football, as I've taken to calling him, because the real Kenny G is far too lame -- continues to get it done in
Braxton Miller
's absence. The Ohio State quarterback threw for 276 yards and four touchdowns and ran for 92 yards in the win at Cal. Urban Meyer says he might find ways to play Guiton when Miller is healthy.
Big Man on Campus (Defense):
Not a lot of great individual defensive performances in Week 3 (see below), so we'll go with Iowa's linebackers.
Christian Kirksey
,
Anthony Hitchens
and
James Morris
combined for 25 tackles, and Morris had a 27-yard interception return. They helped limit Iowa State to just 59 yards rushing.
Big Man on Campus (Special teams):
It's time to recognize Purdue's
Cody Webster
, who might win the Ray Guy Award if it were handed out today. Webster continued his tremendous season by averaging 41.8 yards per punt and downing three of them inside the 20 versus Notre Dame.
Pointing up (the wrong way):
In the first two rewinds of 2013, we pointed out how scoring is up in the Big Ten. In Week 3, that was also true in a negative way. Six Big Ten teams (Nebraska, Ohio State, Penn State, Wisconsin, Purdue and Illinois) gave up at least 31 points, and Michigan nearly joined them (and would have been the sixth of seven to lose if so). Offenses have improved in the league, but let's face it: Most Big Ten teams still aren't well-equipped to win shootouts, so the defenses need to play better.
Strangest moment, Part II:
Nothing tops the end of the Wisconsin-Arizona State game for absurdity. But more strangeness occurred in the UCLA-Nebraska game, when officials signaled for a made field goal on a kick that was obviously wide right. The call was overturned on replay, but how is that missed in the first place? An Arizona State field goal early against Wisconsin was similarly odd, as it appeared to curve from out, to in, to above the right upright. Officials called it good, but it was hard to tell for sure. Both plays only added fuel to comedian Adam Carolla's common-sense
crusade to raise the darn uprights already
.
Did you see?
A skywriter
spelled out "Go Blue" over Spartan Stadium
shortly before Michigan State's game against Youngstown State on Saturday. Who bothered to do that or why remains unclear, but as Michigan State swimming coach Matt Gianiodis tweeted: "That's a lot of work for your 3
rd
biggest rival." Maybe Michigan fans should have focused more on Akron.
September, 10, 2013
9/10/13
9:00
AM ET
STATE COLLEGE, Pa. --
DaQuan Jones
doesn't blush at all from the praise. He's relaxed after peeling off his helmet, and any compliments seem to slide off his shoulders like sweat from a two-hour workout.
[+] Enlarge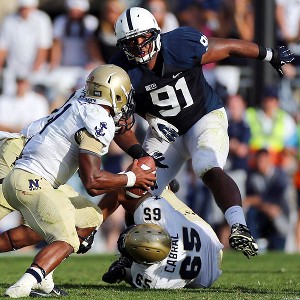 Rob Christy/USA TODAY SportsDT DaQuan Jones lived up to the preseason hype and led the Nittany Lions in stops in the backfield and was fifth on the team in tackles.
The praise rolls on and Jones nods, but he's heard most of it before. Yes, he knows Gil Brandt rated him the top senior DT this season -- he found out on social media -- but that's a title he's not yet earned. Yes, he knows he leads the team in sacks (two), but he counters by saying the season's young.
But, every now and then, Jones is thrown off. You know, one reporter tells him, former cornerback Stephon Morris tweeted about how he should be a Heisman contender. Forget about Johnny Football and those billboard-grabbing quarterbacks.
"That's a bit too much," Jones said, shaking his head as if it were an insult. "That's for the skill guys."
Still, while the Heisman race might be a bit out of the humble senior's grasp, other awards like the Lombardi might just be within reach. After two games, he has five stops in the backfield. And, perhaps most impressively, he leads the Nittany Lions in tackles with 18. Only two players in the Big Ten -- Illinois LB
Jonathan Brown
and Iowa LB
Anthony Hitchens
-- have more. And Jones still has more solo stops than those two leaders.
"Seriously?" the defensive tackle asked Saturday, turning his head. "Man, that's crazy."
Crazy is right. On the field, Penn State's 318-pound defensive tackle -- who was 330-plus before laying off the local chicken-wing shop -- is focused like a prizefighter. He's friendly and gregarious after the game, like any other college student waiting to meet up with his family for a Saturday dinner, but he's another person on the field.
He talks with a slight lisp, not unlike
Mike Tyson
. It's a comparison others have drawn, and it's not a reach considering he constantly delivers knockout blows to the opposing line. He's mean, he's strong, and he's not a player the opposition looks forward to crossing.
"I like double teams better," he said matter-of-factly, as if he was asked his favorite ice cream flavor. "I'm a physical guy, and I like the contact. I don't shy away from them."
Added 240-pound tailback
Zach Zwinak
: "Even in our thud practices [where no one goes to the ground], he's definitely laid a few hits. He's a big boy."
In two games, Penn State has limited rushers to just 1.8 yards a carry and Jones has become the main ingredient in those three-and-outs. Against Syracuse, on three straight rushing plays to end the half, Jones came up with three straight tackles -- even when the Orange tried to avoid Jones by running off to the right on third down. (Jones happened to bring the ball-carrier down in the backfield for a one-yard loss, anyway.)
Trying to stop Jones is about as easy as about as trying to stop a run-away tractor trailer. You can try … but you'll probably get hurt in the process. Still, maybe that shouldn't be so surprising given the school's history at defensive tackle. Jones isn't an exception; he's really part of a trend.
He landed in Happy Valley months after the Miami Dolphins drafted Jared Odrick in the first round. He watched teammate Devon Still become a second-rounder in 2012 and then saw
Jordan Hill
head to the Seattle Seahawks in the third round this past offseason. Compare him to the past DT greats, say he's better, say he's worse -- but Jones is remaining level-headed.
"I want to be known for who I am," Jones said. "I didn't come here to live in anyone's shadows."
Jones is sincere and soft-spoken. When he says he's playing for fun and not awards, it's easy to believe him. He'll laugh when he talks about his pregame ritual with teammate
Deion Barnes
and how they'll just slap the back of each other's heads if one doesn't seem loose enough. And he'll narrow his eyebrows and softly glare, as if to say "Seriously?," when someone dishes out some praise. Part of the reason might just be because he doesn't yet believe himself that he's posted up some mind-boggling numbers.
Here's another: Last season, Jones started 11 games and finished the season with eight solo tackles and two tackles-for-loss. In Week 1 of this year, he already had eight solo tackles and three-tackles-for-loss.
"You know, it came up last week that somebody mentioned people were concerned about our interior defensive line play," defensive coordinator John Butler said. "But that's one of our strengths. DaQuan Jones is a great player. … DaQuan is very unselfish. If he keeps playing the way he's playing, he's going to have a long future playing football after Penn State."
Jones is as comfortable on the gridiron as he is off it. This is his final Penn State season and his last year as a college student, so he said he's going to enjoy it. And so far -- much to the chagrin of opposing offenses -- he sure has.
August, 22, 2013
8/22/13
11:59
AM ET
By
ESPN.com staff
| ESPN.com
No Big Ten position group returns more talent and production than linebacker. The list of returnees includes four first- or second-team All-Big Ten selections from 2012 -- Wisconsin's
Chris Borland
, Ohio State's
Ryan Shazier
, Michigan State's
Max Bullough
and Michigan's
Jake Ryan
-- along with two other former All-Big Ten selections (Michigan State's
Denicos Allen
and Illinois'
Jonathan Brown
), plus a host of other potential stars. Eight of 12 teams return multiple starters at linebacker -- Iowa's senior trio of
James Morris
,
Anthony Hitchens
and
Christian Kirksey
has combined for 65 career starts and 662 tackles -- and only one squad (Nebraska) must replace its entire starting group from last season.
Click here
for more from Adam Rittenberg.
October, 1, 2012
10/01/12
11:00
AM ET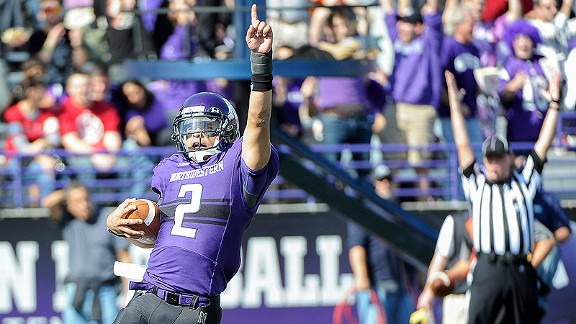 Benny Sieu/US PresswirePenn State might have its hands full with Northwestern's Kain Colter.
With the convincing victory over Illinois, all eyes have turned to Penn State to see what it might do this conference season.
NittanyNation takes a closer look at the rest of its Big Ten slate to see what challenges lie ahead. Right now, it looks as if the Lions are on pace for a 7-5 season.
September, 30, 2012
9/30/12
9:00
AM ET
Recognizing the best and brightest from around the Big Ten in Week 5. This week's stickers have a defensive flavor to them ...

September, 12, 2012
9/12/12
3:45
PM ET
Investor confidence in the Big Ten neared an all-time low in Week 2. But past performance does not necessarily indicate future results. Let's check the stock market:
Stock up
Chi Chi Ariguzo:
The Northwestern linebacker moved into a starting role for the first time this season, and the move has gone very well for the redshirt sophomore. Ariguzo -- whose actual first name is Ikechi -- was named the Big Ten defensive player of the week after collecting 10 tackles, including three for loss, against Vanderbilt. In Week 1 at at Syracuse, he had an interception and returned a botched lateral for a touchdown. He currently leads the Big Ten with 4.5 tackles for loss.
Devin Funchess:
The Michigan true freshman tight end was outstanding against Air Force, hauling in four catches for 106 yards and a touchdown. The athletic 6-foot-5, 229-pounder showed receiving skills, and could provide a much needed target for
Denard Robinson
. He has future star written all over him.
[+] Enlarge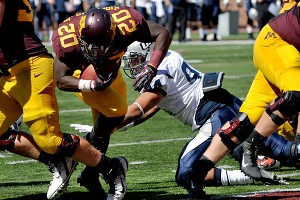 AP Photo/Tom OlmscheidRunning back Donnell Kirkwood has sparked an improved rushing attack for Minnesota.
Minnesota's running game:
The Gophers currently rank fourth in the Big Ten at 224.5 rushing yards per game, a marked improvement over last season's 160 yards per game. It hasn't just been quarterback
MarQueis Gray
, either, as sophomore
Donnell Kirkwood
has rushed for at least 70 yards in the first two games. Head coach Jerry Kill says better play out of the receivers is opening some things up for the running game. Minnesota must prove it against better defenses than UNLV and New Hampshire, but is off to a good start in building a more complete offense.
Iowa's linebackers:
Not much has gone right for the Hawkeyes' offense, but the linebackers have done their part. Head coach Kirk Ferentz said
James Morris
, who had 12 tackles and a key interception late against Iowa State, played tremendously last week.
Christian Kirksey
has been doing his part as well, which Ferentz said has opened opportunities for
Anthony Hitchens
. A first-year starter, Hitchens tallied an eye-popping 19 tackles last week. Now, if the defense could just get some help ...
Purdue in the red zone:
Boiler up inside the 20. Purdue is currently tied for the national lead in red-zone offense, scoring on all nine drives inside the opponent's 20-yard line. That includes eight touchdowns. The Boilermakers also rank 13th nationally in red-zone defense, having surrendered just four scores -- and only two touchdowns -- during their opponents' seven trips inside their 20.
Stock down
Iowa in the red zone:
The Hawkeyes, of course, have scored only one touchdown all season, and that came from outside the red zone on a 23-yard run by
Damon Bullock
against Northern Illinois. Iowa has been in the red zone on offense six times in two games -- and come away with only five field goals.
Wisconsin's running game:
You knew the Badgers' offensive output was atrocious, which led to offensive line coach Mike Markuson being dumped this week. Wisconsin has only 203 rushing yards as a team after two games, an average of 101.5 yards per game. To put that in perspective,
Montee Ball
alone only had three games all of last season when he failed to gain at least 115 yards, and he exceeded 203 yards against both Purdue (223) and Illinois (224).
Quarterback fears vs. Spartans, Buckeyes:
There was near universal agreement this preseason that Michigan State and Ohio State would field the best defensive lines in the Big Ten this season. While they haven't been bad, it's somewhat shocking to see that the Spartans and Buckeyes have combined for only four total sacks this season. Urban Meyer has stressed the need for a better pass rush from his team. Michigan State has gotten decent pressure, but has only sack to show for it, and defensive coordinator Pat Narduzzi says he's not happy with the play of the defense overall. Sack numbers can be overrated, but it's also true that both lines can do a better job bringing down quarterbacks.
Illinois' defense:
The Illini defense looked terrific in the opener against Western Michigan, continuing a string of great performances dating to last season. Which is why it was so shocking to see Arizona State move the ball at will against Illinois in last week's 45-14 shellacking. Players said this week that they had mix-ups in communication and were caught off guard by the Sun Devils' tempo. The latter doesn't make much sense since Todd Graham's teams have always played up-tempo, and the Illini defenders practiced against their own spread offense all preseason. We'll see if this was just one bad showing or an alarm bell.
Big Ten expansion candidates:
With Notre Dame off the chessboard and the ACC going to a $50 million exit fee, who's left if the Big Ten ever decides to expand again? Rutgers? UConn? Louisville? None of those are very appealing, and it means that the league will be better off staying at 12 for the foreseeable future -- or at least until the next big seismic conference shift.
One Thing To Know: Big Ten Recruiting
BIG TEN SCOREBOARD
Thursday, 8/28
Friday, 8/29
Saturday, 8/30