March, 28, 2013
Mar 28
1:00
PM ET
Deion Barnes
smiled under his flat-brimmed Yankees cap Wednesday. He laughed and seemed relaxed with reporters crowding around him with their cameras and recorders.
He shook his head -- but still continued grinning -- as he talked about missing some sacks during the regular season. He didn't seem disappointed, didn't seem angry with himself, but his parents seemed to intimate that was just a show for the media.
"I go by what he thinks he should do," his mother, Cynthia, said. "And he said he wanted to have like 13 sacks and, when he didn't get that, he was disappointed."
She turned to her husband, Mike, and asked him for some reassurance. He agreed: "Oh yeah, he was disappointed."
[+] Enlarge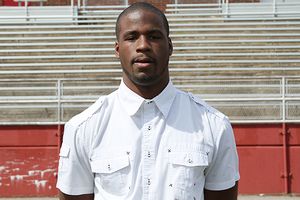 JC Shurburtt Deion Barnes had a team-high six sacks for Penn State last season.
"Do you ever watch him when he doesn't get a sack?" Cynthia asked. "He. Is. Pissed. He doesn't want anyone to say anything or touch him. He just comes back with a vengeance."
Barnes left that anger on the field on Wednesday, but the defensive end spoke passionately about his first season as a starter. He led the Nittany Lions with six sacks as a redshirt freshman, and his trophy for Big Ten freshman of the year still rests on a mantle back home in north Philadelphia. But he didn't talk about his successes on Wednesday. No, he talked about the misses.
He didn't smile because he was pleased with six sacks. He shook his head because, he said, he should've had at least 10.
Four months have passed since he last threw on shoulder pads and stepped foot inside Beaver Stadium, but he still remembers those missed sacks. He talked about them as if they happened yesterday. He can't seem to forget; he knows them all. Each and every one.
"I had one missed against Iowa, two against Temple -- one against Temple, I can't believe I missed. It was like he was right there," Barnes said, extending his arms as if still trying to wrap up that signal-caller. "And I missed one against Ohio State, too."