Penn State Nittany Lions:

2013 Big Ten Media Days
July, 26, 2013
7/26/13
9:00
AM ET
July, 25, 2013
7/25/13
5:00
PM ET
CHICAGO -- While linebacker Glenn Carson fiddled with his phone on the plane to Big Ten media days, playing Candy Crush, teammate John Urschel played his own game.
And, of course, the offensive guard's smart phone app involved math -- Brain Crunchers: Math workouts. (And, if there was any doubt, the player currently pursuing his second master's degree put the setting on the highest difficulty.) Out of curiosity, Carson and Malcolm Willis decided to try the game out.
[+] Enlarge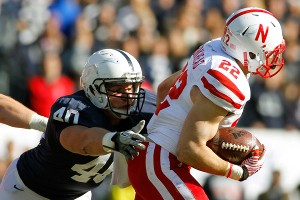 Justin K. Aller/Getty ImagesLinebacker Glenn Carson holds down the middle and kills on Candy Crush ... but no math, please.
It didn't end well.
"I was on expert or whatever he was on, and I got lost in like three seconds," Carson said with a laugh. "And then we put it on easy, and Malcolm and I still couldn't get it down. It was a little embarrassing."
Urschel tested the game out on the media Thursday morning on medium difficulty. Numbers would flash on the screen: Add 20, multiply by seven, subtract eight, divide by three, etc.
"Can I write this down?" asked one flustered reporter.
"No," Urschel said, smiling.
In the end, only two of about six reporters got the right answer. Urschel seemed in his element.
"I'm just like any other kid," Urschel insisted. "If I'm bored on the bus, I'm waiting for something or for class to start, I get on my phone just like everyone else and play my little games. But my games happen to be math games, that's all."
That's not to say this is the kind of math Urschel focuses on. When asked if he's ever seen the movie "Good Will Hunting" and could solve that problem on the blackboard, Urschel hesitated because he couldn't remember the equation in question. But that's the kind of math he enjoys, he said, the kind that doesn't really involve numbers.
"I like the challenge," he said. "You don't get far into math until all of a sudden there are no numbers."
Carson smiled and added that he's sticking to Candy Crush.
Reversing the sanctions:
O'Brien and athletic director Dave Joyner were both tight-lipped about any future actions the Nittany Lions might take regarding the sanctions. Both declined to comment about possibly approaching the NCAA in the future, saying they both hoped to focus on the 2013 season.
Other Big Ten players and coaches also refused to comment on Penn State's situation. The closest thing to an actual opinion -- on whether the sanctions should be cut back -- came from Northwestern coach Pat Fitzgerald.
"At the end of the day, I'm for what's best for the student-athletes," he said. "Again, I can't speak for Bill or his program but, obviously, under his leadership and what's transpired, you have to be nothing but impressed. The way that senior class a year ago -- under Coach's leadership and that coaching staff -- came together and fought through that time, it was nothing short of impressive.
"... They do things the right way and you hope that, for the student-athletes that are currently in the locker room, they get the experience that every student-athlete gets."
Back to normal:
Last year's Big Ten media days obviously felt a lot different to O'Brien and the Nittany Lions. The issue of the sanctions and just how they would affect the program became interview staples.
Questions on the sanctions still popped up this time around, but they were no longer the focus. And Urschel shared an interesting response when asked if everything seems back to normal now, like when he first arrived on campus.
"I'd say better," he said. "We're blessed to have Coach O'Brien on our coaching staff. We're blessed to have Fitz [Craig Fitzgerald] in the weight room. This is the best football situation I've ever been a part of. We have a great group of coaches."
[+] Enlarge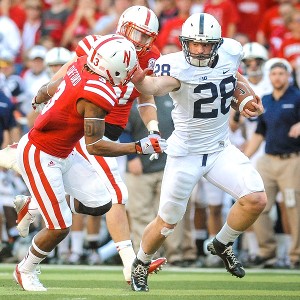 Eric Francis/Getty ImagesTailback Zach Zwinak is ahead of schedule in recovery from his injured wrist but still could skip some contact drills when camp opens
Injury/player update:
Both tailback Zach Zwinak and tight end Kyle Carter are expected to be healthy in time for camp, O'Brien said, although they're on different timetables.
Zwinak injured his wrist in the Blue-White Game and is ahead of schedule but likely will miss some contact drills. Carter, who hurt his wrist last season, is expected to participate in all drills once practice starts Aug. 5.
Bill Belton, who has taken time to focus on his academics, also will return for camp. O'Brien said Belton is not in danger of being academically ineligible. There was still no concrete return date for Tyler Ferguson, either, although O'Brien said he'd be back for camp.
Secondary stepping up:
Willis said he has been pleasantly surprised by three young CBs this offseason: Da'Quan Davis, Trevor Williams and Jordan Lucas.
"Those are three guys who have stepped up their game and have gotten a lot better," Willis said. "They've caught on to a lot of things that we do, mentally, and also on the field. Just seeing their body change over the summer -- seeing how much hard work they're putting in and how it's paying off with their physique."
Who's at linebacker?:
The projected depth chart obviously has Carson as the starting MLB, with Mike Hull and Nyeem Wartman as the outside players. But O'Brien said the staff has been thinking about possibly plugging in two other players at linebacker -- DB Adrian Amos and safety Stephen Obeng-Agyapong.
That's not to say the two defensive backs will be leaving safety to focus on linebacker, but it's not out of the realm of possiblity they could line up at the position on some plays.
"Again, it all comes down to health," O'Brien said. "Can Obeng play some [weakside] linebacker, things like that? We kind of sit in there and talk about different scenarios, and I know John Butler does it a lot more than I do with the defense."
Change in the ticket policy:
Want to buy tickets to the Michigan game on Oct. 12 or the Nebraska game on Nov. 23? Turns out you also will have to purchase the same number of tickets for Eastern Michigan or Kent State games.
Joyner addressed that issue Wednesday, telling reporters the change was made for reasons both related to getting more people into the stadium and increasing finances.
Joyner believed big-screen televisions and the home experience have "a lot to do" with declining attendance, so he said PSU also is hoping to make the Beaver Stadium experience a little better.
"We're really working a lot of ways to increase the fan experience at the stadium and make things really interesting that they can't see at home," he said, adding enhanced wi-fi and "better things" on the Jumbotron are among future changes.
July, 25, 2013
7/25/13
3:36
PM ET
CHICAGO -- Penn State offensive guard
John Urschel
acknowledged he felt a little nervous before his keynote speech, but the 307-pound graduate student spoke calmly and evenly at Thursday's Big Ten luncheon.
"I took a course in public speaking my sophomore year -- but, unfortunately for me, it was online," he said, drawing early laughs from a packed crowd.
Urschel opened his speech by recounting a conversation with an elderly mathematician, who talked about his career and what he wished he had done when he was younger. The All-Big Ten lineman used that as a platform to discuss his own four pieces of advice to young athletes:
[+] Enlarge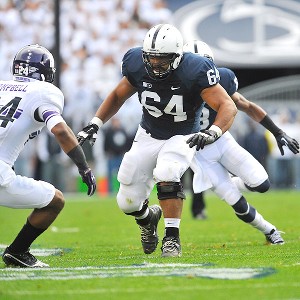 Randy Litzinger/ Icon SMIPenn State senior John Urschel delivered an inspired and entertaining keynote address Thursday.
1. Master your craft as a football player.
"Become a student of the game, study film and develop yourself fully as a football player. Not all of us will become great college football players, but if we fail in that respect, it should not be due to lack of commitment and discipline. The road to greatness is filled with distractions. We're constantly told how good we are. It's easy for a young player to fall into the comfortable lull of complacency."
2. Make a mark on your community.
"At some point in every man's career, you begin to think how you're going to be remembered. I truly believe in leaving this world a little better than we found it, whether it's through community service, outreach programs or charity work. Don't limit yourself to the stereotypes that media has created for you. Don't listen to what the outside world tells you of what football players are supposed to do. Aspire to do something greater."
3. Help the young players that follow in your footsteps.
"As we near the conclusion of our collegiate careers, we cannot forget to bring the next group of football players along -- to continue to ... mold young boys into men. ... It is our responsibility to share our experiences of success and failure."
4. Prepare for the day your football career ends.
"It's the most important of the goals but the easiest to look past. ... Some of us will become coaches or sportscasters, and some of us will leave the game altogether, carrying the lessons learned to our respective careers. What we cannot afford is not to grow. To do so would be to succumb to the thought that we only know how to do one thing. And for any of us to accept such an idea is nothing short of tragedy. In each of us lies great talent that lies far beyond the exploits of the gridiron. Our hope is much more than the sum of our physical parts."
Urschel, who is pursuing his second master's degree, joked in the beginning that he wasn't as eloquent as former speaker
Kirk Cousins
or as charismatic as last year's speaker,
Denard Robinson
. Urschel received applause after every bit of advice, however, and he was met with a standing ovation to end his speech.
July, 25, 2013
7/25/13
9:01
AM ET
CHICAGO -- When asked about the absence of junior college quarterback
Tyler Ferguson
, Bill O'Brien has usually fallen back on a familiar refrain: What's the big deal? Summer workouts aren't mandatory.
He expressed that sentiment Friday and, during Big Ten media days this week, he again brushed off a question about the kind of setback the Californian's month-long absence might be: "The last time I read the NCAA rule book, summer's voluntary."
O'Brien's absolutely right. But workouts sure are important -- and, for the quite a while now, those workouts have basically been "voluntarily mandatory." Players, especially potential starters, just don't miss them. Summer is when the team bonds, when those talks over lunch and those unwatched 7-on-7s translate to touchdowns and passing yards in the fall.
July, 25, 2013
7/25/13
8:00
AM ET
By
ESPN.com staff
| ESPN.com
Big Ten bloggers Adam Rittenberg and Brian Bennett will be joined by BuckeyeNation's Austin Ward, NittanyNation's Josh Moyer and WolverineNation's Michael Rothstein to bring you live coverage of Big Ten media days from the Hilton Chicago. Send along any questions or comments below or
@ESPN_Big Ten
and join us at 10 a.m. ET.
July, 24, 2013
7/24/13
10:00
AM ET
As many of you know, the Big Ten no longer issues an official preseason top three or any type of poll (lame). Fortunately, our
media brethren have you covered
.
For what it's worth, the league releases a preseason players to watch list, featuring five players from each division.
This year's list is out, and here it is ...
LEGENDS DIVISION
LEADERS DIVISION
There aren't too many surprises here. Ohio State (3) and Michigan (2) are the only teams with multiple selections, while five teams -- Illinois, Iowa, Indiana, Minnesota and Purdue -- don't have a player on the list. Ohio State's Miller, Michigan's Lewan and Penn State's Robinson all won Big Ten individual awards after the 2012 season.
Snubs? I can make a really good case for Michigan State cornerback
Darqueze Dennard
, perhaps over Gardner, who played well late last season but in limited action. Nebraska offensive lineman
Spencer Long
, a 2012 All-America selection, also wouldn't have been a bad choice.
We don't put too much stock in this list and neither should you. It would be much nicer if the Big Ten followed the path of other leagues and came out with a more comprehensive preseason poll/award list.
July, 24, 2013
7/24/13
9:00
AM ET
By
ESPN.com staff
| ESPN.com
Big Ten bloggers Adam Rittenberg and Brian Bennett will be joined by national columnist Mark Schlabach, ESPN.com's Matt Fortuna, BuckeyeNation's Austin Ward, NittanyNation's Josh Moyer and WolverineNation's Michael Rothstein to bring you live coverage of Big Ten media days from the Hilton Chicago. Send along any questions or comments below or
@ESPN_Big Ten
and join us at 10 a.m. ET.
PSU's 46-Hour Dance Marathon Raises $13 Million
BIG TEN SCOREBOARD
Thursday, 9/3
Friday, 9/4
Saturday, 9/5
Sunday, 9/6
Monday, 9/7