WR Godwin taking time with recruitment
April, 18, 2013
4/18/13
10:00
AM ET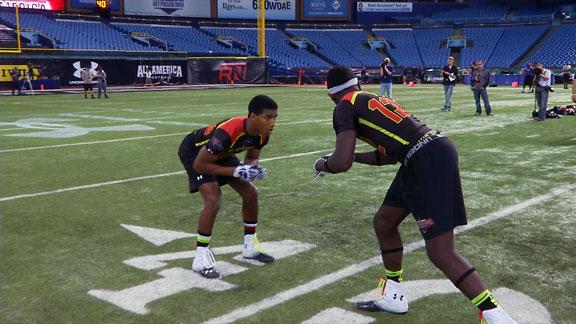 Chris Godwin
(Middletown, Del./Middletown) insisted he felt no pressure from Penn State's coaching staff to commit. But the ESPN Watch List wideout said he could still read between the lines.
He expects the Nittany Lions to take no more than two receivers. And with the commitment of
Troy Apke
over the weekend, he understands waiting too long now could mean he loses that PSU scholarship offer.
"It's not like they're pressuring me," he said. "But they let me know that I'm the top receiver on their board and they would love to have me. But, then again, they have limited scholarships -- so they told me, 'You have to keep that in mind.'
To continue reading this article you must be an Insider
Insider
Penn State Runs By Temple
Penn State coach James Franklin is pleased to see his offensive line and young secondary step up to help Penn State get by Temple.
Penn State Runs By Temple
VIDEO PLAYLIST
Penn State Runs By Temple

Penn State Runs By Temple

Penn State coach James Franklin is pleased to see his offensive line and young secondary step up to help Penn State get by Temple.

Defense Shines For Penn State

Defense Shines For Penn State

Penn State's defense forced five turnovers in the win over Temple that now makes the Nittany Lions bowl eligible for the season.

4Q TEM S. Ficken 42 yd FG BLOCKED,blocked by Praise Martin-Oguike,Ficken, Sam field goal attempt from 42 blocked, recovered by TEMPLE TEAM at TEMPLE25 spot a

4Q TEM S. Ficken 42 yd FG BLOCKED,blocked by Praise Martin-Oguike,Ficken, Sam field goal attempt from 42 blocked, recovered by TEMPLE TEAM at TEMPLE25 spot a

Sam Ficken 42 yd FG BLOCKED blocked by Praise Martin-Oguike
PSU FB RECRUITING SCORECARD
GoPSUJeff

Jeff Nelson


Senior LG Miles Dieffenbach makes 1st start of season; 24th career. Started all 12 games in 2013.
less than a minute ago

BSDtweet

Black Shoe Diaries


Run by Belton on first goes nowhere.
about a minute ago

TLdlevarse

Derek Levarse


First start for Dieffenbach since last Thanksgiving weekend.
about a minute ago

BSDtweet

Black Shoe Diaries


Field position will be distinctly in PSU's favor, if the offense can take advantage.
2 minutes ago

GoPSUJeff

Jeff Nelson


Anthony Zettel records his team high 7th sack of season; 12th TFL. Illinois to punt.
2 minutes ago

BSDtweet

Black Shoe Diaries


Incomplete pass as Haley's right there on the coverage. Illinois will have to punt.
2 minutes ago

Ben_Jones88

Ben Jones


You probably want to block Anthony Zettel.
2 minutes ago

BSDtweet

Black Shoe Diaries


Ten yards on a pass play, followed by three on the next. Followed immediately by a sack by Zettel. It'll be third down.
3 minutes ago

TLdlevarse

Derek Levarse


Zettel gets exactly one hand on Lunt and it's enough to toss him to the ground for the sack.
3 minutes ago

jacobkaucher

Jacob Kaucher


Jason Cabinda officially makes his first start for #PennState. In for an injured Brandon Bell.
3 minutes ago

GoPSUJeff

Jeff Nelson


LB Jason Cabinda becomes 6th #PennState true freshman to start in 2014. 15th #NittanyLion to make 1st career start this year.
4 minutes ago

PennStateFball

Penn State Football


Tune in for gameday >> ESPN2#PSUvsIllinois http://t.co/0KhSycxLCW
4 minutes ago

BSDtweet

Black Shoe Diaries


Great kick coverage, and Wes Lunt & Co will take over over inside the Illini ten
4 minutes ago

TLdlevarse

Derek Levarse


Jason Cabinda becomes the sixth true freshman to start this season for PSU. Seventh if you count Pasquariello.
4 minutes ago

Ben_Jones88

Ben Jones


If Penn State wants to play the field position game that's how you start it off.
4 minutes ago

BSDtweet

Black Shoe Diaries


PSU deferred to the second half, and Illinois will receive the kick.
5 minutes ago

BSDtweet

Black Shoe Diaries


The game's about to start in Champaign in front of dozens of fans. A few new & returning faces in the lineup. http://t.co/b7DjJF7uJM
5 minutes ago

BSDtweet

Black Shoe Diaries


Penn State-Illinois First Quarter Open Thread http://t.co/W6Nu0pb3Qt
6 minutes ago

Lions247

Lions247


Hackenberg, Olaniyan, Dieffenbach and Della Valle the game captains. Lions win toss and defer.
7 minutes ago

TLdlevarse

Derek Levarse


Beckmania. Runnin. Wild. Brother. http://t.co/CD75NMfTRs
8 minutes ago

GoPSUsports

Penn State Athletics


Game time at Illinois! Flip on ESPN2. #WeAre http://t.co/3kPVGxbZEu
8 minutes ago

BWISnyder

Ryan Snyder


Huge three points!! Needed that. #Everton
9 minutes ago

psufootball

Penn State football


Penn State-Illinois pregame, Nov. 22, 2014 http://t.co/USMPYuuB5j
10 minutes ago

psufootball

Penn State football


Penn State pregame: Lions CB Trevor Williams returns; no Brandon Bell today, more http://t.co/9k0pNu57e1
10 minutes ago

PSUPoorman

Mike Poorman


8 minutes to kick for Penn State-Illinois and the Illini student section is very close to being singular and literal http://t.co/JPc6qoSg6s
12 minutes ago

SBNationCFB

SB?Nation CFB


Come join us in SB Nation Live! Might be more people there than at Penn State-Illinois! http://t.co/6ALoiFVEhi
12 minutes ago

OnwardState

Onward State


The Illinois student section 10 minutes before kickoff: http://t.co/1drTNCyd2o
13 minutes ago

BSDtweet

Black Shoe Diaries


Brandon Bell is OUT for today's game against Illinois. Pregame notes: http://t.co/I37HpDbb7Y
16 minutes ago

Ben_Jones88

Ben Jones


Looking good RT @psubst: Memorial Stadium in Champaign, 15 minutes before game time. http://t.co/Stw3RVYmlg
17 minutes ago

GoPSUJeff

Jeff Nelson


#B1G tackle leader Mike Hull has 111 stops (11.1 tpg), leads all #B1G players by at least 1.4 tpg. #LinebackerU.
19 minutes ago

TLdlevarse

Derek Levarse


I count 96 fans in Illinois' student section at the moment.
21 minutes ago

GoPSUJeff

Jeff Nelson


Overcast and 47 degrees in Champaign with steady wind from the south. Forecast high of 55. Kick at 12 pm on ESPN2
26 minutes ago

Ben_Jones88

Ben Jones


No Brandon Bell means yes to Jason Cabinda. Penn State's defensive youth movement continues.
31 minutes ago

GoPSUTony

Tony Mancuso


The Penn State RB corps in a pre-game huddle. Kick coming up in less than 30 minutes. #PSUvsIllinois http://t.co/nsL179NEyK
31 minutes ago

BWISnyder

Ryan Snyder


Ossssieeeeee. Yes!!!! COYB
32 minutes ago

GoPSUTony

Tony Mancuso


True freshman Grant Haley warming up with @CoachTerryPSU. Haley notched a pick-six last week vs. Temple. http://t.co/DPu8CDxC8F
34 minutes ago

BobbyFlo7

Bob Flounders


Looks like PSU will be without LB Brandon Bell today...In street clothes...believe he is dealing with a shoulder injury suffered vs. Temple
34 minutes ago

GoPSUTony

Tony Mancuso


Head to the Gameday Photo Blog for some images of pre-game in Champaign: http://t.co/MgDelpUv8g
34 minutes ago

TLdlevarse

Derek Levarse


Sure looks like Cabinda is in line for his first career start. CB Trevor Williams appears to be full-go working with the ones.
35 minutes ago

MarkWogenrich

Mark Wogenrich


Ratio of crowd control services to controllable crowd for #PennState-Illinois is very high. http://t.co/aCZErbtGFb
36 minutes ago

PennStateFball

Penn State Football


#BeattheIllini http://t.co/GGjc7pu6qJ
37 minutes ago

BSDtweet

Black Shoe Diaries


From reports, Trevor Williams IN uniform today and LB Brandon Bell is OUT.
39 minutes ago

NeilRudel

Neil Rudel


Looks like Brandon Bell (shoulder) is out for Lions. In sweats. #PSU
40 minutes ago

pasports

Pennsylvania Sports


PSUvsIllinois: Live updates, commentary and chat during Penn State's tilt with Illinois http://t.co/jw5bfjrBAk
40 minutes ago

BobbyFlo7

Bob Flounders


CB Trevor Williams looks good to go for PSU this week...In uniform warming up, missed Temple game with an undisclosed injury
41 minutes ago

TLdlevarse

Derek Levarse


True freshman Jason Cabinda taking Bell's place in warm-ups with the first-team defense.
41 minutes ago

JoeHermitt

Joe Hermitt


Former #PennState great Matt Millen talks with Christian @chackenberg1 before Illinois game. @PennLive @BobbyFlo7 http://t.co/Tu0KcN4FeN
41 minutes ago

TLdlevarse

Derek Levarse


Bell appeared to hurt his shoulder last week in the second half and briefly went back to the locker room.
42 minutes ago

AshleyChaseTV

Ashley Chase


Linebacker Brandon Bell not dressed for Penn State today at Illinois http://t.co/kNZi1mTuLK
42 minutes ago

BSDtweet

Black Shoe Diaries


Looks like no Laurent at Center to start RT @TLdlevarse: O-line warm-ups feature Smith-Dieffenbach-Mangiro-Gaia-Nelson from left to right.
45 minutes ago

GoPSUJeff

Jeff Nelson


The #NittanyLions are on the field. Less than 45 minutes to kick on ESPN2. http://t.co/uTTvX4vJC4
46 minutes ago

TLdlevarse

Derek Levarse


O-line warm-ups feature Smith-Dieffenbach-Mangiro-Gaia-Nelson from left to right.
46 minutes ago

GoPSUJeff

Jeff Nelson


The view for Steve, Jack and Roger. Joe Putnam on sideline duty for #PennState Sports Network. http://t.co/ywLeagehhp
50 minutes ago

nittanyrich

Richard Scarcella


Just took this photo of parking lot directly behind Memorial Stadium press box. Amazing. http://t.co/GJXsQWiq2V
51 minutes ago

Ben_Jones88

Ben Jones


DJ Newbill the past two games: 61 points, 14 rebounds, 6 steals, 47% shooting, 50% from three, only 4 turnovers.
53 minutes ago

PennStateFball

Penn State Football


Offensive warm-ups @ Memorial Stadium https://t.co/jXp8oFNbSP
about an hour ago

CIA

CIA


Finally, a New Clue to Solve the CIA's Mysterious #Kryptos Sculpture via @WIRED http://t.co/5S55YhVWtv http://t.co/I719hTHXvb
about an hour ago

jasoncabinda

Jason Cabinda


That time again. Game day. ESPN2 @ 12ET 💯💯☑️ #BeatIllinois #WeAre
about an hour ago

Thee_AR15

Allen Robinson


http://t.co/XDMsONlh0u
about an hour ago

BSDtweet

Black Shoe Diaries


It's 10:47 a.m. ET….http://t.co/BC2eIMP2Df
about an hour ago

NateBauerBWI

Nate Bauer


It does not appear as though many people want to watch the football game today. http://t.co/Cak0HAn2jX
about an hour ago

GoPSUJeff

Jeff Nelson


Expecting strong contingent from @PSUChicago in Champaign for 11 am CT kick. http://t.co/CE3OKalGZb
about an hour ago

GoPSUTony

Tony Mancuso


Pregame video - Coach Franklin breaks down today's game against Illinois. Keys to the game here: http://t.co/EzucjUeQFb
about an hour ago

GoPSUTony

Tony Mancuso


Some spots of sunshine through the clouds in Champaign. Dry and temps in the mid 40s (and warming up) for the game. http://t.co/q2SBQSG5Of
about an hour ago

GoPSUTony

Tony Mancuso


Here is @coachjfranklin chatting with ESPN2's @QKessenich for a pre-game interview. Kick at 12:01 on ESPN2. http://t.co/6lNx9k67nn
about an hour ago

GoPSUTony

Tony Mancuso


Gameday Links for today's game - GAME BLOG: http://t.co/zCGQ8Mx07q ; PHOTO BLOG: http://t.co/MgDelpUv8g
about an hour ago

BWISnyder

Ryan Snyder


Great goal!!! @HappyValleyEFC #COYB
about an hour ago

TLdlevarse

Derek Levarse


Get our position-by-position breakdown of the PSU-Illinois game, plus the prediction here → http://t.co/PFE0mya0BI http://t.co/mcRnlV6Rvr
about an hour ago

psufootball

Penn State football


Penn State football in Illinois today: http://t.co/vawwWsS8oM
about an hour ago

bigtenconf

Big Ten Conference


The NCAA Cross Country Championships are underway today at noon ET, with 5 #B1G women's and 4 men's teams competing: http://t.co/PMBKZywaP7
about an hour ago

nittanyrich

Richard Scarcella


Greetings from Memorial Stadium in Champaign, Ill. Scalper outside had a fistful of tickets to sell. Expects crowd of 10,000-15,000.
about an hour ago

GoPSUJeff

Jeff Nelson


There are 16 true freshmen and 9 redshirt freshmen on @PennStateFball travel list for Illinois. 12 pm ET kick on ESPN2.
about an hour ago

Ben_Jones88

Ben Jones


If you weren't up late last night there are a few Penn State hoops and hockey GIFs worth your time before football gets going today.
about an hour ago

GoPSUsports

Penn State Athletics


#WeAre less than 2 hrs out from kick. Tweet us photos of your @PennStateFBALL setup today! The game will air on ESPN2 http://t.co/SJsY8wqqfv
about an hour ago

PennStateFball

Penn State Football


The Nittany Lions have arrived for gameday in Memorial Stadium. #PSUvsIllinois http://t.co/B6DnUQ2UMk
about an hour ago

TLdlevarse

Derek Levarse


Champaign for real friends and real pain for sham friends. Or something like that. http://t.co/9exIak8a4l
about 2 hours ago

ESPN_BigTen

ESPN BigTen


#1QFor128: An 8-team playoff could be ideal http://t.co/4iNLlWFWvT
about 2 hours ago

PennStateFball

Penn State Football


The Nittany Lions have arrived for gameday in Memorial Stadium. #PSUvsIllinois http://t.co/B6DnUQ2UMk
about 2 hours ago

GoPSUTony

Tony Mancuso


Good morning from Memorial Stadium in Champaign. Great to be gameday! Penn State-Illinois coming up at noon on ESPN2. http://t.co/uQEoh8EKpt
about 2 hours ago

PennStateFball

Penn State Football


#PSUvsIllinois 12 PM ET >> ESPN2 http://t.co/MNi0ox3aXb
about 2 hours ago

PennStateFball

Penn State Football


#PSUvsIllinois 12 PM ET >> ESPN2 http://t.co/MNi0ox3aXb
about 2 hours ago

ESPNJoshMoyer

Josh Moyer


Join us for our live Saturday chat -- I'll be on with @aadelsonESPN from 9:30-10 this morning.http://t.co/TW2hXVfGAp
about 2 hours ago

CollegeGameDay

College GameDay


Send us your favorite #GameDaySigns! http://t.co/45Dxkv9aam
about 2 hours ago

ESPNJoshMoyer

Josh Moyer


Sign on ESPN College GameDay: "You can't spell 'sAfEtY schooL' without Yale." Awesome.
about 2 hours ago

GoPSUJeff

Jeff Nelson


Historic day for #B1GFootball, with 7 conference games for the first time today, as well as next weekend.
about 2 hours ago

ESPN_BigTen

ESPN BigTen


Second-to-last full Saturday is here. Follow all the action with @AWardESPN, @DanMurphyESPN, @ESPNJoshMoyer, @mitchsherman and @BennettESPN
about 3 hours ago

Thee_AR15

Allen Robinson


Headed to surgery! I'll holla
about 3 hours ago

GoPSUJeff

Jeff Nelson


Gameday in Champaign! #PennState Sports Network on air at 10:30 am ET w/ Steve, Jack and Roger. 12:01 pm ET kick on ESPN2.
about 4 hours ago

psufootball

Penn State football


Scene-setter: Penn State-Illinois today at Memorial Stadium in Champaign http://t.co/RcaonVd3wC
about 4 hours ago

BSDtweet

Black Shoe Diaries


Early Morning Open Thread http://t.co/5ONEILuucd
about 4 hours ago

BSDtweet

Black Shoe Diaries


#PennStateWrestling at Clarion: Dual Preview (by @NotCarlotta) http://t.co/nlP4HIntlE
about 6 hours ago

BSDtweet

Black Shoe Diaries


Correction: The score was 72-71, and I need to go to bed now.
about 9 hours ago

BSDtweet

Black Shoe Diaries


#PSUMBB 71, Cornell 70: All Hail the New #BUS (photo via @OnwardState) http://t.co/IE82cjAfiQ http://t.co/b2fiYUWalB
about 10 hours ago

BSDtweet

Black Shoe Diaries


#PSUMBB 71, Cornell 70: All Hail the New #BUS (photo via @OnwardState) http://t.co/IE82cjAfiQ
about 10 hours ago

Ben_Jones88

Ben Jones


Better angle of Geno Thorpe's rejection: http://t.co/ImhqVg78Ry
about 11 hours ago

Ben_Jones88

Ben Jones


GIF: DJ Newbill's winner with .1 on the clock http://t.co/v4GIvnd4Mv
about 11 hours ago

BSDtweet

Black Shoe Diaries


And now, it's football gameday. Everything is wonderful.
about 12 hours ago

Ben_Jones88

Ben Jones


To be perfectly honest I was in the bathroom assuming free throws were being shot.
about 12 hours ago

OnwardStSports

Onward Sports


After that victory, Penn State will play Southern California at 3:30 p.m. Sunday, again on ESPN3.
about 12 hours ago

GoPSUJeff

Jeff Nelson


.@GoPSUsports teams 5-0 on Friday, w/last second MBB win, MHKY win at Michigan, NCAA W SOC win, WR over Pitt & WHKY shutout
about 12 hours ago
BLOG ARCHIVE:
CATEGORIES: