Q&A: Saturday visitor Mike Grimm
November, 19, 2012
11/19/12
11:30
AM ET
2014 offensive lineman
Mike Grimm
(Bethel Park, Pa./Bethel Park) was in the stands for the Penn State-Indiana game and recently spoke with NittanyNation at length about his visit and opinion on the Nittany Lions.
[+] Enlarge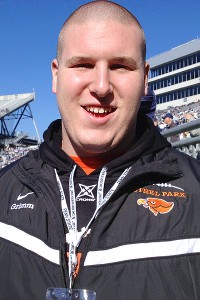 Josh Moyer/ESPN.comMike Grimm is taking his visits with an open mind.
The ESPN Watch List prospect holds three scholarship offers -- Alabama, Cincinnati, Pitt -- and his uncle, Matt Fornadel, played for PSU in the mid-1990s.
NittanyNation: How would you rate your Penn State visit? Did it exceed your expectations?
To continue reading this article you must be an Insider
Insider
Penn State Runs By Temple
Penn State coach James Franklin is pleased to see his offensive line and young secondary step up to help Penn State get by Temple.
Penn State Runs By Temple
VIDEO PLAYLIST
Penn State Runs By Temple

Penn State Runs By Temple

Penn State coach James Franklin is pleased to see his offensive line and young secondary step up to help Penn State get by Temple.

Defense Shines For Penn State

Defense Shines For Penn State

Penn State's defense forced five turnovers in the win over Temple that now makes the Nittany Lions bowl eligible for the season.

4Q TEM S. Ficken 42 yd FG BLOCKED,blocked by Praise Martin-Oguike,Ficken, Sam field goal attempt from 42 blocked, recovered by TEMPLE TEAM at TEMPLE25 spot a

4Q TEM S. Ficken 42 yd FG BLOCKED,blocked by Praise Martin-Oguike,Ficken, Sam field goal attempt from 42 blocked, recovered by TEMPLE TEAM at TEMPLE25 spot a

Sam Ficken 42 yd FG BLOCKED blocked by Praise Martin-Oguike
PSU FB RECRUITING SCORECARD
BSDtweet

Black Shoe Diaries


Correction: The score was 72-71, and I need to go to bed now.
about an hour ago

BSDtweet

Black Shoe Diaries


#PSUMBB 71, Cornell 70: All Hail the New #BUS (photo via @OnwardState) http://t.co/IE82cjAfiQ http://t.co/b2fiYUWalB
about 2 hours ago

BSDtweet

Black Shoe Diaries


#PSUMBB 71, Cornell 70: All Hail the New #BUS (photo via @OnwardState) http://t.co/IE82cjAfiQ
about 2 hours ago

Ben_Jones88

Ben Jones


Better angle of Geno Thorpe's rejection: http://t.co/ImhqVg78Ry
about 3 hours ago

Ben_Jones88

Ben Jones


GIF: DJ Newbill's winner with .1 on the clock http://t.co/v4GIvnd4Mv
about 3 hours ago

BSDtweet

Black Shoe Diaries


And now, it's football gameday. Everything is wonderful.
about 4 hours ago

Ben_Jones88

Ben Jones


To be perfectly honest I was in the bathroom assuming free throws were being shot.
about 4 hours ago

OnwardStSports

Onward Sports


After that victory, Penn State will play Southern California at 3:30 p.m. Sunday, again on ESPN3.
about 4 hours ago

GoPSUJeff

Jeff Nelson


.@GoPSUsports teams 5-0 on Friday, w/last second MBB win, MHKY win at Michigan, NCAA W SOC win, WR over Pitt & WHKY shutout
about 4 hours ago

PennStateMBB

Penn State Hoops


Newbill hits a layup at the buzzer. 72-71 win!
about 4 hours ago

djvecellio

Dan Vecellio


PRAISE YOU, OH HOLY #BUS! http://t.co/IUddfGRlAz
about 4 hours ago

Chad_BSD

Chad Markulics


The #BUS is dead. Long live the #BUS http://t.co/hRCJk00Kxo
about 4 hours ago

SPianovich

Stephen Pianovich


Penn State hoops is 1-0 since: http://t.co/EPDuhJK6m7
about 4 hours ago

BSDtweet

Black Shoe Diaries


We submit that he is good at basketball RT @bflip33: D.J. Newbill has scored 61 points over the last two games.
about 4 hours ago

Lions247

Lions247


D.J. Newbill's last-second layup gives #PennState a 72-71 win over Cornell in the Charleston Classic.
about 4 hours ago

TheREALNPolak

Nick Polak


Cornell really Penn State'd that
about 4 hours ago

GoPSUTony

Tony Mancuso


Wild finish in Charleston for @PennStateMBB. Huge game-winner from D.J. Newbill!! 72-71 over Cornell. Cheering loud from Champaign.
about 4 hours ago

BSDtweet

Black Shoe Diaries


all hail the bus and also D.J. Newbill RT @NotJakeProhaska: @BSDtweet all hail the bus
about 4 hours ago

ESPN_BigTen

ESPN BigTen


Video: Sport Science on Melvin Gordon's Track Influence http://t.co/KxeL1LfhUs
about 4 hours ago

BSDtweet

Black Shoe Diaries


Basket counts, Penn State wins. Holy god, D.J. Newbill is a sweet angel.
about 4 hours ago

BSDtweet

Black Shoe Diaries


CORNELL TURNOVER. D.J. NEWBILL LAYUP. PENDING REVIEW, PENN STATE WINS, 72-71!!!!!!!!! D.J. 4 PRESIDENT OF THE GALAXY.
about 4 hours ago

Ben_Jones88

Ben Jones


I hesitate to call this game stupid, but that's certainly a word on the list I'm choosing from.
about 4 hours ago

BSDtweet

Black Shoe Diaries


Cornell hits two free throws, JOHN JOHNSON HITS A BIG THREE WITH 4.5 SECONDS LEFT. CORNELL BALL, BIG RED UP 71-70.
about 4 hours ago

BSDtweet

Black Shoe Diaries


Cornell hits two more FTs, PSU hits another shot and takes another time out. 69-67 Big Red with 16.4 seconds left.
about 4 hours ago

Ben_Jones88

Ben Jones


Penn State is probably going to lose because of a circus shot. And really that's pretty par for the course.
about 4 hours ago

BSDtweet

Black Shoe Diaries


PSU ran the "D.J. do something" play. It worked. Cornell leads 67-65 with 27 seconds left.
about 4 hours ago

Ben_Jones88

Ben Jones


Heck of a sequence there that will probably determine the game http://t.co/DE05nSKkvj
about 4 hours ago

Chad_BSD

Chad Markulics


I want to die.
about 4 hours ago

BSDtweet

Black Shoe Diaries


A lot going on right now. Cornell has a 65-63 lead with 37.9 seconds left after some incredible hustle plays led to points.
about 4 hours ago

BSDtweet

Black Shoe Diaries


Cornell hits two FTs. John Johnson responds by hitting a jumper. Tied at 63 with a minute left.
about 4 hours ago

BSDtweet

Black Shoe Diaries


1:34 left. Still 61-61. PSU ball with eight seconds left on the shot clock. Save us, D.J.
about 4 hours ago

BSDtweet

Black Shoe Diaries


Game is tied at 61 with 2:55 left. Penn State is so damn close to taking the lead but can't get over the hump.
about 4 hours ago

Ben_Jones88

Ben Jones


Kind of amazing really, but DJ Newbill is 7-12 for 22 points the night after playing 50 minutes and scoring 35.
about 4 hours ago

BSDtweet

Black Shoe Diaries


Penn State keeps getting it close but can't quite take the lead. Game's tied at 59 with 4:33 left.
about 4 hours ago

BSDtweet

Black Shoe Diaries


#Analysis like this is why we pay Chad the big bucks RT @Chad_BSD: Hot take: Penn State is really good when the opponent is missing shots.
about 4 hours ago

BSDtweet

Black Shoe Diaries


Penn State has got the Cornell lead down to two points. The Big Red lead 57-55. There's 7:39 left and D.J. Newbill has 22 points.
about 4 hours ago

Ben_Jones88

Ben Jones


Geno says no. http://t.co/v3xRhAaMye
about 5 hours ago

BSDtweet

Black Shoe Diaries


Geno Thorpe blocking a shot like the fate of the world depends on it got us like http://t.co/4lKTxdXFEX
about 5 hours ago

djvecellio

Dan Vecellio


(Anoints @PennStateMBB with gasoline) THE SPIRIT OF #BUS COMPELS YOU. THE SPIRIT OF #BUS COMPELS YOU.
about 5 hours ago

BSDtweet

Black Shoe Diaries


*Gives the ball to D.J. Newbill**He scores**A small glimmer of hope appears out in the distance*
about 5 hours ago

BSDtweet

Black Shoe Diaries


It's the under 12 time out. Penn State is still losing. It's 53-44. D.J. Newbill, Brandon Taylor and Shep Garner have 35 combined points.
about 5 hours ago

Ben_Jones88

Ben Jones


To Penn State's credit this game is currently hinging on Cornell's ability to play with the NBA2K sliders at 100
about 5 hours ago

BSDtweet

Black Shoe Diaries


You know how Penn State is good at coming back from deficits but not quiiiiiiiiiiiite getting all the way back? That's happening right now.
about 5 hours ago

BSDtweet

Black Shoe Diaries


Penn State Hockey notched another big win tonight, knocking off Michigan 3-2 in Ann Arbor http://t.co/idKHiqvu7G
about 5 hours ago

BSDtweet

Black Shoe Diaries


duh http://t.co/Q4JEU8kbcf RT @PSUMatt2005: What would happen if we lit the entire Fullington fleet on fire?
about 5 hours ago

Ben_Jones88

Ben Jones


If you're surprised a Penn State basketball team erased a self-inflicted double figure deficit you haven't been in the fun house long enough
about 5 hours ago

BSDtweet

Black Shoe Diaries


Penn State is suddenly ramping up the #ATTITUDE via a 12-2 run to force a Cornell time out. The Nittany Lions trail, 41-40.
about 5 hours ago

BSDtweet

Black Shoe Diaries


Can Bob Shoop coach the basketball team's defense, too?
about 5 hours ago

BSDtweet

Black Shoe Diaries


Looks like Garner, Newbill, Taylor, Travis and Jack to start the second half for PSU and Cornell immediately scores -_-
about 5 hours ago

BSDtweet

Black Shoe Diaries


WELL THAT SETTLES IT RT @BricksTriBrent: @BSDtweet he led my basketball class in rebounds last spring, so I'm going with yes
about 5 hours ago

BSDtweet

Black Shoe Diaries


The obvious answer is "no he plays football that is absurd." But he's Anthony Zettel and he's stronger than the entire hoops team combined.
about 5 hours ago

BSDtweet

Black Shoe Diaries


Let's have a halftime discussion: if Anthony Zettel joined the men's basketball team, would he lead PSU in rebounding?
about 5 hours ago

BSDtweet

Black Shoe Diaries


Mercifully, the first half is over. Cornell leads 37-28, and frankly the lead should be more than 9. Worst half from #PSUMBB all year.
about 5 hours ago

Ben_Jones88

Ben Jones


A point of reference, Charlotte (the winning half of Penn State's 2OT game last night) was down 36-29 at the half and won earlier tonight
about 5 hours ago

BSDtweet

Black Shoe Diaries


D.J. Newbill is carrying Penn State again. Nails a three to make it 33-26 Cornell. 15 on the night for D.J.
about 5 hours ago

BSDtweet

Black Shoe Diaries


It's 31-21 Cornell, by the way. PSU shooting 7-24 (29.2%) from the field.
about 5 hours ago

Ben_Jones88

Ben Jones


Ross Travis can't travel in wide open space after receiving a pass as a senior, hardly excusable as a freshman.
about 5 hours ago

psuTripp

Brian Tripp


3-2 Penn State wins it's B1G opener http://t.co/8hRuti9pfs
about 5 hours ago

BSDtweet

Black Shoe Diaries


This game is like if five people played on the same team on NBA 2K against the computer. Cornell is the computer.
about 5 hours ago

Ben_Jones88

Ben Jones


I'm starting to think that teams making contested threes against Penn State is actually a law of physics
about 5 hours ago

BSDtweet

Black Shoe Diaries


It's 26-16 Cornell. You still have time to save your Friday night.
about 5 hours ago

PennStateWSOC

Penn State WSOC


PSU tops UCONN in round 2 of the NCAA tourney. PSU plays Virginia Tech on Sun. at 1pm. #FindAWay #WeAre http://t.co/kp5Md4ZxMp
about 6 hours ago

Ben_Jones88

Ben Jones


Penn State hockey hangs on to beat Michigan 3-2. Improve to 7-2-2 on the year. Play again tomorrow night.
about 6 hours ago

PennStateMHKY

Penn State Hockey


FINAL: #PennState 3, Michigan 2. The #NittanyLions do it again! That's 4-of-5 against the Wolverines! #HockeyValley http://t.co/QZYJ8DXZtr
about 6 hours ago

BSDtweet

Black Shoe Diaries


YAY ICYPUCK RT @PSUMatt2005: McAdam with a monster save with 7 seconds left, preserving a 3-2 PSU win!
about 6 hours ago

PennStateMHKY

Penn State Hockey


FINAL: #PennState 3, Michigan 2. The #NittanyLions do it again! That's 4-of-5 against the Wolverines! #HockeyValley http://t.co/QZYJ8DXZtr
about 6 hours ago

PSUChicago

Penn State Chicago


@SandyB_PSUAD welcome to Illinois! #WeAre http://t.co/WNMvOYVy8A
about 6 hours ago

BSDtweet

Black Shoe Diaries


D.J. Newbill re-enters the game and gets five quick points to make it 17-12. 10:59 to play.
about 6 hours ago

PennStateWSOC

Penn State WSOC


PSU tops UCONN in round 2 of the NCAA tourney. PSU plays Virginia Tech on Sun. at 1pm. #FindAWay #WeAre http://t.co/kp5Md4ZxMp
about 6 hours ago

BSDtweet

Black Shoe Diaries


Penn State has missed their last five shots and Cornell opens up a 17-7 lead aren't you glad you stayed in tonight
about 6 hours ago

BSDtweet

Black Shoe Diaries


Brandon Taylor scores both of PSU's opening buckets but commits two fouls before the 16-minute mark. He'll sit the rest of the half.
about 6 hours ago

Ben_Jones88

Ben Jones


Penn State hoops playing 6 games in 15 days to start the season. Newbill can't be the only one in the early going. Already getting a break.
about 6 hours ago

BSDtweet

Black Shoe Diaries


Cornell hits their first shot from mid-range, and immediately begin a full-court press. Should be a good test for Garner and Newbill.
about 6 hours ago

Ben_Jones88

Ben Jones


Cover three teams they said, they'll never play at the same time they said. http://t.co/A71NtQDV97
about 6 hours ago

BSDtweet

Black Shoe Diaries


There we go. ESPN3 is live just in time for tip. Same starters as last night for #PSUMBB: Garner, Newbill, Taylor, Travis, Jack
about 6 hours ago

BSDtweet

Black Shoe Diaries


Your Event is About to Begin Please Stand By
about 6 hours ago

PennStateFball

Penn State Football


Get ready for #PSUvsIllinois with this week's episode of Unrivaled: The Penn State Football Story. http://t.co/O0FWr7Ow4p
about 6 hours ago

penn_state

Penn State


Congrats @PennStateWSOC on defeating UConn, 1-0, to advance in the NCAA Tournament!
about 6 hours ago

OnwardState

Onward State


.@PennStateWSOC holds on to beat UCONN 1-0 in the NCAA Tournament and advances to the next round.
about 6 hours ago

BSDtweet

Black Shoe Diaries


Hockey update! (Follow @PSUMatt2005 for more) RT @PSUMatt2005: 3-1 PSU. 2nd intermission. 3 straight after going down 1-0 45 seconds in.
about 6 hours ago

BSDtweet

Black Shoe Diaries


Lookin' like a 9:40 ET start. MT @PennStateMBB: About 20 mins until tipoff on ESPN3. http://t.co/Webe4BaRBO
about 6 hours ago

penn_state

Penn State


Good start to the weekend for @GoPSUsports: @PennStateWHKY wins first CHA game at Pegula and @pennstateWREST downs Pitt in Pittsburgh!
about 6 hours ago

bigtenconf

Big Ten Conference


.@PennStateWSOC defeats Connecticut, 1-0 #B1GWSOC
about 6 hours ago

BSDtweet

Black Shoe Diaries


This is what some of you gave up doing to watch Penn State-Cornell on a Friday night. You are the real heroes. http://t.co/5ggBDGygvZ
about 6 hours ago

Ben_Jones88

Ben Jones


Charlotte picks up the win over South Carolina which in theory helps out Penn State after last night's loss. Looking like a start around 10.
about 6 hours ago

Ben_Jones88

Ben Jones


Penn State hockey looking to make it 6 wins in 7 games as the Nittany Lions take a 3-1 lead into the second intermission.
about 6 hours ago

PennStateWHKY

Penn State WHKY


PSU tops Lindenwood 3-0 in first CHA game at Pegula this season! The teams face off again tomorrow at 2 p.m. http://t.co/7VqI6tKzSC
about 6 hours ago

BSDtweet

Black Shoe Diaries


We've got a half-hour to go, so in the meantime I'd like to know: what fun activity did you pass up to stay in and watch this game?
about 6 hours ago

Thee_AR15

Allen Robinson


Just seen @MizzTwerksum in the lobby in Charlotte lol
about 6 hours ago

BSDtweet

Black Shoe Diaries


Hey all. @Chad_BSD here to watch some shootyhoops with you. Charlotte and Sakerlina are in a tight one, so PSU-Cornell won't tip until 9:30.
about 6 hours ago

pennstateWREST

pennstateWREST


Gingrich 9-1 major! Lions win 24-12! back later w/ recap! #PSUwrPITT
about 7 hours ago

Ben_Jones88

Ben Jones


After saying that, Kentucky is now leading by a much more significant margin.
about 7 hours ago

RivalsFriedman

Adam Friedman


After his awesome performance tonight 2017 ATH Lamont Wade @Goony_38 picked up an offer from #PSU @RivalsSnyder
about 7 hours ago

Ben_Jones88

Ben Jones


Unbeatable Kentucky is up single digits on Boston University with under 10 to play.
about 7 hours ago

BSDtweet

Black Shoe Diaries


This beautiful save by Eamon McAdam kept the score at 1-0, Michigan, before Penn State turned on the offensive jets. http://t.co/zYBmUoBVgn
about 7 hours ago

Thee_AR15

Allen Robinson


Where these Beyoncé vines coming from ?
about 7 hours ago

BSDtweet

Black Shoe Diaries


YAY HOOPS: Penn State vs. Cornell Live Game Thread http://t.co/RTSFIIYN6e
about 7 hours ago

BSDtweet

Black Shoe Diaries


Penn State Goalie Adam McEamon Makes a Miracle Save http://t.co/bkzlW2dNcK
about 7 hours ago

Ben_Jones88

Ben Jones


GIF: Penn State's Casey Bailey makes it 3-1 on a slick toe drag and snipe http://t.co/NmoyM8PlX4
about 7 hours ago

Ben_Jones88

Ben Jones


GIF: Penn State goalie Eamon McAdam with a save to remember. Kept Nittany Lions from going down 2-0 http://t.co/KUIo1z9W4L
about 7 hours ago
BLOG ARCHIVE:
CATEGORIES: