3 Up, 3 Down: PSU 34, Purdue 9
November, 4, 2012
11/04/12
9:30
AM ET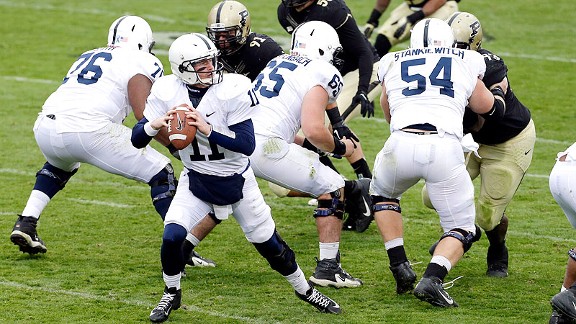 AP Photo/Darron CummingsMatthew McGloin is looking for depth at the wide receiver spots.
The good and the bad from Penn State's 34-9 win over Purdue on Saturday:
THREE UP
To continue reading this article you must be an Insider
Insider
College Football Minute
The ESPN All-America team, Jeff Driskel impressing at Florida's camp, and a volcano might threaten the Penn State-UCF game. It's all ahead in the "College Football Minute."
College Football Minute
VIDEO PLAYLIST
PSU FB RECRUITING SCORECARD
BWISnyder

Ryan Snyder


Loving this #EFC
12 minutes ago

PennStateFball

Penn State Football


Sights and sounds from @coachjfranklin's visit with the @PSUBlueBand today (they sounded awesome!) https://t.co/dttAXcIcHQ
20 minutes ago

BWISnyder

Ryan Snyder


Yes!!!!! Needed that. #Everton
39 minutes ago

alexwitze

Alexandra Witze


If you have travel plans involving planes & Europe, expect to fly but bookmark http://t.co/vdX6Hq92s7. #Bardarbunga
40 minutes ago

gislio

Gisli Olafsson


People who are worried about their #flights being affected due to #Bardarbunga #eruption can still stay calm - still a small event #ashtag
40 minutes ago

alexwitze

Alexandra Witze


Your authoritative site for all things #Bardarbunga #Barðarbunga is the Icelandic Met Office: http://t.co/3l4zTrAQv2
50 minutes ago

BWISnyder

Ryan Snyder


#COYB Big match today.
about an hour ago

psufootball

Penn State football


Iceland: Subglacial eruption underway at Bardarbunga volcano http://t.co/Bwlh769WnT
about an hour ago

PSUBlueBand

Penn State Blue Band


@coachjfranklin came to see our rehearsal this morning! #WeAre ready to have an unforgettable season! Thanks, Coach! http://t.co/vS3EgWseTo
about an hour ago

Ben_Jones88

Ben Jones


A much better, but much slower loading webcam of the volcano: http://t.co/BF4GDGEQy7
about an hour ago

PennStateFball

Penn State Football


"We really appreciate everything you all do. The band is what makes the College Football experience so special." http://t.co/xZqcnHVbCg
about an hour ago

PennStateFball

Penn State Football


"We really appreciate everything you all do. The band is what makes the College Football experience so special." http://t.co/xZqcnHVbCg
about an hour ago

psufootball

Penn State football


Webcam of Iceland volcano threatening PSU football's trip to Ireland http://t.co/kQT6ZjQ3UM
about an hour ago

Ben_Jones88

Ben Jones


Volcano follows I've dug up for #PennState and #UCF fans: @alexwitze @eruptionsblog @gislio
about an hour ago

Ben_Jones88

Ben Jones


So far the only Icelandic volcano expert I can find on Twitter has a recent RT of a person's fifth reading of 50 Shades of Grey.
about 2 hours ago

IcelandVolcano1

Volcanic Ash


Woah! Been dormant for a couple of years does not excuse no tweets sorry folks! #Iceland
about 2 hours ago

Ben_Jones88

Ben Jones


"live" stream of the volcano here for those interested in looking at a mountain accompanied by YouTube comments: https://t.co/w6gN2qrYkh
about 2 hours ago

Ben_Jones88

Ben Jones


Pretty cool visualization of the ongoing earthquakes near the volcano with new data rolling in by the minute: http://t.co/4oRYHDqoGm
about 2 hours ago

Ben_Jones88

Ben Jones


Dominate the volcano? RT @AP: BREAKING: Icelandic Met Office: Small subglacial eruption underway at Bardarbunga volcano.
about 2 hours ago

BSDtweet

BSD


Only @GENOALLDAY7 'Til #PennState Football! #PSUnrivaled #107kStrong http://t.co/Utkqdur2Ci
about 2 hours ago

AP

The Associated Press


BREAKING: Iceland raises aviation warning for Bardarbunga volcano to highest level.
about 2 hours ago

BSDtweet

BSD


#VOLCANOWATCH2014 RT @AP: BREAKING: Iceland raises aviation warning for Bardarbunga volcano to highest level.
about 2 hours ago

Ben_Jones88

Ben Jones


In ~1 quarter of play Matt McGloin went 10-17, for 162, 2 TDs last night. Highlights https://t.co/abycvoZXwk and https://t.co/Soz9LZaBQw
about 2 hours ago

Djjango8

Allen Robinson


Happy bday @TA_Pocahontas
about 3 hours ago

Lions247

Lions247


Two former Penn Staters combined for three touchdowns in the Raiders-Packers preseason game. http://t.co/u5VupcQOUP
about 3 hours ago

PennStateFball

Penn State Football


One week until @CrokePkClassic kickoff! Preview "Unrivaled: The @pennstatefball Story" along with your anticipation. http://t.co/Hc16qCOUFQ
about 4 hours ago

PennStateFball

Penn State Football


One week until @CrokePkClassic kickoff! Preview "Unrivaled: The @pennstatefball Story" along with your anticipation. http://t.co/Hc16qCOUFQ
about 4 hours ago

GoPSUTony

Tony Mancuso


The countdown is at one week. @PennStateFball will be on the field at the @CrokePkClassic seven days from now. #PSUnrivaled
about 4 hours ago

BSDtweet

BSD


"Unrivaled: the Penn State Football Story"--PSU Football's weekly show to premiere on Aug 28 http://t.co/LU0hPJzdKY
about 5 hours ago

GoPSUJeff

Jeff Nelson


Led by @psuaffleck, students from #PennState's Curley Center for Sports Journalism in Dublin for coverage leading up to @CrokePkClassic
about 5 hours ago

GregPickel

Greg Pickel


Good morning from Dublin. Penn State opens its 2014 season next Saturday against UCF. Saw fans of both at airport.
about 5 hours ago

PennStateWSOC

Penn State WSOC


Penn State wins 3-1 over West Virginia! Be sure to come out Sunday at 2:30 to cheer on your Nittany Lions as they take on Syracuse.
about 5 hours ago

GregPickel

Greg Pickel


Good morning from Dublin. Penn State opens its 2014 season next Saturday against UCF. Saw fans of both at airport.
about 5 hours ago

Djjango8

Allen Robinson


Happy bday @TA_Pocahontas
about 13 hours ago

Djjango8

Allen Robinson


It was great seeing my family at the game today, the love and support is always there!
about 13 hours ago

TLdlevarse

Derek Levarse


Matt McGloin throws two more 4th-quarter touchdowns to Brice Butler in Raiders preseason loss to Green Bay. McGloin was 10-17 for 118 yards.
about 13 hours ago

BSDtweet

BSD


Yeah what he said #StartMcGloin RT @bflip33: .@RAIDERS #StartMcGloin
about 13 hours ago

Ben_Jones88

Ben Jones


McGloin with two great passes leading into his second TD of the fourth quarter. https://t.co/Soz9LZaBQw
about 14 hours ago

Ben_Jones88

Ben Jones


McGloin TD pass No.2 https://t.co/abycvoZXwk
about 14 hours ago

Ben_Jones88

Ben Jones


McGloin TD pass https://t.co/xvRdSKTxvj
about 14 hours ago

Ben_Jones88

Ben Jones


McGloin scrambling on fourth down and nothing has changed https://t.co/zMYJ3O2M3Y
about 14 hours ago

pandorf475

pandorf475


@PennStateBerks Move-in day was smooth! Everyone helping out was awesome! @taylorina628 http://t.co/NpqXRz4pBF
about 14 hours ago

Ben_Jones88

Ben Jones


Pretty strong throw by McGloin https://t.co/cFZxuv5dDx
about 14 hours ago

Ben_Jones88

Ben Jones


Paris and Dublin in only a few days. Getting antsy.
about 15 hours ago

Ben_Jones88

Ben Jones


Croke Park director says the Penn State/UCF game is worth less than seven figures: http://t.co/HohMIyfTlJ
about 15 hours ago

SandyB_PSUAD

Sandy Barbour


Great form @NittanyLion! Uve got skills...Clearly been in the gym 😎 #ALSIceBucketChallenge #WeAre #findacureAls http://t.co/XVNTKvDpiv
about 16 hours ago

Ben_Jones88

Ben Jones


Of that wasn't the longest first quarter ever then it has to be No.2 #GreenBay
about 16 hours ago

SandyB_PSUAD

Sandy Barbour


.@NittanyLion the beginning of a beautiful relationship 😉😉😉 #ALSIceBucketChallenge #WeAre #OneTeam http://t.co/Y9LWBTNeYp
about 16 hours ago

GoPSUsports1

Penn State Athletics


RT @SandyB_PSUAD: .@NittanyLion the beginning of a beautiful relationship 😉😉😉 #ALSIceBucketChallenge #WeAre #OneTeam http://t.co/WqpfxwCHs8
about 16 hours ago

MK_Brownlow

Author MKBrownlow


It's this week every year that I think about all the freshmen arriving at @penn_state not having any… http://t.co/LvkZdZ2enb
about 17 hours ago

PennStateWSOC

Penn State WSOC


Penn State wins 3-1 over West Virginia! Be sure to come out Sunday at 2:30 to cheer on your Nittany Lions as they take on Syracuse.
about 17 hours ago

GoPSUsports1

Penn State Athletics


MT @PennStateFball: #PSUnrivaled s/o to the 6,000 new season ticket holders!http://t.co/TSpHHU8wf5 http://t.co/CcYoIkR2SG
about 17 hours ago

GoPSUsports1

Penn State Athletics


MT @PennStateWSOC: Penn State wins 3-1 over West Virginia! Be sure to come out Sunday at 2:30 to cheer on #PSU as they take on Syracuse.
about 17 hours ago

Ben_Jones88

Ben Jones


I wish we could figure out a way to get Diego Simeone to coach anything in the US.
about 19 hours ago

Ben_Jones88

Ben Jones


Raiders play on CBS at 8 if you're into some Friday night Matt McGloin.
about 19 hours ago

IowaHawkeyeGolf

Iowa Hawkeye Golf


Please welcome back to Iowa former Hawkeye Tyler Stith as the new head men's golf coach! #onceahawkeyealwaysahawkeye http://t.co/dBwHobK21P
about 19 hours ago

PennStateFball

Penn State Football


#PSUnrivaled s/o to the 6,000 new season ticket holders who will join us at home this Fall. http://t.co/KwjHAiKsUK http://t.co/sleA7OMBpu
about 20 hours ago

ESPN_BigTen

ESPN BigTen


Big Ten Friday mailbag http://t.co/NaOf5KwpaP
about 20 hours ago

ESPN_BigTen

ESPN BigTen


McEvoy pick signals QB shift for Badgers http://t.co/AUW5FPGxBu
about 20 hours ago

PennStateWBB

Lady Lion Basketball


We raised $16,629 for Centre Co. Women's Resource Center. With this year's total, we have surpassed $100,000 raised. http://t.co/BvELPouuQq
about 20 hours ago

PSU_CNC

PSU ClownNoseClub


Welcome back @penn_state students! Let's make this year a #positive one! #WeAre
about 20 hours ago

Ben_Jones88

Ben Jones


Penn State basketball's Big Ten schedule is pretty favorable all things considered: http://t.co/8H2dbGnjyX
about 21 hours ago

ESPN_BigTen

ESPN BigTen


Two-QB system could be option for Meyer http://t.co/Jc1JjTA4Iv
about 21 hours ago

GoPSUJeff

Jeff Nelson


Go to http://t.co/aSiRGrRfLb or call @1_800_NITTANY for #PennState season, partial season and single game tickets.
about 22 hours ago

GoPSUJeff

Jeff Nelson


Go to http://t.co/aSiRGrRfLb or call @1_800_NITTANY for #PennState season, partial season and single game tickets.
about 22 hours ago

GoPSUJeff

Jeff Nelson


#PennState has ranked in Top 5 in NCAA home football attendance every season since 1991. #PSUnrivaled
about 22 hours ago

GoPSUJeff

Jeff Nelson


Nearly 6,000 new @PennStateFball season tickets sold & 2013 home tickets sold total surpassed week before 2014 opener.
about 22 hours ago

ESPN_BigTen

ESPN BigTen


Sudfeld is Indiana's man on a mission http://t.co/u18JVhefpZ
about 22 hours ago

Cal_PSU93

Cal Collum


Thanx @GoPSUsports not just for the #20daysofgiveaways contest/prize but also for the great info & connection u provide Penn Staters! #WeAre
about 22 hours ago

amountz

Annemarie Mountz


Hangin' out on the Old Main steps at @penn_state http://t.co/7KEdKl9XG0
about 22 hours ago

Ben_Jones88

Ben Jones


File under "Things not frequently said" RT @NWARobbie: AD Jeff Long got choked up at football kickoff luncheon while thanking Bret Bielema
about 23 hours ago

Coach_ShoopPSU

Bob Shoop


Shout out to my boys, Tyler Shoop n Jay Shoop, as they begin their season tonight. Wish I was there..so proud of you. #WeAre #TEAMSHOOP
about 23 hours ago

Ben_Jones88

Ben Jones


Fran Fisher and Lou Prato doing a two-hour conversation on Steve Jones' radio show Monday. Will be a must-listen for any fan I'm sure.
about 23 hours ago

jaypo1961

Jeff Potrykus


#Badgers QB update: Sources tell Journal Sentinel Tanner McEvoy expected to start opener vs. LSU.
about 23 hours ago

psufootball

Penn State football


Which 3 #PennState players are poised to make major improvements in 2014? http://t.co/lpUbdliRay
about 23 hours ago

GoPSUsports1

Penn State Athletics


Don't forget to check-in with your #WeAre Rewards app this weekend! Check-in and get rewarded! #PSU #CollegeColors http://t.co/4habeZ5L3s
1 day ago

penn_state

Penn State


Hey, first-year students: Did you pick up your free shirt? Wear it to Convocation on Saturday! #WelcomeBackPSU http://t.co/3jliTKeSFd
1 day ago

bigtenconf

Big Ten Conference


The 2014 #B1G women's soccer season is officially underway. All 14 conference teams in action on opening day. #B1G http://t.co/WAYuTUVcgr
1 day ago

GoPSUsports1

Penn State Athletics


Details on Friday night's @PennStateWSOC match change: http://t.co/iN59YfABoJ #PSU vs WVU @ 5PM
1 day ago

GoPSUsports1

Penn State Athletics


Congratulations @PennState4Eva! You are yesterday's #20daysofgiveaways winner! DM for details!
1 day ago

GoPSUTony

Tony Mancuso


Check out @PennStateFball Training Camp Central for all of the preseason written & video content in one place: http://t.co/NcWnkgvRNc
1 day ago

BSDtweet

BSD


BSD Film Room: Inside the Huddle breaks down a 10-word play call. On 1. http://t.co/1YdOXi73mq
1 day ago

PennStateWSOC

Penn State WSOC


ATTN: Due to inclement weather, both matches today are at 5pm. PSU vs. WVU match is at Jeffrey Field; SYR vs. MIZZ at WSOC practice fields.
1 day ago

bigtenconf

Big Ten Conference


Women's #B1GSoccer kicks off this weekend: http://t.co/TnnCnrr9B3
1 day ago

Ben_Jones88

Ben Jones


Done a handful of media polls and somebody keeps voting Hackenberg in the No. 1 spot. For the record it isn't me. http://t.co/ViNmjzz6d2
1 day ago

GoPSUsports1

Penn State Athletics


MT @PennStateWSOC: Due to inclement weather, both matches today are at 5pm. PSU vs. WVU @ Jeffrey Field; SYR vs. MIZZ @ WSOC prac. fields.
1 day ago

PennStateFball

Penn State Football


#WelcomeBackPSU! Squad members are looking to make your move-in easier, we're not afraid of a little heavy lifting🚚📦 http://t.co/l8IYMKufqh
1 day ago

PennStateFball

Penn State Football


#WelcomeBackPSU! Squad members are looking to make your move-in easier, we're not afraid of a little heavy lifting🚚📦 http://t.co/l8IYMKufqh
1 day ago

PennStateFball

Penn State Football


She was in need of free hands! RT @staceefink: Just watched James Franklin & @PennStateFball help a girl with crutches move into her dorm
1 day ago

audsnyder4

Audrey Snyder


Nice to see JF having the team out in the community and doing stuff with the students, people in town. They vowed to do it & have thus far.
1 day ago

PennStateFball

Penn State Football


Happy Moving Day, Penn Staters! Need a helping hand? Keep an eye out for us. #psuwelcomeback http://t.co/go4CYmuxdn
1 day ago

Ben_Jones88

Ben Jones


I hope Floyd Mayweather walks out to his next fight with a full page of a Harry Potter book printed on a shirt and reads it in the ring.
1 day ago

psufootball

Penn State football


Want a best-case scenario for James Franklin's #PennState football team in 2014? @BobbyFlo7 has one http://t.co/SvbIztj4Z8
1 day ago

Ben_Jones88

Ben Jones


@GoPSUTony @GoPSUAlissaC @mncaracappa It's not sucking up if neither of them have ever denied an interview request.
1 day ago

Ben_Jones88

Ben Jones


In all honesty of the three teams I cover full-time, Penn State hockey is probably the most fun in terms of watching/covering the game.
1 day ago

GoPSUsports1

Penn State Athletics


MT @pennstatemhky: Student & single-game tix info available for 2014-15. #WeAre #HockeyValley http://t.co/Fd2zZNFqFu http://t.co/ns2wIRIa6P
1 day ago

Ben_Jones88

Ben Jones


Penn State hockey announces that season ticket packages have sold out. Not including a still pending student sale.
1 day ago

CatieEckman

Catie Eckman


Pollock RAs are excited for move in! Thanks @coachjfranklin for stopping by! @penn_state @PollockHallsPSU http://t.co/QWBxp9QYkL
1 day ago

ESPN_BigTen

ESPN BigTen


Big Ten mailbag coming up today: send questions to @ESPNRittenberg
1 day ago

GoPSUsports1

Penn State Athletics


RT @PennStateFball: Happy Moving Day, Penn Staters! Need a helping hand? Keep an eye out for us. #psuwelcomeback http://t.co/DDYjW1ZBhp
1 day ago
BIG TEN SCOREBOARD
Thursday, 8/28
Friday, 8/29
Saturday, 8/30
BLOG ARCHIVE:
CATEGORIES: